We use affiliate links. If you buy something through the links on this page, we may earn a commission at no cost to you. Learn more.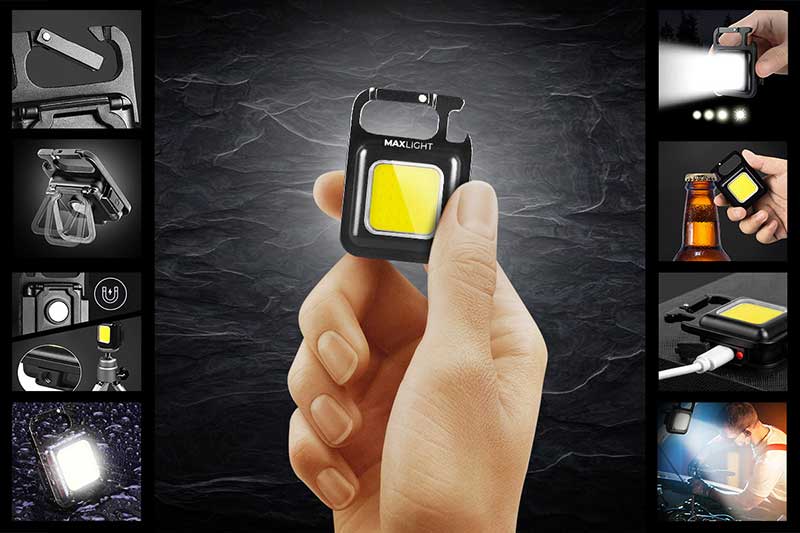 DEAL NEWS – Always be prepared for when you need a little light with this booming bestselling 8-in-1 MaxLight Mini Super Bright Utility Flashlight, available now as a two-pack for only $32.99 for a limited time.
Certain pieces of EDC (everyday carry) equipment should be all but standard issue. You'd never go anywhere without a phone or a wallet. A multitool would probably be smart. And you never realize how much you need a reliable light source until you desperately need one and don't have it.
This 8-in-1 MaxLight Mini Super Bright Utility Flashlight serves up an ultra-bright light and a handful of cool multitool abilities, all in a compact package that makes it practically indispensable. 
Unlike those bulkier flashlights, this resourceful tool is less than 2.5 inches long, weighs less than two ounces, and is designed to clip easily to your current keychain or bag with the handy attached carabiner. In addition, while a standard smartphone light only delivers 40 to 50 lumens, the MaxLight is like a spotlight, blasting up to 800 lumens to cut through even the darkest of situations.
Users can cycle through four different brightness modes, including a strobe effect to help catch attention if they're ever lost or in trouble in the great outdoors. 
While having that light for emergencies can be a literal lifesaver, the MaxLight can also function as a bottle opener, boasts a strong magnet for sticking to most metallic surfaces, and even has a foldable kickstand to help position the light for hands-free use when the situation requires it.
The MaxLight is rechargeable via USB and even sports a handy LED indicator light, so you'll always know when it's fully charged and ready.
Best of all, this deal not only scores you one of these EDC essentials, but two. So attach one to your keychain or bag and stash the other one in your car or desk drawer for a shower of light whenever you need one.
With the current price drop, this 8-in-1 MaxLight Mini Super Bright Utility Flashlight two-pack is only $32.99 (reg. $54.99).
Prices subject to change.