We use affiliate links. If you buy something through the links on this page, we may earn a commission at no cost to you. Learn more.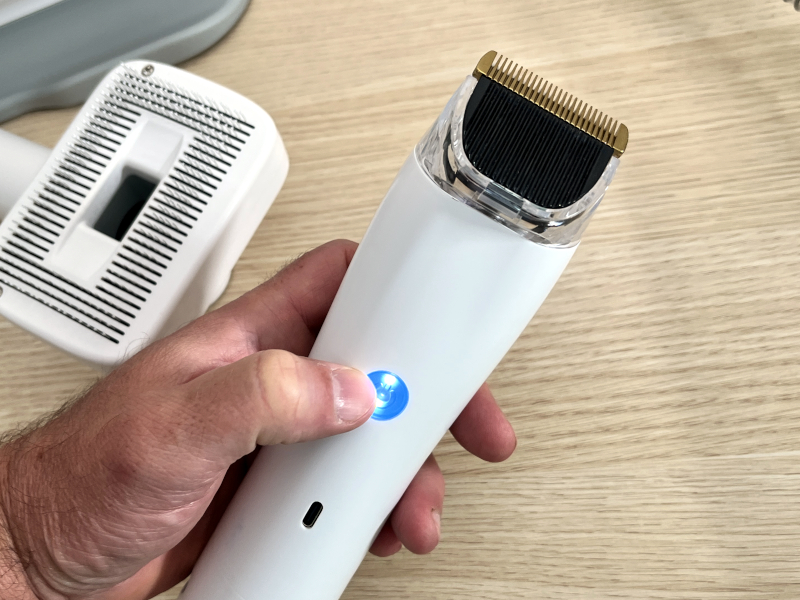 REVIEW – For Christmas, we got a pair of toy poodles, a high-energy brother-sister pair.  Poodles don't shed, which is great, but they do require regular grooming, usually every six weeks or so.  Groomers aren't cheap, and I calculated that I could easily spend $1500 a year on grooming expenses alone.  I think I can do my own grooming, and I'm hoping that Gerefet's dog grooming kit will be a help.
What is it?
The Gerefet dog grooming kit is a combination vacuum and blower.  It has two nozzles for blowing and four attachments for vacuuming, including a set of clippers.  Gerefet is a trademark of Shenzhen Likeai Network Technology, a Chinese company, and it appears that their products are only sold on Amazon.
What's in the box?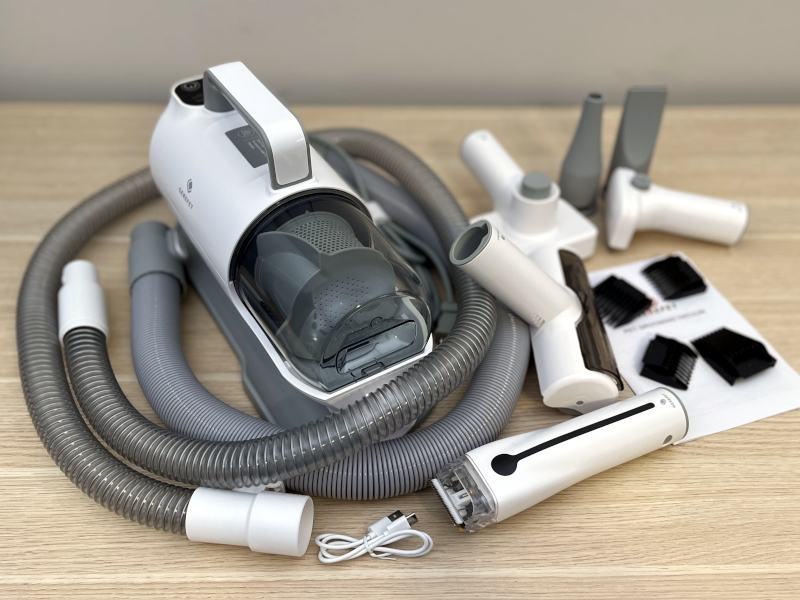 The vacuum/blower with built-in filter
Two hoses
Four vacuum attachments
Two blower nozzles
Four guide combs for clippers
USB cable for charging the clippers
Manual
Specifications
Guide combs:  3,6, 9, and 12 mm
Blower hose: 38 inches
Vacuum hose: 69 inches
Design and features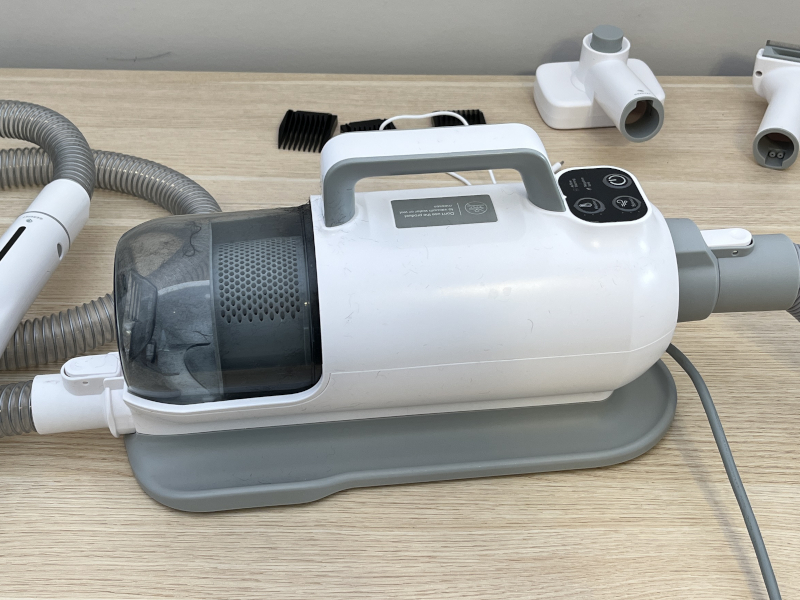 Gerefet's vacuum/blower looks like many other gadgets in this space.  The canister is a horizontal cylinder that has retro Electrolux vibes with connectors for the vacuum on one end and the blower on the other.  The canister houses the motor and the filter, and the controls and handle are on top.  It's a simple and straightforward design that works.
Installation and setup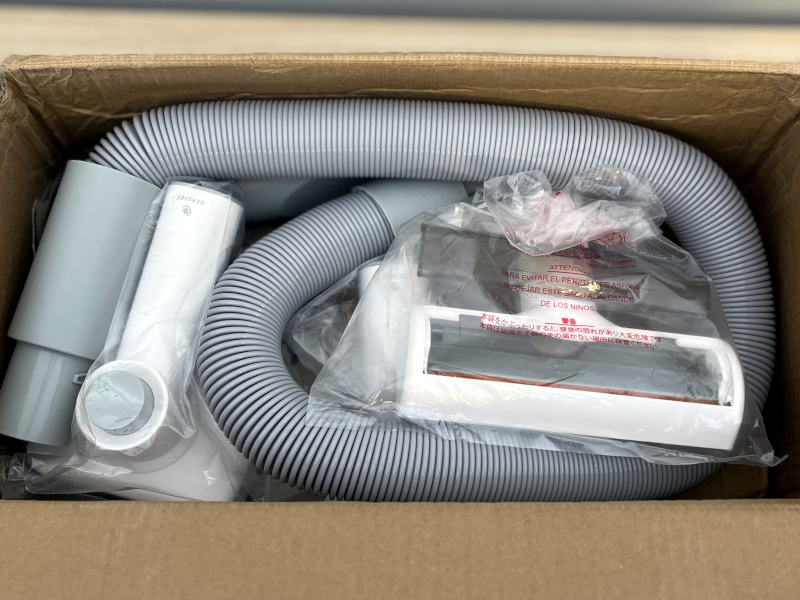 The Gerefet Dog Grooming Kit arrived in a sturdy box, and many pieces were in their own plastic bags to prevent scratching.  There was a strong chemical smell, so it's probably best to open this box in the garage and let it air out for a day or two.  I read through the manual, and the English is pretty bad.  Thankfully, this is a simple gadget and setting it up is mostly straightforward.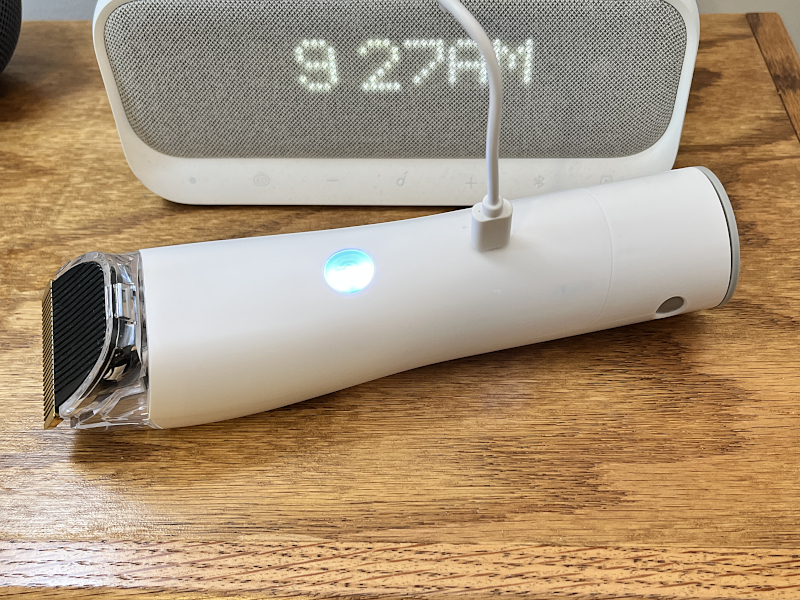 The charging cable is a USB-A to USB-C, which is rather outdated now.  I connected it to the clippers and let it begin charging.  The light blinks while charging and goes solid when done.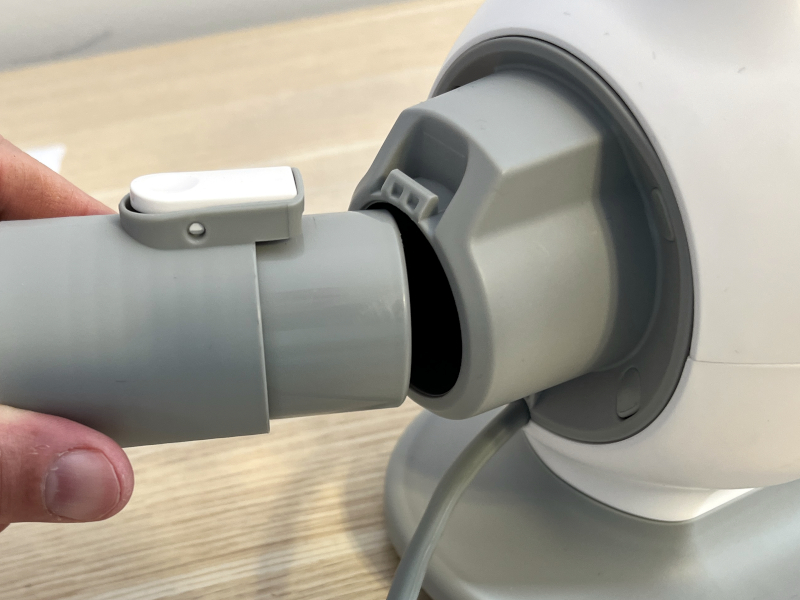 The only tricky part is knowing which hose connects to which end, as the manual is not clear on this point.  The good news is that it's rather easy to tell.  The shorter grey hose with the grey end caps is the blower hose, and it attaches to the grey end.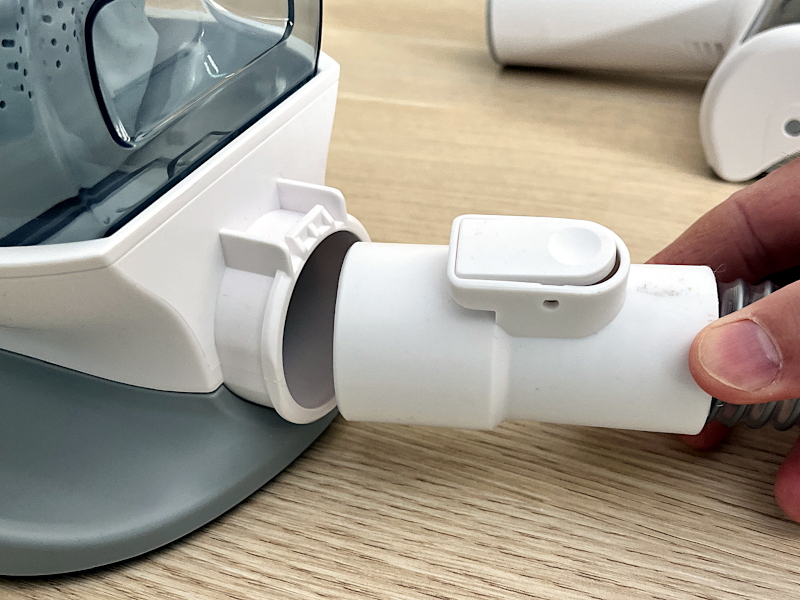 The longer clear hose with the white end caps is the vacuum hose, and it attaches to the white end.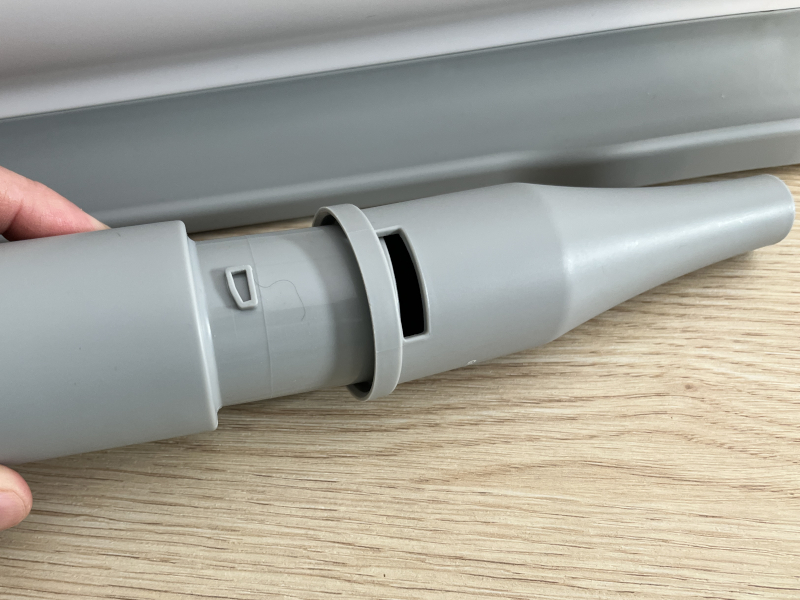 The blower nozzles slip on and then rotate to lock in place.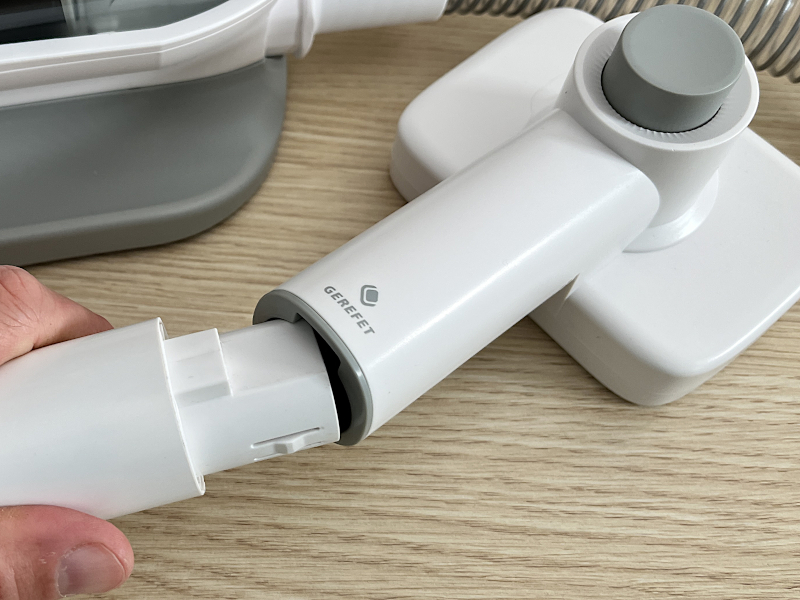 The vacuum attachments simply slip into place.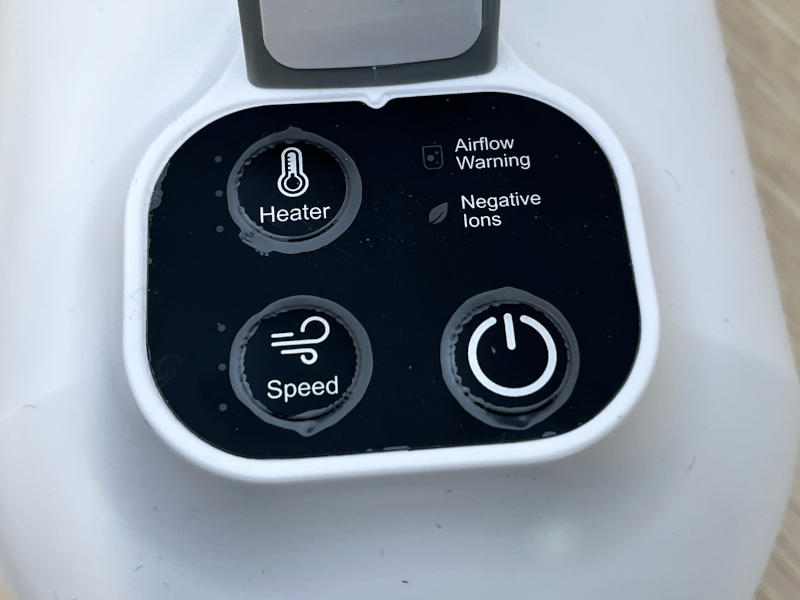 The control panel is on the top of the canister, and the buttons are easy to use.
Performance
To groom my dogs myself, I need to do four things:
Bath them – The blower should be a big help when drying them.
Trim them – The clippers should be great when trimming, especially if does a good job of vacuuming up the loose hair.  I'll need a pair of scissors for detailed work around the eyes and feet that I will have to purchase separately.
Brush them – The kit includes a self-cleaning brush, but I don't think using this while attached to the vacuum will be helpful, as the poodles don't shed; I can still use it standalone.
Clip their nails – Gerefet's kit doesn't provide anything to help with the dogs' nails, so I will have to purchase that separately as well.
Before I used the Gerefet Dog Grooming Kit, I took time to desensitize my dogs to it.  Anything this large and noisy will scare them if I don't.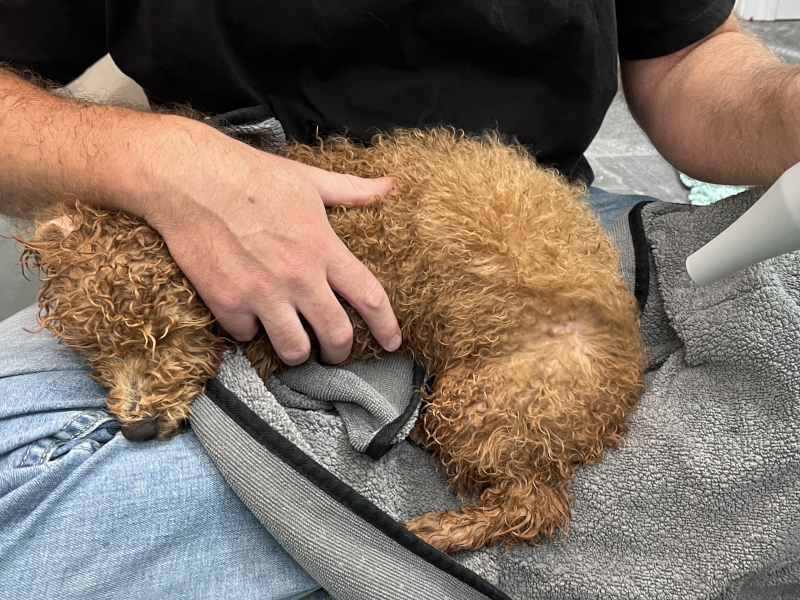 One afternoon my wife and I gave the dogs a bath in our bathtub.  After rinsing off the soap and conditioner, we used a towel to dry off most of the water and then used Gerefet's blower to air dry the rest.  It worked great!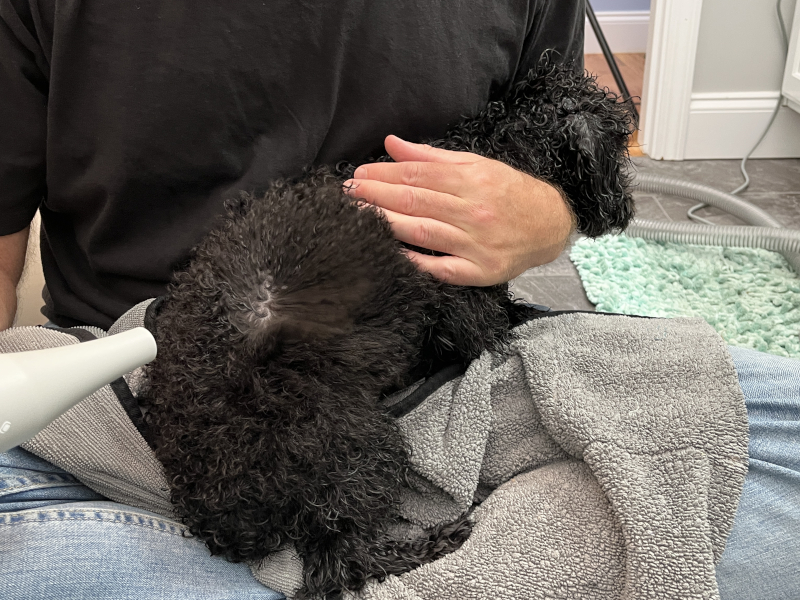 The blower has three levels of power, so it can really move some air.  It also has three levels of heat, and the highest level is not super-hot, so I'm unlikely to burn my dogs.  It takes about a minute for the heat to really kick in, so I need to remember to turn it on before I need it.  My strategy was to start with low power and high heat, and once the dogs had warmed up, shift to high power and low heat.   I'm very pleased with the results, and I soon had two little fluff balls.  Previously I have used my wife's hair dryer to dry the dogs, and the results are very similar.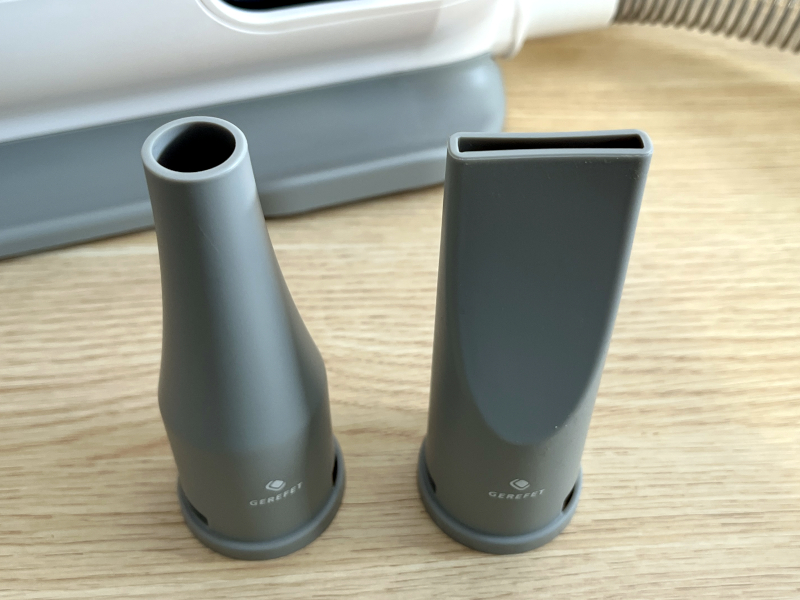 I used the round nozzle when drying the dogs, but there's really not much difference between it and the flat one; either would work fine.  I do wish that the gray hose was a little longer, maybe another foot or two.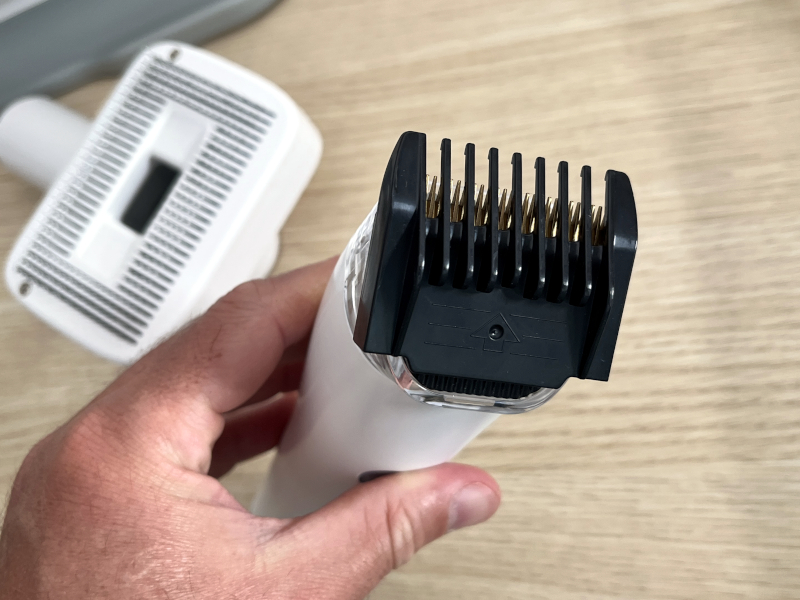 Later that evening, my wife and I trimmed the dogs.  After working with Gerefet's clippers, I have decided that we are frenemies.  On the one hand, I love these clippers.  I set the suction to medium and turned the clippers on.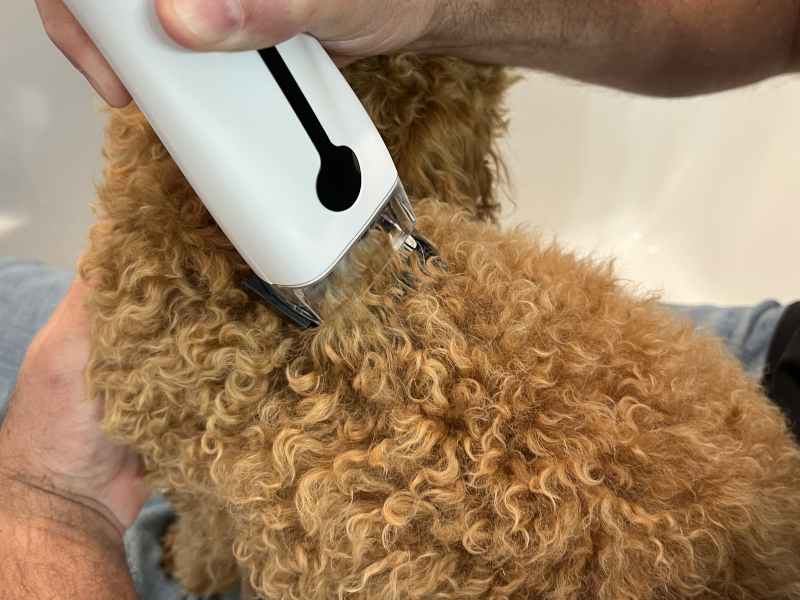 Whenever I held the clippers over my dogs, the suction did an amazing job of pulling the hair up, which helped in two ways.  One, it made it super easy to trim hair, especially in harder-to-reach areas, like around their legs.  This was phenomenal, and I really love this feature.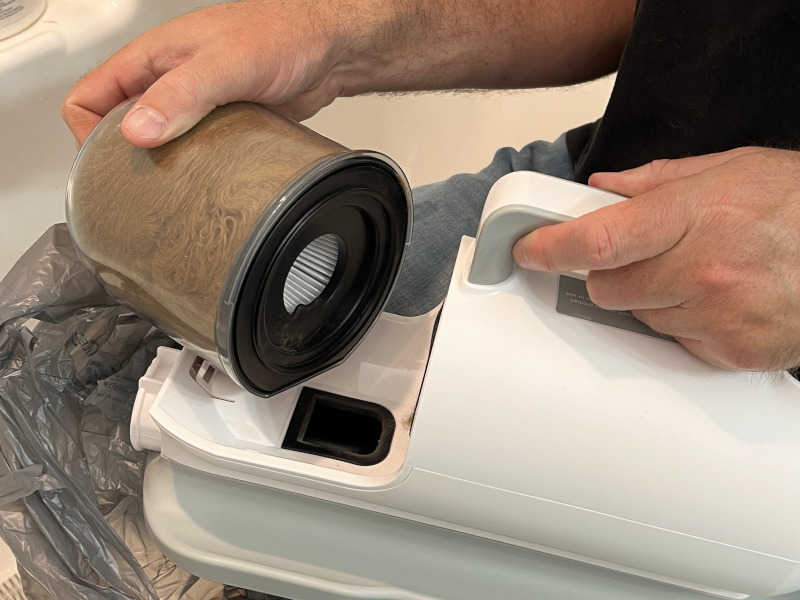 Two, after the hair is trimmed, it is suctioned into the vacuum.  Normally when I trim the dogs, there's hair everywhere and a double portion all over me (and somehow in my mouth, too).  Gereget's vacuum pulled the vast majority of hair into the filter.  There was still some hair on my shirt, and I had to change it, but very little.  This made cleanup so easy, and I am a big fan of this feature and the clippers.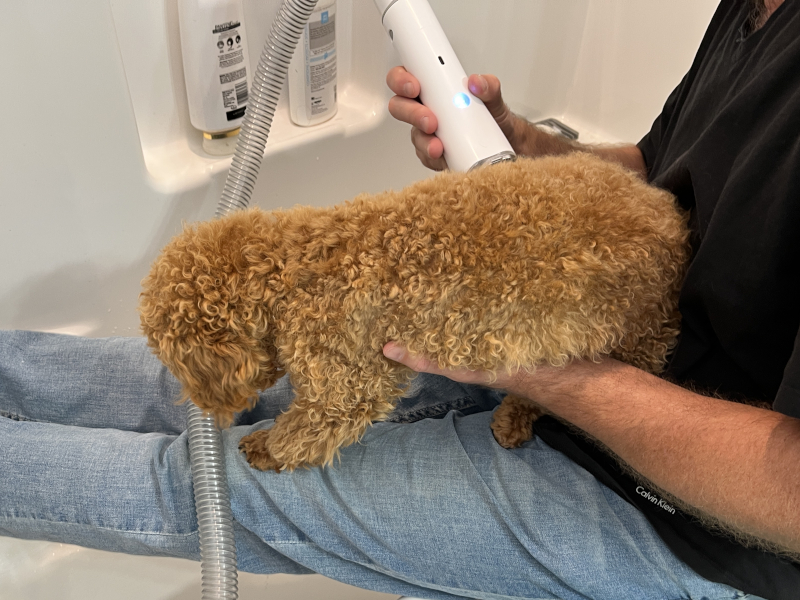 On the other hand, I don't like these clippers at all.  The body of the clippers is so long, and it has the hose attachment and the hose itself poking out the back, which makes it even longer.  All told it's about 12 inches in length, nearly twice as long as the battery-powered clippers that I have used previously.  This length makes using it cumbersome and awkward, like trying to use a big chef's knife to peel a small apple.  Having a hose hanging off the clippers makes this problem even worse.  I constantly felt like I was fighting against the trimmers as I tried to pull the hose into a position that allowed me to freely trim the dogs.  Sometimes my wife held it, sometimes I held it, and sometimes I draped it over my shoulders.  Nothing really helped.  Perhaps if I had a large and sturdy grooming table this would be easier, but these clippers were hard to use while holding the dogs in my lap.  I would prefer to use a lighter, more flexible hose, though I don't know if that would be possible.
Here's a short video that I created of me blow drying and trimming the poodles using the Gerefet Dog Grooming Kit.
The end result was that I did a better job trimming the dogs in those hard-to-reach areas, like around their legs, but I did a worse job trimming them everywhere else.  I think with practice I can get better and do a cleaner job, but my first effort was rough; I had to trim them again the next day with my other trimmers to even out everything.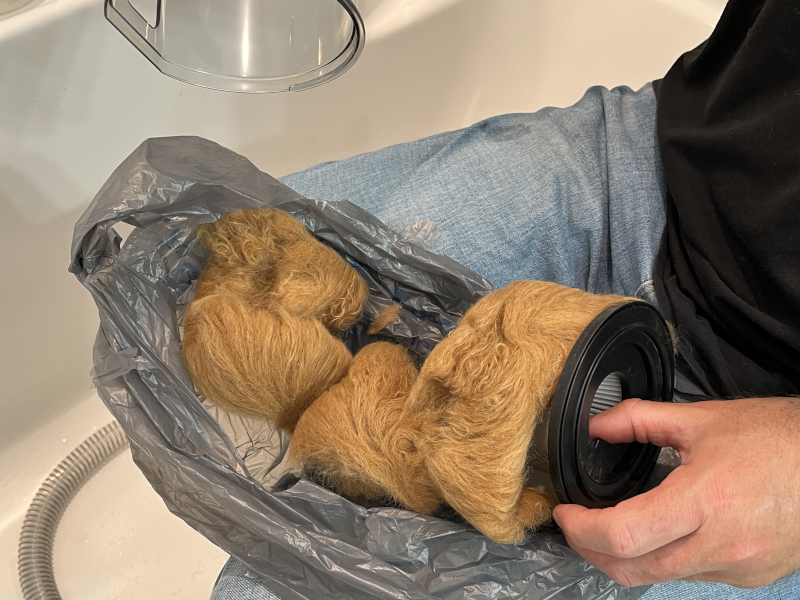 Using Gerefet's dog grooming kit made it extra easy to clean up.  I popped the dust cap off the back and emptied into a bag.  I then removed the filter and pulled out more hair.  The filter can be cleaned by blowing it out and then washing it in the sink.
The next day I used the needle comb to brush out the dogs, though I didn't attach it to the vacuum.  It worked just as well as another brush that I had been using.
Extra Features
When I went to store the Gerefet dog grooming kit in my closet, I realized how much space it takes up.  I wish that Gerefet had oriented the canister to be vertical instead of horizontal, and I wish they had provided some sort of storage for the various attachments and hoses.  This is a small detail but would be nice to address.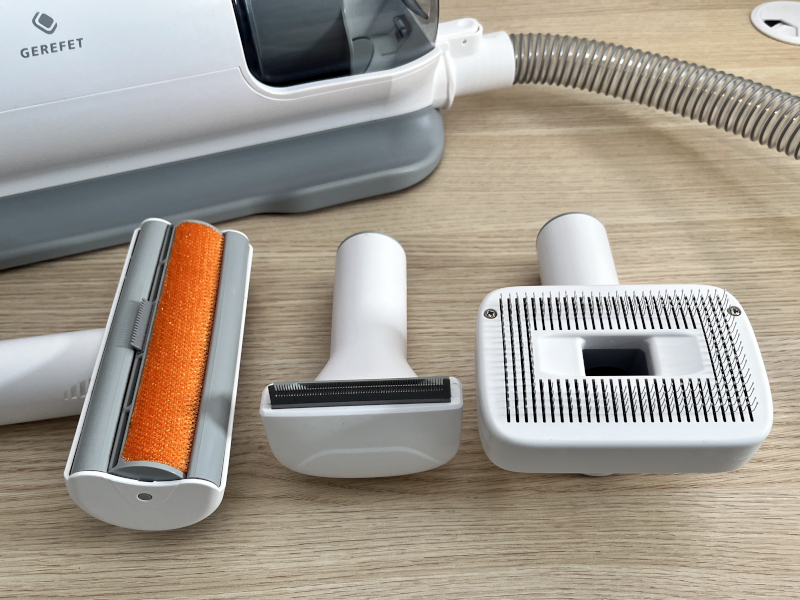 The Gerefet's dog grooming kit has a couple of attachments that I don't need because my poodles don't shed:  An electrostatic sticky brush for picking up hairs on the sofa and a thinning brush for removing dead hairs.  Owners with other dogs will likely find these to be very helpful.
What I like
Plenty of blowing power
Three levels of heated air
It Suctions hair amazingly well
Easy to clean up
What I'd change
Use a USB-C to USB-C charging cable
Make the clippers a lot shorter
Use a thinner, more flexible cable (if possible)
Make it easier to store the kit
Final thoughts
The Gerefet Dog Grooming Kit is a combination blower and vacuum.  I tested it by blow-drying my toy poodles after a bath and then by trimming them.  The blower worked perfectly; it's very similar to using a good blow drier.  The clippers worked great with the suction turned on, pulling up the hair so it was easy to trim.  Cleanup was simple.  I found it difficult to use the clippers, however, because they are so long and because the hose always got in the way.  These made the clippers cumbersome and awkward to use compared to battery-powered clippers.  Though I found them challenging to use, I think I can get better with practice, and they would probably be easier to use if I purchased a dog grooming table.  I'll keep testing them in the coming months and see whether or not I keep them.
Price:  $199.99
Where to buy:  Amazon
Source: The sample for this review was provided by Gerefet.