We use affiliate links. If you buy something through the links on this page, we may earn a commission at no cost to you. Learn more.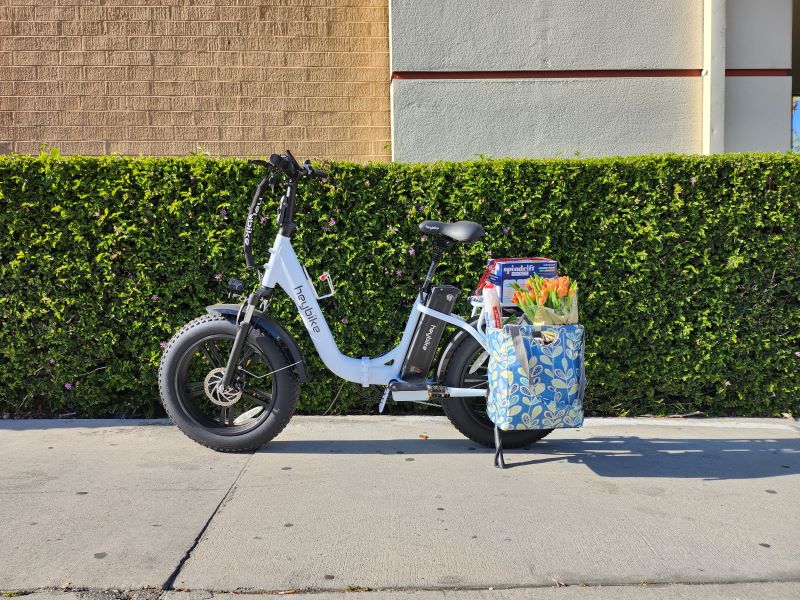 REVIEW – Spring is finally springing here in Los Angeles and that means it's finally dry enough to consider getting outside and doing some biking.  I'm kind of picky about my bikes, but the Heybike Ranger step-thru foldable fat tire ebike really piqued my curiosity.  It's got the utility of a commuter bike because it folds and has a nice rack on it, but it has the fat tires and suspension of a mountain bike.  I had to give it a try! 
What is it?
The Heybike Ranger electric bike is a folding electric bike with a range of about 55 miles featuring fat tires and adjustable suspension.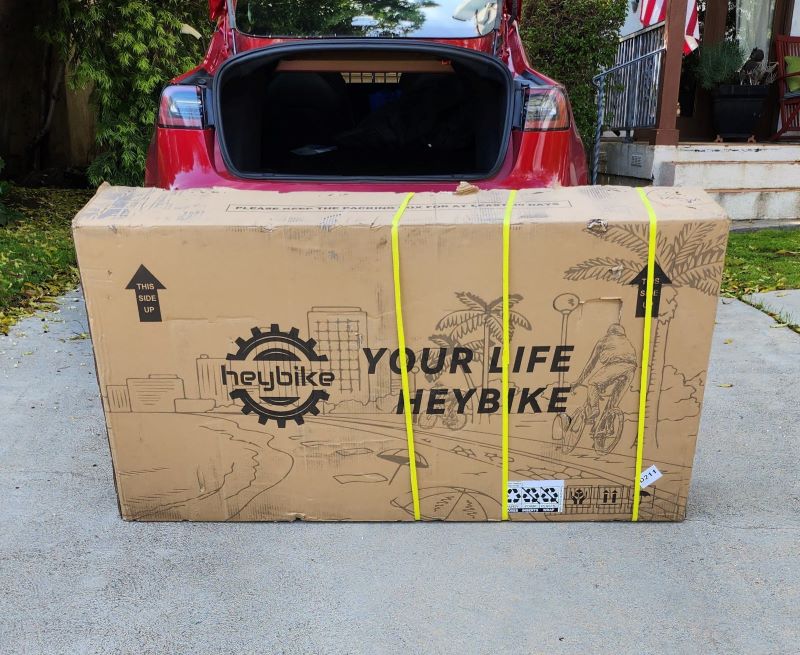 What's in the Box:
The Heybike Ranger electric bike in a few pieces
Battery charger and tools to put the bike together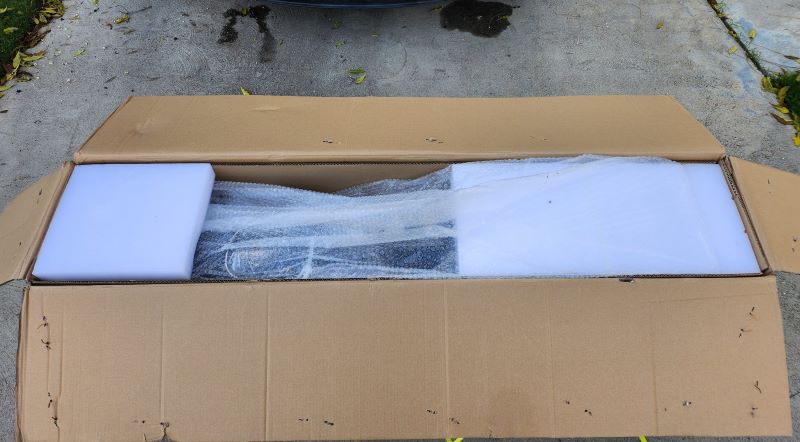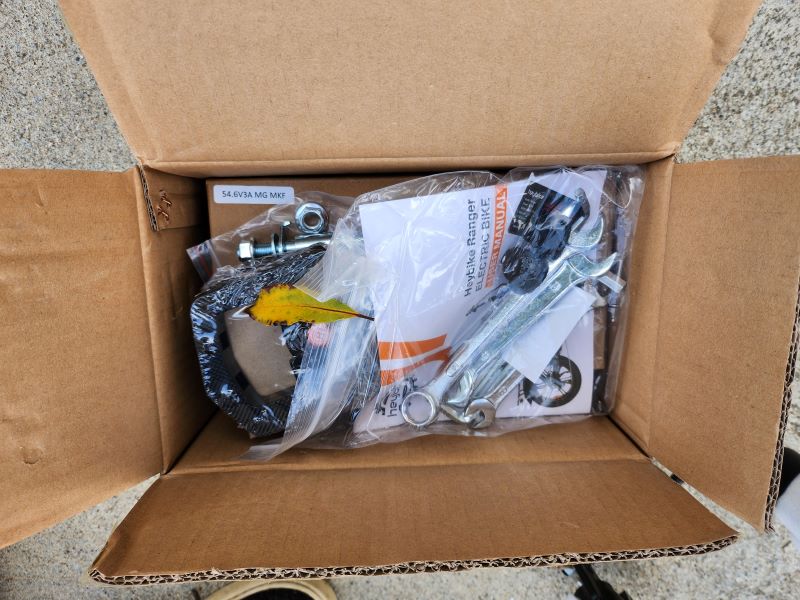 Size and Specifications:
Total Length 69″

 

Handlebar Height 45.6″-48″

 

Wheelbase 45″

 

Minimum Seat Height 31″

 

Maximum Seat Height 37″

 

Chainstay Length 19″

 

Standover Height 16″

 

Top Tube Length 23.6″

 

Wheel Diameter 23″

 

Head Tube Length 8.2″

 

Handlebar 25″

 

Minimum Seat to Floor 34″

 

Battery 48V 15Ah

 

Hub Motor  500W 

 

Max Load  330 lbs (150kg)

 

Charging Time  5-6 hours

 

Pure Electric Range 40 miles

 

Pedal-Assist Range 55 miles

 

Pedal Assist Intelligent 3-level PAS 

 

Charging Port Output Voltage 5V 1A

 

Package Dimensions  145x28x75 (cm)

 

Product Dimensions  174×63×128 (cm)

 

Folded Dimensions 100×60×80(cm)

 

Display LCD display 

 

Package Weight 89 lbs (40.5kg)

 

E-Bike Weight  70.5 lbs (32kg)

 

Battery Weight  4.82kg

 

Bell/Horn Electric Horn

 

Setup and features
The Heybike Ranger electric bike comes in a huge box but is mostly assembled.  Pretty much all you have to do is unpack all the protective wrapping and put on the seat and rear wheel. I am not at all mechanically inclined and I barely had to glance at the instructions because it's very intuitive.  All the tools you need come with the bike and while the Heybike Ranger is heavy, it's possible to assemble it without having to do much hefting.  After the rear tire is attached and you hook up the fenders, you can put the seat on.  The last step in assembly is unfolding the handlebars and tightening them.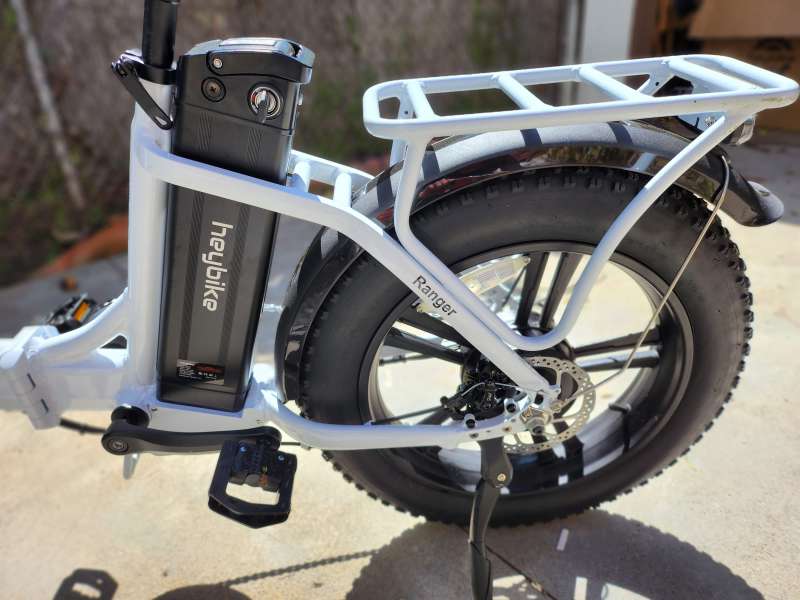 This bike is sort of an unusual hybrid that I think will be popular with a lot of people.  It is foldable like a commuter bike and in that sense, the Heybike Ranger electric bike is easy to transport if you don't have a bike rack on your car.  It features a lot of the commuter accessories that you'd want: horn, lights, cushy seat, and fenders so you don't show up to work with mud on your back. The Heybike Ranger also has a really sturdy rack so you can carry all kinds of stuff.  I particularly am fond of step-thru bikes like this for cargo, because we aren't all Jean Claude Van Damme — I sometimes have struggled to kick my leg high enough to get on regular bikes when they are loaded with groceries.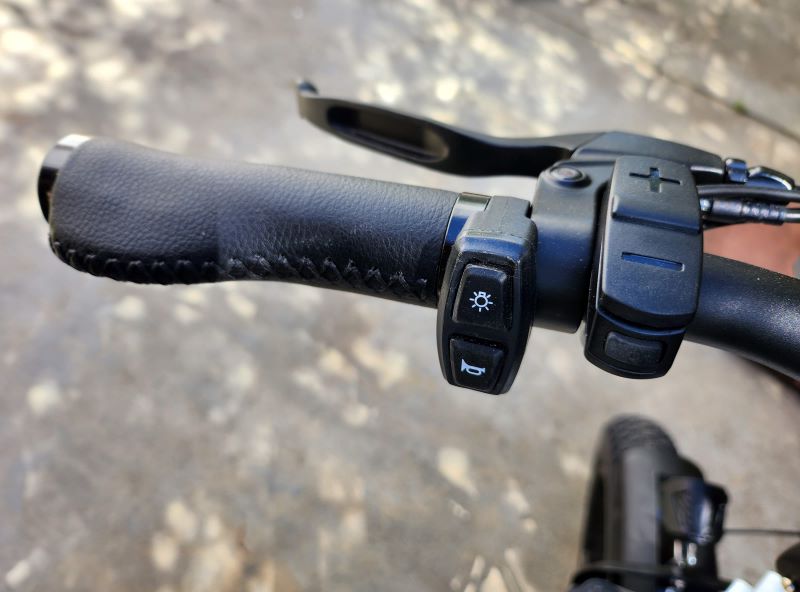 So while the Heybike Ranger is a great bike for around town, it's also got a robust build, suspension, and fat tires if you want to go mountain biking with it.  I am not a mountain biker, so in order to test this I loaned it to a friend who regularly bikes on local mountain trails.  He LOVED this bike!  He said he adjusted down the power assist (the literature says there are only three settings but mine seemed to go from 0-5). He still got a great workout but also was able to go farther than usual.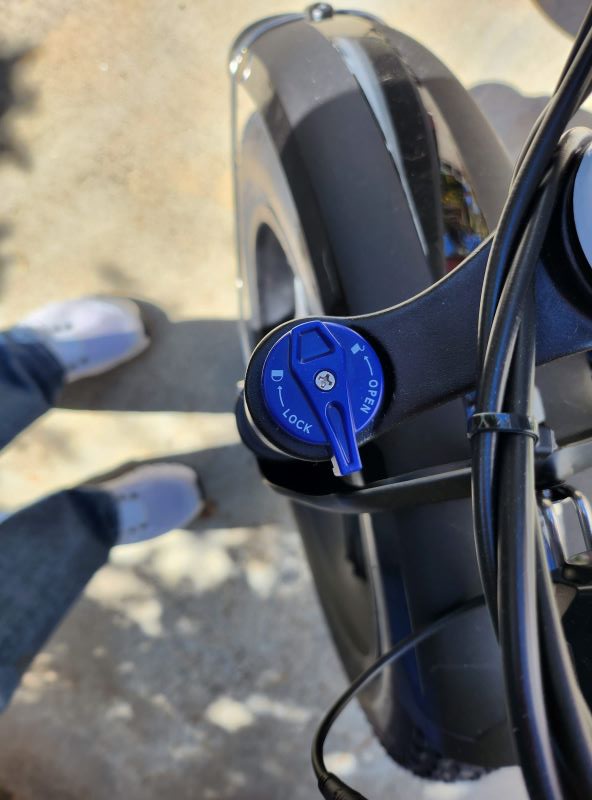 This didn't surprise me;  for those of you who consider ebikes  "cheating" or not as healthy to ride as regular bikes, several articles I've read have found that people are more likely to ride their ebike further than their regular bike. Researchers have shown that people with ebikes also ride them more often than people with regular bikes, and this also was true of my friend who tried out the Heybike Ranger.  He lives in a hilly part of town and even after a long day at work, he took the ebike to the grocery store which is not something he'd normally do on a work night.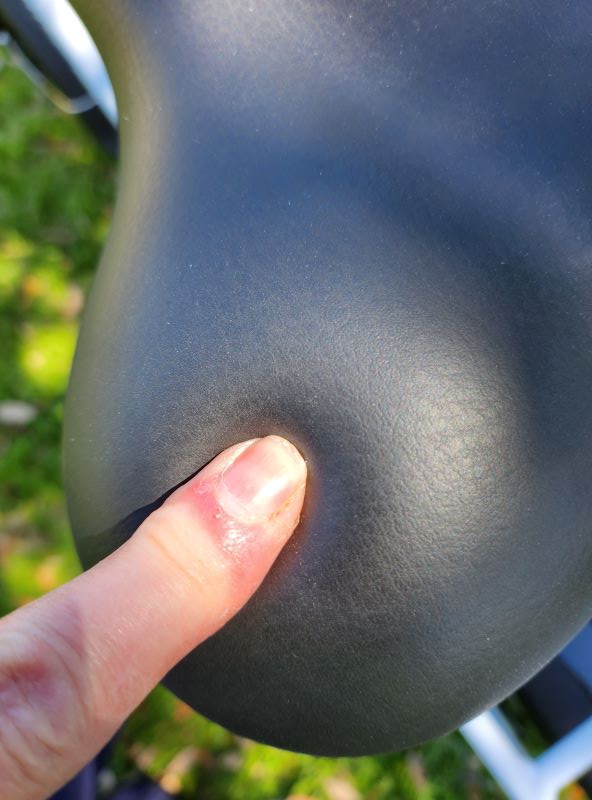 For my own evaluation of the Heybike Ranger electric bike, I took it on some trips around town to run errands.  I can walk to almost every thing I need, but if I'm going to the grocery store and buying heavy items, I often will choose to bike instead so I don't have to carry my things home. I did a run over to the grocery store and I went to a couple of other shops near me.    I really liked the smooth ride and the generously cushioned seat on the Heybike Ranger.  Los Angeles is a sea of potholes and patches after all the rain we've had and this bike was comfortable and relatively smooth.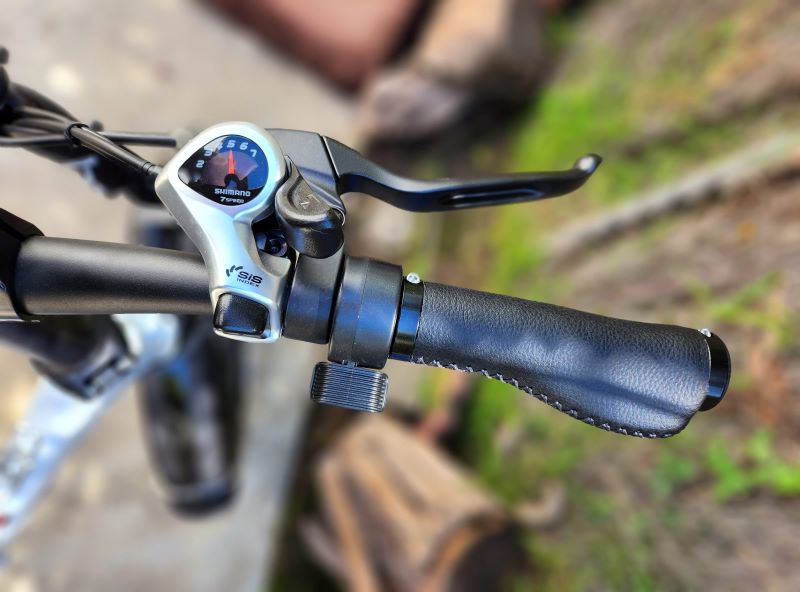 The Heybike Ranger electric bike also has a lot of quality features like disc brakes and a Shimano 7-speed shifter.  I particularly liked the security of the removable battery and key system.  Without the key in the battery the Ranger can't be turned on.  I used a bike lock when I was out with it, but it is pretty much disabled once the key is gone and definitely without the battery.  It's also nice to be able to bring your battery inside to charge, since we don't all park our bikes near an outlet.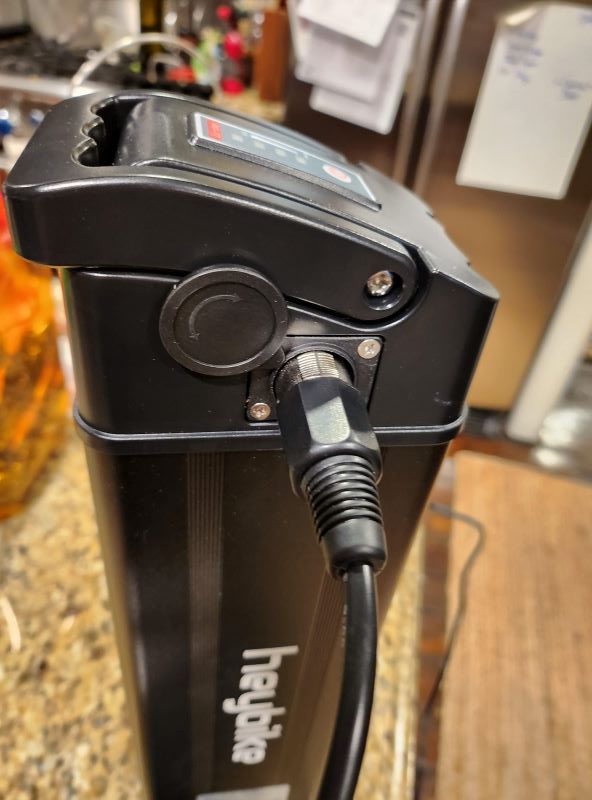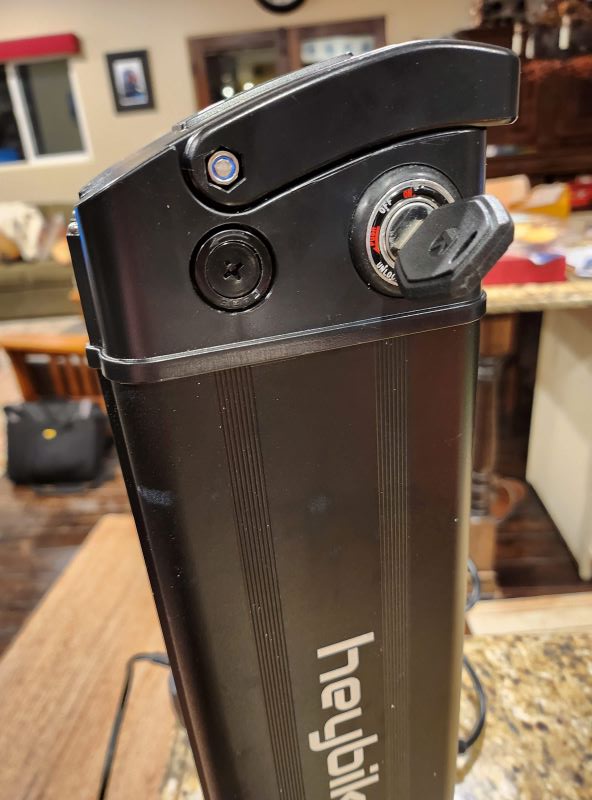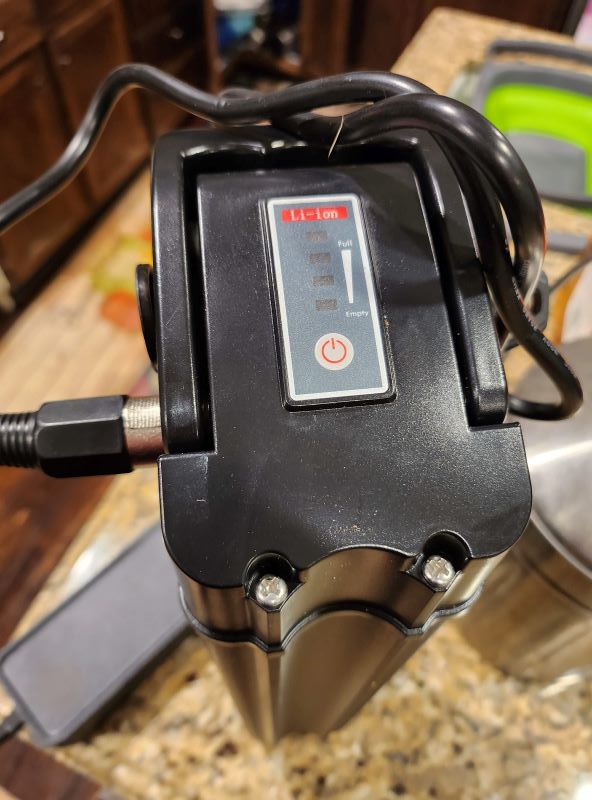 The one element that gave me pause about the Heybike Ranger is its weight.  This is not a light bike.  It weighs 70 pounds, so while you can fold it up and carry it, I don't think you'd carry it far.  It's not the kind of bike that you would carry on and off a metro train or bus, for instance.  It's more the kind of bike you'd fold up and lift into your car or RV.  That said, on power assist level 0, it is super easy to pedal. I was very surprised at that because I have a Schwinn Perla that is super hard to pedal and it's half the weight of the Heybike.  I have to think that there is some kind of assist even when it's set to 0 or else they've achieved some kind of miracle of physics.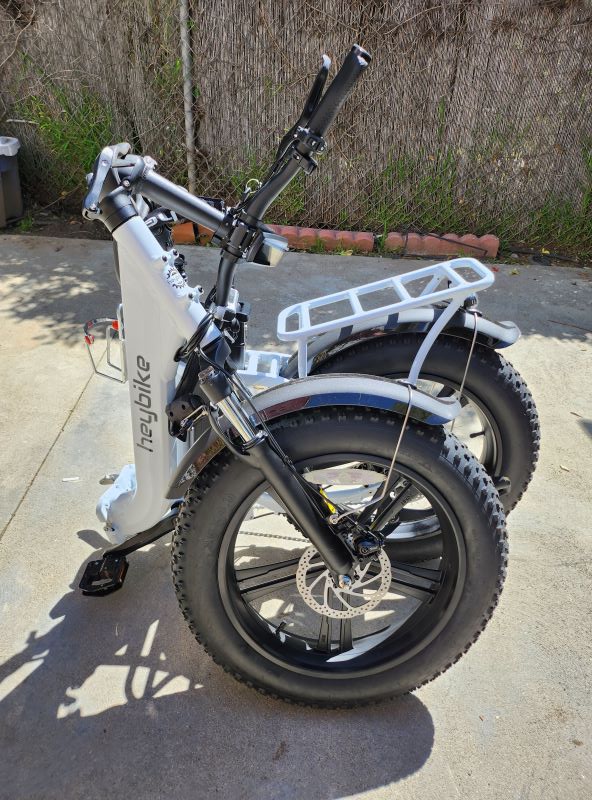 I think the Heybike Ranger electric bike would be excellent for RV owners or campers because it's a viable alternative form of transportation.  It has a range of 40 miles even if you never pedal yourself and I frequently breezed along at about 15 mph according to the LCD display.  I could have gone a bit faster, but I get kind of freaked out when I go much faster than that.  This bike is listed as a class 2/3  ebike, so it tops out somewhere between 20 and 28mph.  
The only other criticism I have about this ebike is pretty minor. The bottle holder is pretty stiff and I prefer a springier metal so it can fit more kinds of bottles. I struggled to find a bottle in my cabinet that fit well.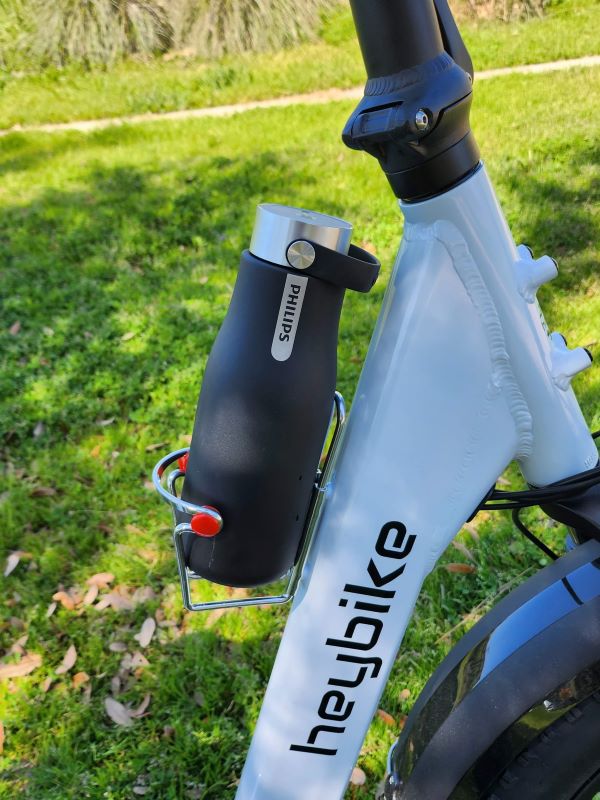 What I like
Overall versatility of the design

 

Ample accessories (rack, lights, horn and bottle holder)

 
What I'd change
Springier metal on bottle holder

 

Does it have to be so heavy?

 

Final thoughts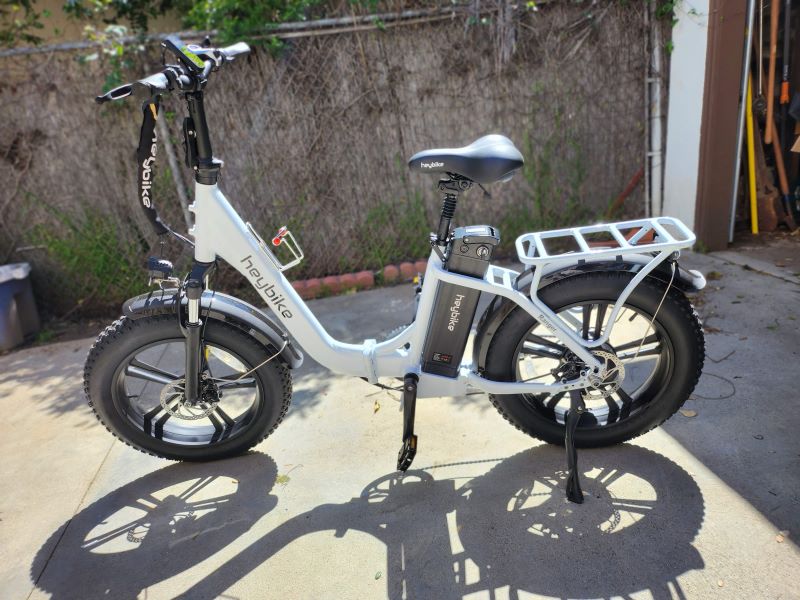 The Heybike Ranger fat tire ebike is a versatile bike that can take on any kind of road or terrain but has some practical features that make it great for around town.
Price:   $1199.00
Where to buy:   Heybike and Amazon
Source: The sample for this review was provided by Heybike.