We use affiliate links. If you buy something through the links on this page, we may earn a commission at no cost to you. Learn more.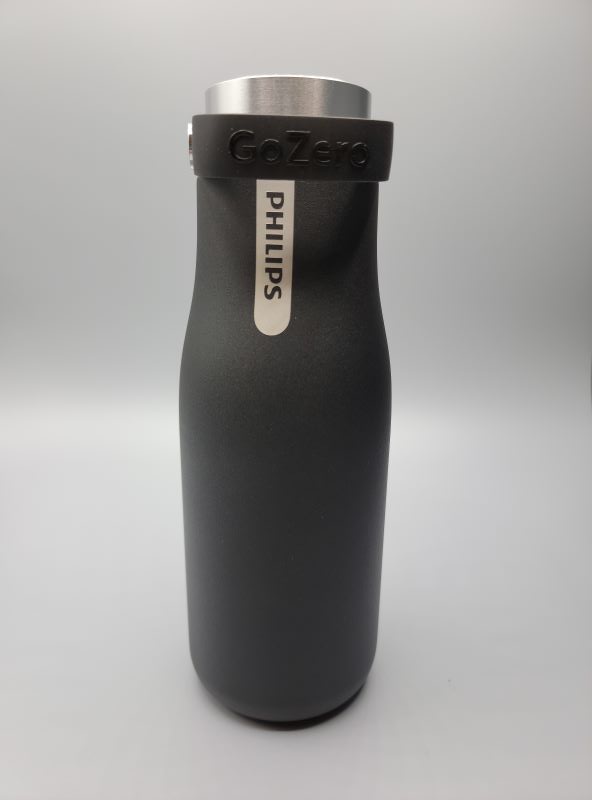 REVIEW – You seldom see me at work without my trusty water bottle, and I'm pretty particular about the ones I use.   I've tried quite a few, but I'm pretty excited about the Philips GoZero Hydration Bottle because it does something none of my favorite water bottles can do:  it cleans itself!
What is it?
The Philips GoZero Hydration Bottle is a 20-ounce water bottle with a UV self-sterilizing cap.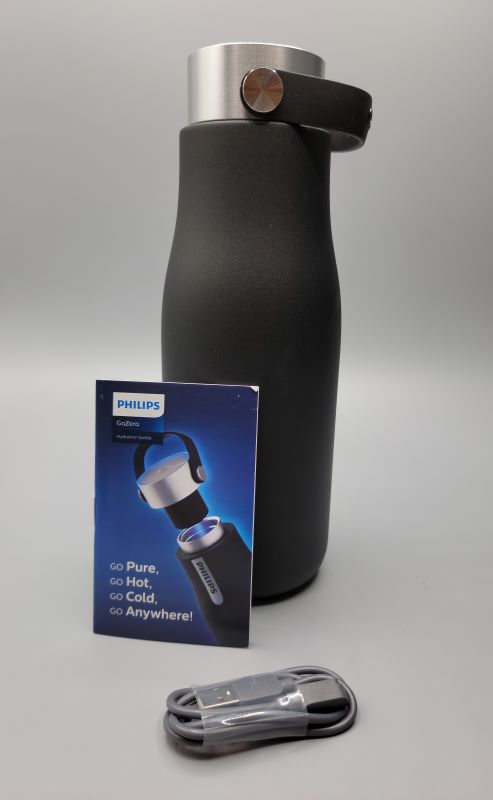 What's in the box?
Water bottle
Instruction booklet
Proprietary charging cord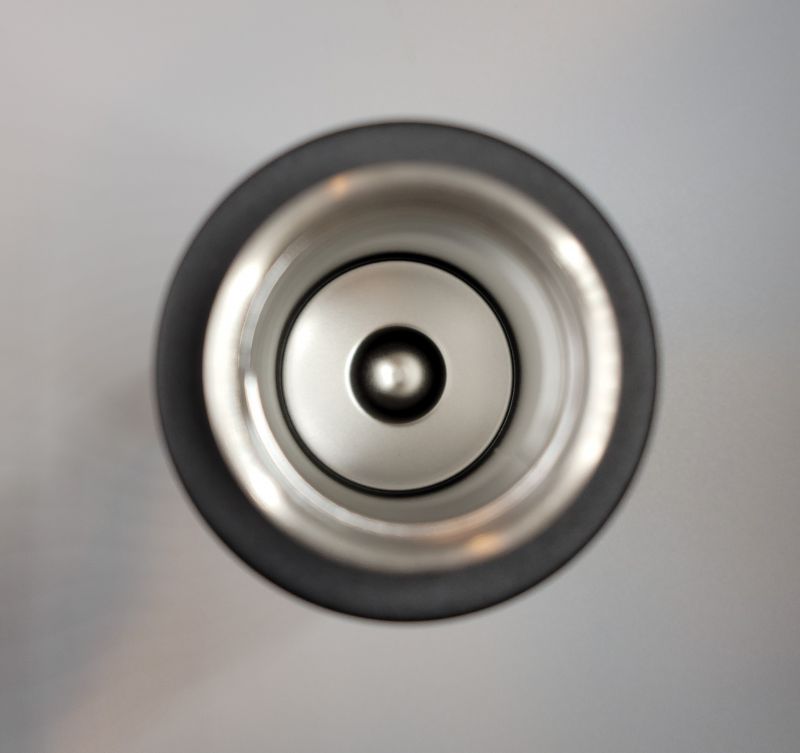 Design and features
The Philips GoZero water bottle is a bottle that cleans itself with a BPA-free cap containing a UV-C LED light inside that sterilizes the water every two hours.  It says that it prevents smelly bacteria from building up, but it also says it can eliminate 99.999% of waterborne pathogens and 99.9% of viruses.  As a bit of a germophobe, you can only guess how appealing this is to me!
The bottle itself is like many on the market:  It's double-wall insulated and has a fairly wide mouth that makes me think it will get clean enough in the dishwasher.  The 20-ounce capacity is the minimum I like in a bottle because I don't want to have to fill it up all the time. It has a sleek, modern design with a little handle at the top in case you want to clip it to your backpack if you're on a hike.
Before you use it, it is recommended to rinse the cap and clean the bottle.  The cap is where the electronics are, so it should only get a rinse, according to the instructions.  It never says anywhere in the instruction booklet if you can scrub it with soap or not, which perplexes me.  More on that later.
I decided to give the bottle a little charge while I waited and discovered the cap has a clear ring between the stainless steel of the rim and the plastic top that lights up different colors when it is going through its purification cycle, when it's charging and when the battery is getting low.  It's a nice feature because the battery life is approximately 30 days, so you might kind of forget about it if you didn't have a warning to tell you to charge.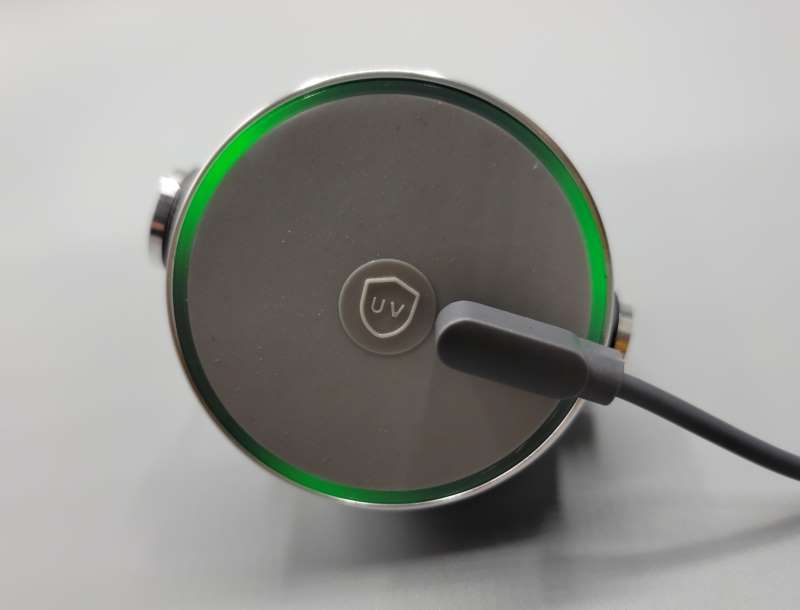 Something I'm not very fond of is the magnetic charging cable.  I don't know when manufacturers will start listening to customers and stop using proprietary charging cables.   Why can't they just use a USB-C cable so that I don't have to track down the special cord every time I want to charge? I'm sure part of the reason they went with the magnetic cable is that it's easier to keep things water tight, but if a phone can use USB-C and get wet, so can a lid.  Plus, it's not all that great at staying attached. I think it could use a stronger magnet, because the slightest pull on the cable will make it lose connection.  There is no way you could have it in your backpack charging because the cable would pop right off.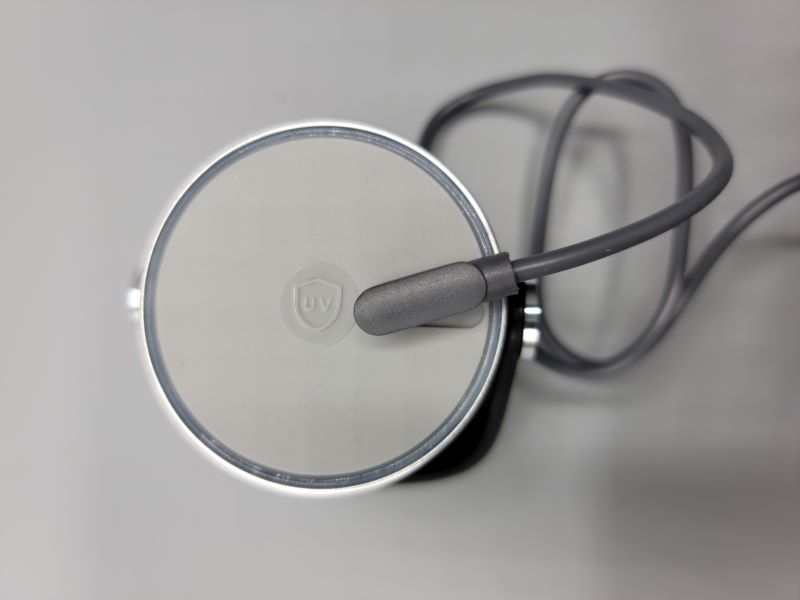 Once charged, you can fill the bottle with water and press the UV-C button on the top to start the sterilization process.   The cycle takes about ten seconds and you know it's happening because the lid flashes blue.  If you are purifying water (like if you are camping in the backcountry), they recommend shaking the bottle gently during the cycle and running it twice in succession to make extra sure the water is sanitized.  They also point out that while the cap sanitizes the water, it doesn't do anything about contaminates, chemicals, or other things that could be floating around in nature.  They recommend filtration before sterilizing with the water bottle.  I didn't test this feature.  I am not a huge camper, but even I know that if you wind up in the middle of nowhere with a pathogen in your water, you could get really sick, so I would have some sterilization tablets or some other backup method just in case.  However, this is a pretty convenient method for getting clean water when you're on a hike.
The product website says that it will keep cold things cold for up to 24 hours and hot things hot for up to 12 hours.  It should be noted that the UV module shuts down automatically if the liquid is too hot (over 140 degrees) or too cold (below 39 degrees) to protect itself from damage.  Also, if you were thinking "Hey, I wonder if I could use the cap to sterilize something else, outside the bottle?" No.  You can't.  The cap's light doesn't work outside the bottle.
I put a few ice cubes and some cold fridge water inside the bottle and left it for 24 hours and the temp only dropped 10 degrees in that period, although all the ice cubes were gone.  Then I let the bottle warm to room temperature, and I put boiling hot water in there.   Twelve hours later it was still a drinkable 125 degrees.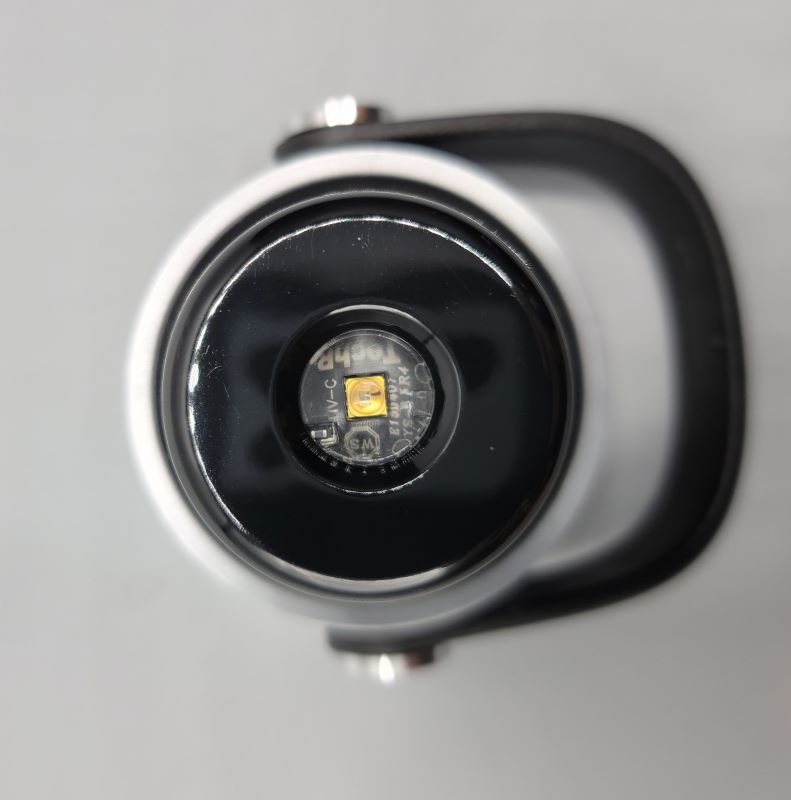 The reason I was pretty excited about this bottle is it is advertised as self-cleaning and in addition to being a germaphobe, I'm also a bit lazy.  I thought I could keep it in my office and just keep refilling it day after day and I would not have to worry about cleaning it as often as I do my normal water bottles.  Unfortunately, the cap can't clean every surface.   Yes, the water inside is clean but I'm touching the rim of the bottle to my germy lips and then that rim is touching the narrow crevice in the cap when I screw it on. The rim of the bottle and the crevice aren't sterilized by the light and there weren't very clear directions on how to clean the cap.   The instruction book gives almost no guidance; it just says to rinse it with water when you first receive it.   The website says all parts are dishwasher safe except for the filter and the cap.  What filter?  I don't even see a filter!  So that's got me a bit puzzled.  I'm probably going to squirt some soap in that crevice, hit it with a brush and hope for the best.  That or become a habitual straw user when I use the bottle.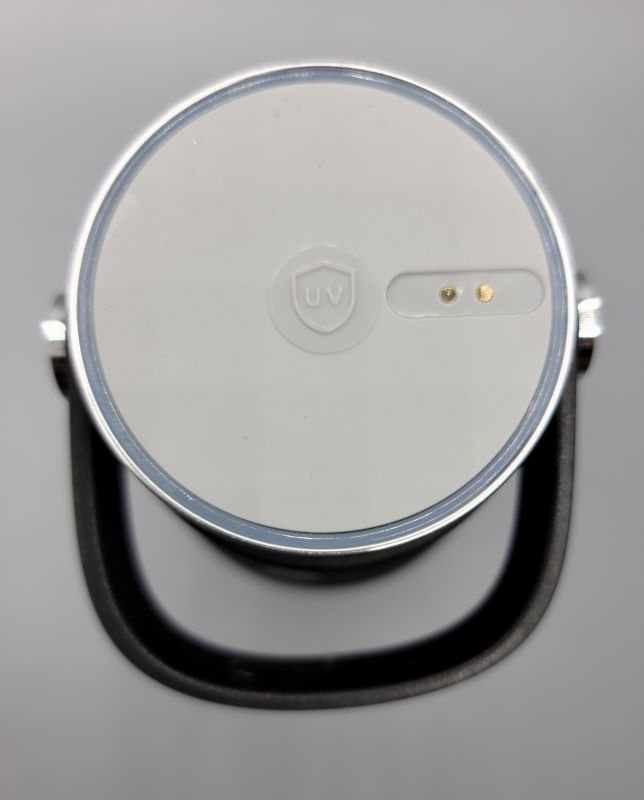 What I like
The glowing cap let's you know the status of the battery
The sterilization capability
The ability to throw the bottle in the dishwasher
What I'd change
Clear cap cleaning instructions
Easier cap cleaning
The proprietary charging cable
Final thoughts
The Philips GoZero Hydration Bottle is a neat water bottle that really could save your life if you are out backpacking and run out of bottled water.  It also makes a good everyday water bottle if you can keep tabs on the charging cable.
Price: $59.39
Where to buy: Amazon All yellow color and 12oz Black color Smart Bottle 15% off with code: 153UVPROMO and Black color 20oz 10% off with code: 1020OZBKUV (expire 4/12/21)
Source: The sample for this review was provided by Philips.