We use affiliate links. If you buy something through the links on this page, we may earn a commission at no cost to you. Learn more.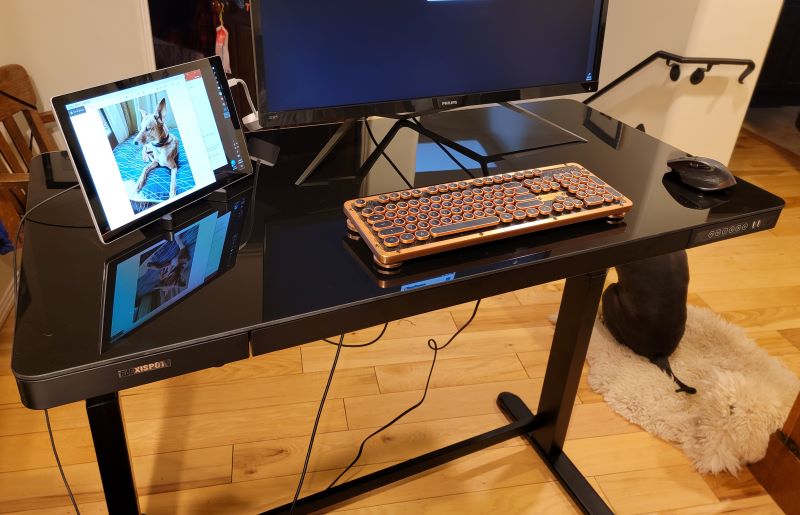 REVIEW – When I'm at work I usually get a fair amount of exercise walking from place to place, and I stand a lot more than I'm doing now, so I didn't panic when the whole "sitting is the new smoking" thing went around on social media.  But times are different now.  If sitting really is the new smoking, I'm a three-pack-a-day couch potato.  When the Flexispot Comhar All-In-One standing desk floated into my inbox, I jumped on reviewing it!

What is it?
The Flexispot Comhar All-in-One Standing Desk is a motorized convertible standing desk with a glass top.

What's in the box?
The desk parts (desktop, motorized support, feet and 16 bolts)
An Allen wrench
Two cable clamps
A power cord
Design and Features
The Flexispot desk comes partially pre-assembled (and packed really well) and took my son about 10 minutes to set up.  It was so easy that he had it together before I snapped a picture, but it involved screwing the motorized support onto the desktop and then attaching the feet.  The last step is plugging the motor into the control box on the desktop (underneath).  There is a little extra length to that cord that you can tuck up using the self-adhesive cable clamps if you wish, but I don't think it's even that noticeable (the cords pictured are from my computer, not the desk).  Still, it was nice that they thought of that.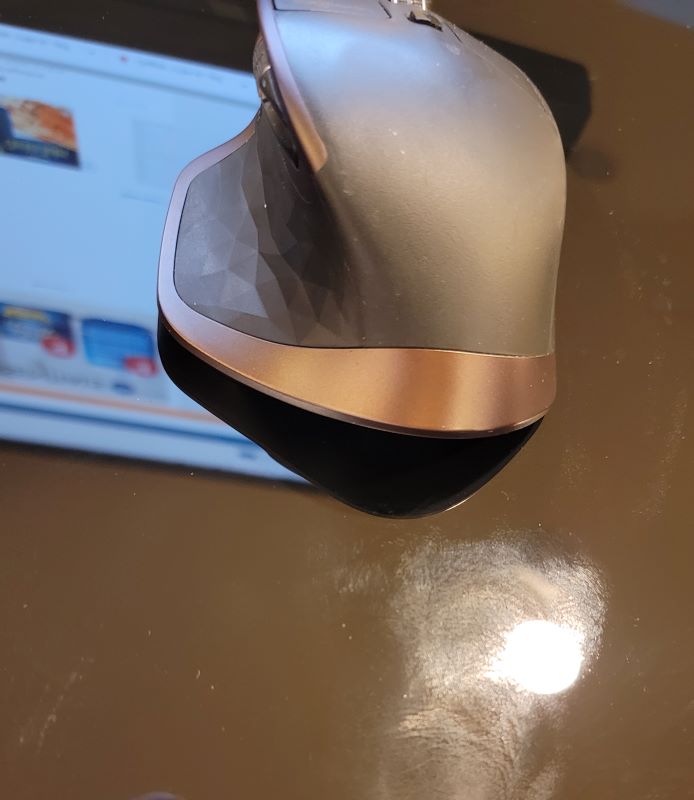 The tempered glass top and powder-coated steel tubing create a clean, modern aesthetic, but anyone who buys this desk should consider that glass looks really cool, but it can be hard to maintain.  Fingerprints and dust really stand out on the black surface.  I think it's our fault, though.  If we'd gotten it in the other color option (white) it wouldn't be so noticeable.  It feels solid and stable, even when extended all the way up.  This particular desk has a weight limit of 110 pounds, which was plenty for my setup and the dimensions (24 x 48 inches) will work great in my small office (note that I set it up in a temporary spot until we have time to shuffle the existing furniture around, so it's not in my office in the photos).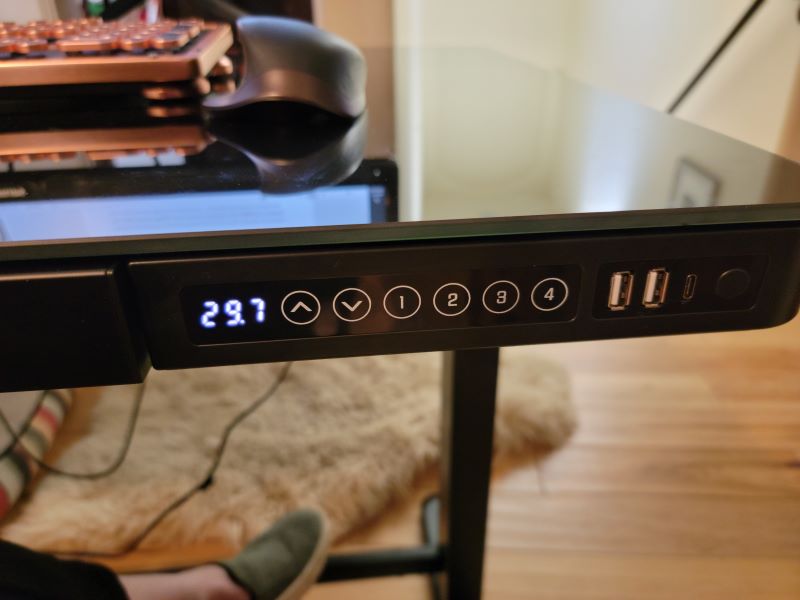 This desk has a number of interesting features that make it stand apart from most standing desks.  It's motorized and has four memory presets, so if there's a position or two that you want to move between, you can do that with the push of a button.  This is really handy because sometimes trying to find the "sweet spot" every time you move between a sitting and standing could be a pain.  Having four presets is great if there are multiple people using the desk, but if that's not enough, you can just rely on remembering your settings because the edge of the desk has a small screen that tells you how many inches the desk is set at.  It has a pretty wide height range and their website shows what looks like a 3-year-old using it at its lowest setting of 28.3 inches, so this desk does work for the whole family if you all need to use it.    The highest setting is 47 inches, which is much higher than anyone needs in our household.  Setting up the presets was a snap and I liked just pushing one button and knowing my desk was moving to the perfect height for me.  I should also note that it makes a humming noise when moving, but it isn't annoying or loud if you're working in proximity of others.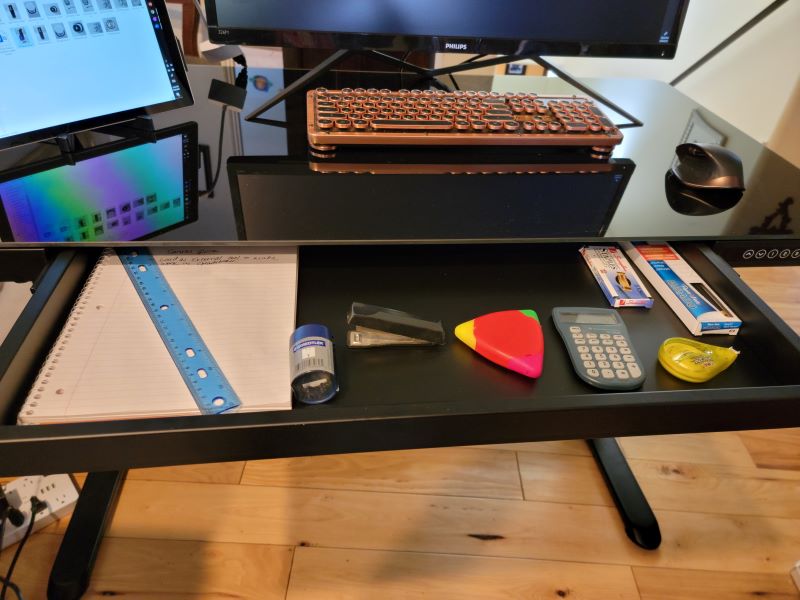 You'll also notice that there are two USB-A plugs and one USB-C plug to the right of the buttons.   Each supports up to 18-watt charging. The last button is a child lock so your rugrats don't accidentally (or not) start moving the desk while you're trying to work.    To the left of the buttons is a generously sized pencil drawer which is a great spot to keep loose documents and frequently used supplies.  I was pleasantly surprised at the depth of this drawer.  It was able to hold more than I thought.  I'm sure this wasn't something planned by the makers of the desk, but I also really liked using the crossbar underneath the desk as a footrest.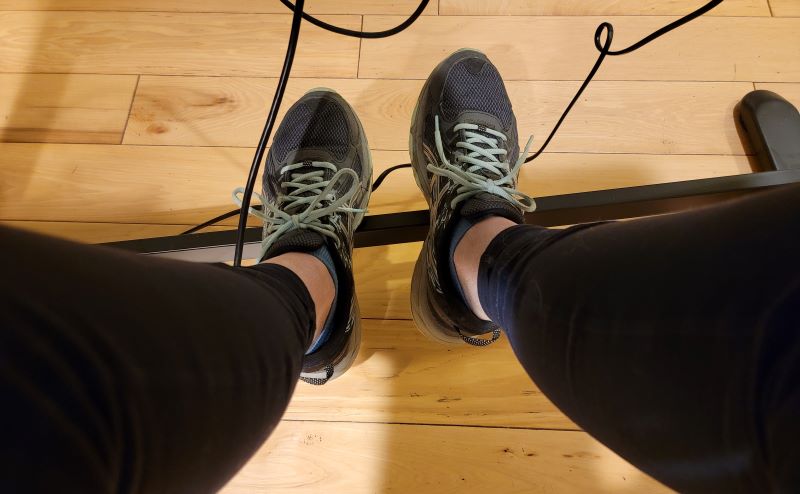 In addition to the child lock, this desk also features an anti-collision safety function.  This is really important because like many sit/stand desks, this desk doesn't come with a bunch of drawers under it, which many people purchase separately for storage.   If you buy something like that, there's always the chance that your desk will collide with the top of it when you lower it and perhaps damage the drawers or mess up the desk.  With anti-collision, if the desk meets with the resistance when lowering, it immediately starts to reverse motion.   I tested that and it worked well, although if you had something delicate underneath you might want to adjust the settings to be more sensitive.
Whenever I buy something motorized I always think…what if it breaks?  Who is going to fix this thing?  And often that makes me go manual.  But with this desk, I didn't have to worry too much because it comes with a 5-year warranty on the frame, motor, and mechanism and 2 years on the controller and switch.  Hopefully, I'll be back in my work office by then and this thing won't get the workout it is getting now.
Flexispot has a number of accessories available for their desks, like an extra drawer and a modesty panel if you are floating the desk in the middle of a room. I recommend the panel or some kind of cable management system if you get one of these since cords stand out like a sore thumb (especially when it's adjusted to a standing position) as you can see in my pics!
What I like:
Motorization
Memory presets
Safety features
What I'd change:
Cleaning frequency/Color (but that's my own fault!)
Final thoughts:
I really like the Flexispot Comhar All-in-One Standing Desk, and so does my family.  In fact, there is a bit of a debate over who gets to keep it!  If you are looking for a sit/stand desk that works for a variety of people, this is a great product.
Price: $429.99
Where to buy: Flexispot.com, Amazon also has some of their standing desks
Source: The sample for this review was provided by Flexispot. For more info visit their site.