We use affiliate links. If you buy something through the links on this page, we may earn a commission at no cost to you. Learn more.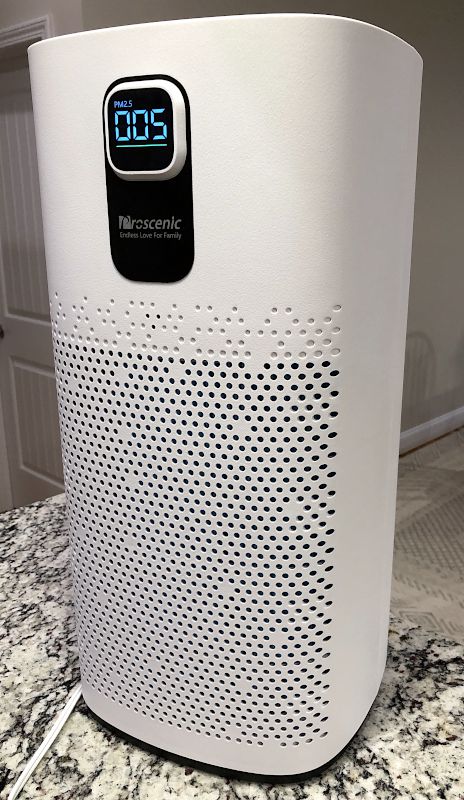 REVIEW – I live in the south, and spring is coming.  That can only mean one thing:  Pollen!  Every spring I'm inundated with floating yellow-green, powdery particles that coat my yard and car and find their way into my house.  As members of our family are allergic to pollen, I need an air purifier that can get rid of these microspores for me.  This is why I'm testing the A9 from Proscenic.
What is it?
The A9 is a smart air purifier designed for large rooms.  It uses an H13 True HEPA filter and has four fan speeds, an automatic timer, and a built-in air quality sensor.  The A9 is built by Proscenic, a Chinese company that manufactures home appliances.
What's in the box?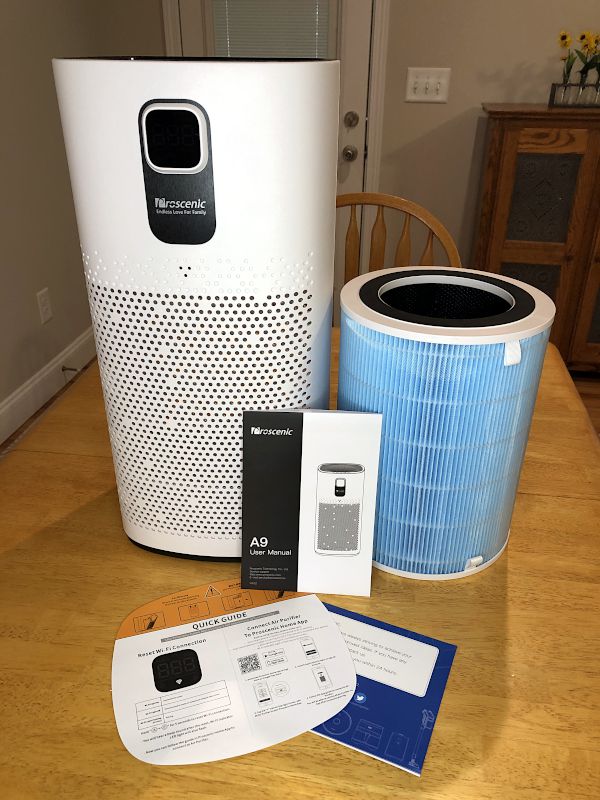 1 x Air purifier
1 x Filter
1 x User manual (with 11 pages of English instructions)
1 x Quick guide
1 x Custom care card (includes email for support)
Hardware specs
CADR Rating: 460
Certification: CARB-Compliant (it's on the official list)
Maximum Effective Room Size:  968 square feet
Modes:  Manual, Auto, Sleep, Timer, Locked
LCD Display:  PM2.5 reading
Weight:  11 pounds
Dimensions: 10 x 10 x 21 inches
Filtration System:  4 stages
Noise Level: 24-65 decibels
Design and features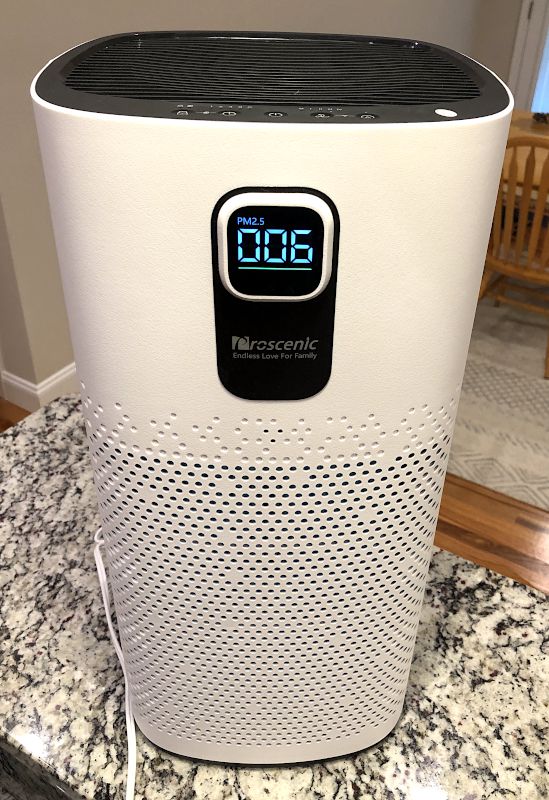 The A9 is a medium-sized air purifier that sits on the floor.  It has an almost cylindrical shape with holes that cover two-thirds of the front and back.  The body is made of a matte white plastic, except for the top, which is matte black.  Air is sucked into the front and back holes and is expelled through the vents on top.  The front of the A9 has a nice LCD panel, which displays the PM2.5 reading, and the top has a set of small, capacitive-touch buttons and LEDs that function as the control panel.  Overall, it's a very attractive design.
Installation and setup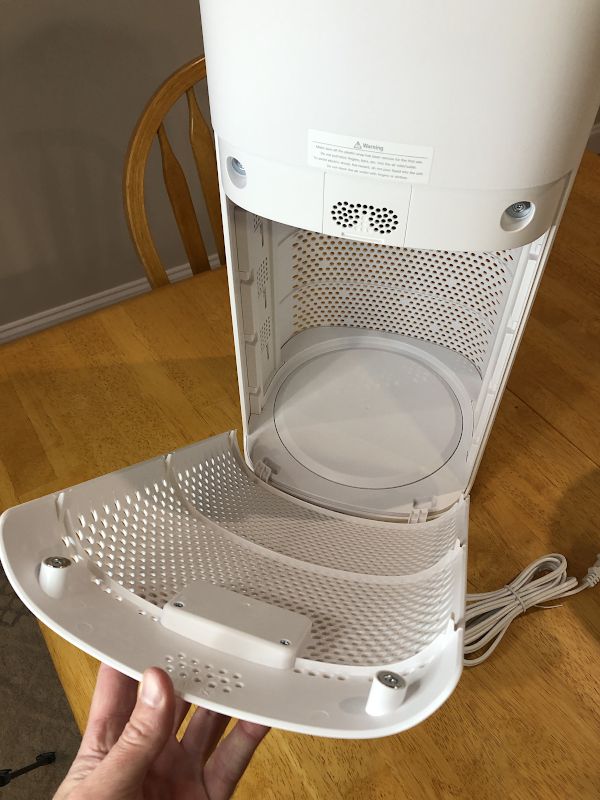 Installation was (mostly) simple.  I removed the filter from the box and then took it out of its bag.  I opened the back panel—the panel is held in place by a couple of magnets, a nice touch—and removed the filter.  I then removed the filter from its bag.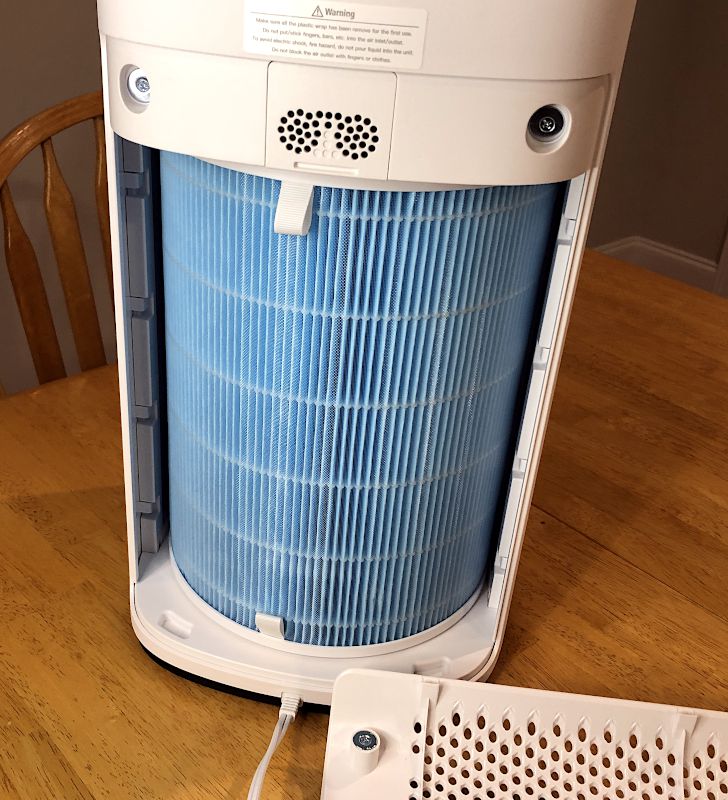 When I went to put the filter back into the purifier, I realized that it's not obvious which way is up.  There's no designation on the filter itself, the manual is unclear, and physically the filter fits both ways.  Proscenic should fix this flaw by designing the filter such that it can only go in the right way.  I guessed that the side with the hole should face up, because the air is pushed up and out through the top vent, and so I installed it that way.  To verify my guess and test Proscenic's support at the same time, I send them an email seeking clarification on this.  I received an automated reply stating that they were gone for Chinese New Year—it's a huge holiday in China—but when it was over, it took them two weeks to reply.  Don't expect quick support for your Proscenic gadgets.  At least they verified that I had guessed right.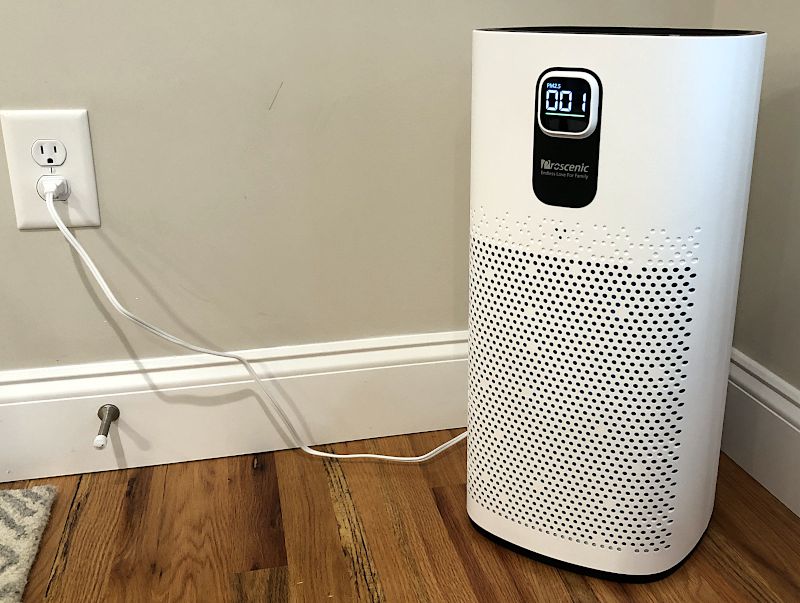 Once the filter was in, I put the A9 into my main living area.  It's a combined kitchen, dining, living space that's about 1000 square feet, which is the perfect size for this gadget.  I plugged it and pressed the ON button.  That is literally all that is required to use this purifier.  So.  Very.  Easy.
Once I turned the A9 on, it automatically kicked into a higher fan speed in order to pull more air through its air sensor, which allowed it to dynamically assess the quality of the air in my room.  After a minute, the display panel indicated that my PM2.5 was 9 and set the color to green; this means that the quality of the air in my home was very good.  It also backed the fan down to the lowest setting, which is very quiet.
Performance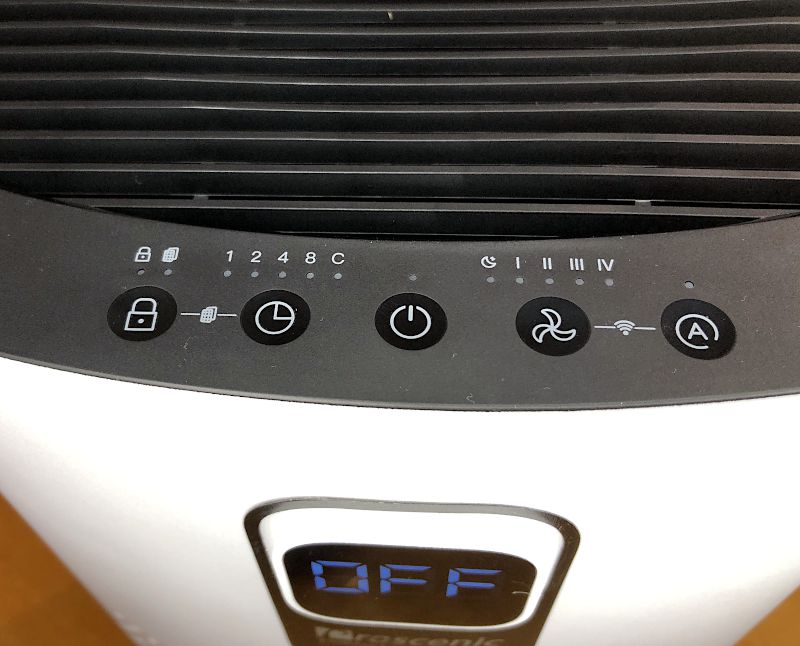 The A9 has five models of operation:
Auto – In auto mode, I allow the A9 to set the fan speed based upon the air quality that it senses.  This is the default mode, the one that I use all the time.
Manual – In manual mode, I use the fan button to set it to one of the four speeds.  For example, if my air quality is very poor, the A9 will probably be using the max speed.  If, however, I need the fan to be quieter for a while, I can manually set the fan to a lower speed.  At the lowest fan speed, the A9 is whisper quiet, and I almost never hear it running.  At the highest speed, my wife and I can still carry on a conversation, but we wouldn't want to leave it on to watch TV or have guests over for dinner or games.
Sleep – In sleep mode, the A9 sets the fan to an ultraslow (and thus ultra-quiet) fan speed, and it turns off the LCD.  As the name suggests, this is best for sleeping if the purifier is in your bedroom.
Timer – In timer mode, the fan will run for one, two, four, or eight hours before shutting down.  I don't have a need for this myself, as the auto mode is very quiet, but I tested it, and it works.
Locked – If the lock button is held for five seconds, the other buttons will be disabled until it's held again for five seconds.  This is a child-proof mode, which will be handy in households with toddlers, as the A9 sits on the floor in easy reach of little hands.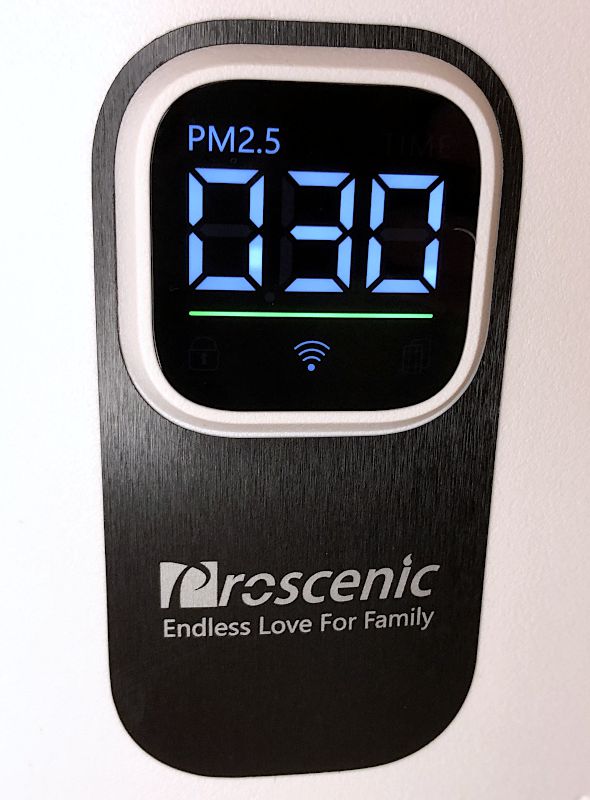 The A9 automatically senses the quality of the air in my house and displays a reading based upon the PM2.5 standard, a measure of how many particulate matters are in the air having a diameter of 2.5 micrometers or less.  The higher the number, the more particles that are in the air, the poorer the air quality, and the higher the fan setting.  The LCD panel can display four different ranges of values:
Green – 0-50 – Good Quality – Low Fan
Yellow – 51-100 – Moderate Quality – Medium Fan
Orange – 101-150 – Unhealthy Quality (for sensitive people) – High Fan
Red – 150+ – Unhealthy Quality (for everyone) – Highest Fan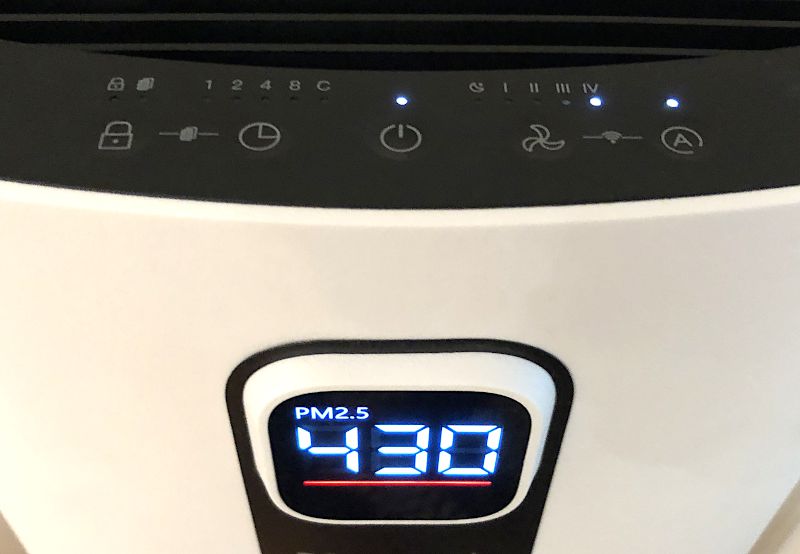 I have done some reading on the A9's predecessor, the A8, and some of the reviews indicated that it was not able to accurately sense the quality of the air.  I'm happy to report that this is not an issue with the A9.  I set up the A9 on a Saturday afternoon.  That evening my wife was pan-searing a couple of filet mignons on a cast iron skillet.  If you've ever pan-seared steak, you know that it can create some smoke.  Shortly after the smoking began, the A9 automatically started cranking up its fan, eventually getting to the highest setting.  The LCD panel indicated that the PM2.5 reading was over 400!  After about an hour, it began going back down, and within two hours, it was back down to green, and the smoke was gone from the air.  Yep, that convinced me that the A9's air sensor and filter were working just fine.
To clean the air in my house, the A9 uses a four-stage filter:
First stage – The pre-filter removes larger particles, such as hair.
Second stage – The nano-silver ion coating removes bacteria and prevents mold.
Third stage – The H13 True HEPA filter is a medical-grade filter with a particle retention rate of up to 99.95% and the ability to trap airborne pollutants down to 0.3 microns in size.  This is what removes pollen, smoke, and dust mites.
Fourth stage – The active carbon filter absorbs odors and volatile organic compounds (VOCs), which can be emitted as gases from certain solids or liquids.
Proscenic estimates that the filter will last 3000 hours, which is about four months of continuous use.  Since I only use the filter during pollen season, that means I'll need to replace it every spring, or perhaps every other spring if I try to stretch it.  At the time of this writing, there's nowhere to buy a replacement filter.  The A9 has not yet made it to Proscenic's website, and there's a placeholder on Amazon that indicates the filter is currently unavailable.  No price has been set.  You'll want to want to hold off on buying the A9 until replacement filters are available.
The manual, which is fairly well written, gives maintenance information for cleaning the air purifier and the sensor.   An indicator on the LCD panel will light up whenever the filter needs to be changed.
I've been using the air purifier non-stop for nearly four weeks.  For the majority of the time, the air quality stays at 10 or less, and the A9 runs very quietly and unobtrusively in the corner of the room.  Perhaps that will change once the pollen hits, but for now, I hardly notice it.
Extra Features
While using auto mode is all that is truly necessary to have a great experience with A9, there is an app that can be used to control and monitor it, put it on a schedule, and provide support for Alexa and Google Assistant.  The Quick Guide includes a handy QR code, which I used to find the app in the Apple Store; it's also available for Android in Google Play.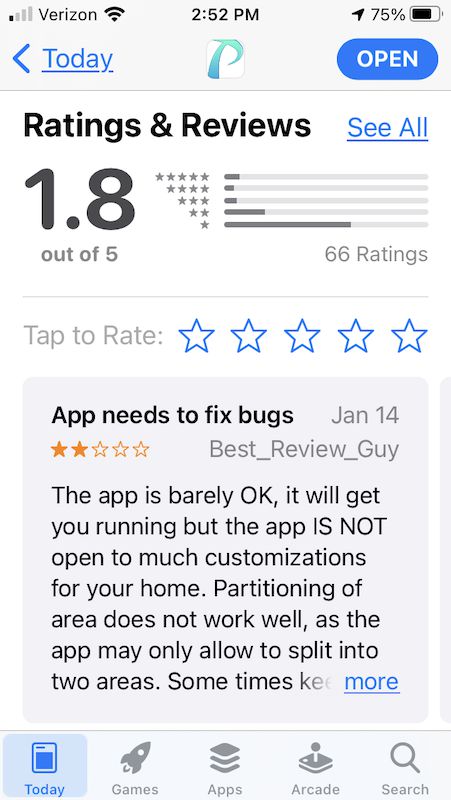 The first thing I noticed about Proscenic's app in the Apple Store is that it has an abysmal 1.8 (out of 5) star rating.  Review after review after review complained about how poorly the app worked, although many of these reviews were for their robotic vacuum cleaner.  Apparently, they use the same app to control multiple gadgets.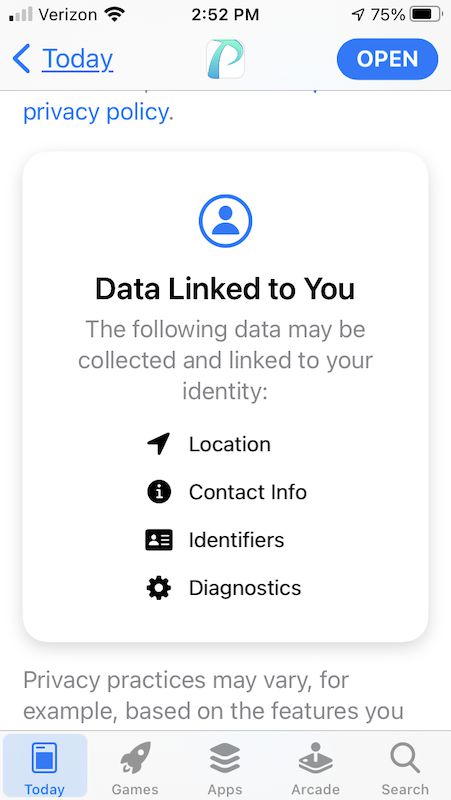 The second thing that I noticed is that the app wants access to a lot of personal data, data it doesn't really need.  At this point, I would normally choose to not install the app, and I highly recommend that you do not install it either.  It's not really necessary, and there's no reason to send your personal data to China.  As I'm an intrepid Gadgeteer writer, however, I decided to plow on for your sake, gentle reader, to see what I could learn.  To help protect myself somewhat, I went to my wireless router and changed the password of my guest network to a temporary password.  I'm certainly not going to connect this data-hoovering gadget to my home network.
I then began the process of configuring the app.  I selected the "add device" button and then chose the A9 from the "healthy life" tab.  There are two "network configuration modes" that are available, and I tried them both, though they worked identically as far as I could tell.  I made sure the A9 was on and pressed "next step" in the app.  I pressed the fan and auto buttons on the top of the A9 for five seconds, until it beeped and the Wi-Fi icon began flashing on the touch panel and pressed "next step" again.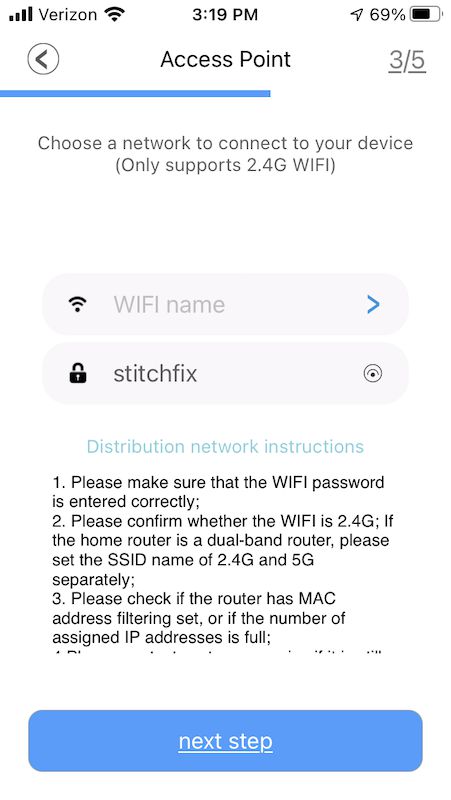 At this point, the app wanted to connect to my network.  There's a button that appears to be a drop down for selecting my Wi-Fi network.  Unfortunately, it never saw my home network or my guest network (or any of my neighbor's networks).  Selecting the blue arrow took me to settings, which didn't help.  I entered the temp password and selected "next step" anyway, hoping for the best.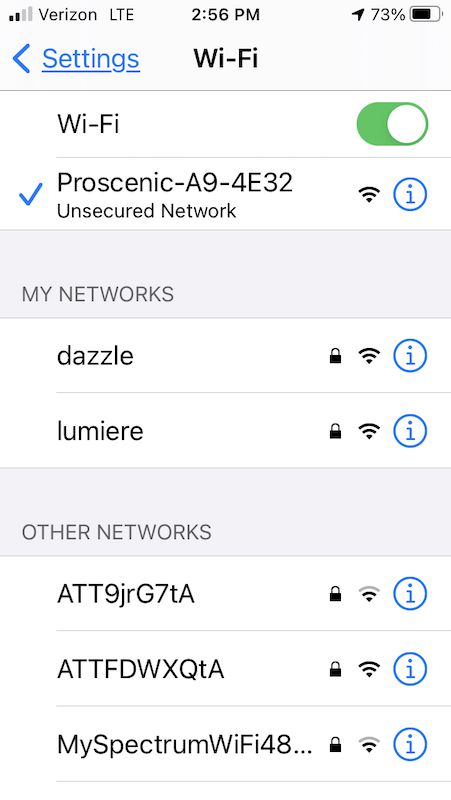 Per the instructions, I went to my wireless settings and selected the Proscenic network created by the air purifier.  Yes, they built an air purifier with a wireless router in it.  My phone was able to connect to it.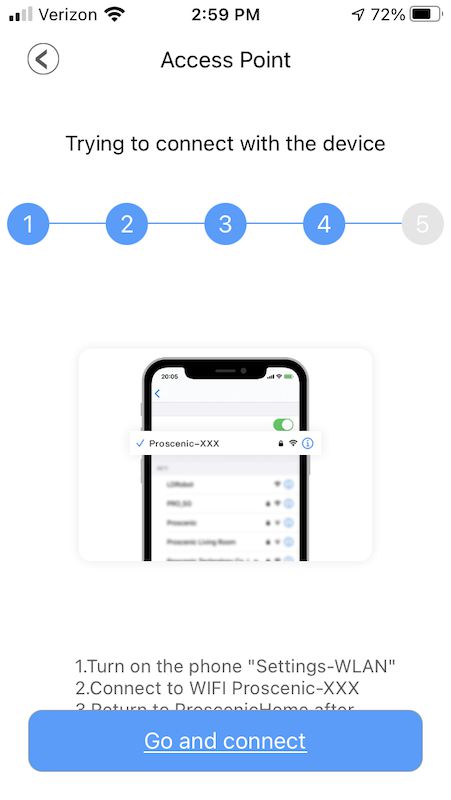 At this point, I was stuck.  When I returned to the app, it was never able to connect to the device.  Nothing that I tried resolved this problem.
It's quite possible that my issue is that I have a dual-band router with only one SSID.  The fine print in the app and on the Amazon page notes that it can only work with 2.4 GHz networks, and it recommends that I set the SSID of the 2.4 GHz and the 5.0 GHz networks separately.  Unfortunately, this would be a technological step backwards for me; it's better to have both networks use the same SSID, so that devices can roam back and forth and pick whichever one is better at the moment.  (To be fair, there are times when it's better to separate the SSIDs, notably if the 2.4 GHz network gets a lot of interference from other devices in the house.  This is not, however, a problem for me.)  Honestly, there's no reason why a device should be so constraining and force me to reconfigure my wireless networks.  My Ecobee 3 Lite thermostat and my Apple HomePod Minis, for example, connected to my network just fine, no reconfiguration required.  I think that Proscenic has a lot of improvements that they need to make with their app, their Wi-Fi support, and their lack of respect for data privacy.  If they really wanted to do automation right, they would support HomeKit; this would allow me to control the air purifier via voice commands through my HomePods and place a lot of safeguards on my data.
At this point in my testing, I gave up, deleted the app, and reset my network.  I don't feel like anything was lost here, except some of my time.  Whatever the app does, it can't be that much better than turn the purifier on, allow it to use auto mode, and leave it alone.  You should ignore the app.
What I like
Clean design
Quiet operation (in the lower speeds)
Auto air quality detection
Effective air filtration with HEPA filter
What I'd change
Fix the app and air purifier to properly work with dual-band routers
Stop collecting user data
Support Apple HomeKit
Final thoughts
The A9 is an air purifier from Proscenic for rooms around 1000 square feet.  It has an automatic sensor that can detect the quality of the air in order to raise or lower the airflow through its H13 True HEPA filter.  I really like the A9.  It's easy to use, is quiet on the lowest fan setting, and does a great job keeping the air in my living area clean.  I think it's going to make pollen season less of a problem for my family, at least inside the house.  The app that comes with the A9 is awful, so you should ignore it; thankfully, it's not necessary to use the air purifier.  As I noted above, there's currently no way to buy replacement filters.  For now, that means that I have to recommend that you hold off on buying the A9; as soon as filters are available, I'll update this conclusion to recommend that you buy the A9.
Update 5/12/21
We are nearly done with the pollen season around our house, and I have to admit that it's been milder than usual. I think that's due in no small measure to the A9, which I've been running nearly non-stop since February. With its large capacity, it's capable of continuously pulling pollutants from the air. I feel like the air in the house has really been clear. I see that Proscenic now has replacement filters available on Amazon, so I can finally recommend this gadget to you!
Price: $239.99
Where to buy:  Amazon
Source: The sample for this review was provided by Proscenic.