We use affiliate links. If you buy something through the links on this page, we may earn a commission at no cost to you. Learn more.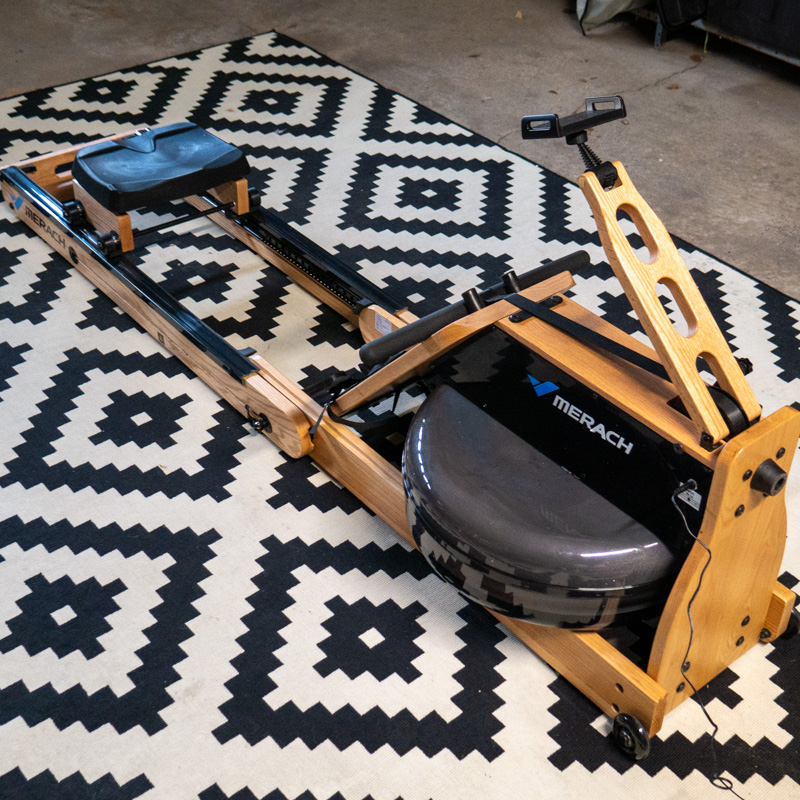 REVIEW – I had a cheap rowing machine a few years ago that I really enjoyed – not so much for the product but just because I liked the workout. A few months into using it though, the elastic-based strap snapped while I was rowing, throwing me backward. It was unpleasant, to say the least. I've switched my workout routines to biking, hiking, and VR workouts for the most part, but when the offer came in to try out the Merach 950 dual resistance wood rowing machine, I decided to risk another cord snap.
What is it?
The Merach 950 dual resistance wood rowing machine is a rowing machine that uses both water resistance (paddles are pushed through a water tank when you pull the strap) as well as magnetic resistance which is adjustable. It has Bluetooth and an app to do instructor-led workouts, or you can just watch your favorite show on your own tablet with the built-in tablet holder.
What's in the box?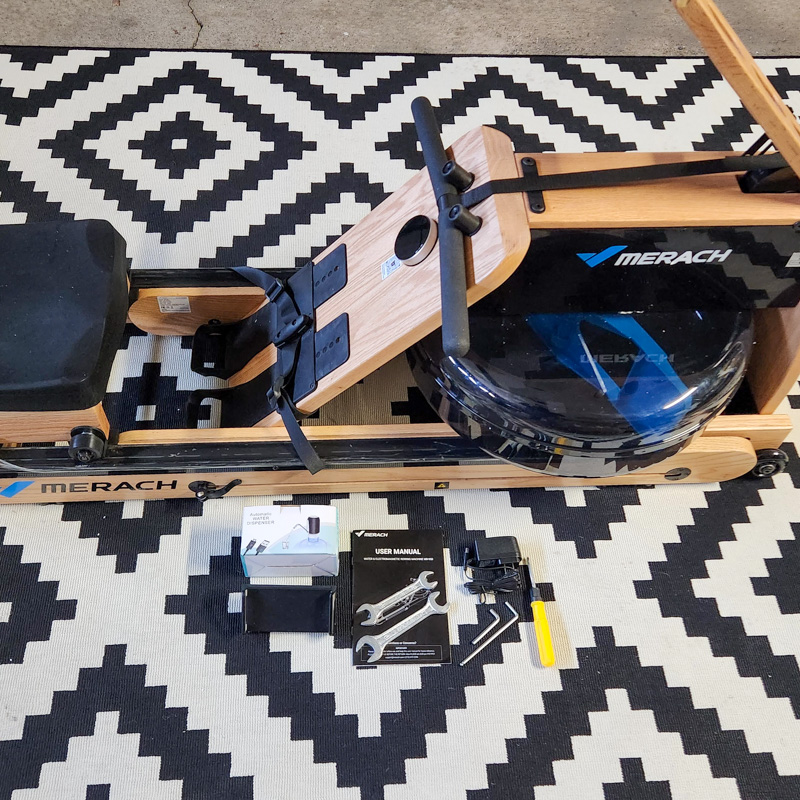 Merach 950 dual resistance wood rowing machine
Battery powered electric water pump and hose (micro-USB rechargeable)
AC Adaptor
Manual
Toolkit
Hardware specs
Stats tracked and shown during workout: paddle strokes-per-minute, duration, calories burned, pace
Foldable with wheels for storage: yes
Resistance: water and magnetic (16 levels)
Capacity: 350 lbs
Adjustable footplates
Connectivity: Bluetooth
Dimensions: 78.74″D x 19.69″W x 19.69″H
Weight: 85 lbs
Folded for storage dimensions: 50.36″H x 19.69″W x 19.69″D
Design and features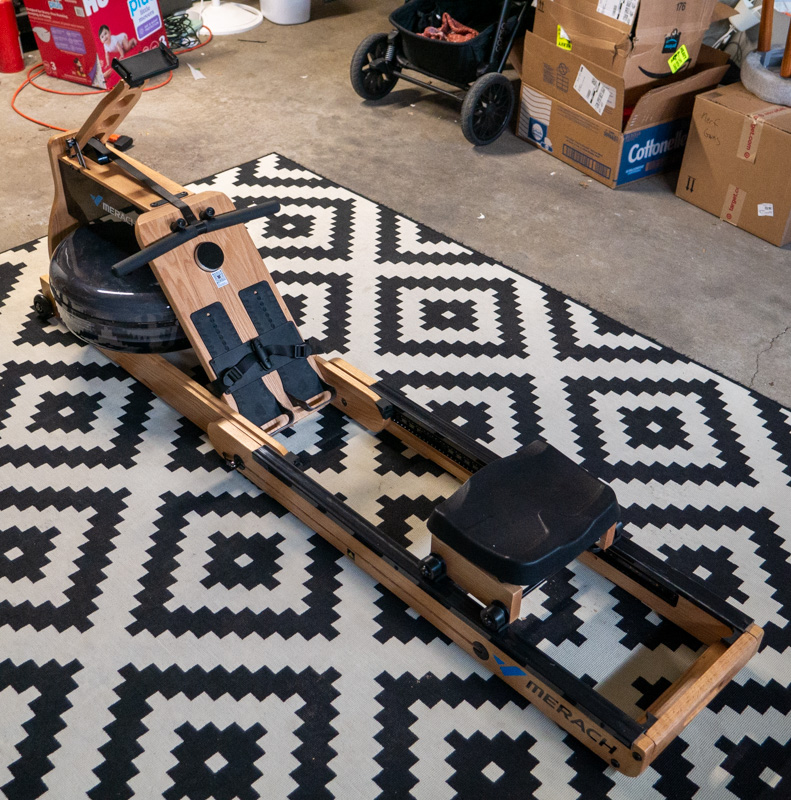 The Merach 950 dual resistance wood rowing machine is a pretty typical water rower design with a tank in the front, a seat on sliding rails, foot straps, the handle and strap system you pull on, a tablet/mobile mount at eye level, and a circular control/info screen in the center. I received the cherry wood finish, there's also a darker oak version.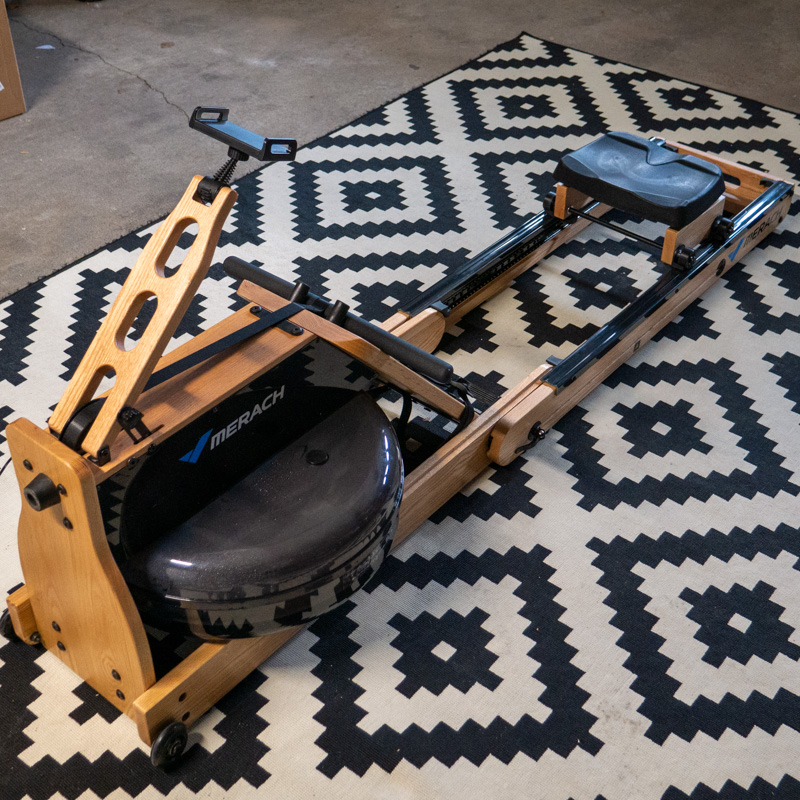 Above is another shot of the Merach 950 Dual resistance Wood Rower, you can see the wheels and backside.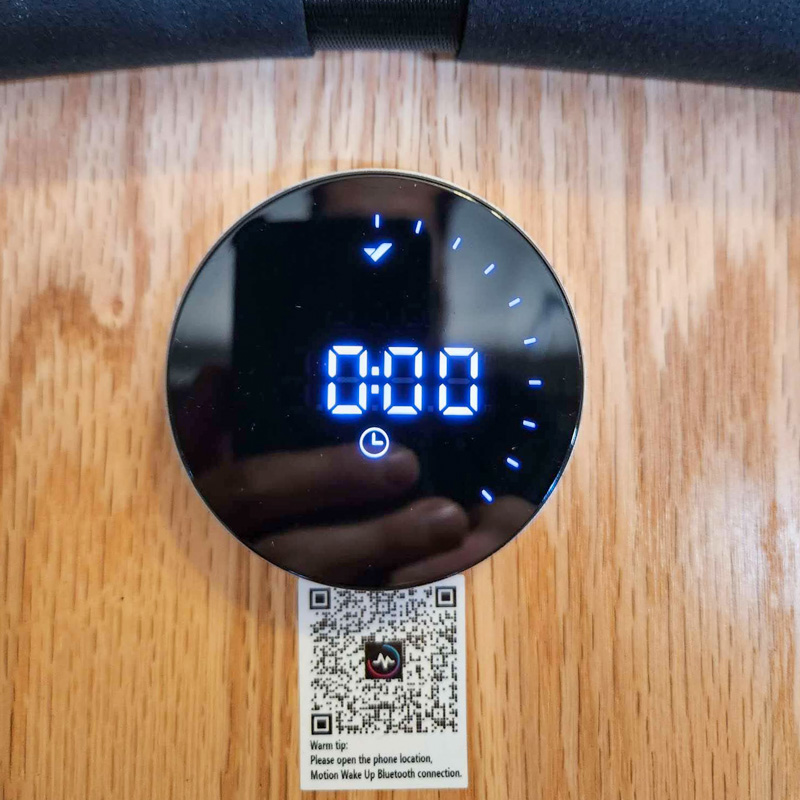 The control unit is a nice LCD screen, with a control scheme similar to a Google Nest thermostat: you can spin the whole unit clockwise/counterclockwise to select things (like resistance or what stat you're viewing) and then press the whole unit in to select your choice.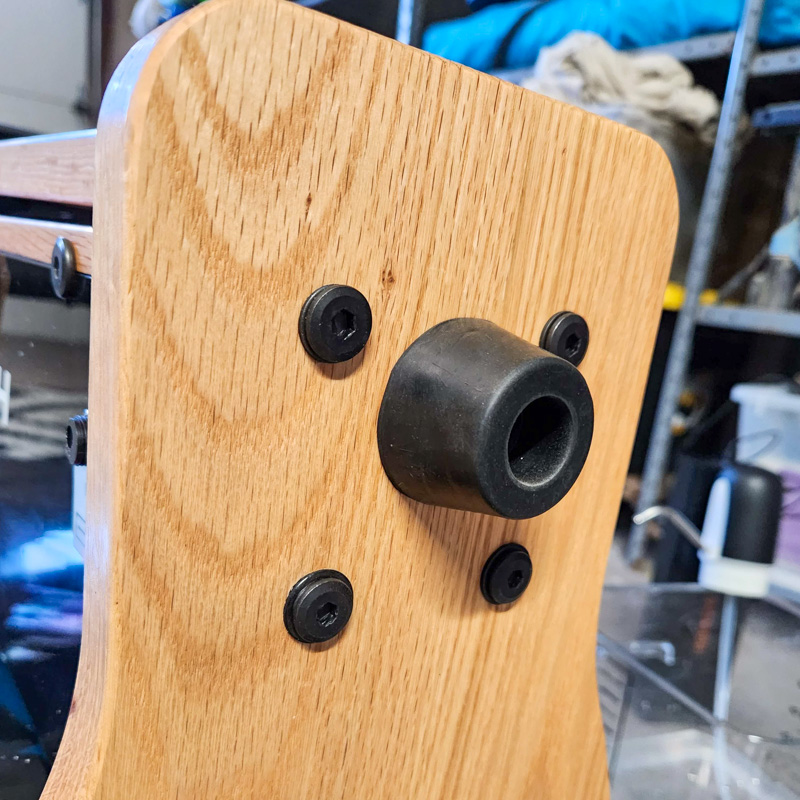 Above is a shot of the large peg that the whole unit rests on when folded up for transport/storage.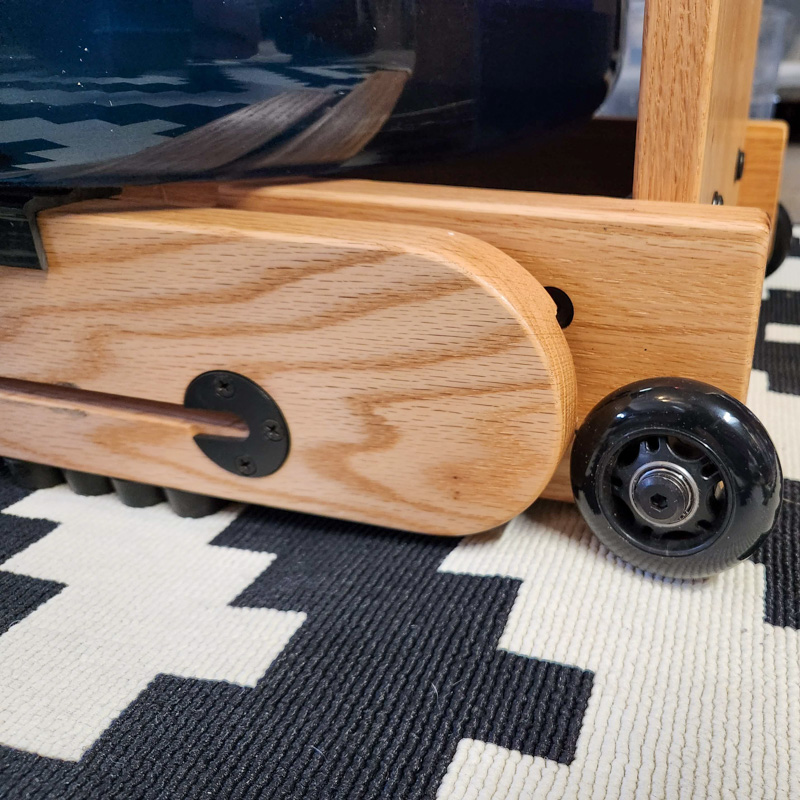 The wheels are like roller blade wheels, and worked well to move the Merach 950 Dual resistance Wood Rower short distances over hard floors.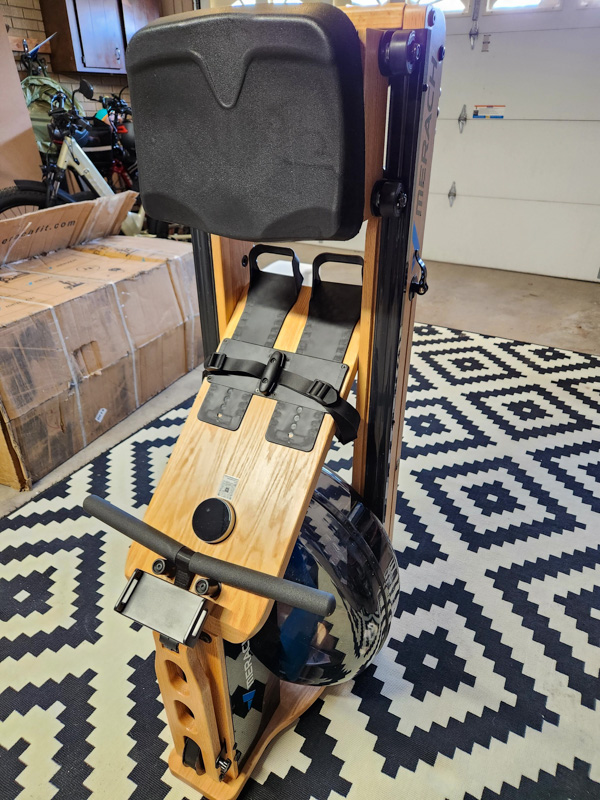 When folded up, the Merach 950 Dual resistance Wood Rower is fairly compact footprint-wise, taking up just over 15 inches in depth and width, and just over 4 feet tall. You're able to pretty easily transition between the storage and use position as well with the weight of the water tank being near the pivot point.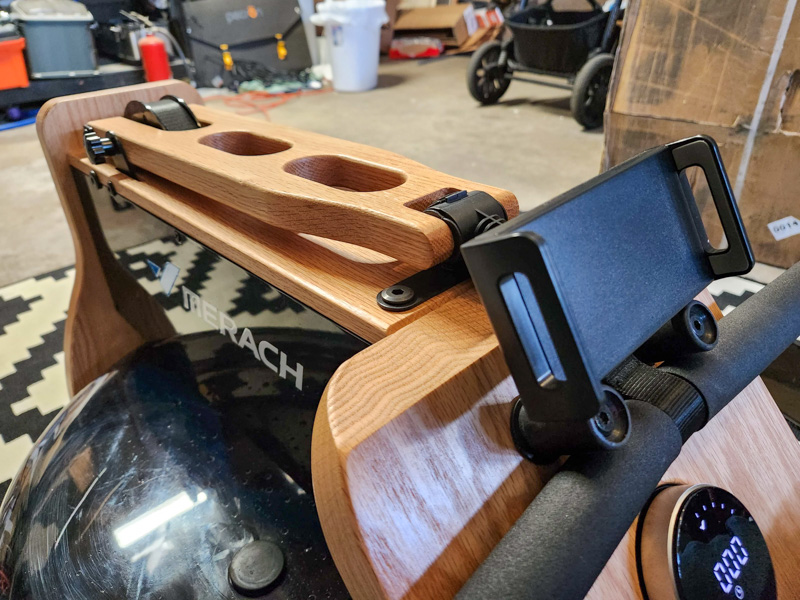 The included tablet holder screws onto the tablet arm with a plastic ball joint system, so it can be positioned vertically or horizontally and tilted to face your eyes.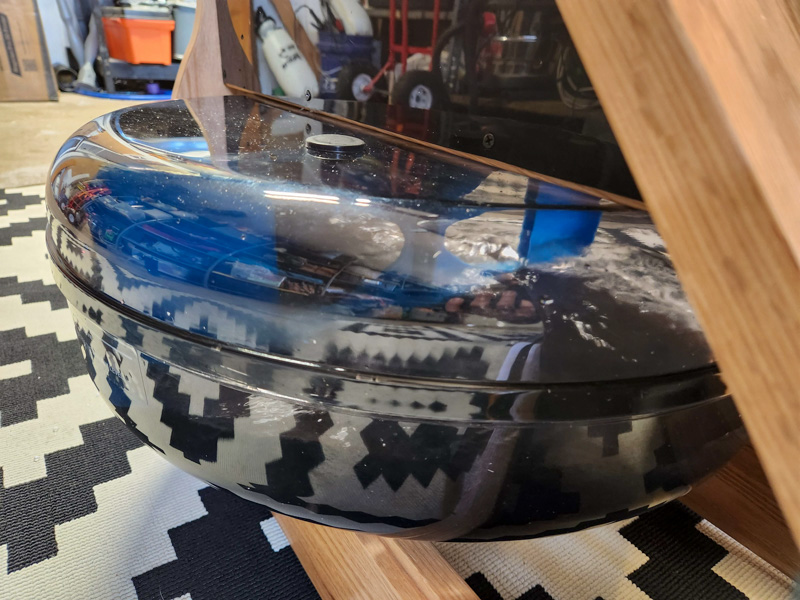 The water tank is a smokey grey but translucent plastic, so you can see the blue paddles and water in motion while in use. A rubber plug (pictured above) keeps the water sealed.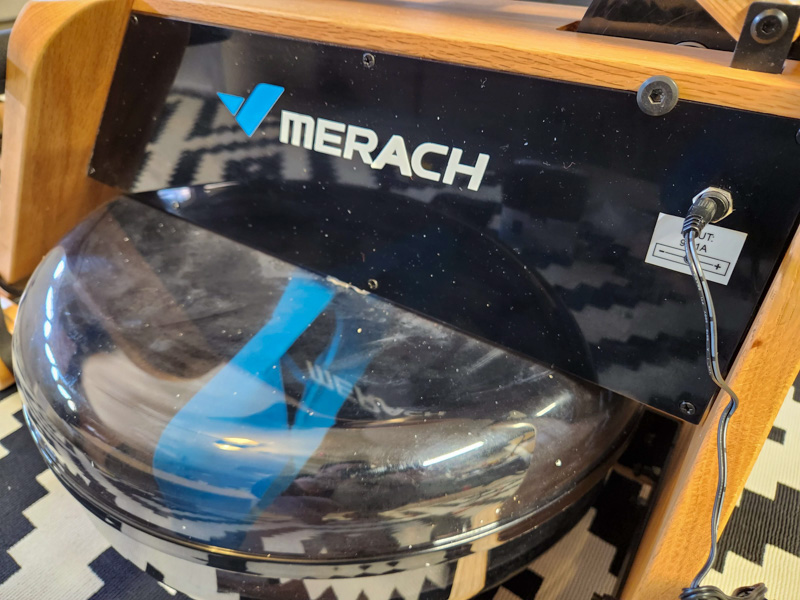 The machine can be used completely powered off, but to adjust magnetic resistance settings or use any app functionality you'll use the included AC adaptor to plug it in.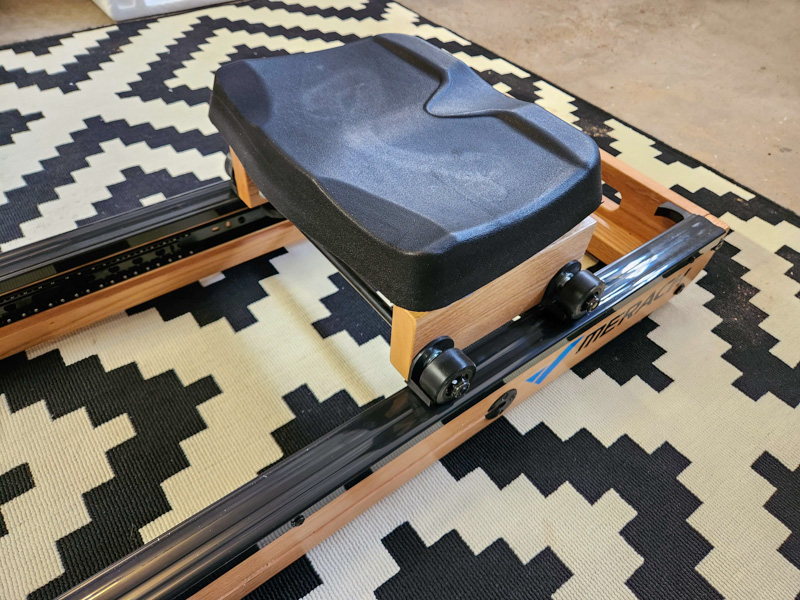 The seat is comfortable enough, made out of foam and contoured. I used this for 30+ minute sessions with no derriere pain.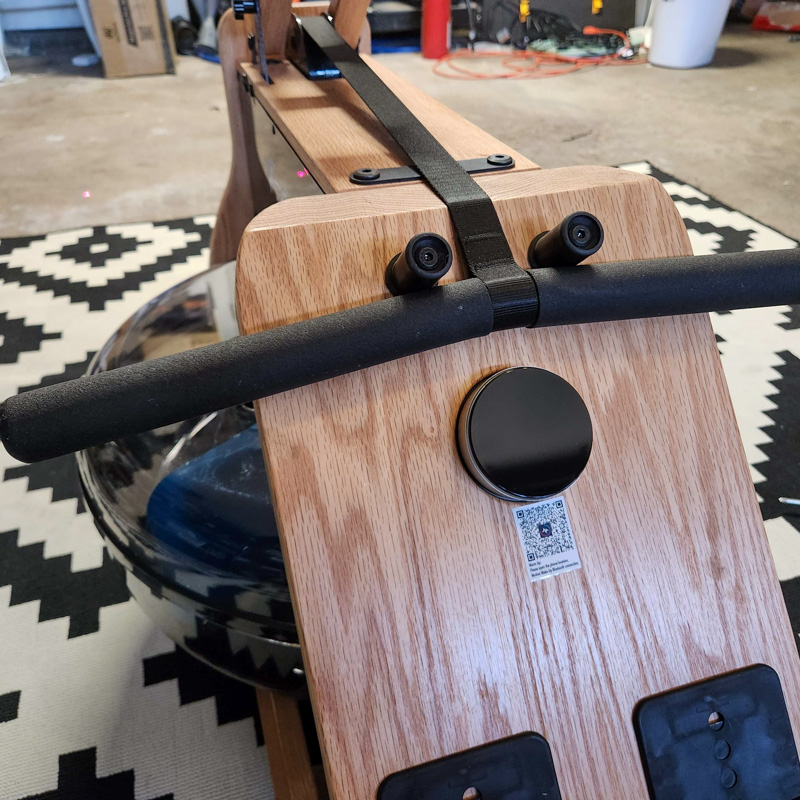 The handle feels like any decent gym equipment that I've used before, and the nylon strap seems like it'll hold up – it didn't fail or show any signs of wear during my weeks of testing.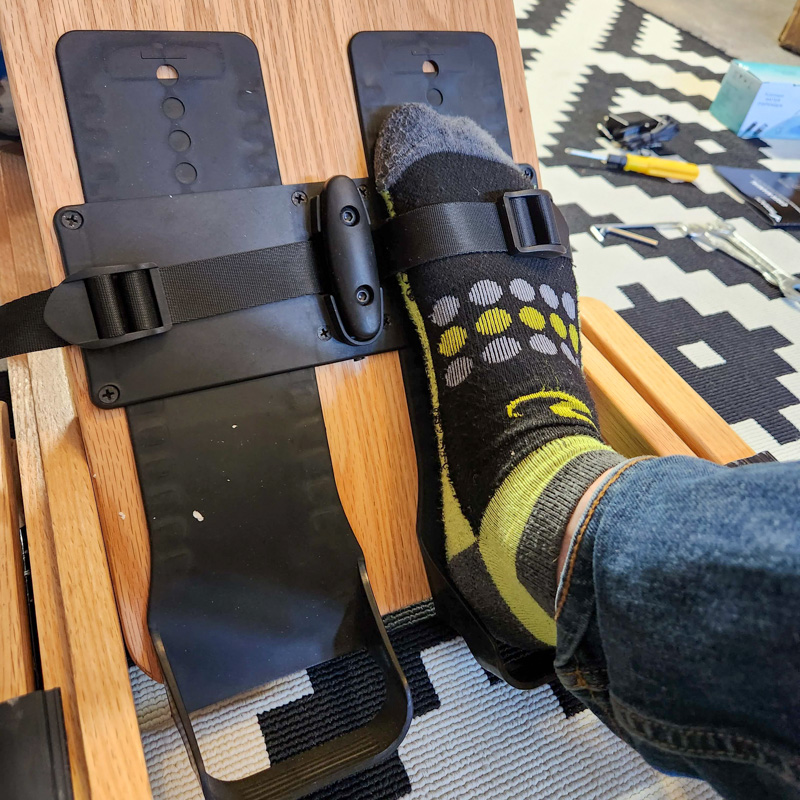 The footrests are adjustable up/down by pressing the oval button in the center, I had to move them pretty far up from the shipped position for even my large size-13's. My only complaint here is that the straps do loosen with vigorous activity, I had to tighten them back up once or twice a session.
Setup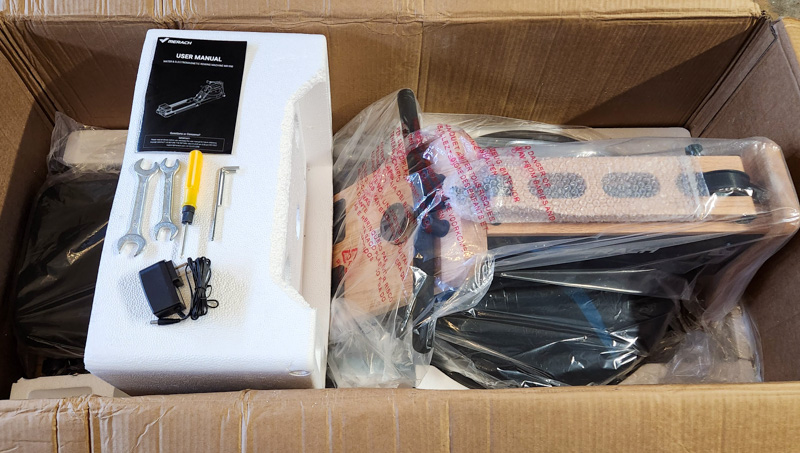 The Merach 950 Dual resistance Wood Rower comes nearly fully assembled except for the tablet holder.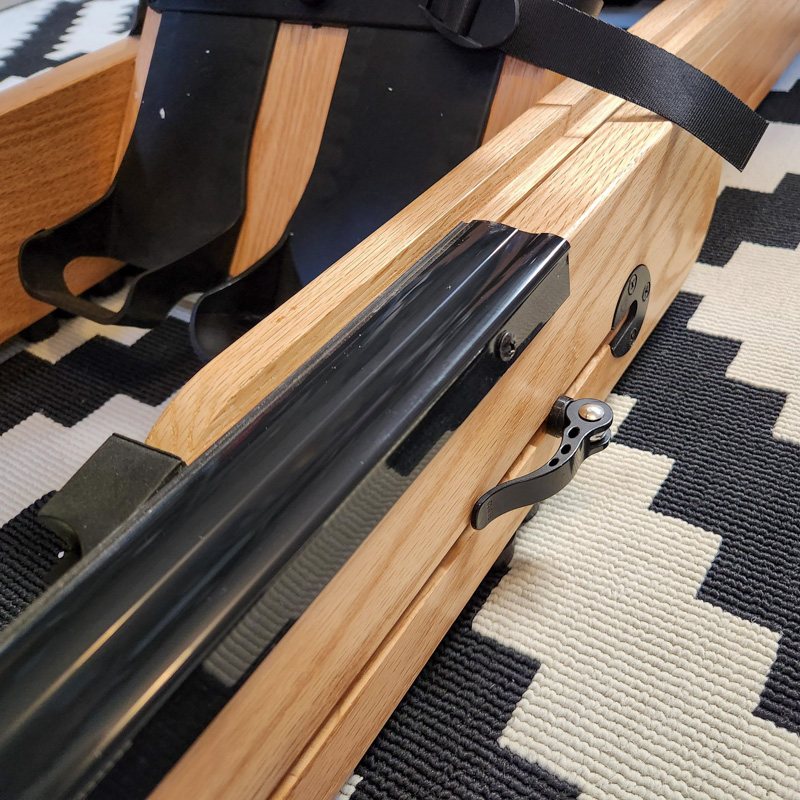 You'll need to loosen the above quick-release levers and unscrew them a bit (these are just like bike quick release axles). There are metal reinforcing plates at each end of the adjustable track, you want to only use these spots as screwing into the wood could easily damage it. Once loosened, you slide the seat rail all the way out and clamp them back down.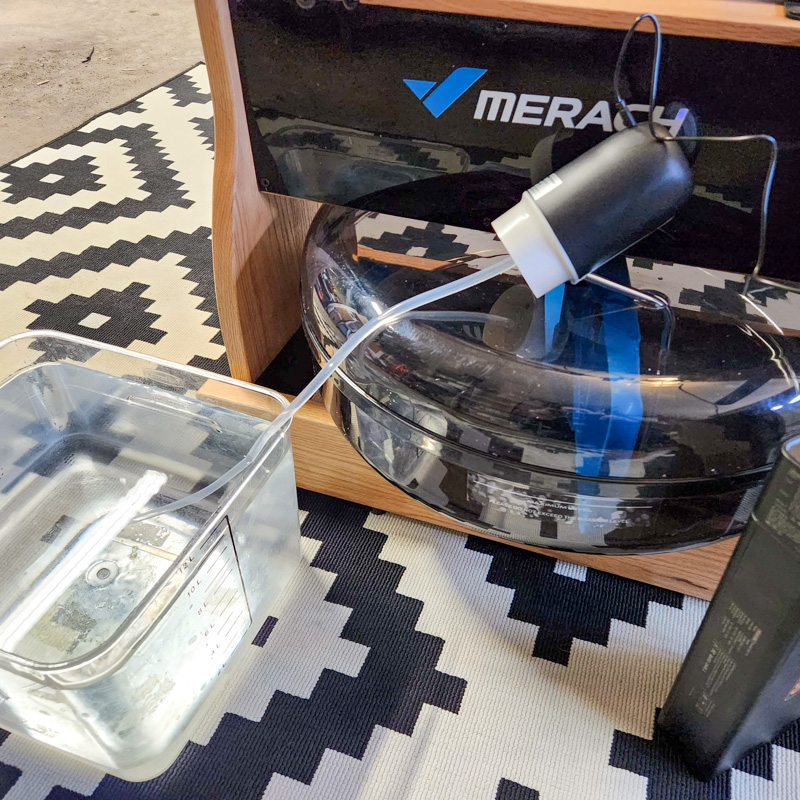 Next, you'll fill the water tank – I did this while installing and setting up the app. As you can see above, a large container of water will work well to let the included electric pump to draw from. Later if you want to remove the water from the tank, you'll just reverse this process. A clearly marked "Maximum" line is visible on the side. Merach recommends using distilled water if you're leaving it in the tank for long periods. The manual also calls for inserting an included bleach tablet (which I couldn't find), but not to use liquid chlorine bleach in the tank. I think if you used distilled water and swapped it out every few months you'd be fine.
The app was fairly typical compared to the many newer brands coming out of China: misspellings and grammar errors all over, but all the functionality worked.
They advertise a free membership to their instructor service, I had to create an account to log in and do anything. The app tracks your workouts, allows you to make a workout plan, and connects to the Merach 950 Dual resistance Wood Rower for instructor-led workout sessions where you watch and follow an instructor and the machine automatically changes resistance levels along with the instructor's program.
Here are some app screenshots:
As of writing this review, there were about 20 rowing workouts, though it looked like some might have been listed multiple times in both the intermediate and advanced sections. It looks like there were three different instructors, and their English accents range from mild to nearly unintelligible. Even without being able to understand one of them, I could still follow along with the workout, and live stats show on screen while you go. There are also a couple of nature-themed workouts that just show a slowly moving view across water with some music as you row. I liked these.

Performance
I enjoyed my workout sessions with the Merach 950 Dual Resistance Wood Rower a lot. The motion was smooth, both for the seat sliding along the rail as well as the handle pull. The resistance ranges from almost-nothing to pretty resistant (though I'm no bodybuilder, it might all be easy for some people). My elderly-millennial knees weren't sore at all like many other workouts I punish them with.
The water component of the Merach 950 Dual resistance Wood Rower can be mesmerizing to watch. I found myself tuning out the instructor and just watching the water slosh and froth while rowing. I like the control scheme on the circular info panel as well, it's easy and quick to use mid-workout. I tried to get as many workout sessions as I could in during the testing period, and felt better every time with only mild muscle soreness after (the stretching guided by instructors definitely helped with this).
What I like
Easy setup and takedown
Nice looking finish and build quality
Functional app and instructor led workout classes
What I'd change
More instructor classes as well as nature scenes would be nice – hopefully, Merach adds more as time goes on
Good warranty, but with newer companies this can be a point of concern
Final thoughts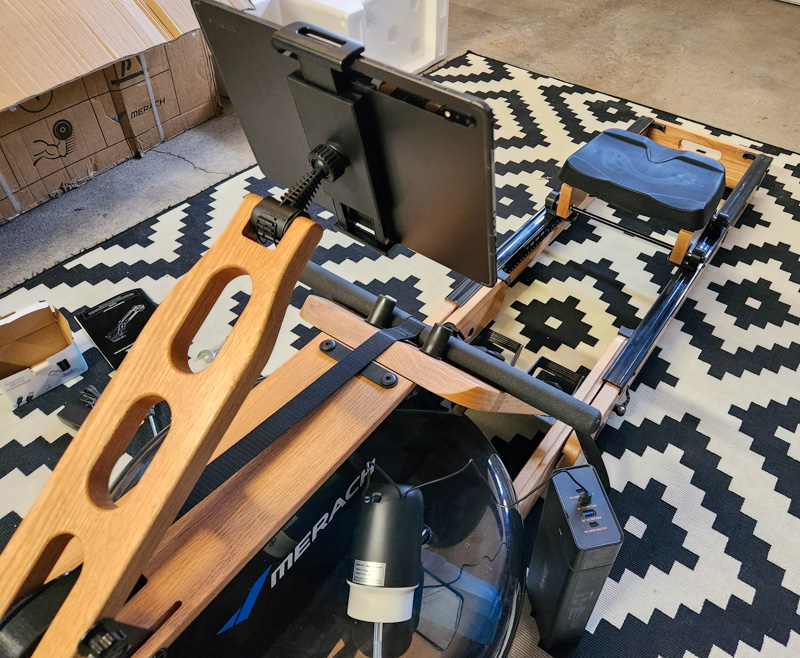 If you're looking for a water resistance rowing machine and don't want to spend thousands of dollars, the Merach 950 Dual resistance Wood Rower might be a good option for you. While not cheap, it's quite a bit less than most other water-resistance rowing machines I see on the market. A solid build and no noticeable issues over a couple weeks of hard use bodes well for long term reliability. I also like how easy it is to put into a corner for storage between uses, this is a must-have in our house.
Price: $619.99
Where to buy: Merach and you can find a selection of other Merach rowing machines on Amazon
Source: The sample of this product was provided by Merach