We use affiliate links. If you buy something through the links on this page, we may earn a commission at no cost to you. Learn more.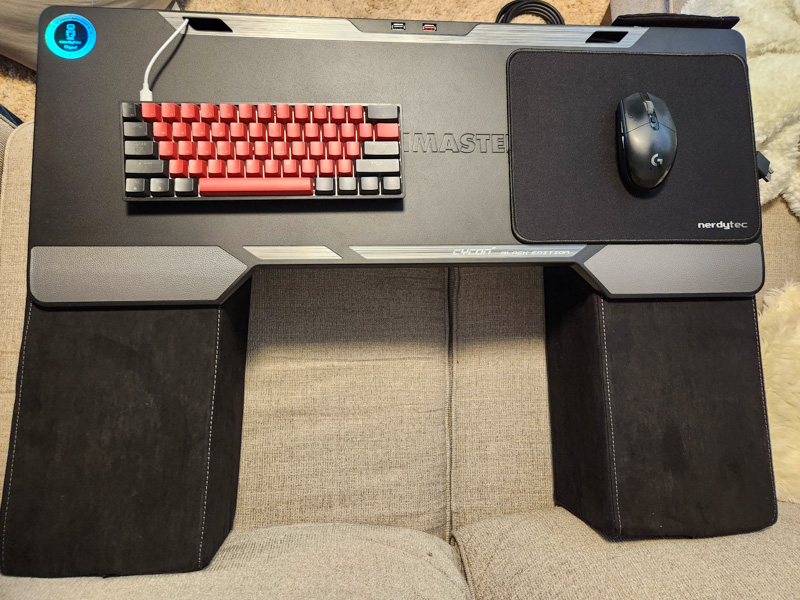 REVIEW – I've owned at least a half-dozen gaming laptops starting in college in the early 2000s, and I've always loved the ability to play anywhere (at the cost of paying a bit more for a bit less performance). I've also tried at least a half dozen different couch trays or other accouterments while playing at the couch, but every single thing I've tried without fail has resulted in a sore <insert body part> over time. I'd seen marketing for the Nerdytec Couchmaster CYCON² and had toyed with the idea of ordering one, so when the offer came up to do a review on it, I jumped at the opportunity. Now that I've been using it for a few weeks, I'm seriously considering just building a small gaming PC for the living room, read on to find out why!
What is it?
The Nerdytec Couchmaster CYCON² is a couch gaming system (one of a series of variants for different purposes). The CYCON² in particular that I was sent to review was the Black edition, but they also sell different colorways and sizes, and even models with airflow vents for laptops. The Nerdytec Couchmaster CYCON² not only serves as an ergonomic keyboard-and-mouse tray, but also sports a USB 3.0 hub and long single connection cable, so you can have a computer or Playstation/Xbox on the other side of the room and plug this in when you're ready to game, while keeping a mouse/keyboard/headphone-dongle/etc. plugged into the CYCON² all the time.
What's in the box?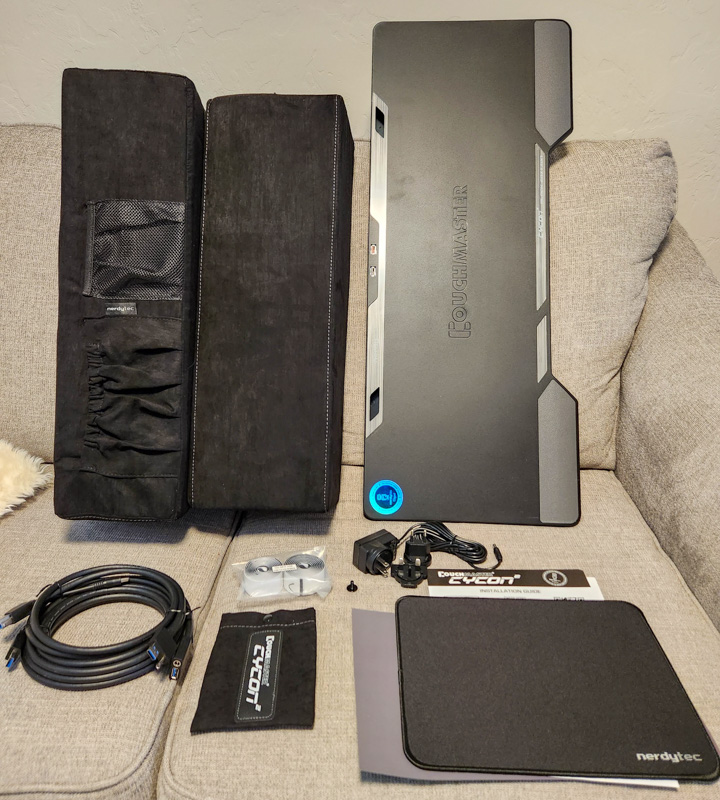 Nerdytec Couchmaster CYCON² support board with integrated USB 3.0 hub
Two vacuum sealed side cushions
Velcro removable mouse bag
11′ 8″ connection cable (carries both USB data and power for the USB hub)
Power adapter with multiple outlet plugs (US included)
Self adhesive velcro tape
Installation instructions
3 locking screws
Gaming mousepad
Hardware specs
Cushion dimensions (x2) 23.6 x 7.9 x 6.3″
Board dimensions: 32.2 x 13 x 1.2″
Assembled combo dimensions: 32.3″ x 23.6″ x 6.3″
Material: Suede-look microfiber
Maximum distance between cushions: 29.5″
6x USB 3.0 ports (4 internal and 2 easy access on top)
Design and features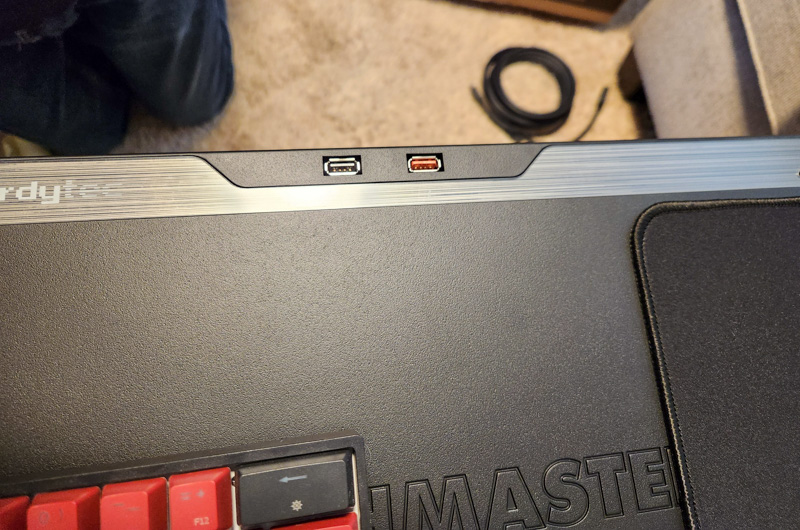 The Nerdytec Couchmaster CYCON² is basically a plastic slab that you rest on two generous cushions. The two top USB ports are great for your mouse and keyboard, or dongles or flash drives. The surface itself is a textured plastic that feels nice and is easy to clean. There's room on the surface for a full keyboard as well as a large mousepad, and Nerdytec sells various accessories for things like a tablet holder as well.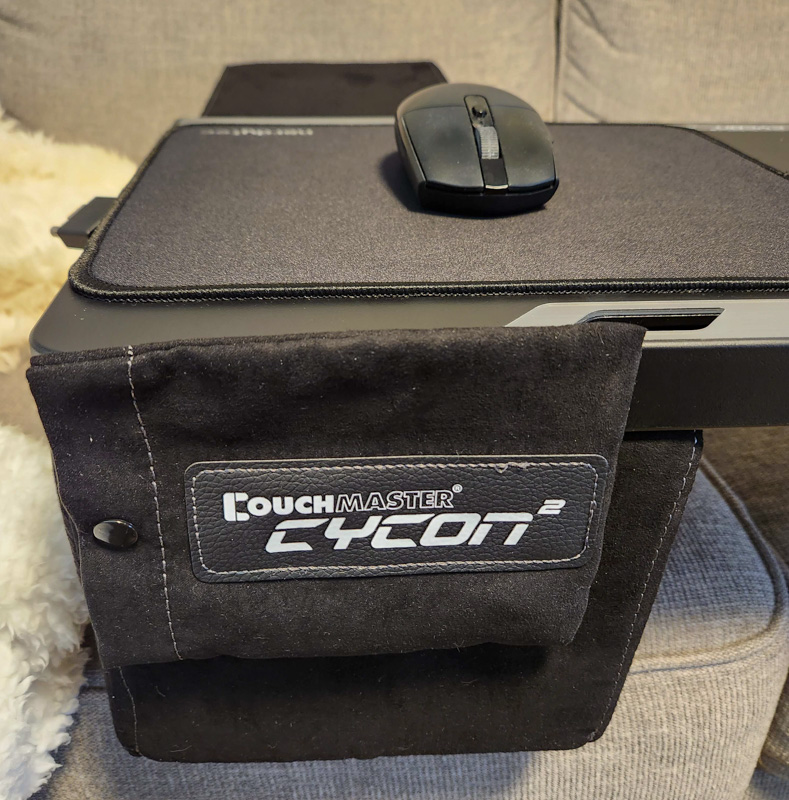 The included mouse bag makes for a nice storage case for your mouse when not in use or if you're moving the Couchmaster CYCON² in or out of storage. The included mousepad is a standard fare mousepad, it has the Couchmaster logo and a nice texture and tracked well. If you have a good laser mouse, you don't need it as the textured surface of the Nerdytec Couchmaster CYCON² also tracked well for me.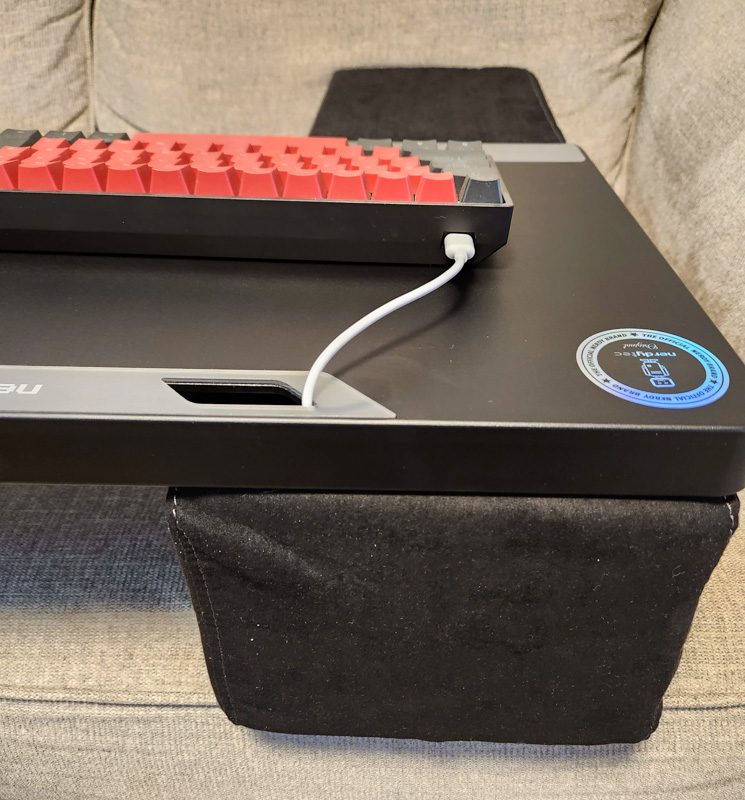 In the photo above, you can see how I routed the cable for a mechanical gaming keyboard through the port opening, this was connected to one of the four internal USB 3.0 ports. You can also see the holographic sticker, which is easily removable with no residue if desired. Each cushion is stable once placed flat, and there are pockets for odds and ends on one of the cushions (like remote controls, phones, earbud holders, etc), which is a nice touch. The cloth microfiber covers are removable for washing.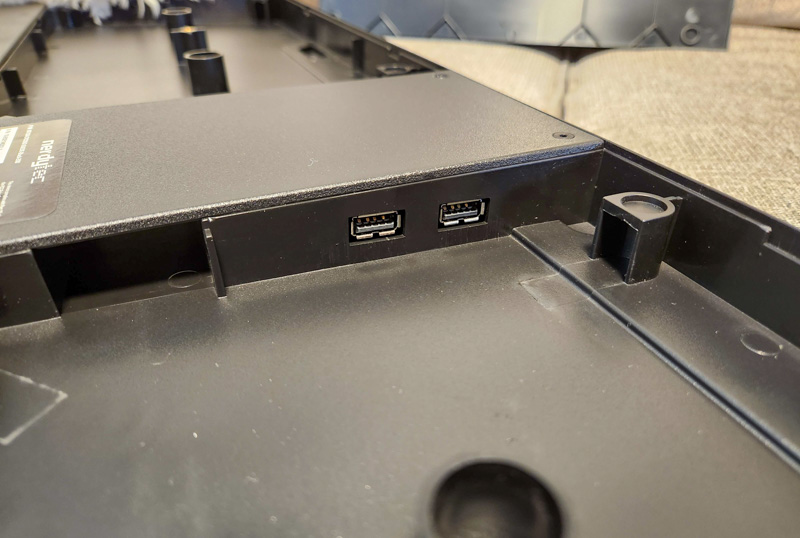 USB 3.0 ports are shown in the above and below photos, two under each panel and two on the top. Excess cabling can be wrapped into the empty space under the panels here, resulting in a fantastic clean gaming package for use on a couch.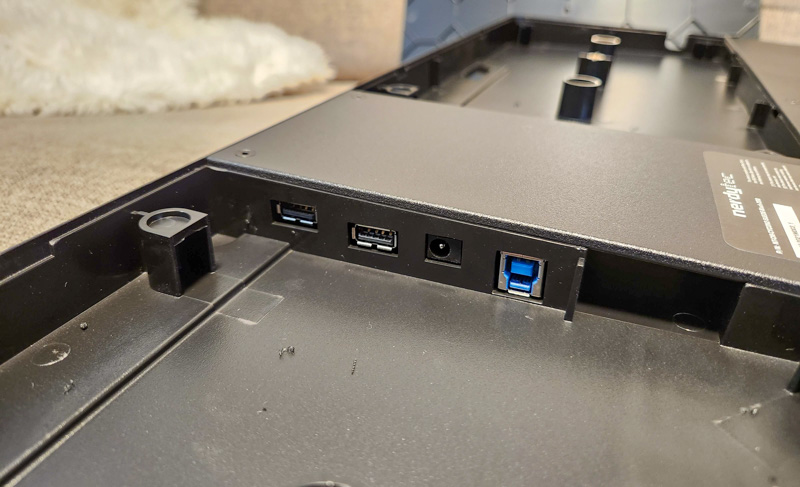 I found the Nerdytec Couchmaster CYCON² to be supremely comfortable. It's head and shoulders above the many other trays and jerry-rigged solutions I've tried in the past for both usability and comfort. I don't have wires going all over the place to connect a mouse or keyboard, it's easy to set up and store away, and I naturally sit in a great position while using it. If I had to send this review unit back, I would have immediately bought a replacement for myself (and I'm still considering buying the Cypunk edition and gifting this).
Nerdytec sells some interesting accessories as well like a phone holder, tablet holder, "nerdy tray" (snack or small item holder), cup holder, and full length mousepad, any of which can be added at checkout or bought separately. Below is a picture of some of the available accessories: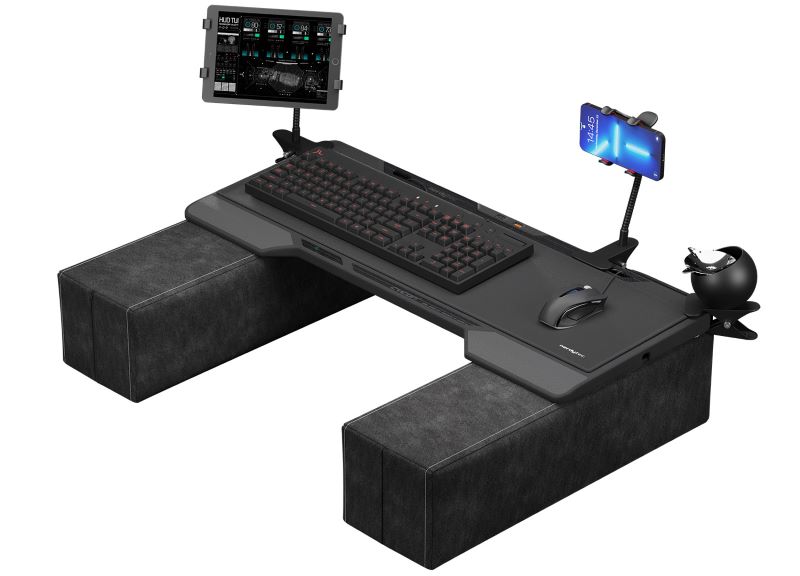 Setup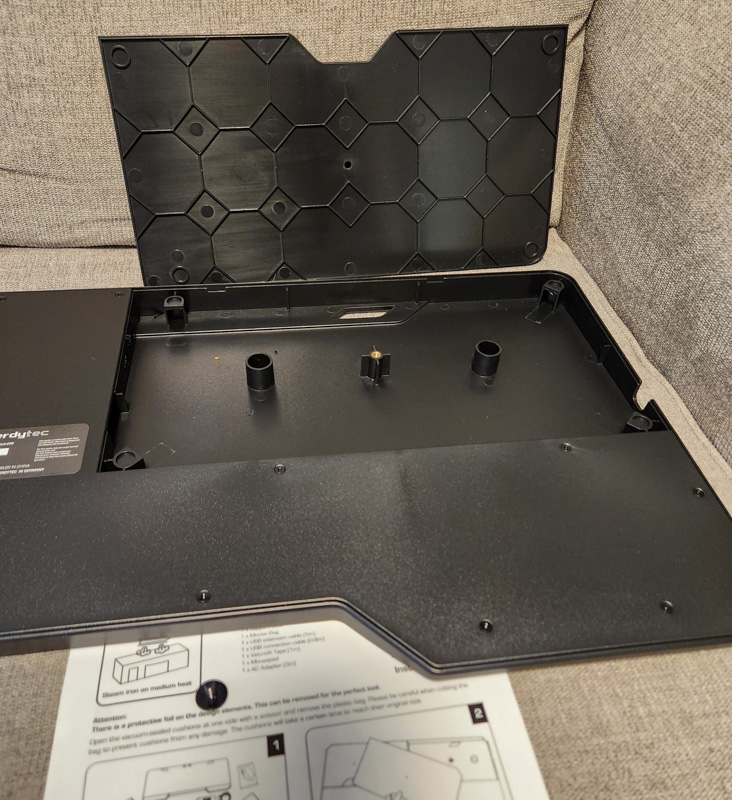 Setup of the Nerdytec Couchmaster CYCON² involves unscrewing the bottom plates to access the internal USB 3.0 ports, connecting the main cable (power and USB 3.0), connecting the other end to the included power adaptor and your USB device (PC/laptop/PS5/Xbox/etc), wrapping excess cables and screwing the bottom plates back on.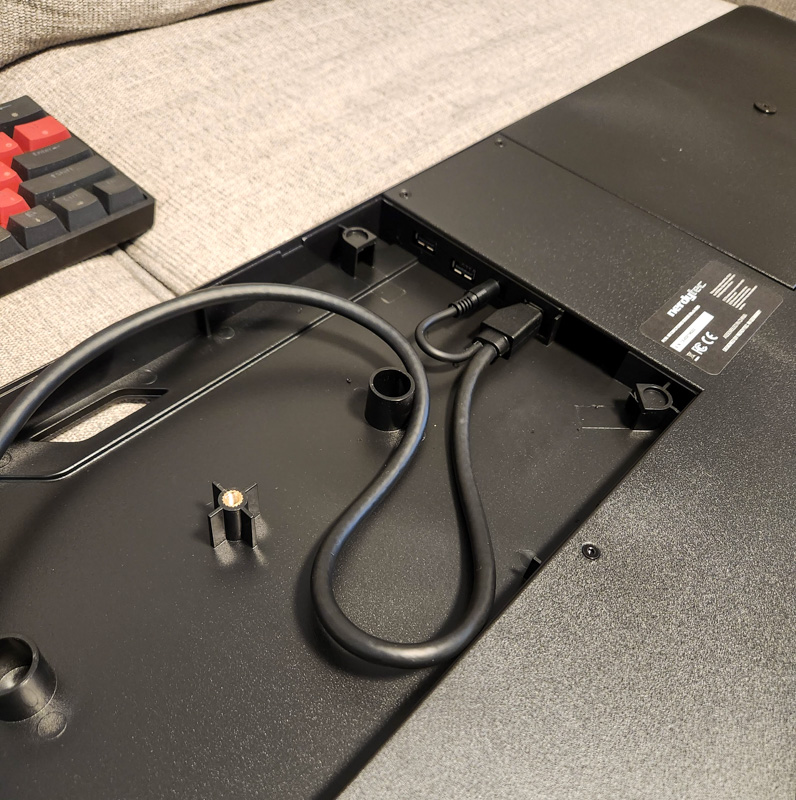 The cable routing was very easy, and you can see how the main cable connects to the USB 3.0 hub above. With the 4 internal ports and 2 external, you can pretty much connect anything you'd need for a gaming or work session, and easily tuck the board and cushions away when not in use. I like the quick connect/disconnect feature of the main cable (right off the Nerdytec Couchmaster CYCON² is a dual connection for the single cable). I have no issues at all with various USB 3.0 and 2.0 devices, everything worked exactly as it should.
What I like
Very comfortable couch ergonomics
Long power/USB cable
Easy to set up and take down
What I'd change
More expensive than just a lapdesk
Options for different height cushions – they fit me great but may be too high or low for some people.
Final thoughts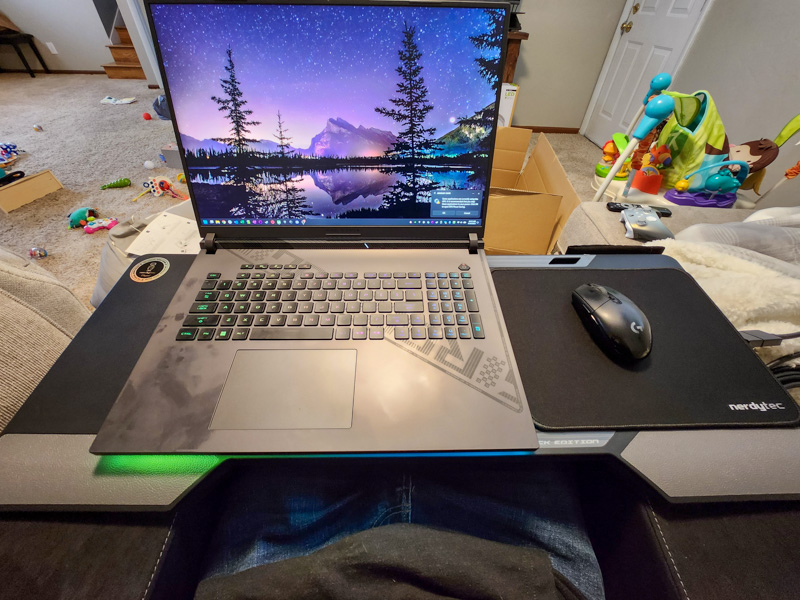 I'm currently getting great use out of the Nerdytec Couchmaster CYCON² with gaming sessions on my rather large Asus G18 gaming laptop (which still fits on the CYCON²'s surface just barely), but my partner likes to play games as well and I could see a future where I build a compact home theater and gaming PC using the Nerdytec Couchmaster CYCON² for the mouse/keyboard/headset station (and then getting a Nerdytec Couchmaster CYBOSS specifically for my laptop).
Price: ~$146 at time of review
Where to buy: nerdy-tec and Amazon
Source: The sample of this product was provided by nerdytec