We use affiliate links. If you buy something through the links on this page, we may earn a commission at no cost to you. Learn more.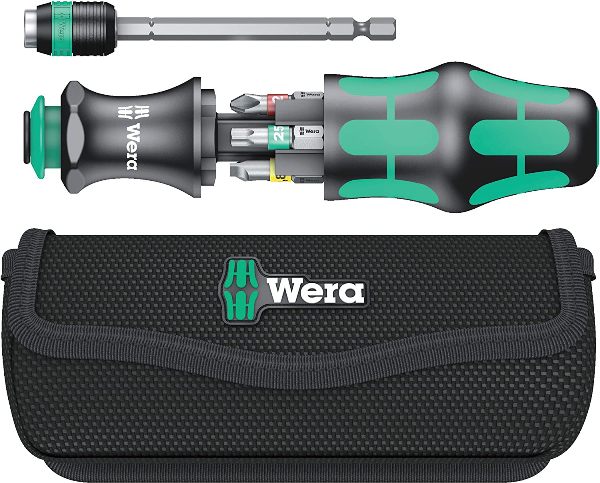 NEWS – The Kraftform Kompakt 20 Tool Finder 1 with pouch is a cool screwdriver from Wera that neatly stores six bits within the handle. With the push of a button located on the end of the handle, the screwdriver pops open to reveal the storage area for the bits.
You have access to six different-sized bits: one slotted (0.8 x 5.5 x 25), 2-Phillips (1 x 25, 2 x 25), 1-Torx (25 x 25),  and 2-Pozidriv (1 x 25, 2, x 25) bits. The bits are stored in slots (not magnetic) so if you have other standard 1/4″ screwdriver bits, you could swap them out with yours.
This screwdriver has an easy-release chuck. When you insert a bit, the chuck collar clicks (slides down) locking the bit in place. To release the bit, you slide the collar up and extract the bit.
The screwdriver is a compact size (about 4″ with a bit attached) but extends to a standard-sized screwdriver (about 8″ with the bit attached). To extend the spring-loaded extension from the handle, you pull back on the handle's collar. The extension can also be removed from the handle by pulling back on the collar again and removing the extension. The extension is also a standard 1/4″ bit that will fit into a drill.
You can purchase the Kraftform Kompakt 20 Tool Finder 1 from Amazon for $54.19. Or you could buy the Kraftform Kompakt 25 Pouch Set from Amazon for $34.99 which has different bits (3-Phillips, and 3-slotted) if you don't have a need for Torx or Posidriv bits. However, for either model, you should be able to swap the bits provided with your own 1/4″ screwdriver bits to replace those stored in the handle of the screwdriver so you can have a set of the bits most useful to you. The Kompakt 20 and 25 screwdriver handles appear to be identical, although I don't own these so I can't say for certain.
*Note – the Kraftform Kompakt 25 Pouch Set contains the following six screwdriver bits: 3-Phillips (1 x 25, 2 x 25, 3 x 25) and 3-slotted bits (0.6 x 4.5 x 25, 1.0 x 5.5 x 25, 1.2 x 6.5 x 25).
It's easier to see how this screwdriver works rather than read about it (the following video was posted by an Amazon customer):