We use affiliate links. If you buy something through the links on this page, we may earn a commission at no cost to you. Learn more.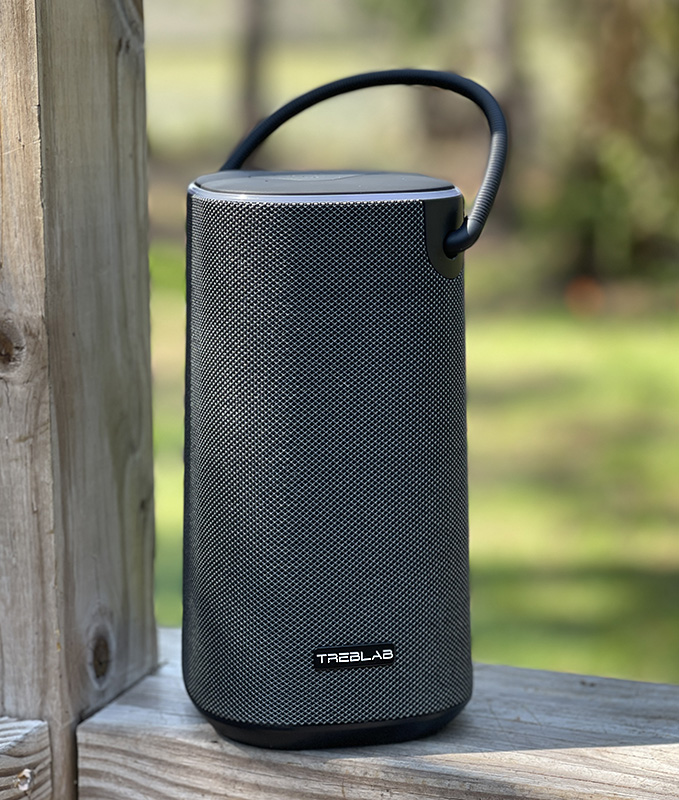 REVIEW – Recently, I was sent the Treblab HD-Force portable wireless speaker to review. Ordinarily, I might or might not show interest in "another Bluetooth speaker", but this one sparked an interest. It looked a lot like the Tribit StormBox Pro speaker I reviewed (and liked a lot) two years ago—but a bit bigger. I really like the StormBox Pro, so I wondered if the HD-Force would sound as good. My thoughts are—yes, it sounds as good and sometimes, it sounds even better.

What is it?
The Treblab HD-Force portable wireless speaker is an upright Bluetooth speaker that can be used both indoors and out. Its wider base and narrower top help keep it steady and balanced while playing. It has a carrying handle that makes it easy to carry or hang on a branch or nail. 
An IPX6 water-resistant rating means the HD-Force can be rained on or taken into a shower with no damage. However, it cannot be submerged. Four ports at the rear are protected by a thick waterproof rubber seal. In addition to 5.0 Bluetooth, music can be input via AUX or SD Micro card ports.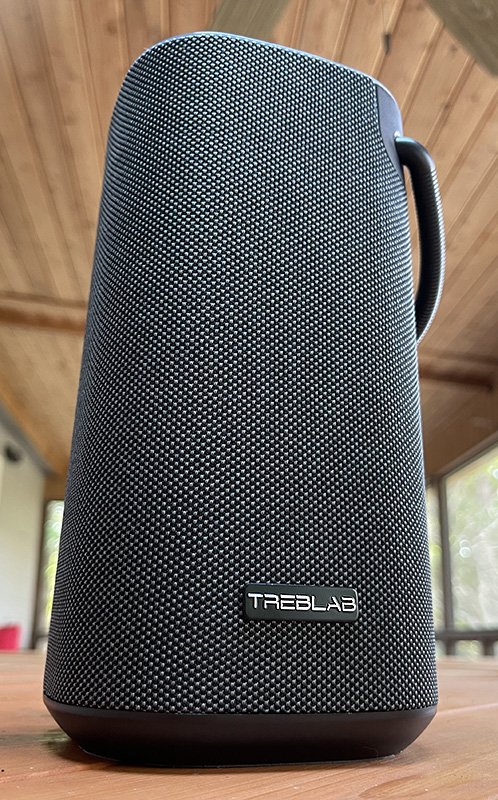 The HD-Force comes with 2-50mm speakers, 6 passive radiators, and a single downward-facing 80mm subwoofer. Total power output is an impressive 50 watts RMS (60-watt peak). 
Battery time for playing music is rated at 25 hours on 4-5 hours charging time. Note that battery life depends on volume and other factors. The HD-Force also contains a 10400 mAh power bank that can charge a smart device while playing music.
Two Treblab HD-Force portable wireless speaker can be paired for true wireless stereo (TWS). More on this later in the review.

Specs
Weight: 3.2 lbs
Size: 8.7 in. x 4.5 in. x 4.5 in.
Bluetooth: 5.0
Playtime: 25 hours
Charging time: 4 hours
Battery: 10400 mAh
Power: 60W Peak (50 RMS)
Totally wireless stereo
Water resistant: IPX6
Microphone
LED lights
MicroSD slot

 

Design and features
As I said, the Treblab reminds me of the much-liked Tribit StormBox Pro (a much cooler name than HD-Force). It has a similar shape and functions with some distinct differences and improvements.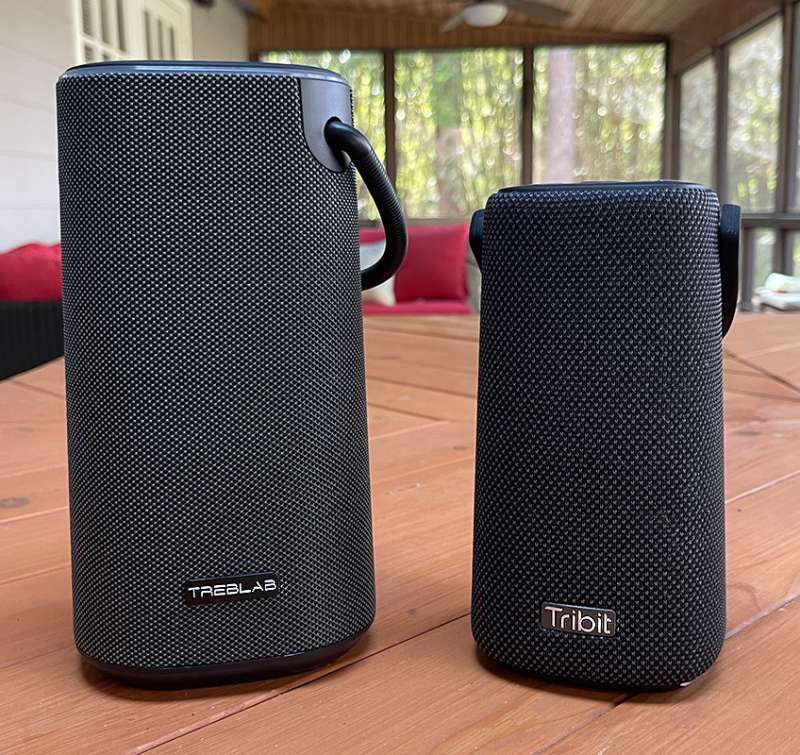 The top of the Treblab HD-Force portable wireless speaker sports an LED-lighted ring around the perimeter. When not in use (but turned on) the light slowly pulses a white light. When playing music, the light changes to changing colors that pulse to the beat. Sure, it's gimmicky, but who cares?
The HD-Force speaker is not water-proof, only water-resistant. It cannot survive immersion, only splashes or rainstorms. The IPX6 rating also protects against dust as well.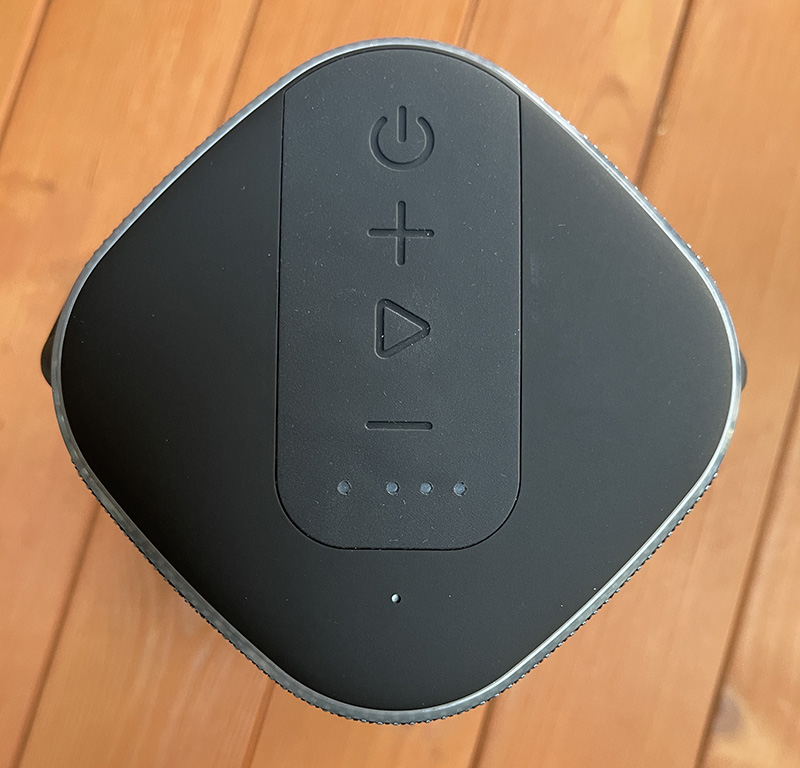 The rubberized top of the HD-Force houses four de-bossed buttons: On/off, Volume up, Play/pause, and Volume down. There are also tiny but bright LED lights that indicate battery life and Bluetooth pairing. 
The HD-Force's speakers are arrayed in what Treblab calls surround—although it's not truly surround, unlike Apple's HomePod speakers. However, the speakers do a good job of dispersing audio in a wide soundstage, so I can't complain too much.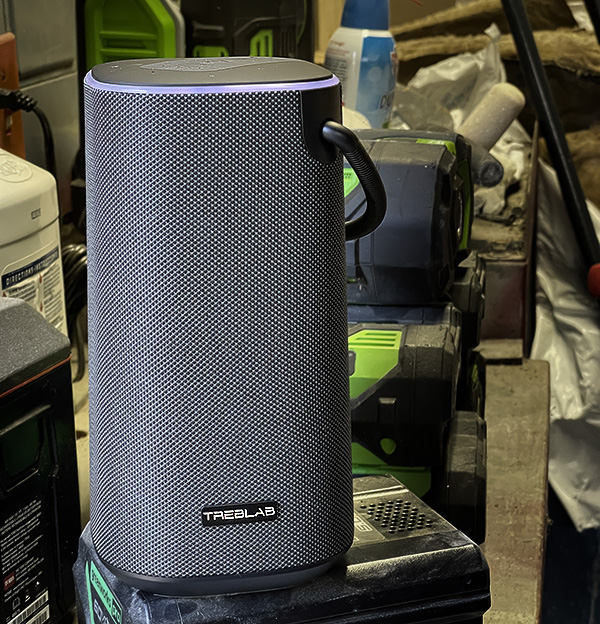 The sound quality from the Treblab HD-Force portable wireless speakers is pretty decent. The speaker can be cranked up with little to no distortion. When volume is pushed to almost max in Apple Music, a bit of treble harshness begins to creep in, but the mids and bass hold tight still sounding great. This was especially true on some songs by Chicago with their emphasis on horns. Songs like "Cinnamon Girl" from Neil Young's live "Weld" album fared much better when turned up—and that song demands to be turned up! 
Despite its higher frequency at full volume issues, the HD-Force speaker (at full volume) sounded much, much better than the StormBox Pro at max volume—in fact, the StormBox was unlistenable.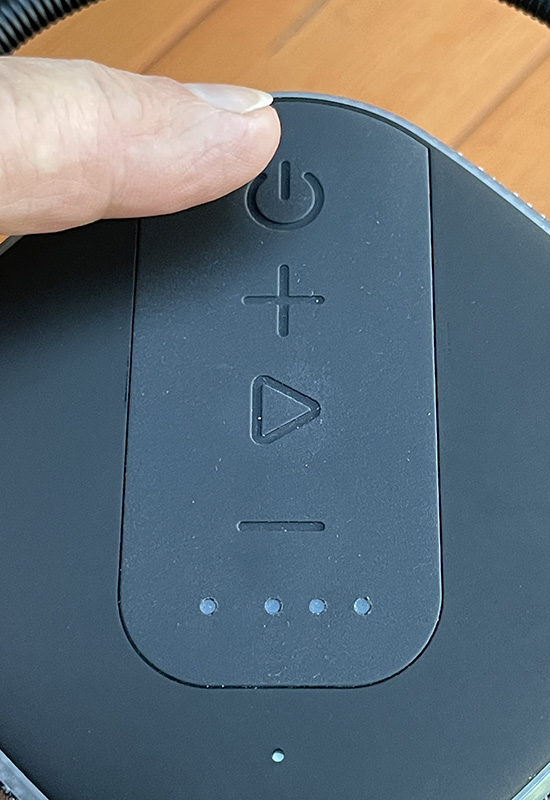 As pleasant as the HD-Force can sound when paired with a second HD-Force in true wireless stereo, the result is greater than the sum of the speakers alone. I've been listening to two HD-Force speakers in TWS mode for a month at medium volume and have been more than satisfied with the sound. When the stereo is balanced, it creates what is known as an invisible speaker in the center. It can be eerie but it works great. I recommend pairing two HD-Force speakers—if the budget allows.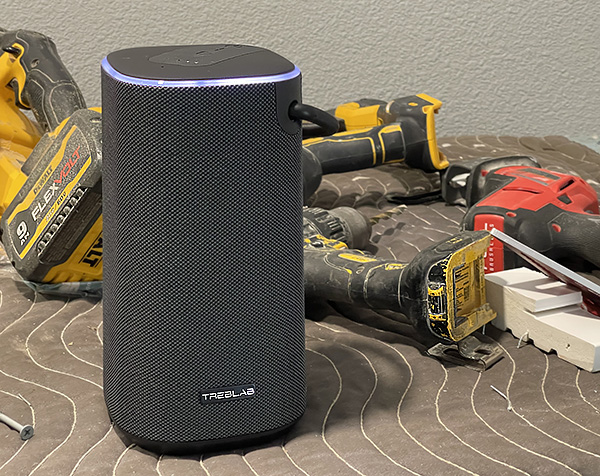 One TWS issue I encountered was a breaking up or crackling of audio — but only when paired with my MacBook Pro laptop. That issue never happened when paired with a smart device. I also had the same sputtering audio issue with the Tronsmart Bang Mini speakers using TWS mode. This tells me that the MacBook is the issue, not the speakers. The good news is that turning the Mac's Bluetooth off and then turning it back on fixes the issue—at least until the Mac goes to sleep.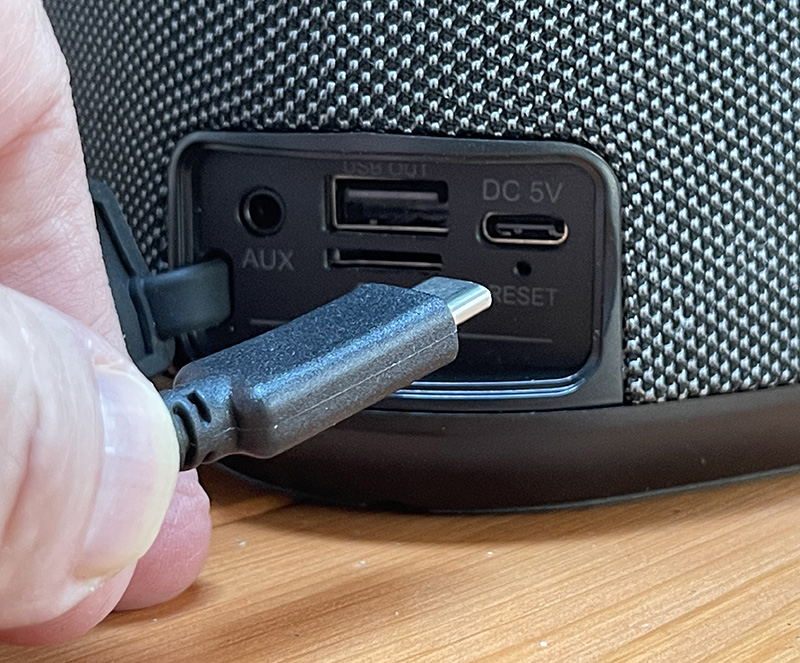 It's unusual for a Bluetooth speaker this size to come with built-in charging capabilities. That's usually a larger speaker feature. A smart device can charge a smart device while playing music from the same smart device!

What I like
Pairs well in stereo

Powerful

Carrying handle

Sounds good—especially in stereo 
What I'd change

Final Thoughts
Like another Treblab speaker I reviewed, the Treblab HD-Force portable wireless speaker is affordable and impressive. It's not cheap, but it is affordable for what it offers. It is something that can be enjoyed all day—especially when paired with another one for stereo. 
Price: $129.97 
Where to buy: Treblab and Amazon
Source: The sample of this product was provided by Treblab.