We use affiliate links. If you buy something through the links on this page, we may earn a commission at no cost to you. Learn more.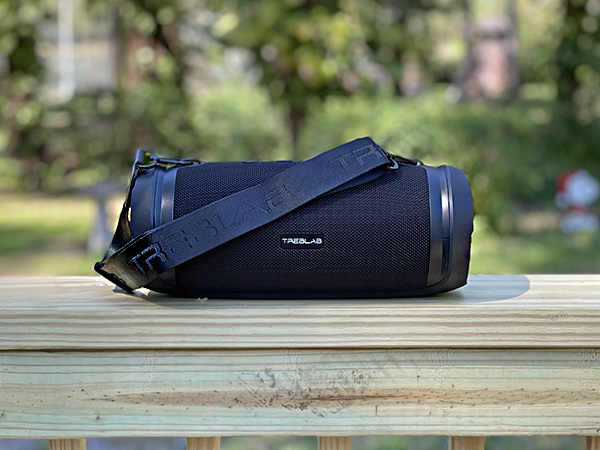 REVIEW – So many speakers—so little time. That's how I've been feeling lately because a LOT of portable Bluetooth speakers have come out in 2020 and now 2021. Yeah, I know—first-world problem. But as I look at what speakers there are to choose from, a few stand out and demand to be reviewed because frankly, some look too good to be true. Case in point: The Treblab HD Max portable Bluetooth speaker.

What is it?
The Treblab HD Max is a mid-sized water-resistant portable Bluetooth speaker with an attachable shoulder strap. It sports easy-to-recognize play/pause, volume, and multi-function buttons on the top or side depending on its position. Each end has a passive subwoofer for added bass. Power is rated at 50 watts. Color choices are restricted to black only. 

Hardware specs
Power: 50 watts
Speakers: 2 x 10W, 2 x 25W (Total: 50 watts)
Charging Time: 5 hours
Playtime: 20 hours at 30% volume; 5 hours at 100% volume
Dimensions: 4.72 x 4.72 x 12.4 in.
Weight: 5.62 lbs.
Color: Black
Bluetooth: 4.2
Bluetooth range: 33 ft.
Buttons: On/Off, Volume +/Next, Volume -/Previous, Play/Pause/Calls/Sound Mod
Pass-through charging
Water Resistance: IPX6
Built-in 6000 mAh Powerbank (can charge devices via USB)

Design and features
The Treblab (is it pronounced Tree-blab or Treb-lab?) HD Max portable Bluetooth speaker can best be described as a less expensive alternative to the popular JBL Extreme 3 speaker. The HD Max resembles the Extreme 3 so much that they are hard to distinguish from a distance. It is slightly larger and heavier than the Extreme 3, but costs half as much. It's water-resistant, not waterproof, meaning it can be splashed or rained on, but not submerged.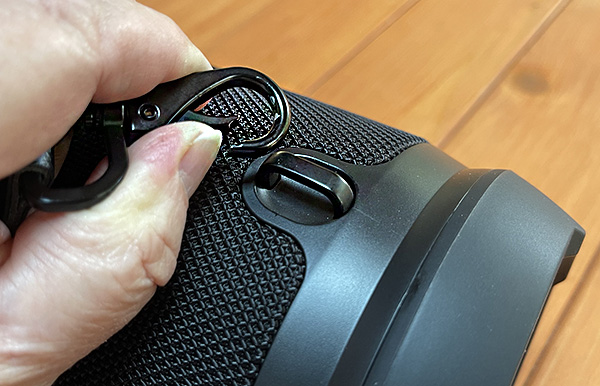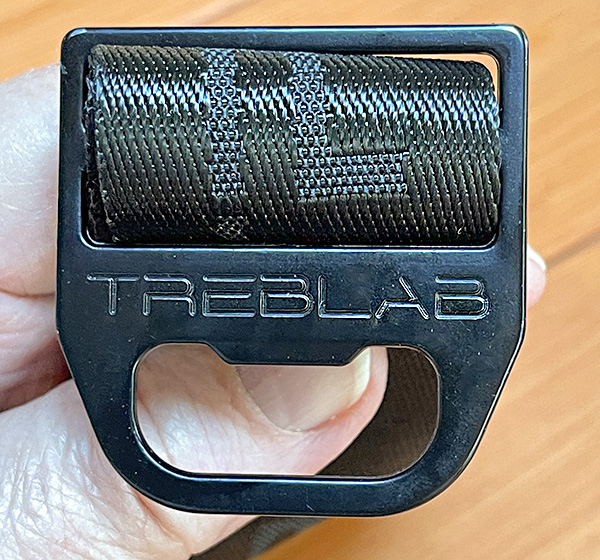 The HD Max speaker has a tough removable strap that allows it to be slung over the shoulder while carrying all your stuff to the beach, pool, or wherever friends gather with music playing. The strap connections are made of metal and feel unbreakable. The strap even has an attached bottle opener for forgetful party-goers.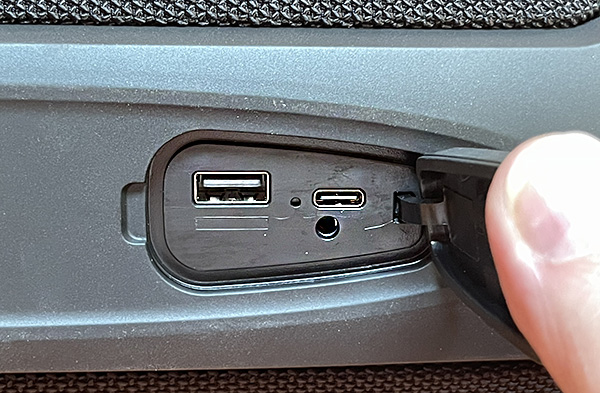 Charging is via a USB-C port. Also included is a USB A port for charging devices, so a smartphone can be charged while it's supplying music to the speaker. Many larger Bluetooth speakers have this feature and it's nice to see it on a mid-sized speaker. 
One irritating oddity of the HD Max speaker is that the charging ports are on the bottom. This means that the speaker must be either rolled over onto its cloth grill or set in a vertical stance when charging or hard wired via its 3.5mm port. The issue I have with the speaker set vertically is that one of the side-mounted woofers is on the bottom which muffles the bass a bit. The HD Max sounds better while horizontal with both woofers exposed.

Build quality of the HD Max is up there with the "big boys". I've reviewed many Bluetooth speakers and Treblab's speaker is as good or better than others in its price range. It should provide years of use even if roughly treated.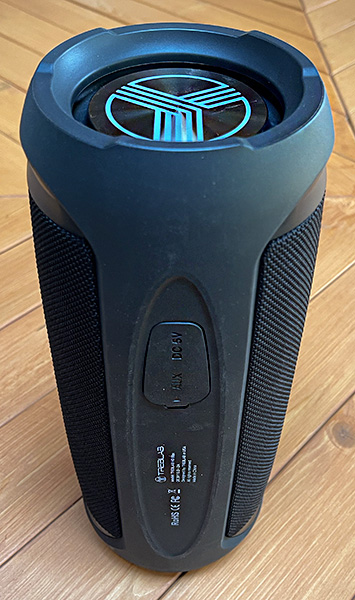 The HD Max will make and receive hands-free phone calls. Using this feature was about average—no surprise. As with most Bluetooth speakers, I could easily hear and understand the person on the other end. However, they said I sounded like I was in a tunnel or had a "far away" sound. No one I was speaking with on the other end was impressed.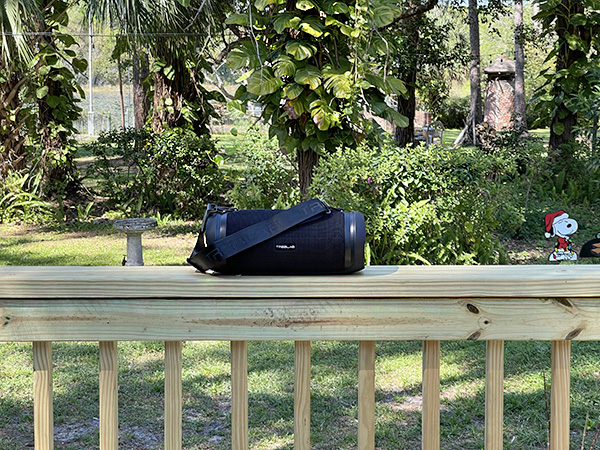 Bluetooth is only 4.2, so you don't get the improved audio or range that Bluetooth 5 offers. Whether any audio improvement from Bluetooth 5.0 would be noticeable is debatable, but the decreased range is not. Bluetooth 4.2's 33 ft vs. 100 ft. from Bluetooth 5.0 is a big difference and something to consider depending on your use.
I don't have a JBL Extreme 3 to compare with the HD Max. However, when put up against the JBL Boombox, there is no comparison. The JBL blows Treblab's speaker away. However, that's not a fair comparison since the $500 Boombox is bigger, has better speakers, and has way more power. Physics means everything where sound is concerned. 
However, after (unfairly) comparing the two, I would still choose the Treblab over the better JBL. That's where "value" comes into play. See, the HD Max costs $170 on Amazon (US). You could buy three HD Max speakers for $10 more than one JBL Boombox or two HD max speakers for one JBL Extreme 3—a fairer comparison. And the Treblab speakers can be paired for true left/right Bluetooth stereo. So do the math: Two Trelabs for the price of one JBL. Unfortunately, I was not sent two HD Max speakers to try out the left/right Bluetooth stereo comparison.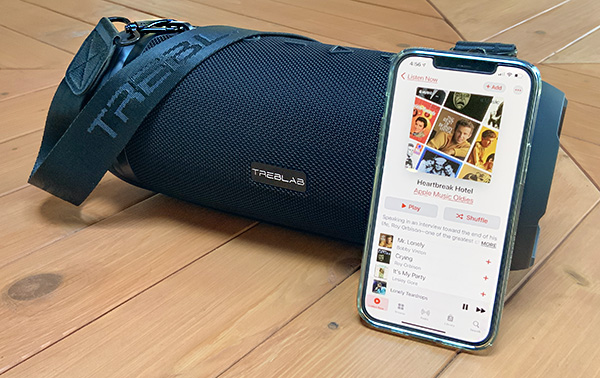 With all that out of the way, it's time to talk about the audio quality. The Trelab HD Max sounds amazing for its size and price. It's advertised as a loud speaker and that's both true and a bit of hyperbole. The speaker does get quite loud—for its size. Again … physics. 

The HD Max has three Sound Modes (Treblab's term): Outdoor, Indoor, and Bass Boost. Since bass is easily wasted outdoors (bass frequencies need objects to bounce off to achieve that "bass thump"), Outdoor mode boosts the treble so higher volume can be heard at farther distances. This works fine for about 30 feet. Anything farther, and the audio morphs into background music that can be easily talked over without yelling. Indoor and Bass Boost modes are good for indoor use or closer listening outdoors. Even though I am not a bass head, I prefer Bass Boost since Treblab tamed it keeping it from becoming overpowering. Bass Boost adds a richness to music, especially bass anemic classic rock. The three Sound Modes are indicated by flashing blue lights at the top of the speaker. Unfortunately, the manual doesn't explain which mode matches which flashing lights.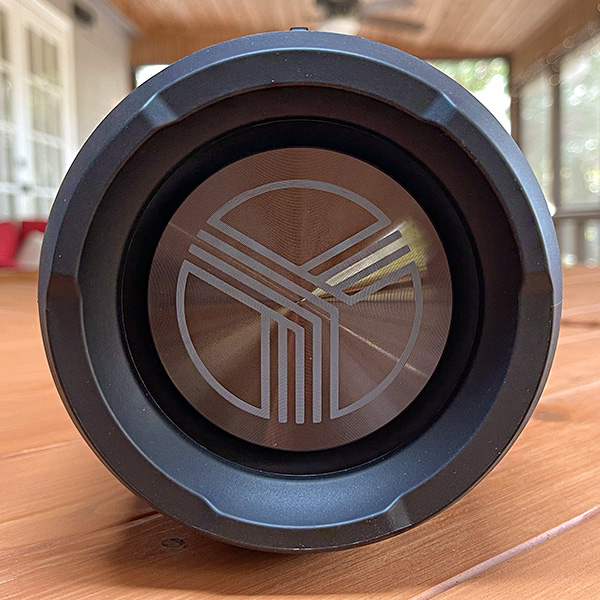 Audio quality is quite nice at all volume levels. Note that you won't want volume set to max unless you're outdoors. As advertised, the HD Max can get really loud when indoors. Music sounds warm and inviting at lower volume levels, making the HD Max a great desktop speaker for all-day use. The sound is soothing with no audio fatigue you can get from lesser speakers. One caveat is that when not using Bluetooth (hardwired via the 3.5 mm cable), Next, Previous, and Pause buttons will NOT work. Those functions will only work through a smartphone. Bummer.

What I like
Price
Build quality
Audio quality
Ability to charge devices
What I'd change
Re-locate ports from the bottom of the speaker
Sound Modes are hard to distinguish with unexplained flashing lights

 

Some functions only work using Bluetooth, not hard wired

Final Thoughts
There's a lot to like about the Treblab HD Max with few complaints. When compared to speakers in its price range, the HD Max is a bargain, with good to great audio, excellent build, and all-around usefulness. Recommended.
Price: $189.97 (US), but much cheaper on Amazon
Where to buy: Amazon
Source: The sample of this product was provided by Treblab.