We use affiliate links. If you buy something through the links on this page, we may earn a commission at no cost to you. Learn more.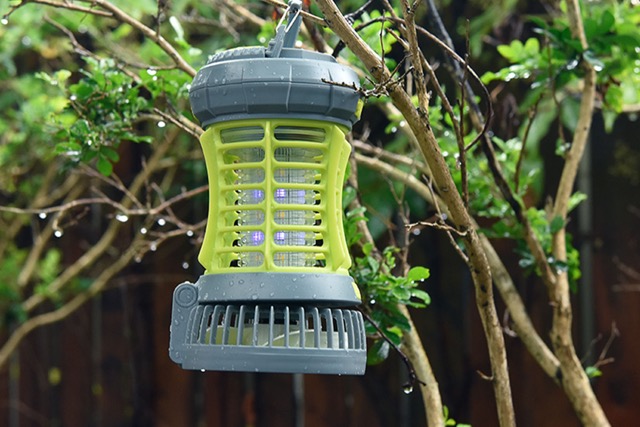 NEWS – With spring here and summer right around the corner, it's time to shed that parka and start getting outside again. Of course, once you pull up a chair in the backyard and start to soak in the grandeur of the great outdoors, you quickly remember one of the reasons you don't do it more often. Bugs. Buzzing, zipping, swooping, annoying bugs. And once you escalate from the tiresome flies, moths, and other winged creatures to the bloodsucking antics of mosquitoes, you're probably ready to relinquish your patio back to the insect world again and retreat into the house.
Thankfully, this weather-resistant, multifunctional Bug Zapper from Outdoor Essentials can help you retake control of your backyard. Just hang the unit and unwitting insects will never know what hit 'em. The Zapper emits a high-tension electric shock to insects flying by that instantly delivers them to the Great Bug Beyond.
Battery-powered and fully rechargeable, deliverance from the mental and physical irritation of bugs is a strong selling point on its own. However, this device cements its place in your indispensable gadget arsenal with a pair of added features. Just flip up the top and the lid doubles as a portable folding fan, capable of delivering up to four hours of cooling breeze at its medium setting on a full charge.
Meanwhile, the durable unit is also packing an emergency flashlight function to help light your patio or tent once the sun goes down for the night.
The Bug Zapper with Light and Fan usually retails for $94, but with this current deal, it's on sale for nearly 70% off, down to just $31.99.
Prices subject to change.