We use affiliate links. If you buy something through the links on this page, we may earn a commission at no cost to you. Learn more.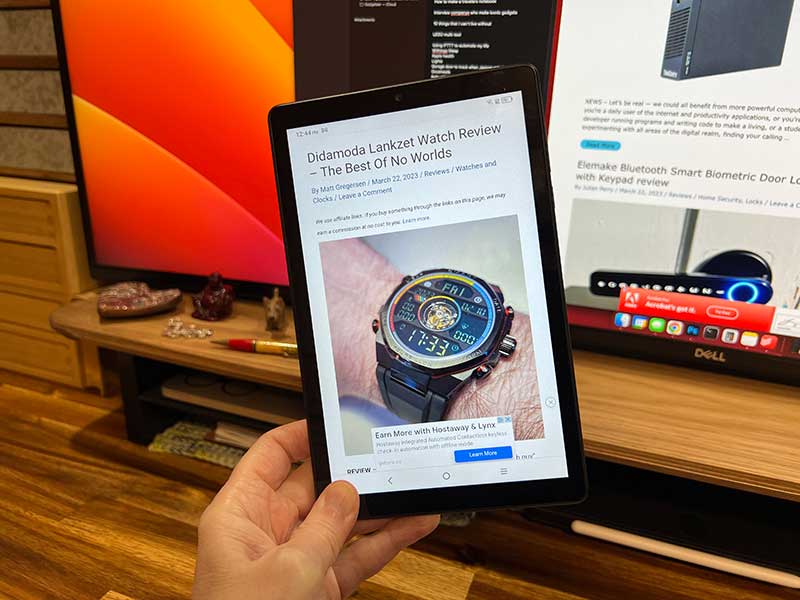 REVIEW – When it comes to tablets, many people's thoughts immediately go to iPads, but TCL doesn't want you to forget that Android tablets exist too. Today I am sharing my experience with the TCL Tab 8 LE Android tablet. Let's take a look.
What is it?
The TCL Tab 8 LE is a small entry-level Android tablet that is powered by Android OS version 12.
What's in the box?
TCL Tab 8 LE Android tablet
USB charging adapter
USB-C cable
SIM eject tool
Quick start guide
Hardware specs
Processor: MediaTek™ MT8766
Speed & Type: Quad-Core A53 2.0GHz
Operating System: Android™ 12
MEMORY RAM/ROM: 3GB RAM /32GB ROM
SD Support: microSD Up To 512GB
User Available Memory: Up to 20GB
Sensors: GPS, Accelerometer (G sensor), Light Sensor
SAR Rating: 1.6W/kg
DISPLAY: 8″ IPS Glass display
Resolution: 800 X 1280
Aspect Ratio: 16:10
CONNECTIVITY: Network/3G/4G/LTE
(LTE)GSM: 850/900/1800/1900MHz
(3G)UMTS: 2/4/5
(4G)LTE:2/4/5/7/12(MFBI)/13/17/25/26/29/30/41(HPUE)/66/71
Wi-Fi Specs: 802.11a/b/g/n/ac(2.4GH & 5GHz on 802.11n)
Bluetooth: v5.0
Radio: Yes
BATTERY: 4080mAh
Standby Time: Up to 50 days (4G)
Video Playback Time (YouTube): Up to 10.5 hrs (4G)
Music Playback Time (YT Music)
Up to 22.8 hrs (4G)
Charging Time Until Full
Up to 3.5 hrs.
REAR CAMERA: 5MP
FRONT CAMERA: 5MP
SOUND
Number of Speakers: 2
Microphone: 1
Supported Formats: AAC LC, HE-AACv1 (AAC+), HE-AACv2, AAC ELD, AMR-NB, AMR-WB, FLAC, MP3, MIDI, Vorbis, PCM/WAVE
Headset: 3.5mm audio jack
Dimensions: 197*124.8*9 mm, 7.761 x 4.91 x 0.35 in
Weight: 310g, 10.93 oz
Design and features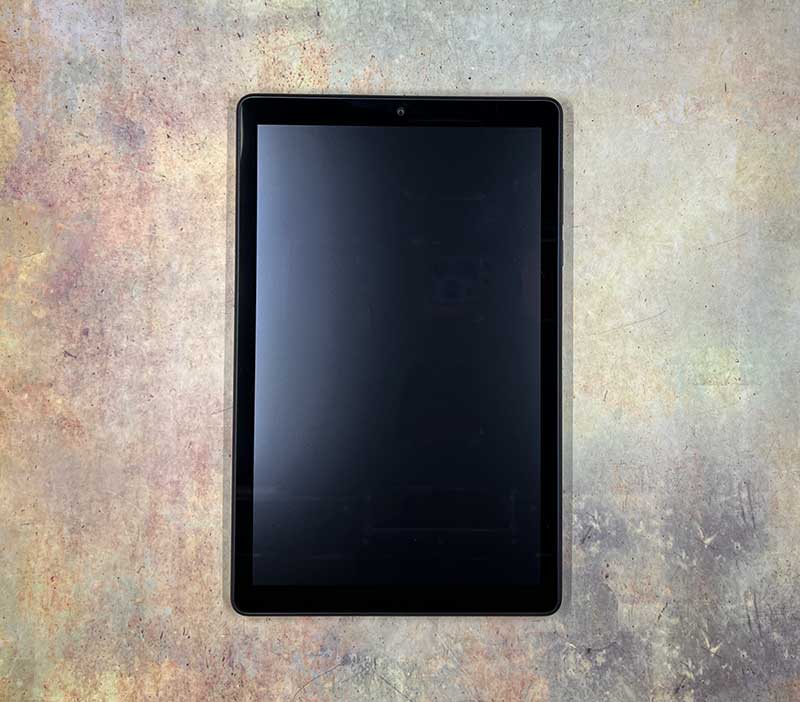 At first glance, the TCL Tab 8 LE has a pretty non-descript look. The front of the tablet is just the display with a front-facing camera in the center of the top bezel.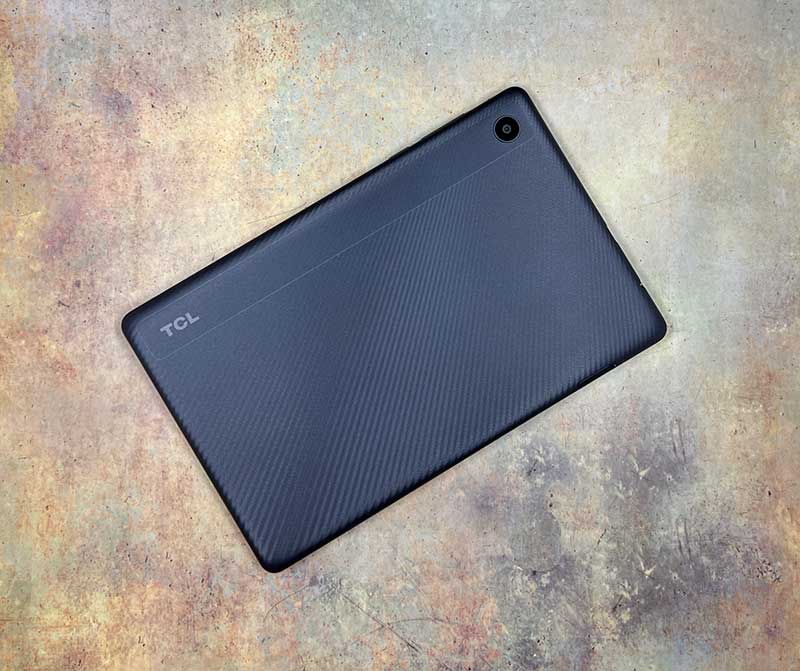 The back of the tablet is slightly more snazzy with a woven pattern that could be mistaken for carbon fiber – maybe. You'll also notice the back-facing camera in the upper left corner.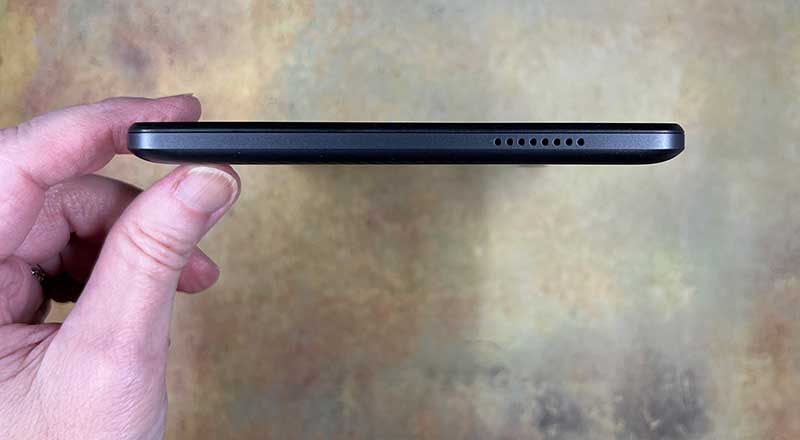 On the bottom of the TCL Tab 8 LE tablet, you'll find a speaker.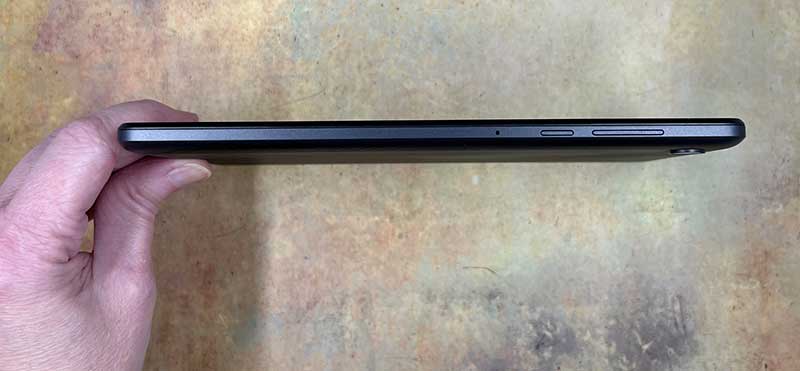 On the right edge, there is a volume rocker switch, power button, and microphone in that order from top to bottom.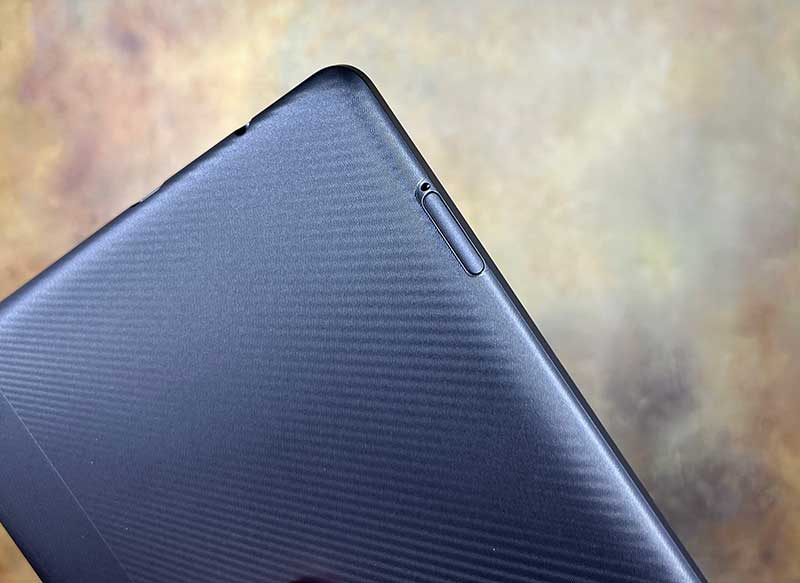 The opposite edge of the tablet has the SIM and microSD card tray.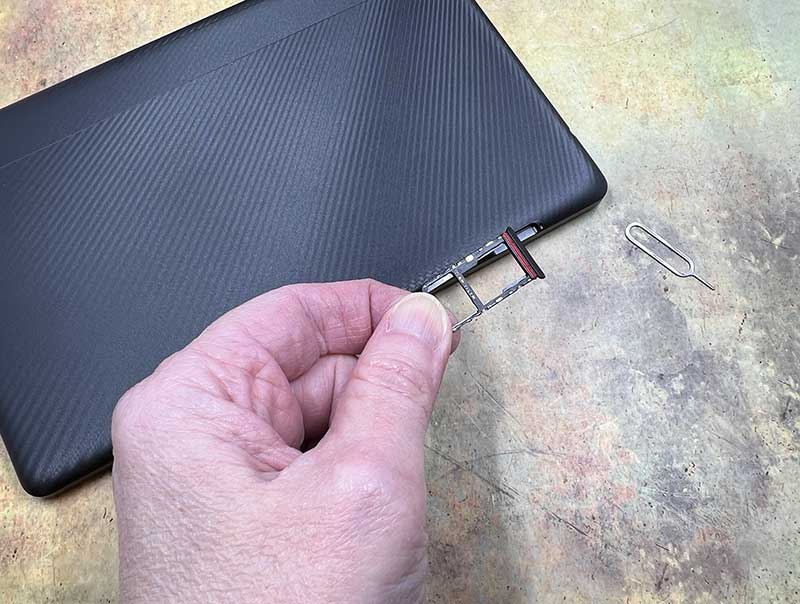 I like that they include a microSD card option since the tablet only has 32GB of storage. Note that the TCL Tab 8 LE can only use microSD cards with a max of 512GBs according to the specs. I don't have any cards larger than that to test, so… Unfortunately, TCL didn't include an activated SIM so I wasn't able to test that functionality either, but I did test with my home WiFi which should be very similar since I'm on T-mobile Home Internet.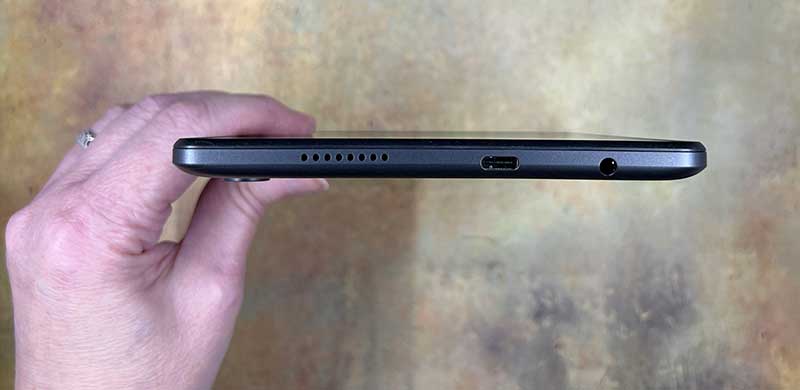 Now let's take a look at the top edge where there's another speaker, a USB-C charging port, and a 3.5mm headphone jack. Is it just me, or does it seem weird to have the charging port on the top edge of the tablet instead of the bottom?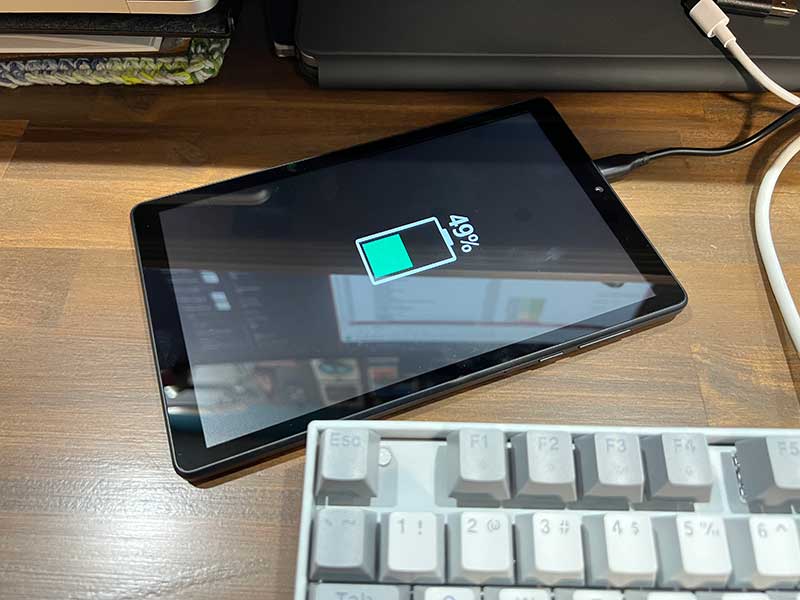 Charging the tablet is simple, just plug it in and wait. There isn't a charging status LED, but you can just tap the power button on the side of the tablet to see the battery status if the device happens to be powered off.
Display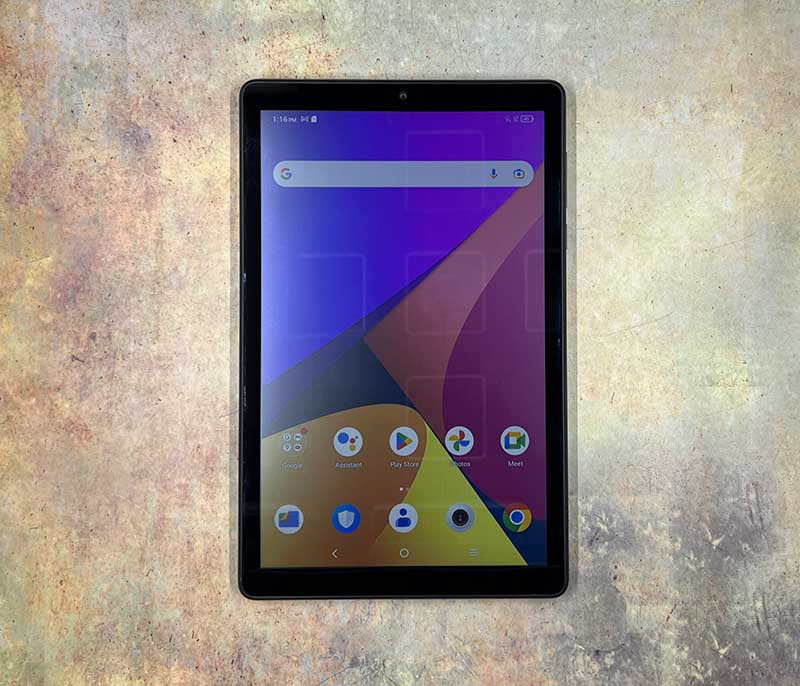 The TCL Tab 8 LE has an 8-inch 800 x 1280 display that's pretty meh. It's not super terrible, but for the price, I was expecting it to be better than it is. It needs to be brighter with a better viewing angle. Unless you're looking at it straight on, it washes out really badly.
Another complaint I have is that the screen is a HUGE fingerprint and smudge magnet!
Performance
Scrolling up and down through web pages, and apps feels sluggish. Loading apps feels sluggish. Loading web pages feels sluggish. Rebooting feels painfully sluggish. You get the idea.
Software
With only 32GB of storage on board, it's nice that TCL didn't stuff it with a bunch of bloatware. All you get is a basic bundle of apps that include:
Chrome
Google Photos
Play Store
Google TV
Gmail
Google
Google Maps
Google Drive
YouTube
YT Music
Google Meet
Google Calendar
Google Contacts
Google Assistant
Google Podcasts
Google One
Google Home
Files
Calculator
Clock
Notes
Smart Manager
Battery life
If one thing impressed me with the TCL Tab 8 LE tablet, it was the battery life. It did a really good job of lasting all day and then some.
See it in action
What I like
Great battery life
microSD card slot
Includes a charging cable, and an AC adapter
What I'd change
Performance needs a lot of improvement
The display needs to be improved
Rebooting can take FOR-EVER… fix that!
Final thoughts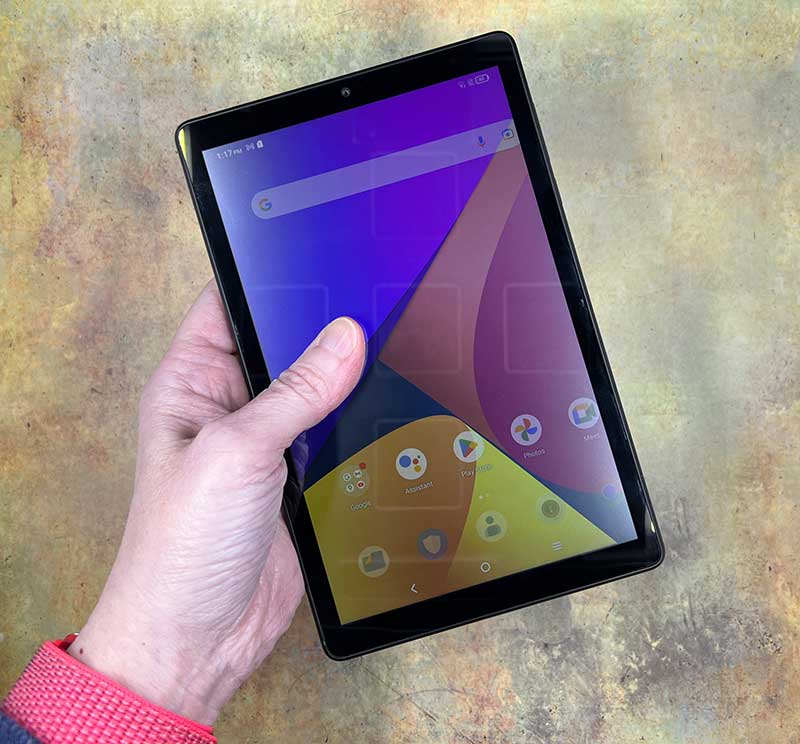 The MSRP for the TCL Tab 8 LE is $199.99 but you can get it for free through T-Mobile, and other carriers as long as you pay for a data plan for it. The prices for plans vary but when I checked T-Mobile, it was $7 a month, and Verizon was $5.55 for a commitment of 36 months. OUCH. This tablet isn't worth that even if you do get it free. It's just too mediocre. The battery life is good, but the display is just ok. The real issue is that it's just too sluggish, which makes it annoying to use. I recommend saving your money on this one.
Price: $199.99 MSRP but free with service through some carriers
Where to buy: Verizon, T-Mobile, and Metro by T-Mobile
Source: The sample for this review was provided by TCL.