We use affiliate links. If you buy something through the links on this page, we may earn a commission at no cost to you. Learn more.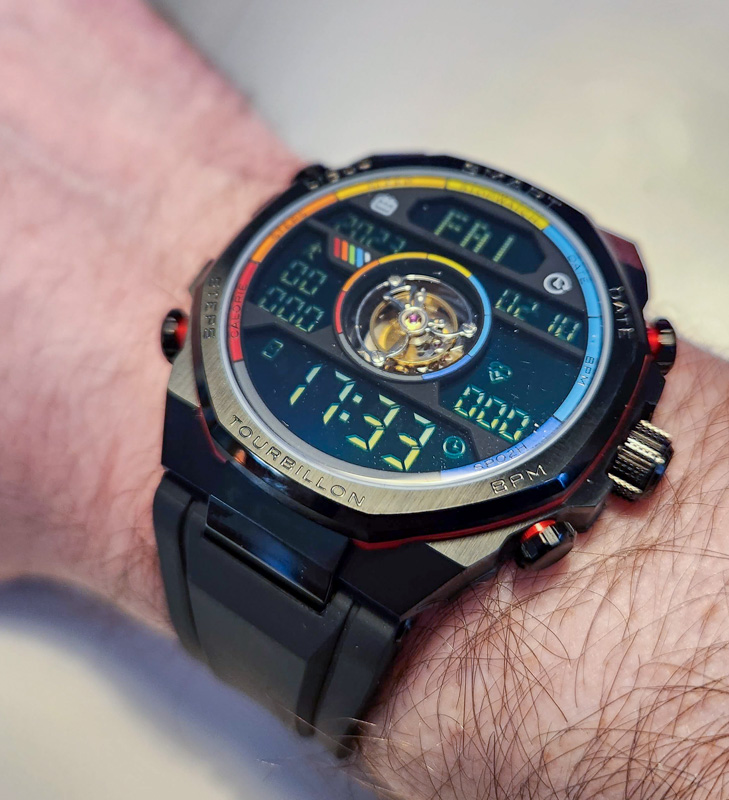 REVIEW – To preface this review, I've never been a "watch guy". The obsession with high-end watches by some people is as foreign to me in the same way I'm sure they'd view my obsession with gaming laptops or complex board games. I've been using smartwatches since the Pebble days (pour one out for one of the best smartwatches to ever exist), and for me I like a full-featured watch like the Apple Watch or Samsung Galaxy Watches, but the core experience that the Pebble provided is sufficient for most (messages, caller ID, step tracking). Most recently I've been using the Samsung Galaxy Watch5 Pro, but I'm always on the hunt for something different. The Didamoda Lankzet Watch promised to be different, and in that it did not disappoint – but different is not always better.
What is it?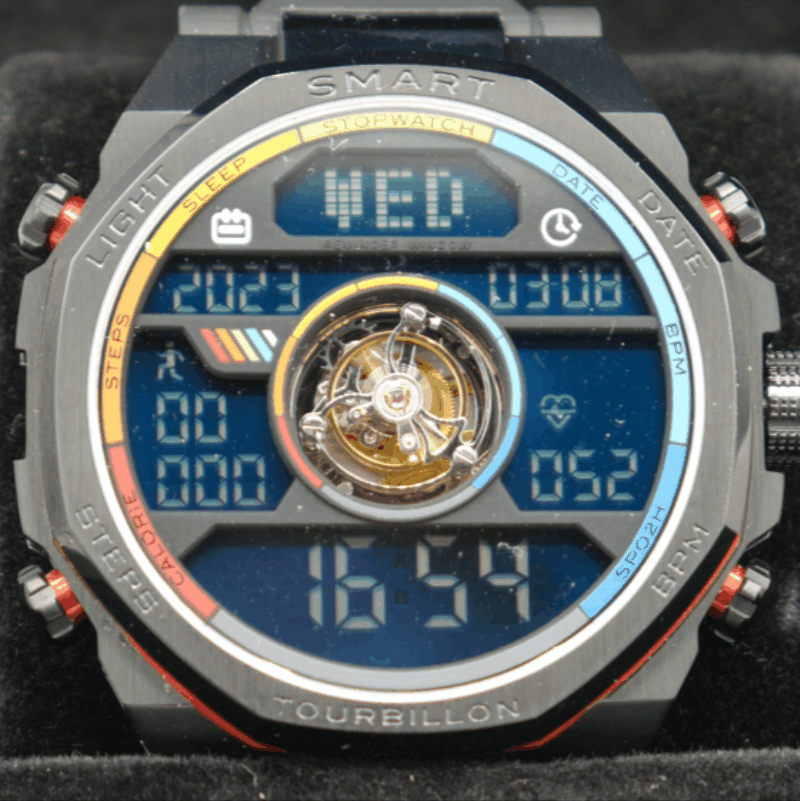 The Didamoda Lankzet Watch is a combination smartwatch and mechanical watch, though the mechanical movement lacks hands, so it's purely decorative (though it does spin at one revolution per minute so you could use it as a stopwatch I suppose). The smartwatch functions are pretty basic but include heart rate and step counting, as well as sleep tracking. I put it through the paces with sleeping, workouts, battery testing, and more!
What's in the box?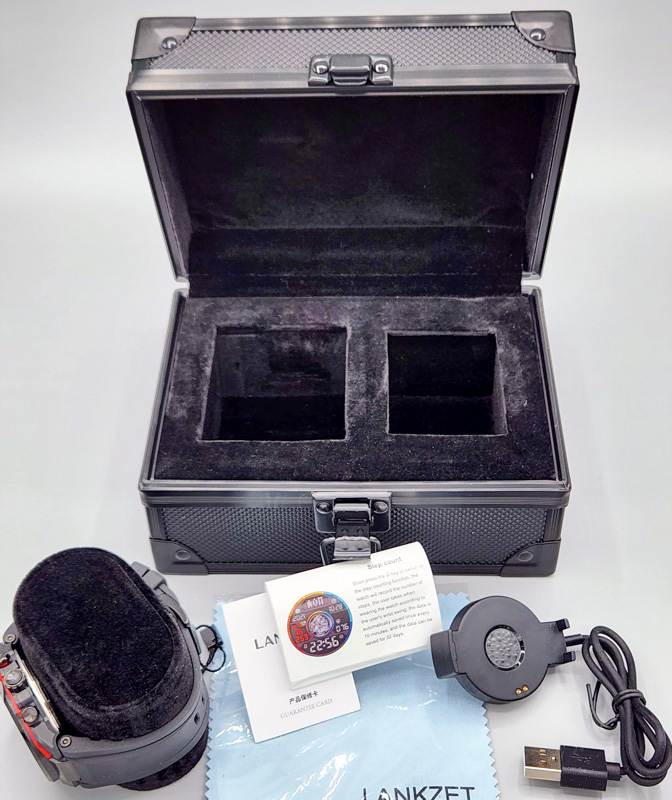 Didamoda Lankzet Watch
USB-A charger
Manual
Cleaning cloth
Hardware specs
Case size: 43.5mm x 52mm
Case thickness: 12mm
Screen: Ultra-thin FSTN ring screen
Battery life: up to 30 days
Watch weight: 133 g
Movement: Tourbillon mechanical movement (TX602)
Case material: 316L stainless steel
Glass material: Artificial sapphire
Strap material: Flourine rubber
Water resistance: 5 ATM
Bluetooth: BLE 5.0
Design and features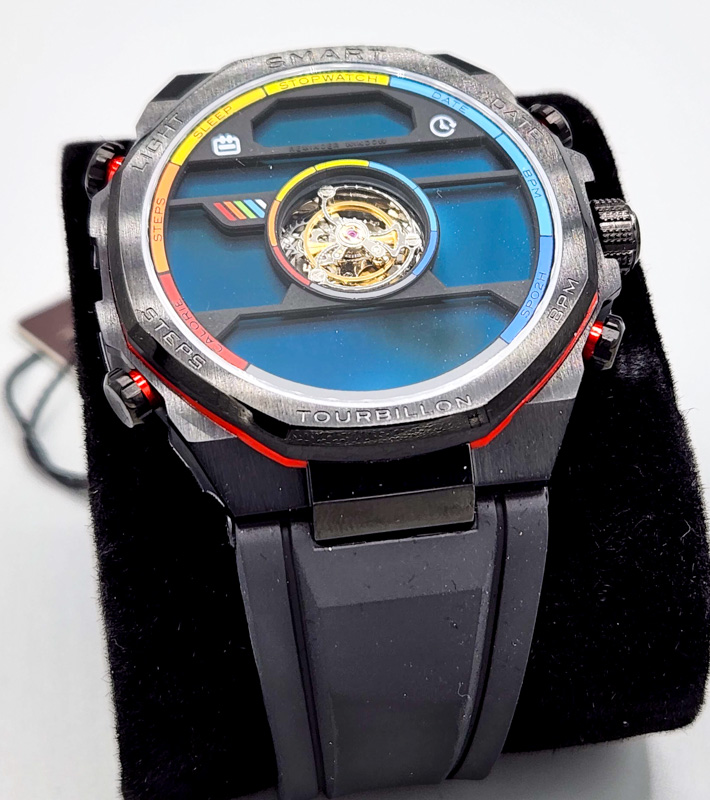 At first glance, the form factor of the Didamoda Lankzet Watch is fairly standard, but instead of watch hands like a mechanical watch would sport, it has digital screens wrapping around the central tourbillon mechanical movement. I received the "Rainbow Black" colorway to review, but there's also a variety of other finishes to choose from, some of which are more expensive. I am baffled by the inclusion of a Tourbillon watch movement without watch hands (this style of intricate gears visible from the front has been popular in very high end watches, but Chinese manufacturers have been starting to put them into sub-$1000 watches in the last few years). If the mechanical movement included hands, I would have found far more utility out of the watch, but as it's designed it serves no function besides ornamentation. If you like the looks, you'll like it, but I think a hybrid mechanical/smart watch does much better when the mechanical part can function independently if needed (like if the smart watch battery completely dies).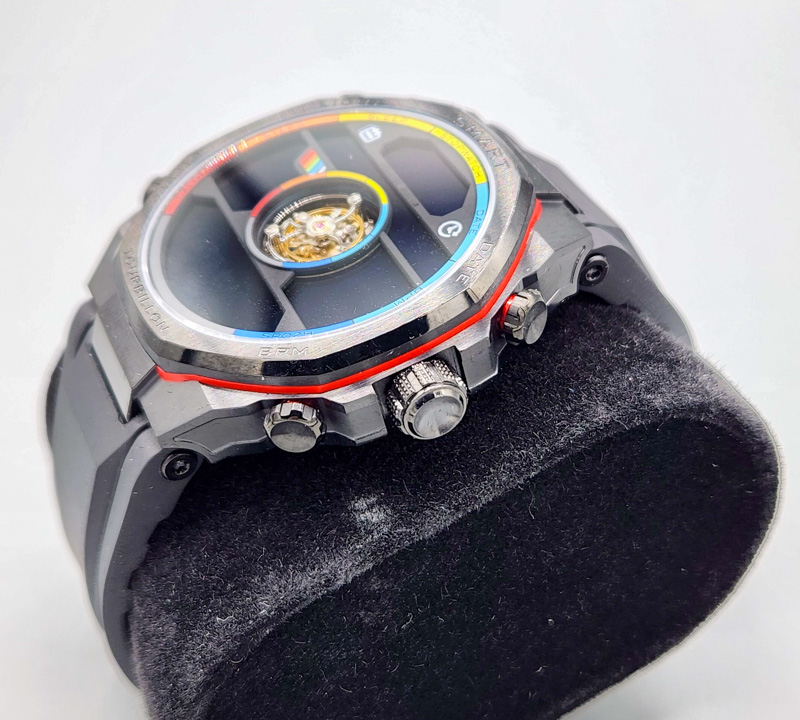 The larger middle button on the right winds the mechanical movement (the recommended winds lasted me more than 2 days without needing to be wound again). The other two smaller push buttons are multifunction to control smartwatch elements.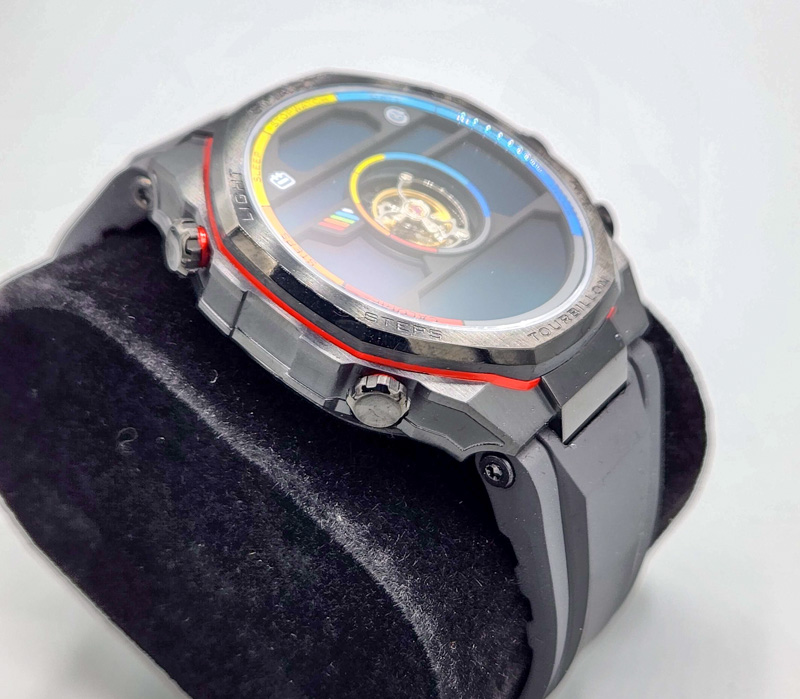 And around to the left side, we see two more multifunction buttons. The whole watch casing is stainless steel and feels like it can stand up to daily use, though I did have some minor scratches showing after wearing it for a few weeks, which is to be expected from the stainless steel finish.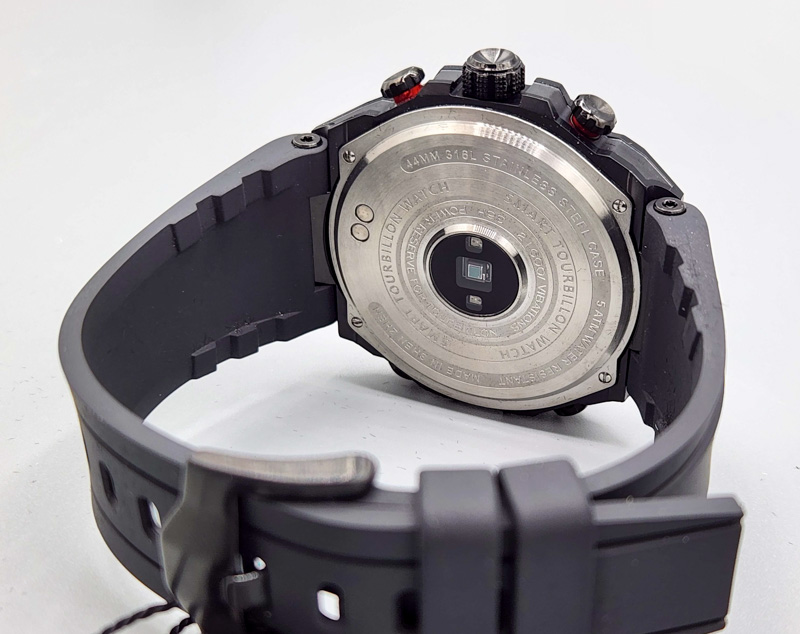 Around the back of the watch we can see stamped text, health sensors, and charging contact pins.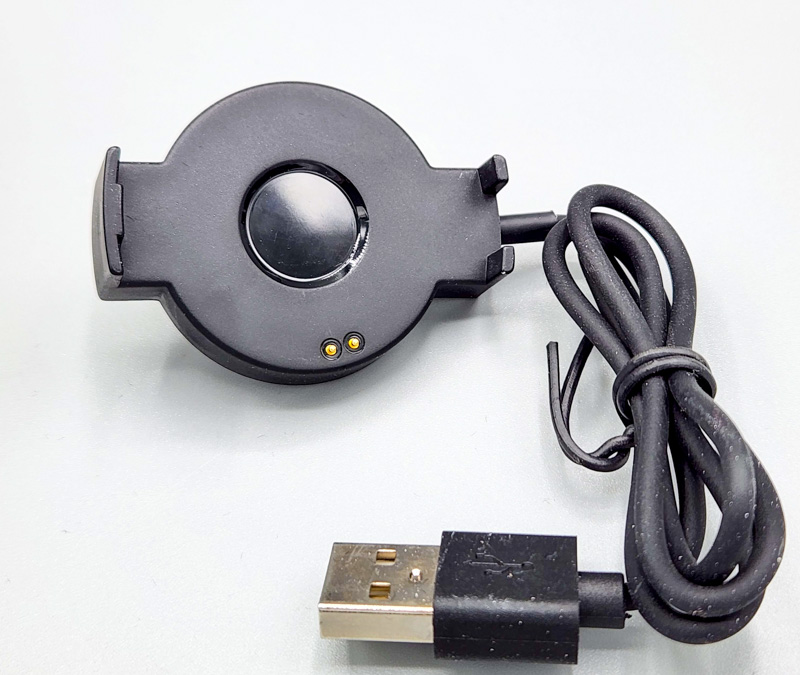 The USB charger is simple, and does the job. The watch was mostly charged when it arrived, and an hour or less on the charger topped it off. I didn't run it down entirely during a multiweek test, but I'd expect just a few hours of charging per month, which is pretty good.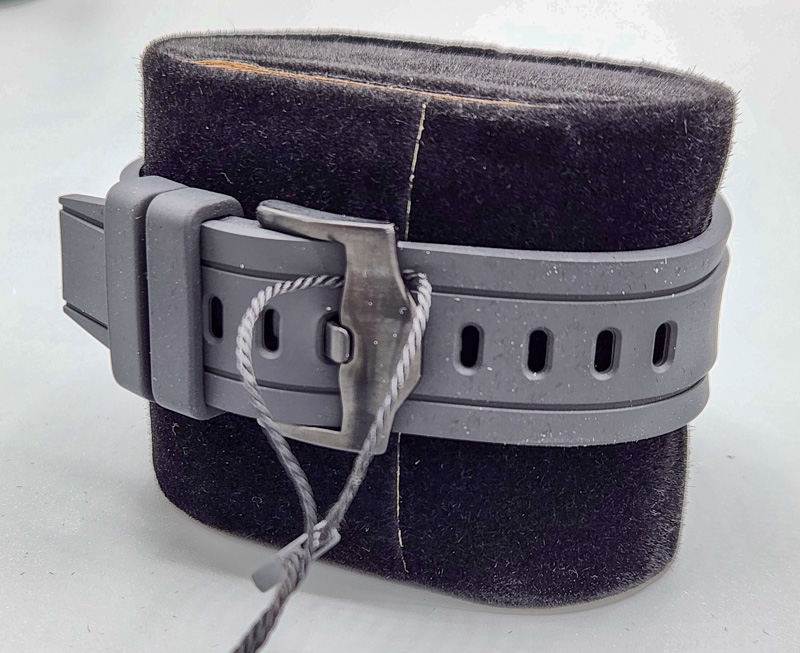 The watch band is a "Flourine rubber", and works well as a sports watch style band, with a bit of flex for movement while remaining tight enough not to slip around on your wrist and to keep the health sensors in contact.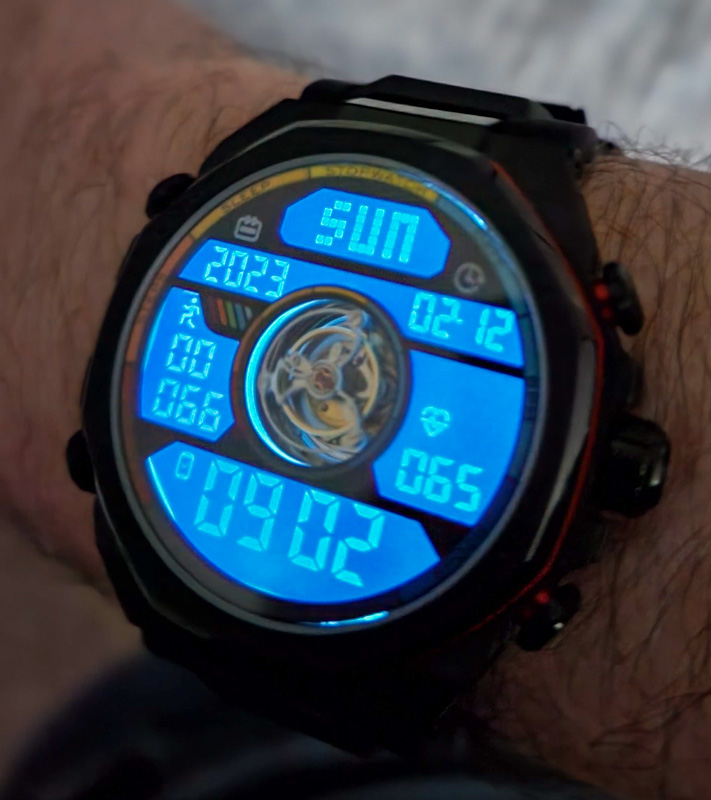 The digital screen is very easy to read in low to bright light conditions, and has a backlight for dark rooms. As you can see above, the displayed info shows date/time/steps/heart rate. The top bit of the screen serves as a multifunction screen, showing if you have messages or calls incoming, though it's tiny size severely limits how much info is displayed. For example, if one or more messages have been received, that top screen simply says "MSG". If the mechanical tourbillon had hour and minute hands to tell time, you could have used more of the digital screens to display a bit more data, making both elements more functional. As designed, it feels like both portions are handicapped.
Setup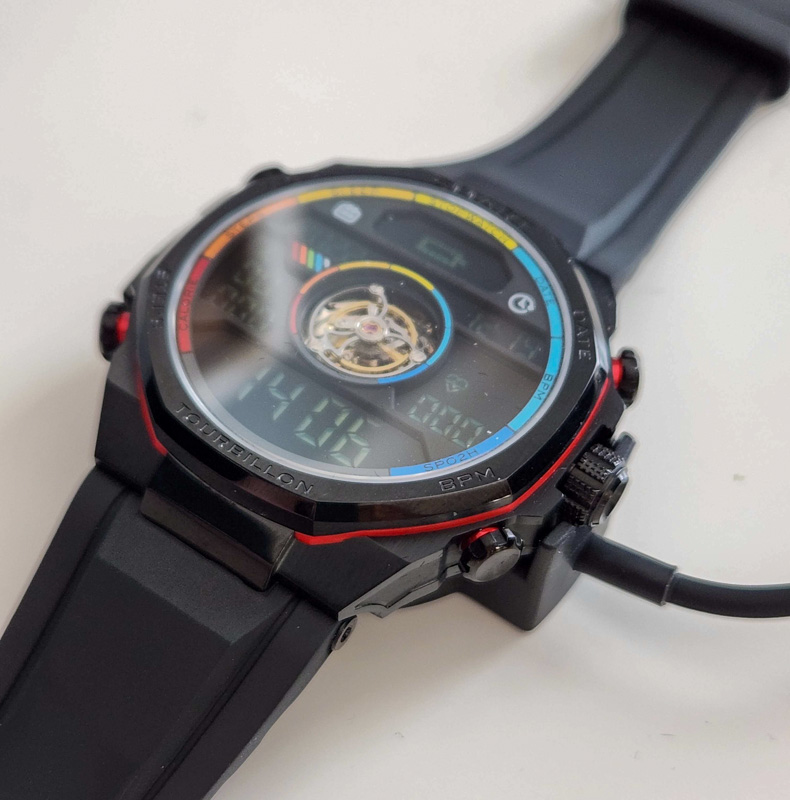 I first charged the watch, then installed the app (from the provided QR codes in the manual and on stickers on the watch). Below are screenshots of the setup process and the app:
I found the app to be cumbersome to use, though for the most basic functions it wasn't too bad. Poor translations abound, some pages show Chinese characters, overall it feels half-baked. There were no options (I read the manual multiple times and checked every screen in the app) to switch the time display from 24 hours to 12 hours. This could be an easy fix in the future, but at this price point I'd expect a wider range of settings and functions like the ability to switch the time format. Like many other smart-watch apps I've tested, it requires a notification to always display on my Android phone, which is a bit annoying. The sleep tracking and heart rate tracking seemed fairly accurate, at least compared to my other watch. Finally, there was no way to easily sync or export the health date (like heart rate, sleep tracking, and steps) to other fitness platforms like Google Health or Samsung Health. I always like the ability to sync that data, so regardless of the device I'm using it's always historically tracked to one place.
What I like
Pretty good finish and materials
Long battery life
Comfortable fit – if a bit heavy
What I'd change
Wish it had functional watch hands
App could be better
Expensive
Final thoughts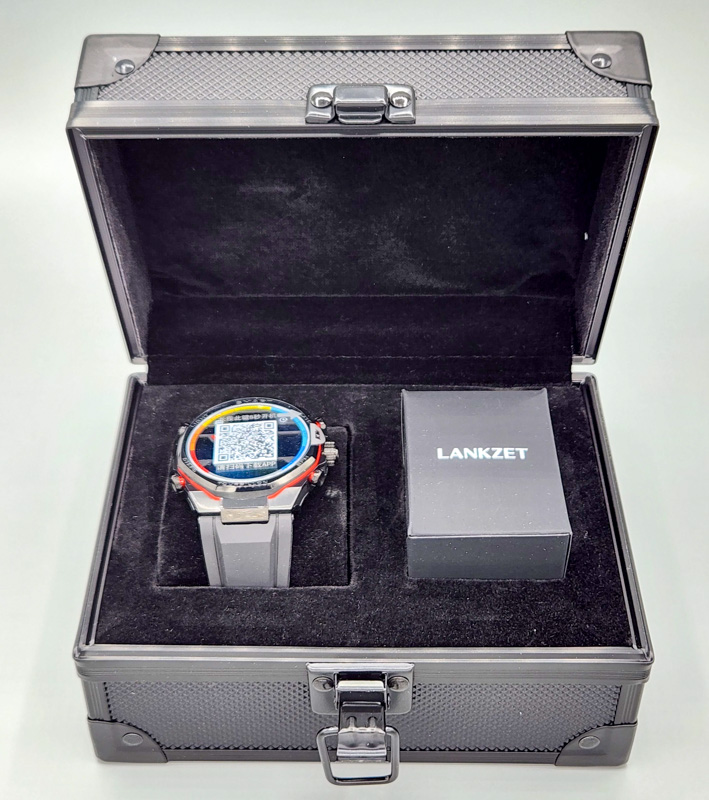 I feel like Didamoda was very close to a great product here, if they'd captured the essence of the core smartwatch experience (ability to get messages and see who's calling at a glance) and if they'd made the mechanical part of the watch actually functional, I would have been tempted to make it my daily driver. As it stands, you'd need to really like the design and be willing to sacrifice functionality to use this watch regularly over other similar-priced options on the market. The tourbillon mechanical movement at the heart of the watch is mesmerizing to look at, but at the end of the day, I feel like it's missed the mark for both mechanical watch lovers and smartwatch enthusiasts.
Price: $436.99 (for the all black colorway, some are priced higher)
Where to buy: Didamoda
Source: The sample of this product was provided by Didamoda