We use affiliate links. If you buy something through the links on this page, we may earn a commission at no cost to you. Learn more.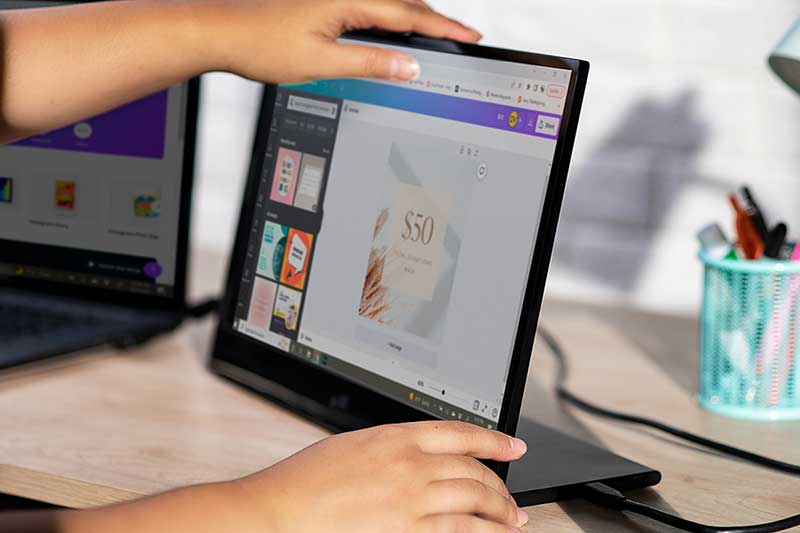 DEAL NEWS – You don't need a desktop if you want a dual-screen setup anymore. Portable monitors are getting pretty sleek, and a particularly exciting one was just featured at CES 2023. The Mobile Pixels Glance is a 16-inch HD monitor that's ready to plug into your laptop and bring the fun to a new screen. Until March 5 at 11:59 p.m. PT, you can get a Glance for just $184.99 (reg. $249). 
A monitor that's as portable as your laptop
Whether you're a student, a professional, or just want to play video games at a coffee shop, this portable monitor could be an awesome fit for you and your laptop. Folded up this monitor is super thin, lightweight, and easy to transport. Fold out the bottom and it even stands on its own. All that's left is to plug it in and enjoy. 
Glance lets you switch between landscape and portrait mode. Get a better view of those giant spreadsheets or watch a movie in crisp color. There's also a 3.5mm aux jack on the side, so you can even plug in a pair of headphones. 
Glance is compatible with DP-enabled USB-C ports and HDMI. If you're using the HDMI connection, you'd also need to use another USB-C cable as a power source. And of course, all the cables you need are included with your purchase, along with a charger block to power the whole thing.
Computers aren't the only thing you can connect to this portable monitor. Hook up your Nintendo Switch or DeX-compatible device for some gaming or extra-portable productivity time. 
Get a second monitor for your laptop
Want the space of an extra monitor with the portability of a laptop? Mobile Pixels has a super slim, plug and play freestanding monitor that's compatible with Mac, Windows, Nintendo Switch, and DeX devices. For a limited time, get a 16-inch Glance HD Monitor on sale for $184.99 (reg. $249). Sale ends March 5 at 11:59 p.m. PT. 
Prices subject to change.