We use affiliate links. If you buy something through the links on this page, we may earn a commission at no cost to you. Learn more.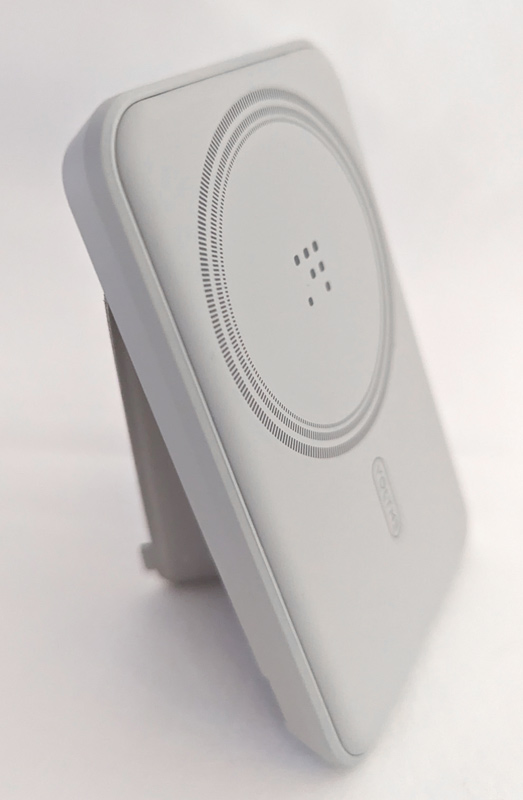 REVIEW – I am a big fan of portable chargers of all shapes and sizes.  I don't think you can have too many, so I have a lot.  Everywhere.  My office.  My car.  In just about every room of my house.  I have had numerous gadgets over the years that have had wireless charging capabilities, and I can tell you that not all wireless chargers are created equal. So today I am reviewing a unique wireless charger that can be used with Qi-compatible devices, as well as MagSafe-compatible iPhones. So let's jump into the review for the $54.96 VOLTME Ultra Slim Foldable 5,000 mAh Wireless MagPak Portable Charger.
What is it?
The VOLTME Ultra Slim Foldable 5,000 mAh Wireless MagPak Portable Charger is a slim portable wireless charger for any device that is MagSafe capable or Qi-compatible.
What's in the box?
VOLTME wireless charger
USB-C cable
Instruction booklet
Product specs
Size:  4.1 in x 2.6 in x 0.5 in
Weight:  4.7 oz
Battery:  5,000 mAh Li-Ion
Wireless output:  5W / 7.5W
USB-C output:  5V-3A
USB-C input: 5V-3A max
Compatibility:  iPhone 14 / iPhone 14 Pro / iPhone 14 Pro Max / iPhone 14 Plus / iPhone 13 / iPhone 13 Pro / iPhone 13 Pro Max, iPhone 12 / iPhone 12 Pro / iPhone 12 Pro Max with a magnetic phone case.
NOTE:  not recommended for the iPhone 13 mini or iPhone 12 mini
Max charging speed:  7.5W EPP maximum power (Qi & MagSafe Compatible)
5 Colors: Charcoal, Matte Blue, Forest Green, Violet and Dove Grey
Design
Before we jump into the specifics of the VOLTME, let's talk about wireless charging.  In general, I have never been a big fan of wireless charging, except for certain types of circumstances.  I am glad that my phone has that capability, but I honestly don't use it unless I am on the go and can use a portable wireless charger (like this VOLTME), or I am using a wireless charger overnight to let the phone charge while I am sleeping.  I have found that just the very mechanics of using a wireless charger during the day, when I use the phone the most, is inconvenient for me.  I mean, when you place your phone on a wireless charger you have to leave it there. If you keep picking the phone up to send a text or look something up for example, you have to remove it from the wireless charger, which defeats the whole purpose.  I could go on, but you get the point.
So for me, the only wireless charging I really utilize is a portable solution so that I can use the phone like normal, or slide the phone and the charger in my pocket while on the go.  This is where devices like the VOLTME wireless charger shine.
Also, it is important to keep in mind the vast majority of wireless chargers are going to charge your device much slower than a wired connection.  That will likely change in the future as this tech develops, but for now, that is pretty much the way it is. I use a Pixel 6 on a daily basis, and Google has a nice Pixel Stand that you can use to charge your Pixel wirelessly just as fast as a wired charger. So fast wireless charging solutions are out there, but they are very few. And even so, with the Pixel Stand I just mentioned, it has to be plugged up to the wall to work.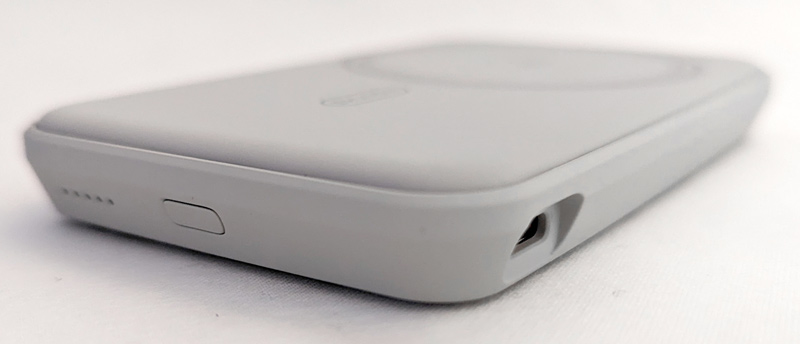 So let's look at the VOLTME wireless charger now. It is ever so slightly larger in length and width than a plain deck of cards, yet a little thinner (.05 in). The entire surface of the device is soft rubberized plastic with tapered edges, so it is very easy to hold in the hand. On the front, you will see the round area where the wireless charger is located. On one side of the device, you will see the USB-C port, which is used to charge the device but also can be used with a USB-C cable to get a wired charge. In fact, you can actually charge a device wirelessly and use the USB-C cable at the same time to charge 2 devices.  However, the Li-Ion battery capacity of the VOLTME is only 5,000 mAh, so if you do charge 2 devices at once then it will drain the battery pretty quickly and of course, you probably won't get a full charge for either of your devices.
As you can see from the pictures below, it fits nicely on my Pixel 6.  It also fits nicely on my wife's iPhone 12.  The cameras aren't covered up, so you can use your phone normally while using the VOLTME.  Please make a special note though, VOLTME doesn't recommend using this wireless charger with the iPhone 13 mini or iPhone 12 mini because the smaller size of those phones means the VOLTME will hand over the edge of the phone.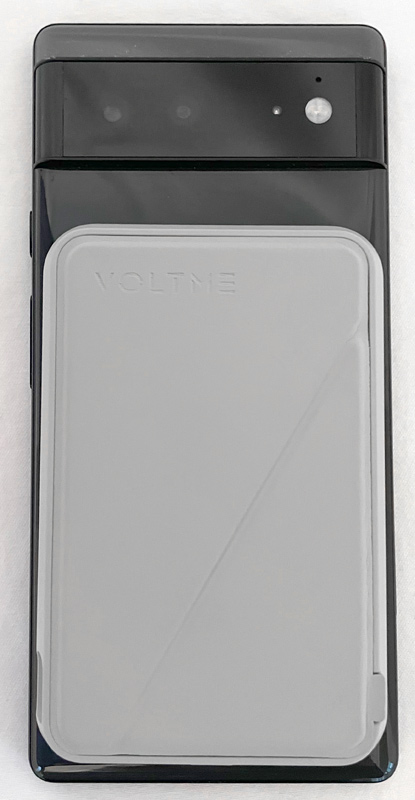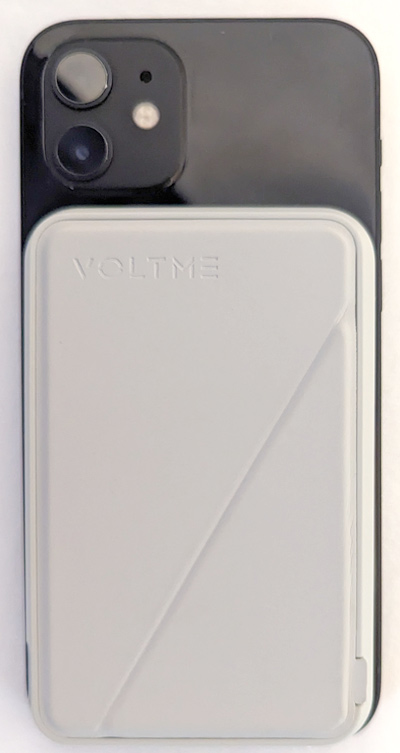 On one end of the device, you will see the power button and 5 LED indicators. The one closest to the power button serves as the wireless charging indicator so you know when the wireless charging is activated. Interestingly, if a foreign object is placed on the wireless charger, like a set of keys or another metal object of some kind, the wireless indicator LED light will blink.
There are several nice features of the VOLTME.  It automatically turns on when you place it on your phone to charge, so that's nice.  If you plug the VOLTME into a wired charger to charge it up, you can still put your phone on the VOLTME to wireless charge it at the same time.  It will prioritize charging your phone first, then begin to charge the VOLTME. The feature that sets it apart is the built-in kickstand on the back. Pull a small flap on the side and the back of the device will fold out to provide you a kickstand that can be used either vertically or horizontally. (see pics below) It was a bit stiff to use the first time, but it works great as you can see from the pics below.  You can even set it up vertically and have your phone attached horizontally if you want. Takes some balance, but it works.  Finally, because it is a wireless charger you can place your other wireless-enabled devices on the VOLTME, like earbuds, watches, and so forth.  You can even double-press the power button to change the charging mode to "low current" for those devices that require that.  Then when you are done charging, double-click the button to exit "low current" mode.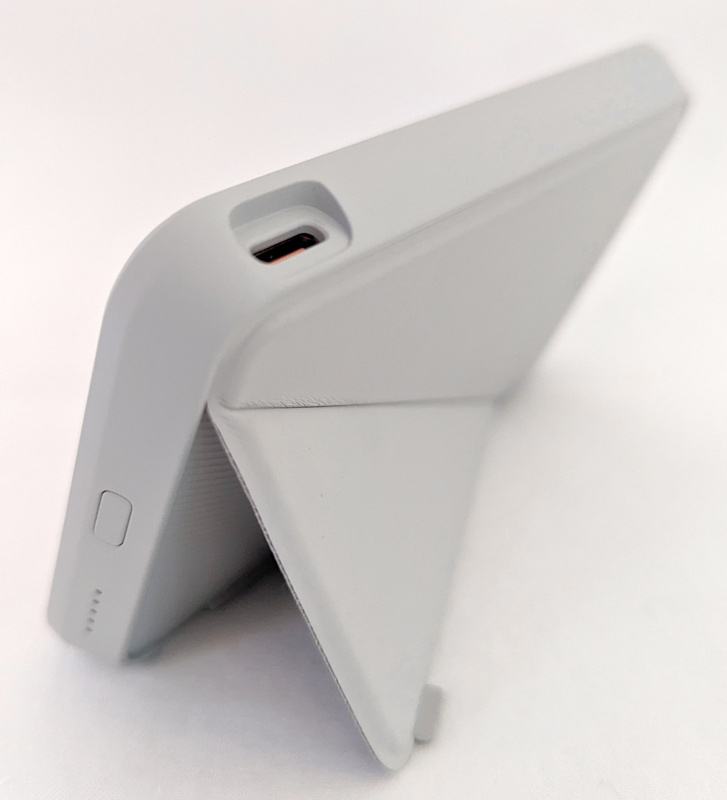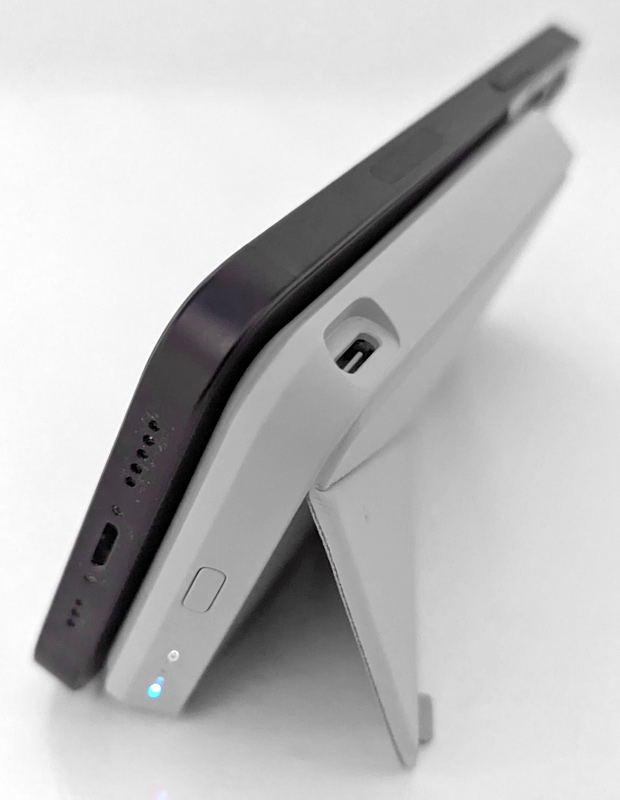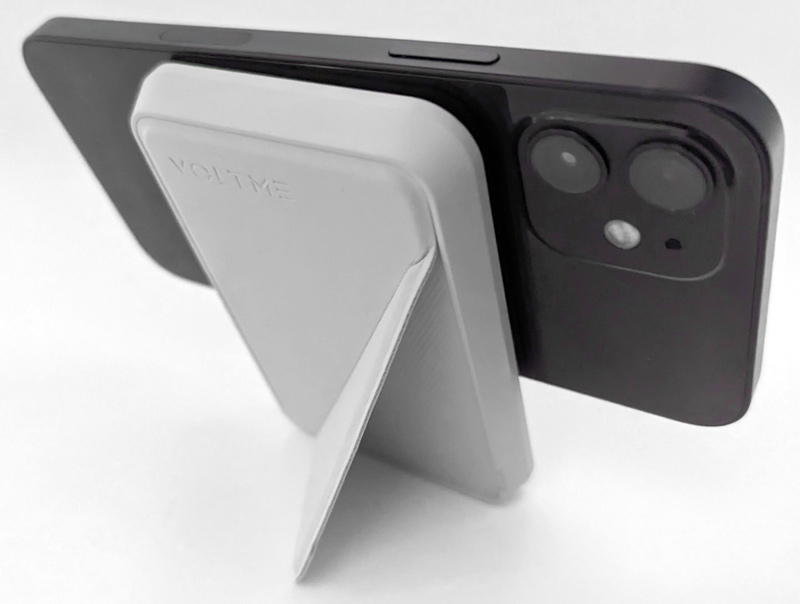 Mag-Safe Enabled vs Qi-Compatible
Finally, a word about the charging compatibility. The VOLTME charger can only provide a maximum of 7.5W of wireless charging speed. That will be much less than the speed you get when you use the charger that came with your phone. In my case, I get 22W of fast wired charging on my Pixel 6.  And on my wife's iPhone 12 she gets 20W charging with the 20W charger we purchased. But with the VOLTME the max wireless charging she gets is 7.5W and that is also the most I get on my Pixel 6.
Mag-Safe, of course, is an Apple technology and when you look online you'll find lots of products marketed with this technology to iPhone users.  So looking at the VOLTME website or Amazon page you won't see Android mentioned anywhere.  But lucky for me, my Qi-compatible wireless charging enabled Pixel 6 has magnetic coils inside that are perfectly aligned with the Mag-Safe magnets in the VOLTME.  I don't even have to use a Mag-Safe compatible case.  It just works for me.  Now, I don't have my older Pixel phones to test, or the newer Pixel 7 of course (yet!).  So I can't vouch that this charger will work with them.  But if you have a Pixel 6, it will work. The 1 caveat that I will mention is that the magnetic connection on my Pixel 6 isn't as strong as the magnetic connection on my wife's iPhone 12, which is very strong. The VOLTME won't immediately fall off my phone, but without too much effort of gentle shaking the VOLTME will fall off my phone.  I do have a thin case that I use with my phone, and I put a metal ring inside the cover (see pic below) so that it gives just a little magnetic boost with devices such as the VOLTME.  But when I use the case the strength of the magnetic connection is even weaker. So when I use the VOLTME, I remove my phone's case.  Not ideal, of course.  But it works better that way.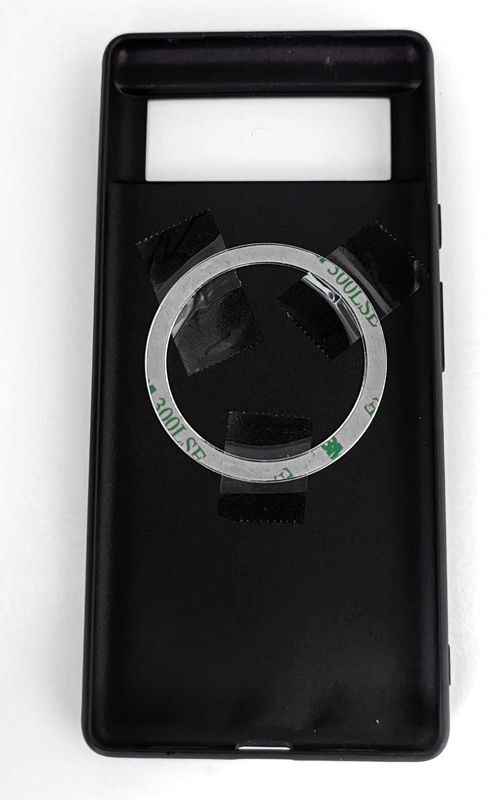 What I like
The built-in kickstand is very handy
Wireless and wired charging options
Very compact and easy to carry
What I'd change
A slightly stronger magnetic connection
I wish the battery capacity was larger
Final thoughts
A quick look on Amazon and you'll find a couple of kinda-similar products for around the same price.  Some are bigger and bulkier, but with higher battery capacities. Some have a kickstand, and some do not. But they are all around $50, give or take a little. So the VOLTME is fairly priced for what you get.
VOLTME promotes this charger as compatible with iPhones, so perhaps I should have no expectation that it would work with my Pixel 6, but it does, so I can't complain.  It does exactly what it is supposed to do… connects magnetically to my cellphone and provides wireless charging.  For iPhone users, I think that this is a really good charger to have with you while you are running around during the day and won't be able to plug up to a power outlet to get a charge. It's small and portable, it has that handy kickstand, and it can give you that little boost at the end of the day to get you home for the evening. It won't completely charge most iPhones, but it will give you a boost to get you through the day and as long as you understand that, this will be a nice addition to your gadgets or a nice gift for someone who is always running out of charge!
Price: $54.96
Where to buy: Amazon
Source: The sample of this product was provided by VOLTME