We use affiliate links. If you buy something through the links on this page, we may earn a commission at no cost to you. Learn more.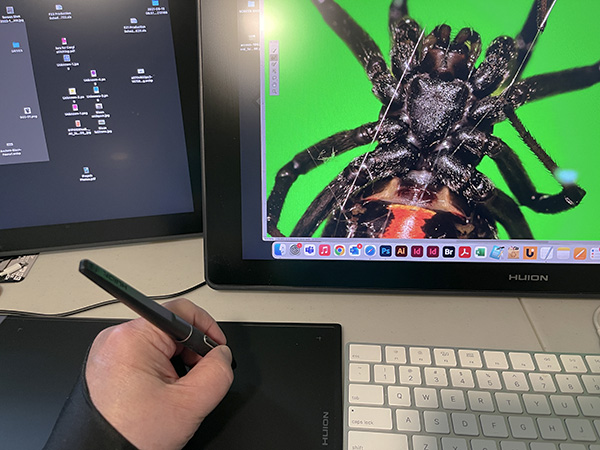 REVIEW – In previous graphics tablet reviews, I've noted that there are a lot of drawing tablets (both slate and display) available for what I always thought was a relativity small market. Maybe the market is much bigger than I think it is, because today, the number of tablets and companies offering them is growing, not shrinking. Oh well, it's more choice for the consumer! Huion—one of the major players in this market—has recently upgraded some of its tablets. One such tablet is the Huion Inspiroy Dial 2 pen tablet. This small and affordable desktop tablet has a lot going for it. Is it worth considering in an already crowded market? It depends.

What is it?
If you are a digital artist or Photoshop user, you know what a drawing tablet is. The Huion Inspiroy Dial 2 is a slate pen tablet with a 10.5 x 6.56-inch working area. It is a new, updated version of the original Inspiroy Dial. Slate tablets require a separate monitor as they do not have built-in displays.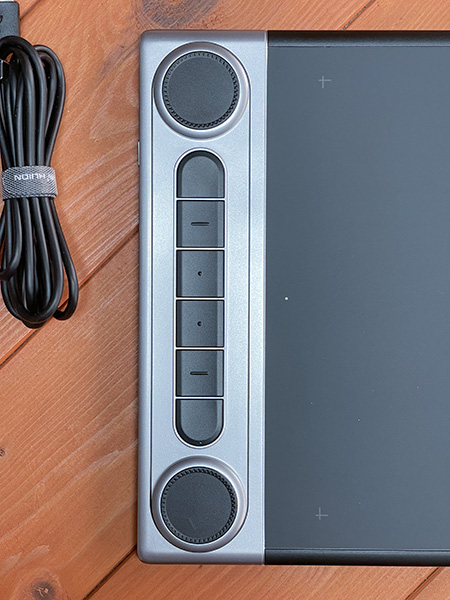 The Huion Inspiroy Dial 2 Pen Tablet sports a row of six programmable buttons capped by 2 programmable dials at each end. Each dial has four inputs that can be changed by pressing the dial's center. The six buttons perform a multitude of either universal or app-specific choices. 
The dual dials support the quick access Windows Radial Menu—a personalized circular menu for various apps, and files. etc.—for Windows users. My MacBook Pro doesn't support Radial Menu, so I don't know how well it works or not. I will say the dials work as advertised for the MacOS. More on that later.
The Huion Inspiroy Dial 2 Pen Tablet supports Bluetooth 5.0 for wireless connectivity with an 11-yard range. Its 1300mAh internal battery lasts 18 hours on a 2.5-4.5 hour charge.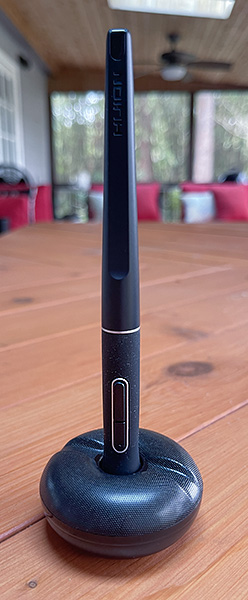 The battery-free pen (stylus) is based on Huion's new PenTech 3.0 technology. Along with a 20% rougher drawing surface, the pen features a short retraction distance providing a more natural writing experience. 5 standard pen nibs and 5 felt pen nibs (made of fiber) are included. The pen has 8192 levels of pressure sensitivity and tilt support.

Hardware specs
Dimensions: 14 x 8 in.
Working area: 10.5 x 6.56 in.
Depth: 0.3 in.
Weight: 1.5 lbs.
Pen Resolution: 5080 LPI
Tilt: 60°
Pressure Sensitivity: 8192 Levels
USB-C
Bluetooth 5.0
Battery life: 18 hours
Range: Up to 33 ft.
OS: Mac, Windows, Chrome, Android, Linux

What's in the box
Pen Tablet
Pen
USB-C to USB A power cable
Pen holder
10 nibs

Design and features
As I said earlier, there are almost too many drawing tablets to choose from. It can be confusing at best. And Huion isn't helping matters. They offer 17 different tablets—and that doesn't include the ones with built-in monitors! Hopefully, this review will help illustrate (pun intended) if the Inspiroy Dial 2 is the choice for you.
The Huion Inspiroy Dial 2 Pen Tablet is 10.5 x 6.56 inches and .3 in. thick. It's an optimum size for desktop digital illustration or photo retouching work. It performs much like the venerable Wacom Intuos Pro tablet. Its black surface is slightly etched for a more paper-like feel when drawing or writing.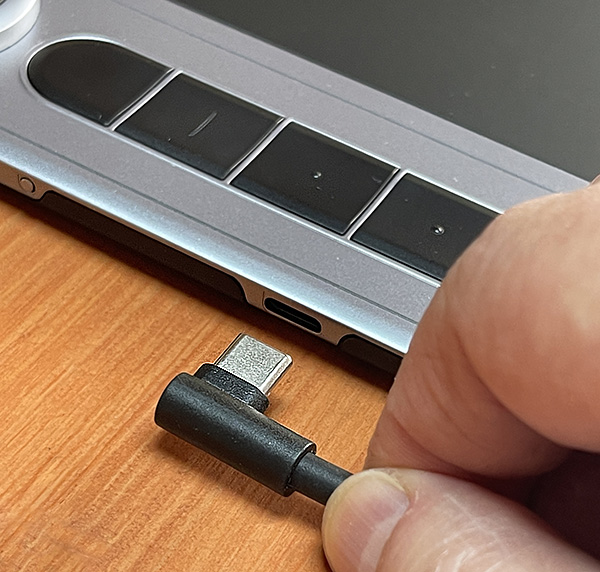 The tablet is light at 1.5 lbs. That—and the fact that it's wireless—makes it perfect for carting around in a student's backpack on campus. Note that the Inspiroy Dial 2 can also be powered by the included USB-C cable which will also charge the tablet as it's being used. There is no noticeable lag while using Bluetooth vs. wired.
The surface does not have a built-in monitor. It requires you to look up at a separate monitor as you draw on the flat tablet surface. This disconnect between hand and eye can require a bit of a learning curve, but it becomes second nature with practice. In fact, some artists prefer this method over the more expensive monitor drawing tablet. I prefer larger monitor tablets myself, but I appreciate the ease of use using pen tablets.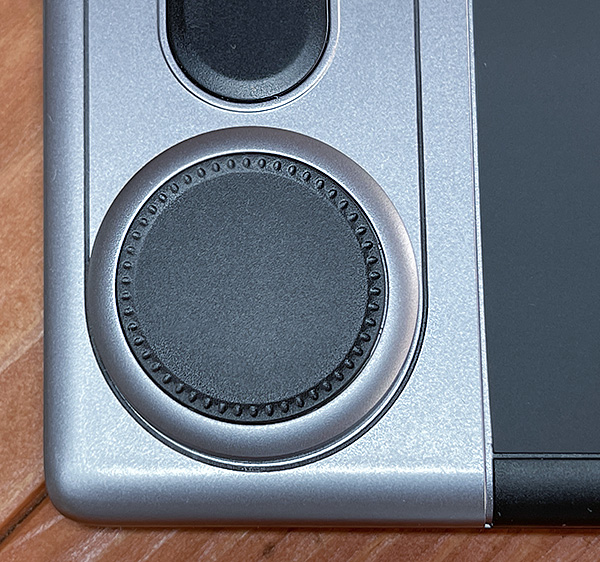 The Inspiroy Dial 2 is a somewhat attractive pen tablet. The two dials and buttons give it a less sleek look, but they are functional. The surface is easy to draw on. It has light gray corner markings that indicate the drawing boundaries. The base of the tablet is plastic but has a brushed aluminum look.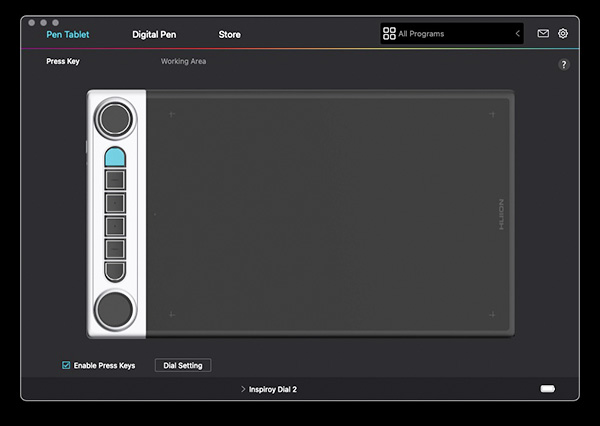 The programmable buttons have almost infinite settings. The dials' choices are a bit more restrictive. I had one of the dial settings set on zoom (in Photoshop). I couldn't get a smooth zoom. It defaulted to a set number of zoom increments. The same was true with scrolling. It's a downside to an otherwise good experience.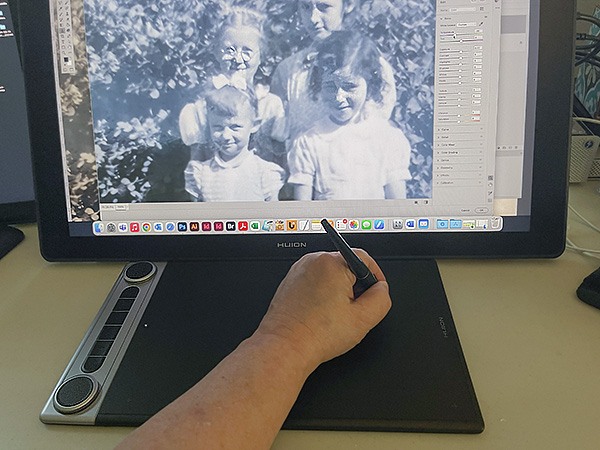 The pen is identical to the pen that came with the Huion Kamvas 24 Plus Pen Display I reviewed. It's a light (a bit too light for my tastes) pen that's easy to maneuver. Weight distribution is good—not too top-heavy as some pens can be. The two programmable buttons on the pen require just the right amount of pressure reducing unintended button pressing. I've had to disable pen buttons with some other tablets because of touch sensitivity.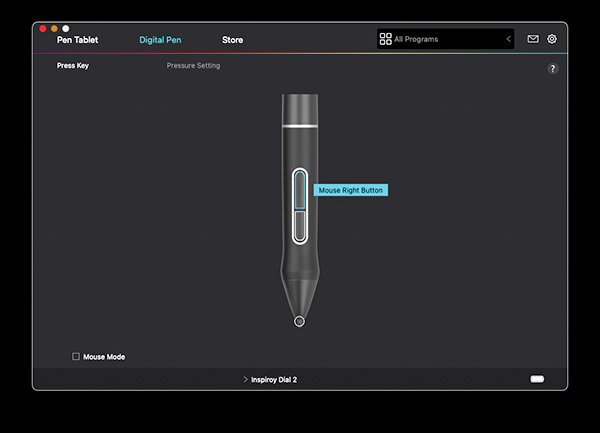 The pen's 8192 levels of pressure sensitivity (with tilt support) are now fairly standard. It's enough sensitivity to easily draw a thin-to-thick line (or thick-to-thin) in a single stroke. Tilt support is great for more realistic brushwork in apps that support it. Brushes can swivel with the tilting of the pen. Note that pen tip pressure can be customized in the driver app to fit your particular drawing style or heavy hand.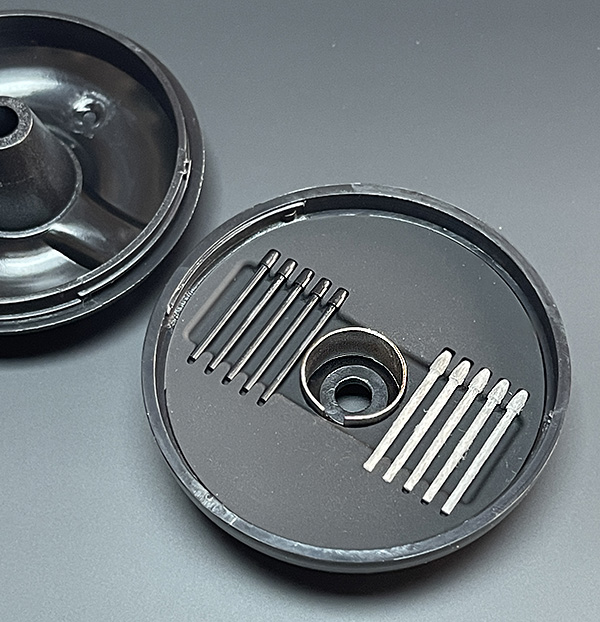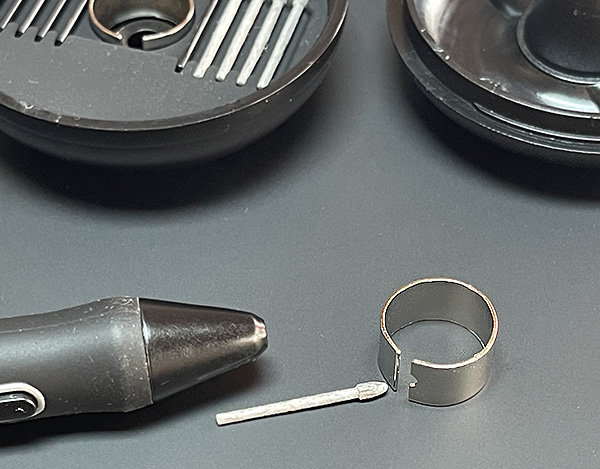 The pan comes with two types of nibs—hard plastic and felt. The felt tip has a bit of added tooth feel that makes drawing feel even more like a pencil on paper. It's a neat trick that works well. Changing the nibs is easy with an included small grabbing tool.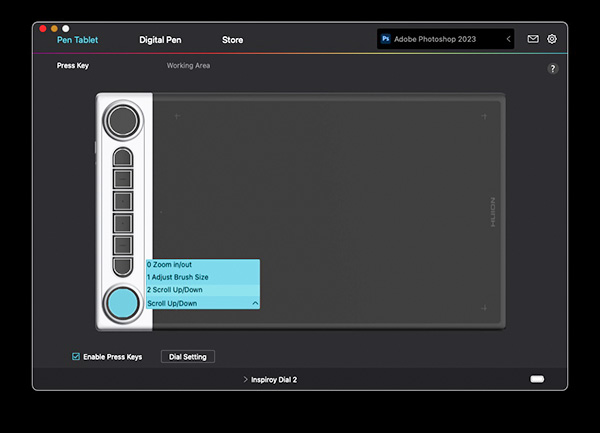 An app (called a driver) is required to use any drawing tablet. The driver can determine whether the tablet is a joy or complete pain to use. The good news is that Huion's driver helps make using the pen and Inspiroy Dial tablet a breeze. Everything works. Customizing the settings in the driver is straightforward and easy to understand. You can easily spend an hour or two programming the settings for the buttons and dials. Despite the ease of use and programming choices available, I turn off buttons (and dials) and use my keyboard for my shortcuts. It's how I learned to use tablets and I'm too set in my ways to change how I work—for now. That may change in the future.
Using the Huion Inspiroy Dial 2 Pen Tablet for Photoshop (I am not an illustrator) gives me a sense of deja vu about my original Wacom Intuos tablet from years ago. In this case, it's good deja vu.

What I like
Easy to set up and use
Small enough to carry around with a laptop
Can be wireless

What I'd change
Improve its design
Pen could be a bit weightier

 

Final Thoughts
The Huion Inspiroy Dial 2 pen tablet is well-made, easy to use, wireless, and affordable without being cheap. It may not be the prettiest tablet available, but its functionality and portability far outweigh its visual shortcomings. It's definitely worth considering if you're looking for a drawing tablet.
Price: $159.99 
Where to buy: Huion and Amazon
Source: The sample of this product was provided by Huion.