We use affiliate links. If you buy something through the links on this page, we may earn a commission at no cost to you. Learn more.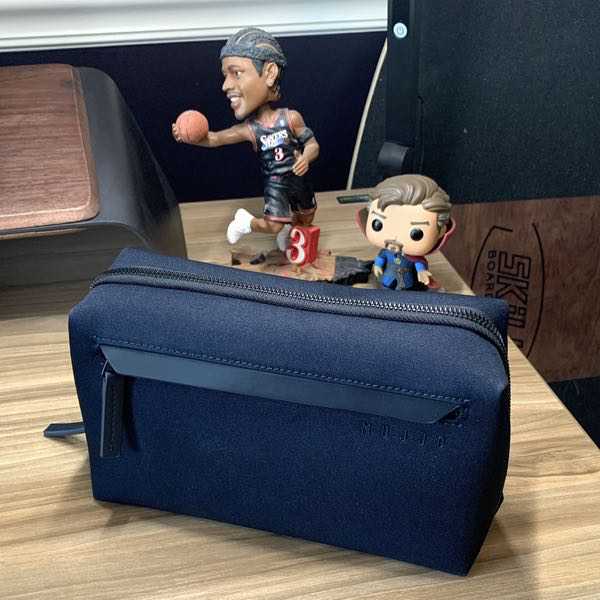 REVIEW – A good tech organizer keeps your EDC kit from descending into tangled madness. It just so happens that Mujjo makes a Tech Case that fits the bill, keeping your doodads and whatnots well ordered and organized. Just how good is it? To the review!
What is it?
The Mujjo Tech Case is a carryall accessory bag designed to bring organization to your tech accessories (cables, adaptors, power bricks, etc.).
Hardware specs
9″ wide by 6″ tall by 3.5″ deep
3 liter capacity
0.6 lbs
Recycled polyester w/ vegan leather trim
Waterproof lining
Design and features
Mujjo is known for sophisticated, high-quality small-carry products. The Tech Case I'm reviewing here is the bigger of their two accessory cases, measuring 9″ by 6″ by 3.5″. I have it paired here with my 26-ounce Yeti Rambler to give you a size reference.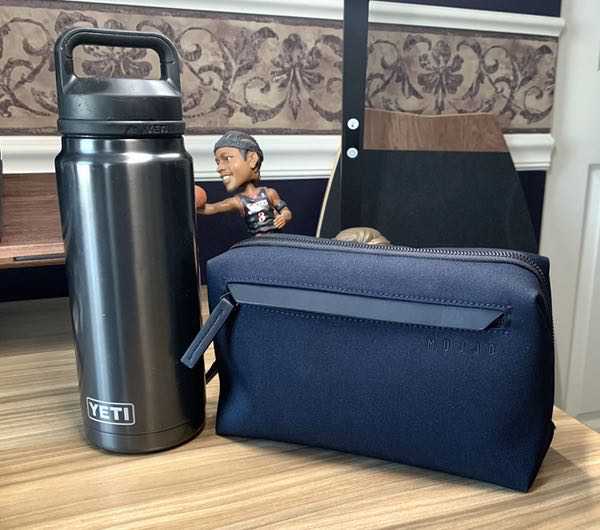 The total capacity for the Mujjo Tech Case is 3 liters, with a total carry-friendly weight of just over 8 ounces unloaded.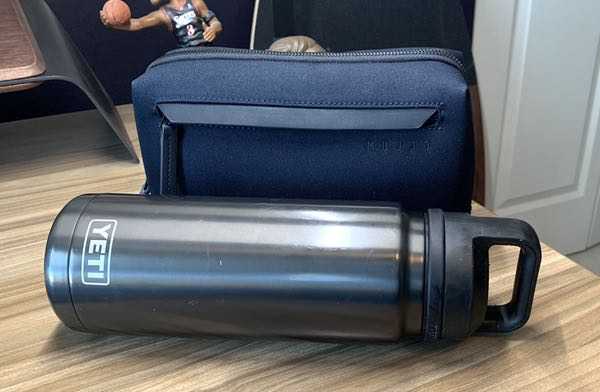 Check out the classy lines from every angle. You can get this bag in black or the dark navy color shown here.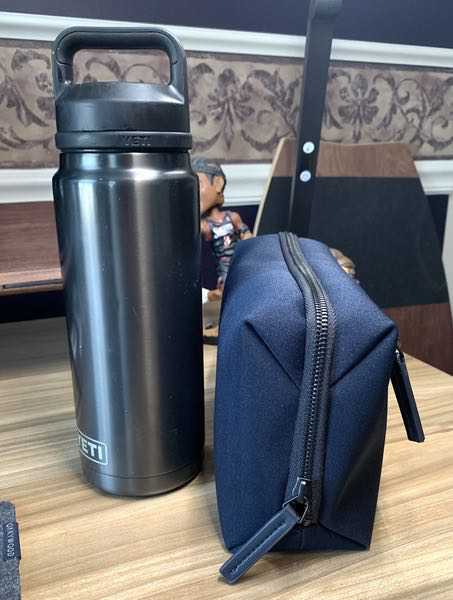 Materials and assembly are excellent. The primary fabric is recycled polyester with a bit of a pleasant textured feel on the exterior, backed by a waterproof lining on the insides. Vegan leather is used for the trim bits & zipper pulls, Mujjo also incorporates its logo at several points in the build. The whole assembly is clean and classy.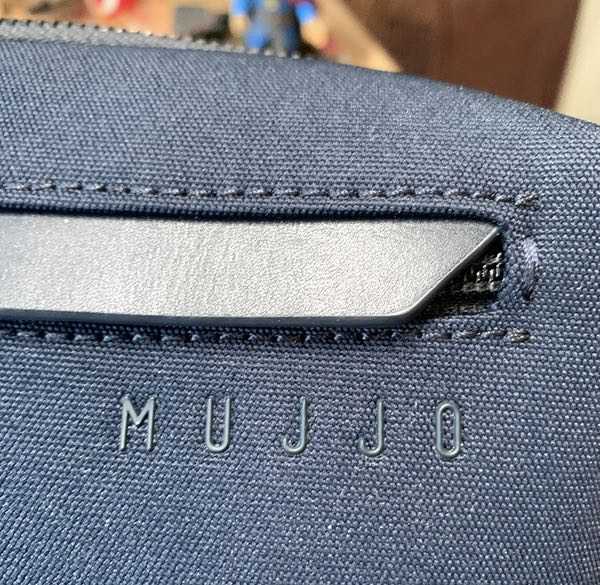 The Mujjo Tech Case's interior adds these lovely bellowed bits of fabric on each side that enable you to open the bag clamshell-style while keeping everything from falling out of the bag. This shot also shows the excellent finishing detail and stitchwork found throughout.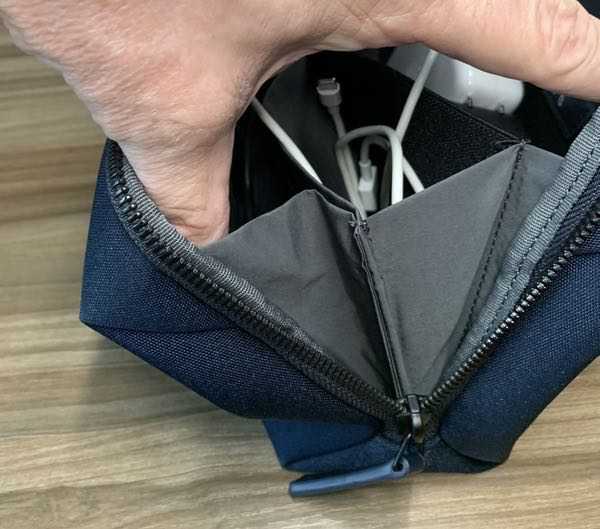 Check out how the interior sections keep their structure when you open the bag as it expands from the center out. This is great for access. We'll walk through all those pockets in a moment.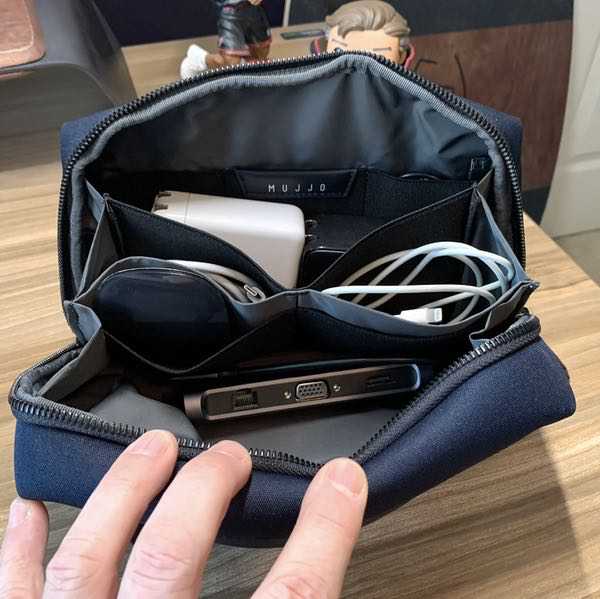 Here's a closeup of the side view of the Mujjo Tech Case that shows more nice design work. Those corner folds help the bag keep its boxy structure, allowing you to maximize the use of the interior space. It also allows the bag to stand on its own.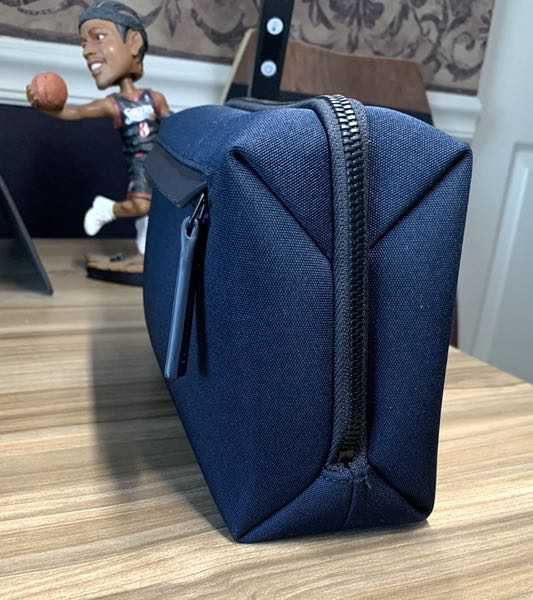 The Mujjo Tech Case has organization for days to manage all your bits and baubles, starting with a zippered pouch on the front face that incorporates a vegan leather over flap for water resistance. This pocket measures roughly 4.5″ by 7.5″ and is ideal for pens, a stylus, and longer things. You could stash a smaller phone or wallet in there too.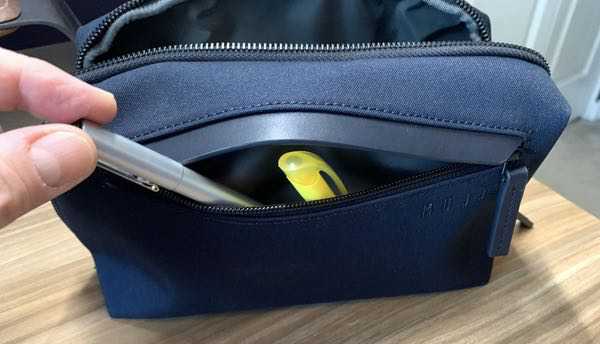 The interior of the Mujjo Tech Case is positively cavernous. Three 2.5″ wide vertical pockets on the rear face use an elastic material that allows them to flex for adaptors, thumb drives, or cables.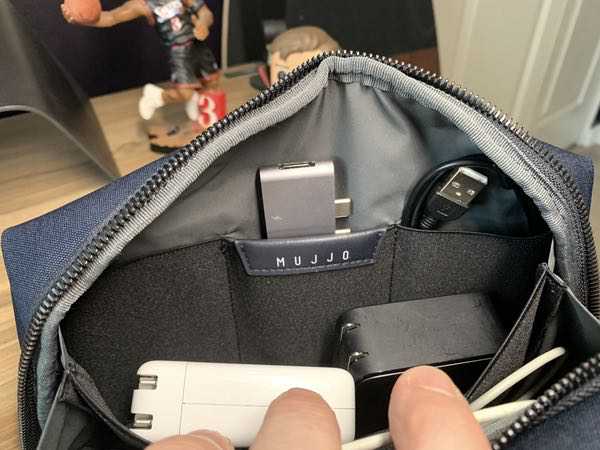 There's a bit of space between those rear pockets and the center divider that will fit two power bricks.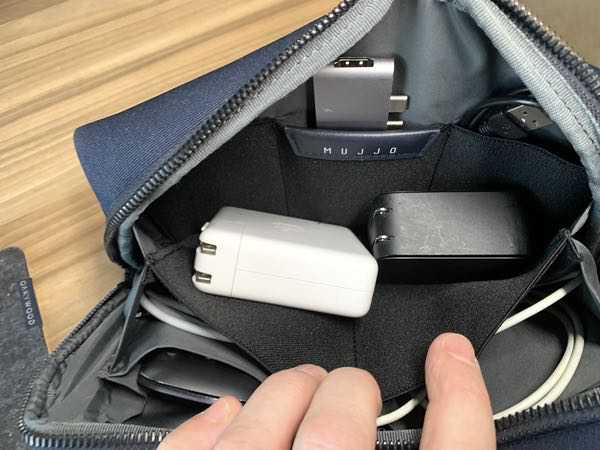 The center divider has two larger and two smaller pockets that all use that elastic material so that they flex for different shaped items. I have my MacBook Pro brick and USB cable in the center pockets for this demo and my Apple Mouse & Lightning cable in the front pockets.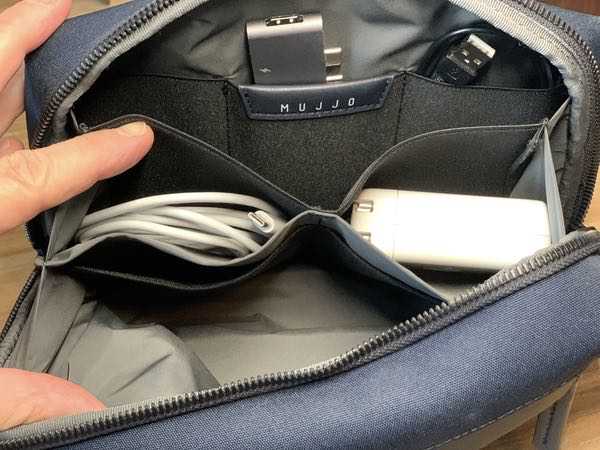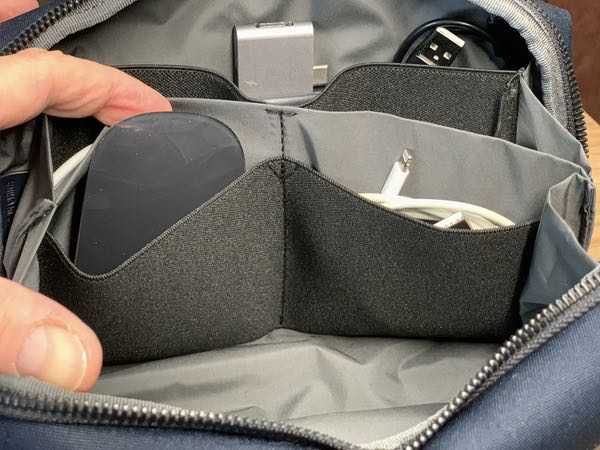 The front compartment of the Mujjo Tech Case is wide open for whatever stuff you want to pack there. A smartphone easily fits here, or a small notebook, or an e-reader in addition to an assortment of larger items.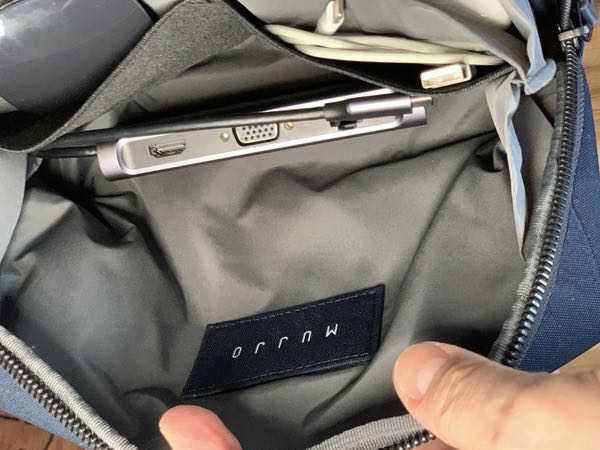 Performance
I see a couple of great use cases for the Mujjo Tech Case. My personal favorite so far is as a tech caddy for all my gear when I go to the office. My current work bag is a big leather backpack that doesn't have a lot of small tech organization. All my accessories and cables go into the Mujjo Tech Case, which I dump in my bag.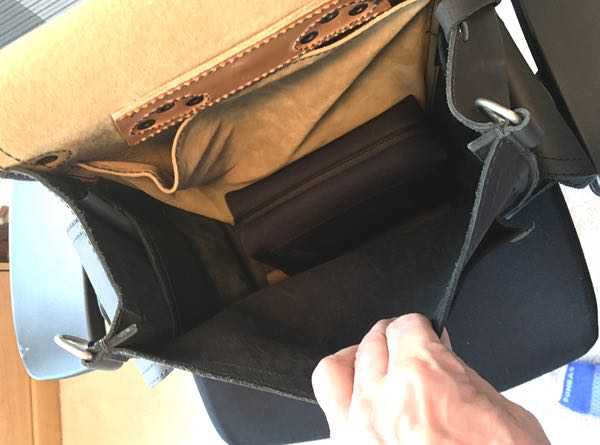 I pull the bag out at my desk when I get to work, and I have an instant desk caddy.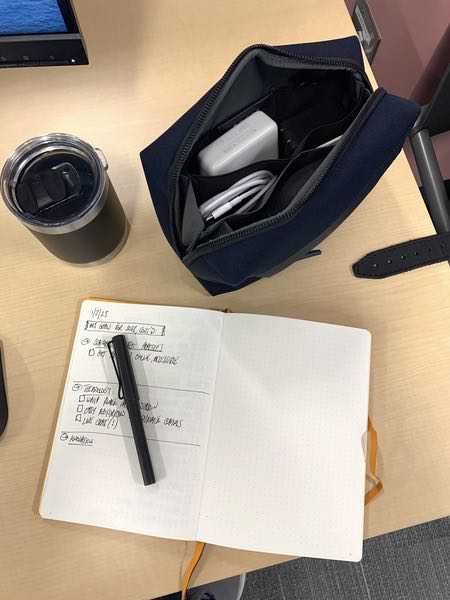 The bag stands on its own and the bellowed design allows for easy access to all corners of the bag for my stuff. I also keep some other goodies like mints, eyeglass cleaner, and a power bar in there. Then I zip it up and dump it back in my bag on the way out the door.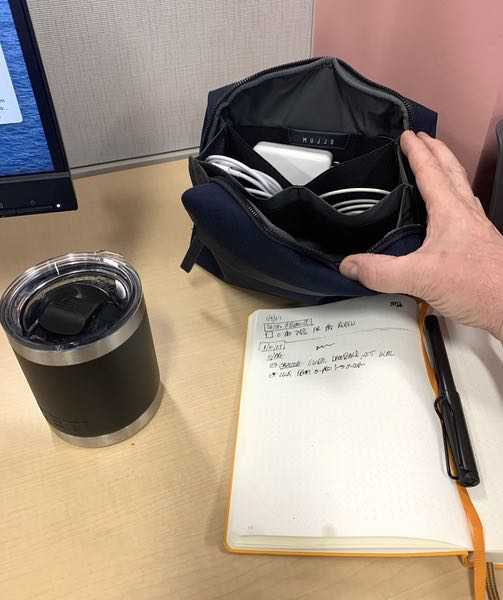 The space design here is really well done. The variety of pockets & spaces gives you a ton of easy-to-customize flexibility. The pocket geometry gives plenty of room to maximize those stretchy pockets. I think the Mujjo Tech Case will also be a great bag for travel when I might swap out some work items for headphones and whatnot.
If you like the flexibility of using a single accessory bag that you can switch between your main bags (or carry-on, or checked luggage), you'll love this. I'd actually love it even more if it had an optional shoulder strap! I could stash my sunglasses in here and use it for a small day bag if I am out and about.
This does bring us to who the Mujjo Tech Case doesn't suit. As I showed in the intro, it's a relatively big boy. If you're rocking a smaller EDC bag this may not be the best fit for your needs. And while I highly recommend it if you have a bag with limited tech organization, this would probably be overkill if your bag has all that built-in unless you have a LOT of accessories. You'll want to consider your daily needs.
I should note that the design will flex a bit; I measure 3″ deep and 5.5″ high on the real-world measurements of the bag, but there's a lot of flex in the design that gets you to the manufacturer's 3.5″ and 6″ measurements if you overstuff it.
What I like
Thoughtful, well-organized design
Excellent build quality
Flexible, practical usability (particularly for the office commuter or traveller)
What I'd change
Nothing I can see so far; I would love a shoulder strap to add to the usability!
Final thoughts
The Mujjo Tech Case is a wonderful gear accessory organizer that features elegant design, outstanding construction, and excellent usability. It's already become an essential part of my EDC setup and is going to make its way into my travel kit very soon. You'll just want to think about how a larger tech organizer fits into your needs. Mujjo does offer a smaller gear case (called the Tech Kit) for those that have less space or less stuff to carry,
Price: £75.00
Where to buy: Mujjo and Amazon
Source: The sample of this product was provided by Mujjo.