We use affiliate links. If you buy something through the links on this page, we may earn a commission at no cost to you. Learn more.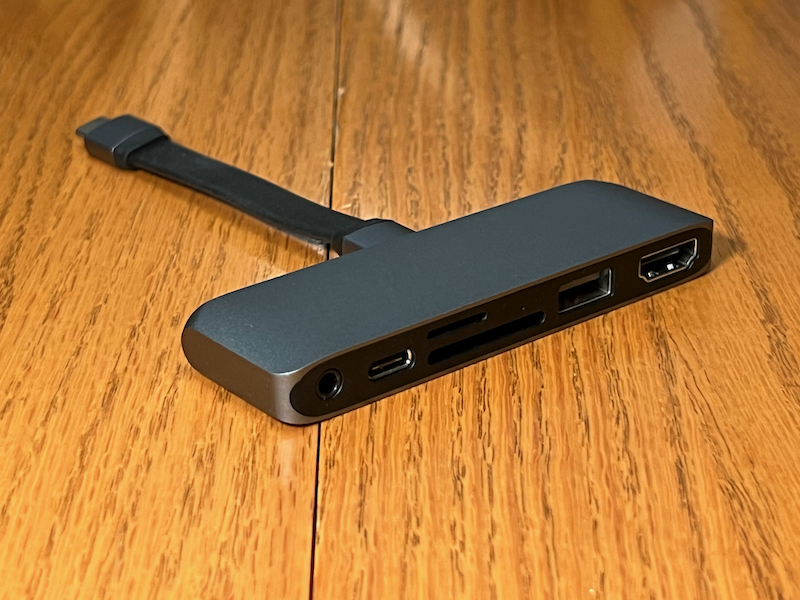 REVIEW – So many devices today only have one expansion port. Thankfully many of those devices use USB-C connectors and there are lots of adapters available but wouldn't it be nice if you could connect multiple external devices at once? Satechi has a solution for that in their USB-C Mobile Pro Hub SD.
What is it?
Satechi's USB-C Mobile Pro Hub SD is a 6-in-1 hub useful for adding multiple connections to an iPad, Android tablet, Android phone, or USB-C enabled laptop. 
What's in the box?
Satechi USB-C Mobile Pro Hub SD
USB-C Extension Cable
User Guide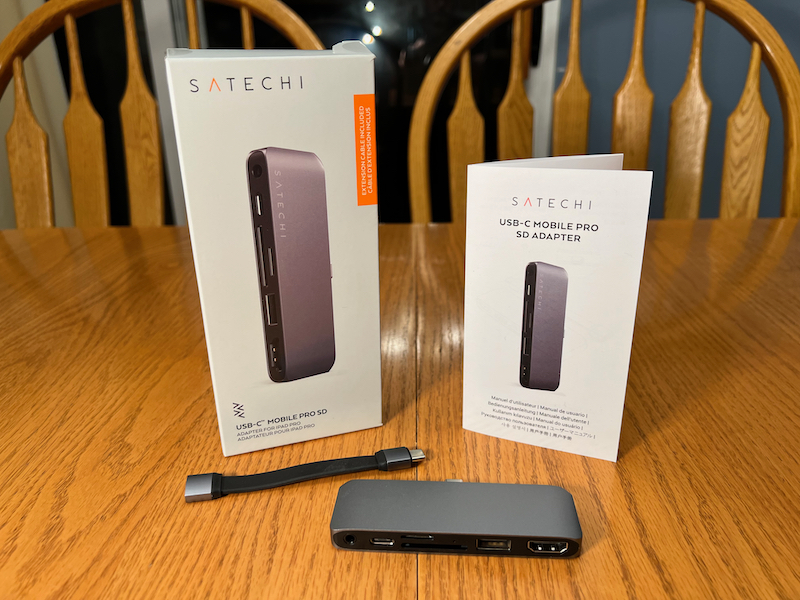 Hardware specs
USB-C PD up to 60W
4K HDMI @ 60Hz
USB 3.0 port with 5 Gbps speeds
UHS-I micro/SD card reader
3.5mm headphone jack
Dimensions: 5.31 x 2.95 in (135 x 75 mm)
Compatible Devices
2022 iPad Air M1, 2021 iPad Pro M1, iPad Mini 6th Gen, 2020/2018 iPad Pro, 2020/2018 MacBook Air, Microsoft Surface Laptop 3/Surface Pro 7/Go, Google PixelBook Go, Samsung Galaxy S10 Plus/S10, 9 Plus/9, Note 9/8, Google Pixel 3 XL/3, LG V30, Huawei Mate 20, HTC U12+, Microsoft Lumia 950 XL/950 and more. 
Design and features
The Satechi USB-C Mobile Pro Hub SD is a small, rectangular, dark gray, aluminum device with a USB-C connector on one side and 3.5 mm, USB-C, USB-A, and HDMI connectors and SD & microSD slots, all of which can be used simultaneously. The hub is designed to fit flush against a laptop or tablet but if they're in a case the included extension cable can be used to connect the hub to your device to be able to use all the available functions.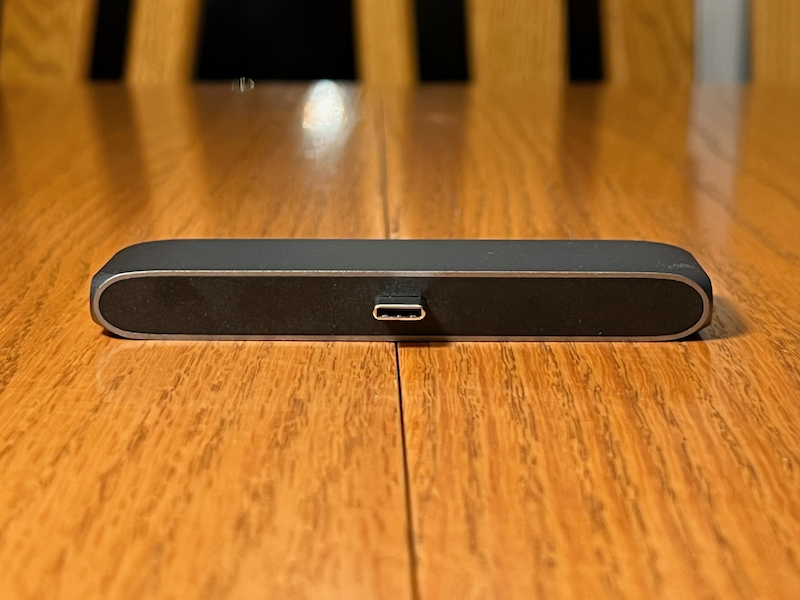 The Satechi USB-C Mobile Pro Hub SD's HDMI port is full size and supports up to 4K at 60 Hz. The USB-C charging port supports up to 60 W PD pass-through, charging many laptops at full speed, and is even able to charge larger ones at slower speeds. The USB-A port can transfer at up to 5 Gbps, which is fast enough for most of the USB drives out there. The microSD/SD card slots support UHS-I, which isn't the fastest version of this format but still supports up to 104 MB/s. The headphone jack is great if you don't have Bluetooth headphones or you want to connect your device to external speakers.
Installation and setup
All that is needed to set up the hub is to take it out of the box and plug it in to your device. If you're using a case or want to extend it from the device a little bit, simply plug in the extension cable. There are no drivers to install or anything to configure, it just works once plugged in.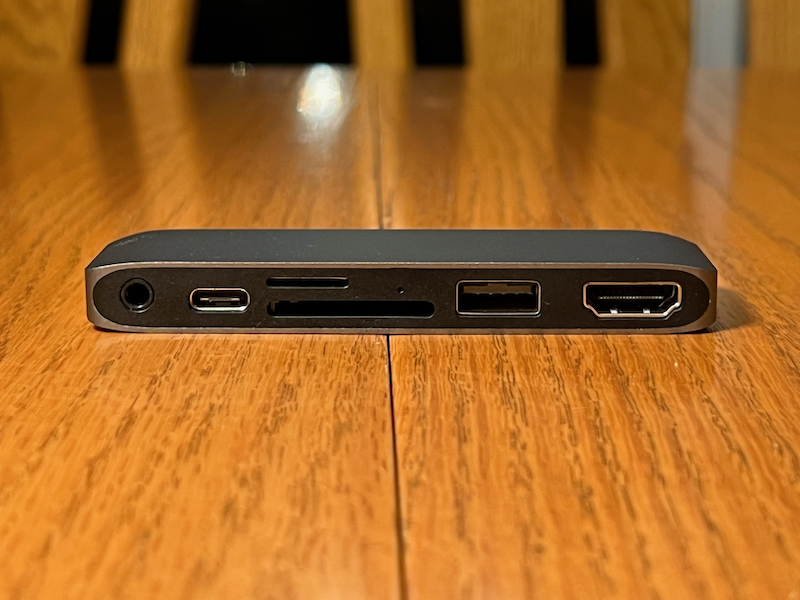 In Use
The Satechi USB-C Mobile Pro Hub SD is a convenient way to add multiple connections to a device that may have only one or even multiple USB-C ports. Whether you want to hook a tablet up to a TV to mirror or extend the built-in display, copy files from a USB drive or SD card, or even plug in a pair of headphones to a device that doesn't have a built-in headphone jack, this device is your answer.
I tested this hub with four different devices, a MacBook Pro, an iPad Pro, a Google Pixel 6 phone, and a TCL Android tablet. All of these devices are USB-C only, except the MacBook Pro has a built-in headphone jack, making one of the connectors redundant in this one case. 
On the MacBook Pro, everything worked as expected. The HDMI output worked at 4K at 60 Hz on my TCL TV. The headphone output sounded clean and loud. The SD and USB-A slots transferred data as quickly as expected. The power input measured 60 W as indicated in System Information. The hub sat flush against the side of my MacBook Pro; the only concern is that it covered both USB-C ports on that side of the laptop. Giving up one USB-C port to add 6 others is an acceptable compromise in most circumstances.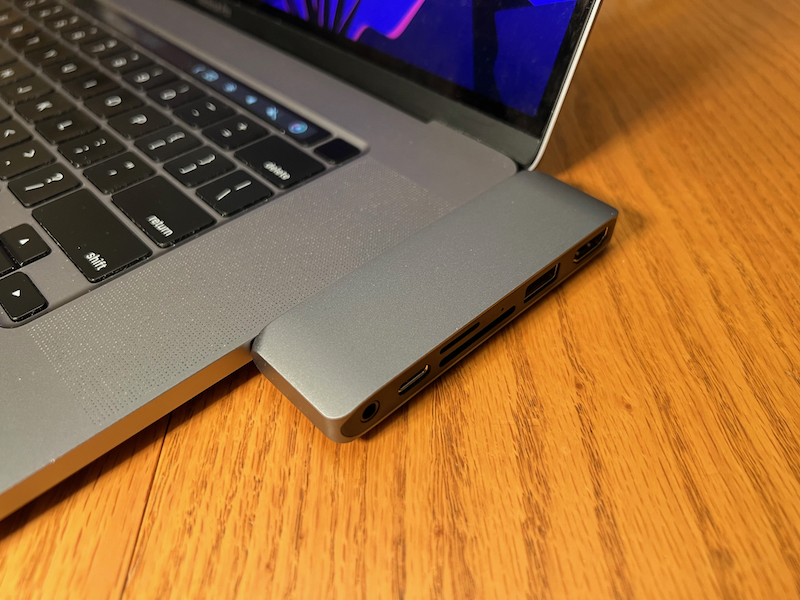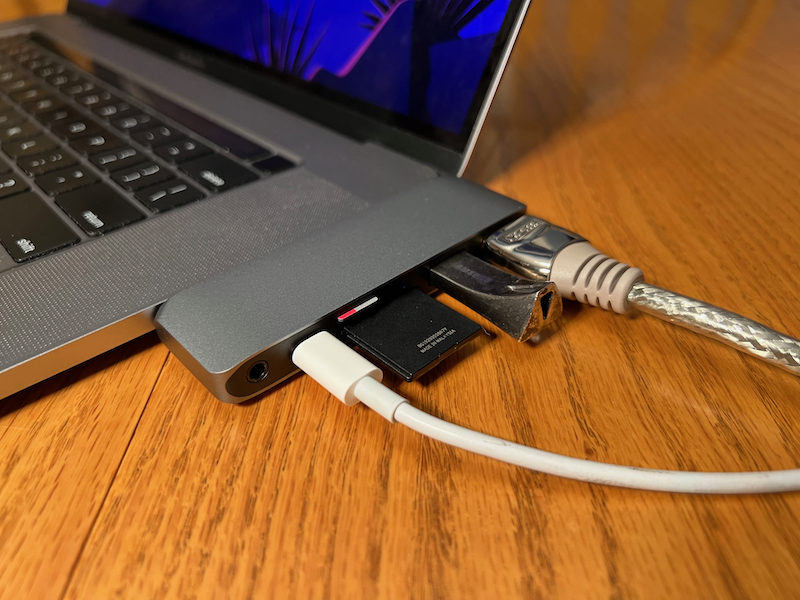 Moving on to the iPad Pro, the hub worked as expected again. HDMI output worked at 4K 60 Hz, the headphone output worked, file transfers to and from the USB-A port and SD card slots worked as quickly as expected, and the USB-C input worked to power the iPad. Because I have a case on my iPad the hub wouldn't sit flush so I had to use the extension cable. The cable seemed a little short, causing the hub to hang awkwardly from the side of the iPad, which is the 12.9" version. Other than that everything worked as expected.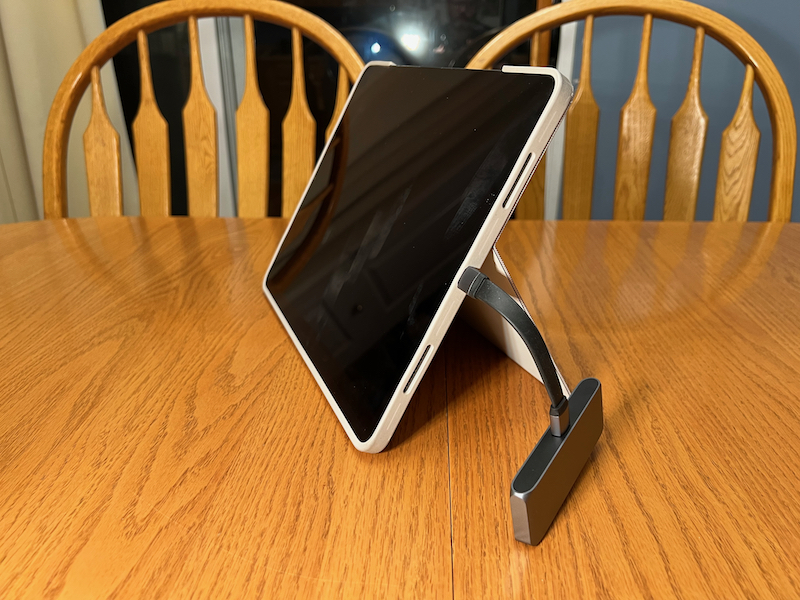 With the Pixel 6, all the ports worked as expected except the video output. I didn't expect it to work since other hubs similar to this that I've tried haven't worked, but I wanted to test it anyway. With a case on my phone, the USB-C extension cable was necessary in this case as well. The Pixel reported that it was charging rapidly as expected with a high wattage PD charger.
Unfortunately, not everything worked as well with the TCL tablet. The HDMI output didn't work. Again I didn't expect this to work, although it would have been nice. Testing the USB-A port with a thumb drive worked both ways and the microSD card worked as expected as well, but when I tried to transfer a 730 MB file from an SD card to the internal storage of the tablet it failed every time. The last, and the most disappointing, thing that didn't work correctly was the headphone port. It outputs audio but there was a terrible crackling sound on everything I listened to. I then decided to see if the Startech USB-C Audio & Charge Adapter I reviewed a while back would work or not and it didn't work at all. I assume this is a hardware limitation with the tablet, which is disappointing because there is no headphone jack on this device.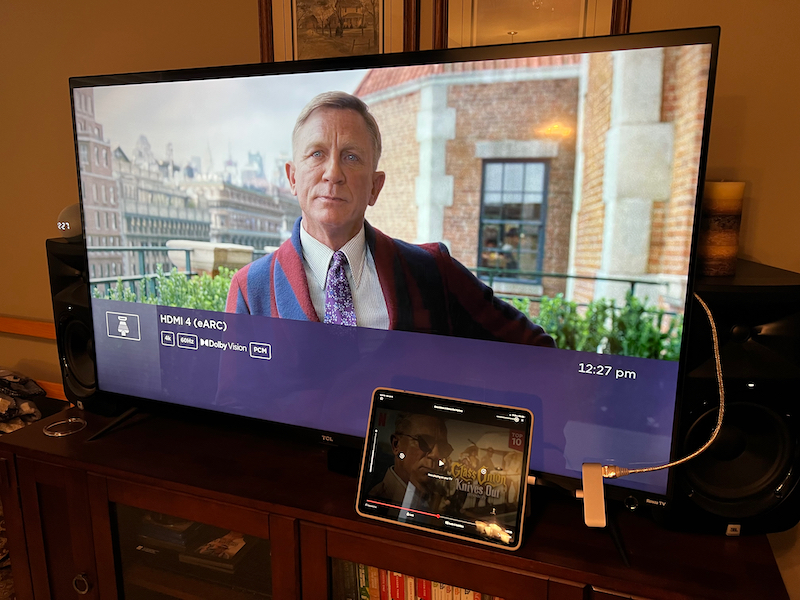 Overall, though, the Satechi USB-C Mobile Pro Hub SD is a great addition to any mobile setup as long as the device you're trying to connect to has a USB-C port. The variety of connection options and sleek, lightweight package make this an easy accessory to take with you but it won't take up too much space on your desk if you choose to use it at home or in the office.
What I like
Multiple connections in a compact package
Extension cable for use with a case
What I'd change
Slightly longer extension cable
Final thoughts
Whether you need to connect to a monitor, transfer files, or even listen to music, you can do it all with the Satechi USB-C Mobile Pro Hub SD while keeping your device charged up.
Price: $69.99
Where to buy: satechi.net and Amazon
Source: The sample for this review was provided by Satechi. For more information visit their site.