We use affiliate links. If you buy something through the links on this page, we may earn a commission at no cost to you. Learn more.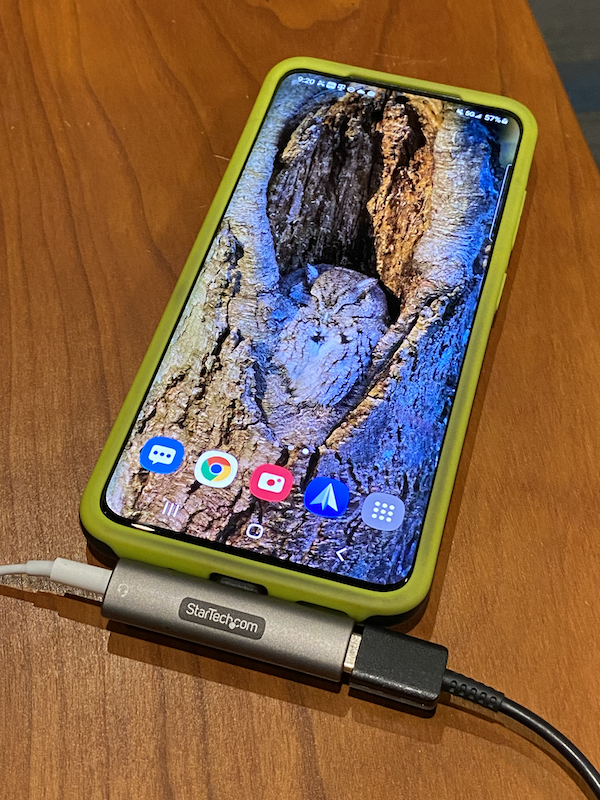 REVIEW – Headphone dongles–they've become our best and worst friends over the last few years. They allow our phones to be slimmer and more compact but they require us to carry another cable if we want to listen to music. And if we want to charge while we're listening, well forget about that. Enter the StarTech.com USB-C Audio & Charge Adapter. This device allows you to plug in a pair of headphones and your USB-C charger so you can charge and listen to your heart's content.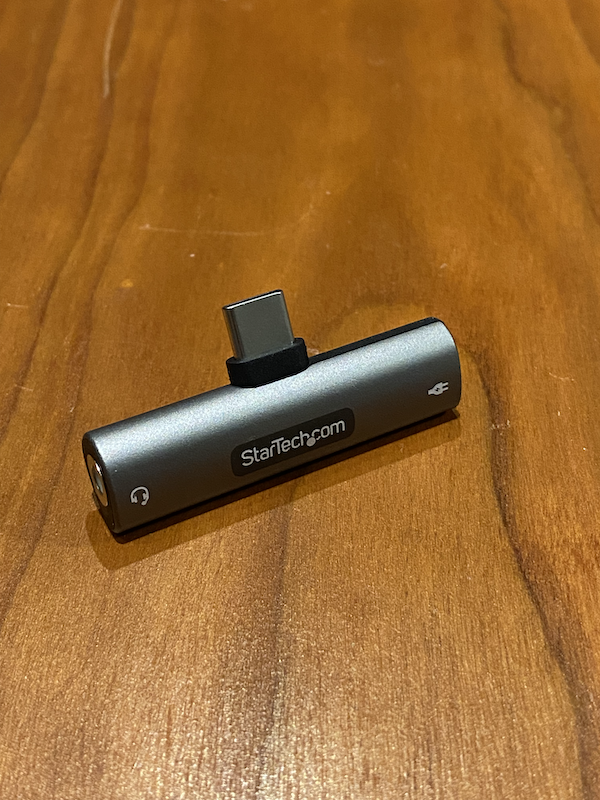 What is it?
The StarTech.com USB-C Audio & Charge Adapter is a small device that connects to the USB-C port on a compatible phone, tablet, or computer, enabling you to charge and listen at the same time. Compatible devices include many Android phones and tablets, iPad Pros, recent MacBook models, and Windows PCs that have a USB-C connector. (Make sure to check StarTech.com's site for compatibility with your devices before purchasing.)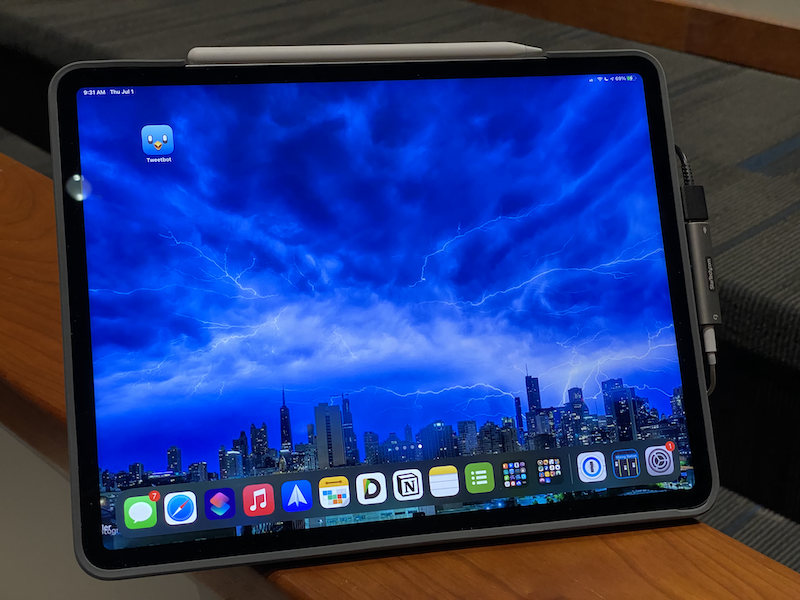 What's in the box?
StarTech.com USB-C Audio & Charge Adapter
Hardware specs
3.5mm TRRS Audio Jack: Supports headphones with built-in mic
USB Type C Connector: Charge-only connector
Multiple Charging Modes:

 

Bus-powered or use external USB-C power adapter up to 60W PD 3.0 pass-through to charge USB-C laptops and tablets
Fast Charge (BC 1.2) to charge USB Type-C smartphones

Convenient Side Port Layout: Compact, horizontal-style, cable-less, dongle-like design
Thunderbolt 3 Host Compatible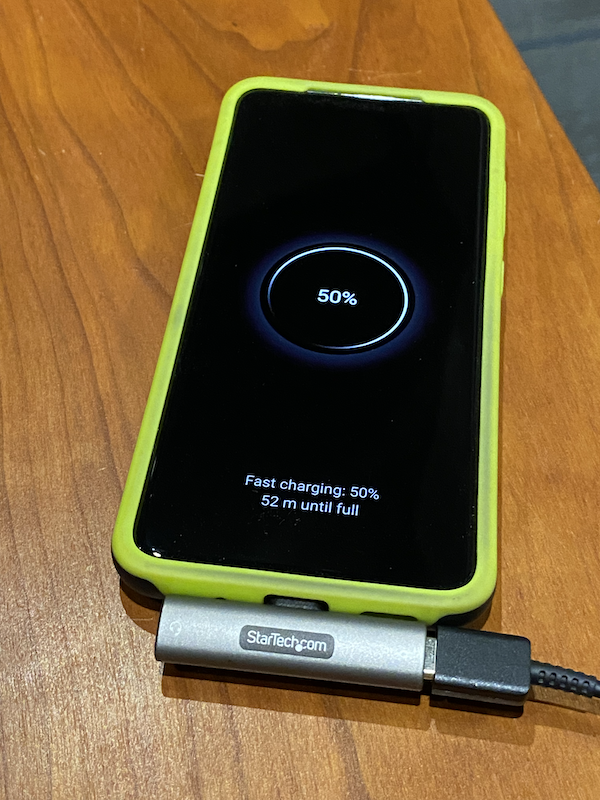 Design and features
This adapter is a small, gray, metal and plastic, wedge-shaped device. Unlike other dongles it's not a cable, it's a solid adapter that plugs into your USB-C device and sits almost flush, depending on whether it has a case or not. Because it's not a cable, it's not likely to break as easily, getting bent and frayed like a cheap cable would. 
Installation and setup
Installation is as easy as plugging the adapter into your USB-C device and plugging in your headphones and charging cable. Because it supports up to 60W Power Delivery it can power and charge everything but the most power-hungry laptops (and will even charge most of those, although potentially at a slower speed, depending on your use).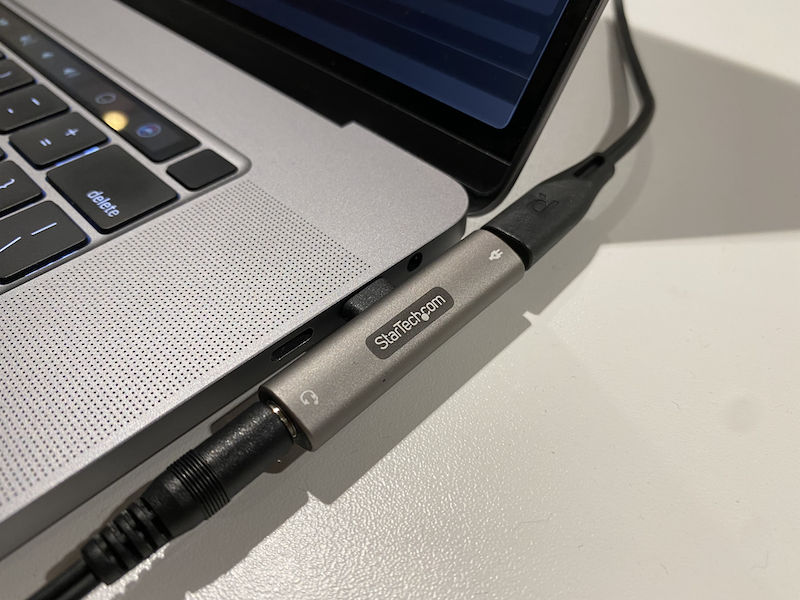 Once the adapter and your headphone and charging cables are plugged in you're ready to go. On my iPad Pro and Android phone, the adapter was automatically selected for audio output. On my MacBook Pro I had to select "USB HD Audio" in the Mac's audio output settings.
In my testing audio sounded as good as with a built-in A/D converter. I don't have any fancy test equipment or expensive A/D converters to compare it with, but I didn't have any concerns about the audio quality, at least compared to what's built into most devices anyway.
Similarly, charging didn't seem to suffer while using this adapter. The one exception would be my 16″ MacBook Pro, which comes with a 96W charger, so the 60W pass-through doesn't quite deliver all the power it can handle, but if you go into it knowing that you'll be fine.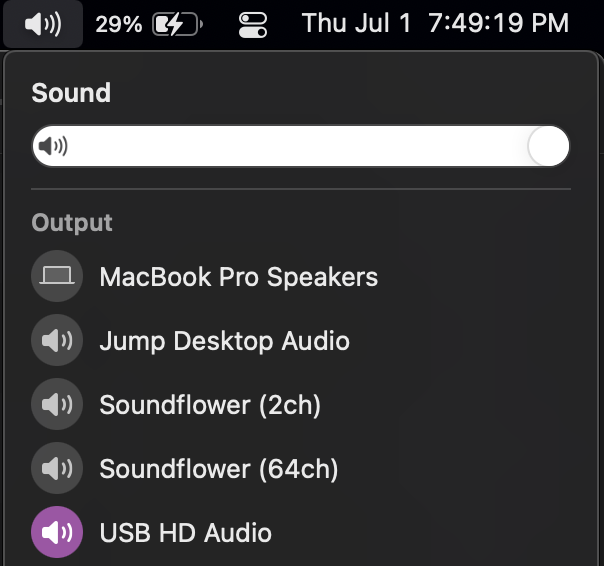 What I like
I like the cable-less design. I feel much more comfortable carrying this around in my pocket vs. a cable-style dongle. I'm always concerned about the stress the cable might be under as I walk around at work. 
I also like the build quality. Its sturdy metal and plastic construction doesn't feel like it's going to break easily.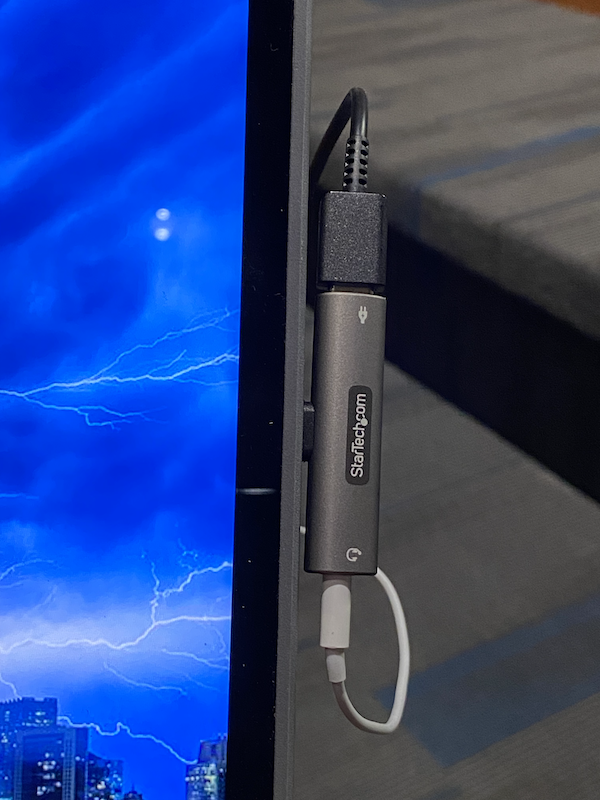 What I'd change
If I had to complain about anything I guess it's that it covers both USB-C ports on the side of my MacBook Pro. Of course with the model I have, there are two more connectors on the other side, but some smaller laptops don't have that luxury. There's also a built-in headphone jack on my laptop so I won't likely be using this adapter with it very often, but for other laptops with fewer connectors it could be an issue. 
Final thoughts
This is a handy solution to powering your device while also listening. Now I want a Lightning version for my iPhone as well.
Price: $34.99 at StarTech.com or $30.57 at amazon.com
Where to buy: StarTech.com or amazon.com 
Source: The sample for this review was provided by StarTech.com. For more information visit StartTech.com.