We use affiliate links. If you buy something through the links on this page, we may earn a commission at no cost to you. Learn more.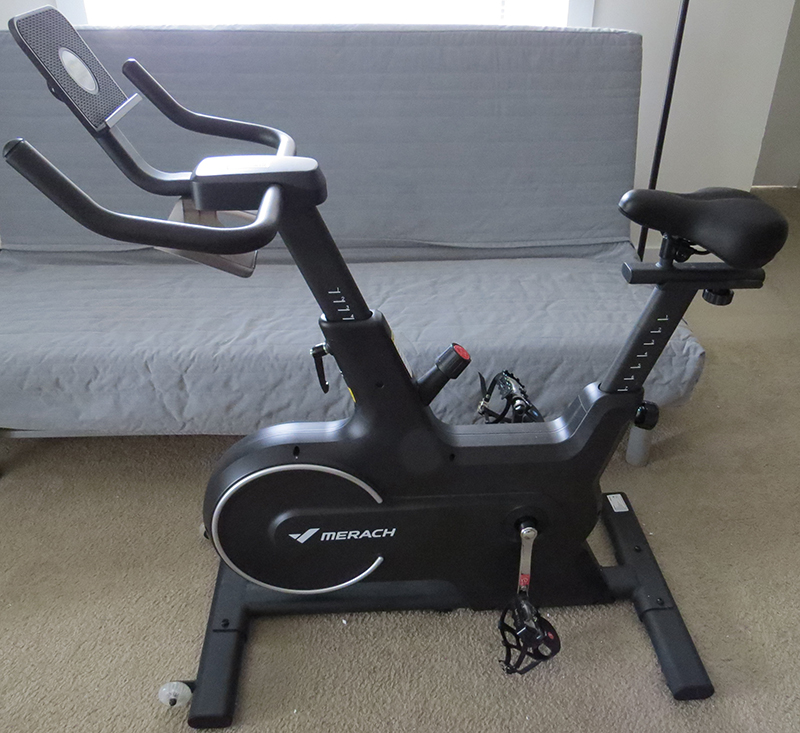 REVIEW – Over the summer I was pretty good about getting out and about and staying active as the weather was gorgeous. As winter has come around, however, I've been looking at indoor methods of staying active. I used to spin now and then at the karate dojo I attended, so that's where my attention went. I wanted something decently priced but still well made, and I felt the MERACH Indoor Cycling Bike was a solid candidate to fit that bill.
What is it?
The MERACH Indoor Cycling Bike is a budget-priced spin bike with Bluetooth app capabilities and built-in workouts. It is a great beginner bike in both price and features.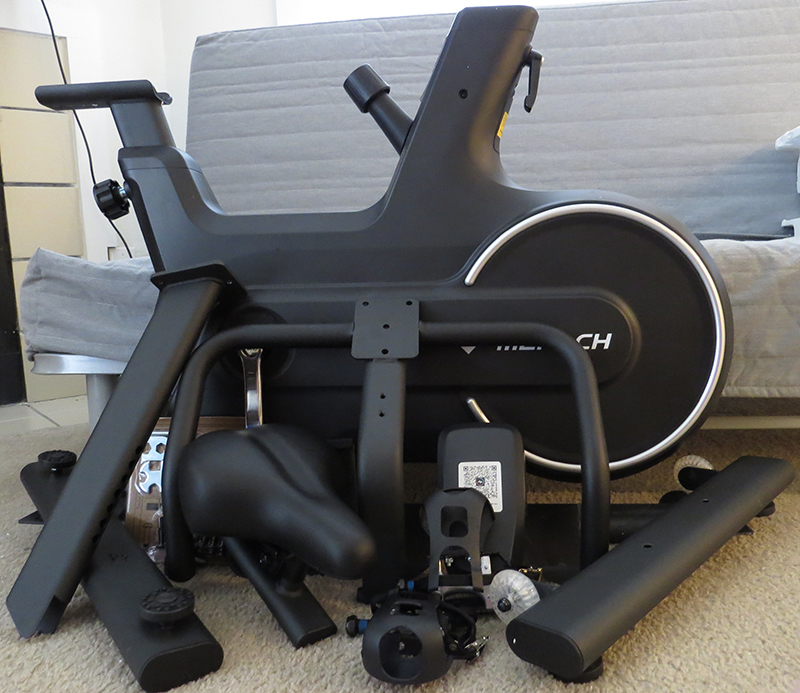 What's in the box?
In the box, you'll find everything you need to put together the MERACH Indoor Cycling Bike yourself. It includes all tools and parts necessary.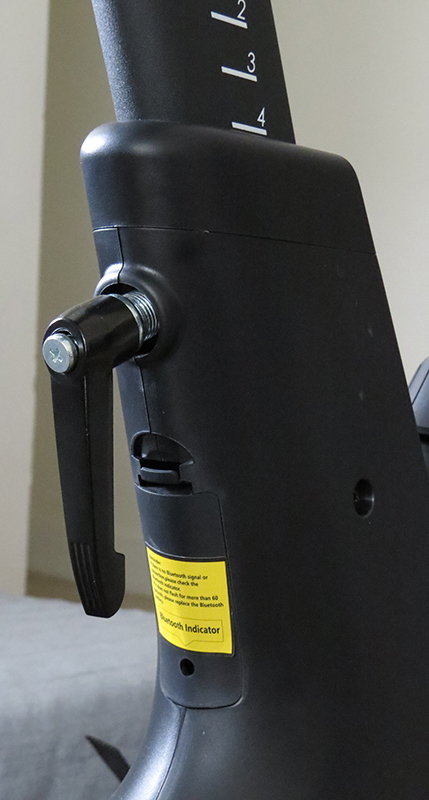 Design and features
Normally I don't separate out the setup, however, since I had to build the MERACH Exercise Bike I will comment on how easy it was to put together here. It took roughly 30 minutes of me doing all the work with my roommate handing me the correct screws. If the instructions are followed, the process of putting together the bike is pretty painless and straightforward.
Next, I scanned the QR code on the bike itself which brought me to the MERACH app. I connected my bike to the Bluetooth on my phone via a button on a covered front panel, set it up in the app, and was ready to go. This process was also very straightforward. Each time I went to go work out I would have to pedal for a bit, click that I wanted to do a workout, get sent to the connect screen, tap the connect button, and it connected. As long as I started pedaling as I opened the app it connected without fail.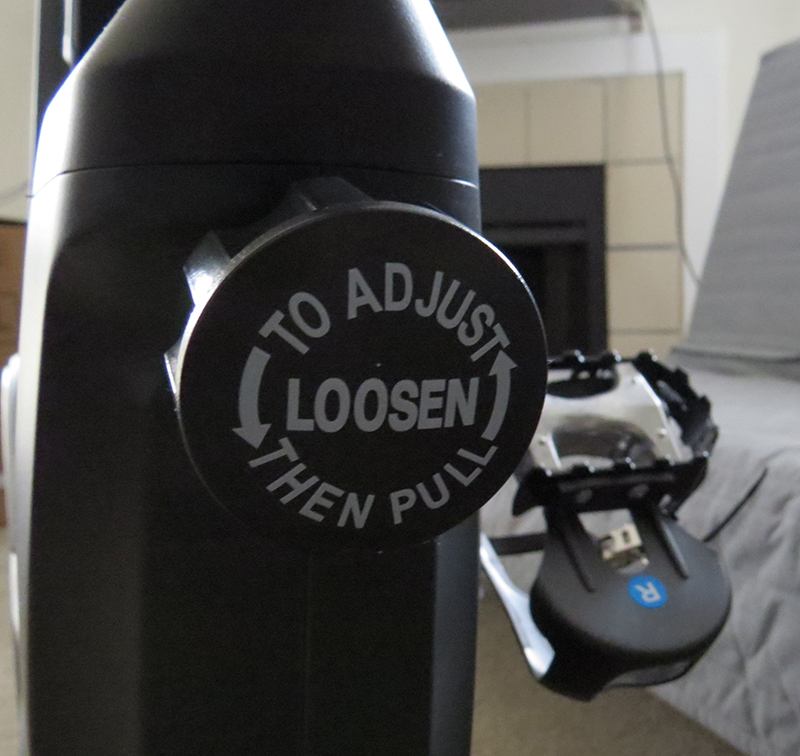 Performance
Now that everything was set up and assembled, it was time to adjust the MERACH Indoor Cycling Bike to my height. I'm a solid 5'6″ and consider myself pretty average. I ended up pushing the seat all the way forward, the handlebars halfway up in height, and the seat a little over halfway up. The seat is wider and more like a standard bike seat vs the thin and longer bike seats of the spin bikes I had used before. This made it much more comfortable to work out on.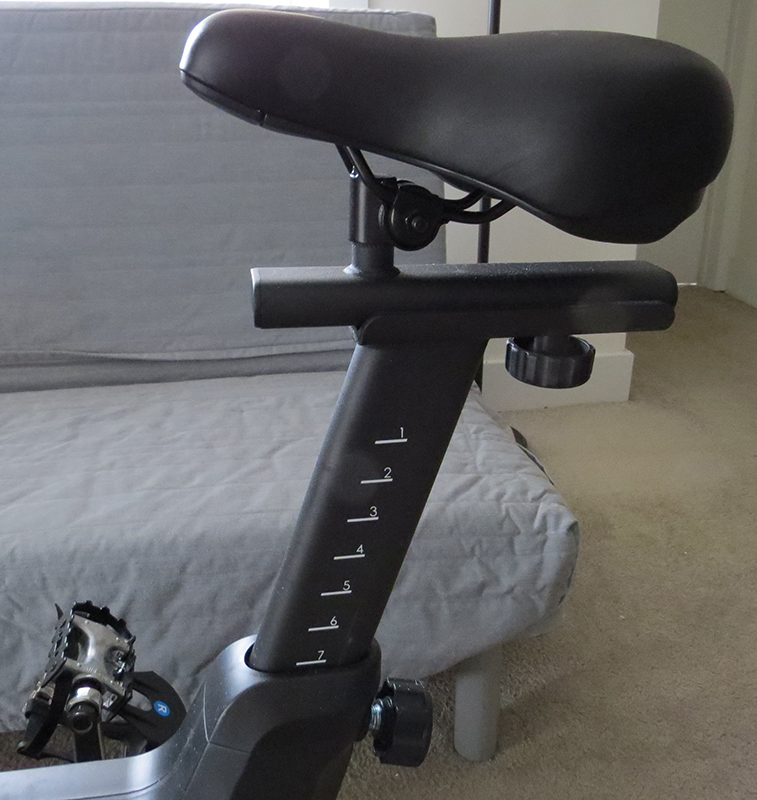 I tightened the straps around my size 8.5 shoes and I felt as though the straps are very generous for folks with giant sized feet. They did not come loose once and were easy to adjust. The pedals themselves were sturdy as well; made of metal with plastic and fabric straps.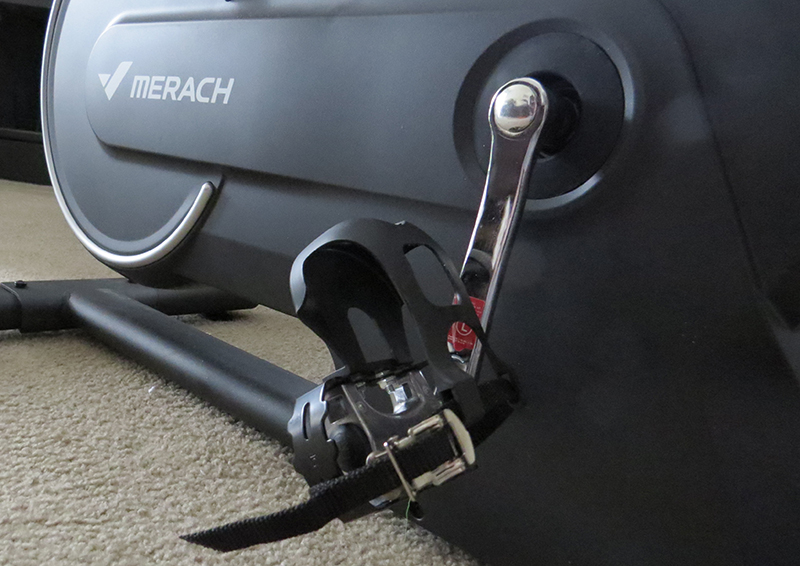 With my phone resting against the tablet holder, I tossed on some Twitch streams for entertainment while I exercised. I have one of those PopSockets on the back of my phone and with that, it still rested fine on the holder, which was nice. The handlebars have padding on them that makes them easier on your hands. When standing and pedaling I would keep my hands on the top area of the handlebars, while in workout mode I would keep my hands in the curved area, and while resting and pedaling I would rest my hands in the middle. There is plenty of room on the handlebars to find the spot that works best for you.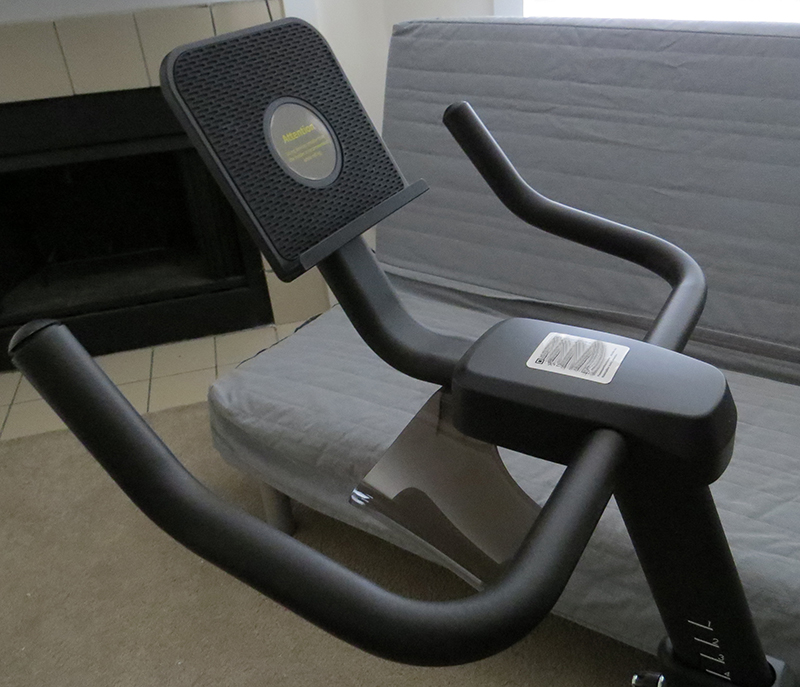 To adjust the resistance of the bike, you need to turn the red dial under the handlebars to the right or left. If you need to stop the bike suddenly, you can press down on the red dial and it will stop the wheel quickly. This worked just as well as the expensive bikes that I used back in spin class.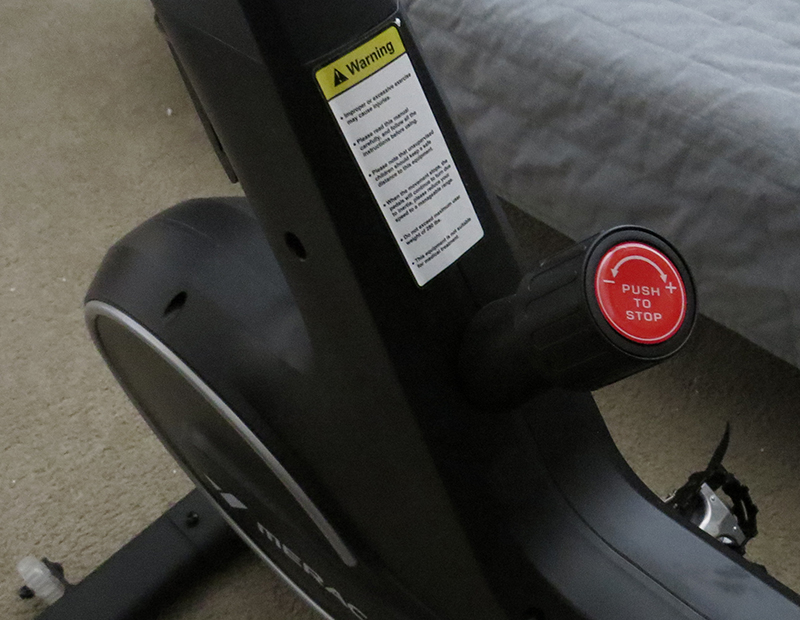 The MERACH Indoor Cycling Bike wheel and components are covered up, making them less easy to access but also safe in case you have animals or children running around. This also gives the bike a nice sleek look, so while mine has to stay in the living room area, it's not a big and obtrusive piece of exercise equipment. Speaking of obtrusive, you can roll the bike out of the way by pushing down on the handlebars which lifts the back end up, then you can roll it away via the rollers on the front of the bike. It rolled well on the carpeted floor of the living room.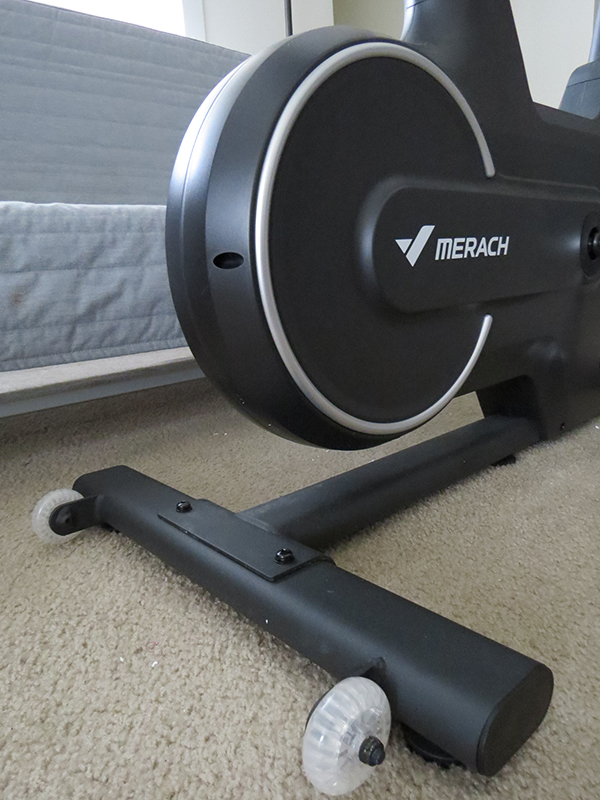 So I got everything set up, adjusted the bike to fit my needs, and started up the app and connected it. The first thing I did was just a short 10 minute workout to see how the app's freestyle mode worked. It is simple and straightforward, telling you your rotation speed, resistance, distance, workout time, and calories burned. I compared it to my Apple Watch which tracked my heartbeat and while the app was more generous in terms of calories burned, it wasn't terribly far off.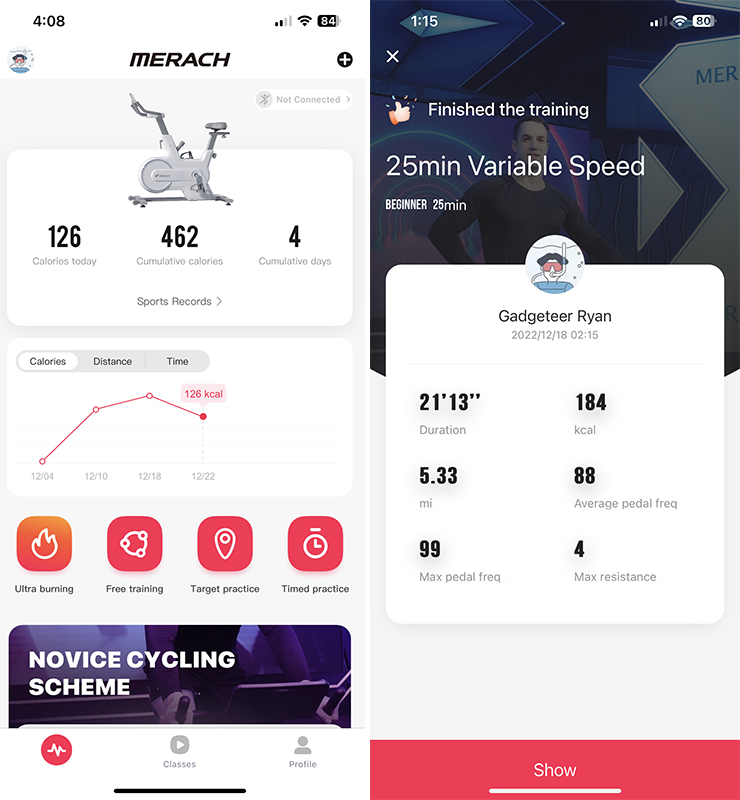 When finished I had the option to view my workout and save it. This is where I noticed not everything was translated into English yet. The (I assume) confirm button for saving your workout was all in Chinese. Not a deal breaker since it was only one section on the app that did that.
So, that workout worked great, but what about their built-in workouts? I tried their 25-minute beginner workout and it shows a video to pedal along to that says what resistance you need to be at and when to be prepared to change it up. The person would have you stand and pedal or sit and count down the time between changes. Without knowing what to expect, the workout was easy to understand and follow.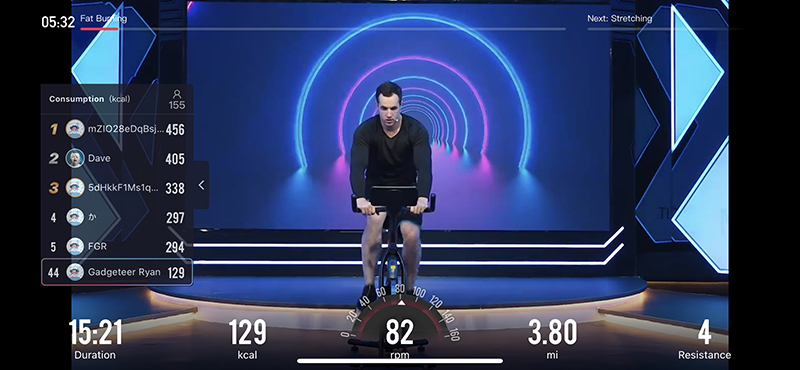 The stats are shown at the bottom of the screen so you know what resistance you are at and how long you've gone. It was a good beginner workout to be honest and I wished there were more of them to choose from. There are several different workouts to choose from but all but one are longer than 25 minutes.
After having the MERACH Indoor Cycling Bike for six weeks, there's been no issues, no weird sounds, and nothing has fallen off or loosened up. I've done several workouts and it has felt sturdy and solid throughout each.
What I like
Easy to assemble
Wide range of resistance settings
Comfortable seat
Workouts on the app actually tracked via Bluetooth
What I'd change
Make sure all is translated into English on the app
More short but intense workouts
Final thoughts
Overall, for the price point, I felt the MERACH Indoor Cycling Bike is a solid beginner model of spin bike. It has magnetic resistance which is seen in the middle to high-grade models and the app that goes with it, while still needing a few tweaks, is on its way to being a solid companion to the bike itself. Overall, I am glad that I have the MERACH Exercise Bike in my home, and would recommend it to any beginner wanting a solid bike to start on without breaking the bank.
Price: $199.99
Where to buy: Amazon
Source: The sample of this product was provided by MERACH.