We use affiliate links. If you buy something through the links on this page, we may earn a commission at no cost to you. Learn more.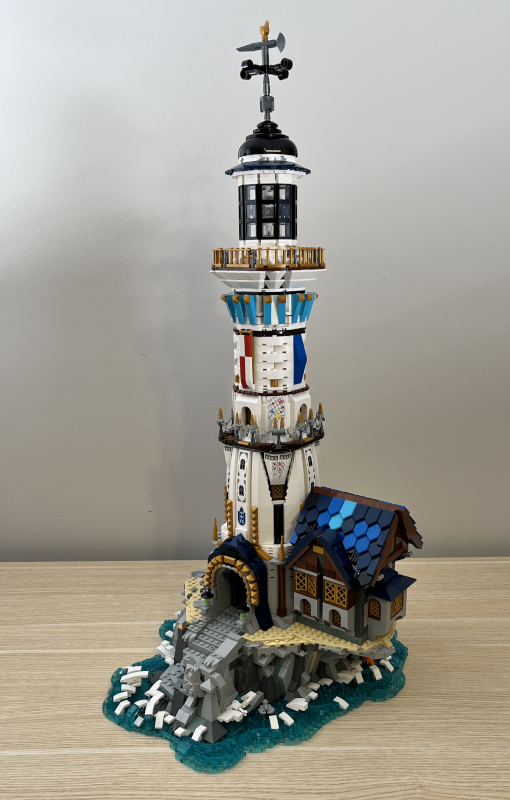 REVIEW – After reviewing their 3-in-1 medieval weapon, JMBricklayer offered me a chance to review another building block set that they sell.  I gladly accepted their gracious offer and decided to build their Medieval Lighthouse.  This massive set arrived just before Christmas, which gave me the perfect opportunity to spend a couple days putting it together with my son.
What is it?
The JMBricklayer Medieval Lighthouse (set 41103) is a massive lighthouse set on a small island and features waves crashing onto the shore, a medieval style house, and a working light.  The kit has over 3200 pieces, mostly in grays and white, along with a handful of stickers and is over 29 inches tall when finished.  There are a wide variety of pieces and styles, nearly all of which are generic pieces that can easily be reused for other building projects.  JMBricklayer is a brand that resells building brick sets from other companies as well as develops their own original and exclusive sets.  They are owned by Shenzhen Aifu Network Technology, a Chinese company.  JMB stands for "Joy Makes Brilliance," and JMBricklayer's mission is to help builders "reap the rewards of their ideas."
What's in the box?
There were four things inside the box: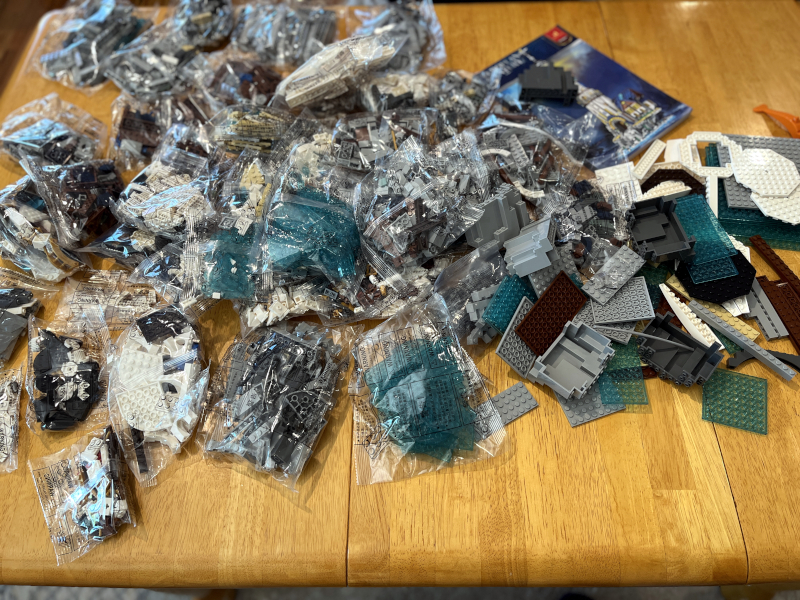 A massive manual with nearly 300 pages of instructions
3228 building blocks
One brick separator
One sheet of stickers
Design and features
When it comes to the design of LEGO alternatives, there are a handful of questions that always need to be answered:
Are they compatible with LEGO?  Yes, they are compatible with LEGOs.  We tested this by connecting them to several of my own LEGOs as well as by supplementing this set with some of my own when we ran into problems (more on that in a moment).  They attached and detached exactly like we would expect.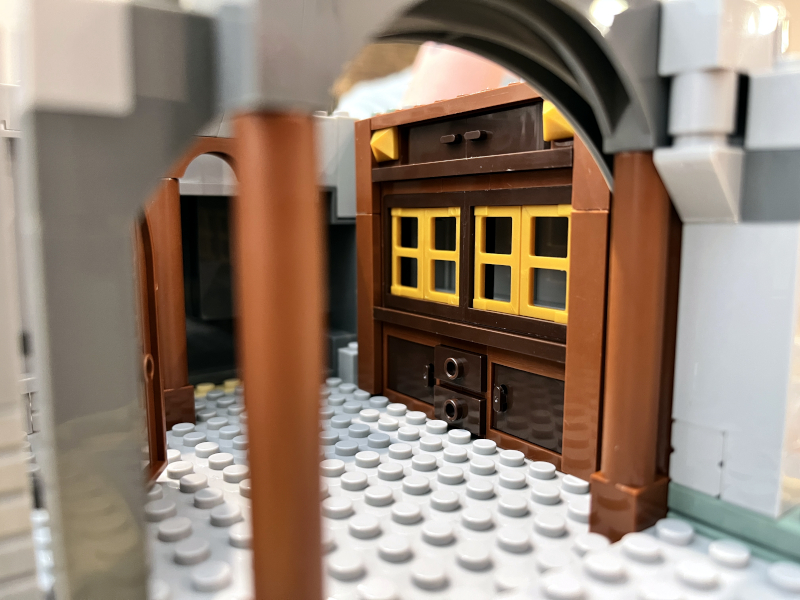 Are they of the same build quality?  No, they definitely are not of the same build quality as LEGOs.  The pieces are flimsier than LEGOs, and this is especially noticeable with the longer flat pieces.  Additionally, we found several pieces that were deformed and unusable, a problem that we have never seen with LEGOs.  We visually noticed many places where the precision of the pieces was poor, an issue that sometimes made it a challenge to attach the next layer of bricks.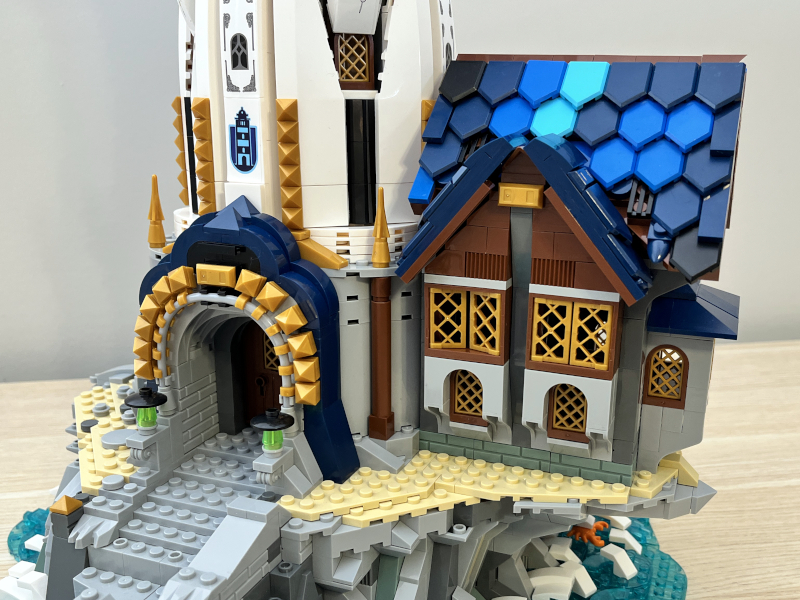 Do they fit tightly, or do they come apart easily?  The bricks fit together tightly, and we did not experience any problems with them coming apart on their own.
Are they cheaper in cost than LEGO?  Yes, they are about 35% cheaper than comparable LEGO sets.  The pieces in this boutique hotel are 7.5 cents/piece, while those in this Hogwart's castle are 7.8 cents/piece.  The pieces in the JMBricklayer Medieval Lighthouse set are only 4.9 cents/piece.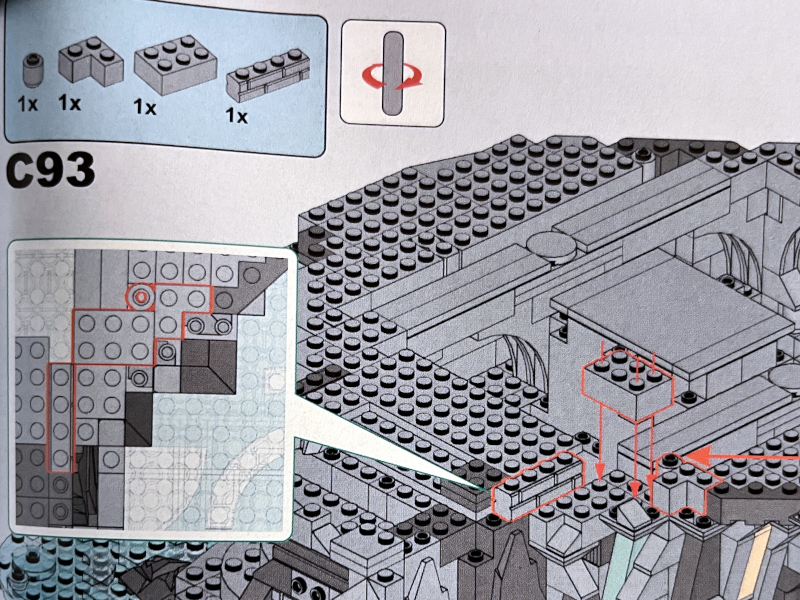 How do the instructions compare?  The instructions are very good, though we did find a couple of steps where the piece was displayed in the wrong place; fortunately, subsequent steps showed the right place for the pieces, so we were able to adjust.  Despite these mistakes, these instructions are better than LEGO instructions in some ways.  On many pages, for example, they have a downward-facing cutout that makes it easier to locate where the pieces go.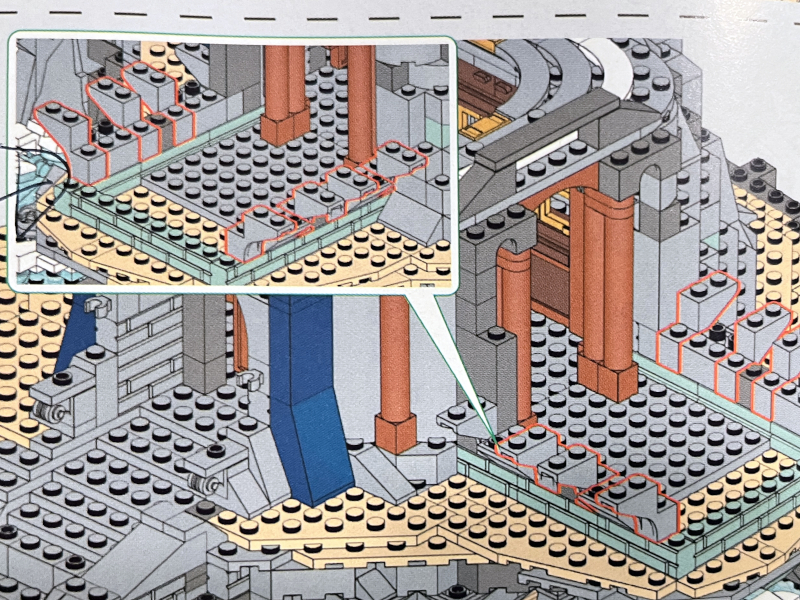 They also have pages that include an alternate angle for placing pieces.  Additionally, there is a red outline around the new pieces for each image.  These sorts of details are very helpful when it comes to reducing confusion and eliminating mistakes.
Setup
These building blocks are packaged in related sets; that is, a handful of smaller bags are contained in a larger bag, and each larger bag represents a major section of the build.
There are a total of eleven large bags, and they are numbered so that they can be built in order.  This is a huge help that makes building go much faster, as we only had to search for the pieces that we needed from a smaller set of pieces.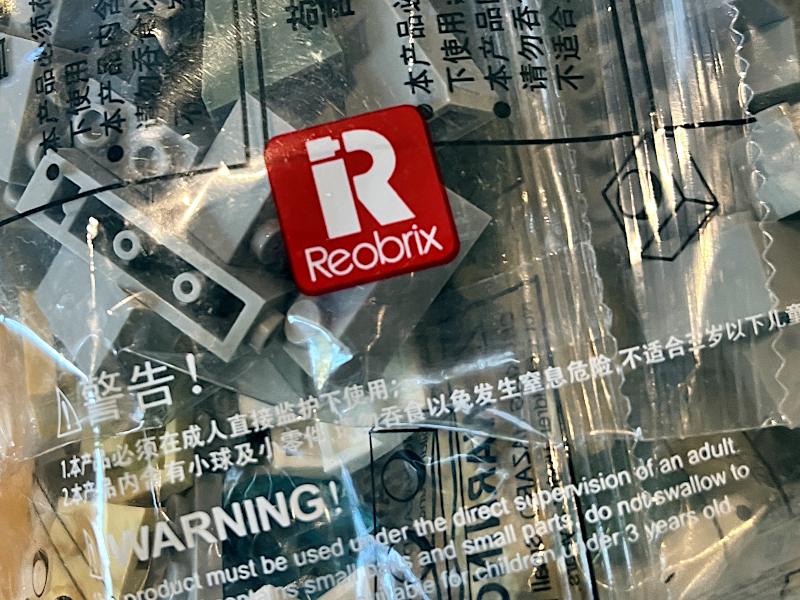 The labeling on the bags indicates that these building blocks were made by Reobrix, and their website has a few other medieval-looking sets that have a similar style to the lighthouse, though I didn't see the lighthouse itself.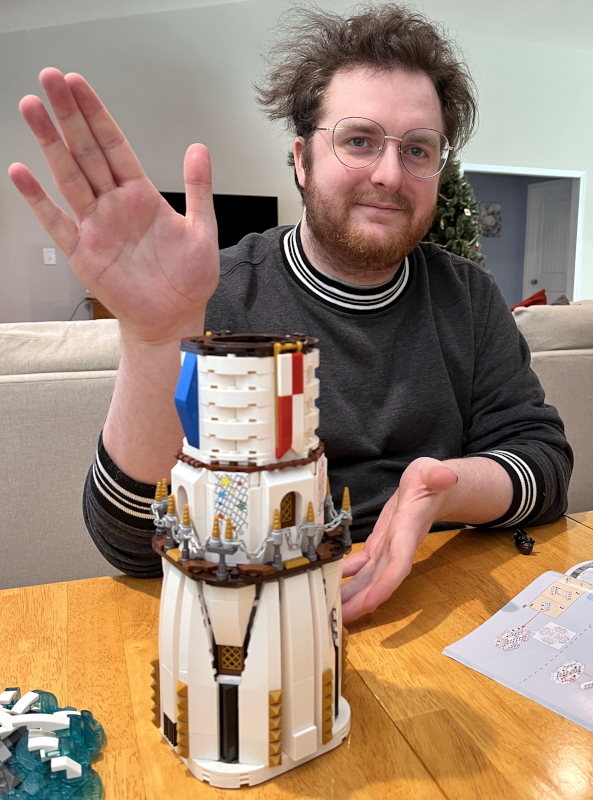 My son and I worked our way through each section of the build following the instructions in the manual.  We worked together over the course of two afternoons, and though we didn't time it, we estimate that it took us about six to seven hours to complete.  It was a lot of work, and it gave us a great opportunity to talk and catch up.
Performance
There are some things about this set that are clever.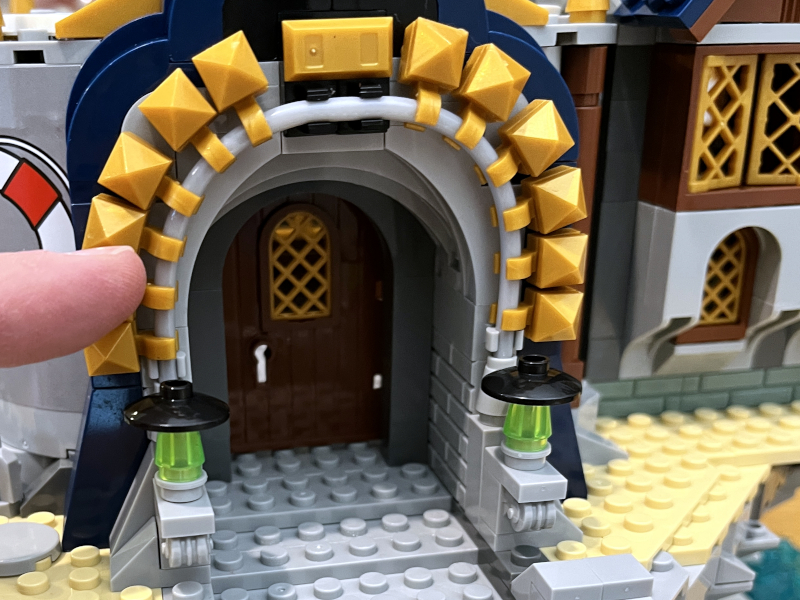 For example, running over the archway before the front door is actually a flexible tube that is held in place by several clasps.  It presents a striking view of the main entrance.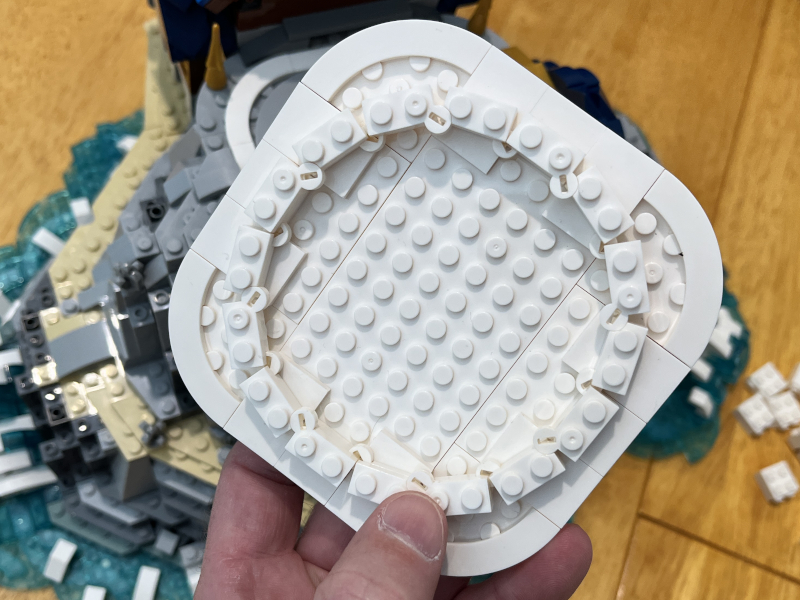 A lighthouse is cylindrical, but building blocks are by nature rectangular.  This set uses a set of hinge pieces that all connect to each other to form a nearly circular base for the tower.  That's well done!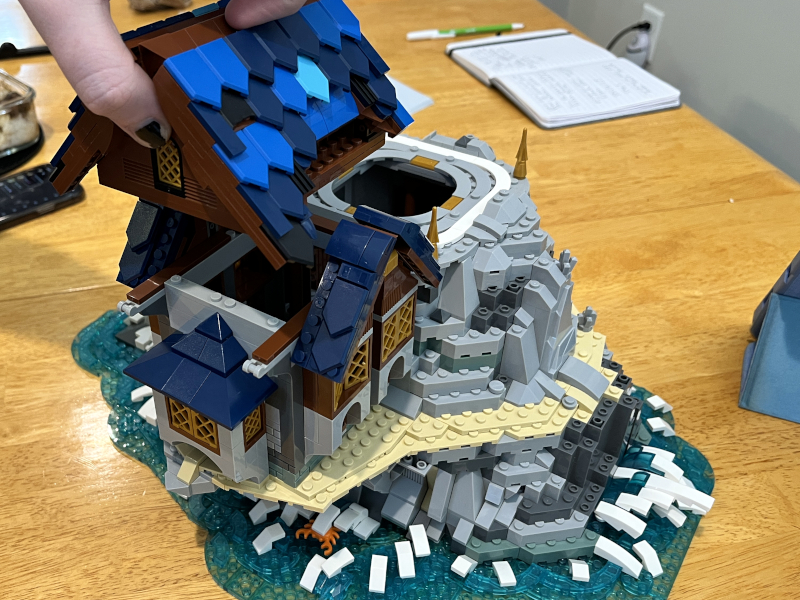 There are several sections that are designed to come apart easily and give access to some part of the lighthouse.  For example, the roof can come off of the house.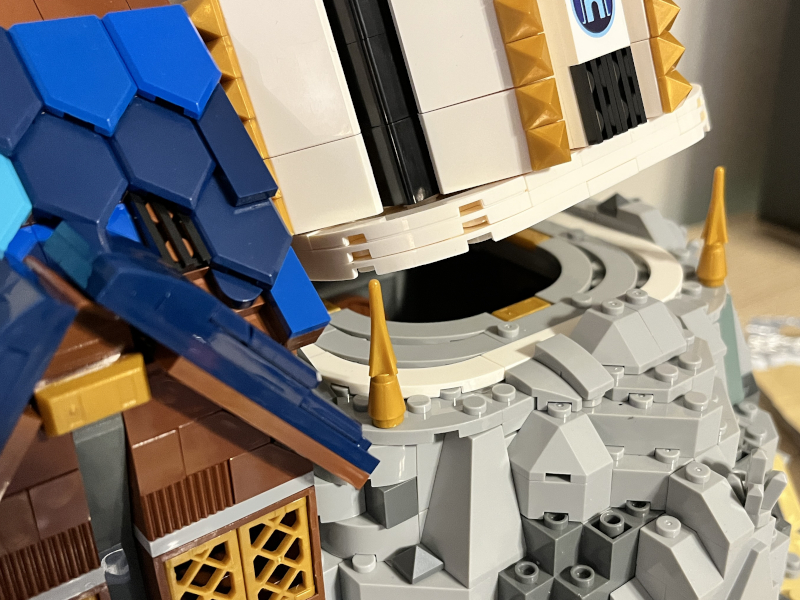 Some sections of the tower can be lifted up to reveal the tower within.
Much like the Funwhole Lakeside Lodge that I recently built, the JMBricklayer Medieval Lighthouse is intended to be more for adults than for kids; that is, it's a set that is intended to be displayed more than it's intended to be played with.  Although parts of the tower come apart for access, there's nothing to do inside, no furniture or machinery with which to interact; additionally, there are no mini figures.
If I'm the kind of person who likes to build my own creations, this set offers a huge opportunity to do so.  There are lots and lots of generic pieces, and they come in a wide variety of shapes and sizes.  This set has great potential for reuse.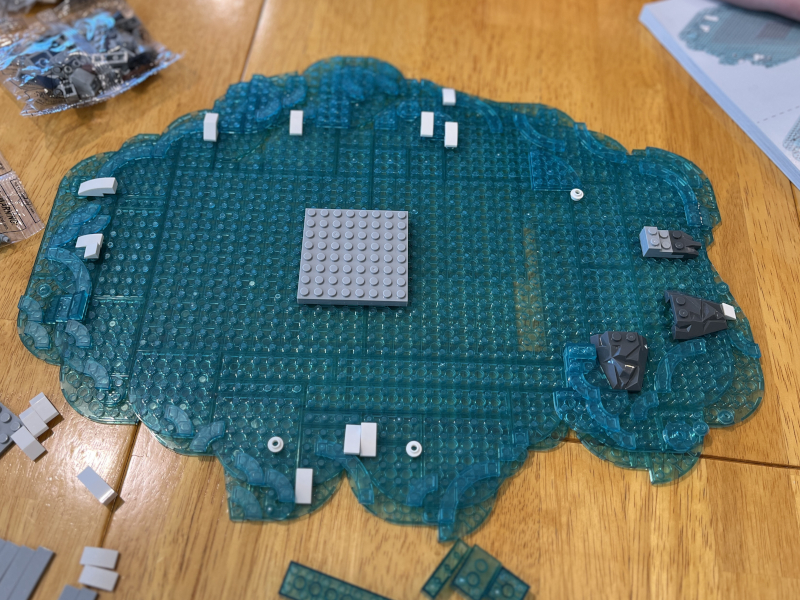 The first section of the lighthouse was simply laying down the water pieces that form the base.  These are mainly flat pieces, and if we ever take this set apart, it's going to be a challenge to separate all these pieces.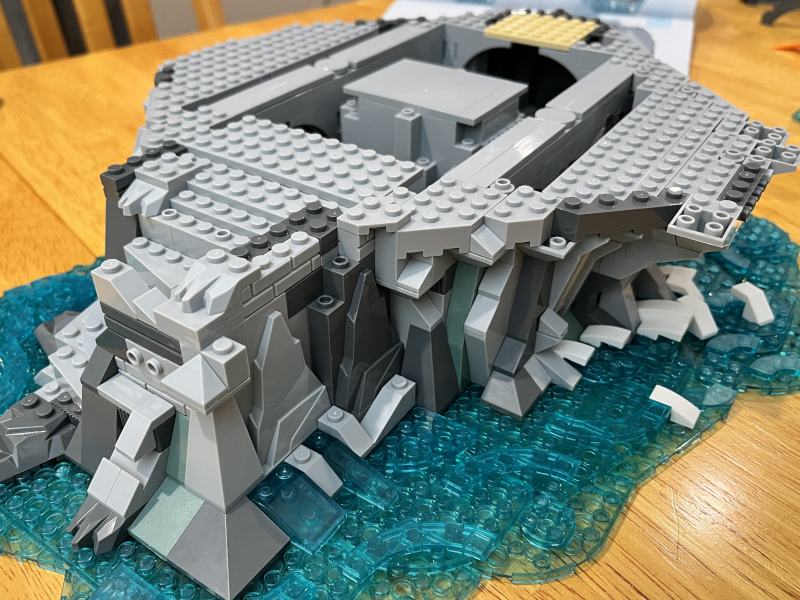 The second and third sections build the base of the island, which is hollow inside.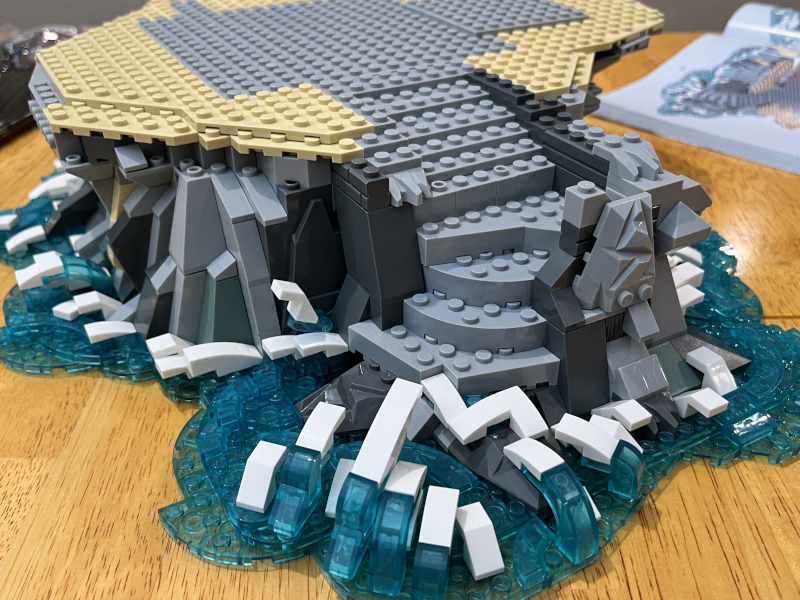 The fourth section adds a layer over the base, which provides a foundation for both the house and the tower.  It also completes the stairs that will lead up to the front door.  We love the detailed yet chaotic look of the waves crashing against the shore.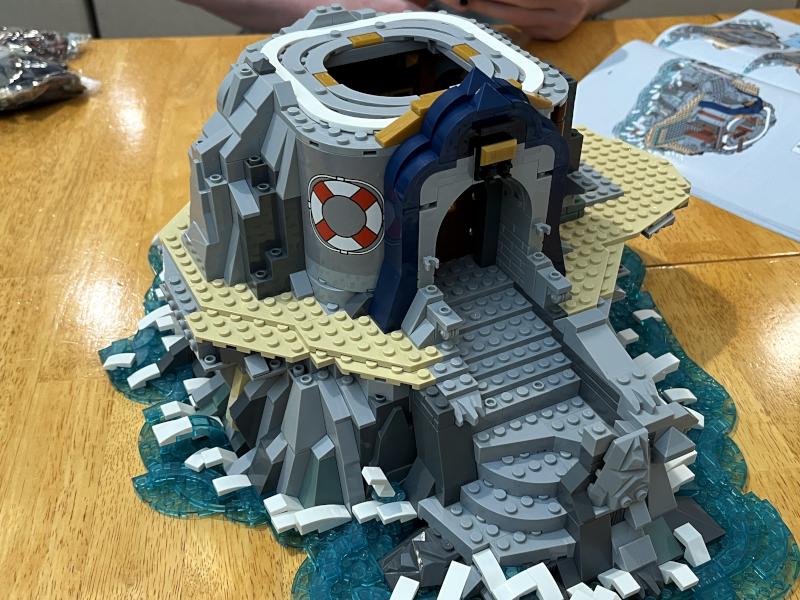 The fifth section is the base of the tower and the entry way.  It's cool how part of this base was built from rock pieces and part from "man-made" pieces.  It looks as if the lighthouse "builders" found a natural stone formation and carved the lighthouse into it.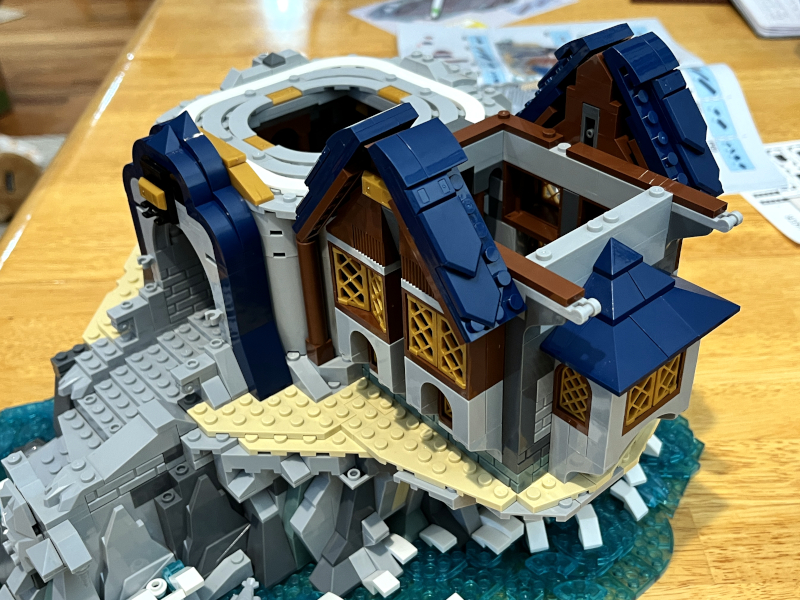 The sixth and seventh sections add the medieval-looking house off to one side of the base of the tower.  We love the antiquated style of the shingles and the windows.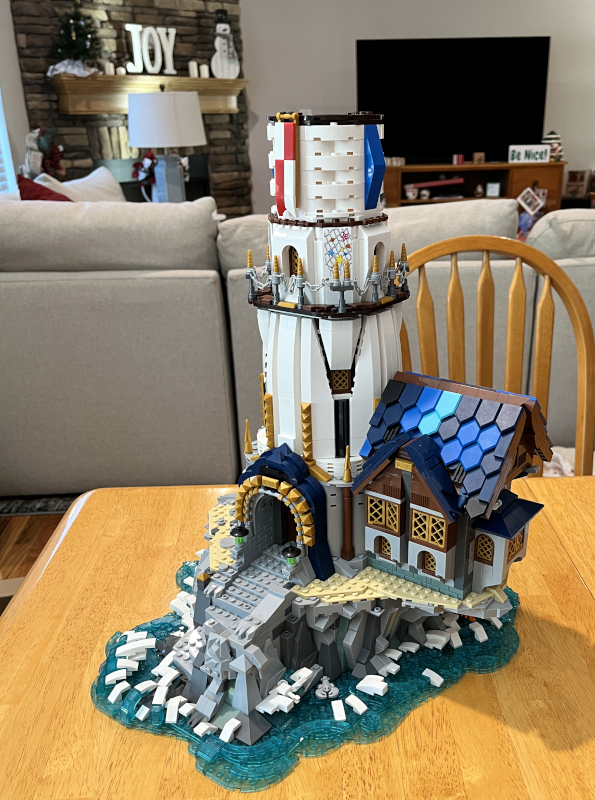 The eighth and ninth sections build more of the tower.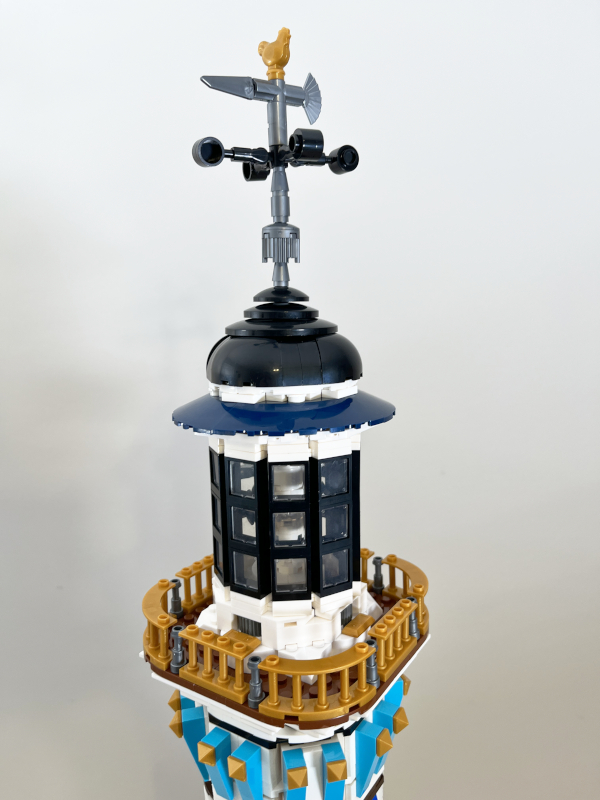 The tenth and final sections finish the remaining two parts of the tower.  Overall, it feels to me like two different people designed this lighthouse.  The rock base, the base of the tower, and the house have a medieval, natural, realistic look to them, and I love the vibe they give off.  The middle and upper sections of the tower, however, are more whimsical and almost have a Disney feeling to them.  It doesn't seem to match.  Even so, it's an impressive structure.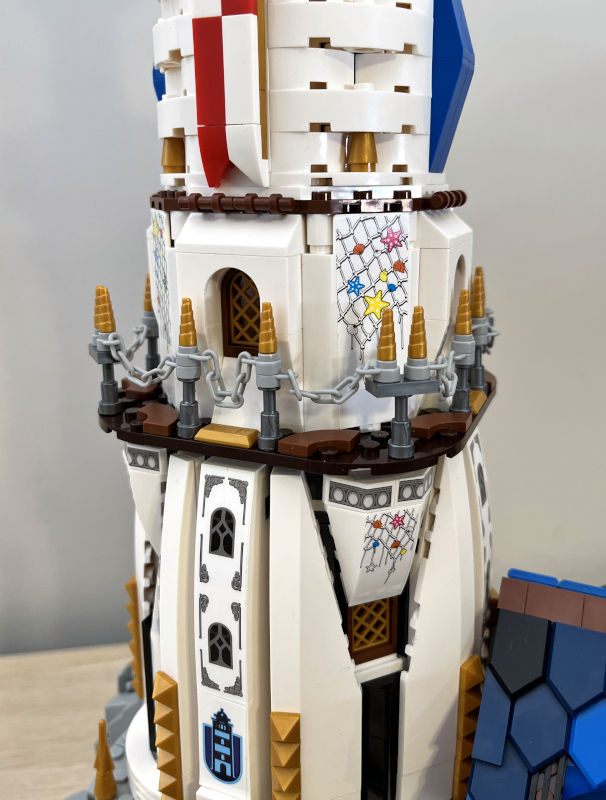 This set includes a sheet of stickers, which are used to provide some extra details that can be seen on the sides of the lighthouse.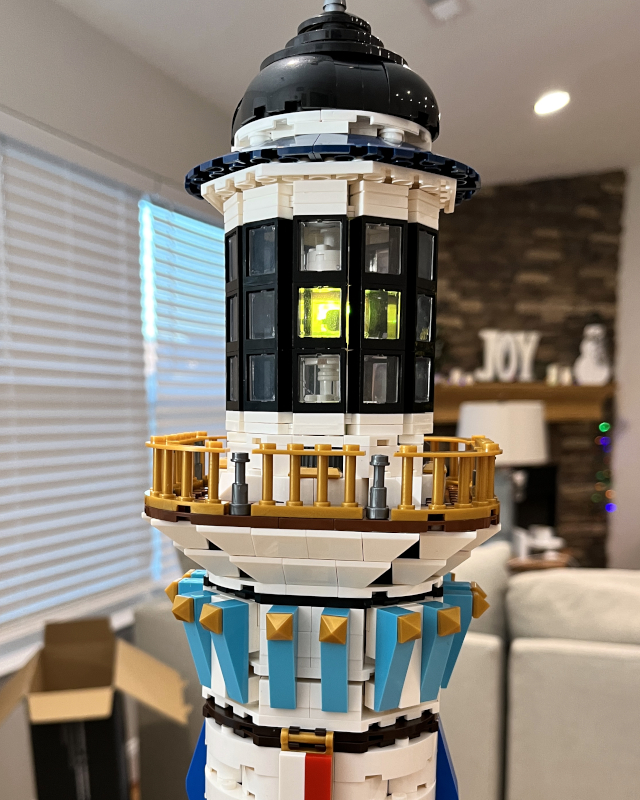 There is a working light in the lighthouse.  When activated, it doesn't rotate around like a real lighthouse, but it does flash through a set of different colors.  Unfortunately, we are disappointed with how the light is designed.  It runs on a set of small watch batteries that are encased within a cylindrical brick; they cannot be replaced.  To turn the lights on, the top lifts out revealing a section of the bricks that are rotated.  There's no way to connect this to external power (like a USB connection) or a smart switch.  This is a short-sighted design and a disappointing finish to this immense structure.  It's a lighthouse!  Its most amazing and most prominent feature should be the light!  We hope Reobrix redesigns this set to have a more impressive light.
As mentioned above, the overall build quality of the building bricks was ok, but there were some specific problems that were very bad.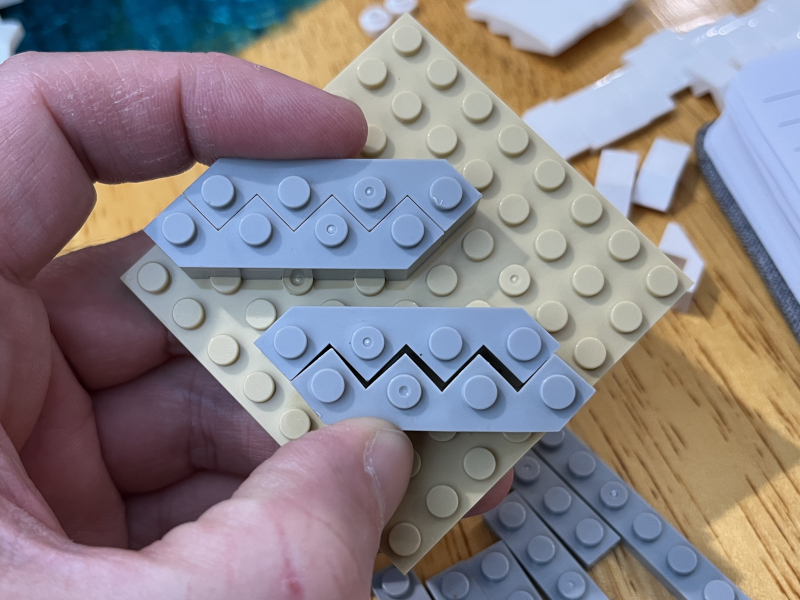 There are several of these stair-step pieces that are used along the base of the lighthouse as part of the rocks (as in steps C51 and 55).  As you can see in the upper two, they should fit together smoothly; as you see in the lower two, some of these pieces were so deformed that we couldn't even snap them in place next to a good one.  Apparently, JMBricklayer knows about this problem, because an extra, unmarked bag of these pieces was in the box.  Unfortunately, they didn't include any explanation of the problem or instructions that we were free to use these pieces.  Not knowing where else they might be needed, we held on to them until the end, at which point we had to go back and disassemble part of the base to add them.  There are no spare pieces to this set, except for these extra stair-step pieces.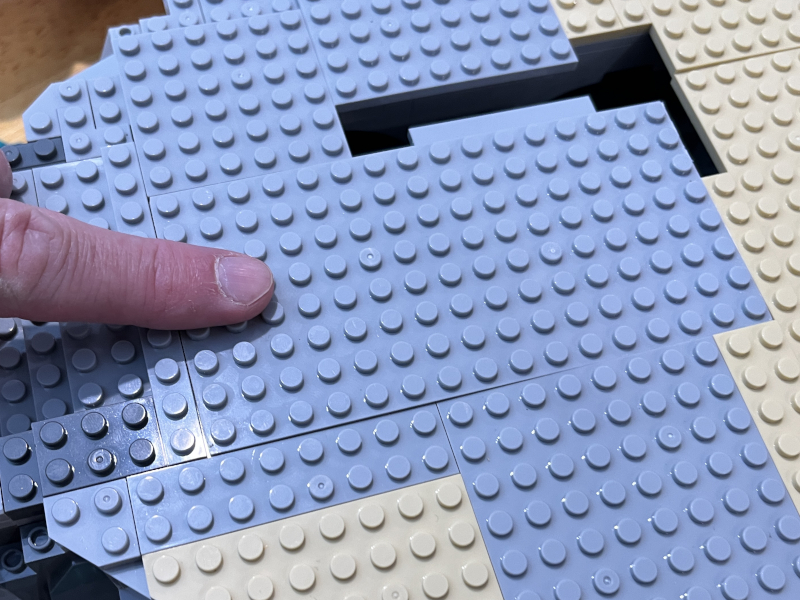 One of the grey flat pieces used as part of the foundation (step D3) was simply malformed.  The whole thing was disproportional, which means that when it was attached to the flat pieces above and below them, it warped them. Additionally, the piece was too wide, and it would not fit into its place.  To make it fit, I had to take it out into my garage and grind it down with a random orbital sander.  That's horrible; no one should have to use a sander in order to build a set.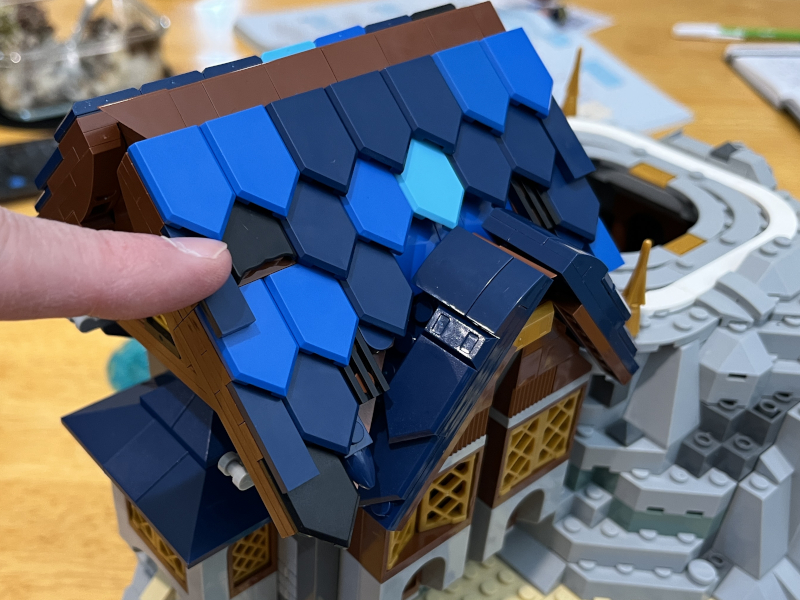 One of the shingle pieces for the roof of the house was broken in half (step G47).  Additionally, the bottom of the four hinge pieces that hold the roof together were too small (step G50).  When we popped the top in, the hinges immediately stressed and nearly failed.  They were just manufactured poorly.  We threw them away, and I found four of my own LEGO hinges to take their place.  Finally, the brick separator that comes with the set is useless.  These tools work because they have a tight grip on two studs; the one included with the set had no grip.  We tossed the tool in the trash and used the one that came with the Lakeside Lodge instead, which is very tight.
While most of the building bricks in the set are ok, there are some seriously egregious flaws in the quality of these building bricks.  Clearly, Reobrix has a lot of work to do if it wants to make building block sets that are nearly as good as genuine LEGOs.  I hope that JMBricklayer discontinues this set until Reobrix fixes these problems.
We did have one other problem while building the base of the lighthouse.  As noted above, the base is hollow.  There is one place (step D7) where there is not enough support for one of the foundation flat tiles, so it kept falling into the hole when we tried to build upon it.  We had to get several of my LEGO pieces and build a smaller tower from the water up to the foundation in order to provide the necessary support.  This is just a flaw in the design of the set, and a capable builder will be able to fix it as we did.  Other than this one place, the base of the lighthouse was very solid; we don't have any fears that the lighthouse will collapse or fall over.
What I like
Massive construction
Nice details
Lots of generic, reusable pieces
Very good manual
What I'd change
Design a better light with a USB power source
Replace all the warped and deformed pieces
Add a couple of mini figures
Final thoughts
The JMBricklayer Medieval Lighthouse is a building block set that has over 3200 bricks and stands nearly two-and-a-half feet tall when finished.  It's an impressive set that has a medieval-meets-Disney feel to it.  While nearly all of its pieces are generic, making it great for building my own creations, this set is really designed for adults who want to build and display.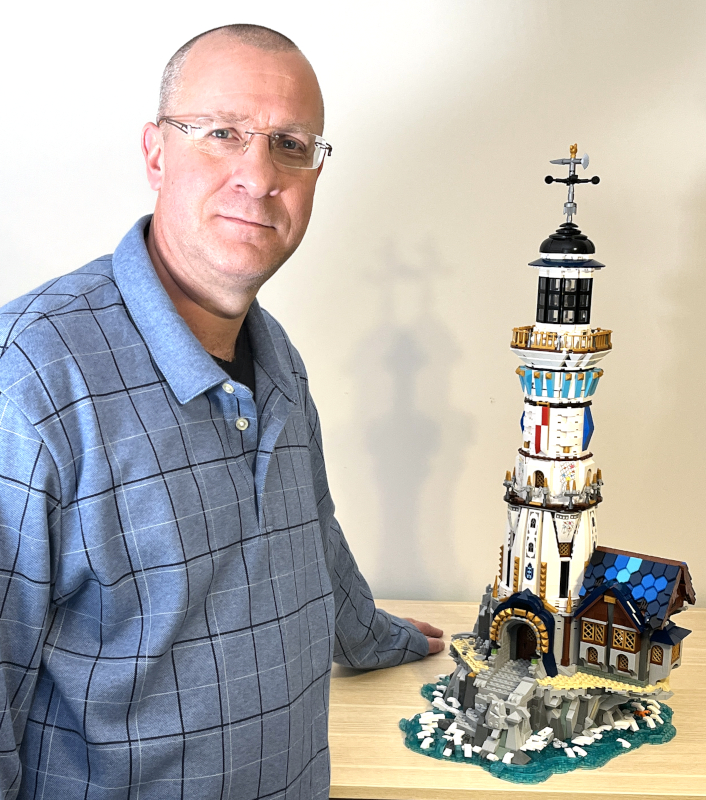 The pieces are of acceptable quality, though not very precise, there are multiple deformed and defective pieces in the set.  The key feature of any lighthouse is its light, and though this set has a working light, it's singularly unimpressive.  I think there's a lot of room for improvement in this building block set.  If you're willing to make some modifications to the design and to the pieces, add a few of your own, and you're not too worried about the light, this set can help you add a towering lighthouse to your collection without breaking the bank.
Price: $159.95
Where to buy:  Amazon or JMBricklayer's online store
Source: The sample for this review was provided by JMBricklayer.