We use affiliate links. If you buy something through the links on this page, we may earn a commission at no cost to you. Learn more.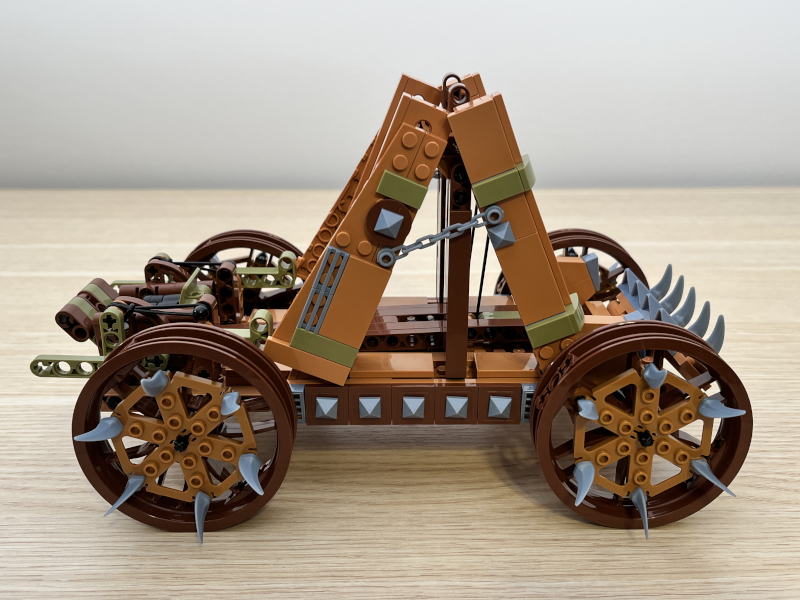 REVIEW – I played with LEGO as a kid, and when my wife and I had kids, I rediscovered the joy of creating with them.  The kids are grown and gone now, but I still like building LEGO sets.  When I was younger, there really weren't many choices.  Either we bought genuine LEGO bricks or some awful knock-off.  These days, there are plenty of alternative choices for building bricks, some of which are compatible with LEGO and very close in quality.  In this review, I'm going to be building the 3-in-1 Medieval Weapon, a building brick set from JMBricklayer, to see how well it compares.
What is it?
The JMBricklayer 3-in-1 Medieval Weapon model kit is a LEGO-compatible building brick set (model 30001) that can be built into three different wheel-mounted, fully-functional medieval weapons.  The set contains 568 pieces, mostly in shades of brown with a smattering of grey, green, and black.  Most of the pieces are smaller, and many are similar to LEGO Technic.  JMBricklayer is a brand that resells building brick sets; they are owned by Shenzhen Aifu Network Technology, a Chinese company. JMB stands for "Joy Makes Brilliance," and JMBricklayer's mission is to help builders "reap the rewards of their ideas."
What's in the box?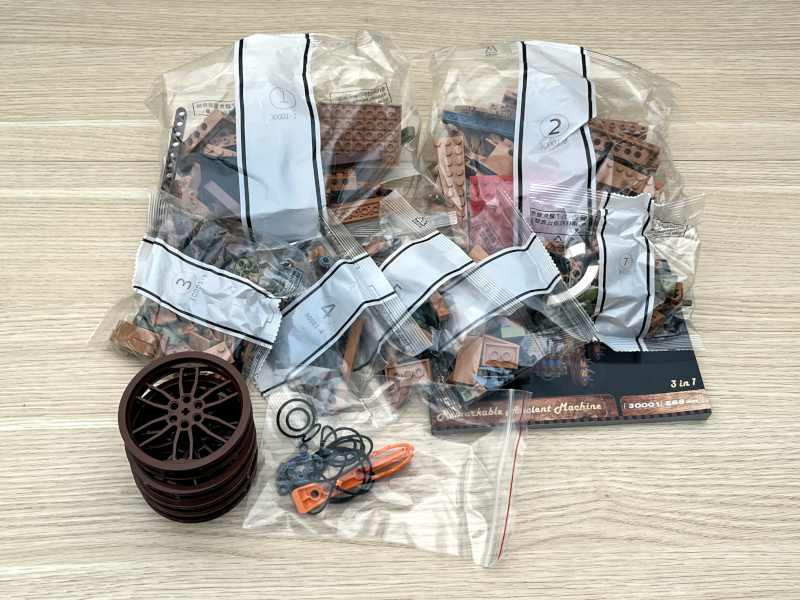 568 building bricks
153-page manual
There is some small confusion as to what JMBricklayer actually makes and sells.  The title of this set on JMBricklayer's website is "3-in-1 Medieval Weapon," while the title on the box is "Remarkable Ancient Machine." JMBricklayer's site claims that the kit includes a ballista, a catapult, and a bombard, while their Amazon pages claim that it includes a trebuchet, a catapult, and a crossbow.  JMBricklayer's mission statement asserts that they "produce original works for builders," but some of their kits, like this train, are available from other sellers on Amazon, sometimes for much less.  Despite these inconsistencies, the kit that I tested contains the pieces to build a ballista, a catapult, and a bombard–though only one at a time–and it appears to be a JMBricklayer exclusive.
Design and features
When it comes to the design of LEGO alternatives, there are a handful of questions that always need to be answered:
Are they compatible with LEGO?  Yes, this building brick set is totally compatible with LEGO.  I tested it with a variety of pieces, and all of them connected exactly as a LEGO brick would connect.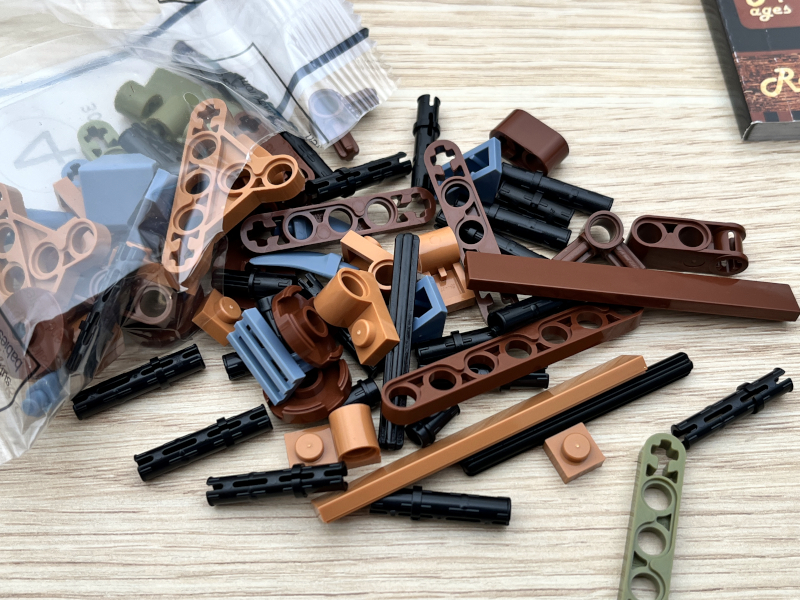 Are they of the same build quality?  No, they are not quite the same build quality.  The smaller pieces are nearly identical, but longer, thinner pieces, like a 1×8 flat, are noticeably more flexible.  It's not to the point where I thought the pieces were likely to break, but there is definitely a difference.
Do they fit tightly, or do they come apart easily?  The pieces have exactly the same level of tightness as LEGO.  They will stick together and not come apart unless pulled apart.  Some of the Technic-like connectors are quite stiff and hold together very well.
Are they cheaper in cost than LEGO?  Yes, they have a price that is about 20% than similar sets from LEGO, such as the Ford Mustang and Chevy Corvette sets (500+ pieces for $50).  The biggest difference is that LEGO's sets have a lot of large, molded pieces that are less reusable for building your own designs, a common problem with LEGO sets.  JMBricklayer's set is made of smaller, more generic pieces, which increases their usefulness.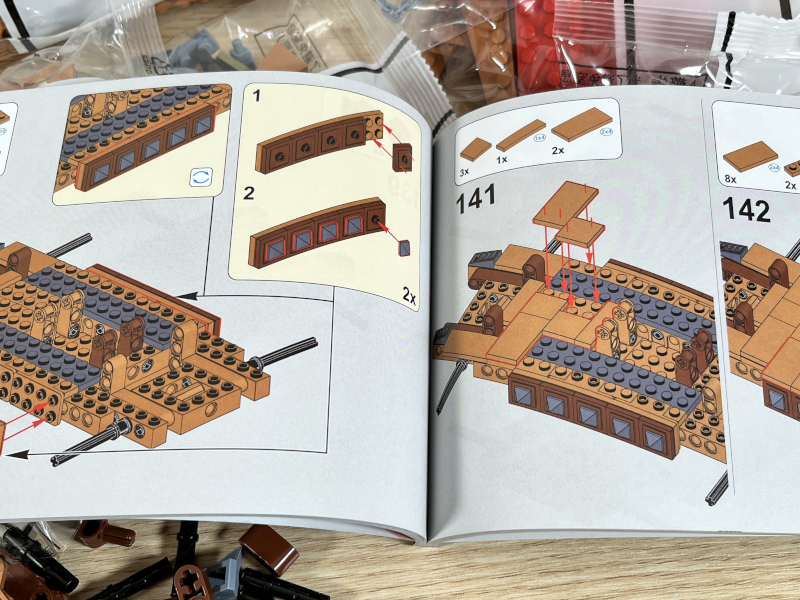 How do the instructions compare?  The style of the instructions is very similar to LEGO instructions.  Anyone with experience building LEGO sets will have no problems understanding (most of) these instructions, even though they include very little English.
Setup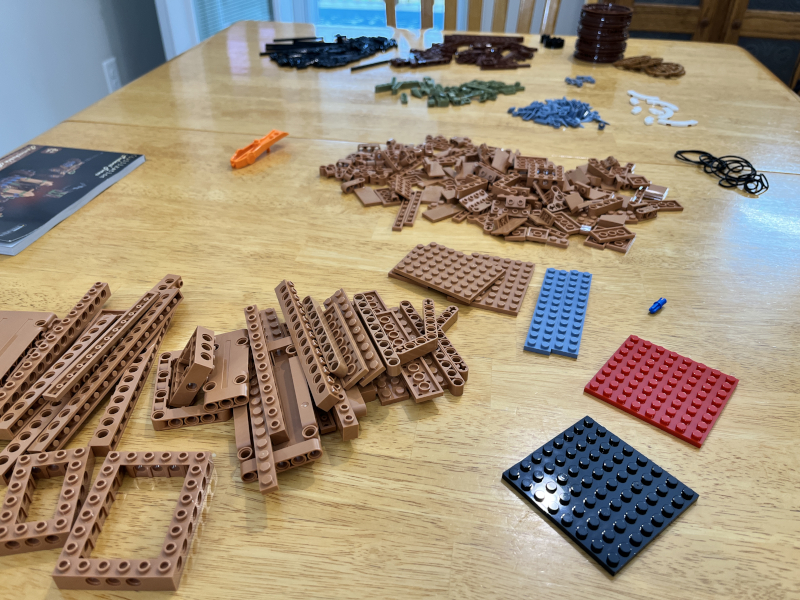 The first set that I built was the catapult.  After taking the pieces out and organizing them by color, it took me about two hours to complete.  Honestly, it felt like I was building a normal LEGO set.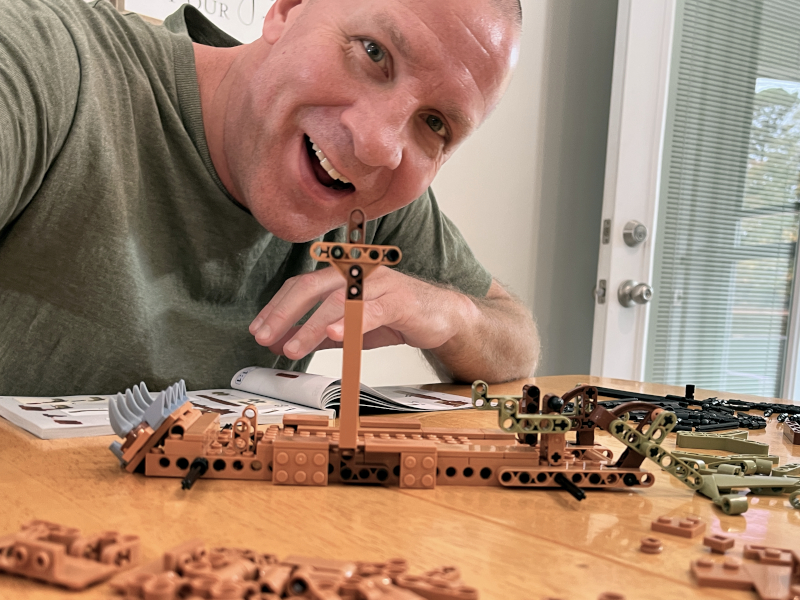 The instructions walked me through step-by-step, and as with any building brick set, it was fun to see the creation come to life.  Here are some of the notes that I took while building:
The instructions list how long some of the Technic connector pieces are, which is very helpful since they don't have any studs with which to count their length.  I wish the instructions did this consistently for everything.
The set includes rubber bands of various sizes, and in order to use the correct one, the instructions give a measurement, such as 1.6 cm.  It's not at all obvious how to know the right way to measure the bands.  Is it for a circle or stretched out?  Is this the circumference, the diameter, the radius, or something else?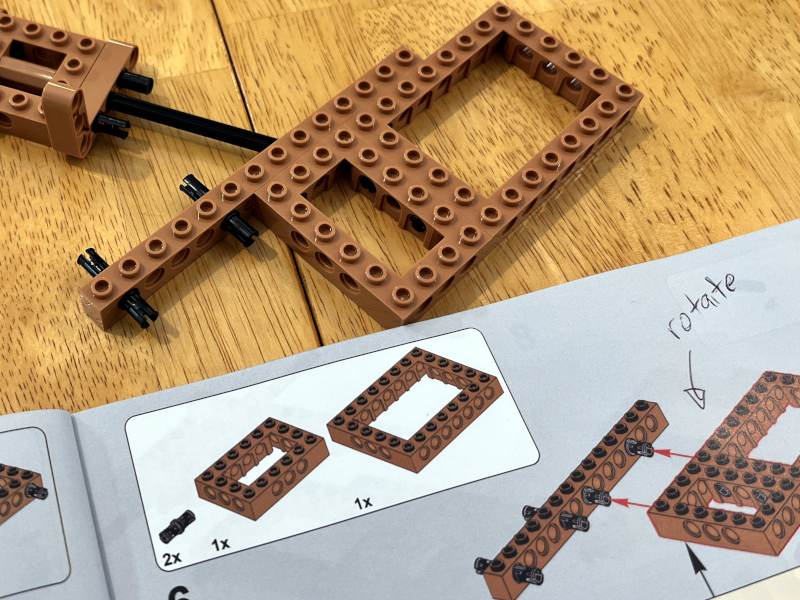 A few of the pictures in the manual really need to be rotated, so I can tell exactly what should connect with what.  This is not a showstopper, but it is a minor inconvenience.
The catapult arm is supported by a pair of side-mounted brackets.  The instructions built one bracket and then the arm, which was connected to a pair of rubber bands.  Because there was only one bracket, the arm was twisted and bent out of shape due to the stress.  This could easily have been solved by having both brackets built and then attaching the arm.  These little details are mistakes that I've never seen LEGO make.  The end result, however, was a very stable and sturdy catapult.  Many LEGO alternatives struggle with proper structure, leaving the end product wobbly and prone to breakage; this set definitely does not have that problem.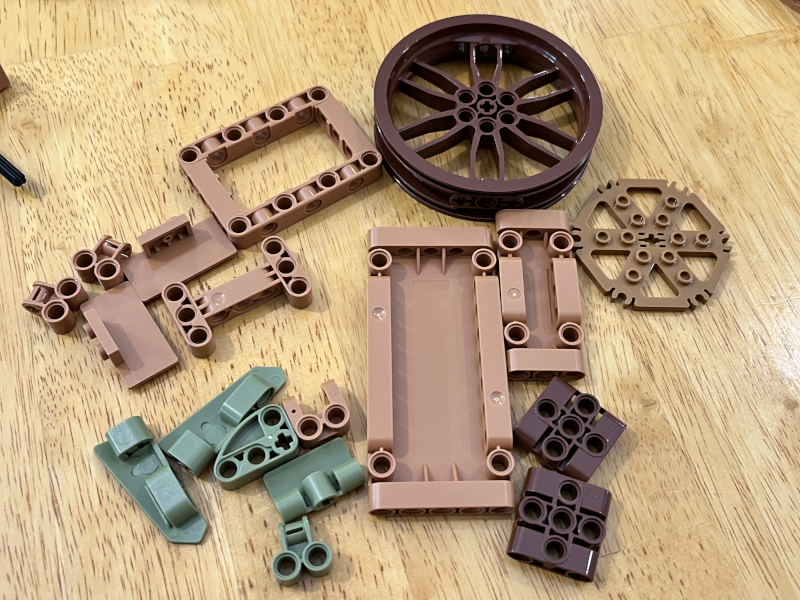 There are a lot of very interesting pieces, things that will require an imaginative mind to use.
This set makes a very nice use of the SNOT technique, especially when building those support arms.  If you're not familiar with this LEGO term, it stands for Studs Not On Top, and it refers to building the bricks sideways where there are no studs.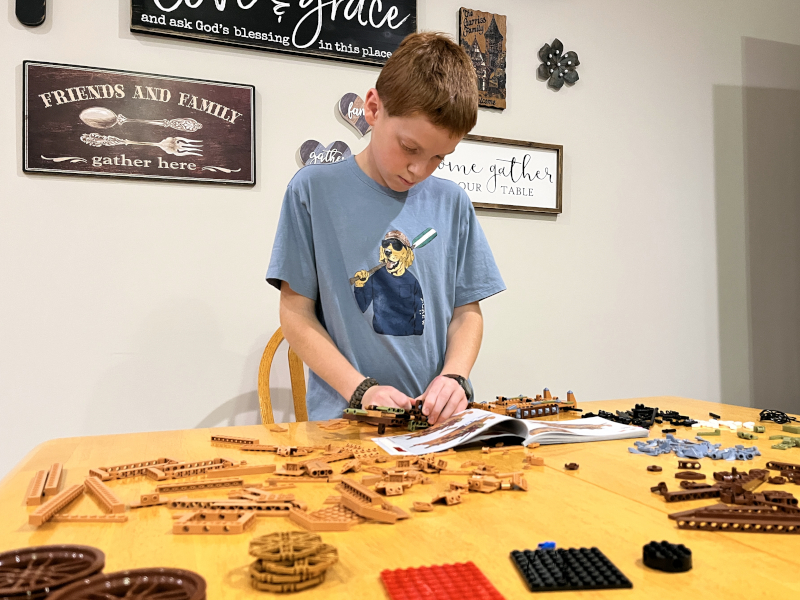 After I built the catapult, I asked my buddy, 11-year old Gabriel Coyle, to come and build the ballista.  He's an experienced LEGO builder, so other than sorting the pieces by color, I didn't provide any help unless he asked for it.  As I watched him build, I observed that he did a fair amount of backtracking, but he always managed to figure things out.  At one point, pushing in the long Technic-like connector required more physical force than most kids will have, and I had to give it an extra shove; I experienced a similar problem when building the catapult.  He couldn't figure out how to measure the rubber bands, the same problem that I had encountered.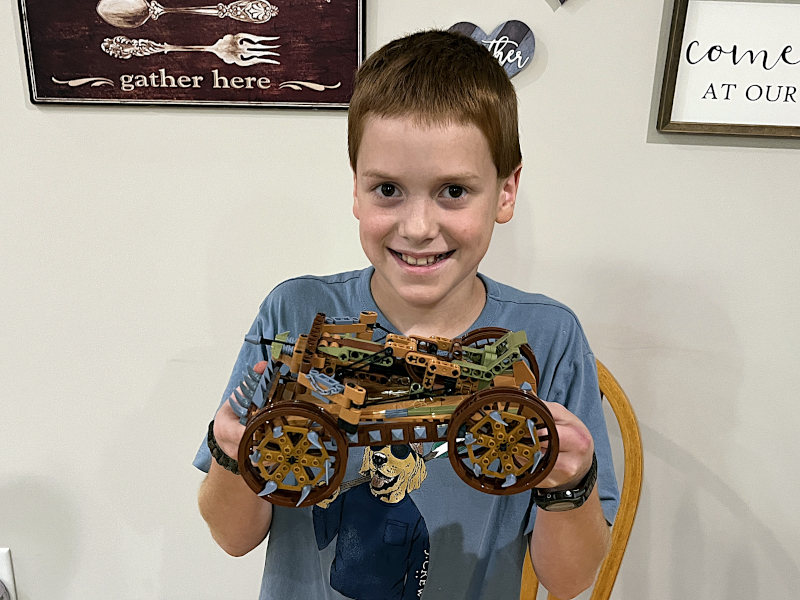 Despite these minor setbacks, Gabriel did an outstanding job putting this set together, and he did it in one hour and 44 minutes.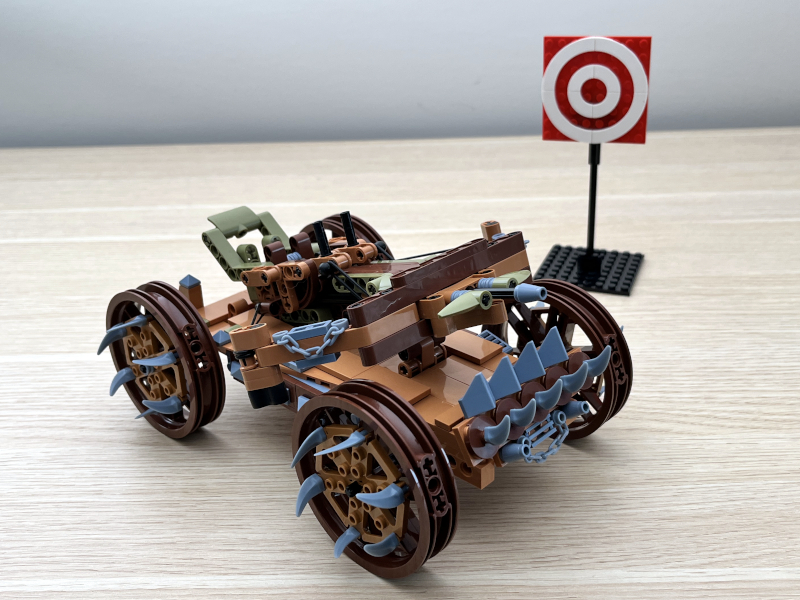 I asked Gabriel, "If you got this set for Christmas, you would be…?"  His immediate response was, "Excited!"  This kit certainly passes the "kids like it test".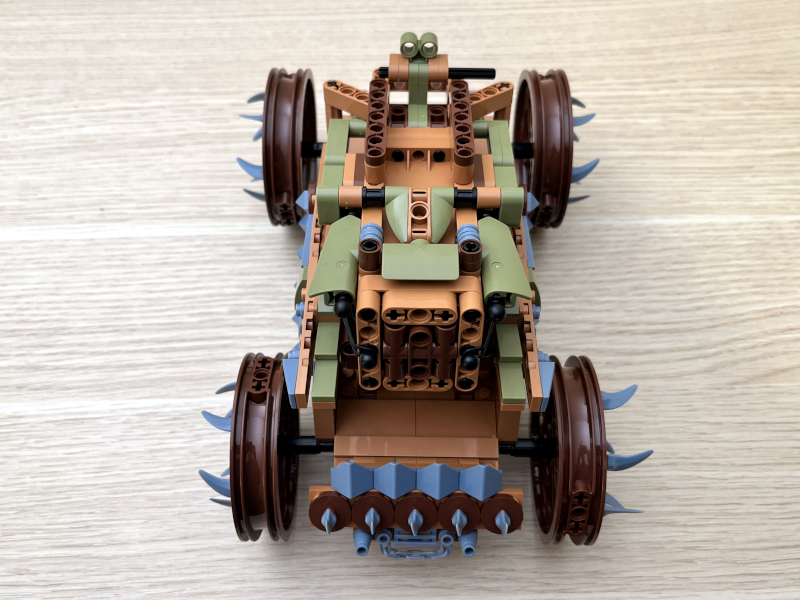 Finally, I built the bombard.  As I built, I realized that many parts of the overall structure of these three weapons are identical, such as the bottom frame, the wheels, the shields on the side, and the spikes out front.  It would be nice to see the designers put a bit more variety in their designs, but I suppose they had a "if it's not broke don't fix it mentality."  The bombard turned out well, though its overall design was fairly close to the ballista.  I think that of the three, the catapult was my favorite.
Performance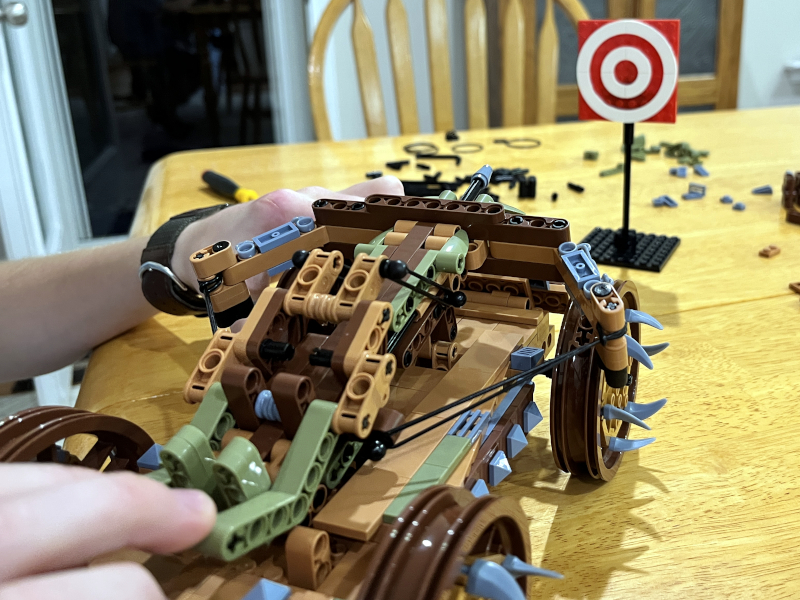 These weapons are fully functional!  The catapult and the ballista can launch their weapons about three feet without any problems, and the bombard is not far behind.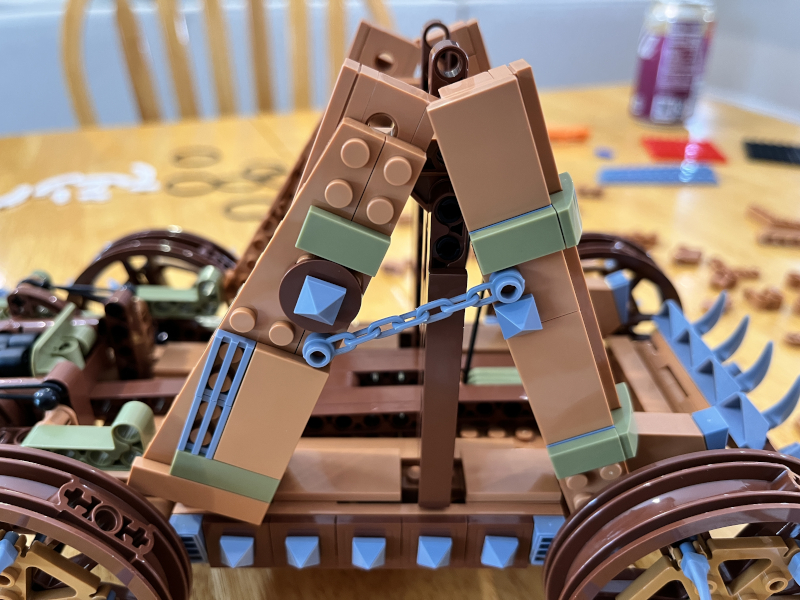 I love the way that this set pays attention to the details, such as the chains that hold the support arms of the catapult together and the blades attached to the wheels.  I think the reuse for MOC (My Own Creation) value is very high, especially for those who tend to be technical, detail-oriented builders looking for a challenge.
Speaking of age, the box says that this set is for kids 8 and up, but I think that's a bit of a stretch.  Gabriel figured everything out, but I am rather doubtful that an 8-year could figure things out without parental assistance.  The Amazon page says it's for teens and adults, but that's obviously too conservative.  I think 11 is a good compromise.
There are no mini figures included with this set, which is sad.  I understand that the scale of these medieval weapons is too large for mini figures, but they would be fun to have anyway.
As one final note, JMBricklayer's website has some helpful information.  It says that they will send additional pieces if you are missing any—I didn't have missing pieces—and it also says you are not supposed eat the pieces.  Good to know.
What I like
Good quality pieces that are compatible with LEGO
The ability to make three different weapons in one kit
Good instructions
A lot of very reusable pieces
Less expensive than LEGO
What I'd change
Minor improvements to the instructions
Final thoughts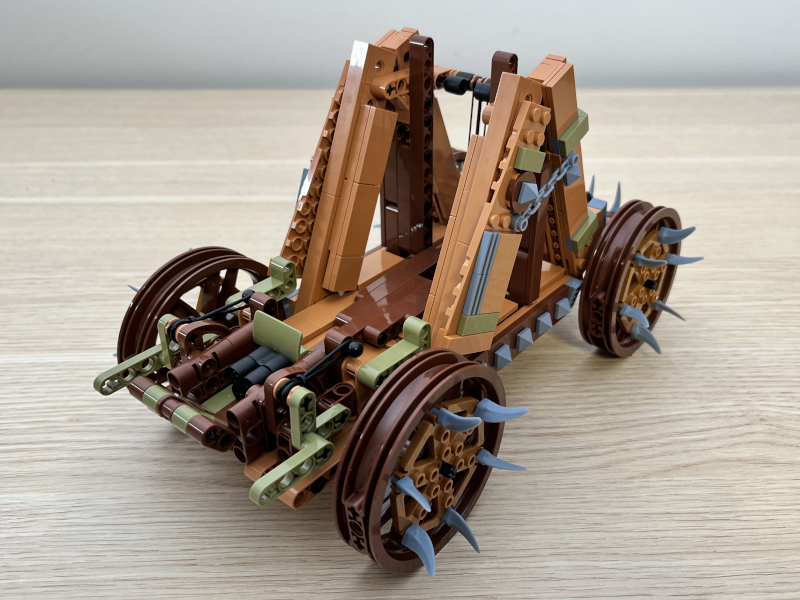 JMBricklayer's 3-in-1 medieval weapon is a building brick set that allows kids to build a catapult, a ballista, or a bombard using LEGO-compatible bricks.  The quality of the pieces is good, if not quite as good as genuine LEGO, and the reuse factor for them is very high, especially for more technically-minded builders.  I really like this set, as did my testing assistant, Gabriel, and we both think it would be a great Christmas gift this year, especially for preteen builders.  I hope you have as much fun with it as we did!
Price: $39.99
Where to buy:  Amazon or JMBricklayer's Online Store
Source: The sample for this review was provided by JMBricklayer.