We use affiliate links. If you buy something through the links on this page, we may earn a commission at no cost to you. Learn more.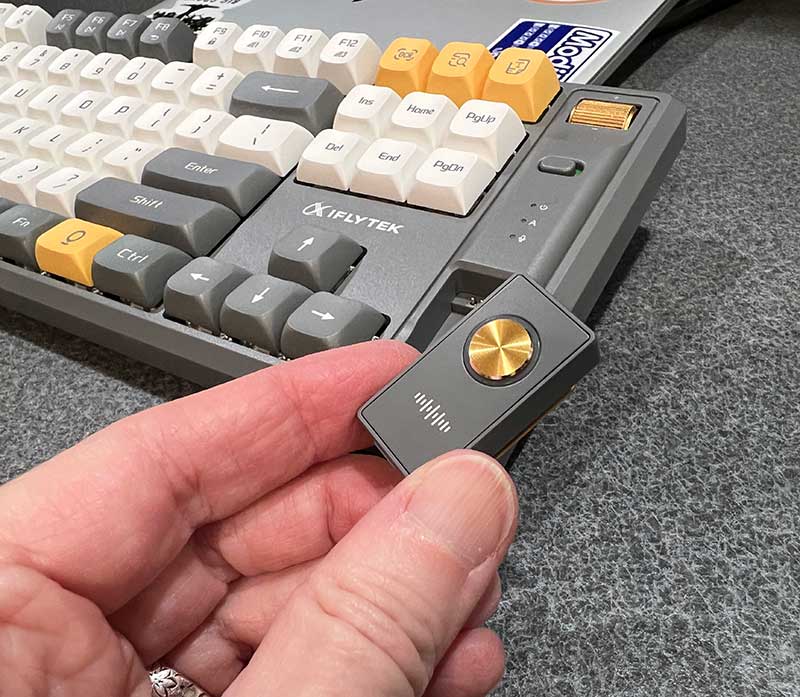 REVIEW – I recently mentioned in one of my Gadgeteer Video Podcast episodes that I'm on a quest to find the perfect mechanical keyboard (for me). The newest mechanical keyboard that I've been testing is the iFlytek T8 mechanical keyboard from Whatgeek. Not to spoil the whole review, but I really enjoy this keyboard, but at the same time, I know that it's not going to be for everyone.
What is it?
The iFlytek T8 mechanical keyboard is a mechanical keyboard that is available with either Gateron Red Linear switches or Geteron Yellow Linear switches. I chose yellow switches.
What's in the box?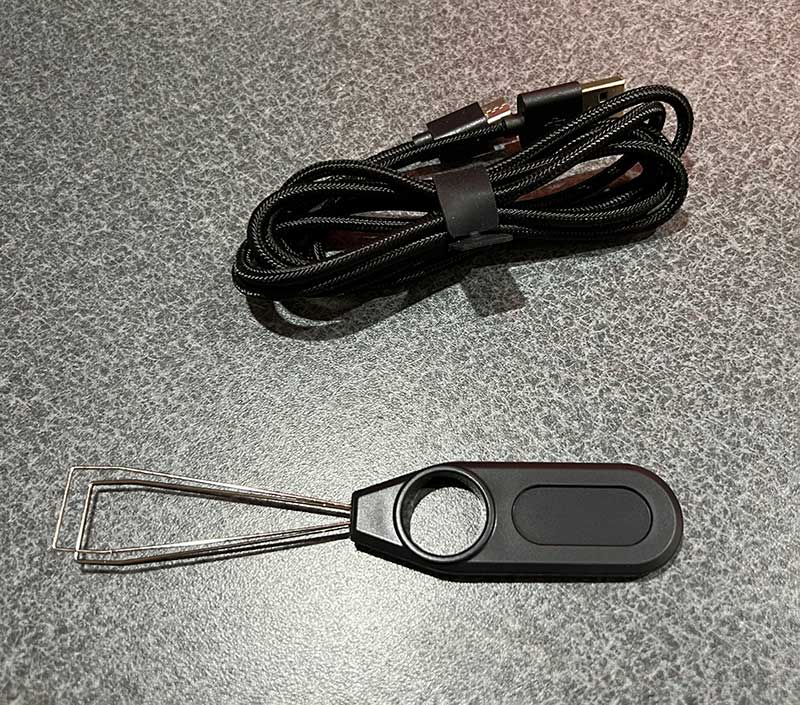 iFlytek T8 mechanical keyboard
Woven USB-A – USB-C cable
Keycap removable tool
Hardware specs
Layout – 87 keys
Battery – 80 days
Connects to up to 3 devices
Connectivity: USB-TypeC&Bluetooth 5.1&2.4G
System: Compatible with Windows/MAC/IOS/Android
Voice Input: Support
OCR Recognition: Yes
Translation: Yes
Language: 67 Languages and 24 Chinese Dialects
Voice Input Speed: 400 Words/Minute
Voice Input Support System:
Macro Definition: Support
Switches:
Gateron Red Switch
Type: Linear
Operating Force: 45±5gf
Gateron Yellow Switch
Type: Linear
Operating Force: 50±5gf
Weight & Size
Product Weight: 1.1kg
Product Size(L x W x H): 39.0*13.4*4.1cm
Design and features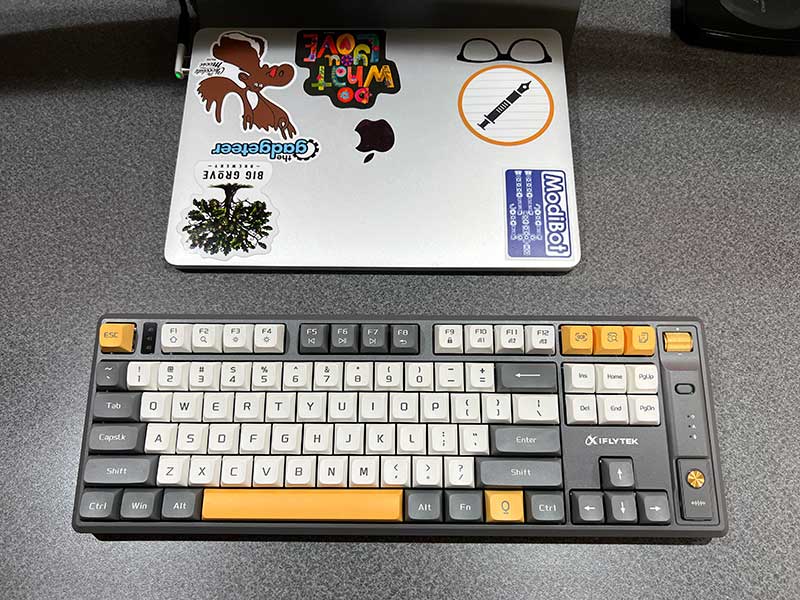 I was first attracted to this keyboard due to its colors. It has a grey case with grey, light cream, and yellow keycaps.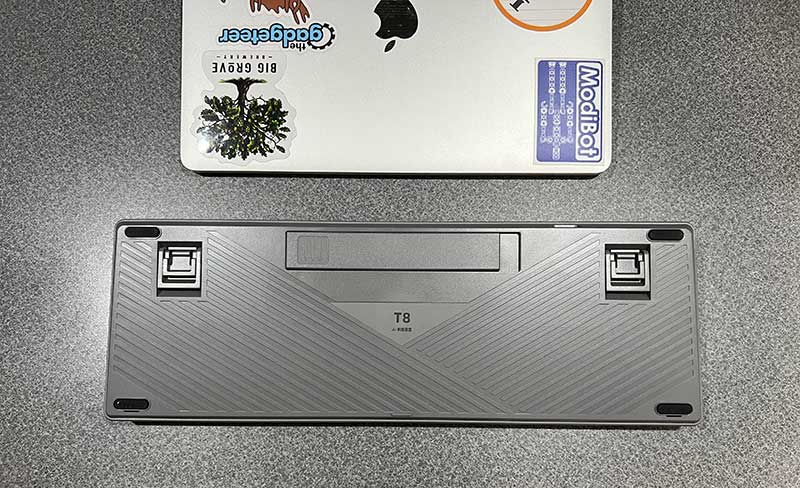 The back of the iFlytek T8 has 4 rubber feet to keep it from sliding around on your desk. These non-slip feet work great until…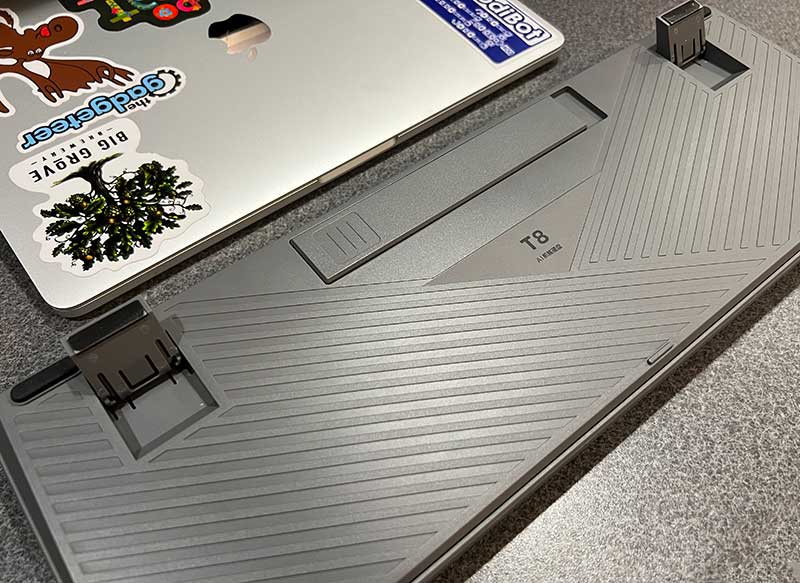 You flip open the legs to raise up the back of the keyboard to improve ergonomics. Once you do that, the keyboard doesn't seem to have the best grip on the desktop anymore.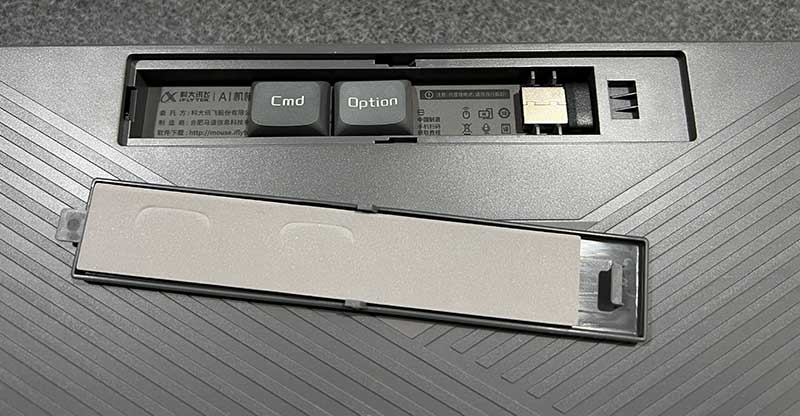 There's a special compartment on the back of the keyboard that holds 2 extra keycaps if you plan to use this keyboard with a Mac like I am doing. This compartment also holds the 2.4 GHz USB dongle if you don't want to use Bluetooth connectivity or the USB cable.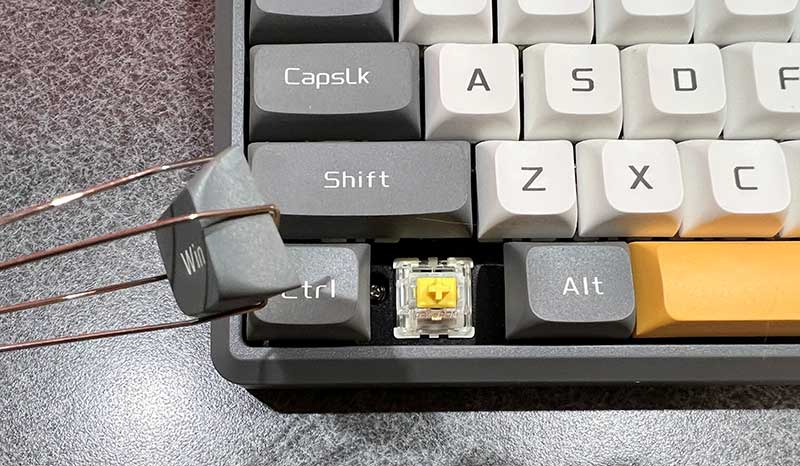 Using the included keycap removal tool makes it easy to switch out the keycaps.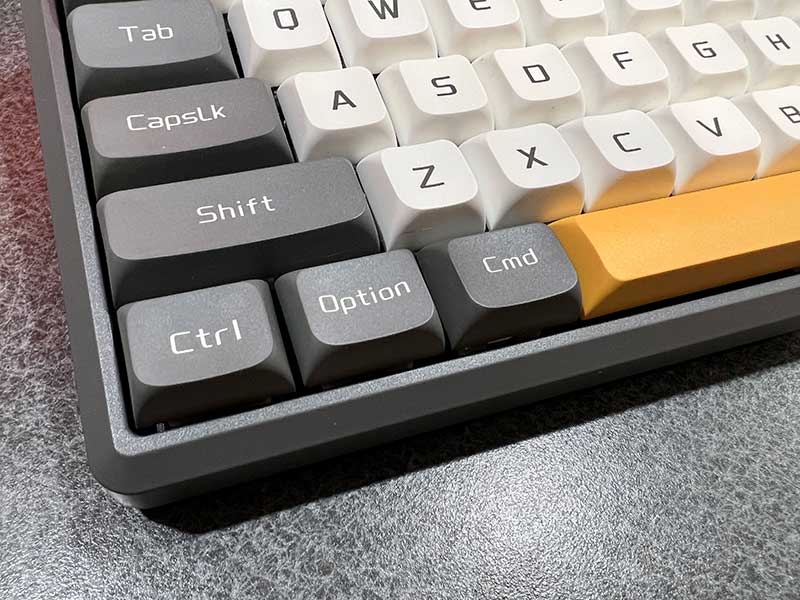 The keycaps are PBT dye-subbed keycaps. The caps are slightly concave and have a very slight brushed finish making them comfortable under my fingertips.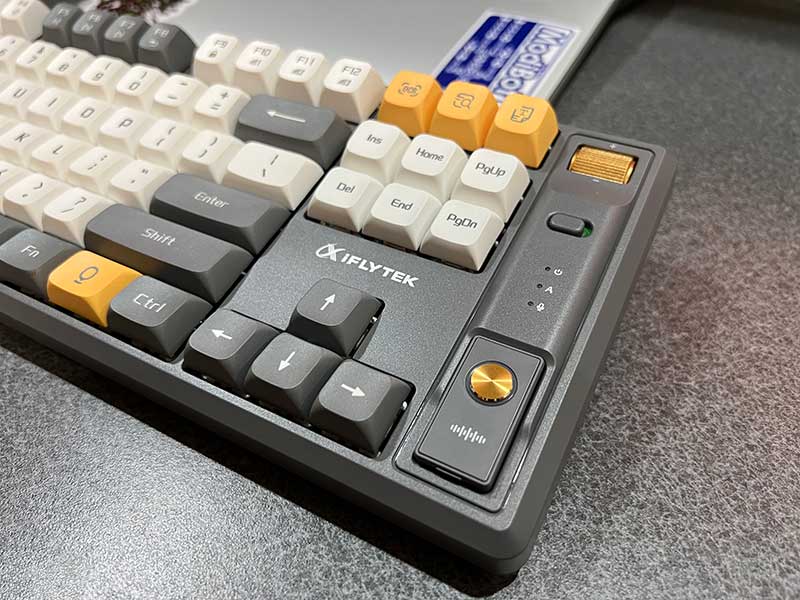 The features that make the iFlytek T8 mechanical keyboard stand out from other mechanical keyboards that are currently on the market include the rotary volume knob in the upper right corner, special keys for OCR (screenshot),  voice search, and text translation, and the voice mouse. Let's quickly go through each of these features, at least as best as I can due to one overwhelming issue which is the fact that this keyboard does not come with any English documentation and to use these special features, you will need to install an app and driver on your computer which is also in Chinese with Chinese menus… On my MacBook, I had to agree to the keyboard collecting my key input and audio in order to test the features.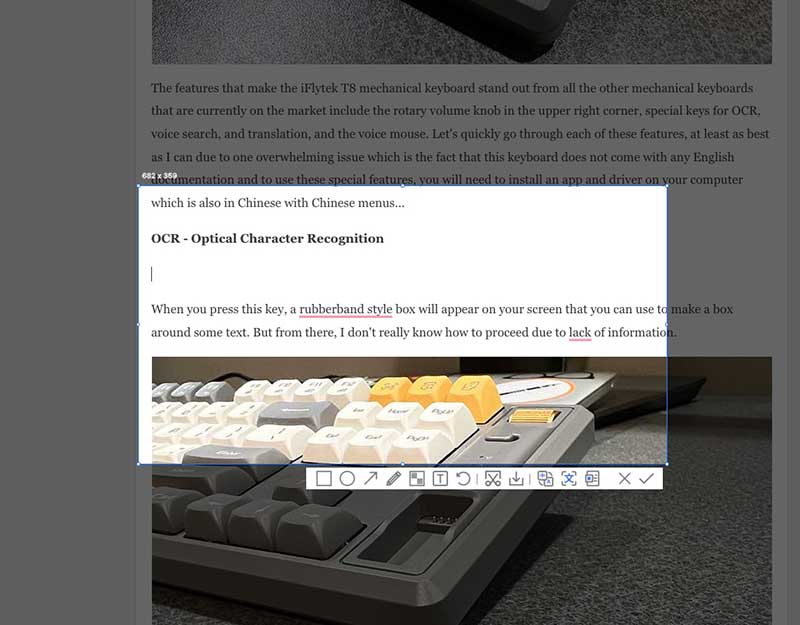 When you press the OCR key, a rubberband-style box will appear on your screen that you can use to make a box around something on the screen. But from there, I didn't really know how to proceed due to a lack of documentation. Pressing the buttons in the toolbar under the popup window brings up other windows with even more options in Chinese.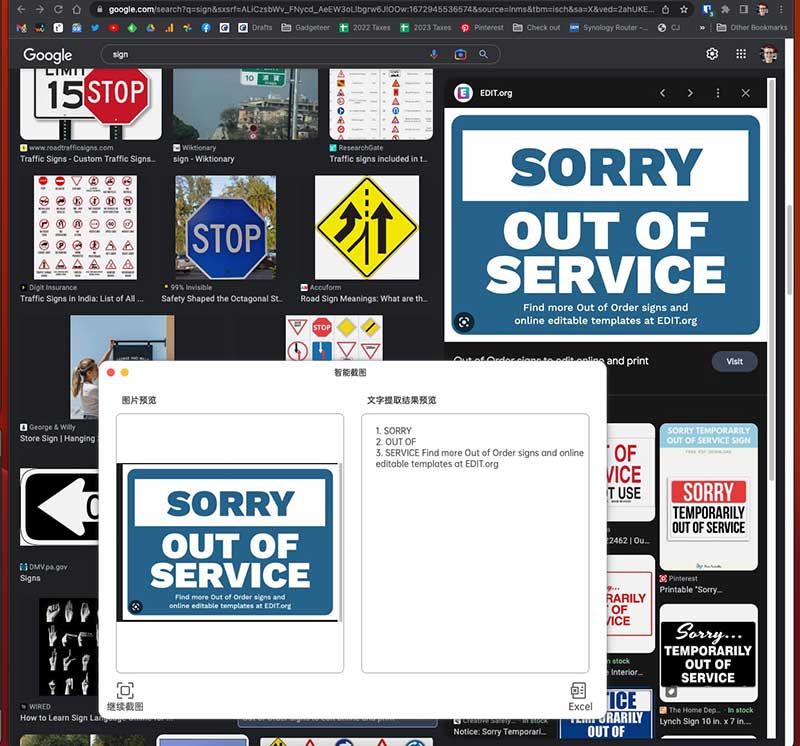 With some trial and error, I figured out that it can take the text out of images and can be used as a screenshot capture tool with basic markup functions. It will also translate text from one language to another in the captured screenshot.
The smart search button will let you search with your voice, but by default it goes to baidu.com, a Chinese search engine and I don't know how to change it to use Google instead.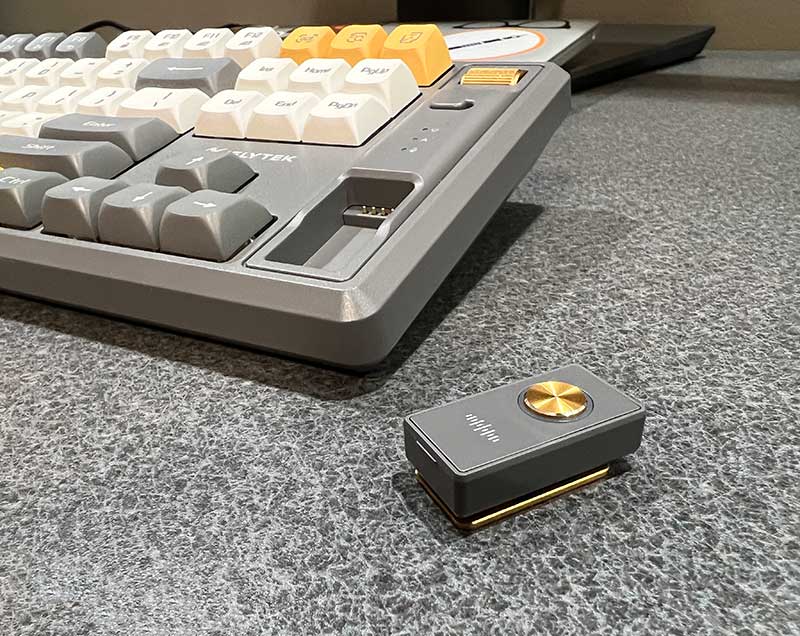 Then there's the voice mouse which is a removable clip-on microphone that you can use for voice typing/dictation. This little microphone captures your voice and automatically inserts the text into the document that you're working on. The voice capture feature works quickly and even inserts periods if you pause while talking. You can speak punctuation marks too but I found that it will add the mark and then spell out the mark. For example, if I ask a question and then say "question mark", it will add the actual question mark symbol and then type out the words "question mark" beside it. I'm on the fence if this is a useful feature or not. I think I personally type faster than speaking and going back to fix mistakes.
Hear it in action
I absolutely love typing on the iFlytek T8 mechanical keyboard. As a touch typist, it feels wonderful to type on. There isn't a tactile bump as you press each key, so the action is very smooth. If you've found some mechanical keyboards that make your fingers feel like they are getting a workout, you probably won't feel that way with this keyboard with yellow switches.
It is worth noting that as a macOS user, I found that there's an error while switching the keyboard to the Mac layout. The option and cmd keys are reversed. Not a deal breaker, but worth mentioning.
What I like
Buttery smooth typing experience
Wonderful thonky sound without being overly loud and annoying to those around you
Unique built-in features – OCR, text translation, dictation
What I'd change
English manual
English app and driver
Final thoughts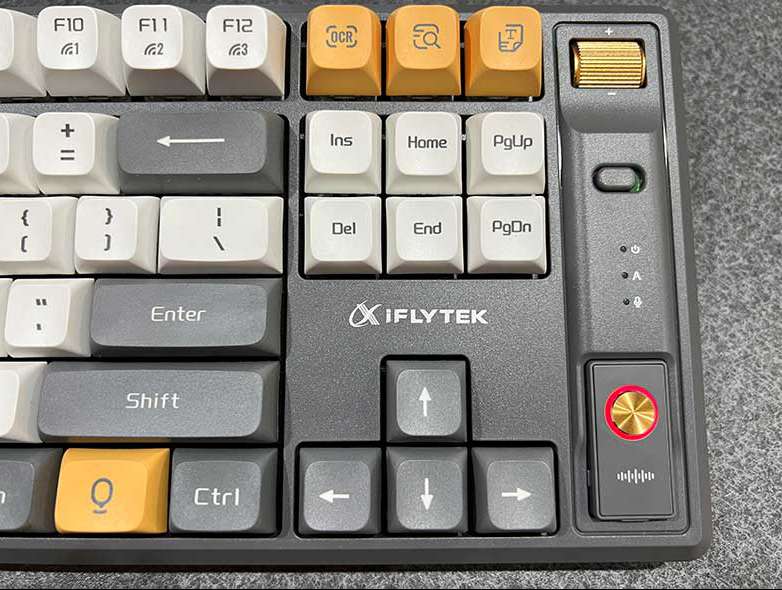 Right now, the iFlytek T8 is my favorite mechanical keyboard due to its look and especially the typing feel and sound. While unique, the extra features are interesting, but without a good (English) manual, many people won't go to the effort to figure them out. If you don't mind the $170 price tag, I think this is a really nice mechanical keyboard and it's my current favorite. At least for now.
Price: $168.99
Where to buy: Whatgeek
Source: The sample for this review was provided by Whatgeek.