We use affiliate links. If you buy something through the links on this page, we may earn a commission at no cost to you. Learn more.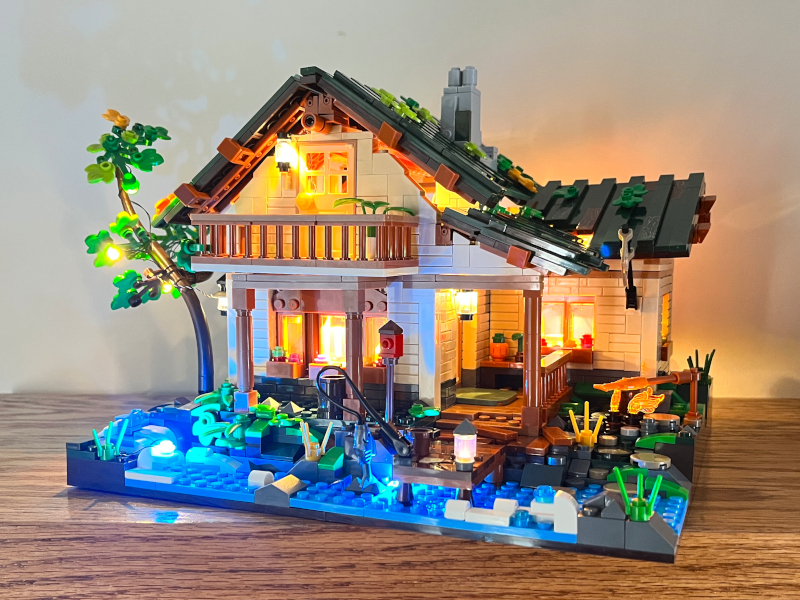 REVIEW – I've been a longtime fan of building with Legos, but lately, I've been experimenting with Lego alternatives.  I recently built JMBricklayer's 3-in-1 medieval weapon, and now I'm trying something a bit more domestic:  Funwhole's Lakeside Lodge.  I'm hoping that this medium-sized set that comes with its own lighting system will be fun to build and bring some cheer to my home office.
What is it?
This is a Legos-compatible building brick set (model FH-9004) that builds a two-story, rustic fishing lodge set on the edge of a lake.  The set contains 1969 smaller pieces that are mostly in various shades of brown, green, and grey.  The set also includes a wired lighting system powered by AA batteries.  Funwhole is a Chinese company that claims to be "the world's first brand of light bricks," and their goal is to "bring everyone the whole happiness of day and night."
What's in the box?
1969 pieces
Light kits
555-step instruction manual
Brick remover and tweezers
Design and features
When it comes to the design of Lego alternatives, there are a handful of questions that always need to be answered.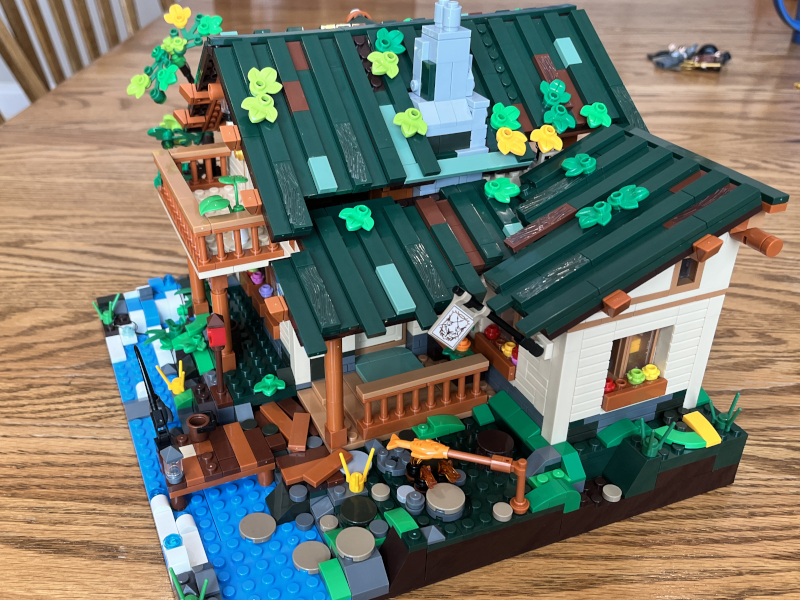 Are they compatible w Lego?  Yes, this building brick set is completely compatible with Lego.  I tested it using several of my own Lego pieces, and they stacked together just like Lego bricks.
Are they of the same build quality?  They are very close; these are quality bricks.
Do they fit tightly, or do they come apart easily?  The pieces are just as tight as Legos.  When stuck together, they do not come apart unless pulled apart.
Are they cheaper in cost than Lego?  Yes, they are about 30% cheaper than similar sets from Lego.  This Lego bookshop is about 8 cents per piece ($200 for 2500 pieces), and this Lego hotel is about 7.5 cents per piece ($230 for 3000+ pieces).  Funwhole's lodge is about 5 cents per piece ($100 for 1900+ pieces).
How do the instructions compare?  The overall style of the instructions is similar, though not as concise; in other words, new pieces are often spread out all over the house, not just in one area.  This makes things slightly harder, but certainly not a show-shopper.  The bigger problem is the difficulty distinguishing between colors, which I'll talk more about in a moment.
Setup
The first step in the process was to open all the bags of bricks on the dining room table and sort them by color.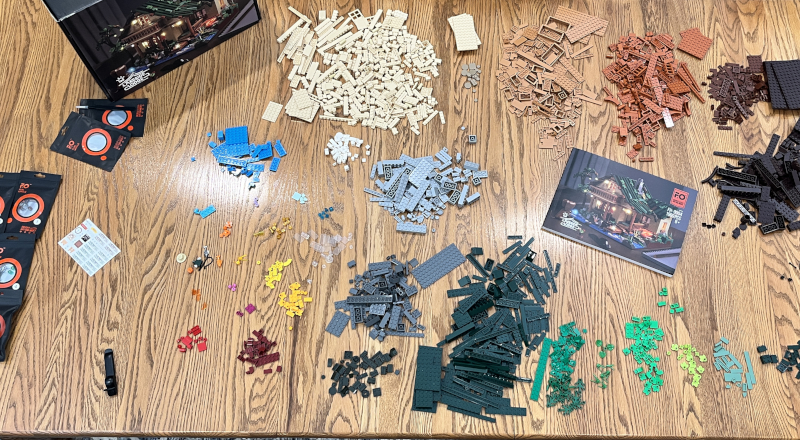 This is a lodge is in an rustic, rural setting, which is why there are a lot of browns and greens; in fact, there are six shades of brown and seven shades of green.  Some of these colors are really close, and in the manual it's often impossible to tell which color the instructions intended.  The colors in the manual are darker and more muted than the actual bricks; the darkest green, the darkest brown, and black are really close, and I have no doubt that I often used the wrong colors while building.  This was easily the most annoying and most frustrating part of building this kit.  As I got near the end, I often had to backtrack by disassembling something that I had already built and taking the bricks from it to get the right color for something else.  Funwhole needs to either improve the brightness and quality of their printing or add some extra information to make it clear what colors are required.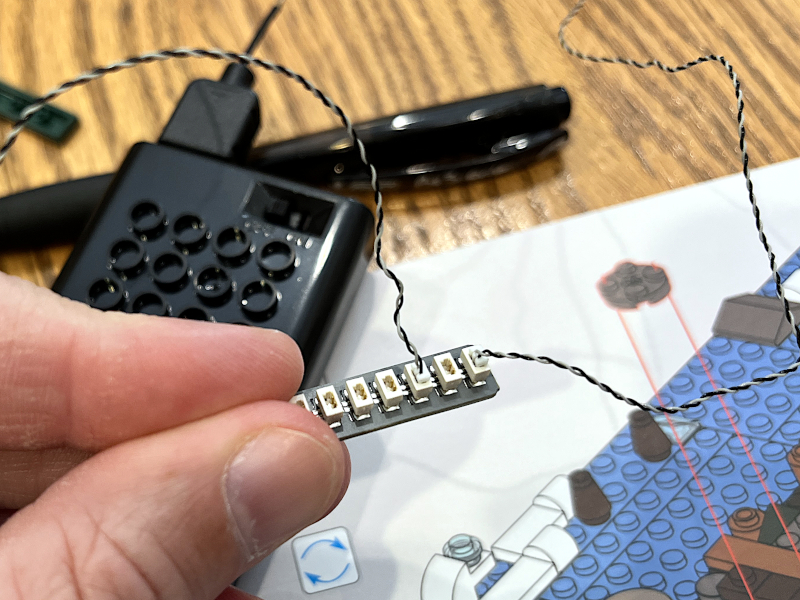 This set comes with multiple strands of fully functional LED lights; each strand is connected to a small circuit board, which is in turn powered by three AA batteries.  The connectors are insanely small, like you-really-need-that-pair-of-tweezers-to-connect-them small, and are quite fragile.  I think most kids are going to struggle getting these connectors attached to the circuit board; breaks will happen.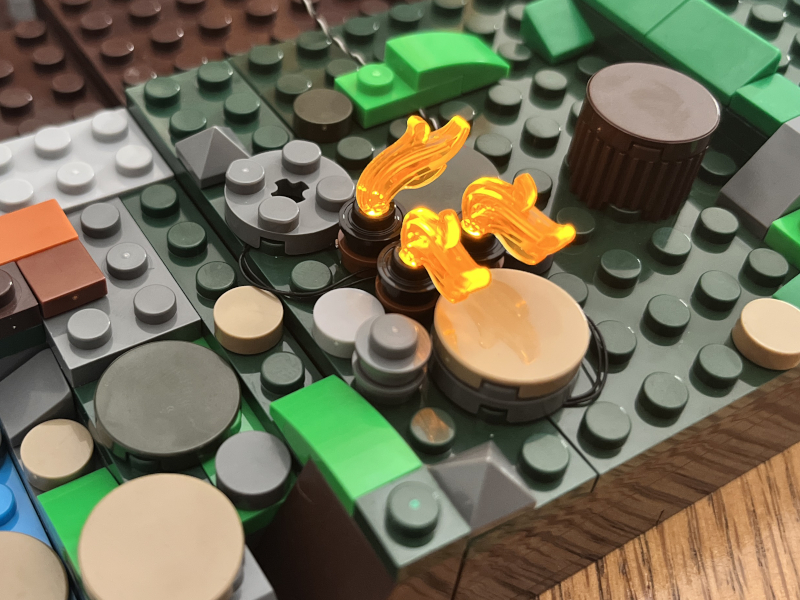 The wires that run from the lights to the board are held in place with bricks.  Yes, that means you will be pushing bricks down on them and pinching them, and I doubt they will survive very long before they are broken, especially if kids are using these pieces to build their own lighted houses.  Funwhole really needs to redesign the lodge so that it uses conduits instead.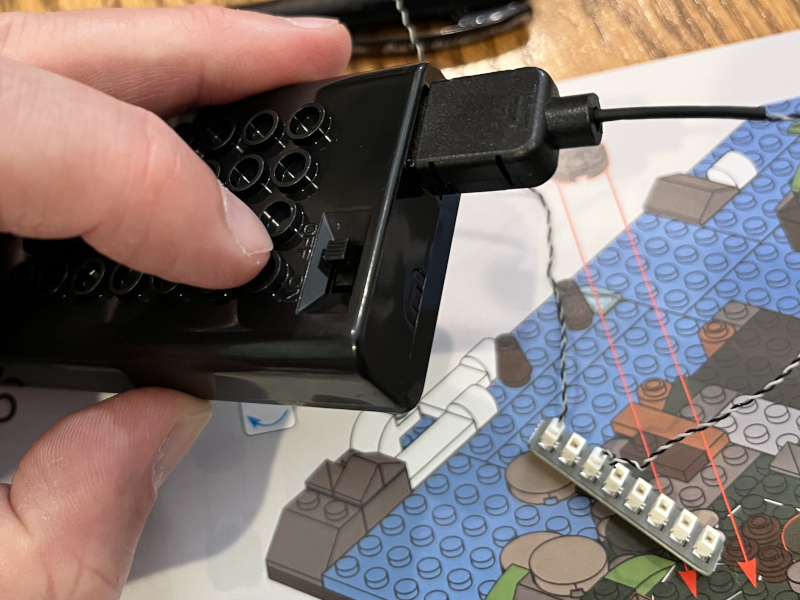 The circuit board connects to the battery case using USB; the battery case, however, is broken.  It has a simple on/off switch; the lights are on when it's in the "on" position, and they are still on, albeit slightly dimmer, in the "off" position.  Not cool.  On the bright side, the USB connector allowed me to connect the lights to an Eve Enegy smart plug and control them with Apple HomeKit.  No batteries necessary.
This set has a large, thick instruction manual with 555 steps.  I didn't time myself, but it took several hours to finish this set.  At various key points throughout the building process, the manual reported on my progress thus far.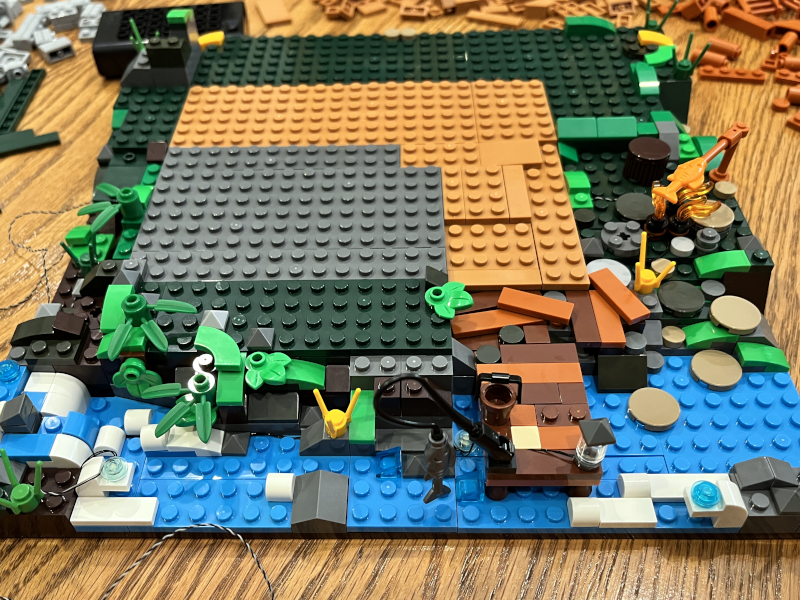 At 25 percent, the foundation of the house, the dock, and the lake are done.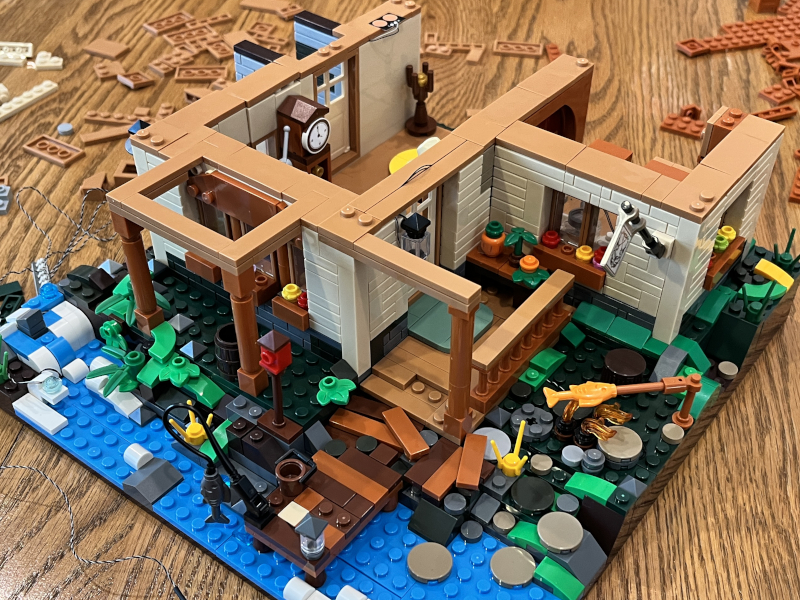 At 45 percent, the downstairs is mostly down.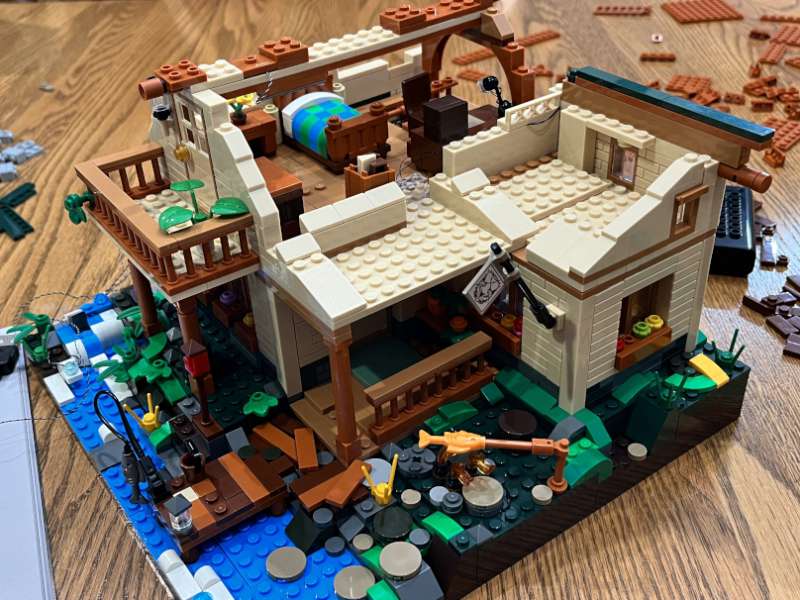 At 60 percent, the upstairs is mostly completed.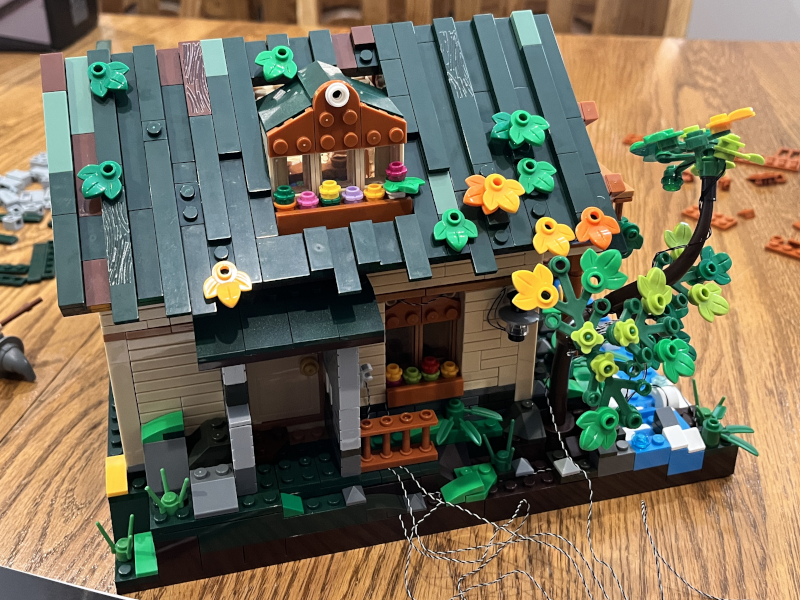 At 75 percent, most of the main section of the roof is done.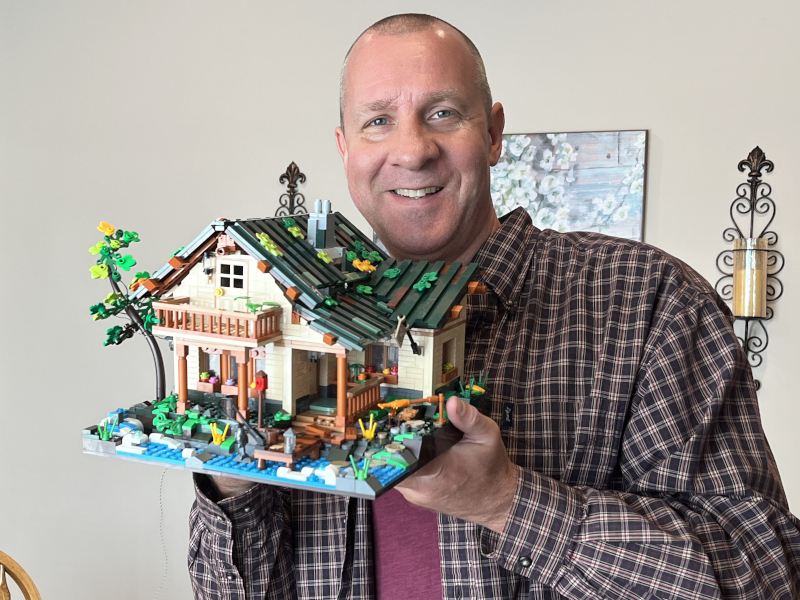 Finally, I have completed the house.  There were about 30 spare small pieces.
Performance
While building the set, I made several observations about Funwhole's Lakeside Lodge.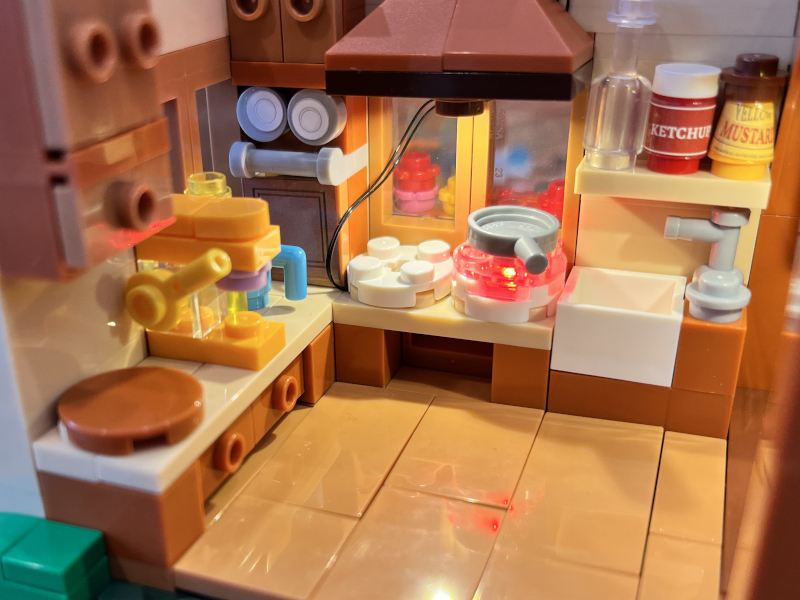 Despite being difficult to work with, the lights turned out really nice.  In addition to providing general lighting, Funwhole did some clever things, such as lighting up the fire under the stove and the lamp on the desk upstairs. The lights are a nice addition to the set.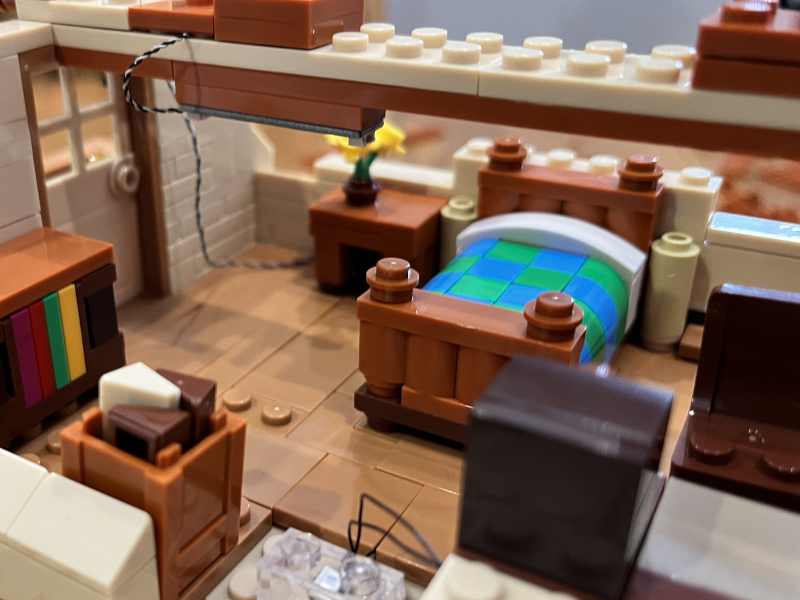 I love the details!  There's a patchwork quilt on the bed, books in the small bookcase, and logs in the log crate.  Funwhole did an amazing job creating a believable-looking lodge.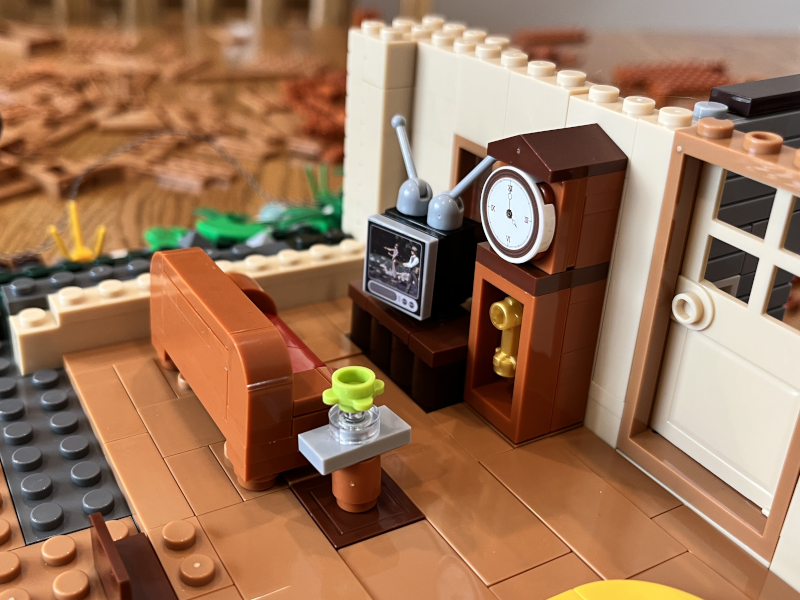 Funwhole included a set of stickers, a nice extra touch.  They provide some key details to pieces like the TV and the grandfather clock in the living room.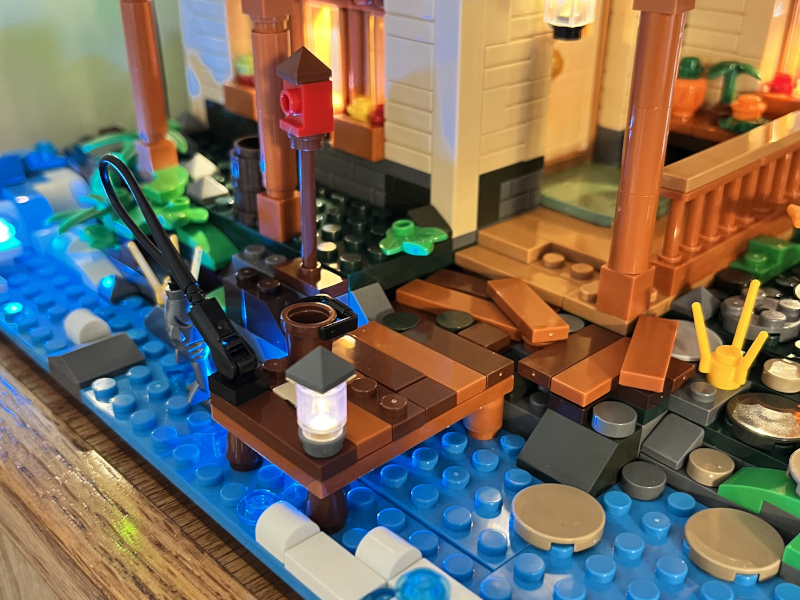 I love the style.  It has an artistic, just-short-of-chaotic look that really gives the lodge a rundown appearance.  Look at how the dock appears to be falling apart.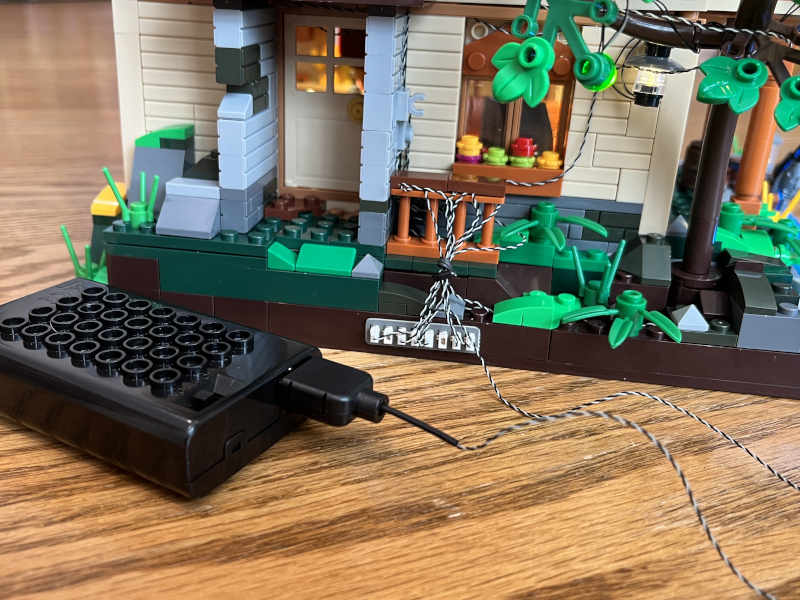 I do not love the wires.  Yes, certainly a set that lights up needs to have wires, but I was left with a rat's nest of them hanging about in a jumble off one side.  I somewhat tidied things up, but they were still a mess.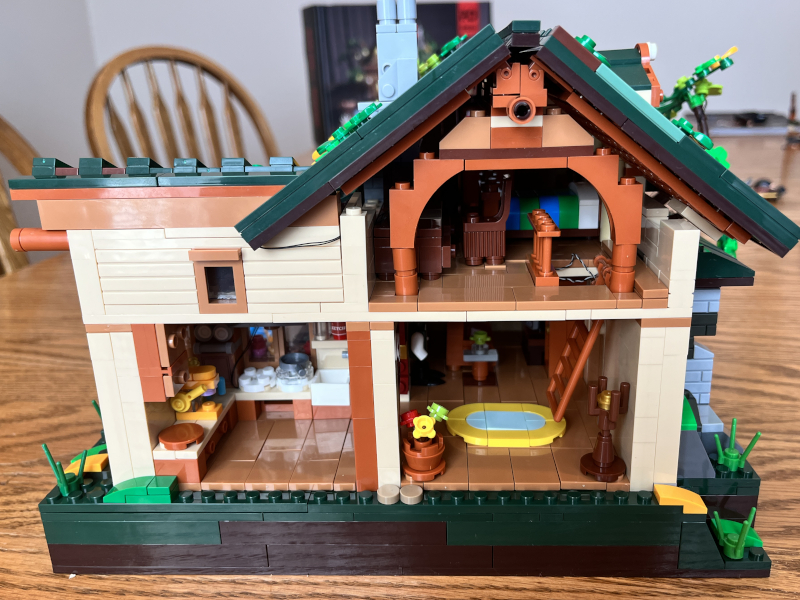 As I reflect on the finished product, I don't think that this is a great set for kids.  In addition to the color problems and wiring concerns that I've already mentioned, this set is not very playable.  As a kid, when I built sets, I wanted to play with them, too.  Although the backside of the house is unfinished, there's just not enough room to get inside and play with the house.  The upstairs is completely inaccessible unless I pull the roof sections off.  Additionally, there are no mini figures, and this set is just dying to have a father and son duo who are on a family fishing trip together for the weekend.  I think this is really a set that is designed for adults who want to build and display their creations.  Having said that, this set has an astonishing amount of reuse.  If I set the lights aside, the remaining pieces have huge potential for highly creative builders who enjoy using lots of smaller pieces to bring their detailed designs to life.
If you like Funwhole's Lakeside Lodge, take a look at their wood cabin, which has a similar style.
What I like
Quality building brick pieces
Detailed design
Creative use of lights
So much reuse potential (sans lights)
What I'd change
Improve manual to make color choices easier.
Make sure the battery box works.
Add a couple mini-figures.
Design a house with conduits for the wires.
Final thoughts
The Funwhole Lakeside Lodge is a building brick set with nearly 2,000 Legos-compatible pieces.  It uses a lot of smaller bricks to create a detailed house both inside and out, and it makes creative use of several strands of lights powered by batteries.  I had a blast building this set, though I often struggled to know which piece to use, as the manual fails to distinguish between several nearly-identical colors.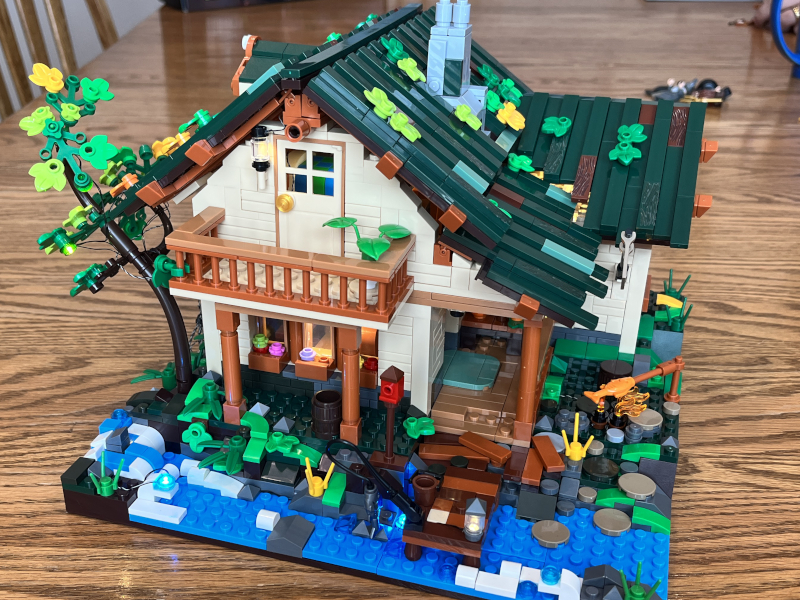 This kit is probably better for adults who want build-and-display than it is for kids who want to build-and-play.  Still, it's a beautiful set, and if you take it apart, there are a ton of great pieces for building your own houses.  The price of this set is considerably less than similar Lego sets, and I think it would be a great gift to put under someone's Christmas tree this year!
Price: $99.99
Where to buy:  Amazon or Funwhole's online store
Source: The sample for this review was provided by Funwhole.