We use affiliate links. If you buy something through the links on this page, we may earn a commission at no cost to you. Learn more.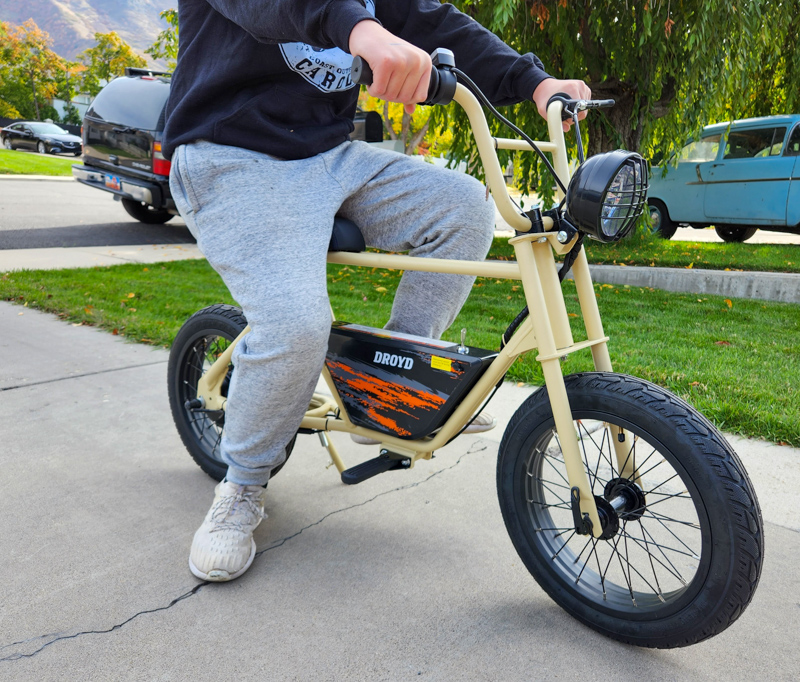 REVIEW – Electric vehicles are everywhere nowadays, and it can be tough as a parent to pick out an electric mobility option for a kid or tween with the vast array of choices. Many are dangerously fast for kids, or woefully underpowered, or have a restrictive short range. I've seen sketchy scooter and e-bike models popping up more and more without UL certified batteries, which would terrify me that a substandard battery is going to start a fire in my garage or house. The Droyd Blipper kids electric mini bike is a new option on the market and is geared towards safety-minded shoppers while still being fun for the kid.
What is it?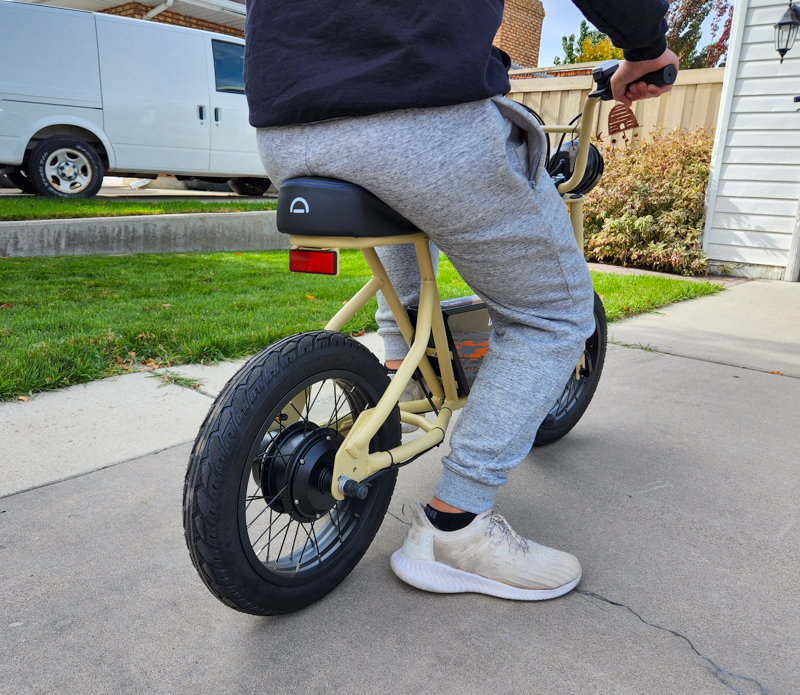 The Droyd Blipper kids electric bike is basically an electric scooter. There are no pedals, just foot pegs, so I'm not even sure that "bike" is the correct term, but that's what they're calling it. It boasts a 12.5 mph top speed and up to 12.5 miles of range in a cool retro motorcycle looking frame. The bike can be disabled by simply removing the ignition keys (2 are provided, and this gives the parents the ability to make sure it's not taken on unauthorized joyrides).  The bike is easier to operate than a standard bike – the rider simply has a push-to-go throttle lever and a brake lever. The only other controls are the on/off switch and a light switch for the front bright headlight.
What's in the box?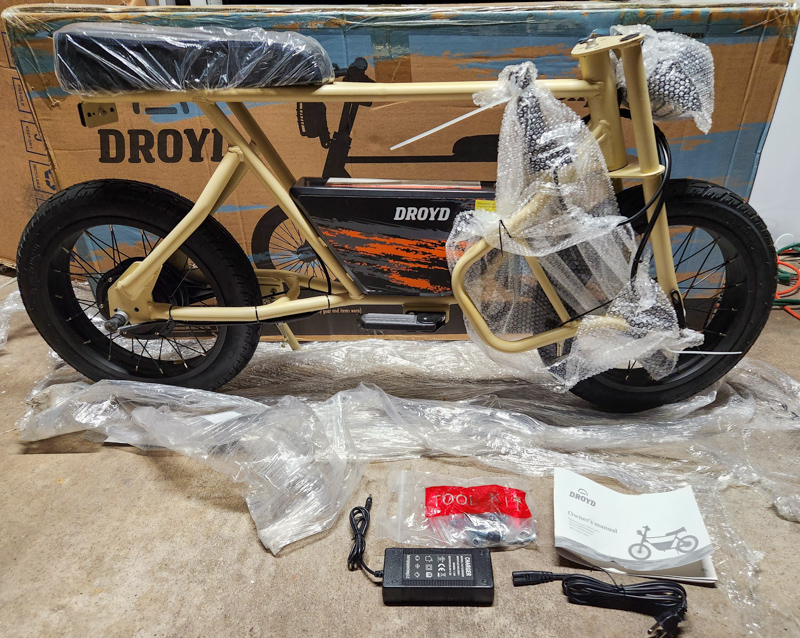 Droyd Blipper kids electric mini bike
Pair of ignition keys
Setup toolkit
AC charger
Manual
Hardware specs
Brushless DC motor (24V 250W)
Lithium-ion battery pack (24V 10Ah)
Tire diameter: 16 inches (40.6 cm)
Max speed limit: 12.5 mph (20.1 kph)
Max ride time: up to 60 minutes
Max range: up to 12.5 miles (20.1 km)
Max weight capacity: 165 lbs (74.8 kg)
Assembled product dimensions (LxWxH): 52.4 x 22.1 x 33.1 inches (133.1 x 56.1 x 84.1 cm)
Assembled product weight: 43.7 lbs (19.8 kg)
Design and features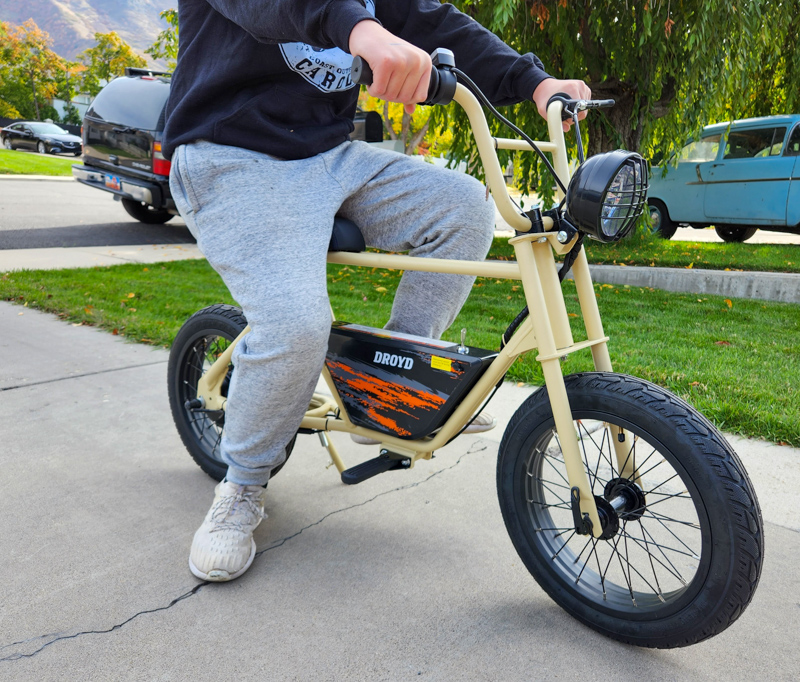 The Droyd Blipper kids electric mini bike is a retro inspired design. 16 inch air filled tires and a low slung battery make for a relatively low center of gravity and thus a nice ride. Construction is steel and feels pretty much indestructible. A nicely padded seat is fairly long, allowing for a variety of sizes of riders and riding positions. A large headlight up front provides both great night riding illumination, as well as good front visibility to keep the rider safer from oncoming traffic. Reflectors provide visibility from other directions, though I would have liked to see a powered tail light as well. A 250W hub motor in the rear tire provides power.
Setup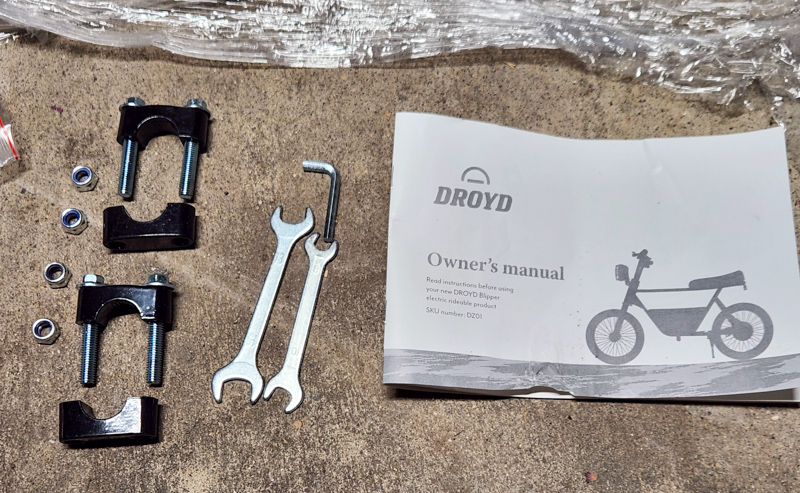 Droyd says that their Blipper bike comes 90% assembled, and this was the case for me: I simply had to attach the handlebars, fill up the pneumatic tires with air, and adjust the headlamp.
The handlebars required quite a bit of force to clamp down tightly, and I was worried that the included wrenches would round the bolts, so I used my own tools to finish the job (a socket wrench also gave me the extra torque I needed to clamp them down tight enough). I had to really crank down to the point where I thought I might break things to get the handlebars not to swing forward and back. I think the plastic pieces that seat the handlebars to the frame would work a lot better if they had ridges (like regular bike handlebar mounts) and/or used a rubberized material to prevent slippage. Once I got it fully torqued down it felt very sturdy though. I then had to fill up the tires with air (any standard bike pump will do).  Finally, I charged the bike (strangely, an On/Off switch on the battery has to be on the ON position while charging, a large sticker warns you of this as well). From fully empty, Droyd says 6-7 hours of charge time to refill.
Performance
I enlisted my nephew to help me test out the Droyd Blipper kid's mini electric bike, and he relished the opportunity (I think it sweetened the deal when I told him he'd get to keep it after the review). We took it fully charged on a ~7 mile ride that was mostly flat with some mild and moderate hills. It gets up to top speed fairly quickly for a vehicle like this and then stays there as long as he'd hold the throttle down – there's definitely a speed limiter making sure your child doesn't get too crazy. 12.5 miles per hour feels like casual biking on non-electric bikes, my nephew mentioned that he didn't feel unsafe or out of control at any point in the ride. He said the seat was comfortable throughout, and he felt like the brakes were fine (though they definitely don't slam on hard, drum brakes aren't known for their exceptional stopping capability). Most importantly, I got big grins and he summarized the ride as "fun!". Here's a bit of ride footage:
At the end of our ride, the battery indicator (3 LEDs – red/yellow/green) had dropped to 2 LEDs. This battery indicator would be my top thing I'd have preferred something better, having tested and owned nearly a dozen different electric bikes and scooters I really value having a decent range/battery estimate. I wouldn't be surprised if those last 2 LEDs deplete pretty quickly after the first, but we didn't want to find that out miles from home.
What I like
Not fast enough to make me worry about serious injury
Decent range
Safety features like removable ignition key
What I'd change
Better battery indicator
Front and rear brakes for redundancy
Tail light instead of reflector
Final thoughts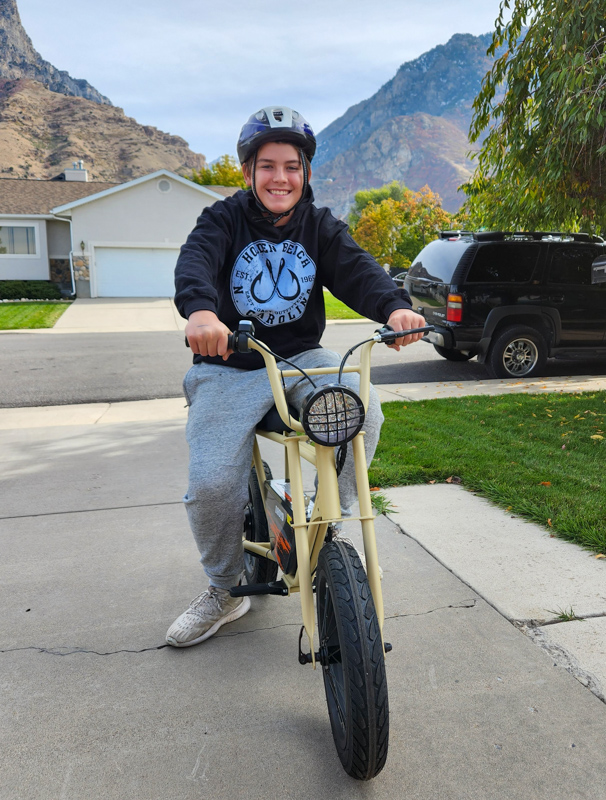 If my nephew's smile above doesn't tell my summary of the Droyd Blipper kid's mini electric bike, I'll spell it out here. I think this is a good bike for tweens who want or need a bit more mobility with a bit of style. It feels like it's built like a tank – the 2 year warranty on the frame reflects the durability there, but the 60 day battery warranty and 6 month electric/motor warranty seems a bit short. If I'm spending over $500 on something like this, I'd wish for a stronger warranty from the company on these parts, but maybe that would have driven the price up too high.
Price: $479.99
Where to buy: Amazon or Droyd
Source: The sample of this product was provided by Droyd