We use affiliate links. If you buy something through the links on this page, we may earn a commission at no cost to you. Learn more.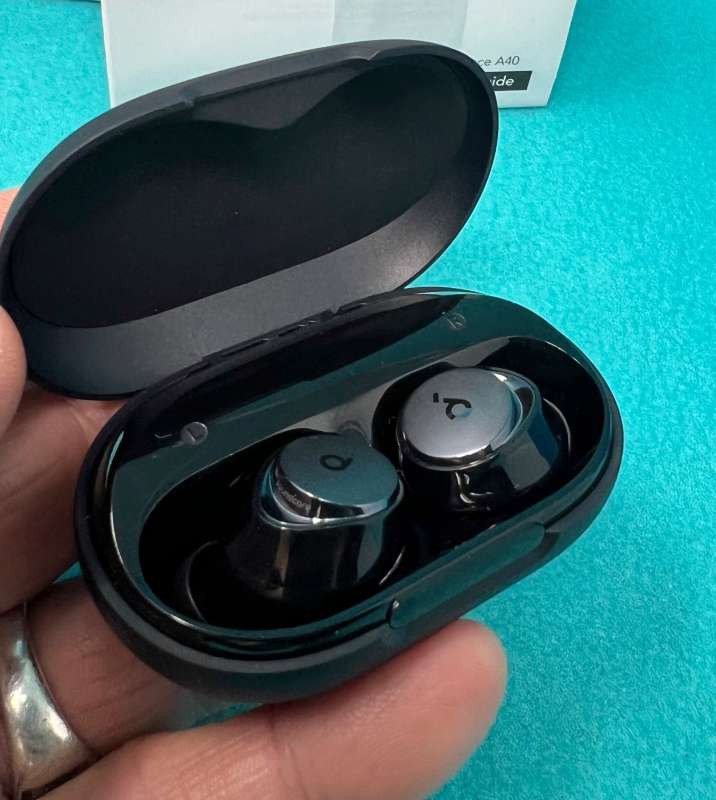 REVIEW – Our aural environment is very important to us. How many times a day do you hear (no pun intended) someone say something like "It's really loud in here." Or "I can't concentrate when music is playing." Or "I hate that music <insert co-worker's name> is playing right now." Each of these scenarios could be avoided or mitigated by two products recently released from Soundcore – their Space A40 earbuds and their Space Q45 over-the-ear headphones. Since the two products were released together, I originally intended this to be a combination review, but the products actually deserve their own space, so here's the Soundcore Space A40 earbuds review. You may notice similarities in the Space Q45 over-the-ear headphones review (coming soon), but both had the Gadgeteer complete testing treatment™.
What is it?
Soundcore Space A40 earbuds  are totally wireless earbuds with a charging case and active noise cancellation (ANC)
What's in the box?
Soundcore Space A40 earbuds
Wireless rechargeable battery case
Five sizes of replaceable silicon tips for the earbuds
USB-C<=>USB-C charging cable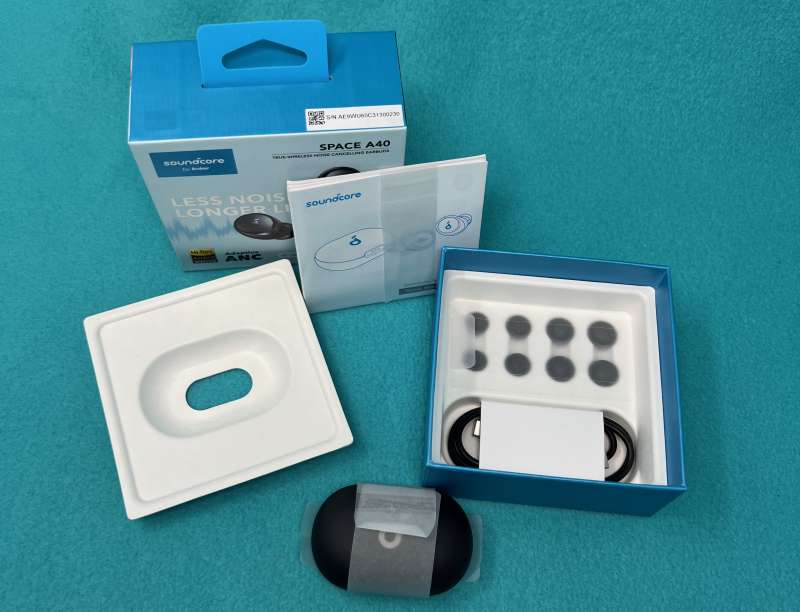 Hardware Specs
From company website
Upgraded noise canceling system for up to 98% less noise on commutes
Enjoy personal space anywhere with adaptive noise canceling
Ultra-long 50-hour playtime
Sound with exceptional detail
Lightweight for a comfortable fit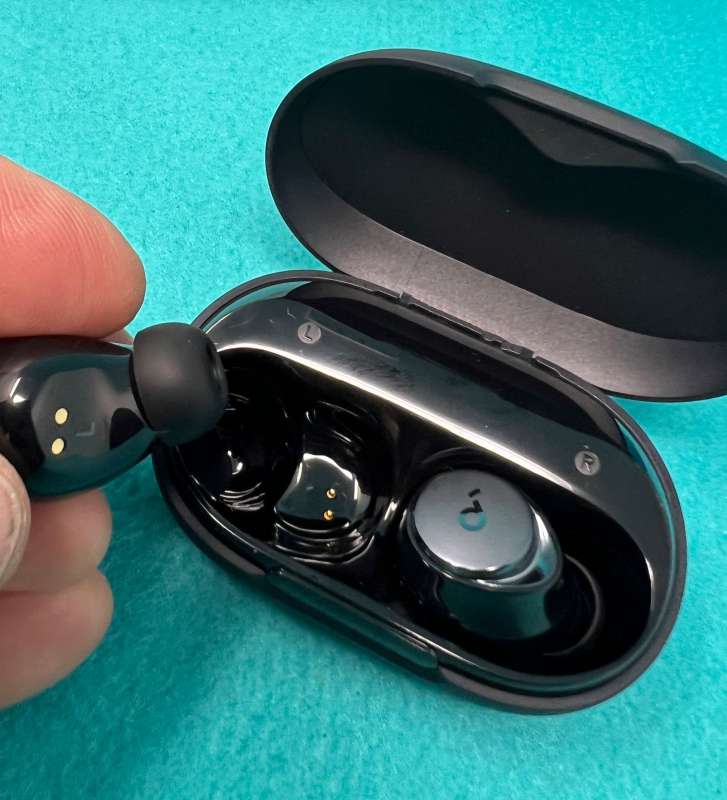 Design and features
The Soundcore Space A40 earbuds are available in Black, Navy, and White. I was sent the black set and found them very easy to set up and use overall. There is an external pairing button, and a three-LED "gas gauge" to let you know the charge status of your earbuds system the instant you open the case. When paired, you can set up or change the ANC settings through the Soundcore app. I had no issues using the app on either the iPhone or the iPad. (The iPad just used the iPhone layout, but at least it is able to detect screen orientation! So many apps like this don't, and you have to stand on your left ear to read the settings.)
Setup
Standard charge and pairing. There is also an app (available for both iOS and Google Play) that you download to configure advanced settings like tapping on the earbuds, ANC, Spatial Audio, etc.) Firmware updates are also delivered through the app. Many Soundcore devices can be set up for use at once, but only one can be connected at a time.
With five sizes of ear tips, it's very easy to customize the Soundcore Space A40 earbuds to best fit your ears. (One of my ear canals is slightly smaller than the other.) While there is a nice screen over the speaker, there is no screen within the ear tip that can be removed, cleaned, or replaced. Everyone has ear wax, and it gets into all ear tips. Mitigating the seepage is difficult, but can be done.)
Performance
The Soundcore Space A40 earbuds are very compact, both in the pocket and in the ear. The seal was easy to dial in, and the noise cancellation was extremely effective. Not having to listen to football on the TV in the break room is a nice perk, even if I don't have audio playing. They are quite a bit less visible than many other earbuds on the market, however. Folks try to talk to me, and then look around at the side of my head to notice that I have earbuds in when I don't respond. The mic works very well using both earbuds or just a single one. Noise cancellation can also work for a single bud, which means that the ear is dead except when something is playing or someone is talking. (At my job, we use an in-house communication app that certain folks monitor during the day to talk between front-of-house and back-of-house. We also need an ear free to hear and speak with customers, so it's nice to have good separation.)
Another feature of the Soundcore app is to assign EQ profiles to your content. You can choose from the presets, or edit/save them as you wish. (If you remember doing this in iTunes years ago, congrats, you're old!)
Recently, I started looking for some music to play at upcoming family get-togethers. I found the Family Reunion playlist on Apple Music, and it's been kinda my late Summer/Fall jam, in between podcasts. You will find something you can hum along to if you've enjoyed any music during the last 80 years or so of American Music. One session started with Etta James belting out At Last, and everyone in the room was singing along. Music from Abbey Road (Here Comes the Sun – which I heard this spring live from Sir Paul himself), The Police's iconic Roxane, Firework from Katy Perry, and Sweet Caroline from Neil Diamond. These were all reproduced cleanly through the A40's when I was previewing the channel. I had to keep myself from singing along out loud in the breakroom. (I had never heard Pharrell Williams Happy from Despicable Me 2 – and you need to go listen to it right now! Clap along if you feel like happiness is the truth! Dancing along is not required, but highly recommended.)
I'm very accustomed to in-ear detection, which stops your audio if you remove an earbud. The Soundcore Space A40 earbuds don't have this, so sometimes continue to play while in the charging case, which means I have to manually stop playback (like an animal!). I sometimes had to actively disconnect them from the device to pair with another audio playback source, or at the very least stop playback and restart once the other item was paired.
What I like
Provides excellent sound stages and full sound (within the limits of earbuds)
Battery life outlasted my listening sessions (but I didn't travel)
ANC offers full isolation, as well as Transparency, where the close sounds are allowed through while canceling background sounds.
What I'd change
The earbuds will sometimes continue to play while in the charging case, which means I have to actively disconnect them from the device to pair with another audio playback source, or at the very least stop playback and restart once the other item is paired.
Final thoughts
I've been very much into the Apple ecosystem, and am a bit spoiled with the full OS integration of Spatial Audio, pairing, and ANC with my various devices. When testing other devices, it has been a bit hit-or-miss with features like these. The Soundcore Space A40 earbuds, with its dedicated app, have given a place for all users to access the advanced features of their products easily, and I was pleasantly surprised by the quick response and powerful performance of these devices at such a low price. If you like to connect to your devices while others are around, these buds can keep your sounds private, while maintaining great playback quality.
Price: $99.99
Where to buy: Soundcore and Amazon
Source: The sample of this product was provided by Soundcore.