We use affiliate links. If you buy something through the links on this page, we may earn a commission at no cost to you. Learn more.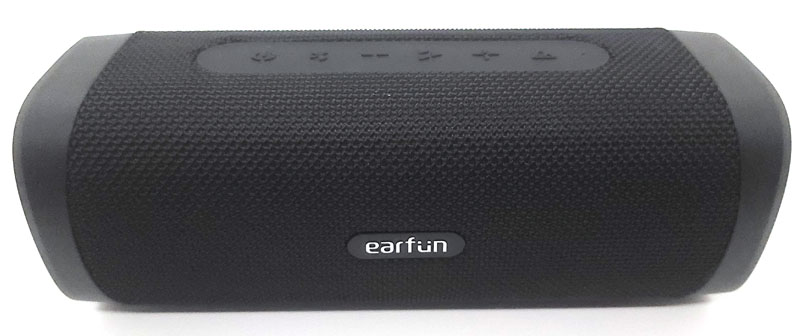 REVIEW – Bluetooth speakers – they're everywhere.  This new one from EarFun intrigued me for a couple of reasons.  Let me explain.  I use a Bluetooth speaker in my golf cart – my primary form of transportation here in the world's largest retirement community.  I place it in an overhead tray just above and behind my head.  The one I currently use is square so the sound gets a little muffled.  This UBOOM L speaker from EarFun sits on a slight upward angle, potentially giving me more clear sound.  Second, this speaker is supposed to have better bass response – something that tends to get lost in my application.  Let's get into the review and see if there really will be "ear fun".
What is it?
The EarFun UBOOM L is a fairly standard Bluetooth speaker.  It plays sound from your Bluetooth source or a hardwired source via a standard 3.5mm socket.
What's in the box?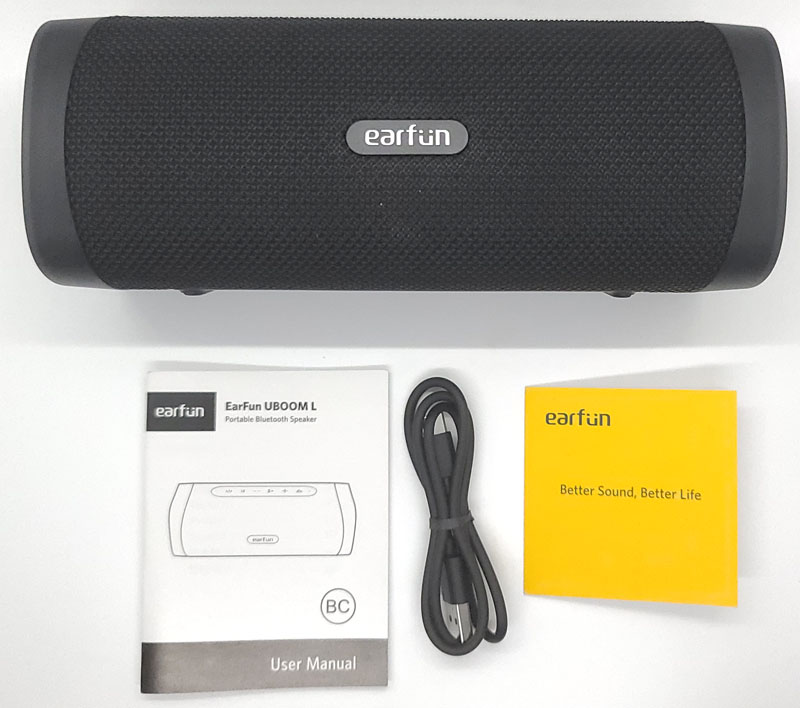 EarFun UBOOM L Bluetooth speaker
USB-A to USB-C charging cable
User manual
Support and social media card
Hardware specs
Dimensions: 78mm x 210mm x 72mm
Weight: 650g
Bluetooth: V5.0
Output power: 2 x 14W
Battery capacity: 7.4V, 2*2600mAh
Charging time: about four hours
Playback time: Up to 16 hours (varies by volume level and audio content)
Connections: USB-C for charging, 3.5mm aux input
True Wireless Stereo (TWS) compatible: Yes – can form a TWS pair with another UBOOM L speaker
Water resistance: IP67 – 100% protected against solid objects like dust and sand, and it has been tested to work for at least 30 minutes while under 15cm to 1m of water
Design and features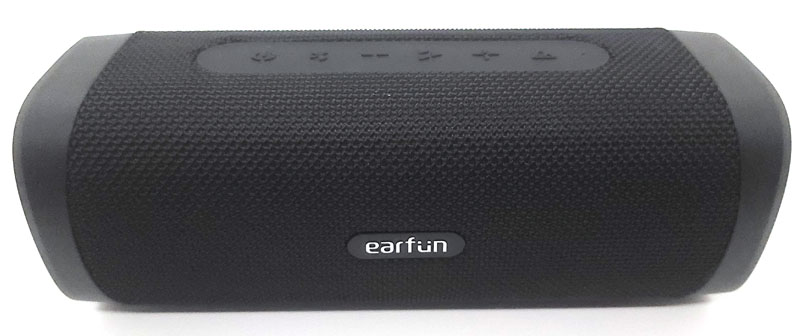 I keep using the term, "standard" as I describe the EarFun UBOOM L Bluetooth speaker.  That's because it has a standard design – to a point.  Let's start with the standard features.  The above photo shows the hard mesh surface that lets the sound out.
Underneath, we see the product label and two rubber non-slip feet.

The control and display panel sits on top of the speaker.  The buttons, from left to right are:
Power
Bluetooth
Down (-)
Play/pause
Up (+)
Sound mode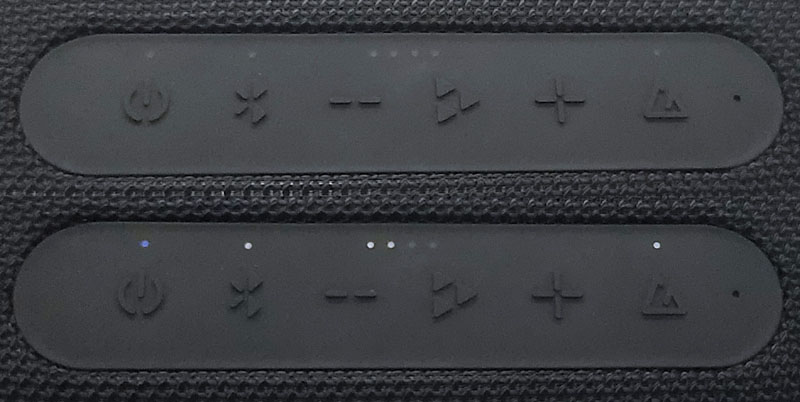 The indicator lights above the buttons (left to right) are:
Power/pairing/paired
Low latency mode on
Charge level (four LEDs representing 25%/50%/75%/100%)
Indoor (off), outdoor (on) mode indicator
One thing to note is that the charge-level LEDs only light up for a few seconds when you turn the speaker on.  Once they go out, the only way to check the charge is to turn the speaker off and back on again.
The buttons have multiple functions as follows:
Power
Bluetooth

x1 – start pairing
x2 – video (low-latency) mode on/off
x3 – TWS pairing

Play/pause

x1 – play/pause/answer call/end call
x2 – next track
x3 – previous track
hold for 2 sec – reject call / invoke voice assistant

Up (+)

press or hold – volume up

Down (-)

press or hold – volume down

Sound mode

x1 – outdoor/indoor mode toggle
hold 2 sec – TWS mode  /party mode
On the back of the EarFun UBOOM L speaker, we find the rubber-covered connection panel.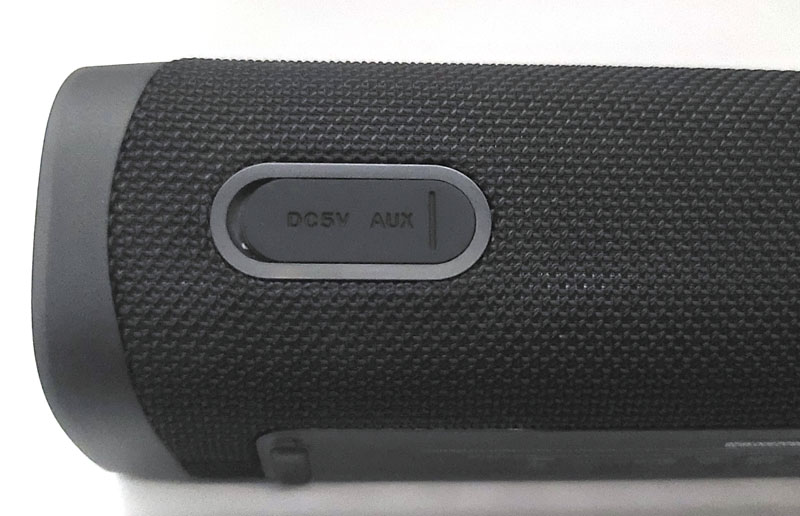 To open, you need to get a finger under that flap – a somewhat challenging exercise. Once you do, you can pop up the flap and get a good grip on it.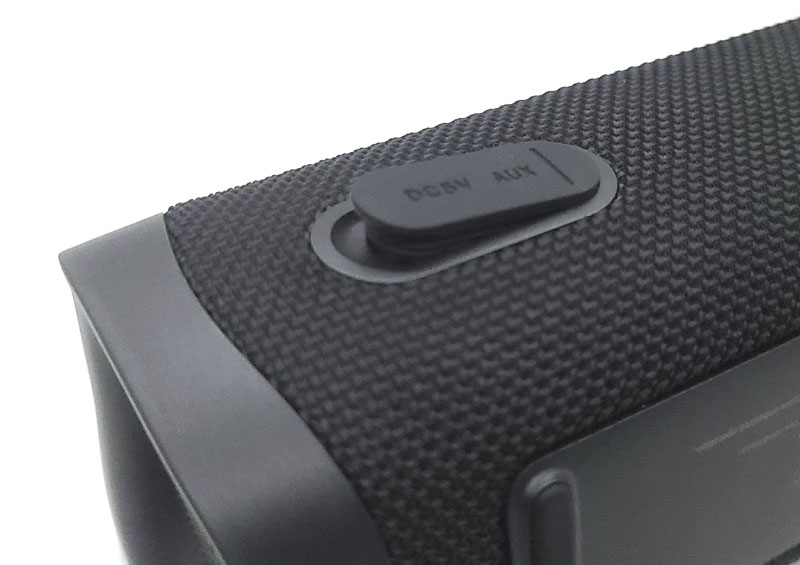 Opening the flag, we can see the USB-C port, the 3.5mm Aux port, and the reset button.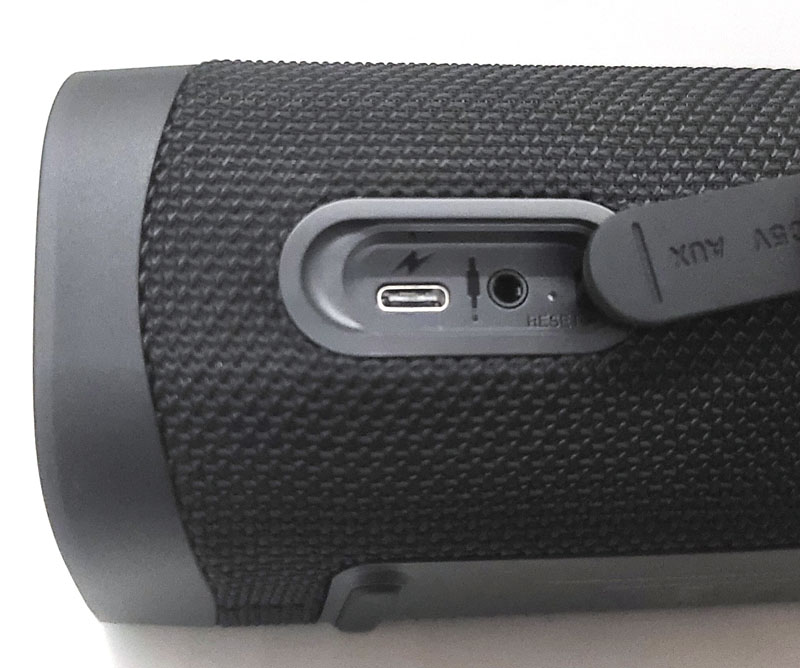 The flap is quite difficult to open, in my opinion.  There isn't enough to grip, so it takes a little work to open it. I could use a screwdriver or something else to pry it up, but I would worry about cutting the cover and screwing up the water resistance.
Now, let's get off the "standard" features. Here is a big difference with the EarFun UBOOM L speaker compared to other speakers.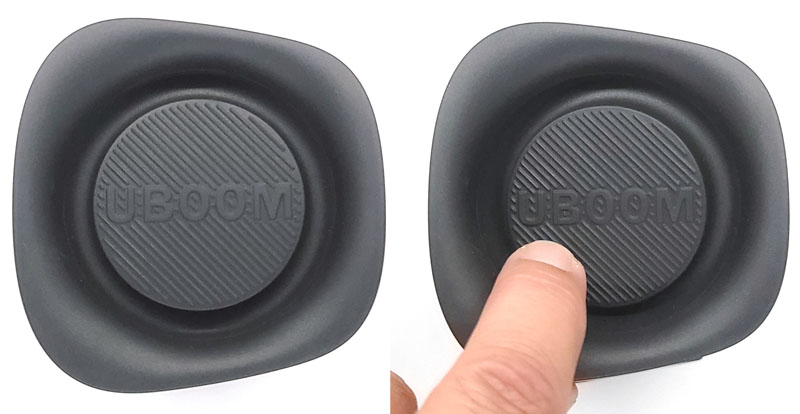 These appear on both ends of the speaker. As you can see, the disks are flexible.  So what are they?  Passive radiators.  Passive radiators respond to lower levels of output, effectively amplifying sound and bass without increasing the size of the overall speaker. They're fun to watch as they vibrate rapidly as the music plays.
Setup
There is nothing mysterious in setting up this speaker.  First, charge the speaker until all four charge-level LEDs illuminate.  Then, turn it on and pair it to your source.  I turned it on and my phone immediately found it.  I clicked "pair" and we were in business.  This is when I noticed something.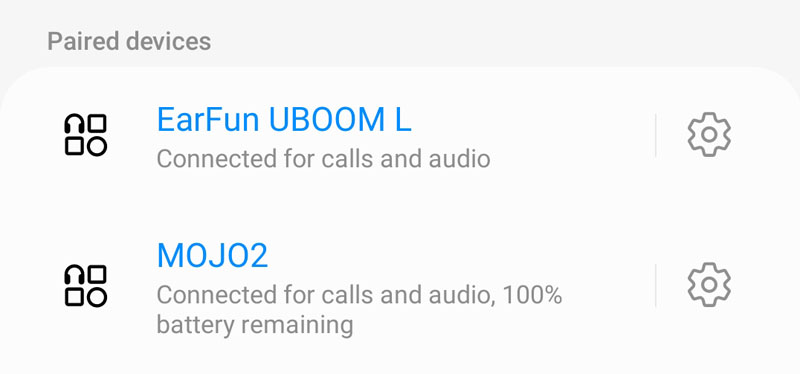 Unlike every other Bluetooth device I have ever used, the EarFun UBOOM L speaker doesn't report its charge status to the source device.  Really?  Wow. Combine this with the fact that you can't check the charge level LEDs when the speaker is on and it sure seems like someone was asleep at the wheel when designing this.
Performance
Cool features aside, a speaker isn't worth your time unless it sounds good, and the EarFun UBOOM L doesn't disappoint.  For my application, it sounds great in my golf cart.  The slight upward tilt really makes a difference and I get full, rich sound as I tool around.  Just plopping it on a table works equally as well, producing room-filling sound.  The outdoor mode widens the output, making this great for parties outside.  Its small size makes it easily portable.
One area where it fell flat was watching a Youtube video on my phone.  The sound wasn't in sync with the video and it made it completely unwatchable.  Wait!  Let me try out the video mode with low-latency sound! I double-clicked the Bluetooth button, the video mode LED turned on, and ta-da! The video and sound were in sync.  One thing to note is that video mode and TWS are not compatible, so you can't pair two speakers in a TWS pair and then enable low-latency sound.  I wish low-latency sound was standard, but I guess that must involve a little rocket science.
We talk with our adult kids regularly and typically do that via a speakerphone.  Most often, I just use the speakerphone option on my cellphone, even though the sound is less-than-stellar.  I've tried other Bluetooth speakers as well, but the kids reported that we sounded terrible.  I tried out the UBOOM L and we've found our solution.  Both kids reported that we sounded great.  We thought the sound quality on our end was terrific too.
In use, I haven't gotten the claimed 16 hours of battery life.  Of course, that did come with the caveat that it is dependent on volume and audio content.  I'm using this at a fairly high volume as I'm cruising in my golf cart.  I've gotten more than ten hours at that elevated volume, listening to pop/rock with the speaker in outdoor mode.  That seems to me to be pretty reasonable.
What I like
Small size, big sound
Video mode works great
Great speakerphone sound
Decent battery life
What I'd change
The speaker doesn't report its charge status to the sound source so the only way to check the charge level LEDs is to turn the speaker off and back on
The rubber cover for the charging port is a bit difficult to open
You can't use video mode and TWS at the same time
Final thoughts
I'll just say it – the EarFun UBOOM L is a great little speaker.  For its size, it produces great sound that can fill a room.  I wish the battery life was better.
Price: $79.99
Where to buy: Amazon; EarFun
Source: The sample of this product was provided by EarFun.