We use affiliate links. If you buy something through the links on this page, we may earn a commission at no cost to you. Learn more.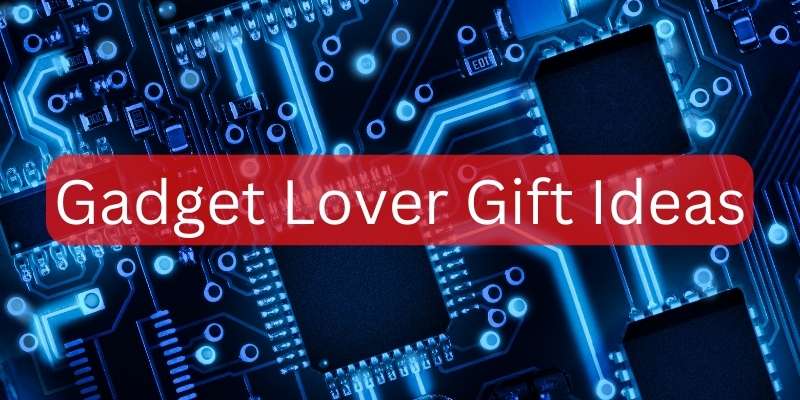 ARTICLE – If you're here, you love gadgets so here is a selection of cool gifts that will make the gadget obsessed happy!
LUMI KEYS keyboard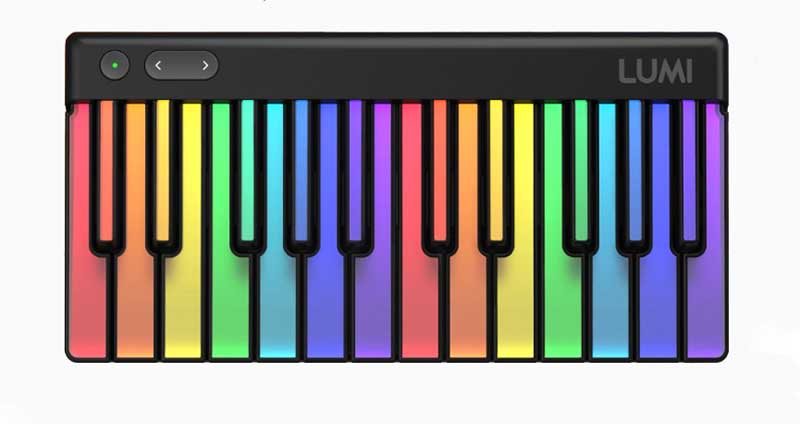 If have someone on your gift list (or even yourself) who has always wanted to learn how to play the piano, this is the right gadget for you. LUMI KEYS is an all-in-one learning platform that gives you a teaching coach that you can access 24/7 from the comfort of your own home.  You will learn to play the classics and modern songs too through games and lessons that help you see your daily progress and give you confidence and inspiration to practice every day. The 24-key musical keyboard is compact so it barely takes up any space when you're not using it and it has a modular design so that it can grow with you. Buy extra LUMI KEYS and they snap together! The keys have built-in LEDs that not only look cool but help you learn the keys to press when learning a song. Note that you'll need an iOS or Android device in order to learn with LUMI.
Price: $239.00 + monthly ($14.99) or yearly ($79.99) membership
Where to buy: playlumi.com
ATTOP Drone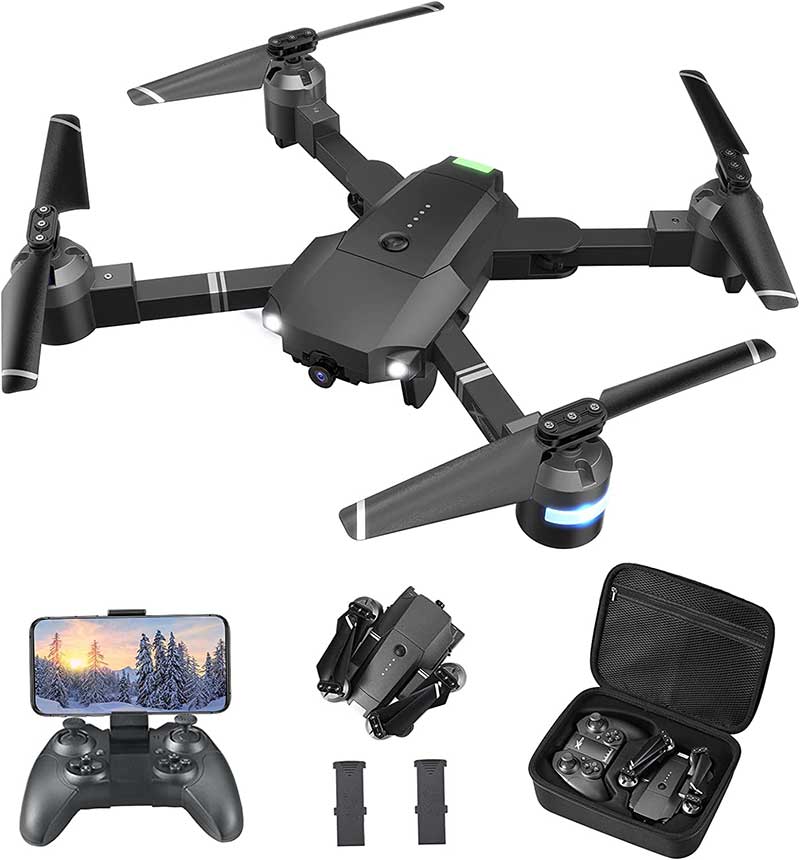 I've probably reviewed a dozen drones over the years and I think this kit has everything you need to get started with this fun hobby without taxing your wallet. The ATTOP X18 drone features 1080P 120° wide-angle video capture, comes with 2 batteries, a gaming-style controller, has 1 key take-off and landing, and folds for easy transport in an included zippered carrying case. If you or someone that you know has always wanted to try a drone, this one would make an inexpensive gift. It's also a good idea to learn on a cheaper drone before paying a lot more money for an advanced model.
Original Price: $99.99
Discount: 5% coupon + 25% code: I8DAATCH (expires: 2022-11-24 23:59 PDT )
Final Price: $69.99
Where to buy: Amazon
Targus HD Webcam Plus with Auto-Focus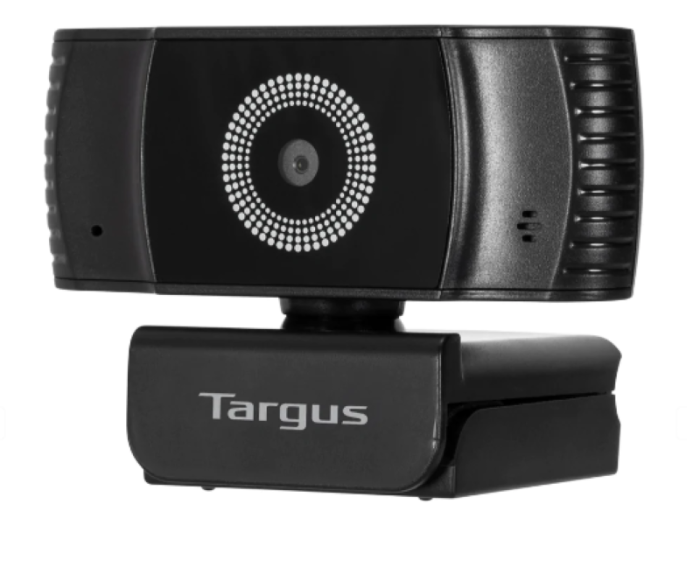 Out of gift ideas for the streamer in your life? Just land a new work-from-home position and need to appear in video chats? Family living across the pond? The Targus HD Webcam Plus with Auto-Focus is the answer. Video capabilities include HD 1080p picture quality at 30fps, a 67° diagonal field of view, and 360° rotation. The built-in microphone saves precious USB port real estate, which is fantastic considering how many plugs nowadays are USB. Also, I commend Targus for creating a camera with a physical privacy slider that can give peace of mind that a user won't be producing their own version of "The Truman Show". The Targus HD Webcam Plus also boasts a universal mounting clip and integrated tripod thread for ease of use. It is compatible with Windows, macOS, and Chrome OS, and is designed to plug and play out of the box for even the least tech-savvy users. Communicate this holiday season in HD with Targus!
Price: $59.99
Where to buy: Targus.com
Spice of Life Buddy Beat Light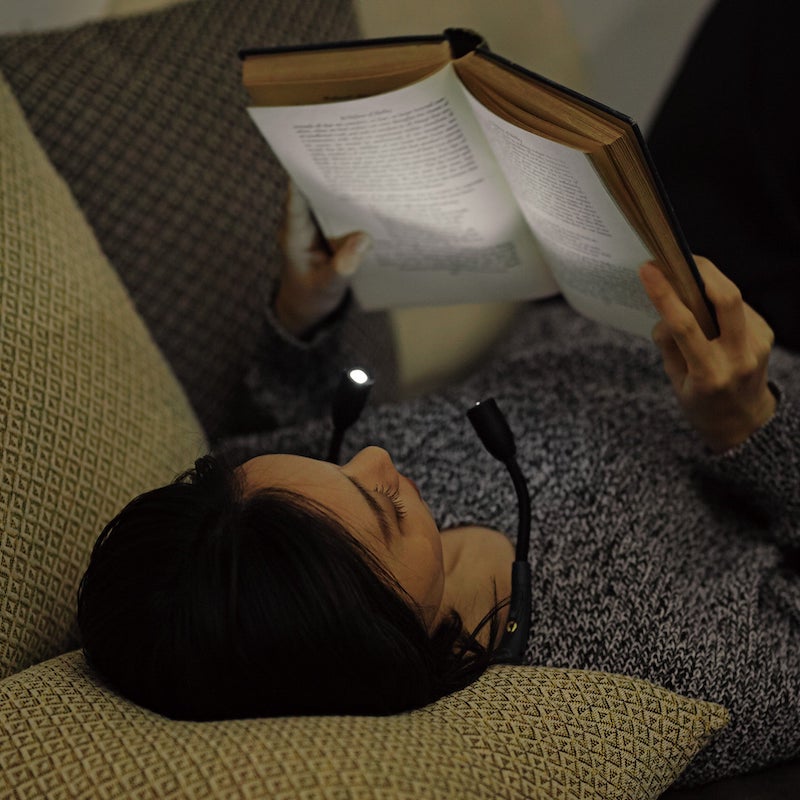 Does your significant other come to bed after you? Do they like reading a book in bed to help them unwind before they fall asleep? Does the bright light from the light on their nightstand keep you awake while they read? If so, then the Spice of Life Buddy Beat Light is the perfect gift to give them this Christmas. The Buddy Beat is a horseshoe-shaped reading light that is worn around the neck. On each end, there are flexible tubes that can be pointed wherever you want, and at the tip of each tube a small LED light, light baby flashlights. The idea is to put the Beat Light around the neck, lay down, long-press the on/off button on the right side to turn it on, tap it again to set it to normal light–the default setting is a blinking light–lay down, and then bend the tubes so that the lights point at the book. The lights are more than bright enough to light up the pages of a book, but not so bright that they fill up the room with light. I have found it to be the perfect reading companion.
The Buddy Beat Light has other features as well. The Bluetooth button on the left side uses Bluetooth 4.2 to connect to your phone or tablet. This allows it to play music or podcasts out of the small speakers located on the sides. It can also receive phone calls! A smaller pair of buttons allow you to raise or lower the volume. I used it one evening to listen to YouTube videos, and the sound was clear and easy to hear in the quietness of my house.
The Spice of Life Buddy Beat Light comes in four colors: black, white, lime green, and camouflage. The rechargeable nickel-metal hydride batteries are charged using the included USB-A to USB-C cable, and it takes about four hours to charge. Spice of Life estimates that the Buddy Light can operate for about twenty hours when just using the light, ten hours when just using the speakers and six hours when using both.
Price:  $64.99
Where to buy: Amazon and Spice of Life's online store
iDPRT Future800 Thermal Printer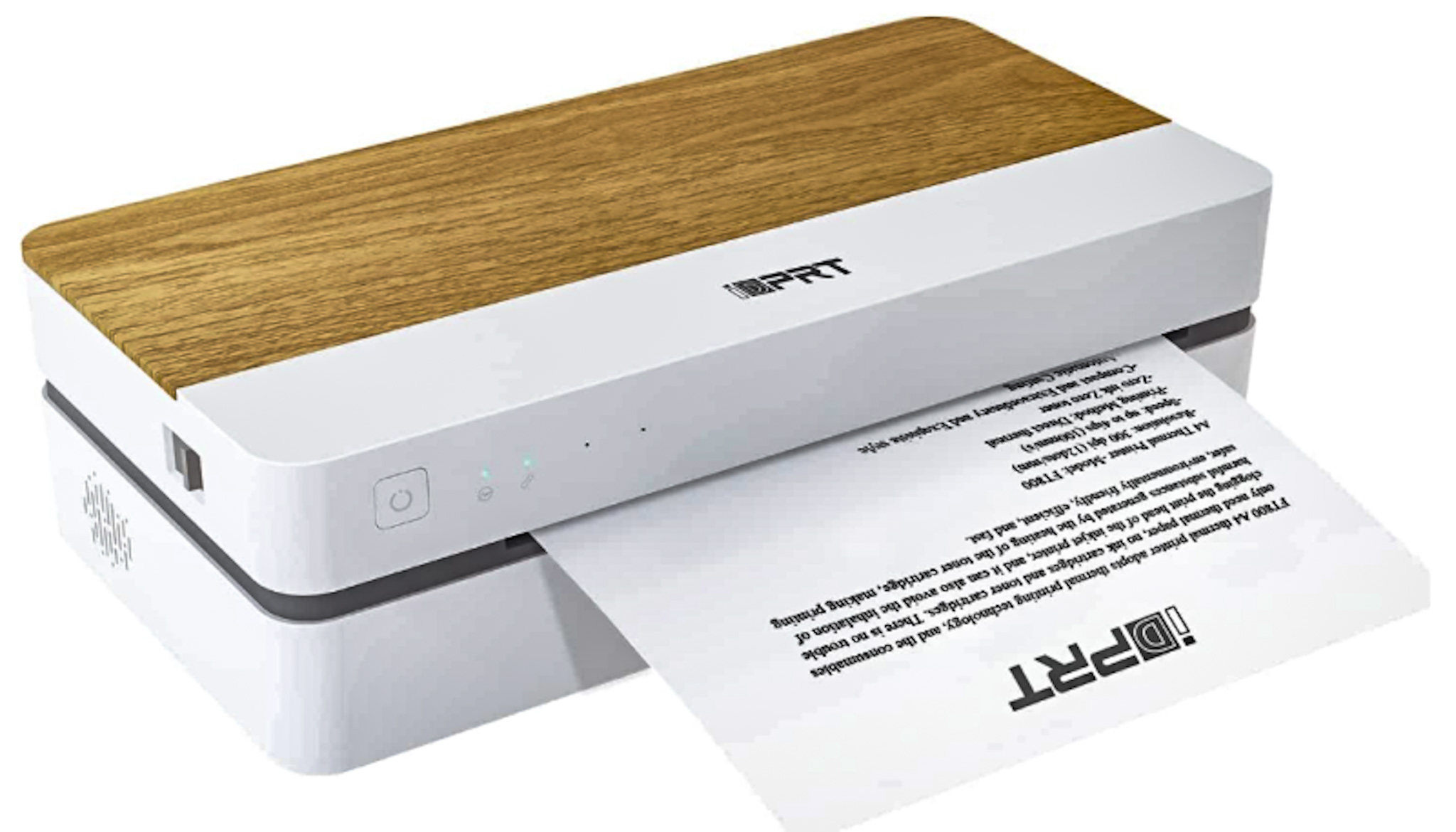 With the holiday season upon us, we all face the challenge of finding great gifts for family and friends. In many cases, it is even harder when we have to find a gift for the techie person who is used to having all of the gadgets needed for convenience. Also, some of us need to buy gifts for the students we know who are always on the go. Regardless of the challenge, this iDPRT Future800 Thermal Printer would be a great gift.
It is a wireless A4 thermal printer in a compact size that features WiFi and USB connectivity and its size makes it ideal for travel. Using the "HerePrint" app via Wi-Fi or hotspot an A4 Thermal Paper roll,  you can print a letter-sized document in approximately 3 seconds. It has a 100-sheet paper capacity (roll), and will automatically cut from the roll of paper it uses.  It prints at a maximum resolution of 300 dpi and does not require any preheating. Since it does not use any ink or toner, it is a clean and environmentally friendly way to print on the go.
Price: $189.99
Where to Buy: Amazon
EMEET S600 Ultra HD 60FPS Webcam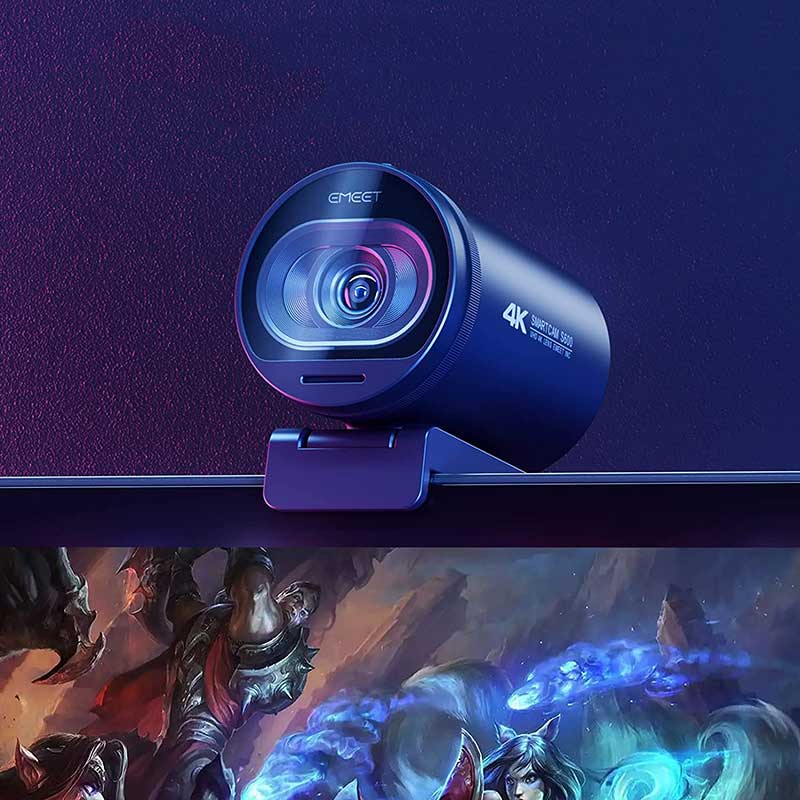 The EMEET S600 Ultra HD webcam is a 4K webcam that will make you look great for all those boring but necessary work-from-home tasks like Skype video calls, Zoom and Microsoft Teams meetings, and also for fun stuff like live game streaming, blogging, and more. The S600 features autofocus, 60fps, an 88° wide angle lens, built-in dual noise-canceling microphones, and a built-in privacy cover.
Original Price: $89.99
Discount: 5% instant coupon
Final Price: $85.50
Where to buy: Amazon
Targus wireless headset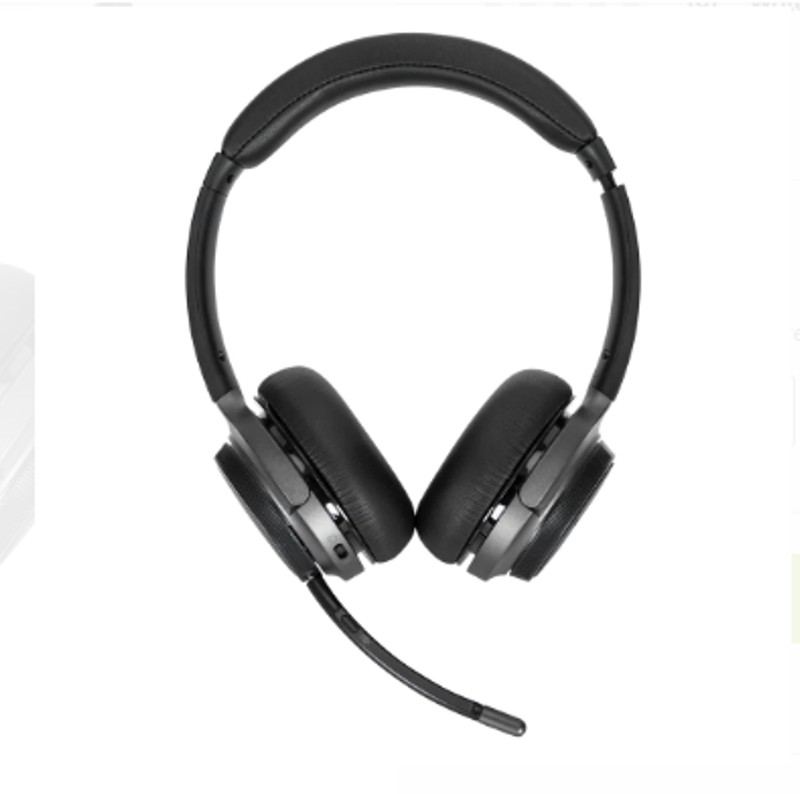 My teenager added this Targus wireless headset to his Christmas wishlist.  Like a lot of us, he's often plugged in. He could be doing schoolwork, gaming, watching videos or talking to friends. And often he's doing more than one of those, simultaneously. If you know someone who could use an upgrade in their headphone situation, consider this  Bluetooth wireless headset. It features padded earpads/headband, and noise-canceling technology. And I like the versatility; while it has a detachable, rotatable boom microphone, there's also an internal microphone, if you prefer.  And while it's wireless with 16+ hours per charge, we like that there's an option for a 35mm aux wired connection, too (my son's Xbox doesn't have Bluetooth, so without the wired option, this would be a no-go for us).  With these options and features, the Targus headset is an easy gift option for anyone in your life who does work or school online, is into gaming, or just likes to chat with friends while watching YouTube.
Price: $89.99
Where to buy: Targus.com
EPOS H6Pro Gaming Headset Audio Bundle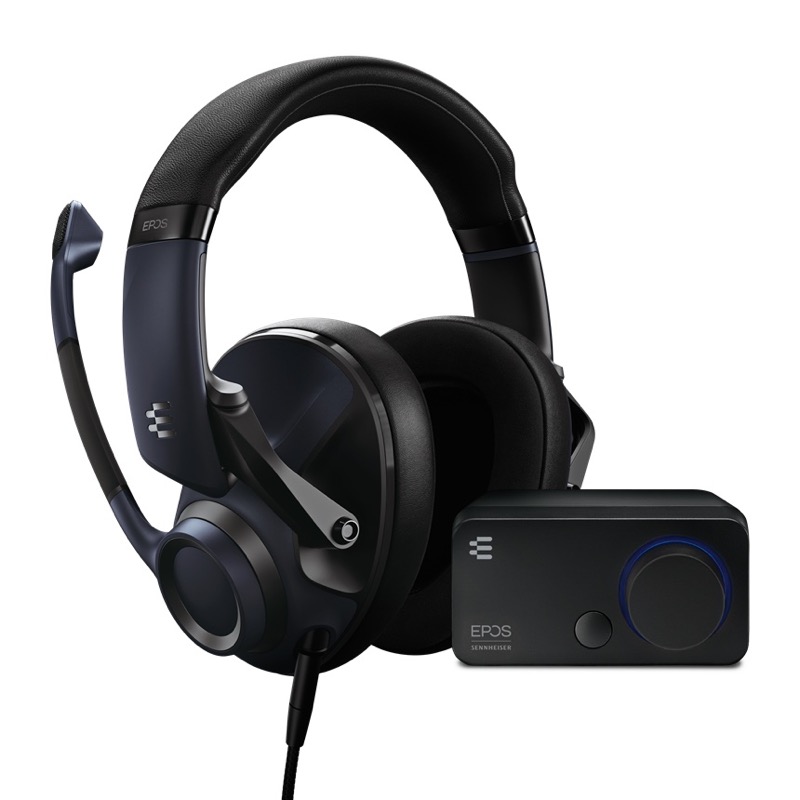 Do you have a gamer on your gift list? Do you want to treat yourself to some nice audio gear? EPOS, which originated from Sennheiser Communications, offers the H6Pro Audio Bundle.
You'll get your choice of the H6Pro headset (open or closed) and the GSX300 external sound card, which features customizable 7.1 surround audio processing. The LED ring around the volume knob changes color to indicate audio mode. The microphone boom detaches without fuss via magnets, and mutes in the up position with a nice tactile "click".
Price: $199 (open or closed)
Where to buy: EPOS Audio and Amazon
Nreal Air AR Glasses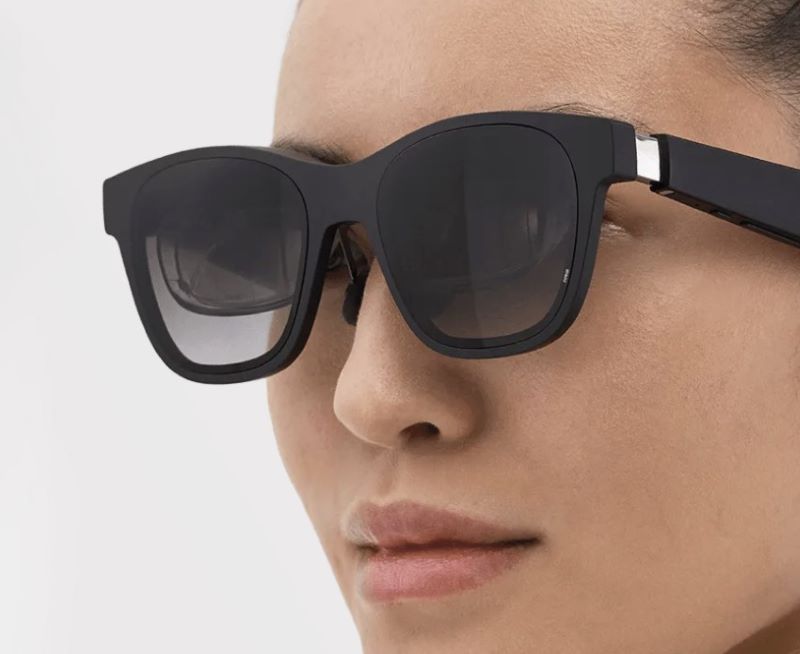 Do you know someone who would love a full HD 130 inch display in their pocket? Strange question, I know, but that's the premise of the Nreal Air AR Glasses. Connected via USB-C or wireless casting to a smartphone, Nintendo Switch, Steam Deck, or Mac computer, these glasses display a large personal screen for the user, while looking pretty much like standard sunglasses to everyone around them. Micro-OLED screens for each eye, built-in speakers, and even prescription lens holders round out what looks to be a fantastic personal media consumption system. There's an augmented reality mode with a list of compatible Android phones that allows for 3 degrees of freedom (the ability to look in any direction) while interacting with first and third party AR apps. the Nreal Air AR classes might be the perfect item for a game, movie, or TV lover who has to compete for the family TV or travels often.
Price: $379.99
Where to buy: Amazon
Vena vCommute Samsung Galaxy case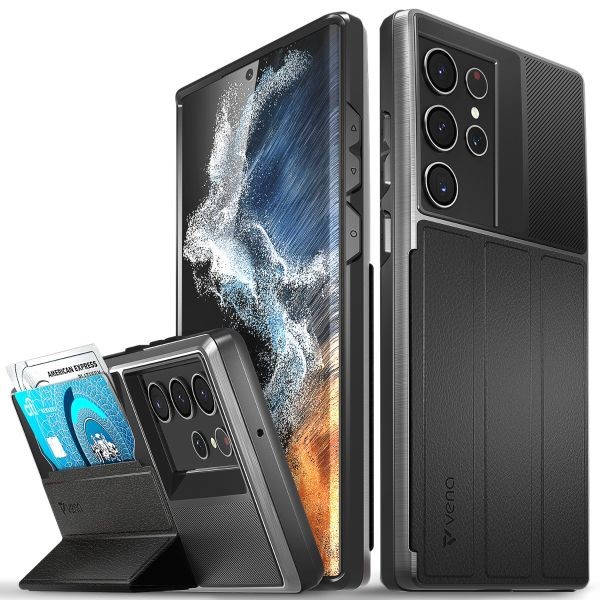 We all do the (at a minimum) triple check for phone, wallet, and keys before leaving the house.  The size of phones gives us some flexibility with our EDC, and a wallet case can serve the dual role of protecting your device while also carrying a few cards.  This lets you simplify your EDC for quick trips and leave your wallet at home.
The vCommute series by Vena is a robust case in a svelte design, meeting military drop protection standards.  As a cardholder it does a good job of securing cards but also keeping them easily accessible, and the card cover that doubles as a kickstand is a nice touch.  The fit and finish of the vCommute are also well done with precise cutouts and clearly defined buttons.  This is an excellent case for anyone looking to pare down their EDC, or just have a multifunctional phone case.
Price: $24.99 and up
Where to buy: Venaproducts.com and Amazon
Smartish phone cases and accessories

If you're not the type of person that doesn't want a boring black plastic case for your smartphone, then Smartish is a company that you need to check out. Whether you want to protect your phone from damage or need a classy way to charge your phone, their products can help you achieve that. There are interesting crossbody wallet cases for your phone, protective armor cases, and even wireless chargers that make fast charging easier and simpler than ever before. Not only will you be impressed with the quality of Smartish gear, but the prices won't make your wallet groan which is always a good thing around the holidays when your gift-giving list is a long one. Oh, they have black cases too if that's your style 😉
Price: varies with product type but very affordable
Where to buy: Smartish and Amazon
RapidX mobile accessories Capo charger, Dashio car chargers, PortoUno, and MyDesktop Pro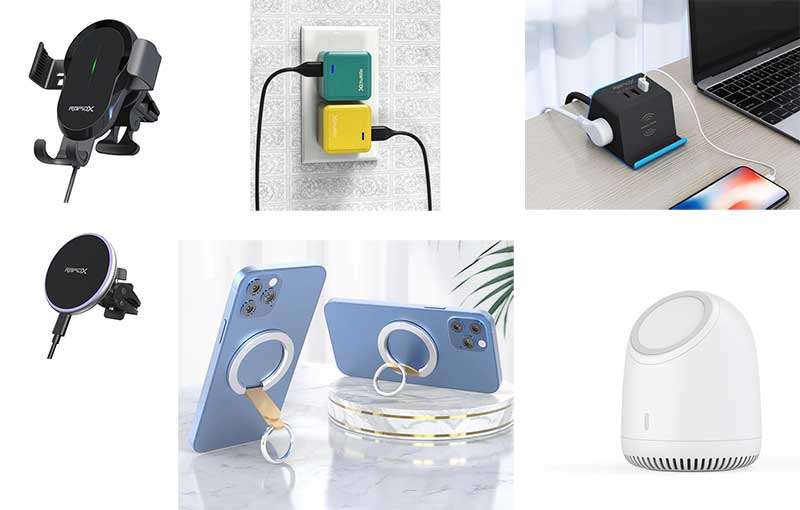 RapidX offers a large variety of products suitable for modern mobile life. Their wireless Capo charger does double duty as a portable Bluetooth speaker and a stand for the latest iPhone models with Magsafe. If you want a desktop charger on steroids, then the MyDesktop Pro is the one to check out. It features 3 USB ports, 2 power outlets, a stand for your device, and of course, it offers wireless charging. Their PortoUno 30W wall chargers add a pop of color in a tiny package that can fast charge your favorite devices. Those chargers have you covered for inside your home or at work, but they also offer quite a few car chargers like the Dashio vent-mounted wireless charger that has a slide-in locking cradle for all smartphones and their MagSafe Dashio for iPhone fans. One of my favorite newer products is their Snapo 2-in-1 magnetic phone grip and stand for iPhones with MagSafe. I use one of these every day as a stand for my iPhone when I'm watching videos or talking to my sister through the app Marco. It works great and I love it because I can snap it on when I need to use it and easily remove it when I don't. If you need accessories for your smartphones, I highly recommend checking out RapidX. Not pictured above, but their Modula5 Wireless Charging System is one of my all-time faves especially when I travel.
Price: varies with the item
Where to buy: rapidx.io and Amazon
Lookstand adjustable height phone stand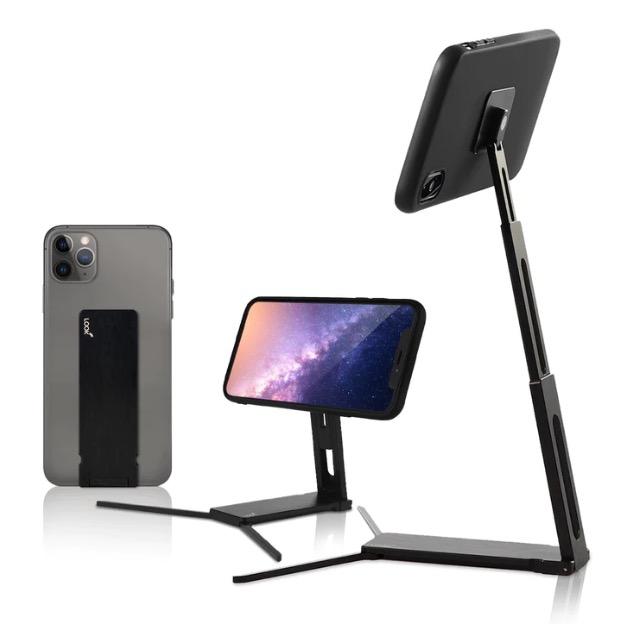 The Lookstand is a phone stand that adapts to fit the task at hand. Whether you are on a call with someone or you just want to watch a movie, the Lookstand has you covered with its cool height-adjustable design that ranges from 3.5 – 7 inches. It also allows you to tilt and rotate the display. The Lookstand is made of lightweight aluminum and is available in several colors. You can use it with any phone by attaching the mount to the back of your device. Removing the stand from this mount allows you to easily charge your device wirelessly.
Price: $45.00
Where to buy: hellolookshop.com and Amazon
Tidbyt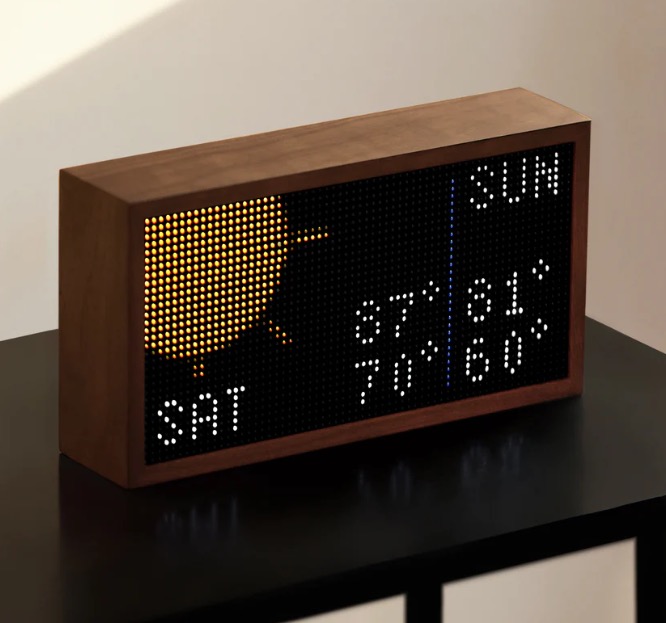 Tidbyt is one of those cool gadgets that is limited by your own imagination. It's a personal pixel display that can can be as simple as a clock, but it can also show plenty of other things you are interested in like stock tickers, your current weather, how many YouTube followers you have (go subscribe to the Gadgeteer channel right now please! ❤️) not to mention your favorite sports team results, and so much more. This personal display can be customized by using a good-sized library of apps, but if you don't see exactly what you want, you can always build your own app!
Price: $199 but currently on sale for the holidays for $179
Where to buy: buy.tidbyt.com
Twelve South Hover Tower iPad stand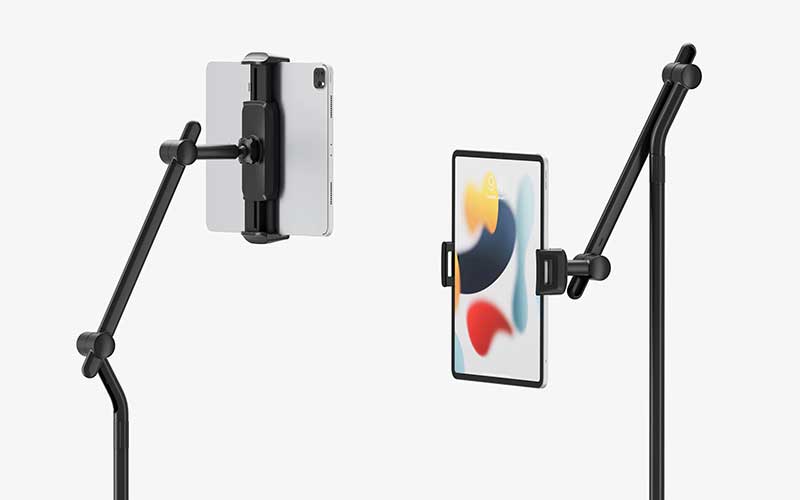 Whether you want to follow along with an instructor-led workout, share a presentation online, watch movies, or use your iPad as a second (0r even third) display, the Twelve South Hover Tower stand has the flexibility and versatility you need hands-free. It really stands out (sorry for the pun) with its height-adjustable form factor that goes from 36 inches to as high as 62.5 inches! The weighted base means that it remains stable and won't tip over, while the articulating arm means that you can put the iPad's display exactly where you need it to be. It even works with most cases attached and the stand is available in black or white.
Price: $129.99
Where to buy: twelvesouth.com and Amazon
SideTrak Swivel portable monitor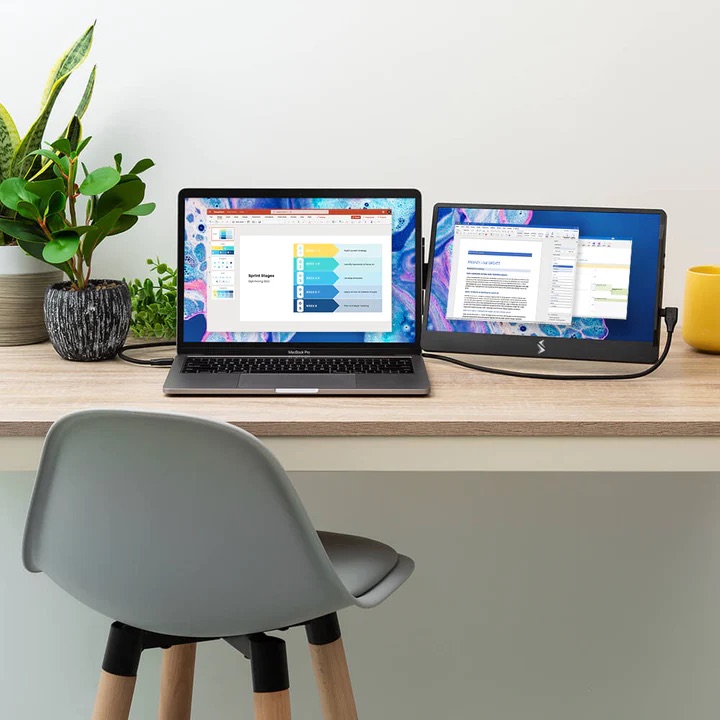 Even if your laptop's display is suitably sized for most tasks, the truth is that more screen space is always welcome and sometimes you want a portable monitor that you can take with you as well. That's where the Swivel HD portable monitor from SideTrak comes in. This 1920 x 1080 resolution monitor which is designed to clip to the back of your laptop's existing display is compatible with Windows, Mac, and Chrome laptops. It's available with a 12.5 inch or 14 inch display, connects with Thunderbolt USB-C, USB-A and HDMI, and features a built-in kickstand to keep it stable. The display can rotate 270° & swivels 360° giving it quite a bit of flexibility. You can even buy two of them to attach to both sides of your laptop's display for a 3-screen setup. WOW!
Price: $339.99
Where to buy: sidetrak.com
LectroFan Micro2 speaker and sound machine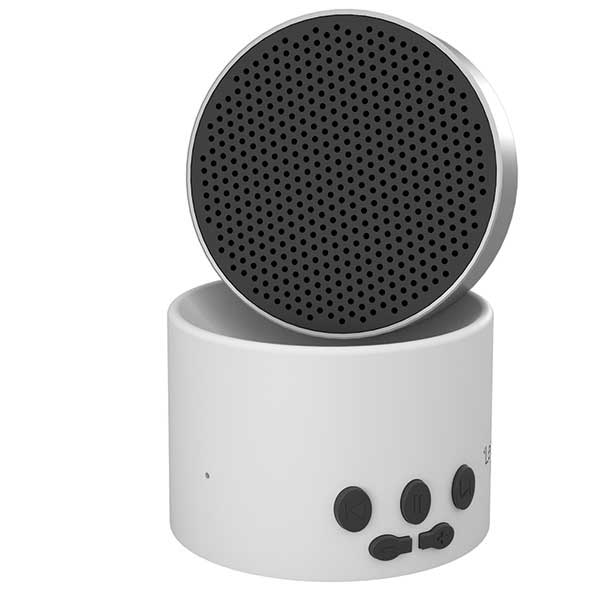 The LectroFan Micro2 is an ultra-portable sound machine and a Bluetooth speaker that makes it a convenient travel companion since it's very small. You can choose from 11 different sounds including five digital fan sounds, four variations of white, pink and brown noise, and two ocean surf sounds that are guaranteed to not loop which means that you won't be able to hear the sounds stop and restart while you're trying to go to sleep. The built-in rechargeable battery will last for up to 40 hours of playtime when used for sleep sounds, or 20 hours when playing Bluetooth audio.
Price: $34.95
Where to buy: soundofsleep.com and Amazon
Adonit Neo Pro stylus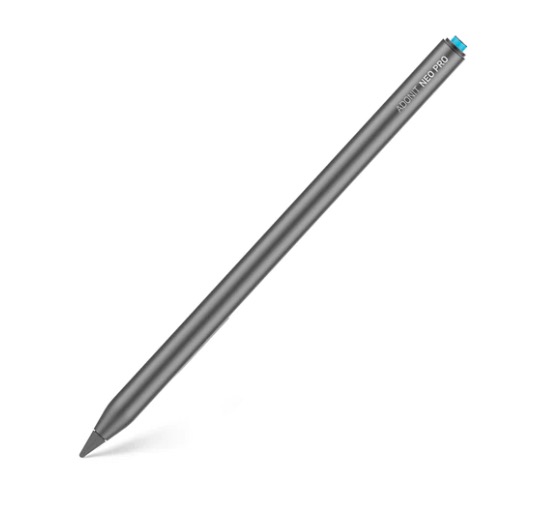 The Adonit Neo Pro stylus is designed to help you do all kinds of tasks on your iPad, from taking notes to bringing your artistic vision to life. This stylus is a far more affordable alternative to the Apple Pencil and it even charges AND attaches magnetically to the side of our iPad just like the Pencil which means no more cables! Note that the wireless charging feature is only compatible with the iPad Pro 11″ (1/2/3), iPad Pro 12.9″ (3/4/5), iPad Mini 6, and iPad Air 4/5. Other features include tilt sensitivity, palm rejection, and the ability to replace the tips.
Price: $44.99
Where to buy: adonit.net and Amazon
EMEET Meeting Capsule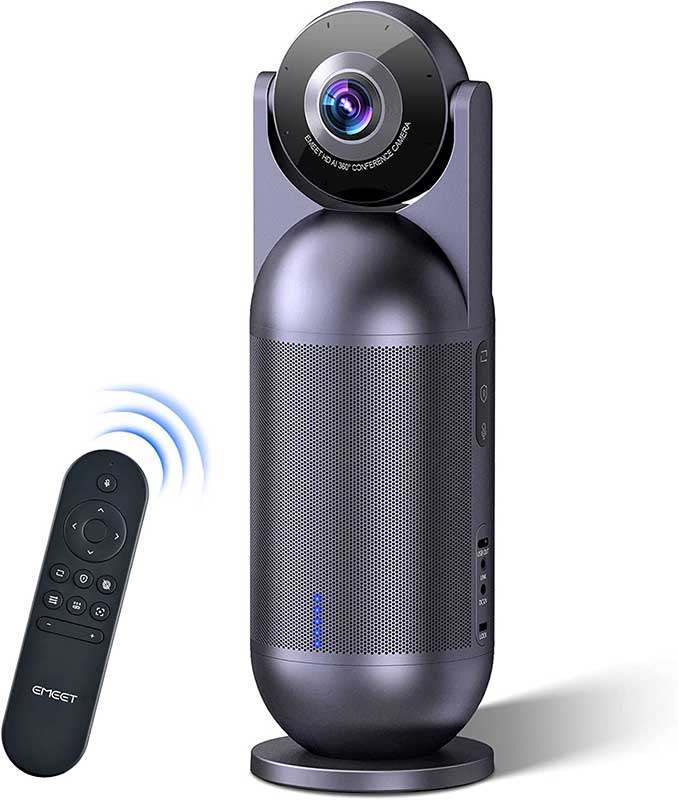 If you're in the market for a high-end video conferencing camera, the EMEET Meeting Capsule features a 360-degree camera that's designed to capture your whole meeting room. It has 8 built-in microphones and a 10W speaker for great 2-way audio. The EMEET Meeting Capsule also has advanced features like AI tracking technology that frames the main speakers via voice and face.
Original Price: $799.99
Final Price: $649.99 ($50 coupon)
Where to buy: Amazon
Targus Sagano Campus EcoSmart backpack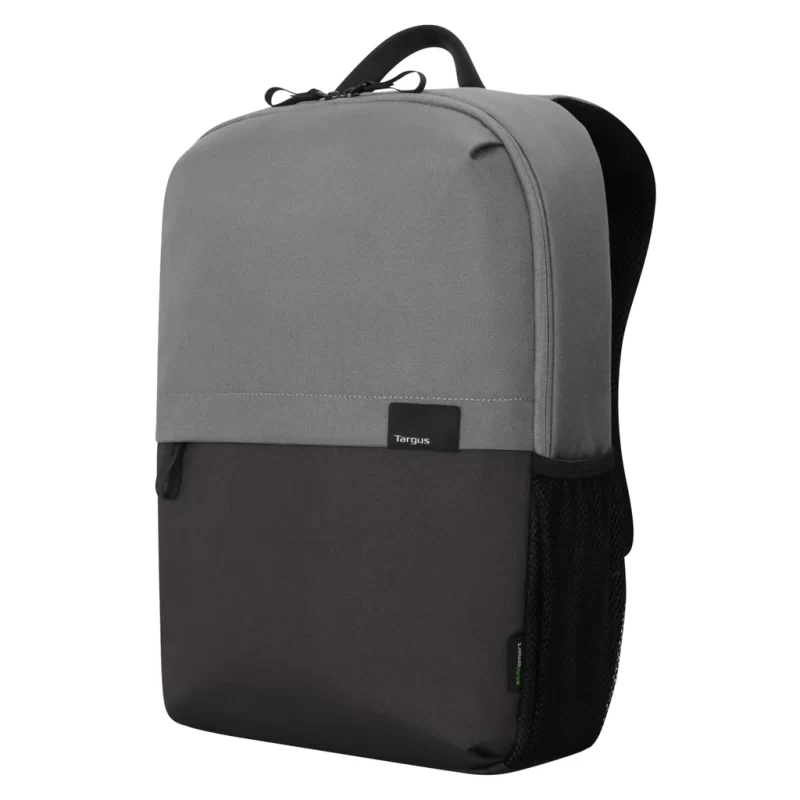 If you have someone on your holiday gift list that is a tech minimalist, we've got just the thing for them. Targus, which has been making computer bags since the invention of laptops, just released another item in their EcoSmart lineup – the Sagano Campus. It's a slim grey bag with some good interior organization and a padded compartment for a slim screen up to 15.6" diagonally. This could be a laptop, tablet, or portable monitor.
There's also a slightly smaller, less padded zipper pocket, a few pen loops and card slots, and a decent amount of space for gym clothes, a sandwich, or textbooks. Outside, there are two net bottle holders and a full-width zipper pocket across the lower side under a contrasting grey color.
The main pocket has a dual-slide zipper and folds down for interior access. Above the padded mesh backing, the curved shoulder straps are sewn into the top seam alongside a rolled haul loop.
The entire unit is made from recycled PET (About 7 water bottles gave their lives for this pack!), so you can give it to your most Eco-friendly student without asking if they are vegan or not.
Features:
On-trend, minimalistic design with slim profile
Padded laptop compartment
Large, zippered front pocket
Convenient workstation with pen loop, card holder, and zippered pocket
Adjustable comfort shoulder straps
Padded back with breathable mesh fabric for air circulation
2 water bottle pockets
Made from 7 recycled PET bottles
Price: $44.99
Where to buy: targus.com
DEPGI Portable Gaming Monitor for Xbox S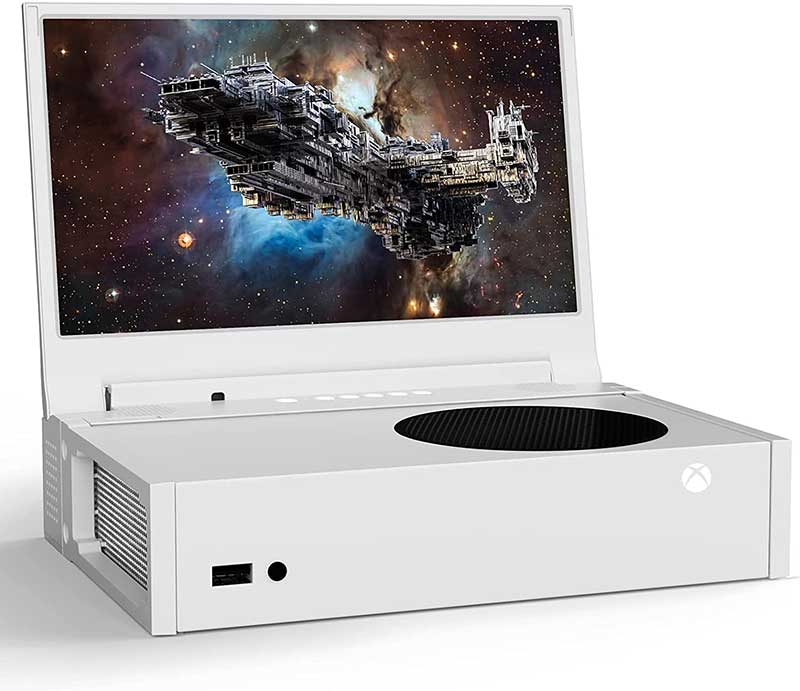 DEAL NEWS – Xbox S gamers will love the DEPGI Portable Gaming Monitor which has been specially designed to attach to the Xbox S gaming console to provide an all-in-one gaming system that features a 12.5-inch 1080P IPS display. This gaming accessory also provides dual HDMI ports and audio jacks if you want to hook it up to your favorite speakers. Play your favorite games indoors or outdoors with this cool gaming accessory.
Price: $254.49
Where to buy: Amazon
Hohem iSteady Q Gimbal Stabilizer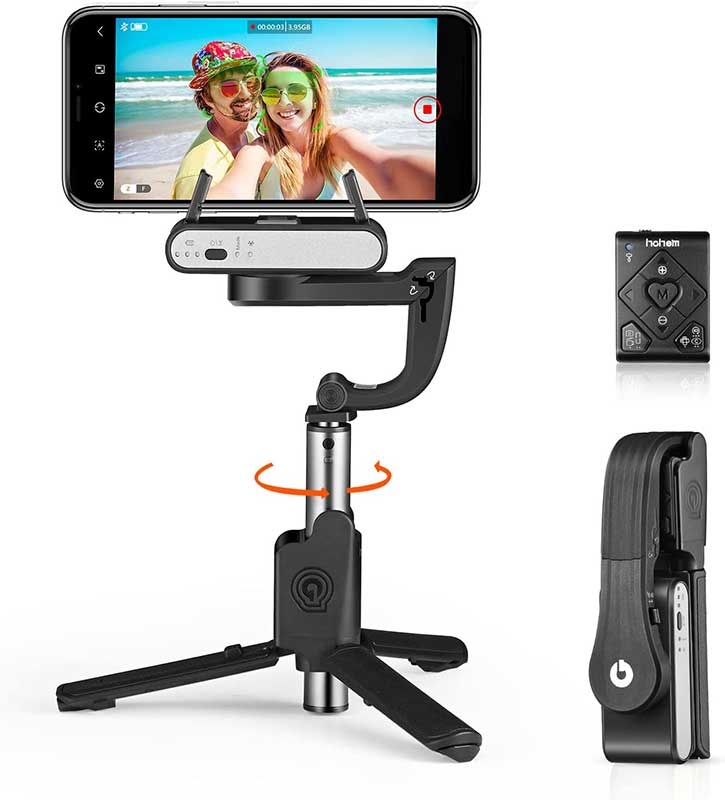 Take your pic, video, and selfies to the next level with this ultra-compact smartphone 2-axis gimbal from Hohem. This 4-in-1 extendable portable gimbal/tripod features face tracking and follow mode, 360° rotation, and more. It's compatible with phones sized similarly to the Samsung Galaxy, OnePlus, and iPhone 13 Pro Max.
Price: $39.99
Where to buy: Amazon
FOPO 12″ Triple Laptop Screen Extender

Increase your laptop's screen space by adding monitor on either side of the existing monitor. It features two 12″ FHD 1080P IPS full HD 1920 x 1080P resolution, USB-C/HDMI, IPS screen, 74% NTSC delivers rich color and clear images with a 178°viewing angle.
Price: $369.99 with instant $100 coupon
Where to buy: Amazon
Lepow 2022 15.6″ monitor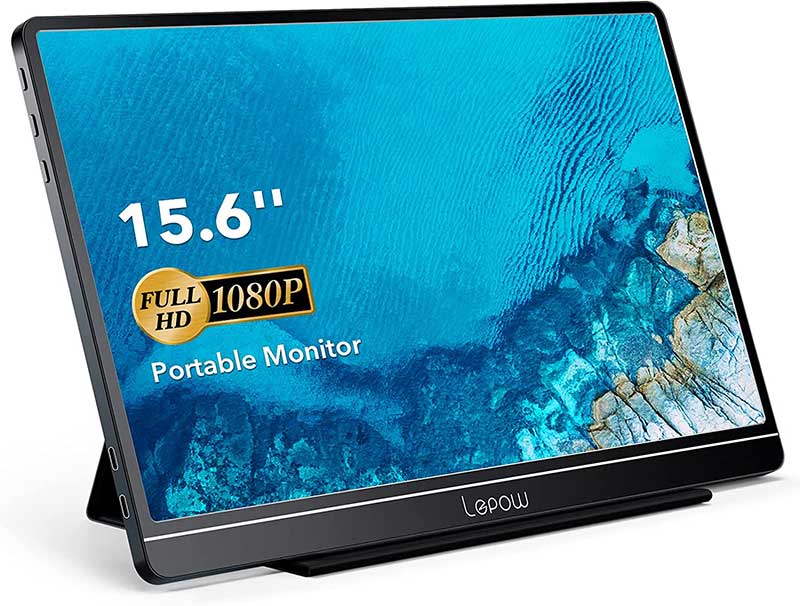 This portable display can go with you to the office, coffee shop, and vacation. It features a 15.6″ FHD 1080P display with IPS Eye Care Screen, Dual Full-Function Type-C, Built-in Speakers, and a smart cover that functions as a stand and protects it when it's not being used.
Price: $129.99 with instant $20 coupon
Where to buy: Amazon