We use affiliate links. If you buy something through the links on this page, we may earn a commission at no cost to you. Learn more.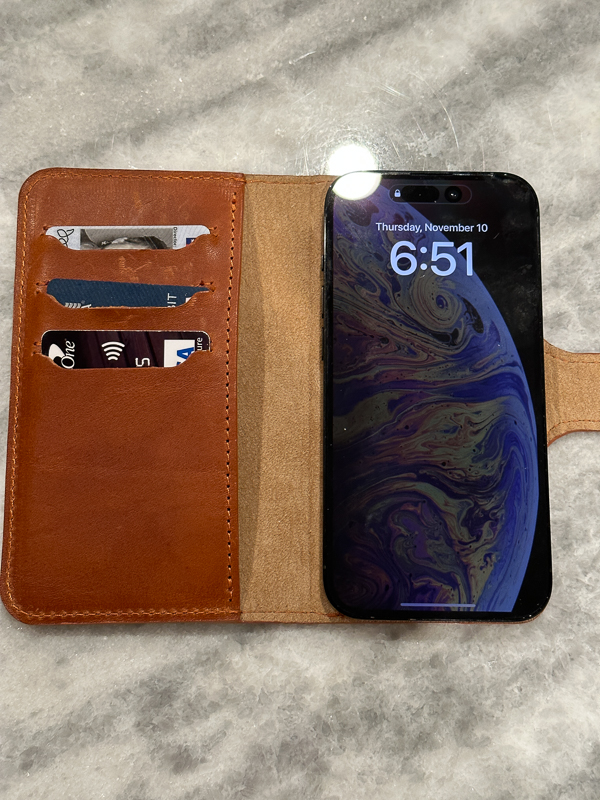 REVIEW – I have been searching for the perfect case since getting my new iPhone 14 Pro in October.  I used a Noreve Wallet Case I reviewed here on my iPhone 11 Pro last July.  I love having my wallet and phone all in a single carry item.  I was intrigued when the Geometric Goods iPhone 14 Pro Leather Folio Case with Magsafe came up for review.  I wondered how securely my phone would be held with the MagSafe feature.  I was used to a well-built, luxurious leather case, and I hoped this case would be as nice.  Did it meet my expectations?  Read on to find out!
What is it?
The Geometric Goods iPhone 14 Pro Leather Folio Case with Magsafe is a case that completely wraps around the phone.  It attaches to the phone using the MagSafe magnet.  It is held closed by another magnet on a strap.  It can hold credit cards and cash.
What's in the box?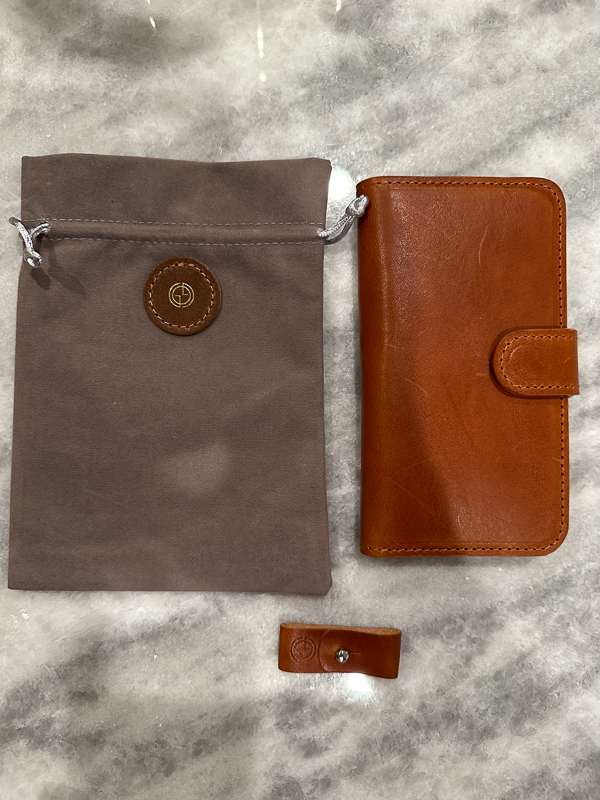 The pouch that held the phone case
Geometric Goods iPhone 14 Pro Leather Folio Case with Magsafe vol. 4.0 in Tan
Bonus leather cord keeper
Design and features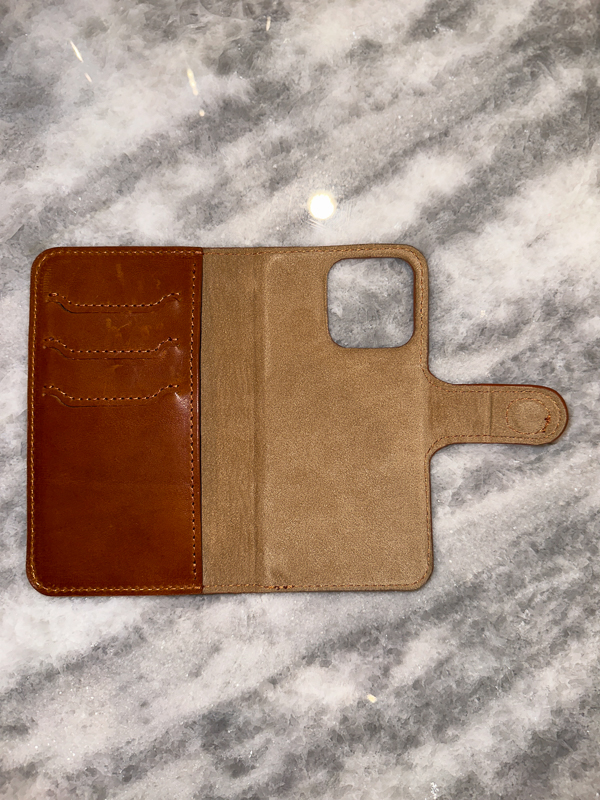 I am really impressed with the company and the case.  The Geometric Goods iPhone 14 Pro Leather Folio Case with Magsafe came in a fully recyclable box.   As I opened the box, that wonderful smell of fresh leather wafted toward me.   My husband is already using the pouch the case came in to store some cables he needs to carry daily.  In the picture above, you can see the interior of the case.  The side the phone sits on and under the credit card strips is made of really soft microfiber.  It feels like suede to me.  There is no way it will scratch your phone.  There are three credit card holders on the left.  Each holder can hold two credit cards.  There is a slot under the cards for cash, business cards, or any other credit cards you may want to carry.   Their website says the case is designed to work with a naked phone or a phone in Apple's leather or silicone case.  My husband had an Apple silicone case, and it worked with it, but it made the whole setup very bulky, in my opinion.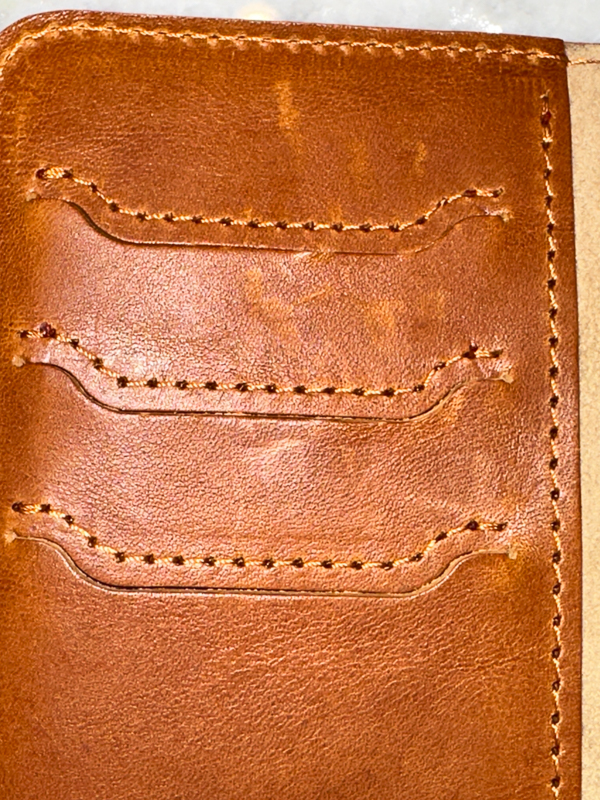 I took a closeup of the credit card holders to see the stitching.  I thought it was very nice work.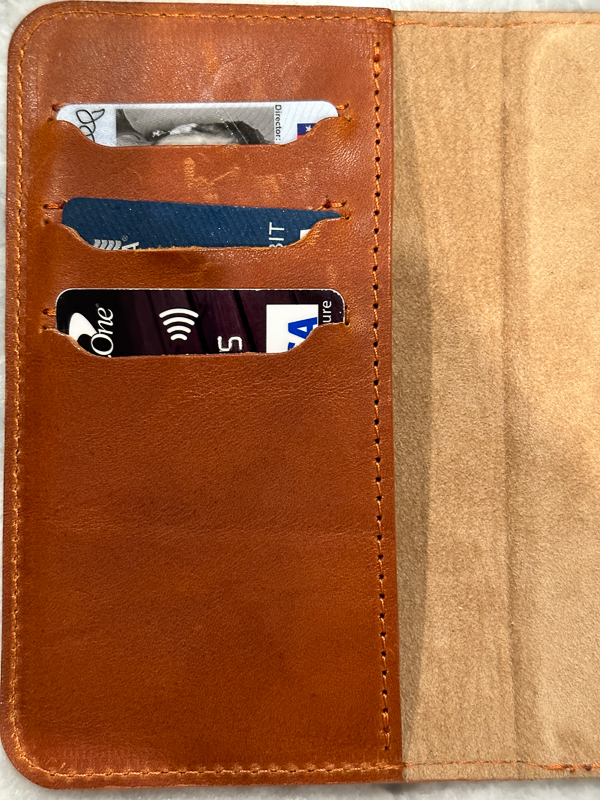 Here is a closeup of the credit card slots filled.  I have one card in each of the slots on the bottom.  The top slot is filled with my driver's license and a medical insurance card.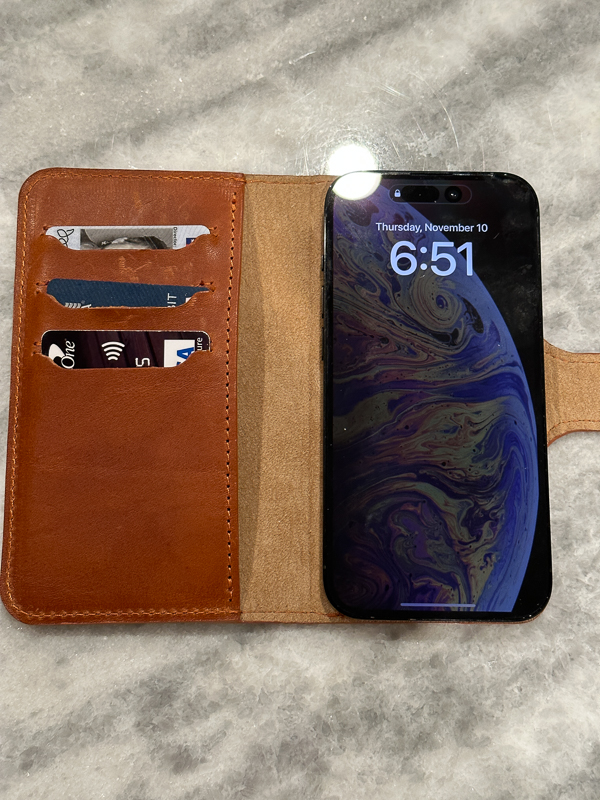 Here you can see the case with the phone mounted.  I was leery of having a case that only holds the phone in place with a magnet. It works great!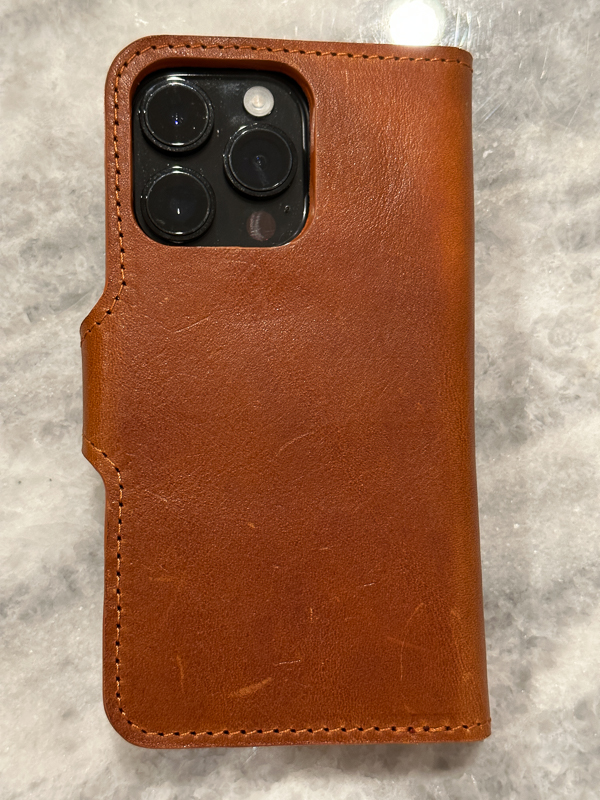 Here is a picture of the back of the case.  It has a cutout for the lenses.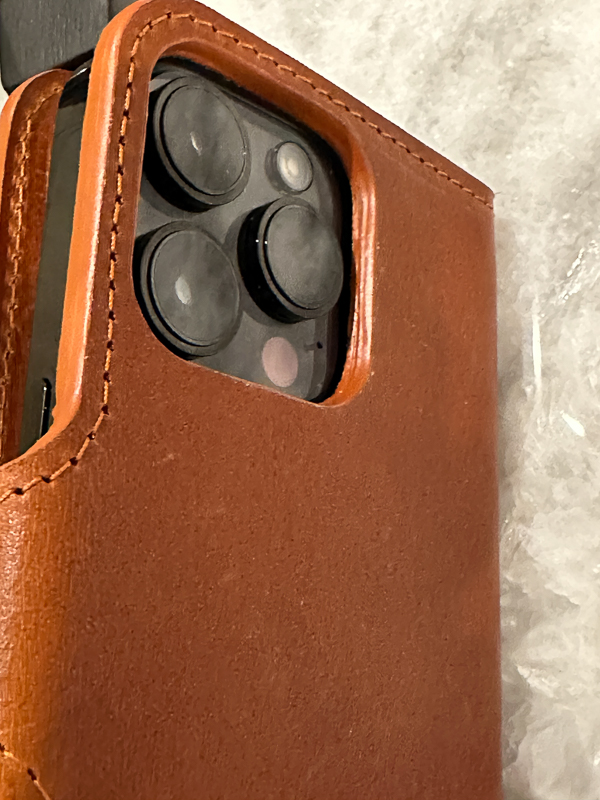 I took another picture of the back at this angle to see how well-protected the lenses are.  They are recessed below the edge of the case with a good margin for error.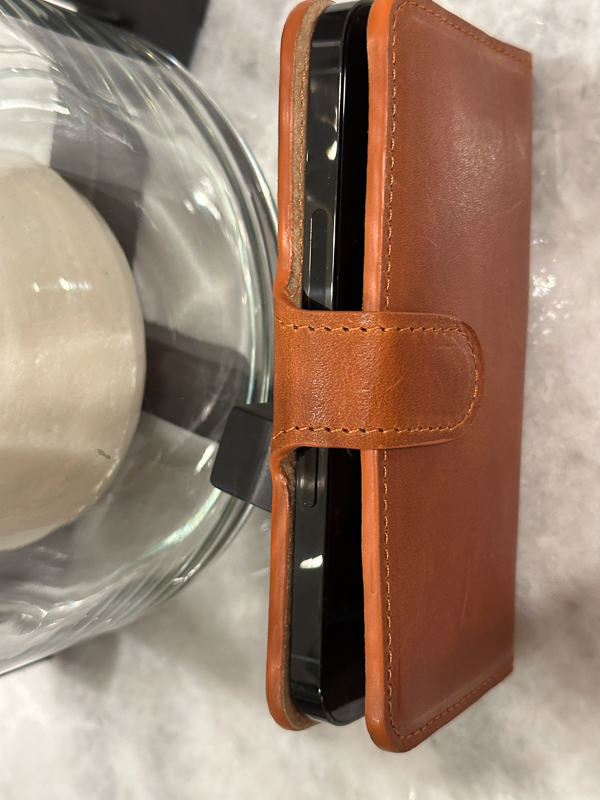 Finally, I took a picture of the side of the case so you could see the phone sitting inside the edge of the case.  You can also see the magnetic strap that holds the case closed.
Performance
I have been using the Geometric Goods iPhone 14 Pro Leather Folio Case with Magsafe as my daily driver for the past few days.  I like that there is enough give in the leather for me to get my finger behind a credit card and pull it out.  It has never opened accidentally on me, and the phone stays in place.
I was a bit concerned about having the edges of my phone exposed like they are in this case.  I was worried that a drop would cause the latch to come undone and the phone to spill out from the case.   I decided to try and give the case a drop test.  I have a Gorilla gym mat in an exercise room.  I placed another yoga mat on top of it.  I then proceeded to drop the phone from various angles from about tabletop height.   The case never opened, and the phone never came out.  Even when I dropped the phone on a corner.  I was very impressed.
What I like
Beautiful well built wallet
Made of vegetable tanned leather – you can smell it!
Can hold at least 6 credit cards and driver's license
Stays closed with no accidental opening
Phone held in place by MagSafe magnet
What I'd change
It is pricey, but I feel it is worth it.
Final thoughts
I have found my permanent case for my phone.   Now I must figure out how to keep my husband from stealing it from me!  Really though, if you are looking for a wallet-type case for your iPhone, look no further.  Geometric Goods has made the case of my dreams.
Price: $98.90
Where to buy: Geometric Goods
Source: The sample of this product was provided by Geometric Goods.