We use affiliate links. If you buy something through the links on this page, we may earn a commission at no cost to you. Learn more.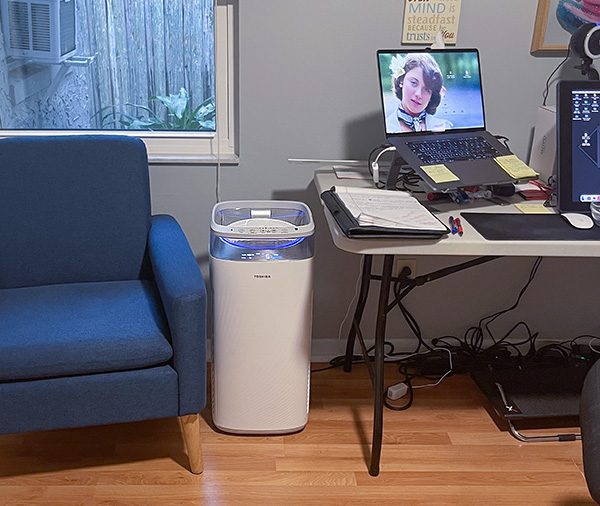 REVIEW – If you suffer from allergies, coughing, or just feeling down during various seasons, it may be related to the air quality in your home. For reasons I haven't figured out, our family seems to be more sensitive to our environment than we used to be. I don't think it's the food we eat—my wife has always been a scratch cook. It can't be the water since we only drink filtered. That leaves the air we breathe. I have a chronic lung condition sometimes exasperated by irritants that can send me into coughing fits. So yes, we have a few air purifiers in the house. When I saw the Toshiba CAF-Z85US Air Purifier, I wanted to give it a try to see if I could notice any difference in my condition.    

What is it?
The Toshiba CAF-Z85US Air Purifier is an air purifier made for larger rooms—up to almost 500 sq. ft. In 12 minutes (7 times per hour). Toshiba states that the Air Purifier can also clean spaces up to 323 ft² in 8.6 minutes, and spaces up to 215 ft² in 6 minutes.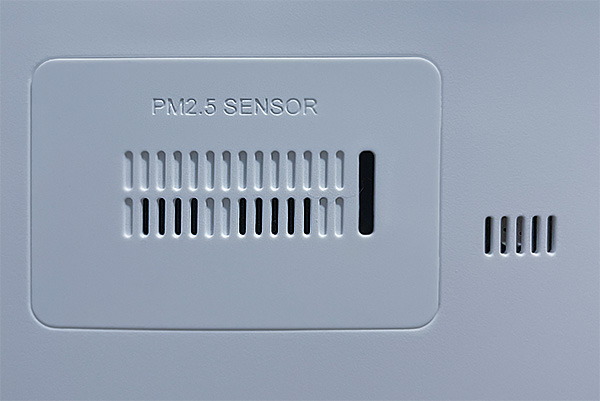 It has a brushless motor that's almost totally quiet—depending on its setting. It comes with a "sleep mode" that automatically dims its lights and keeps the fan noise to 30dB—about as loud as a whisper.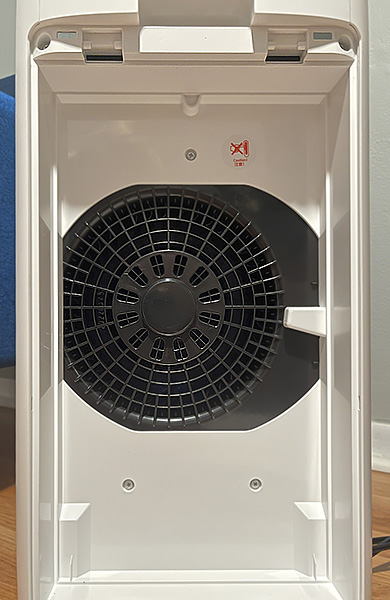 The Toshiba CAF-Z85US Air Purifier has three fan speeds and three modes—Auto, Sleep, and Turbo. It has a built-in programmable timer, performs air quality checks in real-time, displays filter lifespan, uses Smart WiFi to link to Alexa voice controls, and comes with a downloadable app (iOS and Android).
The air purifier stands 27 in. high with a width and depth of 12.5 in. This tall profile allows the purifier to be placed in a room out of the way—although you won't mind it being seen with its sleek and modern design. It does look cool. And it's on removable wheels for easy maneuverability.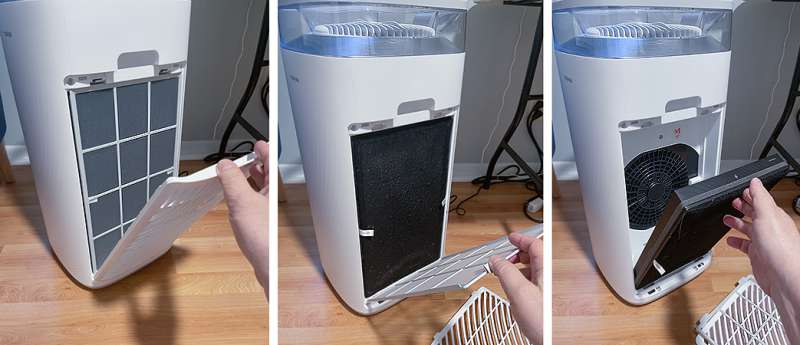 There are a total of six filters in the Toshiba Air Purifier—three per side. Under the magnetic grill, covers are a pre-filter (a small-mesh screen that sits next to a true HEPA filter that's permanently attached to an activated charcoal filter. Filters can be vacuumed and wiped down when the purifier indicated they need cleaning.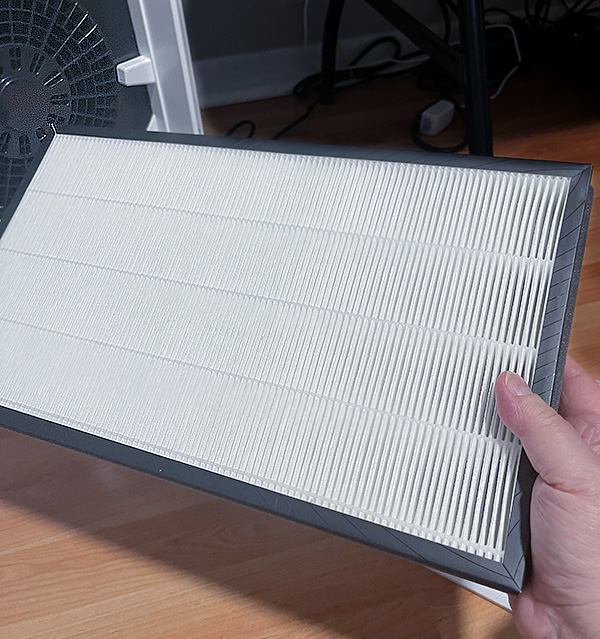 The true HEPA (High-Efficiency Particulate Air) filter removes large and small particles from the air. Large (10 microns) could be pollen while small (.01 microns) can be an individual virus. HEPA stops up to 99.97% of these particles in a single pass—large and small.
Note that while the side grill covers do pull off easily, the unit will automatically shut down if the covers are removed while the unit is running. 

Specs
Dimensions: 12.2″D x 12.2″W x 26.8″H
Weight: 27 pounds
Color: white

 

Timer: 1/2/4/8 hour
3-speed fan
3 modes: Auto/ Sleep/ Turbo
Brushless motor
Alexa voice control
HEPA filter
Activated carbon filter

Design and features
The Toshiba CAF-Z85US Air Purifier isn't one of those small, personal air cleaners you see advertised. This is a serious purifier made for larger rooms. 
First a little (unfair) test.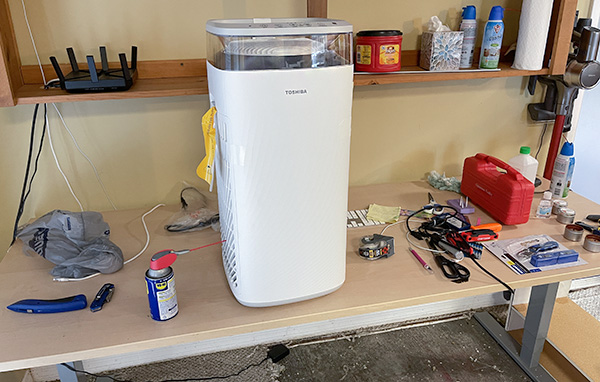 Two short days after Hurricane Ian flooded my backyard studio building and soaked the carpet, the studio developed a strong, mildew smell. It took a couple of weeks to clear the building out in preparation for the demo and re-building. The storm hit right after the air purifier was delivered. I set it up in the studio and let it run 24 hours non-stop to help alleviate the mildew smell—also while running a window AC unit. The Toshiba CAF-Z85US Air Purifier ran for about a week straight. While the smell remained, I think it helped a bit with the mildewy wet carpet odor and definitely helped keep any developing mold spores at a minimum.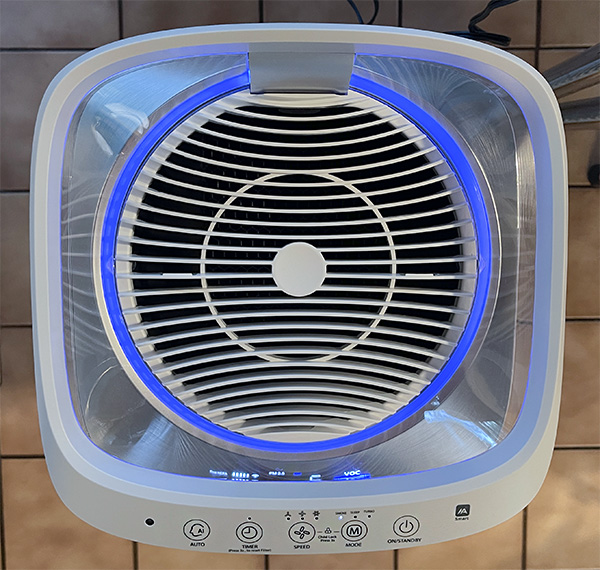 Back in the house, I've been using the purifier in my impromptu spare-bedroom studio. It's a medium-sized guest bedroom, so the purifier is overkill for a room that size. But since I've been using it, my coughing has eased a bit.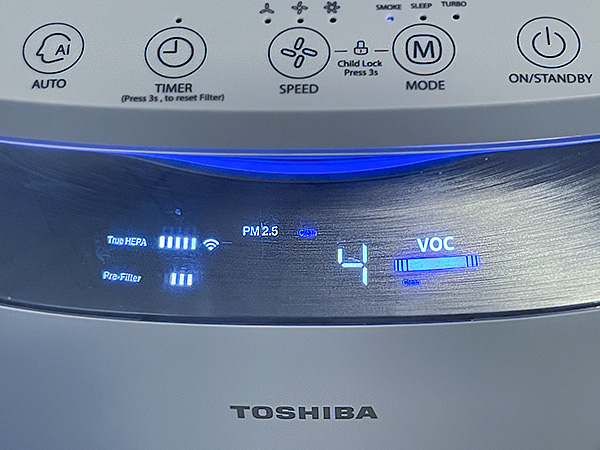 Controls on the Toshiba Air Purifier may seem daunting at first but aren't that difficult to grasp. They are easy to read and located on the top rim of the unit. Other than the On/off button, there is a three-part Mode button—Smoke, Sleep, and Turbo. Smoke is designed to clear a room quickly from cooking or tobacco smoke. Turbo is everything to the max—and it's loud. I think Sleep is misnamed. I usually run the purifier on Sleep mode all day because it's so darned quiet. Toshiba should have called it Quiet Mode. 
There are three fan speeds with no names. Instead, the fan speeds are indicated by fan blade icons. The more blades are shown, the faster the speed. Speed settings cancel out the Mode settings and vice-versa.
There's a Timer button set in 1/2/4/8 hour modes. While I'm sure it's handy, I don't bother with the timer. I just leave the purifier running 24/7. I'm sure it shortens filter life, and I'm okay with that.
Finally, there is an AUTO Mode that adjusts depending on the surrounding air quality. If the air is good, the unit will go into standby mode. This model is one of those "set and forget" settings if you don't want to think about it.
Note that the buttons are touch-sensitive that beep when touched.
Between the Speed and Mode buttons is a Child Lock setting. When turned on, this setting will shut the unit off should the side grills be opened accidentally. Child Lock also de-activates all buttons on the rim. It's a good safety measure. However, Child lock should really be called "Adult" lock. The touch-sensitive buttons are too easily activated just by brushing a finger across them. They are a bit too sensitive.
Below the rim with buttons sits an information area perfectly incorporated into a brushed aluminum panel. There are indicators about filter life, air fine-particle (PM 2.5) rating (higher numbers mean more pollution), and VOC (Volatile Organic Rating) levels (Clean, Fair, Poor).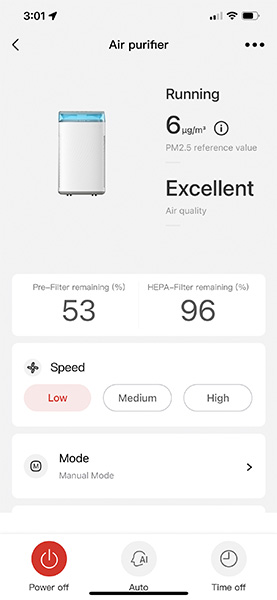 There is no physical remote for the Toshiba CAF-Z85US Air Purifier. But there is a free app—TSmartLife—(iOS and Android) that replicates all the settings found on the unit itself. I had a bit of difficulty joining the unit to my home network, but it finally worked after a couple of failed attempts. Part of the reason may be that the Toshiba only works on a 2.5 GHz—not the 5.0 GHz that many devices now run on. With Smart WiFi, the air purifier can be controlled from anywhere.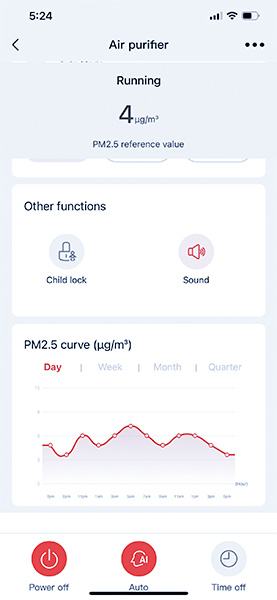 Once you have the settings where you want them—assuming the purifier remains in one spot—you can just run the unit and know the air is about as clean as it can be. And if you plan on moving the purifier from room to room, you can change the settings how and when you want.

What I like
It's an attractive unit
Can be whisper-quiet
Seems to work well for my needs
App works well

 

What I'd change
I could not find replacement filters on the Toshiba site
Wifi is only 2.5 GHz

 

Final Thoughts
Let's be honest. Unless you have air quality testing equipment, any opinions are going to be anecdotal. So here goes. Right after Hurricane Ian, my coughing was bad. I was using my inhaler 3-4 times per day. After removing the Toshiba CAF-Z85US Air Purifier from my mildew-smelling studio and setting it up in my temporary bedroom/office, the coughing decreased. Now, I use the inhaler once in a while—sometimes not for 2-3 days in a row. Is this improvement a result of having the air purifier? I can't say 100% for sure, but anecdotally, I'd say yes, My breathing life has improved.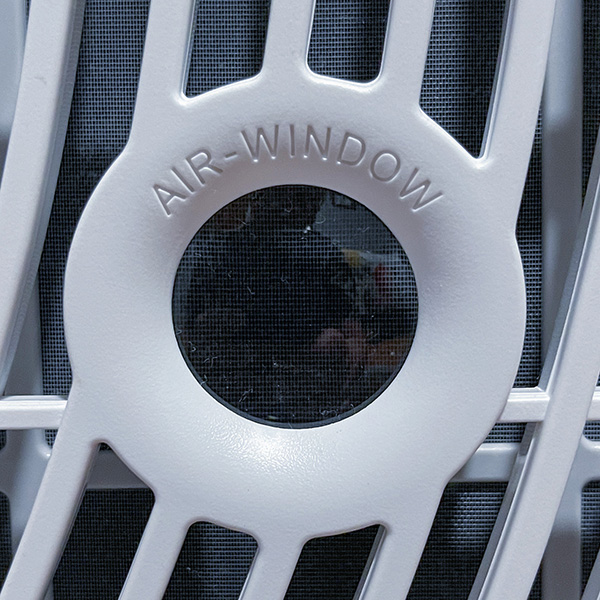 There's no way an air purifier cannot help improve the air in a home. Whether that's something that will noticeably improve your life is a decision you have to make. 
Price: $287.16
Where to buy: Amazon
Source: The sample of this product was provided by Toshiba.