We use affiliate links. If you buy something through the links on this page, we may earn a commission at no cost to you. Learn more.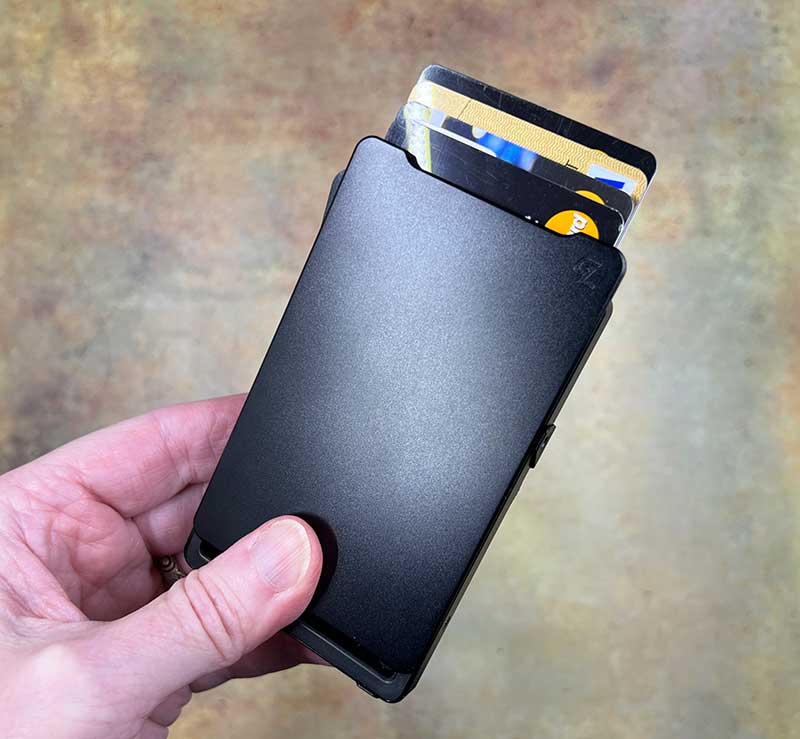 REVIEW – I love minimalist wallets because I don't typically carry a bag (I'm never going to call it a purse!) when I'm out and about. I don't want to bulk up my pockets, so when it comes to wallets, they have to be thin but functional. The newest wallet that I've been testing is the Groove Wallet from Groove Life. This is a wallet that can do double duty as a fidget toy! Let's take a look.
What is it?
The Groove Life Groove Wallet is a minimalist wallet that is made out of an aerospace-grade material that blocks RFID transmissions.
What's in the box?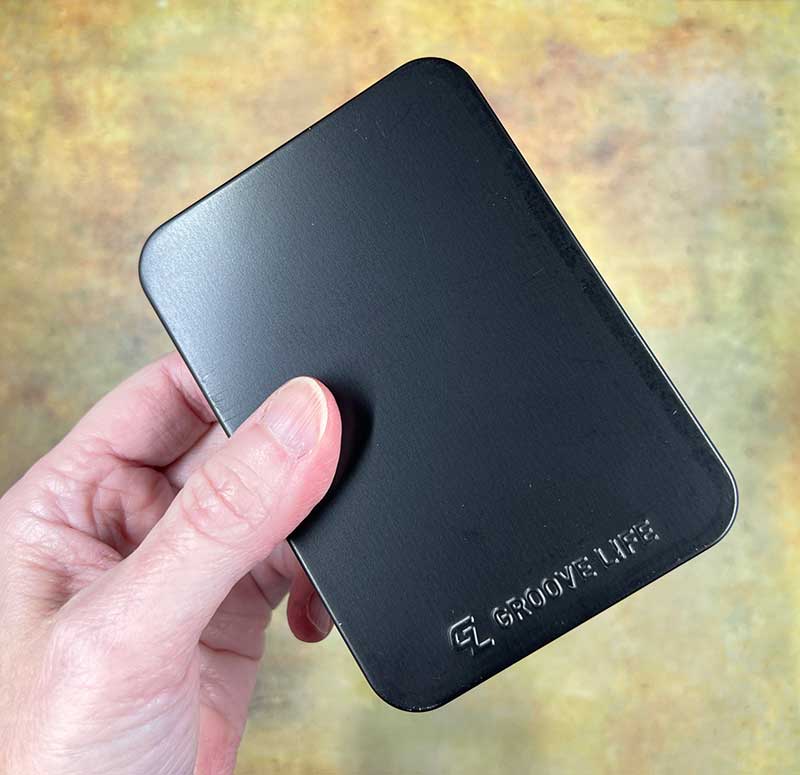 The Groove Life Groove Wallet ships in a metal tin. Hopefully, you'll want to repurpose the tin to hold other small items…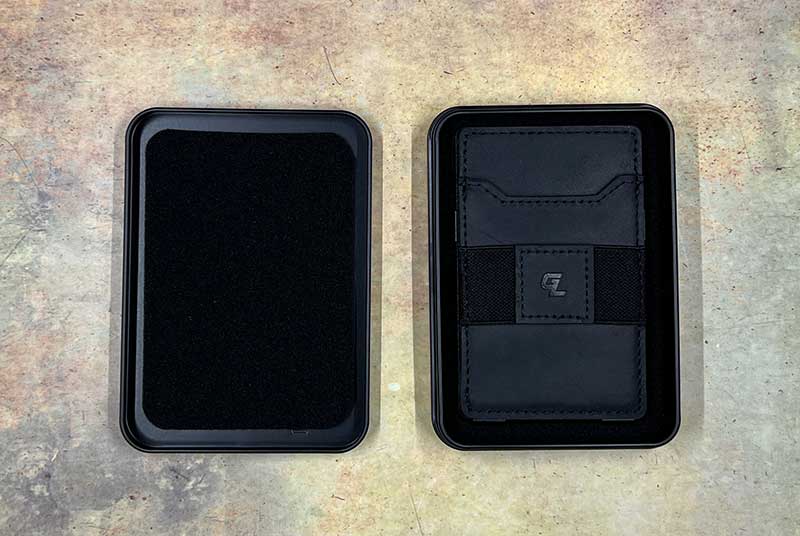 Inside the tin, you'll find the wallet. I was sent the Midnight Black wallet with a black Leather sleeve. The Groove Life Groove Wallet is also available in a Gun Metal grey color and the Leather sleeve also comes in brown.
Design and features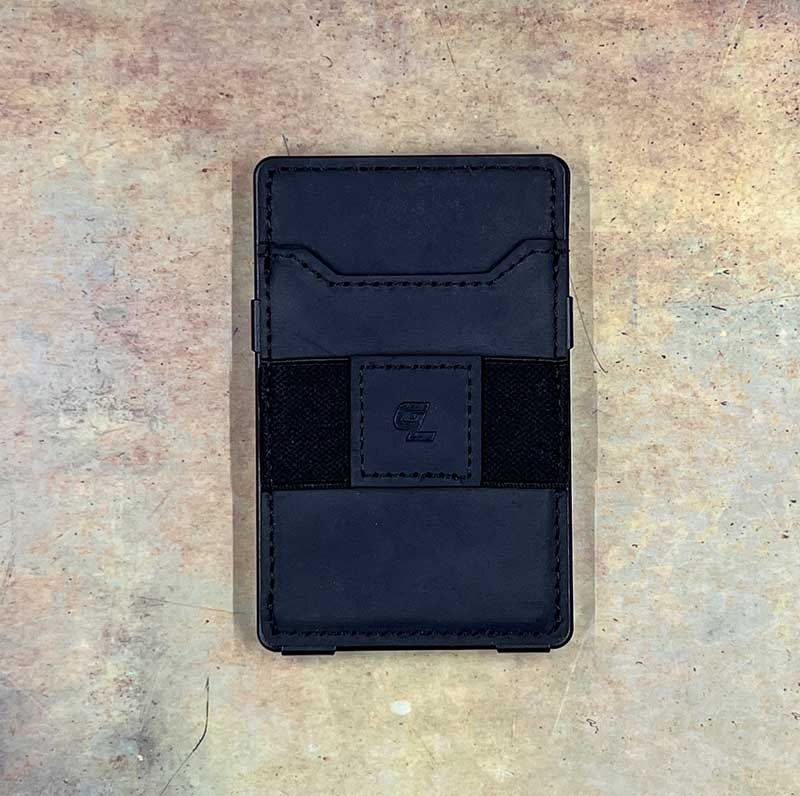 The outside leather wallet is designed to hold 2 extra cards and can also hold folded cash under the elastic band which bears the Groove Life GL logo.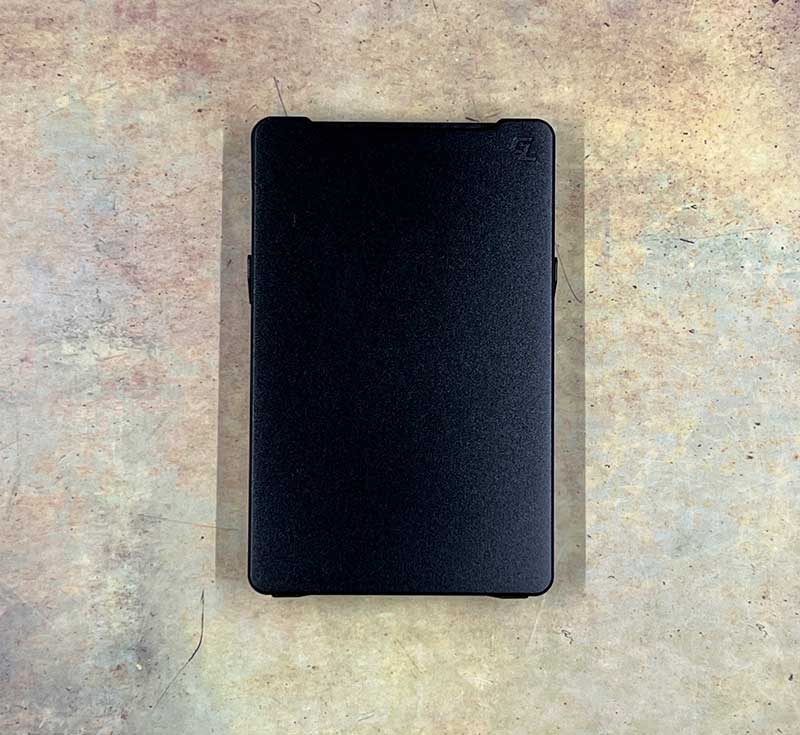 The main wallet is made of metal with a satiny smooth exterior that has a small GL logo stamped in the upper right corner.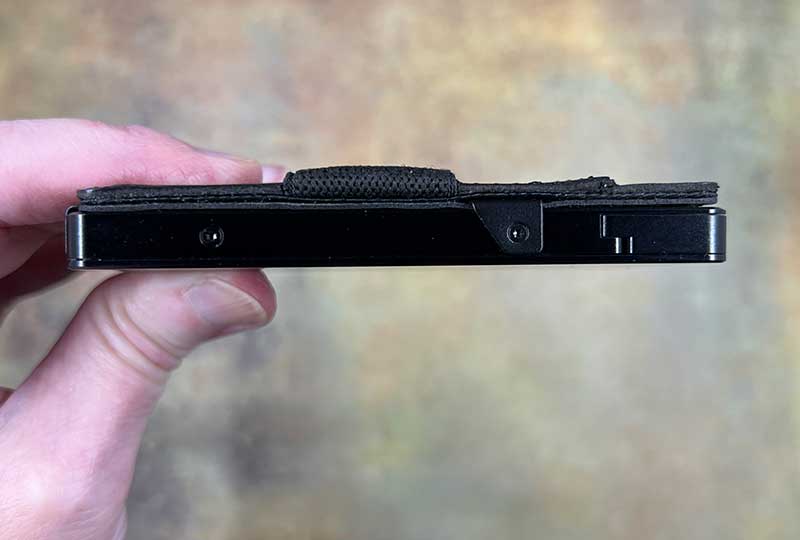 Here's a side view that shows off the thin form factor.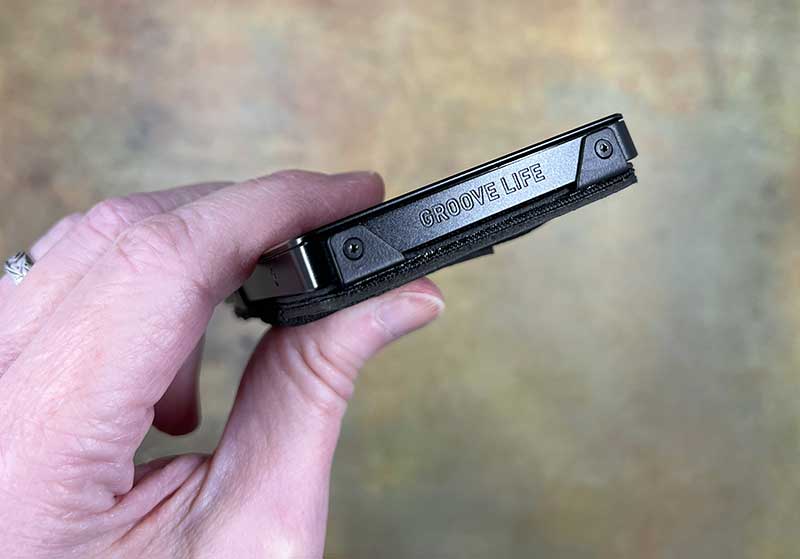 GROOVE LIFE is stamped into the bottom edge of the wallet. I usually don't like a lot of branding and this makes 3 separate brand marks on this wallet. In my opinion, I think that's a little overkill.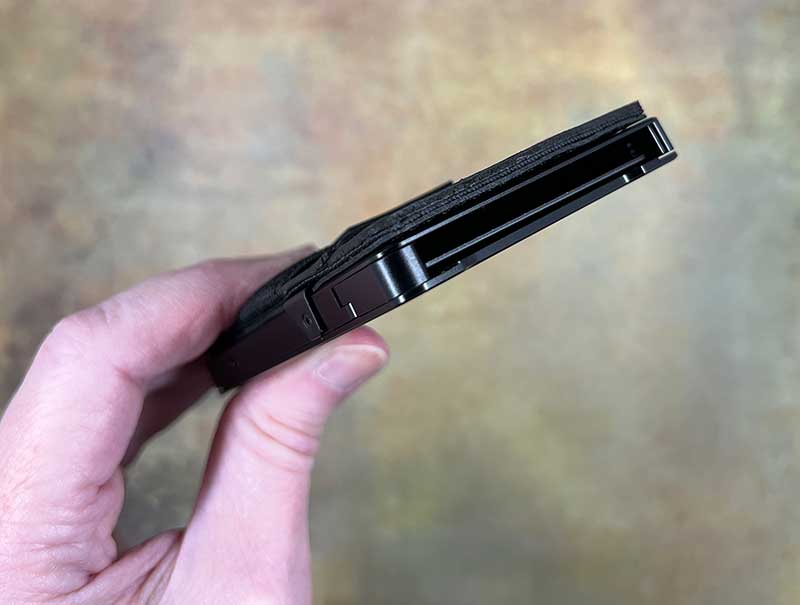 The Groove Life Groove Wallet is basically a hollow sleeve that can hold up to 6 traditionally sized credit cards. Note that if you want to carry a total of 6 cards, they all need to be unembossed (aka flat/smooth). If your cards have embossed numbers/text, the number of cards that will fit in the wallet's slot will vary. Please watch my see it in action video below where I demonstrate this.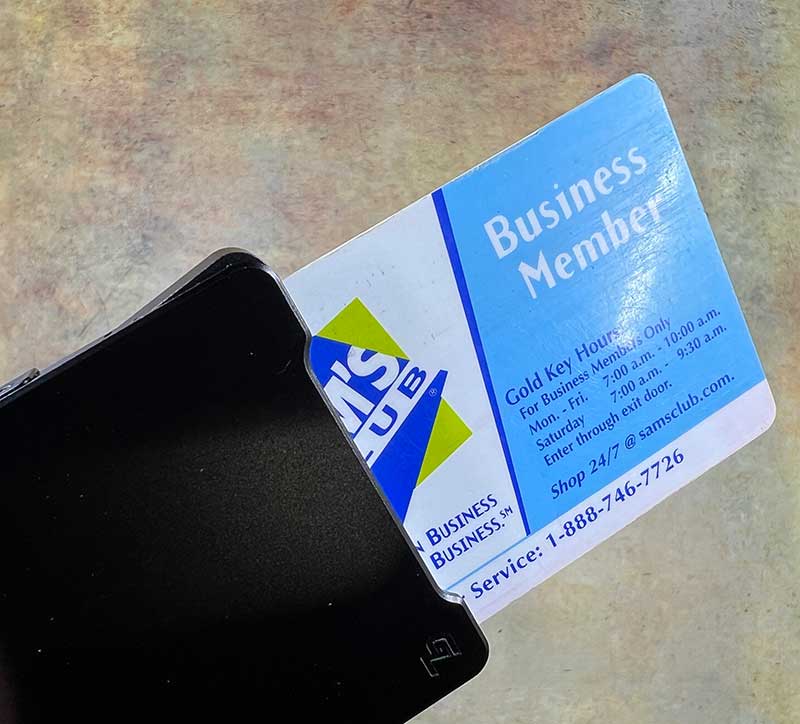 Loading cards into the Groove Wallet is very easy. Just grab a card and slide it into the slot!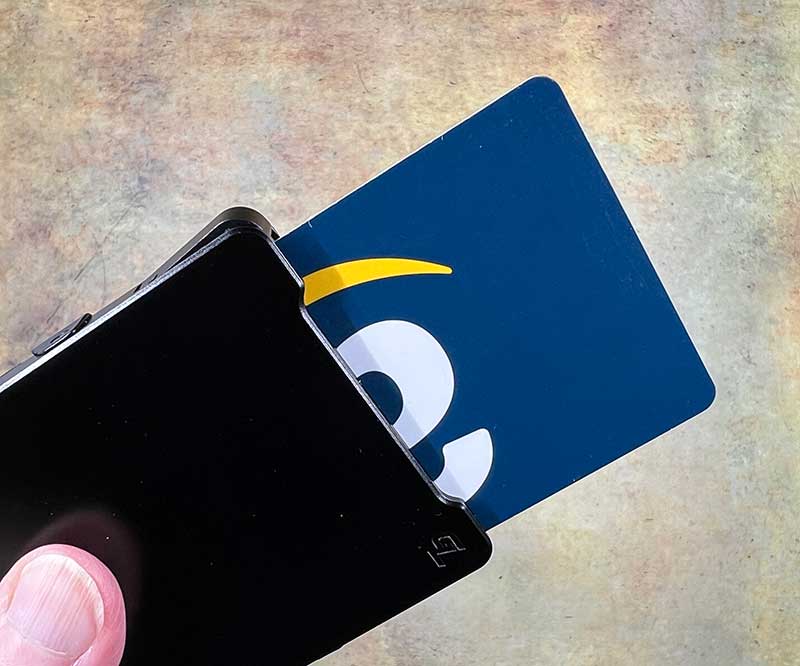 As the card is pushed into the slot, a small latch on the top corner shifts outward to allow the card to slide into the slot.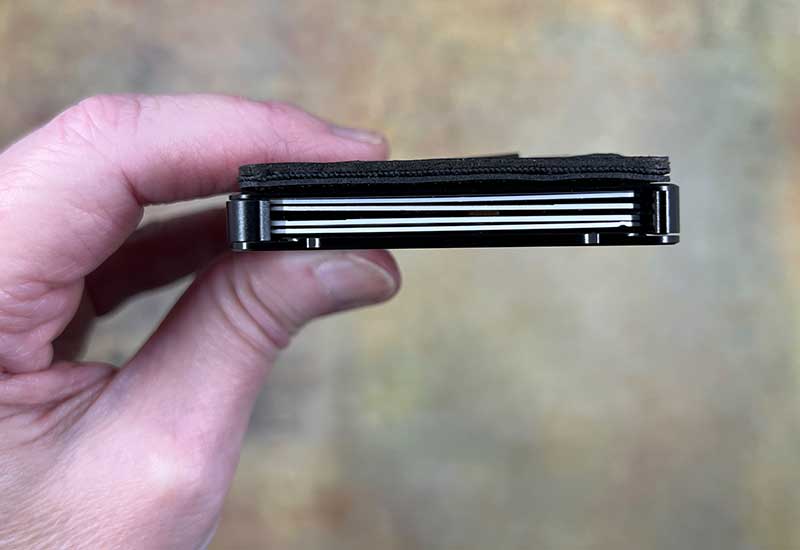 When the corner of the card slides past the latch, the latch shifts back in place with a pleasant thunk feel/sound to hold the cards securely in place. It takes longer to explain the mechanism than it does to insert the cards, which is pretty much effortless.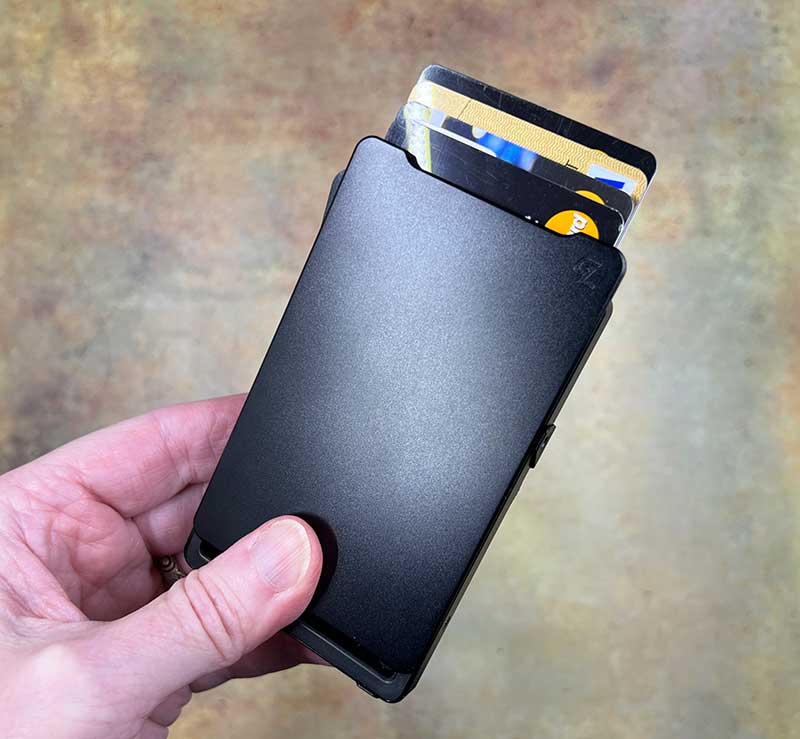 Retrieving a card is just a matter of sliding the entire face/top of the wallet upward. As you do so, all the cards also slide up in a staggered stack.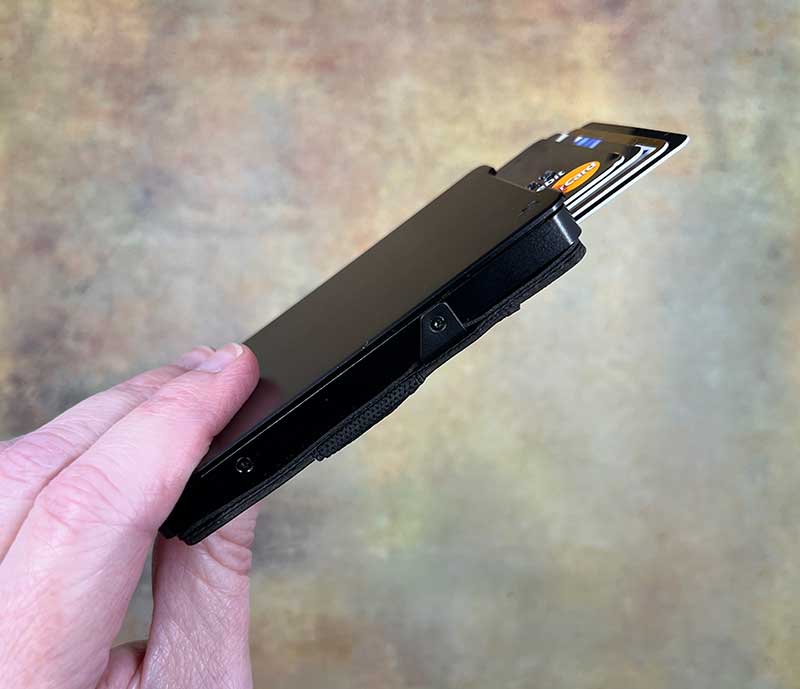 The staggered stack makes it easy to access the exact card you need quickly. Again, please watch my see it in action video below which shows how this works better than I can explain it.
Ejecting the cards is easy, but it could be made even easier if the top/face of the Groove Wallet were more textured or had raised ridges that would make it easier for your thumb to grip it. My hands are dry, especially this time of year (winter), so sometimes I would need to try a couple of times to slide up the front of the wallet in order to access the cards.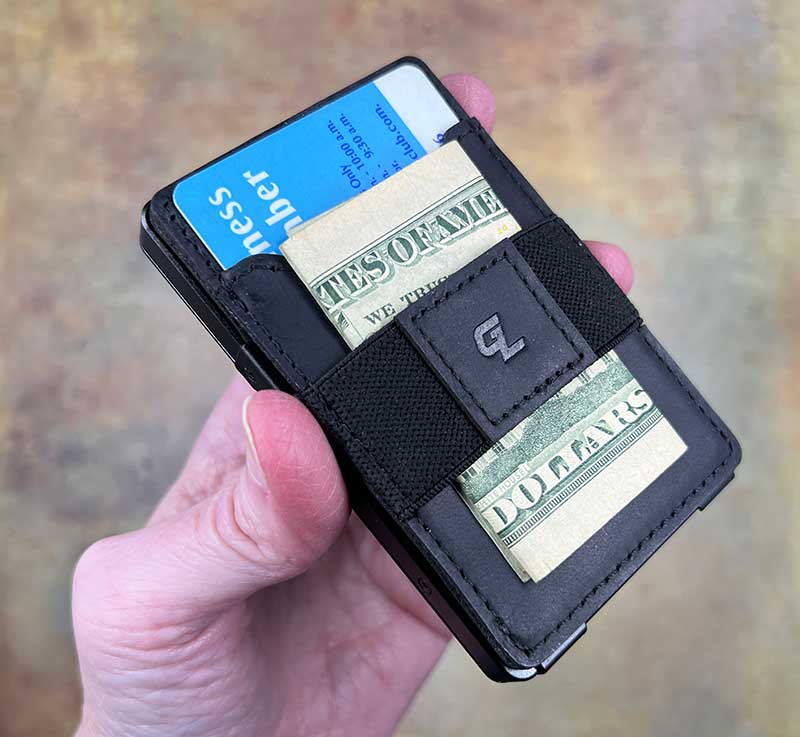 If you need to carry cash in addition to cards, you can use the leather sleeve on the back of the wallet for that. It also provides more storage for cards. Groove Life says that the leather sleeve can hold two cards, but I find that it's way too tight for that. Yes, you can cram two cards in there, but good luck getting them out without needing pliers. I think one card is your best bet for that slot.
As for cash, the elastic band works great to hold one or more folded bills.
If you don't really care about extra card slots, you can opt for a metal cash clip instead of the leather sleeve. That option will save you about $20 on the total price of the wallet.
See it in action
What I like
Easy to use card eject mechanism
RFID blocking
What I'd change
Add ridges or more grip to make it easier to slide open
Offer the Groove Wallet without a leather sleeve or cash clip
Final thoughts
The Groove Life Groove Wallet is a fun wallet to use which sounds odd to say. When has a wallet been "fun", not counting spending money on fun things? I think it's fun because the sliding mechanism is fun to do, like a fidget toy. As long as you understand that the capacity of this wallet is limited by the number and type of cards that it can handle, I think it's a cool EDC minimalist wallet that won't take up much room at all in your front pocket.
Price: $119.95
Where to buy: Groove Life
Source: The sample for this review was provided by Groove Life.