We use affiliate links. If you buy something through the links on this page, we may earn a commission at no cost to you. Learn more.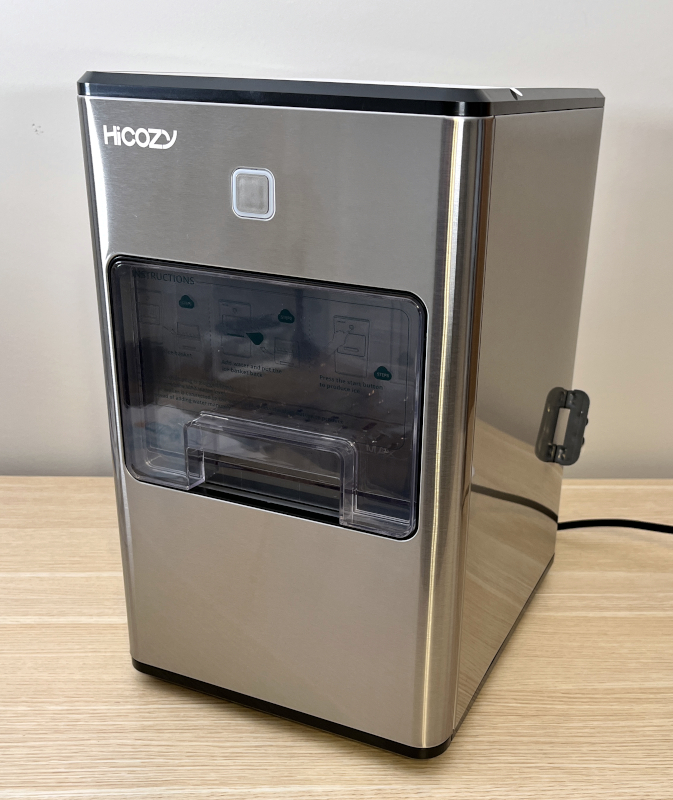 REVIEW – Most Friday nights we have company over to our house.  Sometimes it's just a couple, but other times it's an entire crew.  On those nights, the ice maker built into our fridge struggles to create enough ice for everyone to keep their sweet teas icy and their sodas cold.  Sure, we could swing by our local grocery store and pick up a bag of ice, but we're usually pretty busy getting the house cleaned up and dinner in the oven.  I'm thinking it would be convenient to have a portable ice maker that we could start up before company arrives to supplement our fridge.  I'm hoping that the HiCOZY Ice Maker will be just the gadget that my wife and I want.
What is it?
The HiCOZY Ice Maker (model MBBS1) is a countertop kitchen appliance that makes small nuggets of chewy, crunchable ice, like the ones you get at Sonic.  This ice maker has a two-liter water reservoir and takes an hour to fill the ice bucket, which contains about 7 cups of ice.  HiCOZY is a new brand that AstroAI, a Chinese company, founded in 2022 to provide "unique ideas for decorating, entertaining, and living happy."
What's in the box?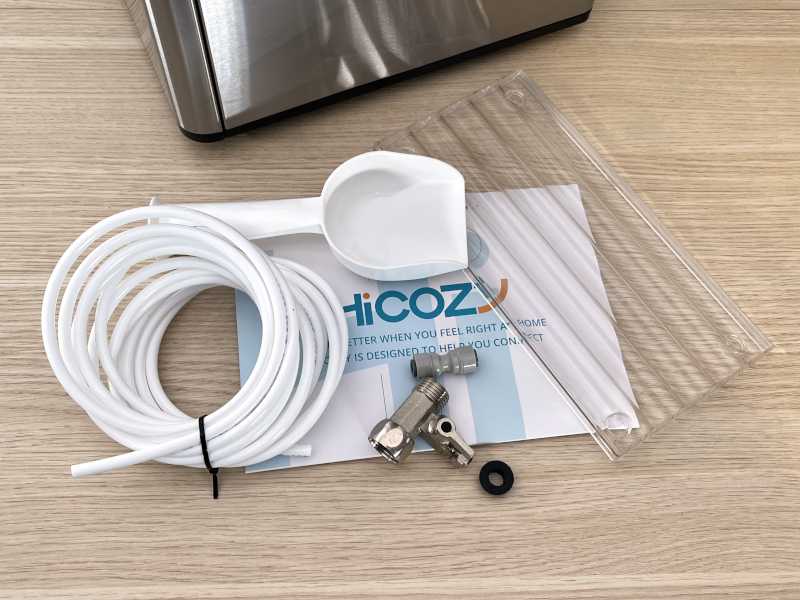 The ice maker with ice basket and drain tube
Ice tray
Ice scoop
Water inlet port, value, and water inlet tube (for connecting to a water supply)
User manual, marketing brochure, and a support card
Hardware specs
Size:  16 inches (tall) x 14.2 (deep) x 9.6 (wide)
Water reservoir:  2 liters
Weight:  28 lbs
Water sources:  Manual and automatic
Material:  Stainless steel exterior
Design and features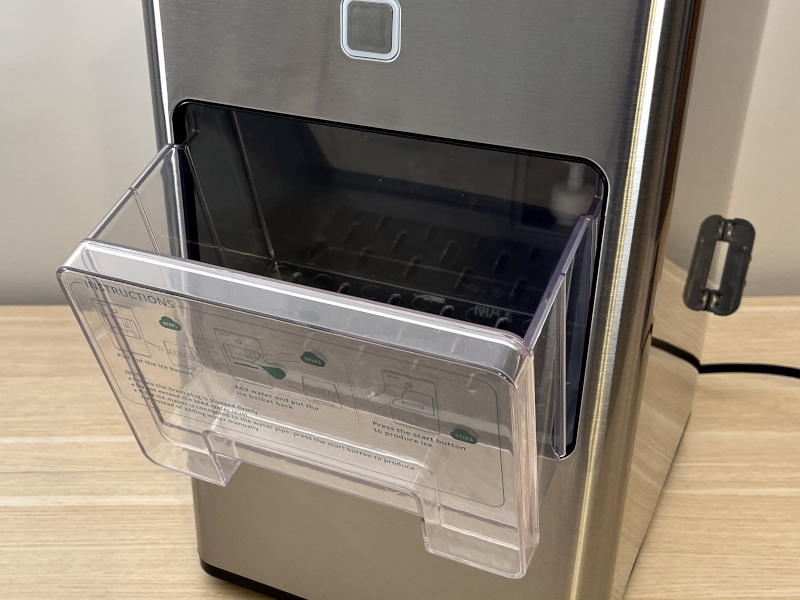 HiCOZY's ice maker is a large, blocky kitchen appliance.  The front has a see-through plastic basket, and the back has a screwed-on black panel with a fan and lots of air vents.  Everything else has a modern, stainless steel look to it.  It's a straightforward, utilitarian design.
Setup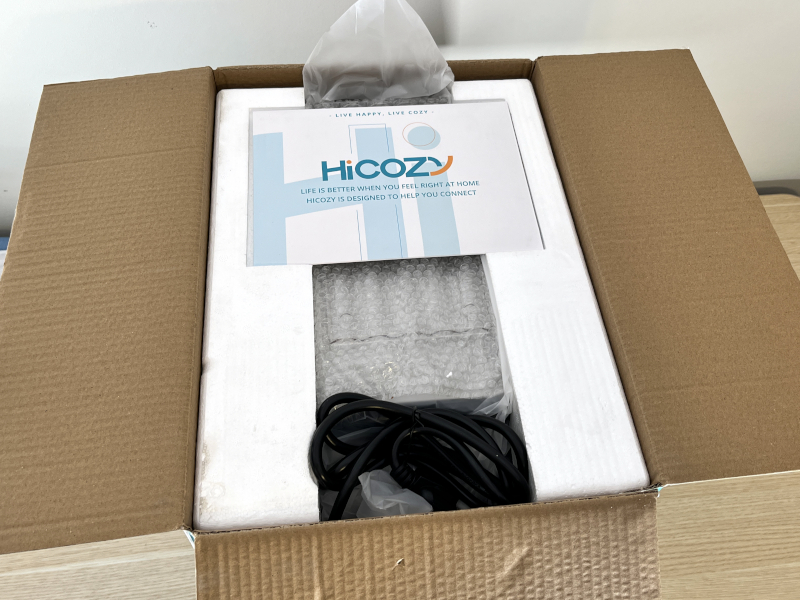 The ice maker arrived from Amazon in a box in a box in a box and was held in place with styrofoam inserts.  This was one well-protected gadget.  After removing everything, I read through the beautifully laid out manual.  Though the English is rather rough in places, I was able to understand what to do.  The manual warns repeatedly that the first step is to set the ice maker on a level surface and leave it alone for at least six hours.  I think this gives everything in the compressor a chance to settle back into place after shipping.  While taking it out of its packaging, my first impression of this ice maker was, "This is so heavy!"  This is a 28-pound appliance.  It's officially the heaviest countertop appliance that we own, as our KitchenAid Stand Mixer is only 25 pounds.  I left the ice maker sitting on the counter overnight.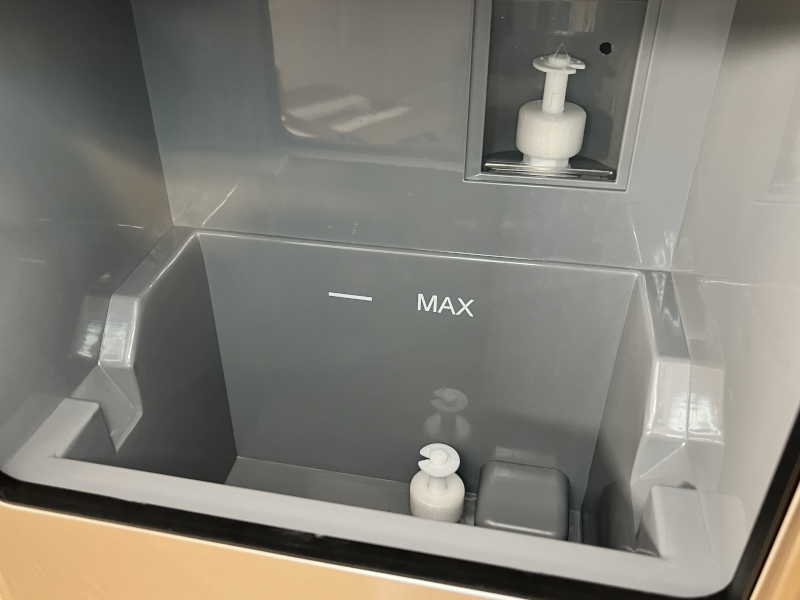 The second step is to clean it out, so I wiped down all the internal surfaces with a Norwex cloth.  At this point, I should have run it through a cleaning cycle, but I decided to just go and make some ice first.  I got to the cleaning cycle later.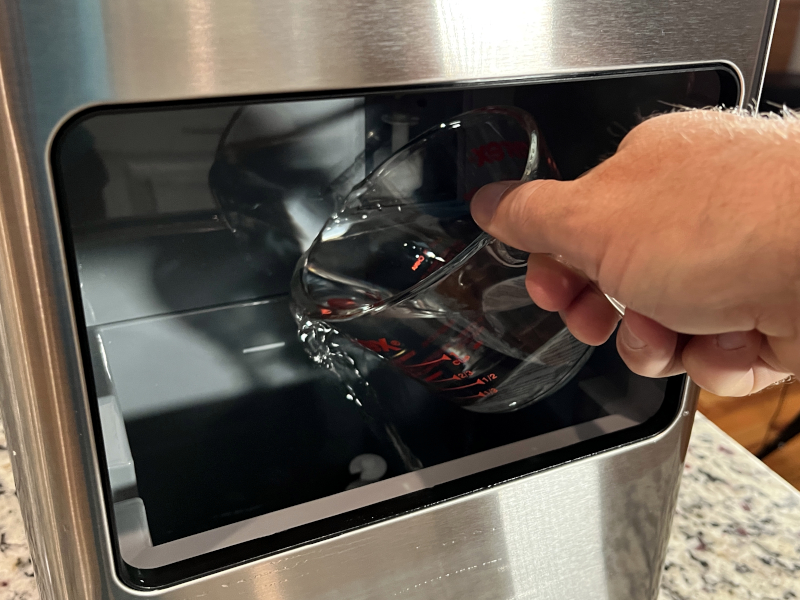 HiCOZY includes parts to connect the ice maker to a water line, but since we're only going to use this occasionally, I'm just going to fill it up manually.  I removed the ice basket and poured water into the reservoir, which can hold two liters.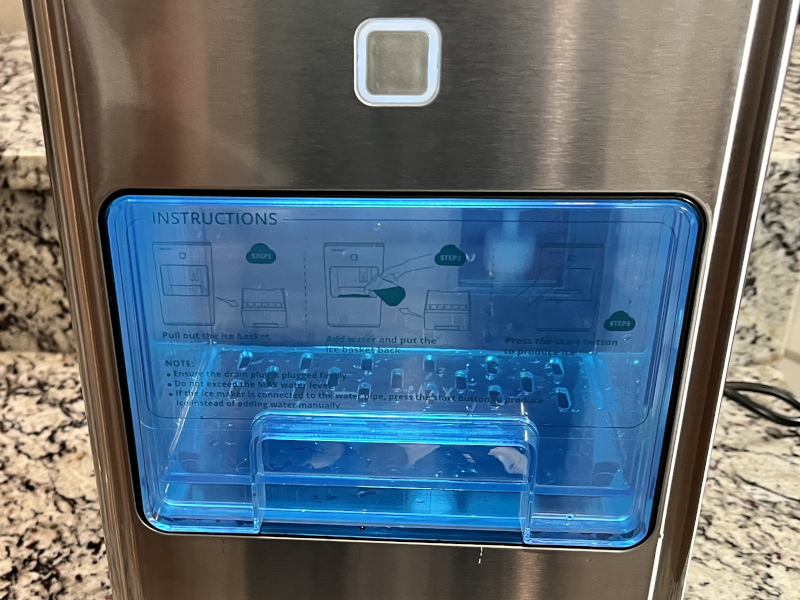 There are only two controls for this appliance.  There's an on/off switch on the back and a single button on the front.  Once I turned the switch on, a blue light came on over the ice basket.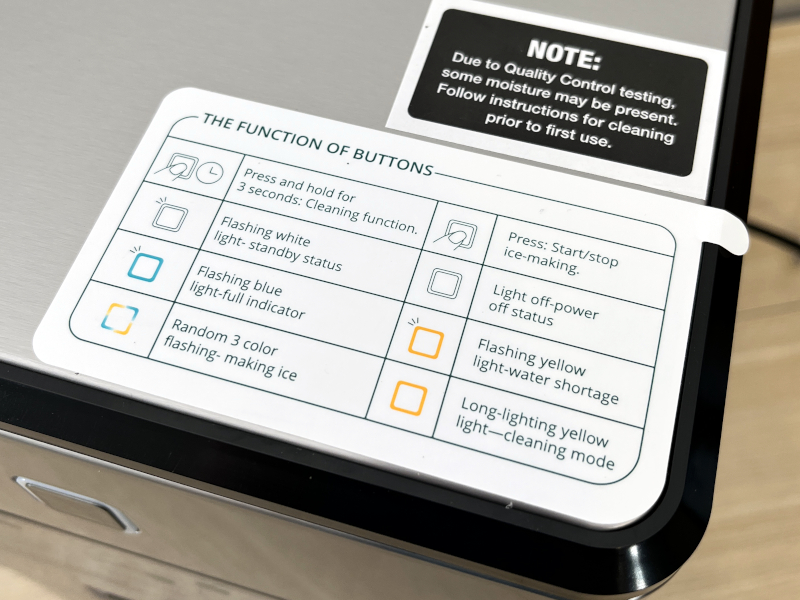 At the same time, the button began flashing.  There's a sticker on the top of the ice maker that explains the functionality of the button, and these instructions are repeated in the manual.
Performance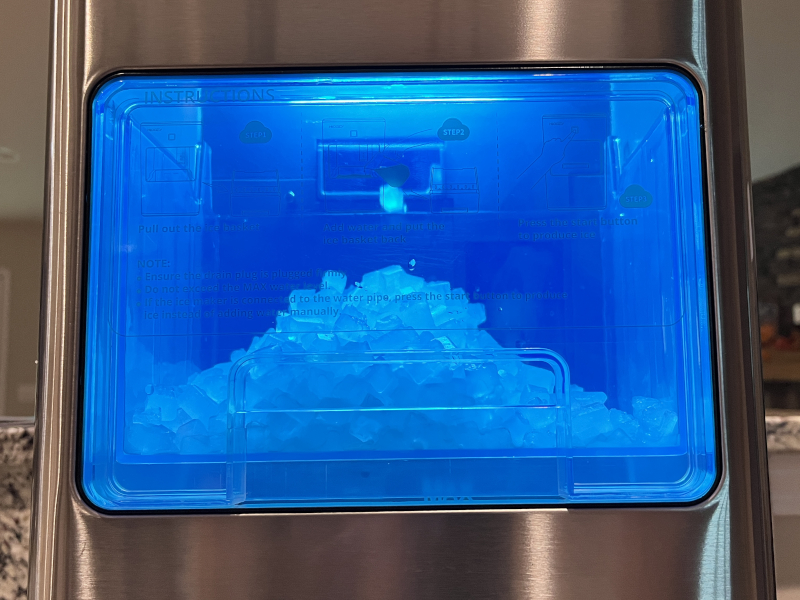 I pressed the button once, and it started the process.  I timed everything, and here's what I found:
The first ice appeared at 5 minutes, though it wasn't enough yet to be useful.
At 15 minutes, there was almost enough ice for one glass of tea.
At 30 minutes, there was enough for two or three glasses.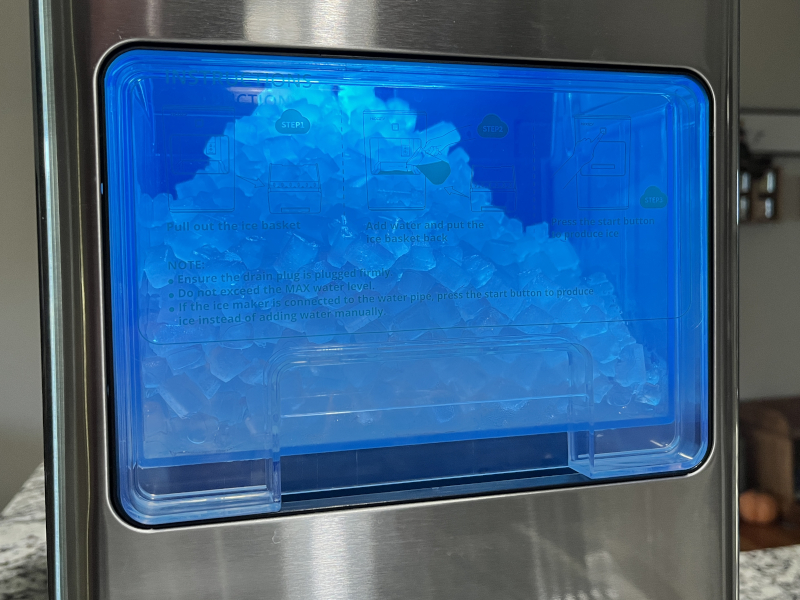 At the one-hour mark, the ice basket was full to the dispenser.  The light on the button turned blue, which indicates that it was full, and the ice maker stopped making more ice.  I did a rough measurement and found that I had about seven cups of ice in the basket; the water reservoir still had a third of the water remaining.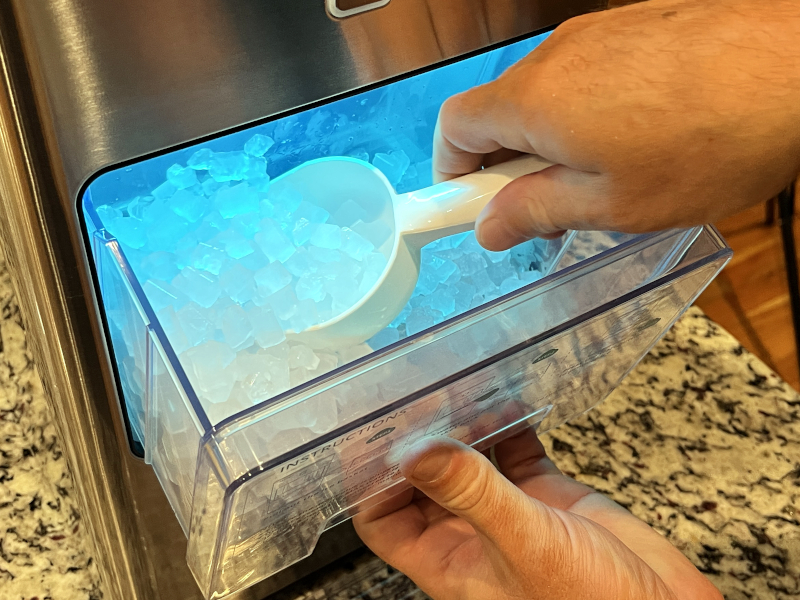 If this is not enough ice for the company I'll be having, I can scoop out all the ice into a bag, put it into my freezer, and press the button again.  I need to remember to start making ice at least one hour before company comes over or longer if I need extra ice.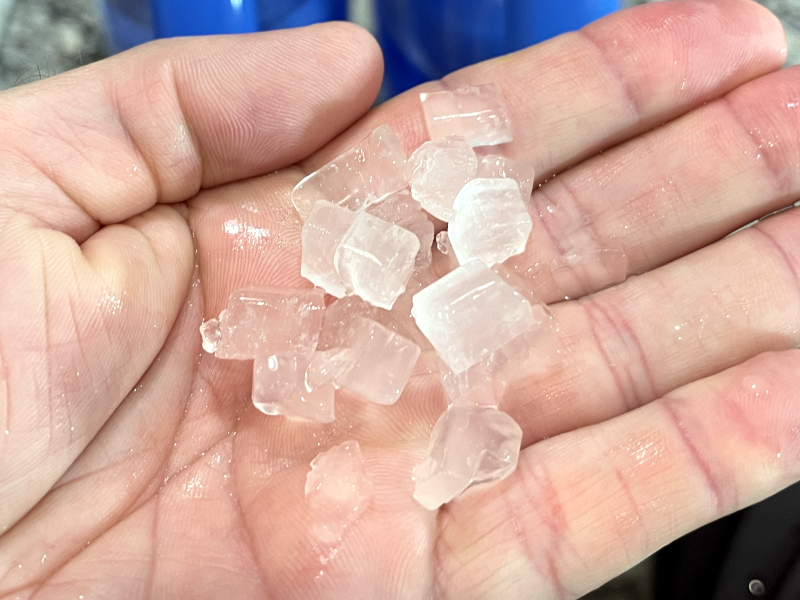 The ice itself is what we at our house call "Sonic ice," meaning it's the small, crunchy ice like you get in a Sonic cherry limeade.  The more common name is nugget ice.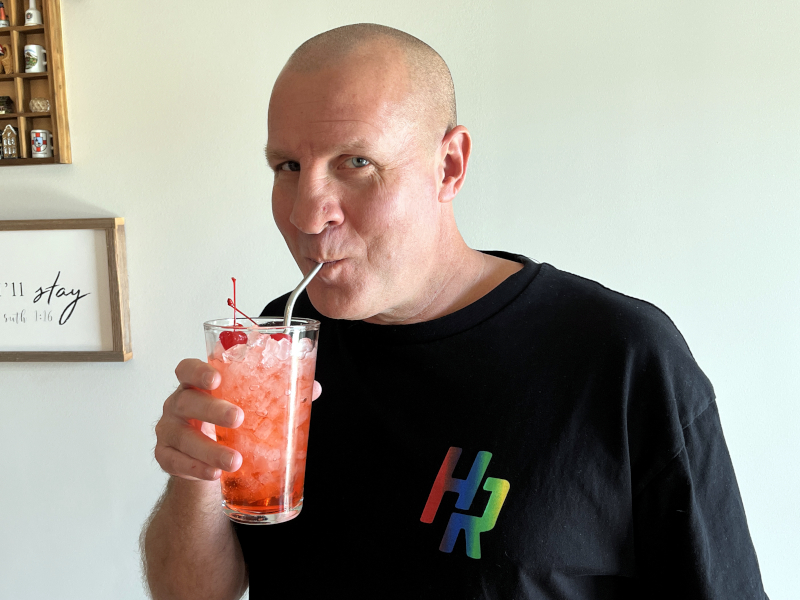 I love this ice; it's way better than the ice that comes out of my ice maker, even when crushed.  HiCOZY's ice is perfect for cold coffee, ice tea, soda, or whatever drink you fancy.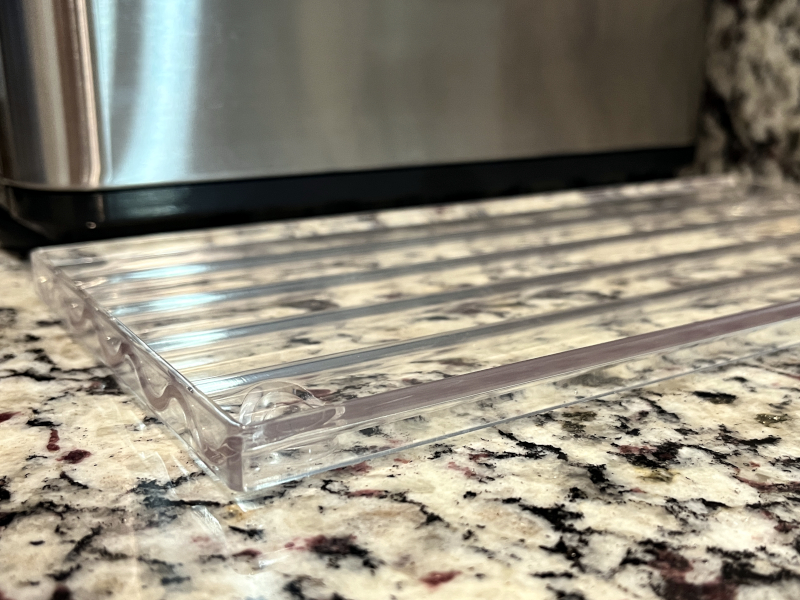 It's worth noting that the ice maker does not have a freezer compartment.  This means that the oldest ice on the bottom of the ice basket is always melting and dripping down through the holes into the reservoir, where it's made into ice again.  When I pull the basket out to scoop the ice, there's always some water that drips out onto my counter, which is why HiCOZY includes the little ice tray to set in front of the ice maker.
I love the one-button design of this ice maker, as it's so simple to use.  Press to start; press again to pause.  Press and hold for three seconds to activate the cleaning function that I mentioned earlier.  When you first get the ice maker, and whenever you're not going to use it for a while, you should run this function.  HiCOZY's manual recommends adding a bit of lemon juice into the water before activating it to help clean things out.  It just runs the water through everything for three minutes without trying to make any ice.
The first several times that I tried to run the cleaning function, it wouldn't work.  It ran for a few seconds and then stopped.  I finally sent an email to HiCOZY's support team, and they replied with a short video showing how to push the sensor near the water inlet.  That seemed like such a small thing, but it worked!  (Well done to Yolanda at HiCOZY support!)  After I run it with the lemon juice, I need to drain the water out, and then I need to do it twice more with just water.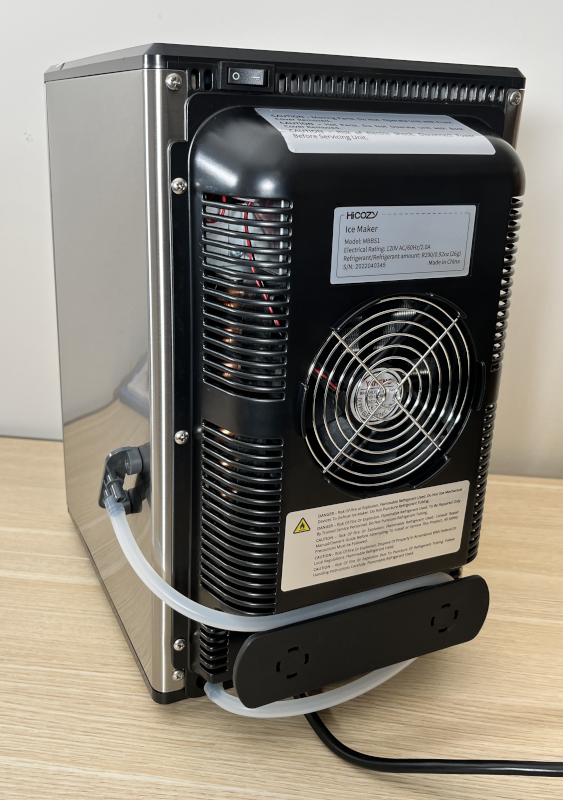 The back of the HiCOZY ice maker has a small port for draining water.  It comes connected to a short, clear tube that is plugged in order to prevent water from leaking out.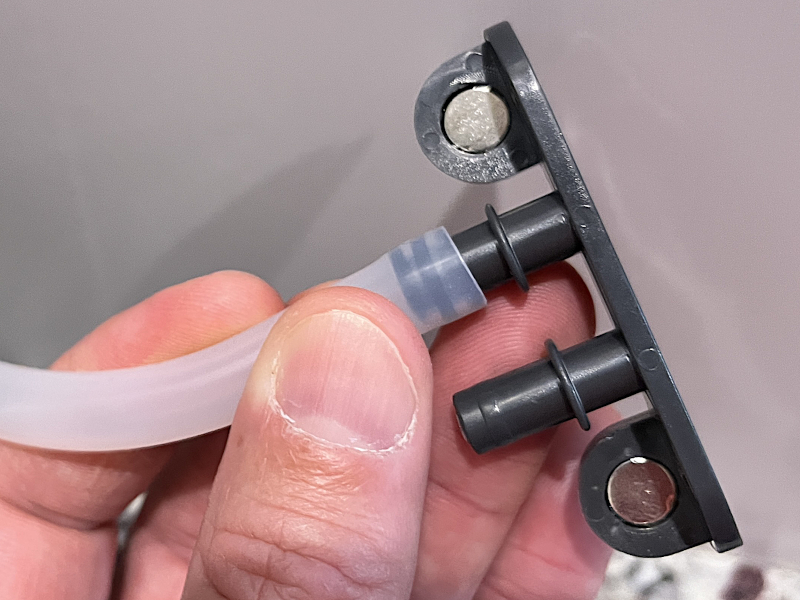 The plug has a pair of magnets on the end that allow it to stick to the side of the ice maker.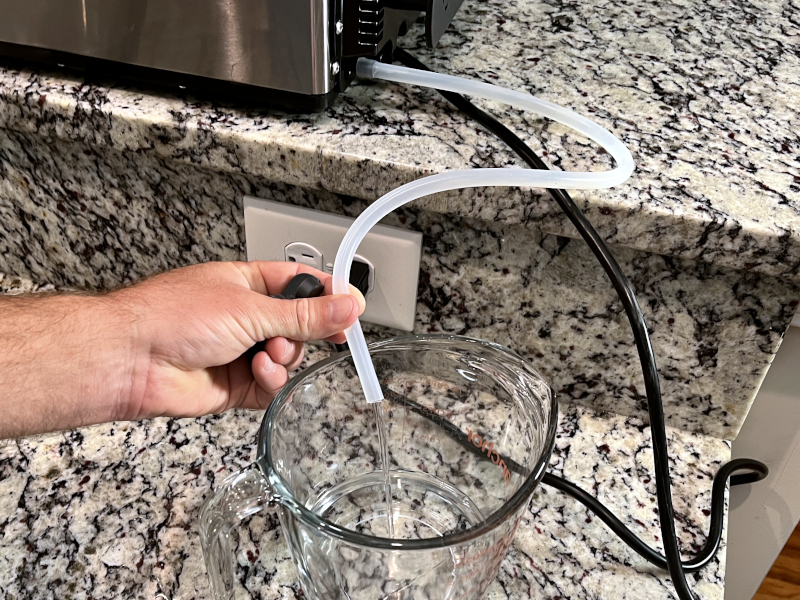 Removing the plug allows the water to drain down into a container.  This just uses gravity, so make sure the container is below the ice maker.  Additionally, I needed to tip the machine back and forth a couple of times to get as much water as possible to drain.  The only change that I would make to HiCOZY's drainage system is to replace the small plug at the end with a small valve instead.  Eventually the plug is going to stretch the end of the tube to the point where it won't stay in; I'm a bit concerned that I'll have water leak.  After I've run the cleaning cycle three times and drained everything, I kept the ice basket out and let everything air dry.  Now I can store the ice maker until I need it again.
We've used the ice maker several times, and each time it has performed flawlessly.
If you search on Amazon for ice makers, you'll quickly notice that the price of some ice makers is a lot lower ($100-150) than the price of HiCOZY's ice maker ($400).  Why the difference?  There are several reasons.  The primary reason that nugget ice makers are more expensive than normal ice makers is that the process for creating nugget ice is more complex.  Normal ice makers typically make bullet ice, named for the shape of the ice, which is simply frozen water; this type is pretty easy to make.  Nugget ice, however, is made by scraping thin layers of ice from the walls of a cooling chamber and then pressing them together into a rectangular shape.  This complex process causes air pockets to form inside the ice, which is what makes them lighter and fluffier; it also requires more complex technology.  The second reason is volume.  Many ice makers, such as this Amazon's choice ice maker or this one by Igloo, can make twenty-some pounds of ice a day.  The HiCOZY ice maker can make 55 pounds a day.  Additionally, the HiCOZY is stainless steel and has a self-cleaning function.  If price is your primary consideration, then there are cheaper ice makers out there, but if you're looking for nugget ice, then HiCOZY's price is reasonable.
What I like
Stainless steel design
Reasonably fast time to get ice
Small crunch, chewy ice
What I'd change
Final thoughts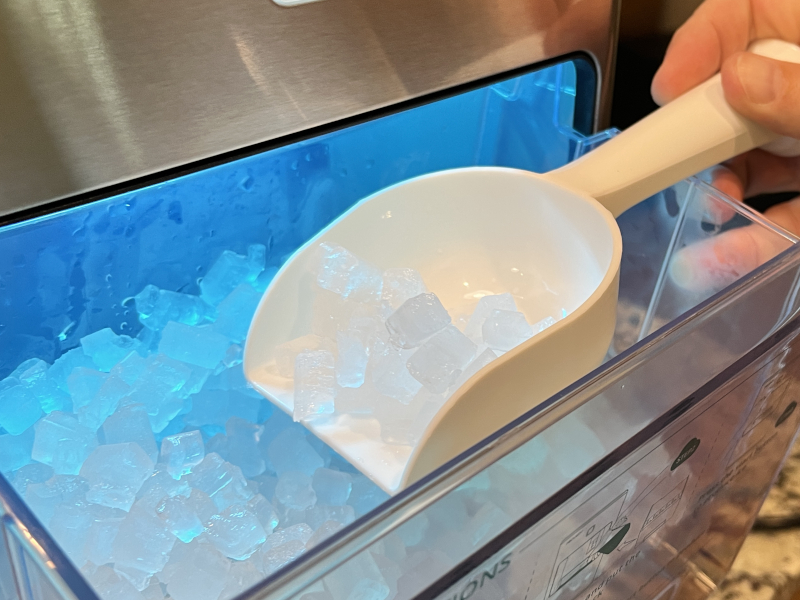 The HiCOZY Ice Maker is an ice-making gadget that has earned a place in our kitchen.  It creates small, crunchy cubes of ice that are perfect for whatever drink you fancy.  It has a blocky, stainless-steel exterior and can hold two liters of water in its interior reservoir.  In my testing, it produces plenty of ice after just one hour, enough to help out with company who's come to dinner.  It's easy to set up, easy to use, and easy to clean.  My wife and I are very happy with this kitchen appliance; if you're looking for nugget ice (and can afford the extra cost), we commend it to you.
Price: $399.99
Where to buy:  Amazon
Source: The sample for this review was provided by HiCOZY.