We use affiliate links. If you buy something through the links on this page, we may earn a commission at no cost to you. Learn more.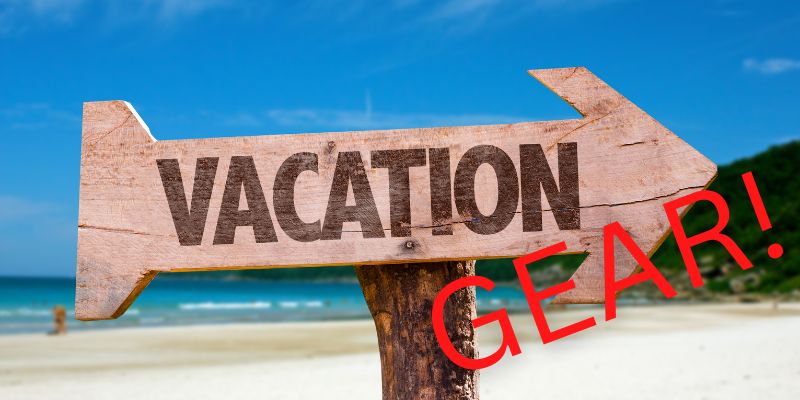 ARTICLE – This year we were very much looking forward to finally getting away for a real vacation by flying to Sanibel Island Florida (our favorite place on the planet). We usually go every fall but we haven't been there since 2018 because in 2019 we were remodeling our house and had moved into an apartment and couldn't justify paying rent while we weren't even there. Then 2020 and COVID happened. This year we decided we would go no matter what and made all travel arrangements back in April. Well, we all know what happened to Sanibel Island and much of Florida two weeks ago… Hurricane Ian. Our vacation is obviously canceled due to the damage to the island and I'm heartbroken about it (not for me, but for the island and those who live there).
I had all these ambitious plans to leave my MacBook at home and take my iPad Pro instead. But I ended up selling the iPad to a friend a couple of weeks ago. I talk about all of this in the first two episodes of The Gadgeteer video podcast, but the TLDR version is that I didn't want to take my MacBook because it's bulky and ended up going a little crazy and bought a Samsung Galaxy Z Fold 4 to try instead.
But the Florida trip isn't happening and now our new plans are to take day trips around here (southern Indiana) since it's kind of short notice to make all new travel plans at this point (we were supposed to leave this Thursday).
With all that out of the way, let's take a look at all the gear that I was going to take with me on vacation this year. I will also talk more about the Samsung Galaxy Z Fold 4 and what happened with that test.
Apple AirTags
I already had one AirTag, but Jeanne wanted me to get another one so I could put one in each of our suitcases. We always check our luggage and have yet (knock on wood) to have issues with lost bags, but you never know and I like to be prepared just in case it might happen, so I thought it was a good idea and bought a second one from Amazon for $28.99.
Orbitkey Slim Case AirTag holders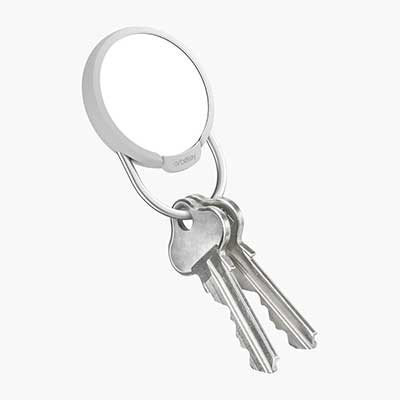 The great folks at Orbitkey were nice enough to send me two of their Slim Cases for AirTags which make it easier to clip the AirTag to a loop on a bag or in your luggage instead of just zipping it into a pocket where you might forget about it, or lose it. The Orbitkey Slim case for AirTags also work great as a keychain that you'll always be able to find. These "cases" are super easy to use and they are only $14.90 each from Orbitkey.com
Orbitkey Nest
Orbitkey also sent me their Nest gear organizer which I reviewed back in 2020 but had to send back to them at the time because it was an early sample. Go read my Orbitkey Nest review for all the details.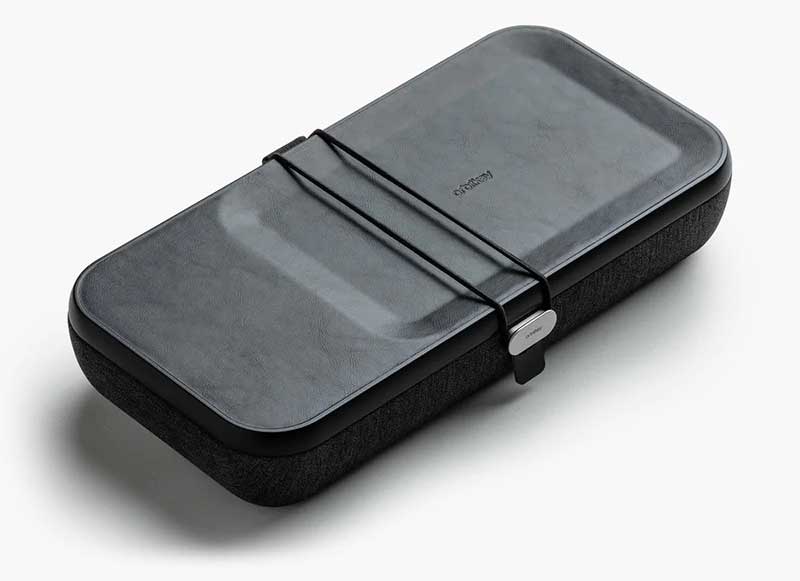 I was excited to use the Nest to keep all my small items perfectly organized and in one convenient place. I like that you can customize the Nest to fit your gear instead of you having to customize your gear to fit the Nest. Since I had planned to keep my tech gear as minimal as possible for this trip, I was going to take:
Nomad AC charger
Pilot Juice-Up pens, ruler, stencils, a tiny stapler, and some washi tape wrapped around old credit cards.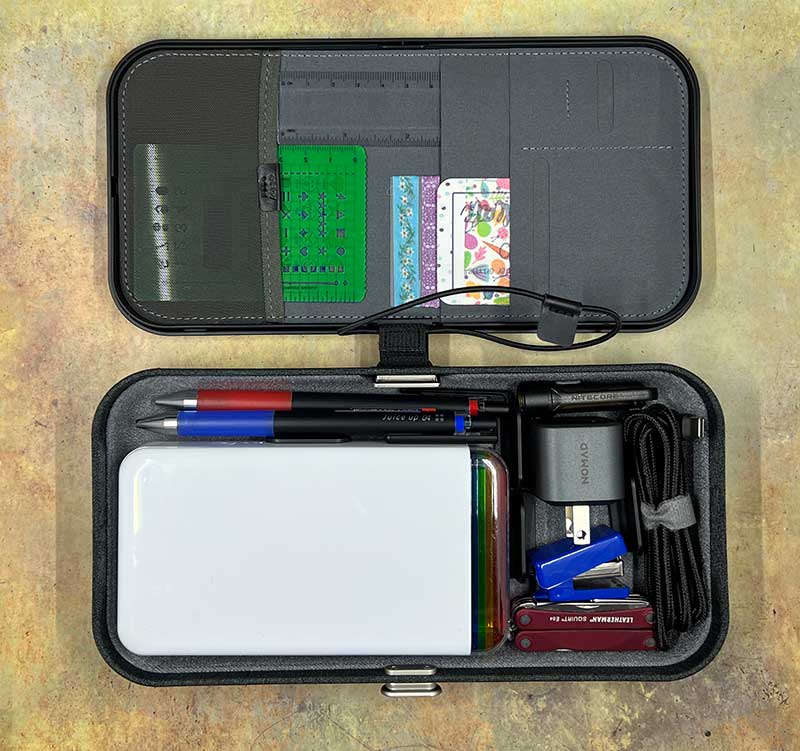 Here's how I had the Nest packed. As you will notice, it turned out to be more of a journaling kit than a tech kit. I don't know about you guys, but I really enjoy taking my journal with me on vacations so that I can record all of my adventures.
I really love how the Nest can be customized with the included plastic Velcro tabs and that the case doubles as a wireless charger. You can buy the Orbitkey Nest for $109.90 directly from Orbitkey.com or Amazon.
Tribit Flybuds C1 Pro wireless earbuds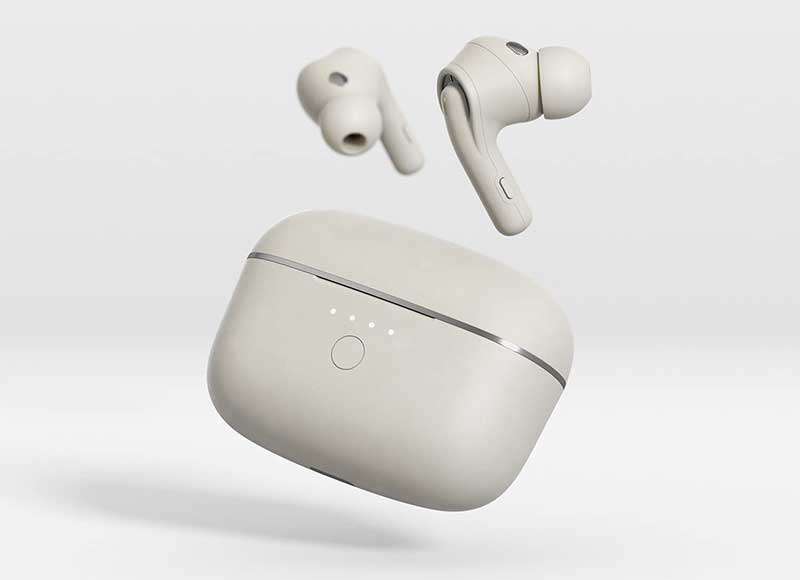 I've been using the first gen Apple AirPods Pro earbuds for a while now but haven't wanted to update to their newest ones because they're just too expensive at $249. When Tribit offered me their Flybuds C1 Pro earbuds to try out, I thought that the flight to Florida would be the perfect test of their active noise cancellation feature. I obviously won't be able to do that test now, but even so, I am finding the Flybuds C1 Pro wireless earbuds to feel more comfortable in my ears than the AirPods Pro earbuds and they sound really great. I also like that the charging case has a built-in battery charge indicator. I just wish that the case could charge wirelessly on a Qi charger instead of plugging in a cable. The Tribit Flybuds C1 Pro wireless earbuds are at $129.99 on Amazon.
RapidX Modula5 wireless charger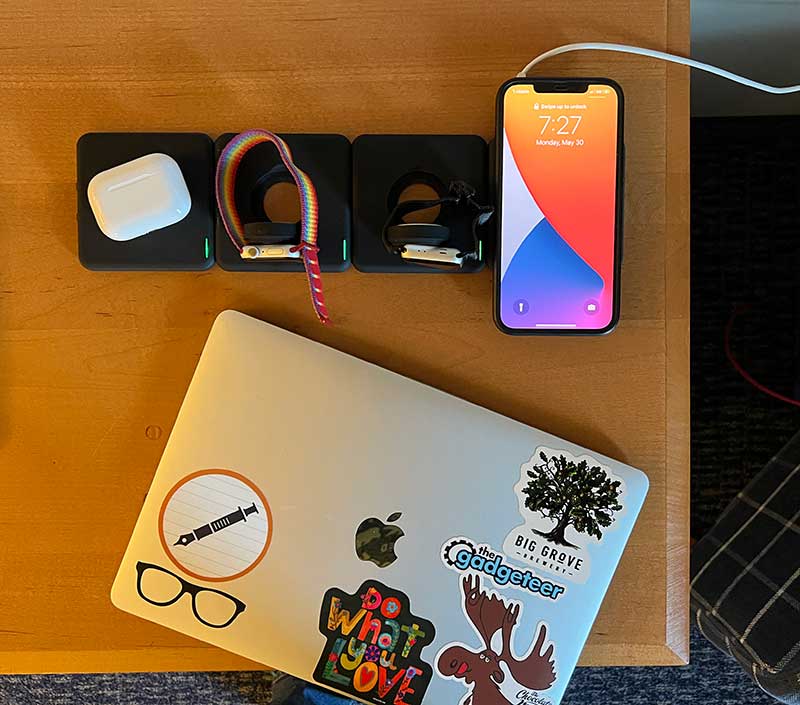 I take a lot of gadgets on vacation that require frequent charging, so that means also bringing multiple charging cables and AC adapters. To simplify things, I've started bringing the RapidX Modula5 wireless charging system on my trips. This system is comprised of charging pads and Apple Watch chargers. They all connect together with magnets and the great thing is that you can have up to 5 modules connected with just one USB cable. I use 2 Apple Watch chargers and 2 regular wireless chargers for phones and other items like AirPods. The RapidX Modula5 is available on Amazon with prices starting at $14.44 and going up depending on the number of modules that you need.
KOBO eReader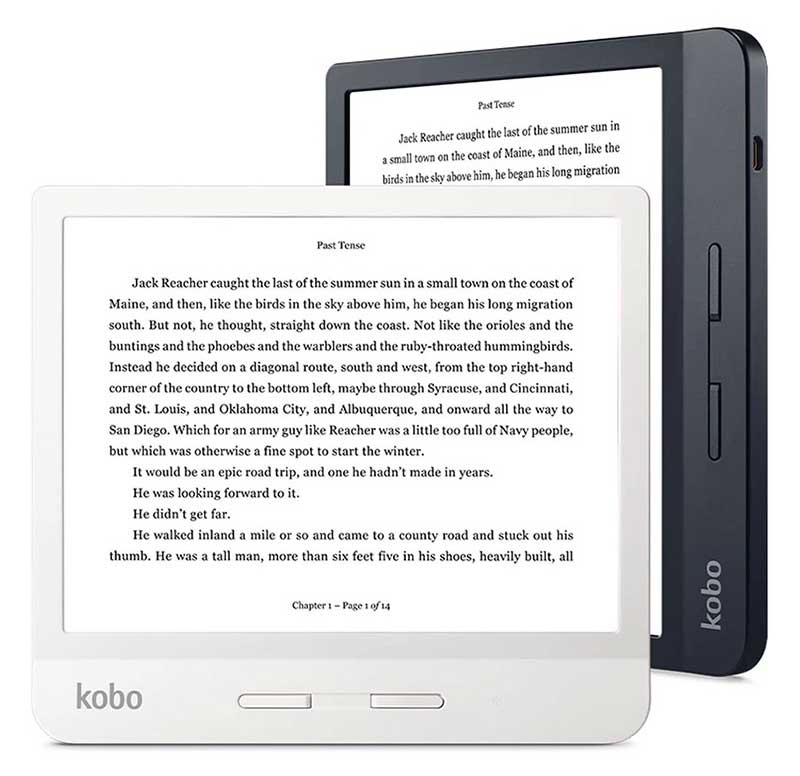 Since we were planning a Florida vacation, I wanted to relax on the beach with a good book. I decided that I'd take a dedicated eReader with me so I wouldn't have to worry about the glare of the sun or sand wrecking my iPhone. The plan was to bring a Kobo aura one eReader for me and a Kobo Libra H20 eReader for Jeanne. I've recently gotten back into reading on eReaders instead of my phone or physical books and I am really enjoying the experience. If you'd like to hear more about this topic, I talked about this in my last video podcast. If you're interested in the Kobo eReaders, you can find them on Amazon starting at $99.99.
Open Sea Leather wallet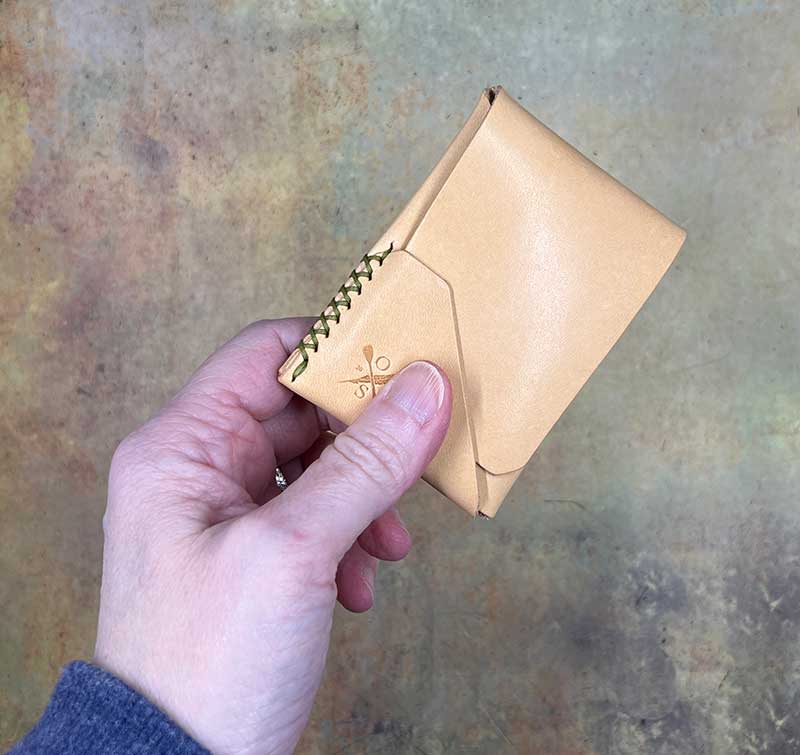 I don't carry a lot of cash with me anymore no matter where I go, so a small wallet like my latest favorite works great. This is the Open Sea Leather Topsider Mini Wallet and I just love how the raw leather has changed color in the last 6 months that I've been carrying it. Check out my Open Sea Leather Topsider Mini Wallet review to see what it looks like now vs. the way it looked right out of the box (shown above).
Waterfield Essential Crossbody Pouch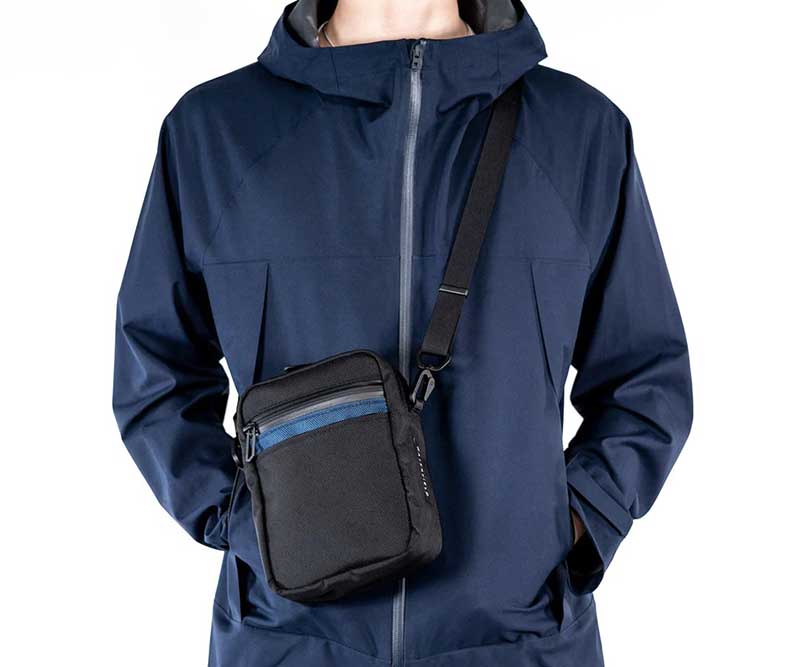 I like my wallets as minimal as possible and I like my bags the same way. The WaterField Essential Crossbody Pouch is the perfect small bag because it's comfortable to wear/carry all day while still being large enough to hold the necessities like your wallet, phone, sunglasses, lip balm, pen, small notebook, and more. Like all of WaterField's bags, this bag features its iconic orange interior which makes it easy to find your items at the bottom of the bag. The Essential Crossbody Pouch has an open-topped outside pocket, an outside zippered pocket, and a roomy interior with an open-topped pocket in the back which is large enough for an iPad mini or it can be used to provide some basic organization for your items. The WaterField Essential Crossbody Pouch is available with a variety of colored accents and is $89 directly from WaterField.
Keto Chow meal replacement shakes
I love going on vacation and trying new foods, but I'm pre-diabetic/insulin resistant and tend to keep my carb intake as low as I can to keep from having glucose spikes. To do that, I eat a lot of meal replacement bars that are keto friendly. I also enjoy meal replacement shakes that are low-carb. My all-time favorite meal shakes are Keto Chow shakes. I can't even tell that they are low-carb because they taste so good. Each shake is 1/3rd of your daily levels of a bunch of vitamins and you can customize how many calories you want each shake to have by adding the amount and type of fat you want to it. You can add heavy cream (the easiest), melted butter, and even oils or an avocado. I mainly use heavy cream and my favorite flavor (they have so many flavors available) of chocolate ends up like a thick rich shake that tastes more like a dessert than a meal.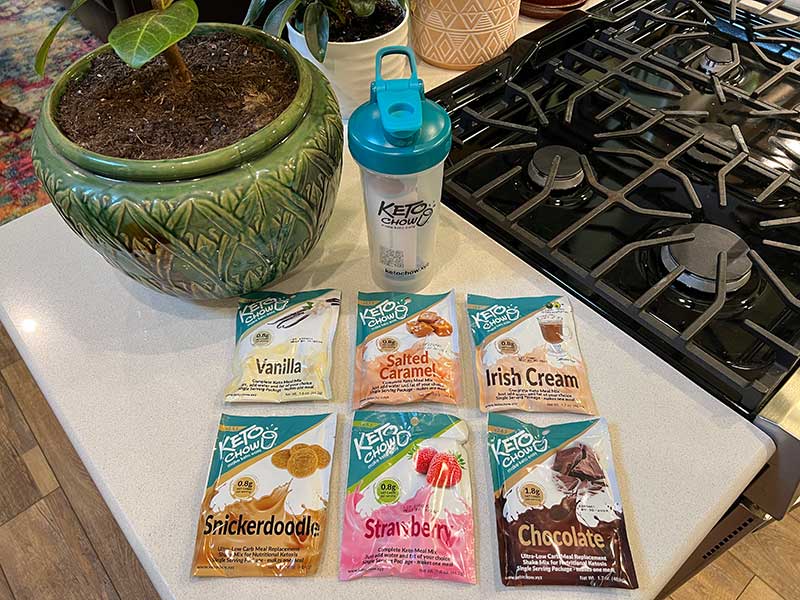 Keto Chow comes in bags of 21 servings or individual pouches that make it easy to pack in your luggage. Just open a pouch, empty the powder into a shaker bottle with 16 oz of water, add the amount/type of fat you want, and shake it up. You can drink it immediately, but it tastes better if you stick it in the fridge and let it get cold for at least an hour or so.
I like to take several packages of Keto Chow and a shaker bottle with me when we travel so I can make up some shakes to have on hand when I get tired of eating out. If you want to check out Keto Chow for yourself, head over the ketochow.xyz where you can buy individual packages for $5.50, and be sure to check my Keto Chow review.
Samsung Galaxy Z Fold 4 smartphone
As mentioned at the beginning of this article, I bought a Samsung Galaxy Z Fold 4 to use as my phone AND my "laptop" while on vacation. I received it about 2 weeks before we were due to leave and it's a good thing I had time to test it out before traveling because although I think the device itself is great, using it as a laptop alternative felt a little awkward – at least at first.
When I was first testing it and talking about it on my video podcast, I complained that I wasn't able to get the same desktop experience on the Fold 4 with Gmail as I do on my MacBook. This was a deal breaker for me because I spend hours a day dealing with email and I consider myself a power user of Gmail. I use stars, labels, and multiple inboxes to stay productive. I wasn't able to get that same "look" on the Fold 4… at least not at first…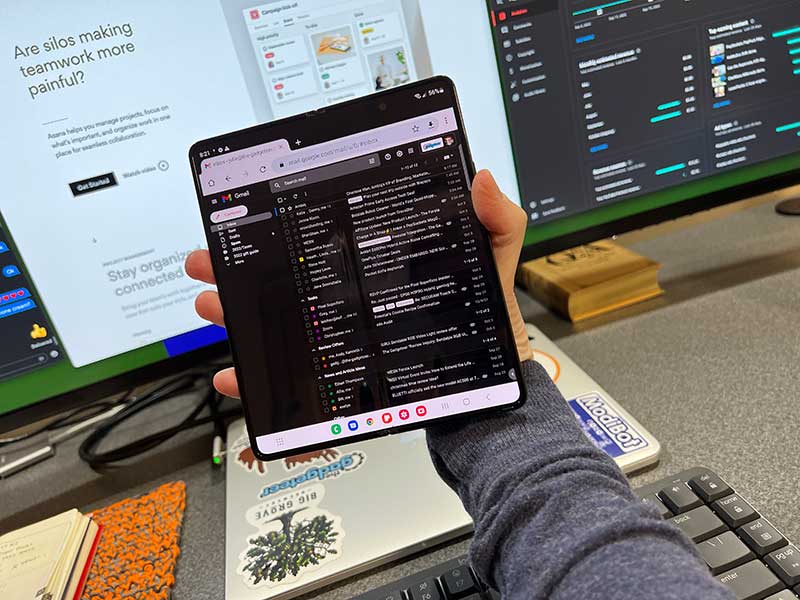 After I had already decided to return the Samsung Galaxy Z Fold 4 to Samsung (we weren't going to Florida, so I didn't really have a need for it any longer), I finally did figure out how to get the desktop view of Gmail. Typically, getting the desktop version of a site in Chrome requires you to go into the browser settings to request the desktop site. I tried this multiple times but it didn't work. Then I found that if you open an email and then scroll all the way to the bottom of the page, there's an option to view the desktop version of Gmail. The first time that you do this, you'll be shown what looks like a Gmail page from years ago, but again, scroll down to the bottom and click the Standard link and it will then show your current desktop Gmail layout (like you see above). This even works on an iPhone (good luck being able to read the tiny text though).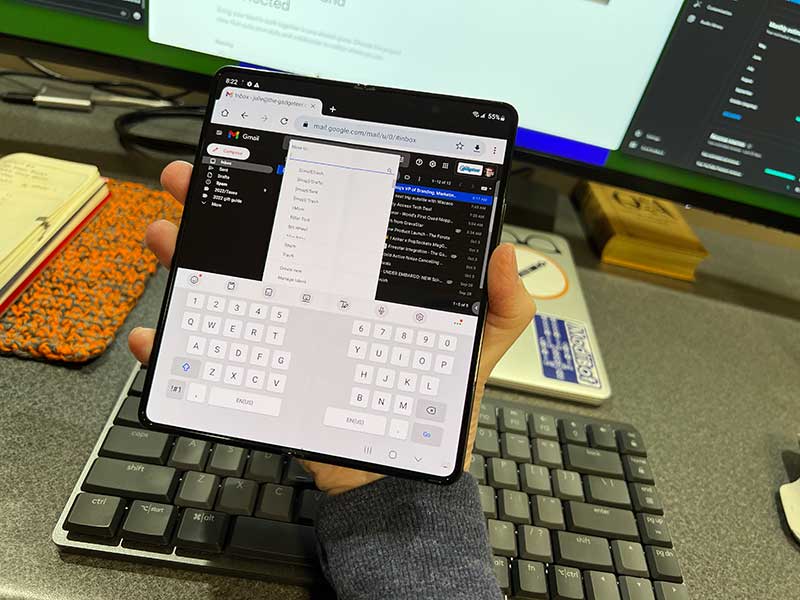 I found the Fold 4 to be very slippery and was constantly afraid I'd drop it. You definitely need some type of a case or grippy skin for this overly expensive device.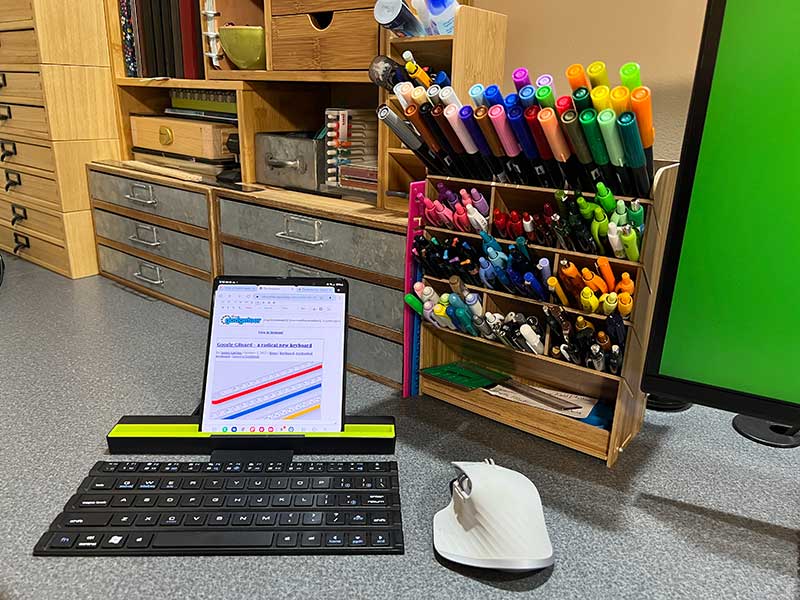 I also tried the Fold 4 with a Bluetooth keyboard and mouse which worked pretty well to round out the whole laptop-alternative scenario.
So, while I would have been able to use the Samsung Galaxy Z Fold 4 as a laptop alternative during my vacation, I probably would not have loved the experience because the Fold 4 is bulky to carry around as a phone and I would have been afraid to take it on the beach with me. I enjoyed trying out my first folding phone, but in the end, I returned the Fold 4 due to no longer having a use for it.
I hope you enjoyed this look at the gear that I would have taken with me on vacation. We'll see what I decide to take next year when we really do go to Florida or some other beach no-matter-what!