We use affiliate links. If you buy something through the links on this page, we may earn a commission at no cost to you. Learn more.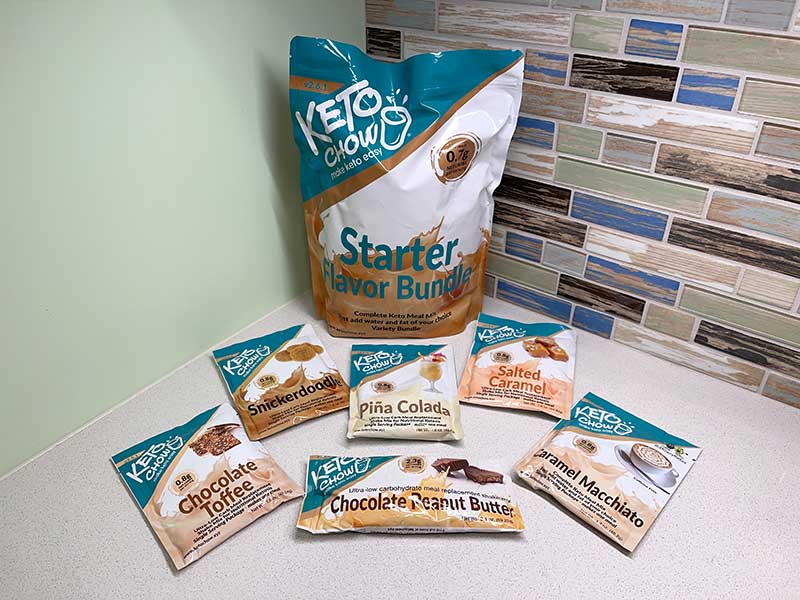 REVIEW – Keto foods have become so mainstream that you can find them when you visit the grocery store. I've even found Keto friendly foods at Walmart. The problem is that many of these so-called Keto foods tend to be snack foods instead of foods that you can use as a full meal replacement. That is why I was so excited when I found Keto Chow which can replace one or even all of your meals for the day. Let's take a look and do some taste tests!
What is it?
Keto Chow is a drink/shake mix that has been designed to provide complete nutrition to keep you in Nutritional Ketosis. It contains a third of your daily nutritional needs of electrolytes, vitamins, protein, and more.
What is Nutritional Ketosis and why would you want to be in it? Nutritional Ketosis is when your body is burning fat for fuel instead of glucose. Why would you want to be in ketosis? Well, you're burning fat so it can help you lose weight. Or, if you're like me, I have insulin resistance and an elevated A1C. Staying in ketosis helps to keep blood sugar levels in the "normal" range.
Keto Chow flavors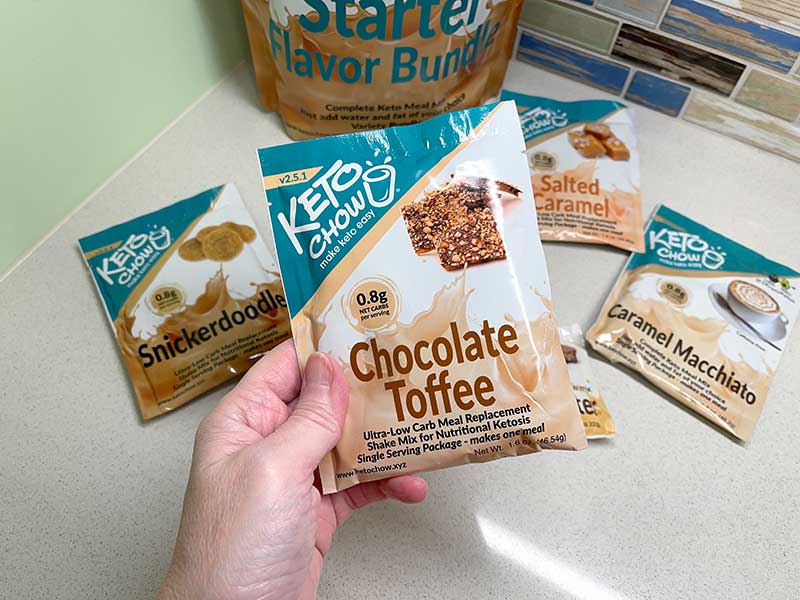 When you check most brands of meal-replacement shakes, keto or not keto, they typically only offer a couple of flavors. Usually, there's chocolate and vanilla along with strawberry for some brands. Keto Chow offers so many flavors that you might have trouble choosing which ones you want to try first! I just went to their site and counted 26 flavors, but they are constantly coming out with new flavors to try. I'm all about trying new things, so I love the fact that Keto Chow offers so many different choices.
Although this review is focusing on Keto Chow's sweet flavors, they also offer savory flavors (soups) if you're interested in that.
Nutrition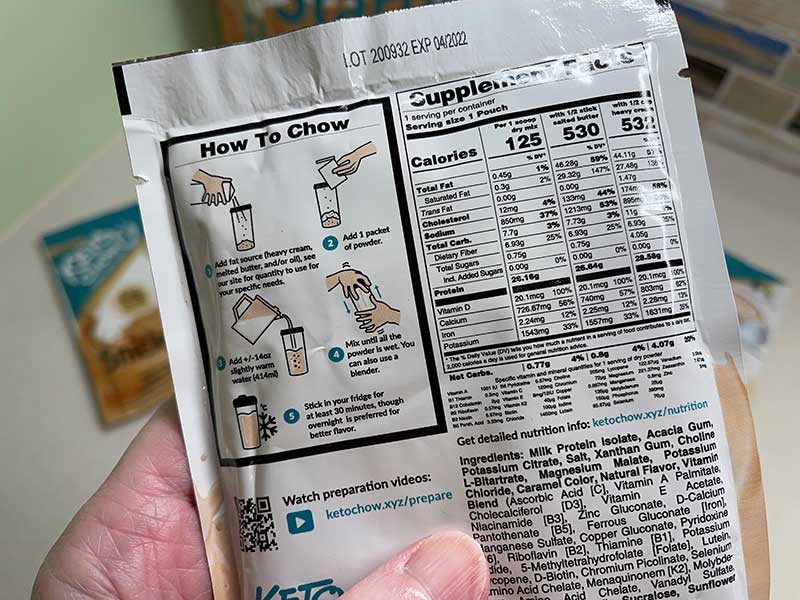 When it comes to nutrition, one Keto Chow shake is formulated to contain a third of your daily nutrition of vitamins, minerals, and protein. What it doesn't contain is a ton of carbs that cause blood sugar to spike. It also doesn't contain much fat which might be confusing since this is a keto product and the keto diet focuses on fats. That's because you get to customize the shake with the fat type and amount depending on the calories that you want for each meal. You can read all about the Keto Chow nutrition and ingredients here.
The only questionable ingredient that stood out to me is that they use 0.08g (80mg) of Sucralose to sweeten the shakes. I'm not a fan of that sweetener because when I was using Splenda back in the day, it made my joints ache. That said, I have been drinking quite a bit of Keto Chow and haven't noticed any ill effects yet. If you're completely opposed to Sucralose, you can buy their Natural Strawberry flavor which uses monk fruit as a sweetener or you can buy their Keto Chow base flavor which doesn't have any flavors, sweeteners or even protein in it. You can then customize it however you like.
Keto Chow taste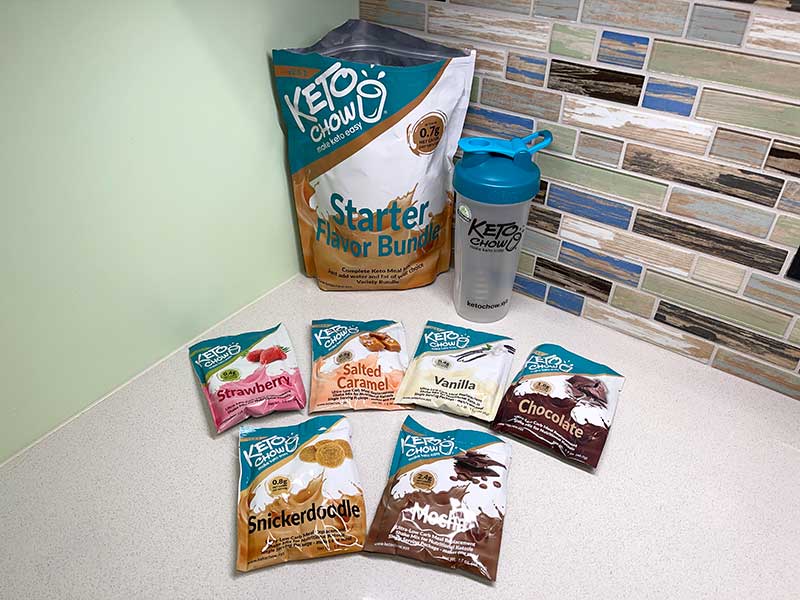 Keto Chow sent me their Start Bundle which includes the flavors that you see above along with a shaker bottle. They sent me some additional flavors that are shown in the very first image of this review.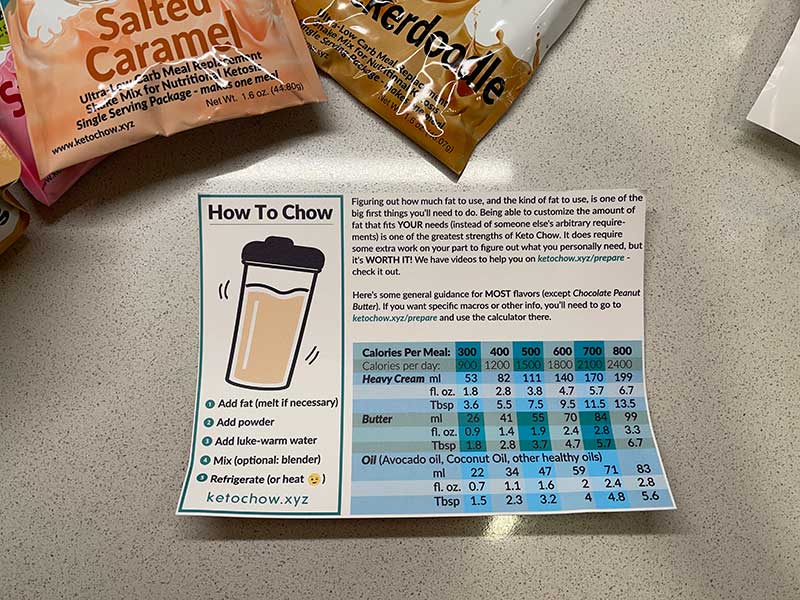 Mixing up the shakes is easy, but there are a couple of things to keep in mind. As mentioned before, it's up to you to add the fats. Yes, you can drink the shakes without adding the fats, but if you're on the keto diet, you won't want to do that.
The shake mixes come with a card that shows you how much to add depending on the calories you want for each meal. For all my shakes I used either heavy cream or butter. I didn't try avocado oil, coconut oil, or other oils simply because I didn't have any in the house.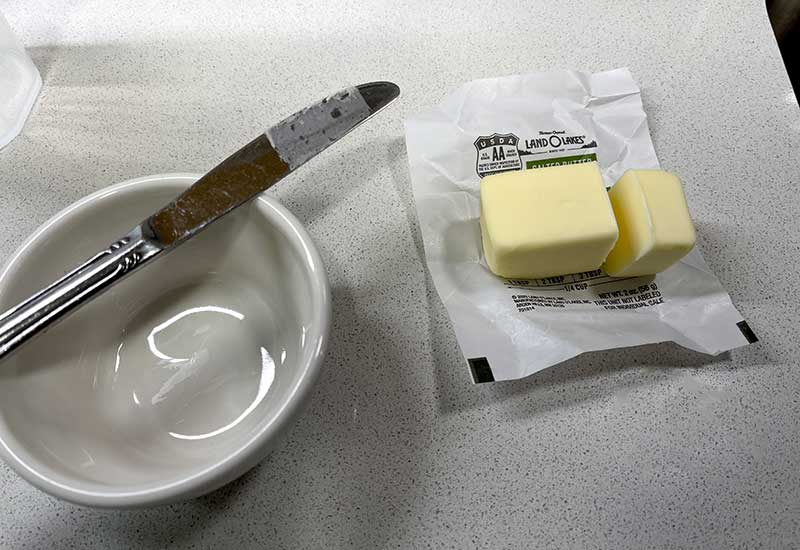 For my first Keto Chow test, I used butter. The real stuff, not margarine! You'll want to make sure the butter is melted, so I put the cold butter in a small ramekin and heated it slowly in the microwave until it was liquid.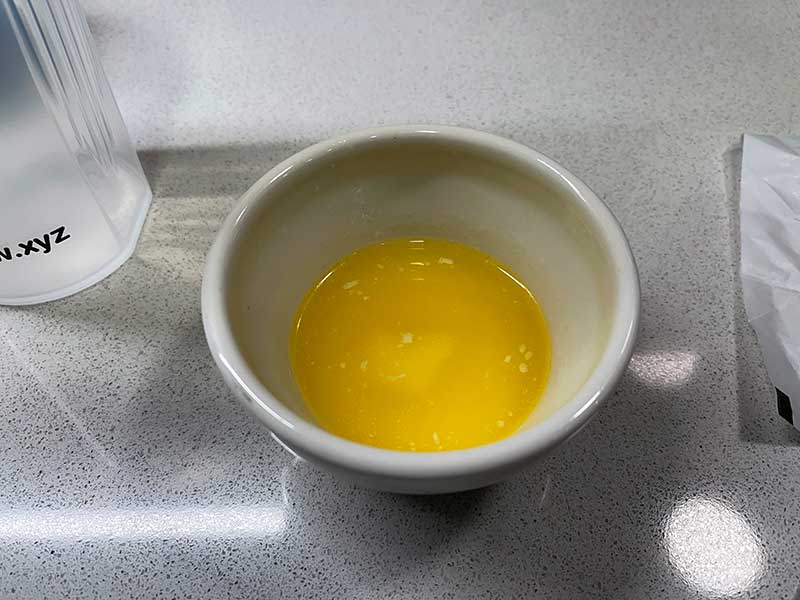 Then I filled up the blender bottle with 14 ounces of lukewarm water. Yes, I know that sounds gross, but you're going to put the shake in the refrigerator to chill before drinking it.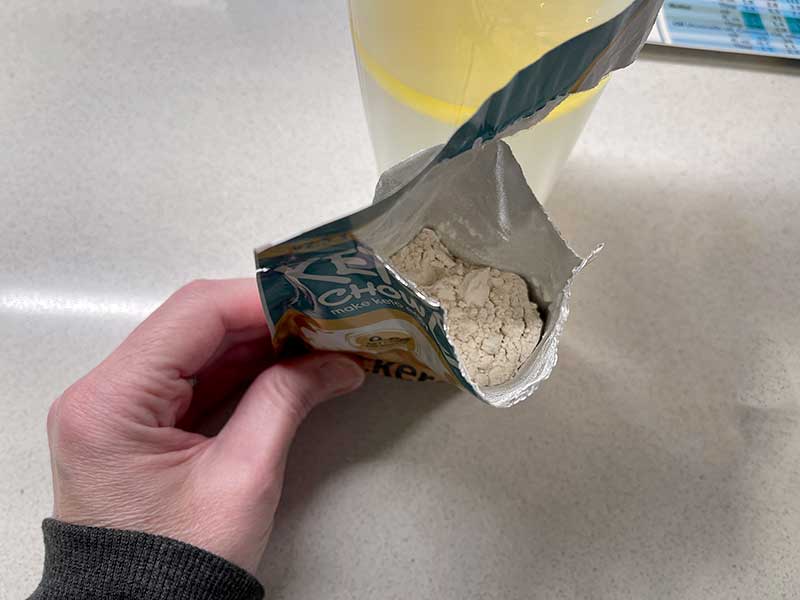 The next step was to pour the shake mix into the blender bottle.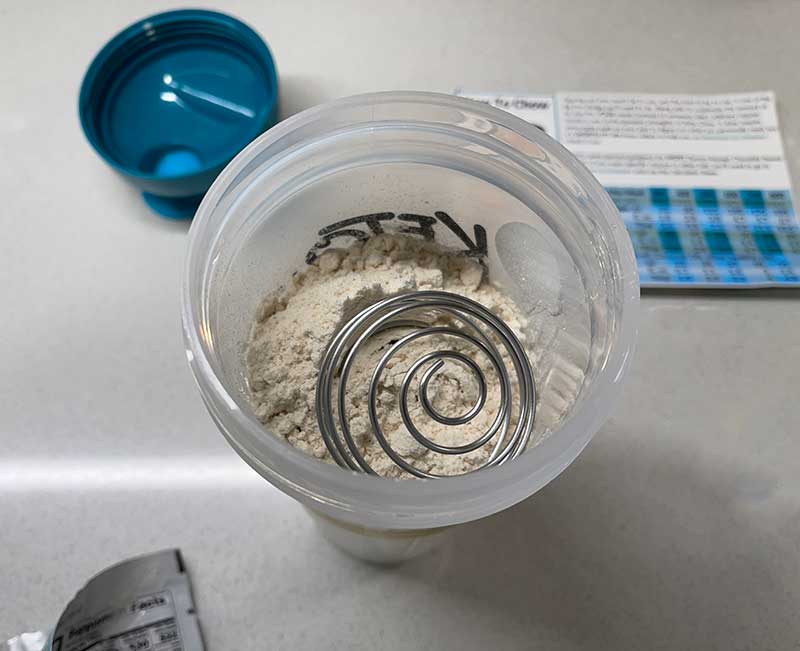 Don't forget the blender ball and the melted fat! Put them in the bottle too.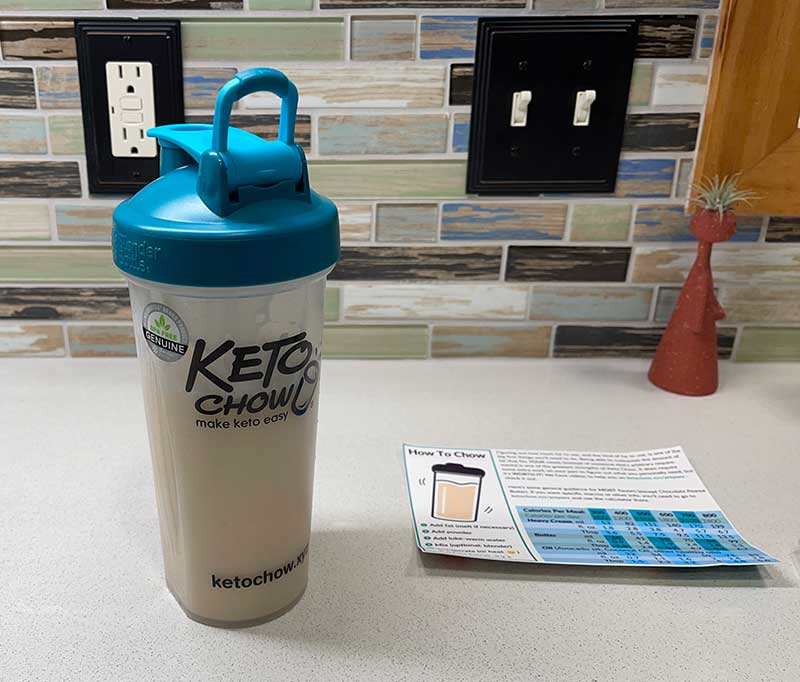 Screw on the top, make sure the spout is closed and shake it up. This stuff mixes REALLY well, so you don't have to worry about clumps as long as you shake it vigorously for a 10-15 seconds. Then stick it in the refrigerator for at least an hour or so. That's it!
My taste testing diary
The first mix I tried was Snickerdoodle and it turned out thick, rich, and yummy. It reminds me more of cake batter than snickerdoodles tho. I think it needed a bit more cinnamon. There were no clumps or grit to the shake, it was like a real thick milkshake. It was actually a little too thick. Had it for lunch and I was completely full and satiated for hours.
The next day, I tried the Chocolate flavor for lunch, and this time I mixed it with heavy cream and it was DELICIOUS! I used 15.5 ounces and felt the consistency was better. The only problem was that it gave me the poops a few hours later. Sorry if that was TMI 😉 I am not lactose intolerant, so I'm not sure why it gave me that problem. Even with the bathroom issue, I want another one of those shakes because it tasted so good.
Two days later I tried the Vanilla flavor for breakfast. I used 16 ounces of water and butter. I think 16 ounces is the perfect amount of water because the shake is still thick and the amount really fills you up for a long time. Of the two flavors that I've tried, this one is my least favorite so far.
A few days later I tried the Chocolate Toffee and wow, another great one! It tastes like a liquid Heath candy bar. I used cream again and had no bathroom issues this time. That first time might have been a fluke.
Another few days later I had the Salted Caramel for supper. I really enjoyed it. When I finished draining the shake I wished I could lick out the blender bottle. Ha!
I tried the Chocolate Peanut Butter and was expecting to love it, but it was only so so for me. I greatly prefer the plain Chocolate flavor to the Chocolate Toffee.
A few days ago I tried the Strawberry flavor for lunch. I did half butter and half cream and it turned out really well. I didn't expect to like it as much as I did!
I didn't try the Mocha or Caramel Masciatio because I don't like coffee flavors. I haven't tried the Pina Colada yet either.
Is Keto Chow truly keto friendly?
I made sure to test my blood sugar using my Freestyle Libre 14 day CGM before and after I drank a Keto Chow shake and I'm happy to report that my blood sugar level barely moves when I drink them. So yes, Keto Chow really is keto. That's fantastic!
What I like
So delicious
Complete meal replacement shake with very few carbs
Dozens of flavors to choose from
Contains vitamins and protein
Mixes well
What I'd change
Keep adding more flavors!
Final thoughts
I like Keto Chow so much that I ended up buying 42 meals of the Chocolate mix when they had a bundle deal on sale. I also picked up a bunch of other flavors that sounded interesting in single meal packets. So yes, I love this stuff. It is my favorite meal-replacement shake of all the ones I've reviewed so far because of the consistency, taste, nutrition, and fact that it's keto friendly and won't spike my blood sugar.
Update 11/15/21
Keto Chow has become a staple for me. I drink at least 2 shakes a week to replace lunches. Even Jeanne has been enjoying them and she's not even on Keto right now. She was trying Keto for a couple of weeks and was drinking the shakes with cream or butter, but since stopping keto, I have been making them for her without any fat. She says that they are a little less rich and thick but otherwise still taste great.
The folks at Keto Chow sent me a box with other sweet flavors to try including their savory mixes. I have to admit that I didn't really like the savory mixes as a meal replacement, but I think that using them as a base in other recipes would be an option.
So far, my all-time favorite Keto Chow flavors are Chocolate, Mint Chocolate, and Pistachio. Others that I enjoyed and would buy again out of the new batch have been Egg Nog, Orange Cream which takes like a creamsicle. I even liked Rootbeer which I thought was going to be super weird.
Update 5/11/22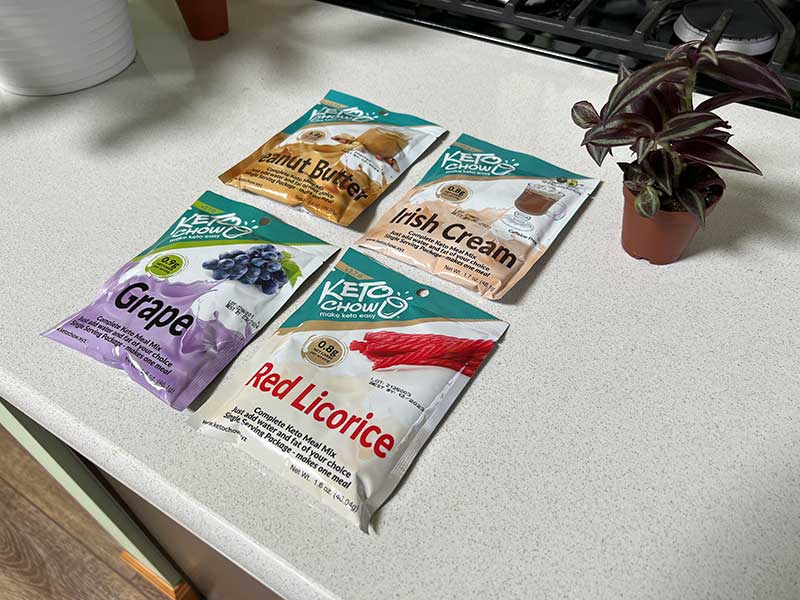 A few weeks ago, the folks at Keto Chow sent me their latest flavors to try: Peanut Butter, Irish Cream, Grape, and Red Licorice.
Grape and Red Licorice are two flavors that are probably head scratchers for many people when it comes to flavors for a meal shake. That's why I was curious to try them too.
I tried the Irish Cream flavor first because in my mind, I immediately went to Bally's Irish Cream liquor. Well, this one isn't that flavor 😉 It's coffee-flavored and I do.not.like.coffee.at.all. Did that keep me from sampling the flavor. Nope. I take this "job" seriously 🙂 I drank about half a serving and yeah… coffee. This one is definitely at the bottom of my list of Keto Chow flavors, but I think those of you who do enjoy coffee will enjoy this creamy keto-friendly shake too.
Then I tried the Peanut Butter flavor and I liked that one much better. It reminded me more of roasted nuts than peanut butter though.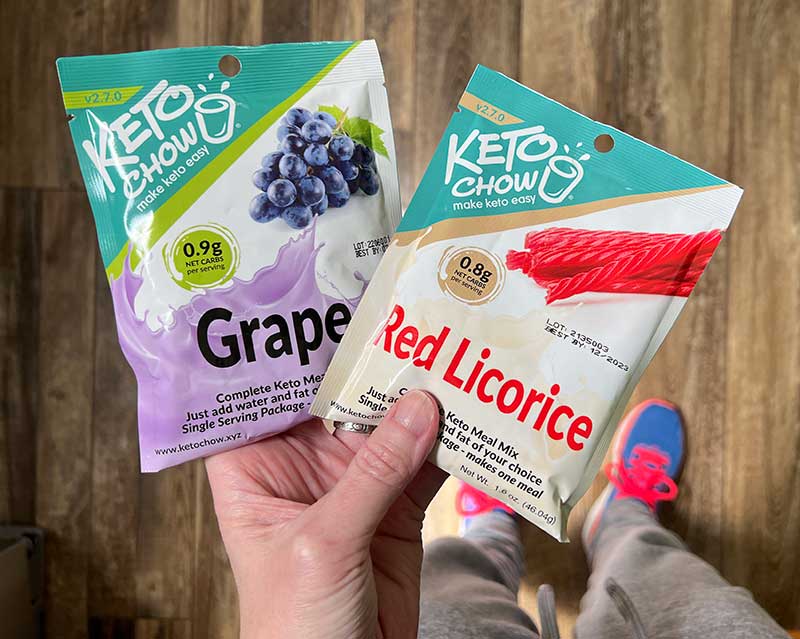 The next new flavor that I tried was Grape and it was the one I was most excited to try because I love grape soda and grape candy. The Grape Keto Chow totally reminds me of grape taffy. The grape flavor isn't intense, but it's there and yummy.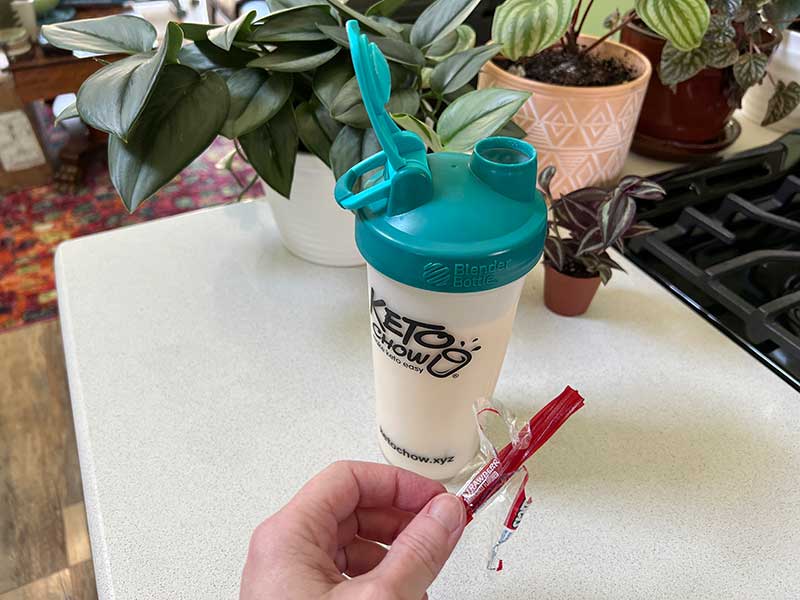 Last but not least, I tried the Red Licorice flavor. The first time I tried it, I didn't think it tasted like licorice at all but then I hadn't had licorice in years. As crazy as it sounds, that same day, Jeanne got a package and in it was a stick of red licorice! So I took a couple of bites and then took a few more sips of the Red Licorice Keto Chow. Yep! It does taste like red licorice. I don't know if I'd buy that flavor on purpose, but if you're a licorice fan, then you should give it a try.
I want to end this update by saying that Keto Chow came in super handy this past week while I have been recovering from COVID. Like many people, I lost my sense of smell and taste. As you can imagine, eating became a real chore because it's no fun to eat without taste. But as luck would have it, I could taste the Keto Chow chocolate flavor enough to enjoy it as a meal. This was great because in addition to beable to enjoy it, it also included a third of my daily nutrition which is important when trying to recover from any sickness, let alone COVID.
Price: $4.75 per single shake mix
Where to buy: Keto Chow and Amazon
Source: The sample for this review was provided by Keto Chow.