We use affiliate links. If you buy something through the links on this page, we may earn a commission at no cost to you. Learn more.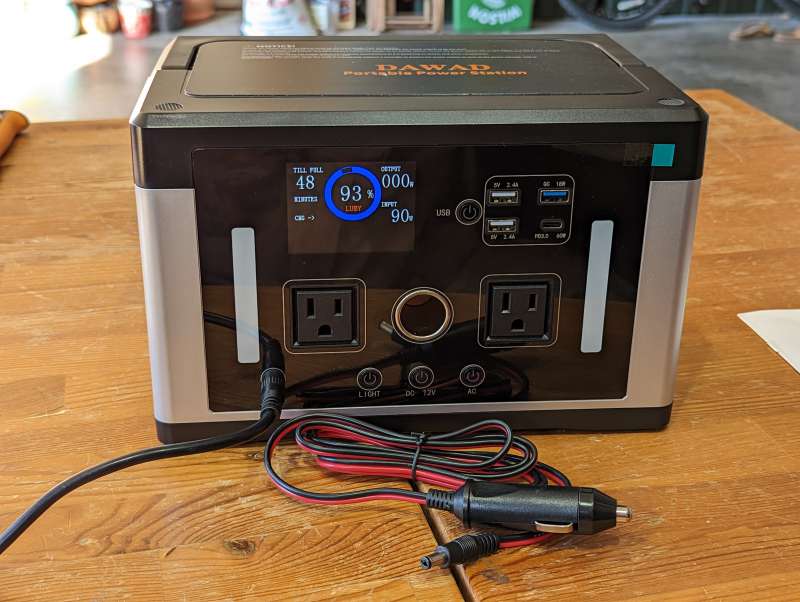 REVIEW – The power in my house went out recently and fortunately (or unfortunately) I did not have to eat all my ice cream before it melted since it was restored in about six hours. That was about the time I started worrying though because I realized since I don't have a generator I would have had $300 worth of wasted food on my hands. Enter the Dawad GoWatts 700 portable power station to ease my worry about another power outage.  
What is it?
The Dawad GoWatts 700 is a 700 watt portable power station capable of charging multiple devices at once and can be recharged using solar panels, a wall outlet, or through the included vehicle charging cable.
What's in the box?
Dawad GoWatts 700 portable power station
Charging adapter
12V car charger cable
User manual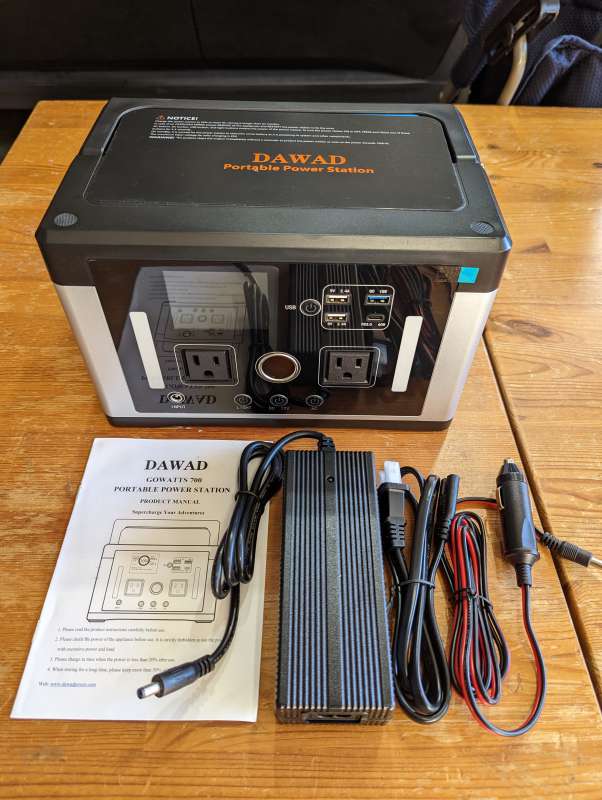 Hardware specs
Weight: 12 lbs

Dimensions: 10in w x 6.5in h x 7in d (258mmx175mmx164.5mm) 

Battery: Lithium Ion 577 Wh (

155900mAh

)

Voltage: 220 volts

Output: 12V/10A DC and AC 700V/1000W max

Outlets: 2 AC plugs, 3x USB plugs, 1x USB-C

LED lighting modes, SOS, slightly bright, breathing light, flash, and brightest

Charging options: Solar, vehicle, and wall outlet

Charge time: 6.5 hours (adapter); 6.5 hours (18-25V 5A solar), 8 hours (car charger)
Design and features
The Dawad GoWatts 700 portable power station is smaller and lighter than I thought it would be at 12 lbs and about the size of my lunchbox. The handle on top feels solid and makes carrying the GoWatts 700 an easy affair and the built-in LED lights will come in handy when camping.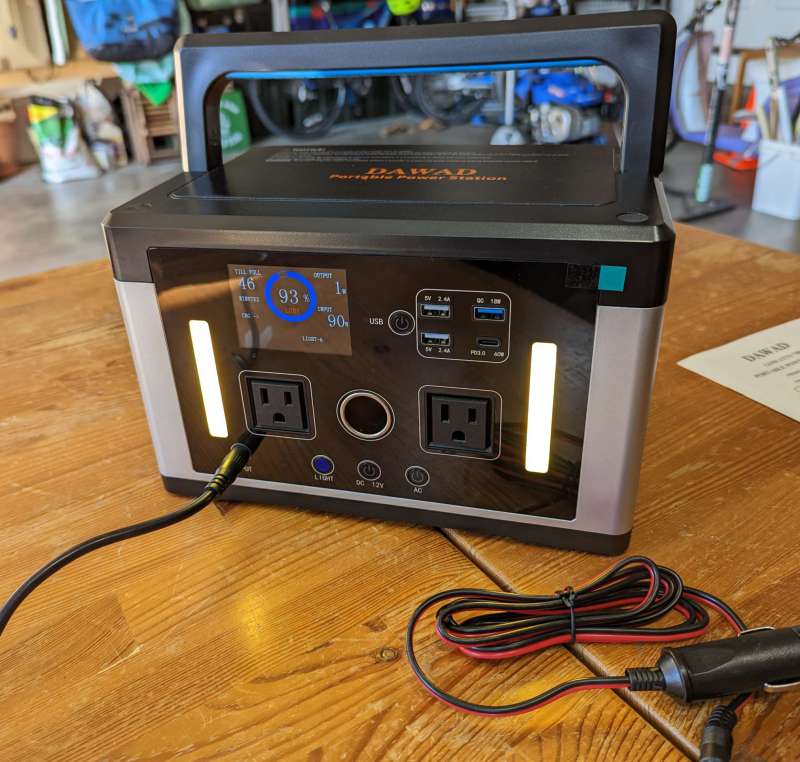 There isn't anything of much interest on the top, sides, or bottom except for a few disclaimers and the data plate.
All the action is in the front of the Dawad GoWatts 700 portable power station.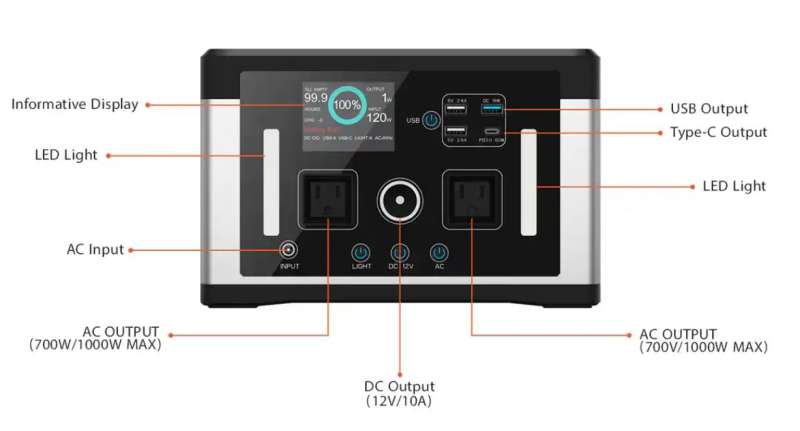 The LCD screen is well lit and provides all the information you could want to keep track of your input, output, and status.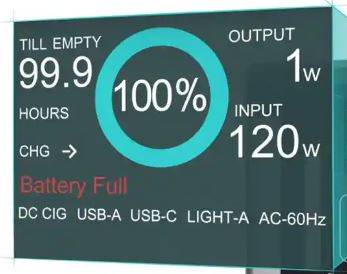 Performance:
The Dawad GoWatts 700 portable power station contains a battery management system as well as can provide a pure sine wave AC current. This is the type of current you get at home and is required for more sensitive electronics such as newer TV's, appliances with AC motors such as refrigerators and microwaves, and medical equipment such as CPAP machines. Modified sine wave power stations do not provide smooth electricity delivery and could damage sensitive electronics. They are fine for water pumps and old tube type TVs. 
The Dawad GoWatts 700 Portable Power Station arrived with 93% power already so plugged it in to top it off. The LCD display showed me it would take 48 mins to get to 100% and was drawing 90W from my wall outlet and the time ended up being spot on. After reaching 100% I decided to try it on my Fitbit. I plugged the USB cable in and then pushed the power button which turns the LCD screen on and the USB zone of plugs. Another press will turn that zone and LCD off. This is nice because you can leave things plugged in but turn the Gowatts off so there is no parasitic draw while not in use.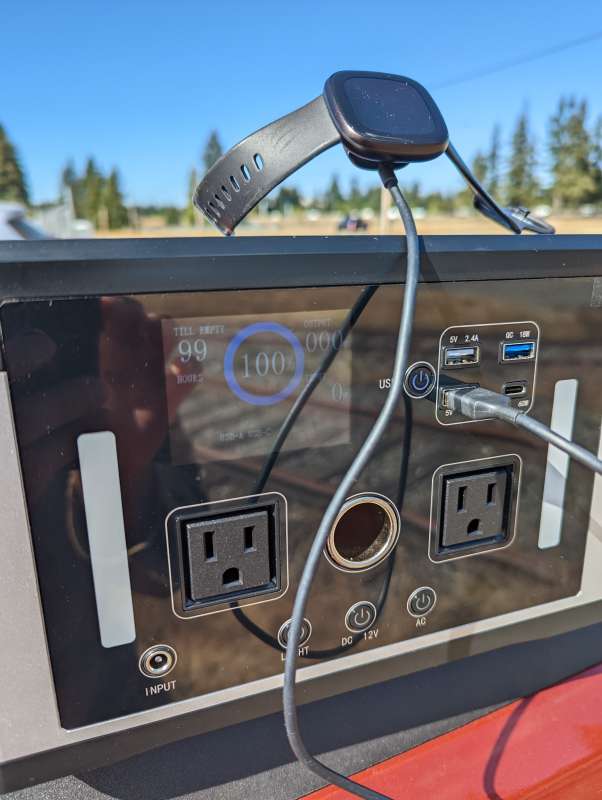 The Fitbit didn't phase the Dawad GoWatts 700 portable power station at all. Available power remained at 100% and the draw wasn't even enough to register any output. I decided to plug in my 24″ monitor and computer speakers and play YouTube videos.
I added a power strip and plugged in a fan as well which doubled the draw to 68w that would last 7.3 hours. I started my timer and after 2 and a half hours I returned and it showed 4.7 hours left which is almost spot on. It dropped from 98% to 64% power.
I then took it to my desk and used it to power two 24″ monitors, my laptop, and cell phone charger. I was surprised to see it was drawing between 108 and 130 watts at times. I turned my Viewsonic off and back on and found it draws 38 watts. My LG monitor was drawing 43 watts. More than I thought they would so another useful feature is if you are curious you can see what certain electronics in your home are drawing. You can also charge the GoWatts while using it so it works as an uninterruptible power supply (UPS) as well.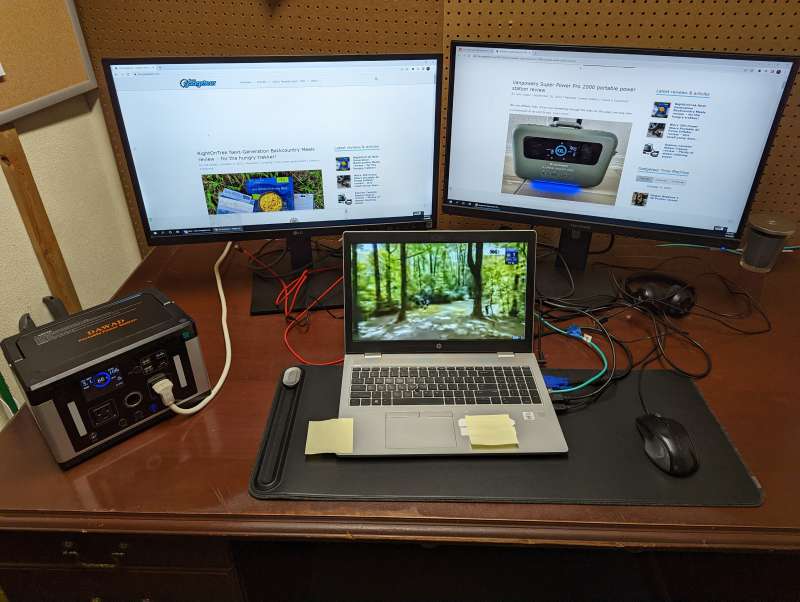 I then charged it all the way back to 100% and plugged my kitchen refrigerator in to see how long it will last. When the compressor wasn't on my fridge was only drawing 10 or 25 watts but when the compressor kicked on it jumped to 119w which at that rate would last about 4 hours. The Dawad GoWatts 700 power station was exactly what I wanted in case of another power outage since it can handle my refrigerator and as long as I don't open it too much to reduce the compressor kicking in the GoWatts 700 will at least give me a day or so peace of mind in the event of another power outage.
If you want more power then a 2000 watt power station like the Vanpowers Super Power Pro power station might be a better option. For me I wanted something compact and light enough for camping or doing some light construction projects away from a reliable electrical source to recharge power tool batteries and as a little backup in case of another power outage so the Dawad GoWatts 700 power station fits the bill nicely.
What I like
Compact and light compared to similar capacity power stations

Accurate power usage

Simple but info packed LCD screen

No discernible power drain when not in use
What I'd change
Final thoughts
The Dawad GoWatts 700 portable power station is the perfect solution for powering devices off the grid or as an emergency backup at home during a power outage. The 700 volt/ 1000 watt max output can handle most household appliances and sensitive electronics. When paired with solar panels the Dawad GoWatts 700 can give you a sustainable power source for quite a while when off grid. The Dawad GoWatts 700 gets two Gadgeteer thumbs up from me. 
Price: $529.00
Where to buy: Dawad website
Source: The sample for this review was provided by Dawad.