We use affiliate links. If you buy something through the links on this page, we may earn a commission at no cost to you. Learn more.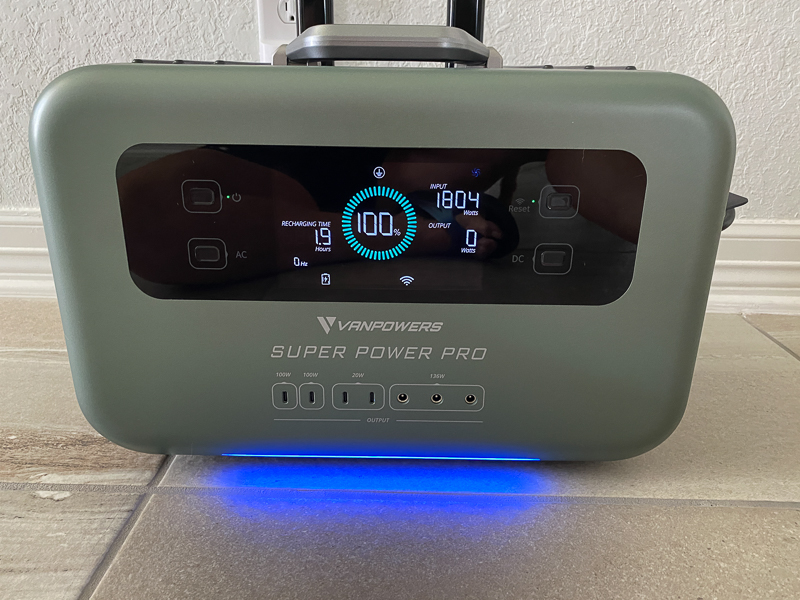 REVIEW – I have been very fortunate that for my entire life up until the winter of 2021, the longest power outage I have ever been through has not been more than a few hours.  Back in February of 2021, San Antonio experienced what is fondly called the Snowpocalypse.  We had snow and below-freezing temperatures from late Sunday evening through almost Friday.  We lost power sometime Monday morning, and it only came back intermittently for about 15 minutes at any one time.  It stayed that way through late Wednesday night.  We were in a rental house at that time, and of course, our gas water heater also chose that time to crash and burn.   We are now in our new house with a natural gas water heater, cooktop, and fireplace.  I have been looking for a good battery backup that would be able to get us through a couple of days of power loss and still charge our essentials.  Short of buying a several thousand dollar generator for a whole house hookup, there are several battery backup options out on the market now.  I received the Vanpowers Super Power Pro 2000 power station to review, and my hopes were high.
What is it?
The Vanpowers Super Power Pro 2000 is a 2096wh or 2-kilowatt hours portable power station.  It has multiple ways to charge and multiple ways to power external devices.  It has a mobile app, can act as a UPS, built-in GPS, wheels, and a telescoping handle.
What's in the box?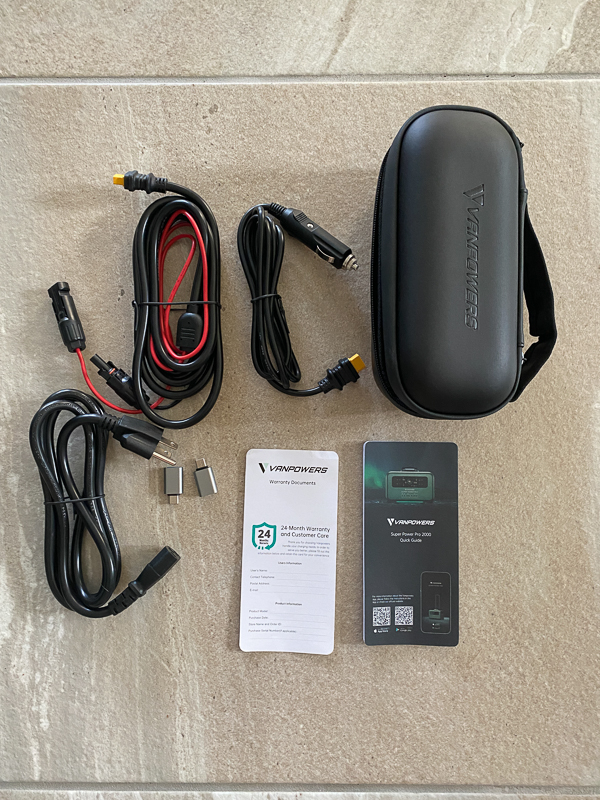 car charger cable
two USB C to USB adapters
Warranty Card – 2 Years!
User Manual
MC4 to XT60 cable for solar charging
AC cable
Accessory pouch
Vanpowers 2000W Super Power Pro Power Station
Hardware specs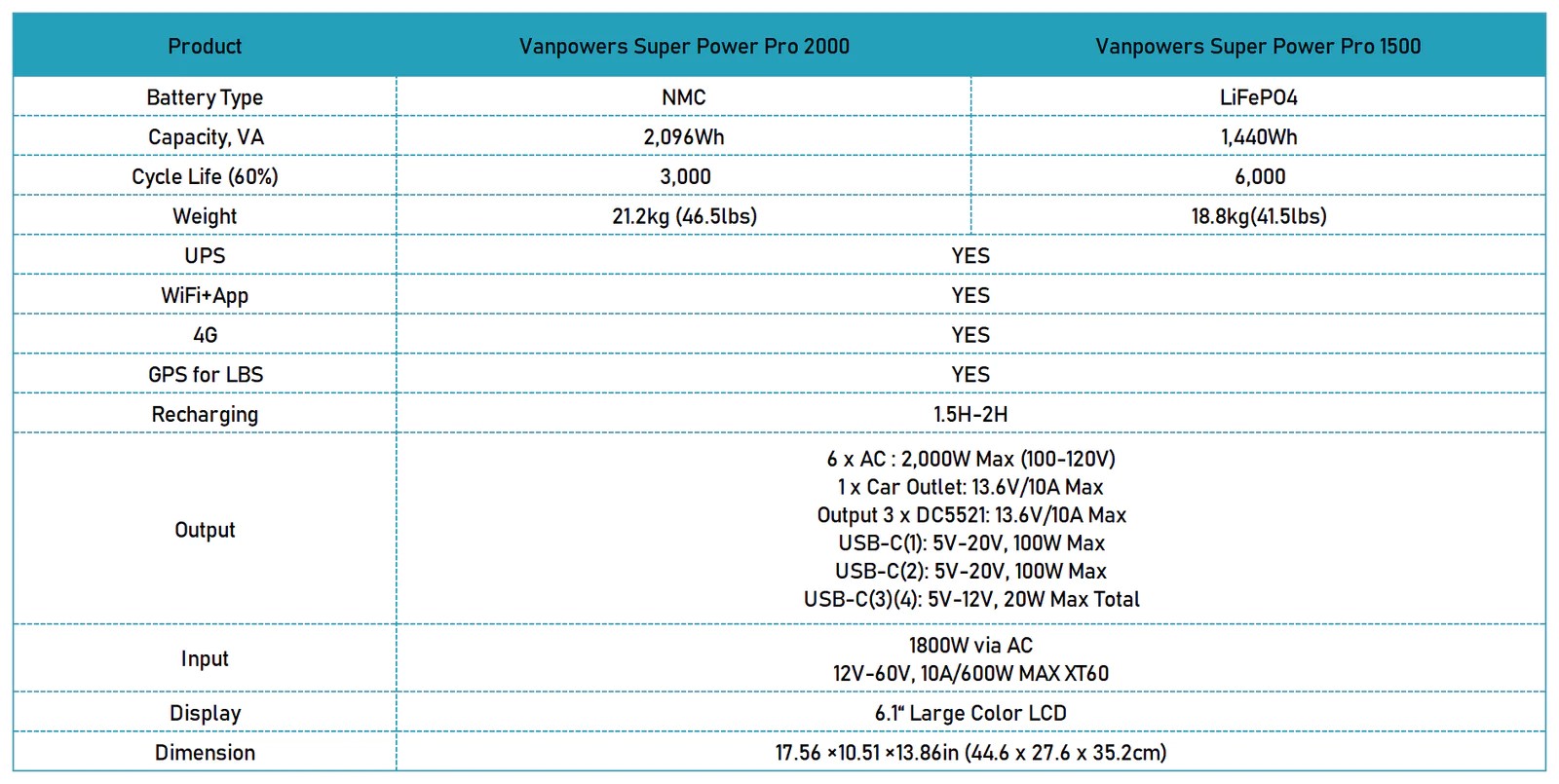 Design and features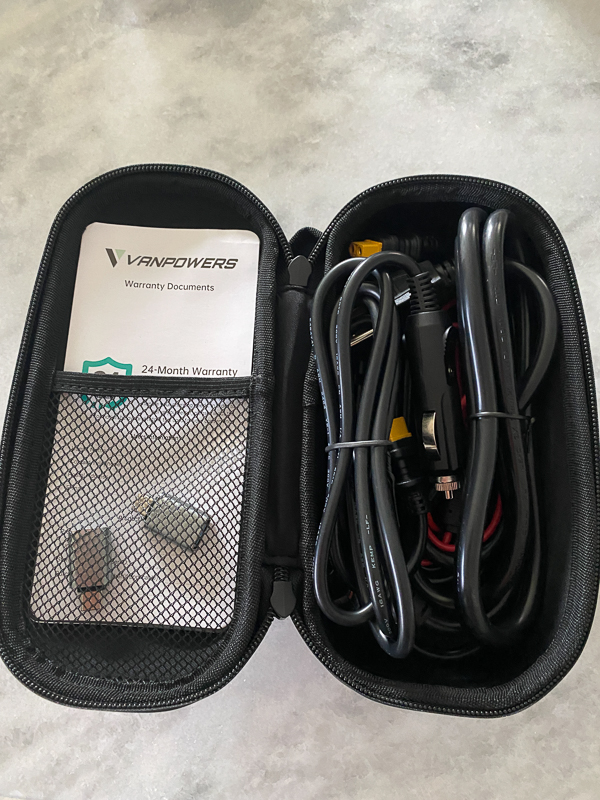 I first wanted to show off the neat carrying case that came with the Vanpowers Super Power Pro 2000 power station.  It holds all the power cables, the manual, the warranty card, and USB-C adapters.  It zips up and has a nice carry handle on top.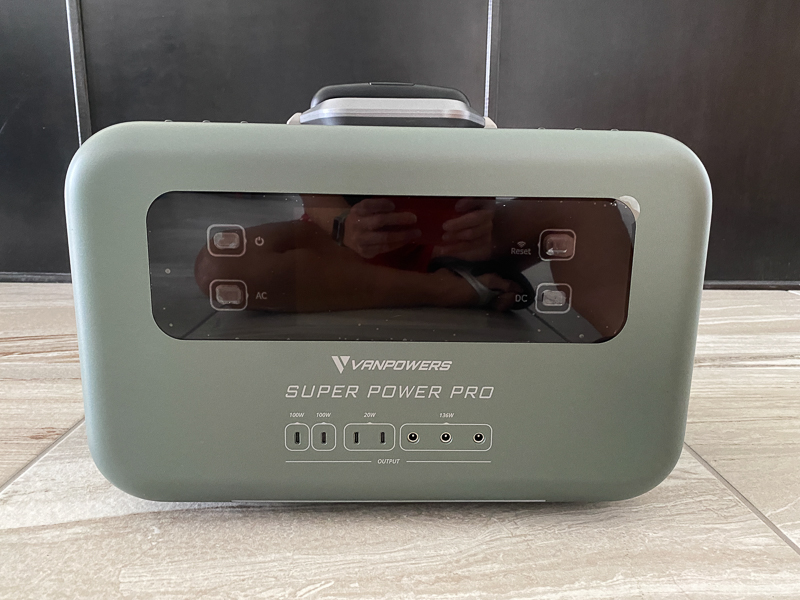 This is the front of the Vanpowers Super Power Pro 2000 power station.   It has the display screen, buttons to power on the display screen, configure Wifi for the app, turn on the AC output plugs, and turn on the DC output ports.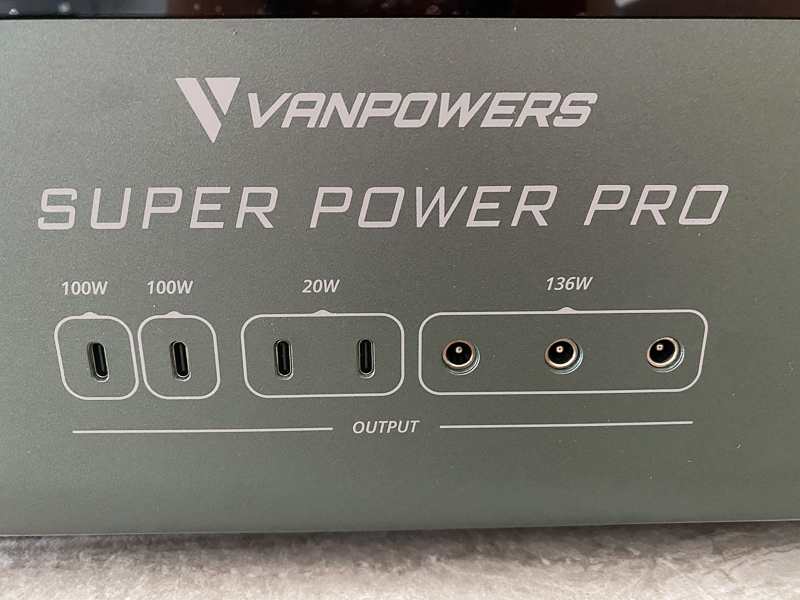 This is a closeup of the DC output ports.  These are on the very front of the unit below the display screen.  There are two 100w USB-C, two 20W USB-C, and three 136w DC5521 ports.   These ports will not be active until you press the DC button to the right of the display.  A green LED will light up to show they are powered.  Vanpowers also includes two USB-C to USB adapters which are nice.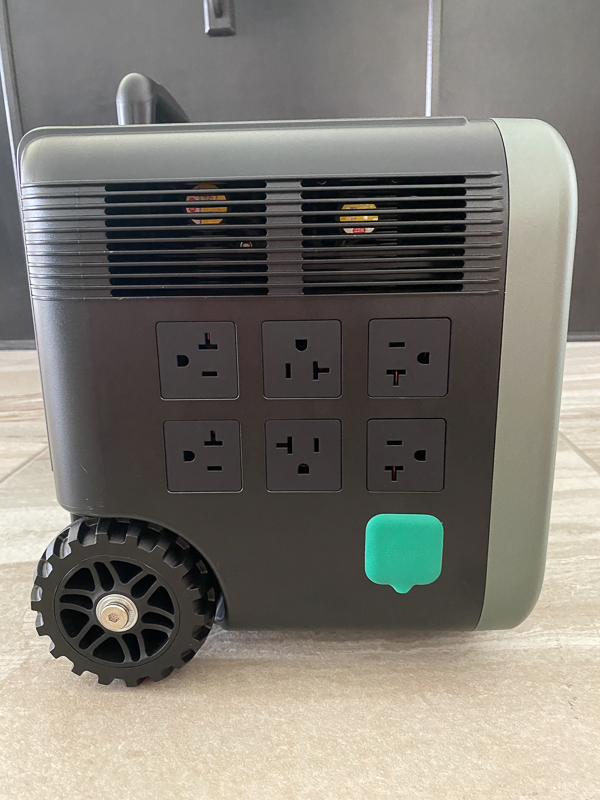 On the left side of the Vanpowers Super Power Pro 2000 power station are the AC ports.  There are six of them, and they are all set at different angles.  This setup helps when you are plugging in multiple adapters.  The teal-colored flap covers the 136w car adapter.  These ports are not active until you press the AC button to the left of the display on the front of the charger.  It has an LED that will glow green when the ports have power.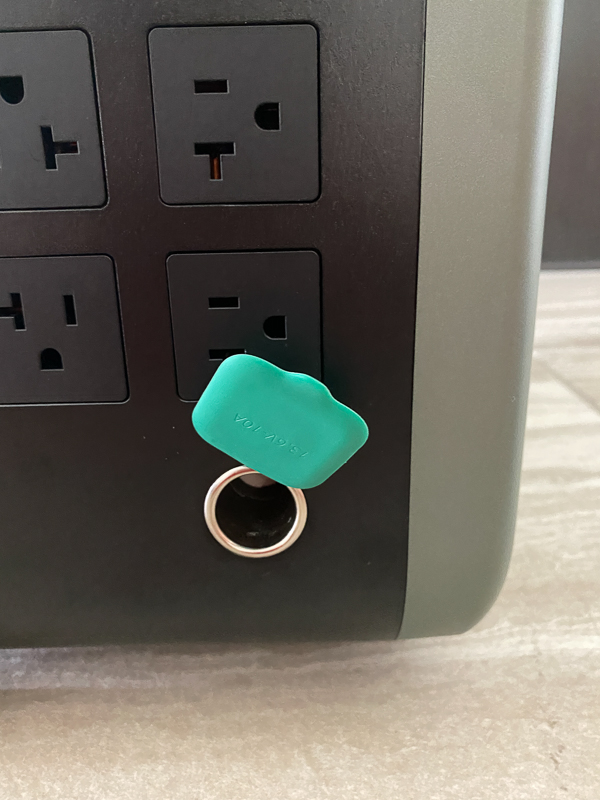 I opened the car adapter flap to show you the port.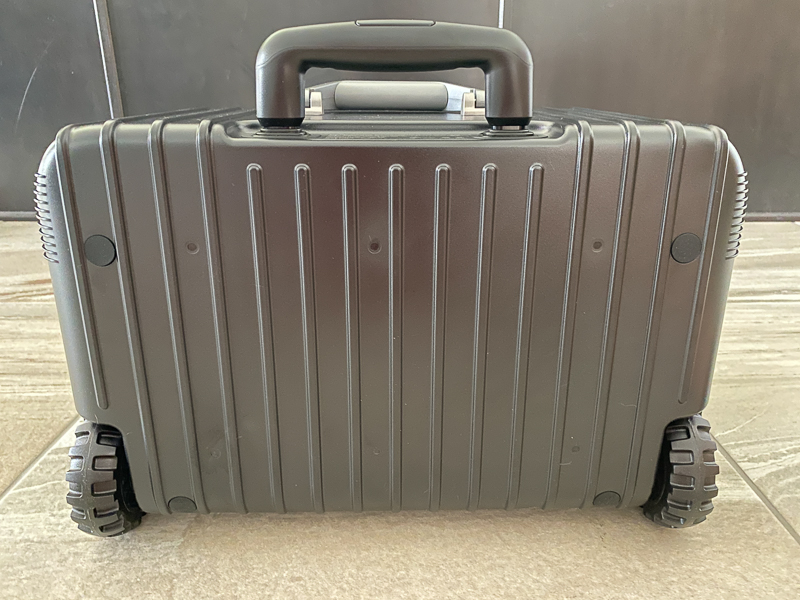 This is a shot of the back of the Vanpowers Super Power Pro 2000 power station. Nothing electronic to show, but you can see the two wheels and the telescoping handle.  This comes in very handy as this unit is almost 50lbs.  The wheels and unit are all made of heavy-duty plastic.  Only the telescoping handle has some metal in it.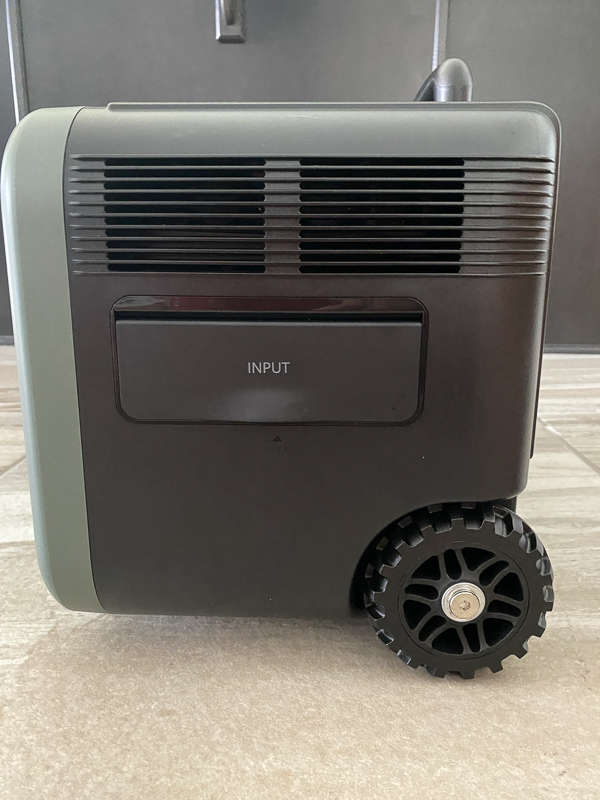 On the right side of the Vanpowers Super Power Pro 2000 power station, you will find the flap that covers the input ports.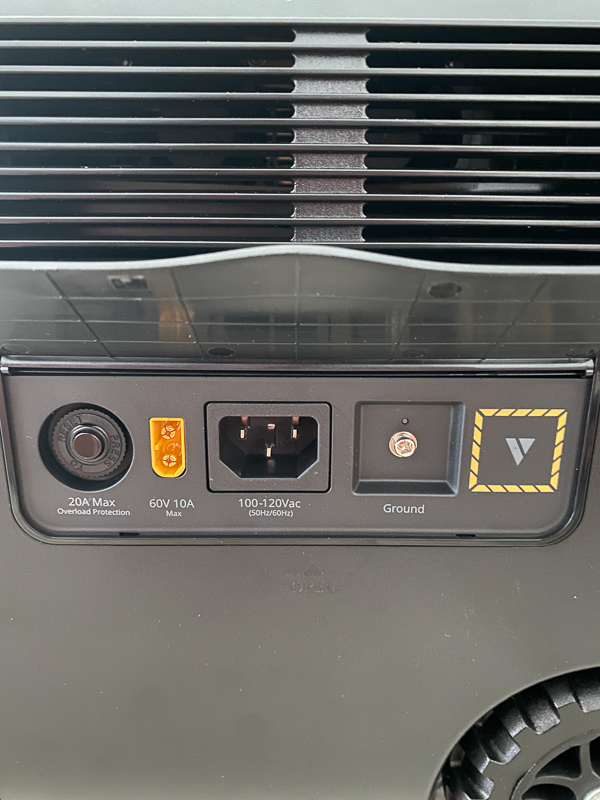 Opening the input flap, you can see the ports.  There are eight ways to recharge the unit:
AC Outlet(1,800W, 2 h),
Solar panels (2400W Max, 1.5h),
Car charger(120W/240W, 19/9 h),
Generator(1,800W, 2 h),
EV + Solar Panels (2400W Max, 1.5h),
Generator + Solar Panels (2400W Max, 1.5h),
Car + Solar Panels (2040W Max,1.5h),
EV-AC adapter via AC input (1800w 2 h).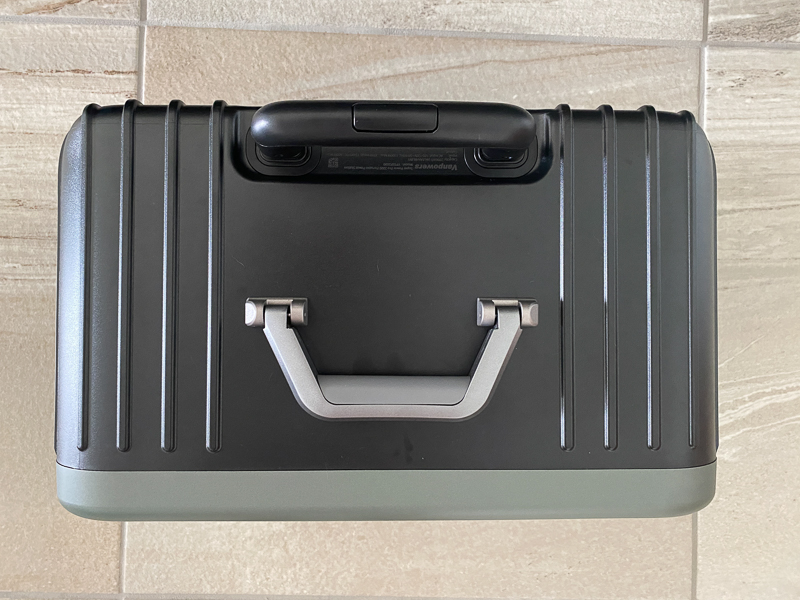 On top of the Vanpowers Super Power Pro 2000 power station, you can find the carry handle and telescoping handle.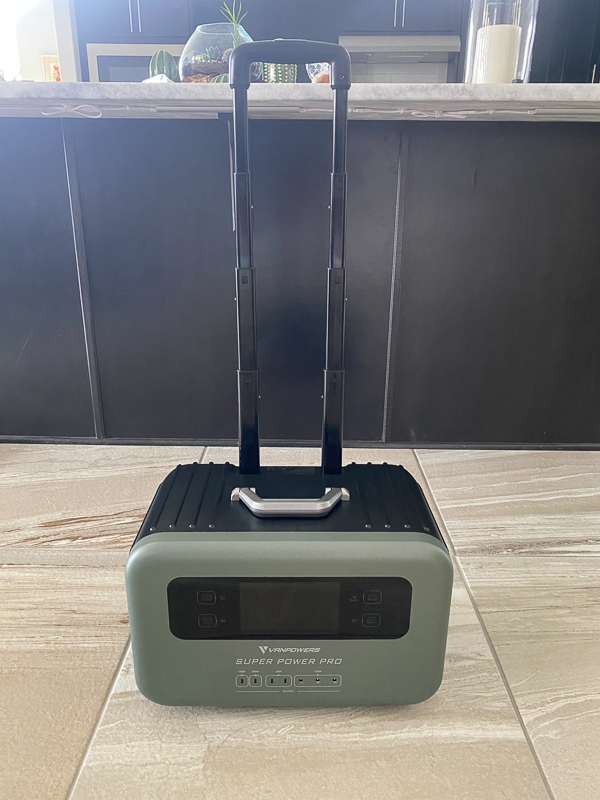 Here is a picture of the power station with the handle fully extracted.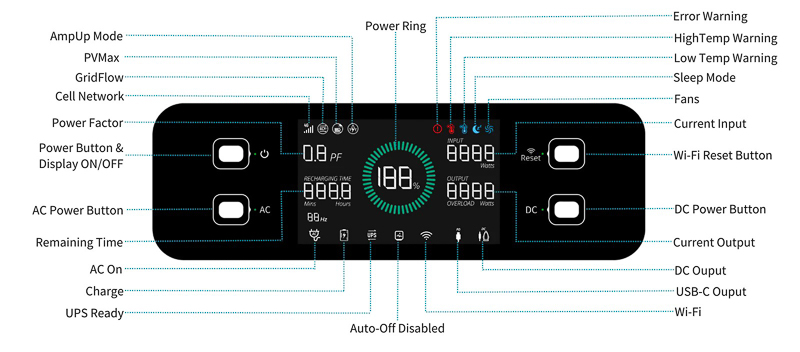 I included this screenshot to show you all of the display options.
Setup
Setting up the Vanpowers Super Power Pro 2000 power station was pretty easy.  I plugged it in to see how much initial charge it came with.  Unfortunately, when I turned on the display, I found that the screen had been cracked sometime during transport.  At first, I was unsure what I was looking at and thought to myself, 'ooh what a cool looking flower type display'!  LOL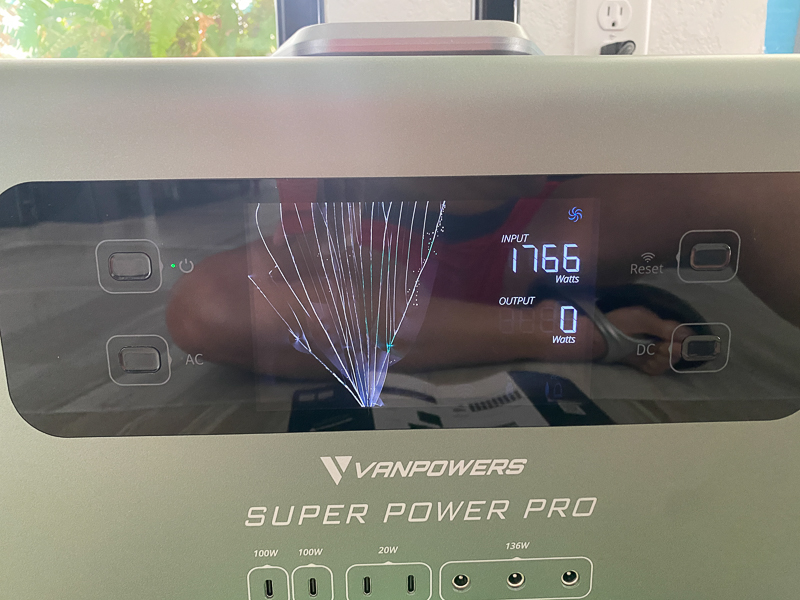 Vanpowers immediately sent out another unit, and I packaged the broken one into the box and shipped it back.  As a side note to anyone trying to ship a large item via FedEx containing lithium batteries, Walgreens won't accept FedEx packages over 50lbs, and the FedEx store won't accept a large package with a lithium battery.  I had to ask for pickup at my house by the ground service.   I could have saved myself a good 20-mile round trip by calling FedEx first and scheduling the pickup.
Once the new Vanpowers Super Power Pro 2000 power station arrived, I plugged it in, and it reached 100% charge within 15 minutes and was ready to test.
Performance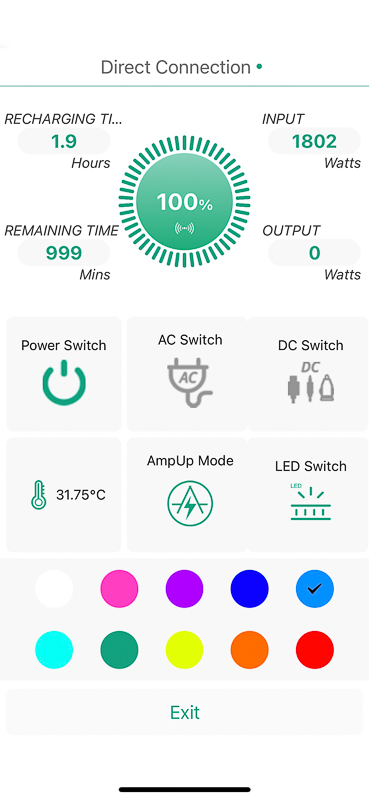 The app is simple and does not ask to create any kind of account, which I love!  You connect to the app on the phone by connecting your phone to the VPP2000 Wifi network.   Once connected, you can do several things.  You can see the display screen values and turn on or off the AC/DC ports.  You can also turn on an LED light at the bottom of the unit and change the color.  I think this is a nice feature.  If you are in a blackout, it allows you to find the battery backup easily in the dark.  The display automatically shuts off after a few minutes to save power.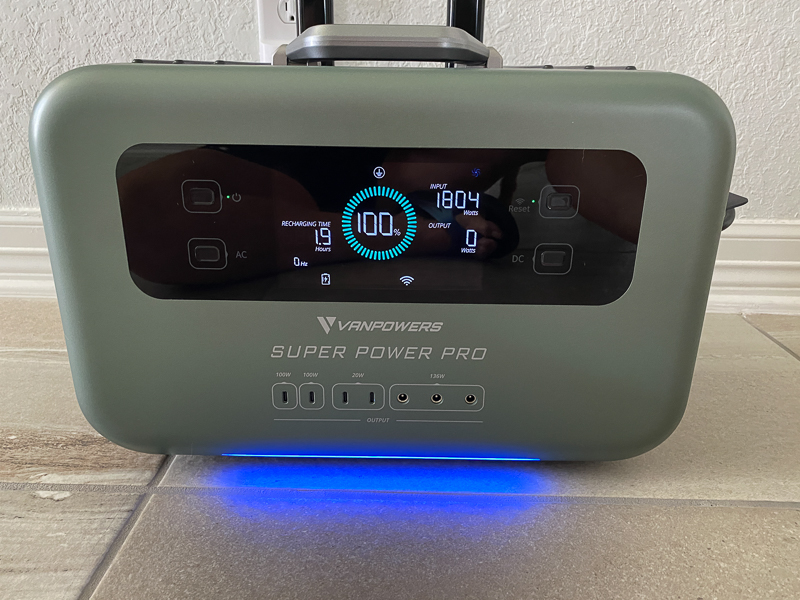 I set the color to blue and took the picture above.  It is quite bright and colorful.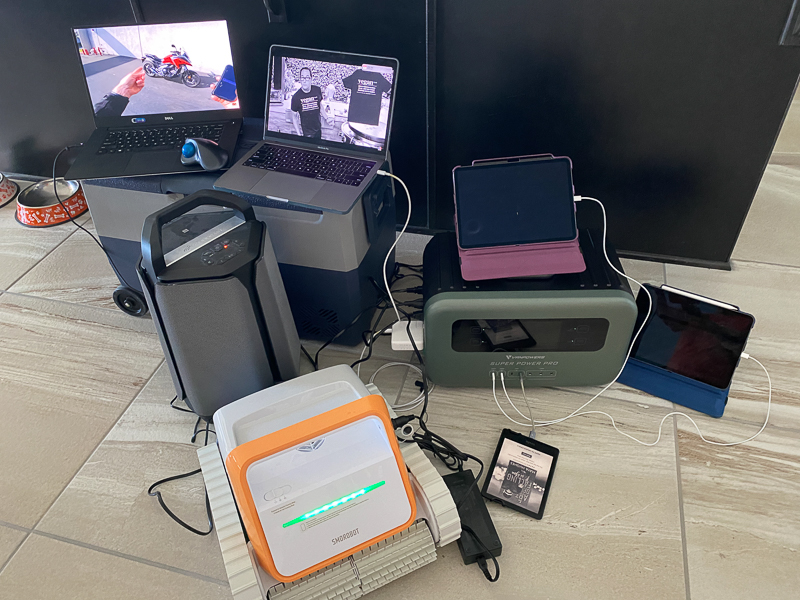 Next, I tried to load up the Vanpowers Super Power Pro 2000 power station with as many devices as possible to see how long I could make it last.  I had a Macbook pro running YouTube videos, a Dell XPS 15 running YouTube videos, an iPad, a Kindle, my Smorobot X1 pool robot cleaner, my Bodega T50 portable cooler set to 12 degrees Fahrenheit, and a portable outdoor speaker, all charging off the power station.   The pool robot was at zero charge and so was the IPad.   The cooler started off at 85 degrees and cooled down to 12 degrees. Everything was fully charged, and the tablets and cooler ran for about 28 hours.   I was very impressed.
The fan kicked on once in a while, but I did not find it intrusive.  I had it right next to the island that borders our family room.  It is an all-tile room and can be noisy, but I did not find that the fans made it hard to listen to the TV.
Once the Vanpowers Super Power Pro 2000 power station was completely depleted and down to 0% I tested how long it took to recharge the unit.   I went through this process three different times.  Let me say that since this unit is just over 2000 watts, it took a long time to get it down to zero every time.   I could not meet their advertised 80% charge in an hour.   I reached 80% in about an hour and a half all three times that I charged it up from zero percent.   I would pull up the display and see 1800w as input when I first plugged in, but as I checked the display over time, I would see the input drop as low as 800w.   That may be a feature of the electricity in my home.  I tried two different outlets to see if it would matter.  I tried to pick an outlet that did not have anything pulling off the same run.  That is pretty difficult to do, and I assume since many of our outlets are strung together, that results in inconsistent input into the device, thus causing longer charge times.   A full charge was achieved at two and a half hours.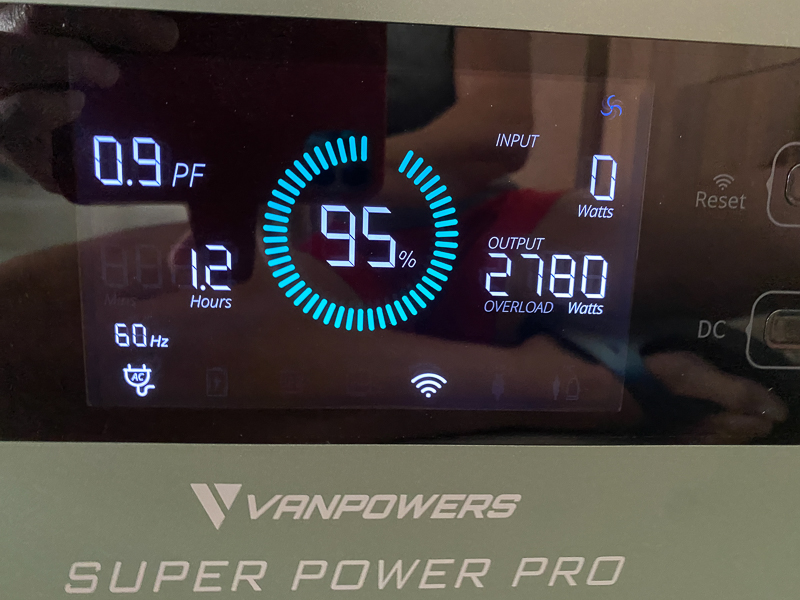 I overloaded the device once when trying to run it down to zero percent.   I hooked up three blow dryers to the unit at one time.   My Dyson was the big user pulling about 1800w.   I then plugged in a weak Brookstone blow dyer, which bumped up over 2000w.  When I plugged in the third blow dryer, it ran for a minute, then the overload displayed, and the dryers shut off.   I unplugged one dryer, and the Vanpowers Super Power Pro 2000 power station automatically turned back on and started charging again.  I was able to run two air dryers for almost two hours.  It normally takes me less than five minutes to dry my hair with the Dyson.
In my third attempt to deplete the unit, I connected it to my Cosori Air Fryer Toaster Oven.  I set it on air fry.   I had over two hours of run time showing on the display.  I then connected two different air purifiers that I had in the house.
The display is good at showing you how much power is being pulled from the unit.  You have to take the remaining time displayed with a grain of salt.  The remaining time is based on the current pull.   For example, when I first kicked on the air fryer, the power pull was right at 1800w.   As the fryer reached the target temperature, the pull decreased because the oven only had to maintain the heat.  The same goes for items like my Bodega cooler.
As a side note, I tried to see if I could use the 120v AC charger that came with my Chevy Bolt.  Unfortunately, there was not enough wattage to allow that charger to display the green light and charge my car.   It was a long shot, but hey, I tried!
What I like
Tons of power!  It is amazing what you can charge with 2000w.
Wheels and telescoping handle.  I can pick up 50lbs, but I don't enjoy it.
Informative display
Simple, easy-to-use mobile app.
LED light with changeable colors
Nice carrying case for all the cables, power adapters, and manuals.
It can recharge in multiple ways.
You can use it as a UPS.
What I'd change
make the wheels a hard rubber so the unit can go over rough terrain easily.  Plastic wheels make me nervous that they will not last.
Final thoughts
The Vanpowers Super Power Pro 2000 power station is a great battery backup.  It has a ton of output ports and multiple ways to charge.  I will have to see about obtaining some solar panels for the unit.  It has built-in overload safety features and a nice app to monitor the unit without sitting by it.  It is also one of the few battery backups with wheels and telescoping handles.   It is the first one I have seen, and my back appreciates it.   If you are looking for a large battery backup that gets the job done and has a ton of options, I don't think you can go wrong with the Vanpowers Super Power Pro 2000 power station.
Price: $1699.99
Where to buy: Vanpowers
Source: The sample of this product was provided by Vanpowers.