We use affiliate links. If you buy something through the links on this page, we may earn a commission at no cost to you. Learn more.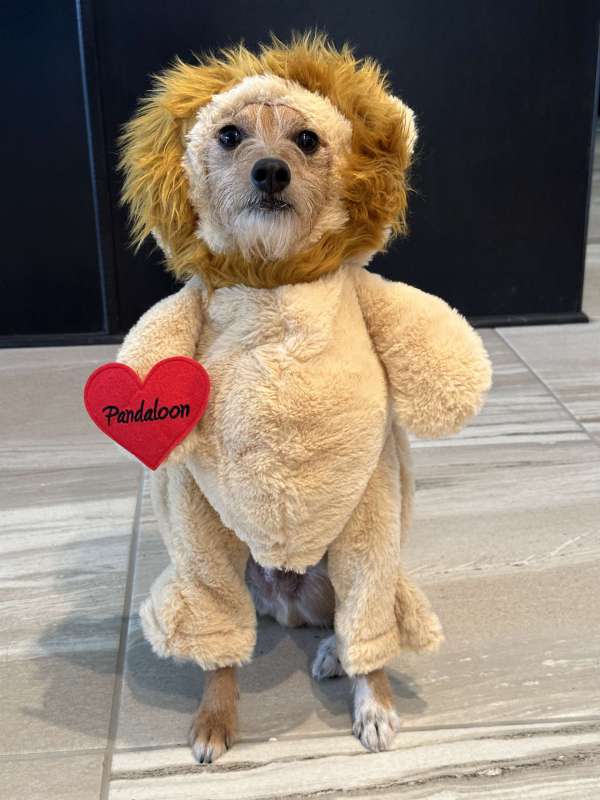 REVIEW – Halloween is almost here, and everyone I know is out trying to find the best costumes to wear to parties they are invited to.  I love trying to find a costume for my dog.   Over the years, I have been unsuccessful in putting costumes on my dogs.  They have all been shelties until we got our current dog.  We adopted him from a local shelter.  According to DNA testing, he is a part chihuahua, poodle, dachshund, and Australian cattle dog.  He does not have the long double-coated fur of a sheltie.  I have been able to put sweaters and hoodies on him with no issues.  Pandaloon Pet Costumes offers fun costumes for your dog or cat to wear, and when they offered one for review, I decided to put Peanut up as a model.  Let's see how the Pandaloon pet costume fits and how Peanut likes to wear it.
What is it?
The Pandaloon Pet Costume is a costume you place on your pet's front half.  It is only worn from the front shoulders forward.   This makes it nice for places with warm Halloweens as we can here in San Antonio, TX.
What's in the box?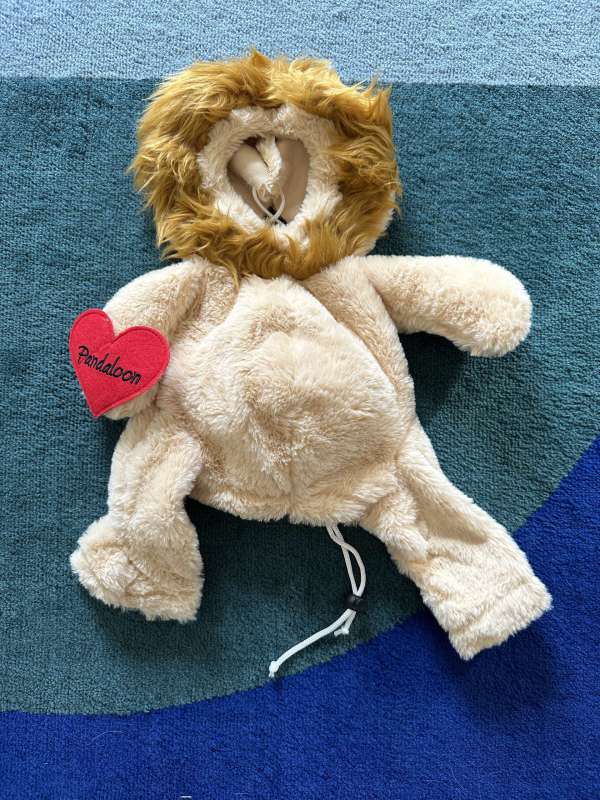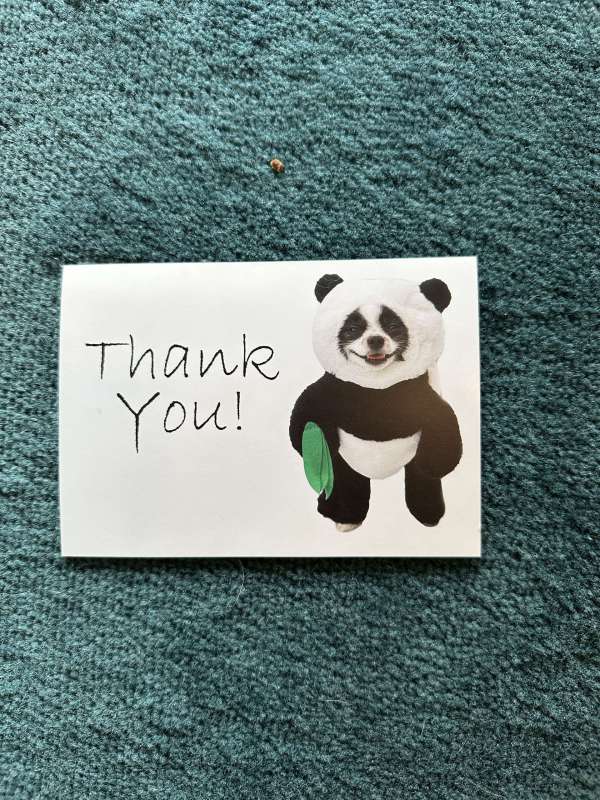 Walking Lion with Mane Pandaloon pet costume – Size 3
A nice handwritten thank you note from the owner of Pandaloon
Design and features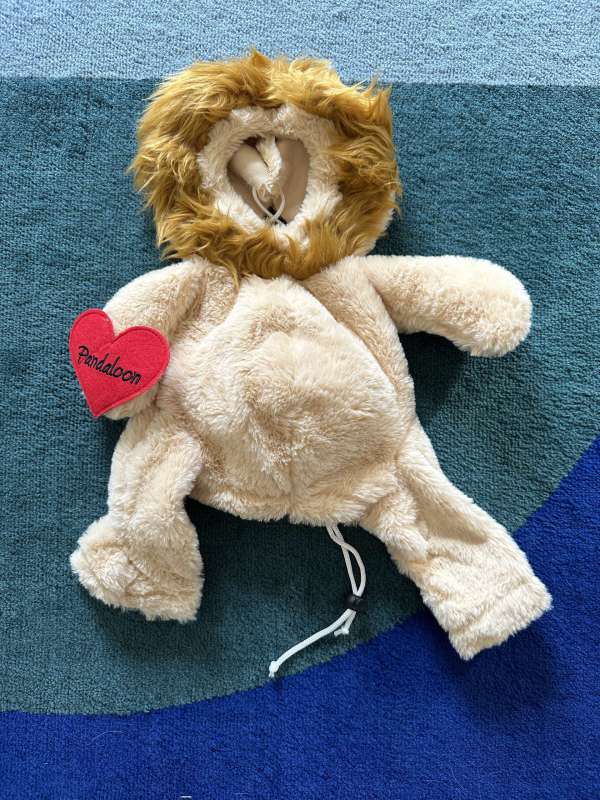 The Pandaloon pet costume has nowhere near the amount of material that a lot of pet costumes have.  The picture above shows you the main part of the costume.  There is the hoodie up top, with two arms that dangle on the sides.  One is holding a heart with the word Pandaloon on it.  Then there is the chest coverage area and two sleeves for your pet's front paws.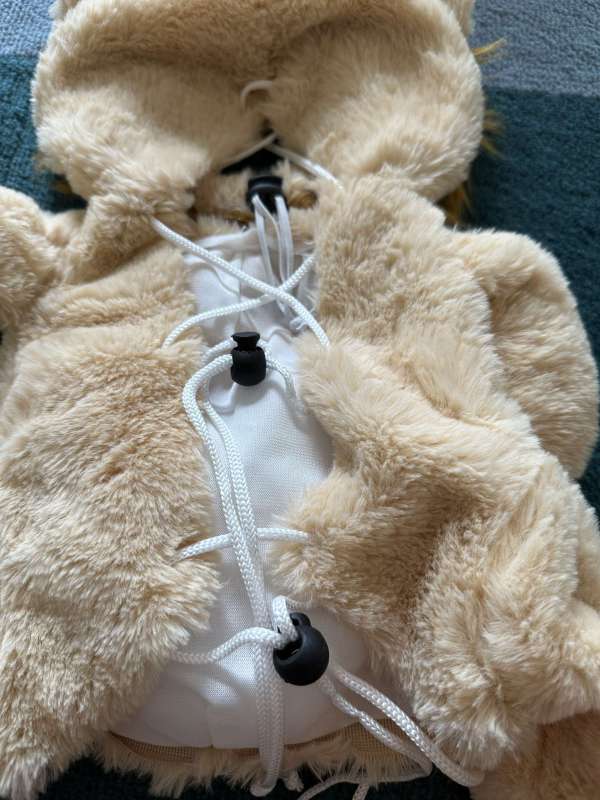 In the back of the costume, you can see that there are three different points of adjustment.  At the top, in the bottom of the inside of the hood, is a drawstring catch to snug up the hood over your pet's head.  The middle adjustment lets you pull up the side arms tighter so they stick out more on the dog's sides.  Finally, there is the last adjuster, which lets you adjust the chest and sleeve area sag.
The costume is well built and feels solid.  The faux fur feels very soft.  There are no rough points to rub against the dog's skin.  I found no loose threads or tears in the material.
Setup
Since this costume only goes on the front half of the pet, I found it very easy to get on and off Peanut.  I have had to return many costumes I have bought before because they would not fit properly over his long body and narrow chest.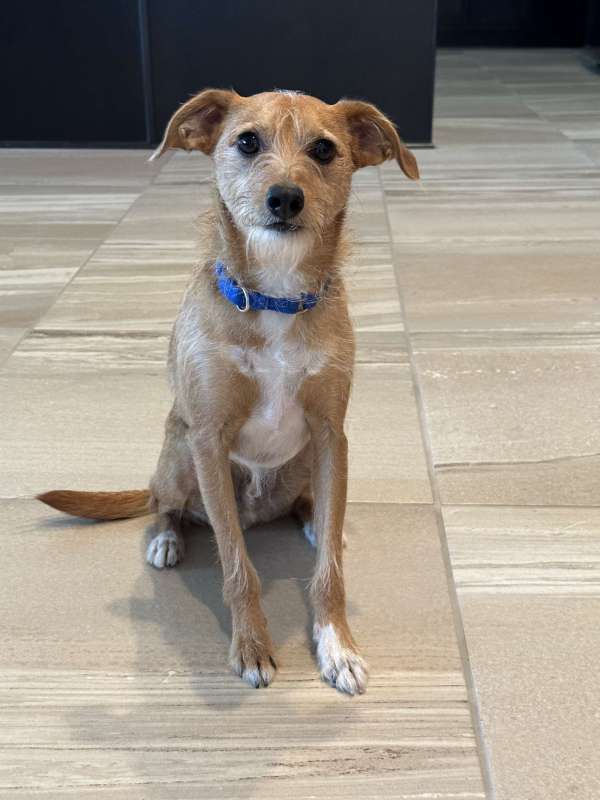 Here is a picture of the Nut, as we like to call him.  You can see he is a long-legged and pretty lean dog.  I call him my little athlete because he runs and jumps like a rabbit!   He has gone on six-mile hikes with me and asked for more while I was ready to collapse.  He only weighs 17 lbs.   I chose a size three from their website.  For a size three, they want the dog's height from the floor to the top of the head to be between 17 to 19 inches and the girth (widest part of the chest) up to 27 inches.
I will admit that I struggled a bit to get the height of Peanut.  He would not sit still and was anxious about the tape measure.  I went with the size three because he has such narrow shoulders and chest.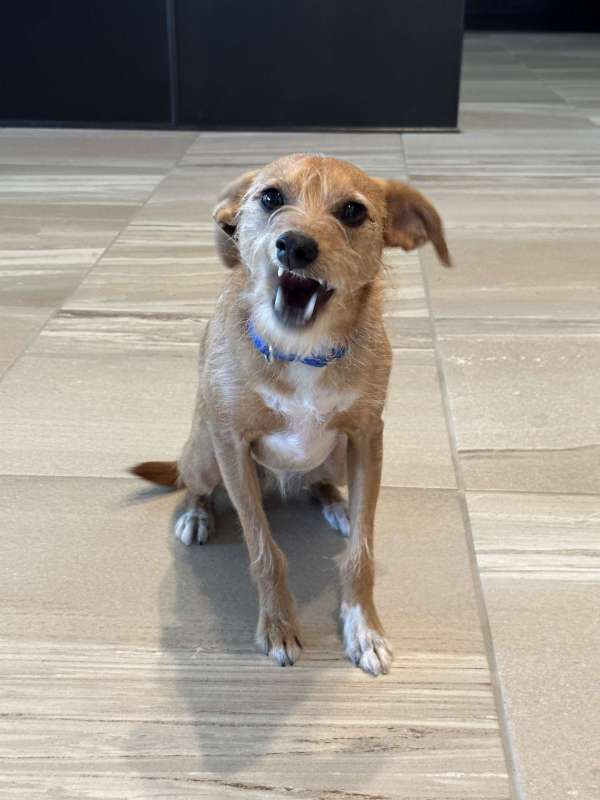 One more obligatory picture of the Nut saying, 'Come on, Mom!  What are you trying to do to me!'
To put the costume on the dog, I grabbed all of the back string and the hoodie's top.  I slipped that over his head.   His front legs went easily into the sleeves.  They are nice and wide.  The Nut has some pretty skinny legs!  I then snugged up the hoody with the strap at the bottom inside of it.  I tightened up the middle adjuster to get the arms that dangled to stand up a bit more, and I loosened the last adjuster to allow the legs to hang as far down as possible.
Performance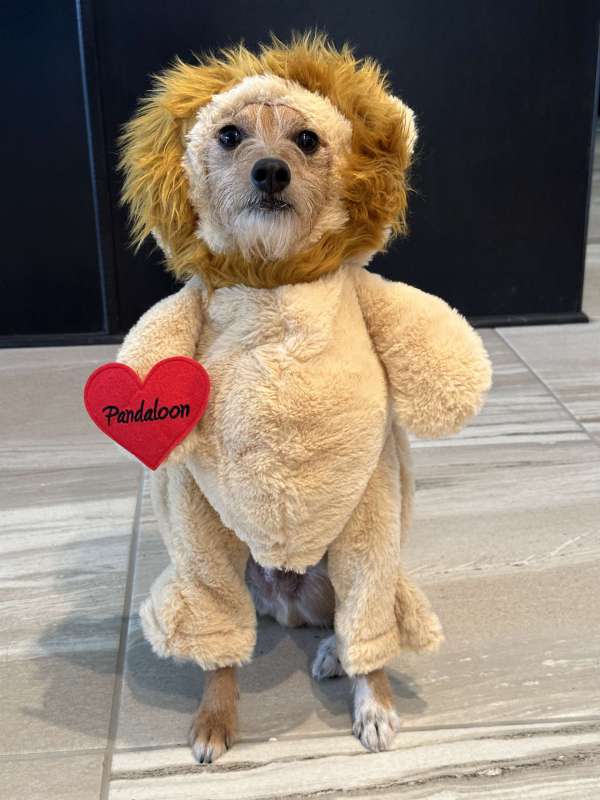 It is amazing what you can get a dog to do with some treats!  I finally got him to sit still for a picture.  At this point, he is in his most absolute upright position because I have a treat up in the air by the camera.  It tends to make the costume look like high water pants, but I still think it looks great.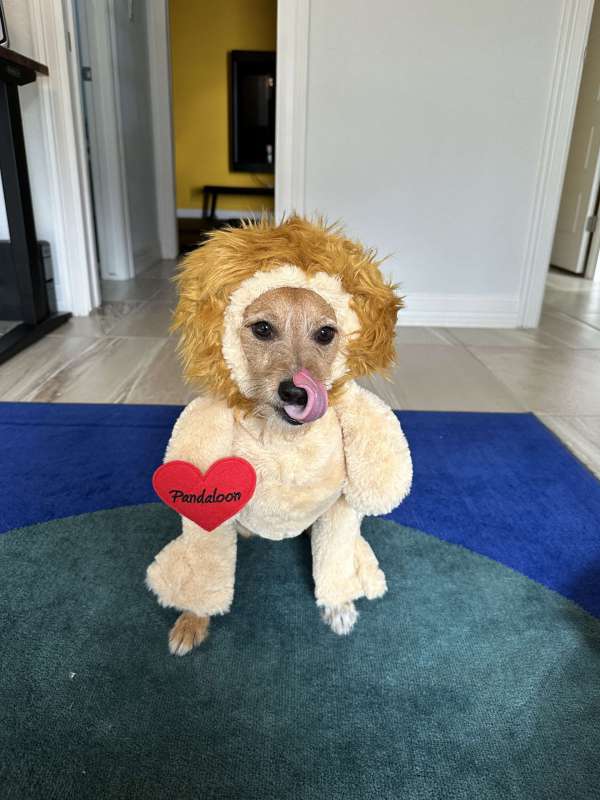 Here is a second picture after he enjoyed his snack and is in a bit more of a relaxed position.  The legs of the costume are right about where they should be.
I positioned him in my kitchen and recorded him running across the floor.  Many videos on the Pandaloon website show dogs trotting along, looking cute.  The Nut does not know how to walk and goes from 0 to 60 almost every time he moves.  I slowed the video to see how the costume looked when he moved.
Because these costumes only fit on the front half of your dog, I think they would work well for dogs with a lot of fur.  Peanut's only complaint with the costume was to shake his head now and then because it covered his ears.  Otherwise, he was a really good sport while wearing it.
What I like
The costume is only worn on the front half of your pet.  This keeps them cooler.
There are three different adjustment points to get the costume to fit properly.
The costume is well built and not flimsy feeling at all.
What I'd change
Final thoughts
I love the Pandaloon pet costume.  It is easy to put on, well built, and has multiple adjustment points.  I like that it is only worn on the front half of the pet so my dog will not get hot with it over time.  They have many costume choices, and I highly recommend you check them out.
Price: $29.99 for the Lion, $24.99 – $39.99 for others.
Where to buy: Pandaloon and Amazon
Source: The sample of this product was provided by Pandaloon.