We use affiliate links. If you buy something through the links on this page, we may earn a commission at no cost to you. Learn more.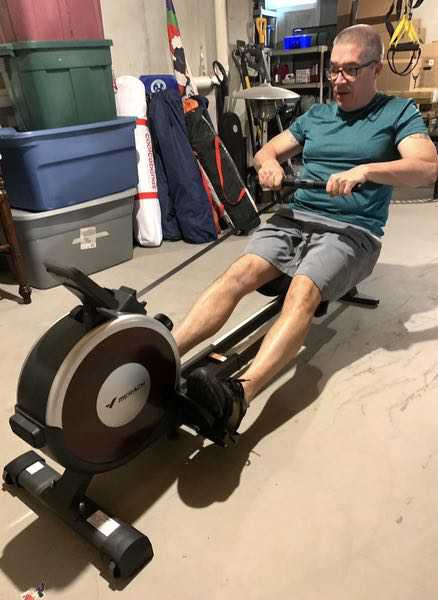 REVIEW – Row yourself to fitness! The Merach Fitness Q1S Rowing Machine promises smooth, quiet operation with design details that will make your workouts more productive. Does it deliver? Let's find out. To the review!
What is it?
The Merach Fitness Q1S is a rowing machine that uses a magnetic flywheel for resistance.
Hardware specs
65″ L x 19.3″ W x 24.8″ H
Seat dimensions: 9.5″ L x 17.2″ W x 2.3″ H in
58.9 Pounds.
350 Pound weight capacity
Supports users up to 6'7″ tall
Noise reducing magnetic flywheel system
Dual track slide rail
LCD display requires 2 AAA batteries (included with purchase)
Design and features
The Merach Fitness Q1S Rowing Machine is a piece of exercise equipment with a sleek design. It's all shiny and chrome with a touch of woodgrain finish in the flywheel housing.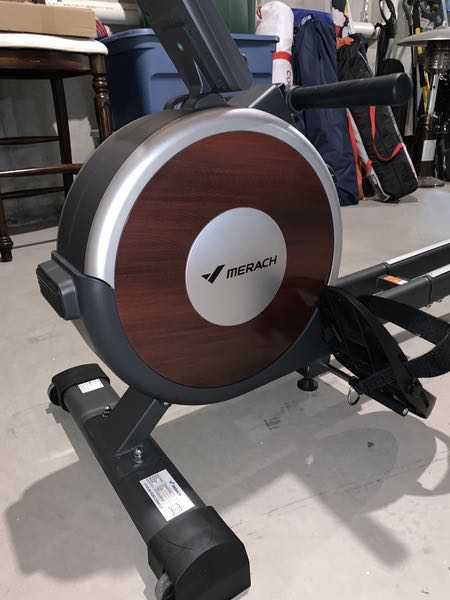 The overall size is 65″ long, 17″ wide and 25″ tall.  The narrow width will allow you to set up in tight long spaces, but you'll need some extra room to allow for an extension when you're working (depending on how tall you are).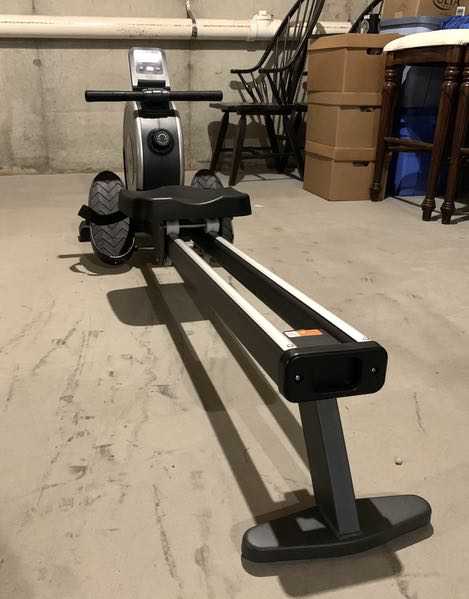 Speaking of tight spaces… the Merach Fitness Q1S Rowing Machine is both movable and stowable. There are wheels on the front end of the unit as well as a rubber foot you see in the pic about halfway up the main housing. Tip it up and you can roll it around your house or apartment.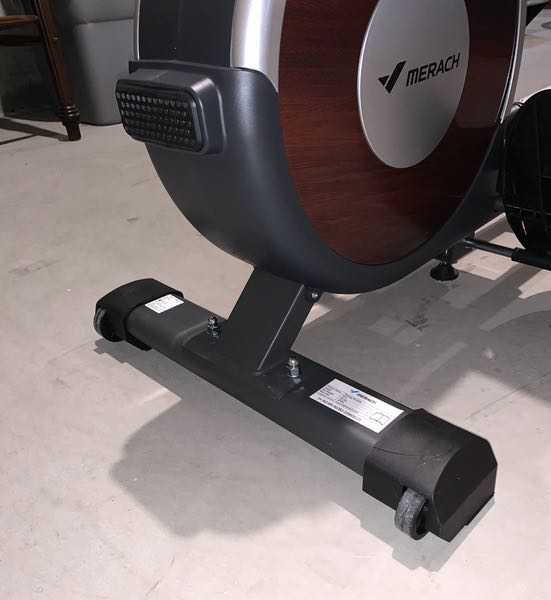 When you find your storage spot, you can stand it up on its end until you're ready for your next workout.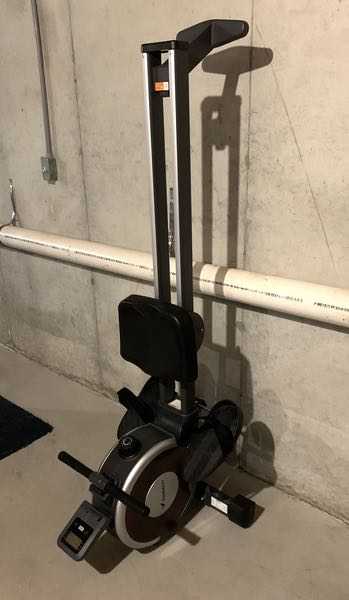 The build quality throughout the rower is outstanding. A sturdy (but lightweight) frame and dual-rail system add stability and promote smooth operation. Check out the view from the underside of the seat, Six sets of guide wheels keep the seat running smoothly. Heavy rubber bumpers on both ends of the track keep it seat from beating up the frame.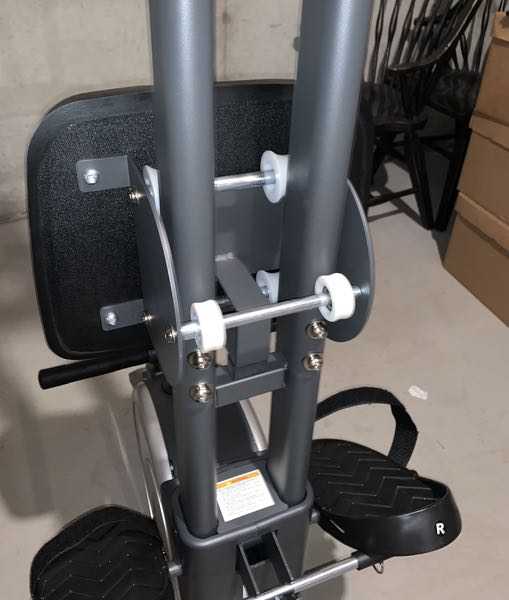 This is the stand on the back end of the unit. It looks narrow, but I have detected no wobble in my testing. Merach claims that this unit will support up to 350 pounds in weight, and I believe it.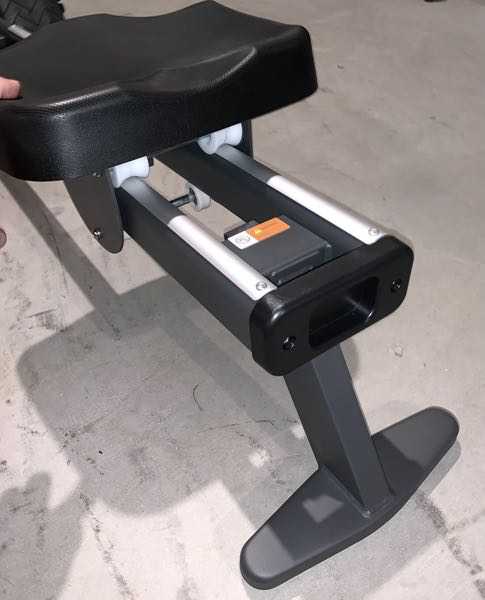 The seat is made of a hard plastic that's been sculpted to provide a comfortable fit. I found it to be more than comfortable in my tests, but you can also buy a seat pad if that's your preference.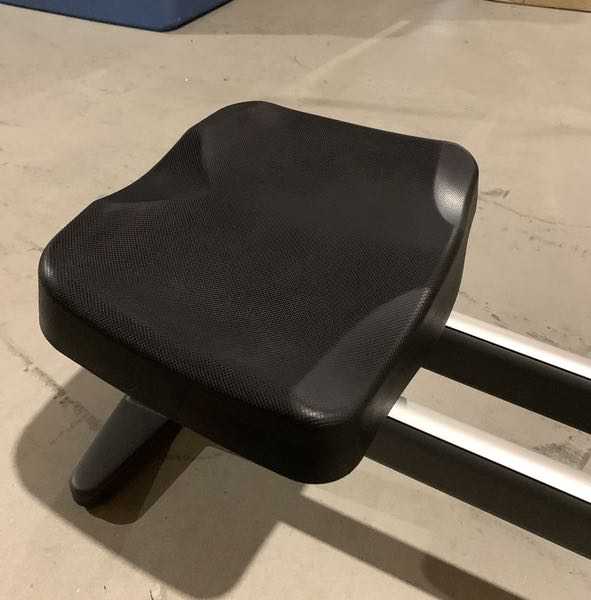 Your foot plates have a bit of a texture to them and are set up on a simple swiveling post. A velcro strip with a metal pull ring is used to lock your feet in place.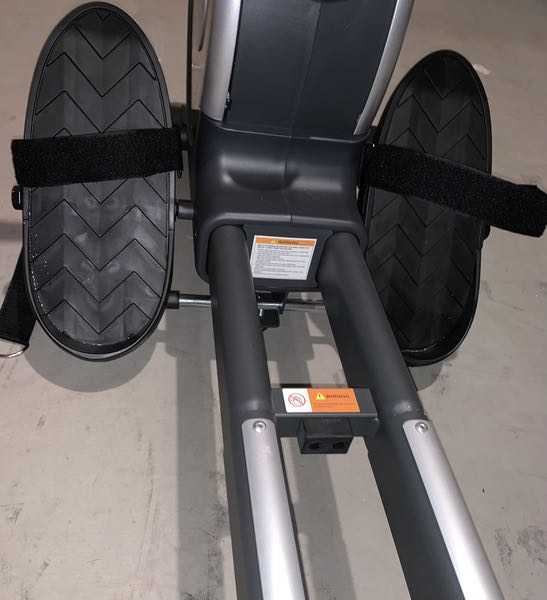 I wear a size 10 sneaker for reference. My son is a size 13. Neither of us has had any problems with getting a comfortable fit using the straps.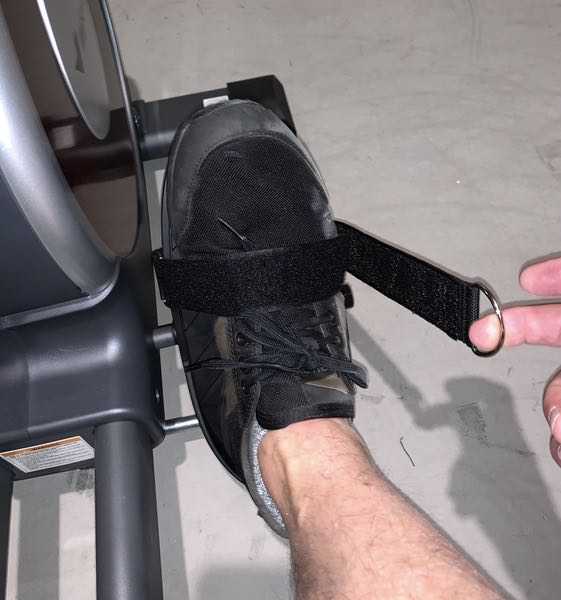 Once you're seated in position on the Merach Fitness Q1S rowing machine, you'll find all of your controls are within easy reach. The monitor is perched above the handle and the tension adjustment below.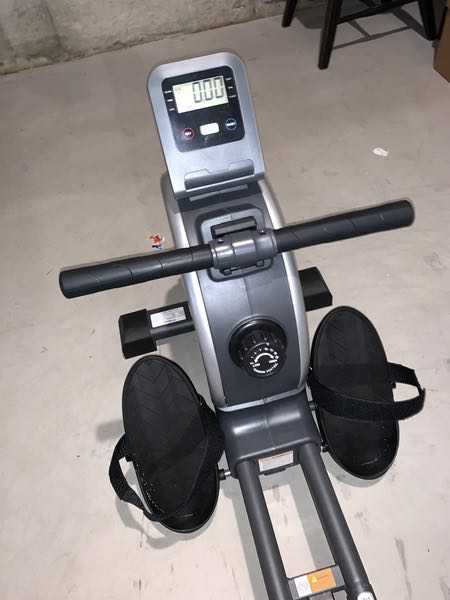 The Merach Fitness Q1S Rowing Machine employs a magnetic flywheel system. This means that magnets are used to apply tension to the wheel to create resistance. I particularly like the big, chunky adjustment dial. It's easy to grab and manipulate with sweaty hands.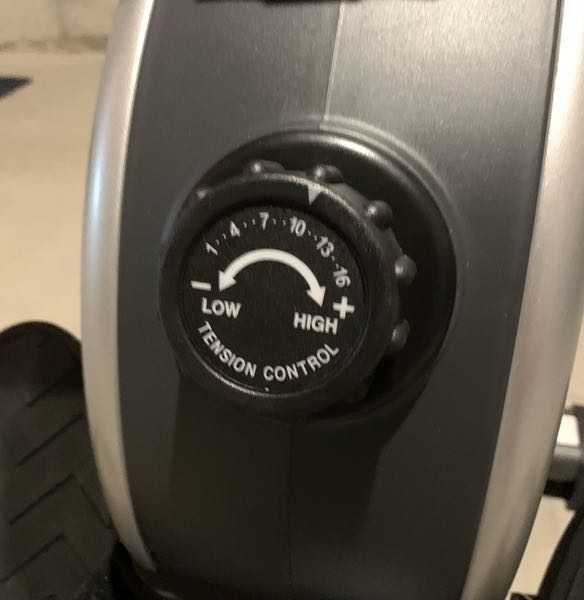 The rubber-coated handle feels solid and substantial and connects to the flywheel with a vinyl strap. We have been using the rower for a month now and have seen no wear & tear on any of these parts.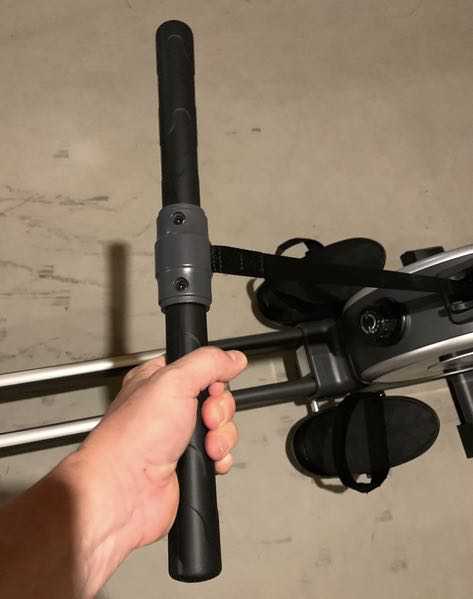 The Merach Fitness Q1S rowing machine has a display panel that runs on 2AAA batteries. There's no on or off switch; it activates when the rower goes into motion. It keeps a standard set of measurements (time of session, distance, calories burned, row count, total row count for all sessions). You can also do individual measurements or a rolling "scan" mode that cycles through the data every 30 seconds. The display panel has a tray for your phone or tablet and is on a swivel so that it can be folded back for storage.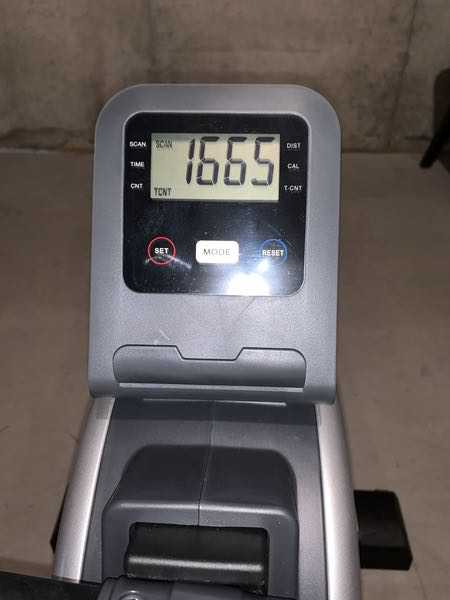 There's also another secret to this rower: it is Bluetooth compatible and can be connected to certain apps. Merach makes their own app, and there's another app called Kinomap that provide rowing routines and the ability to save/share your results. Both of these come with free trials but require a paid subscription for long-term use. I'll touch on my experience with them below.
Setup
I do want to touch briefly on the setup of the Merach Fitness Q1S rowing machine. The good news is that it comes mostly pre-assembled. There are only 9 pieces that you need to put together.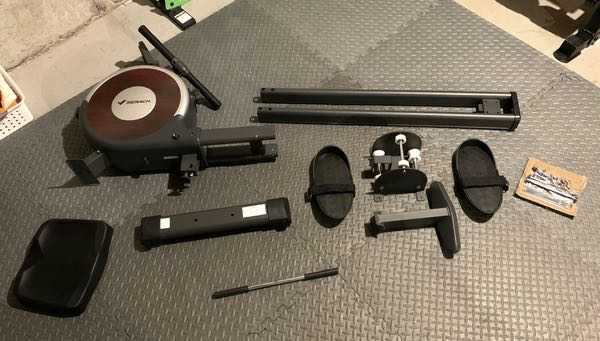 The bad news is that the instruction manual uses teeny-tiny instructional illustrations that are sometimes not oriented to the position of the parts during assembly. There's a bit of double-checking to make sure you're putting the right thing in the right place.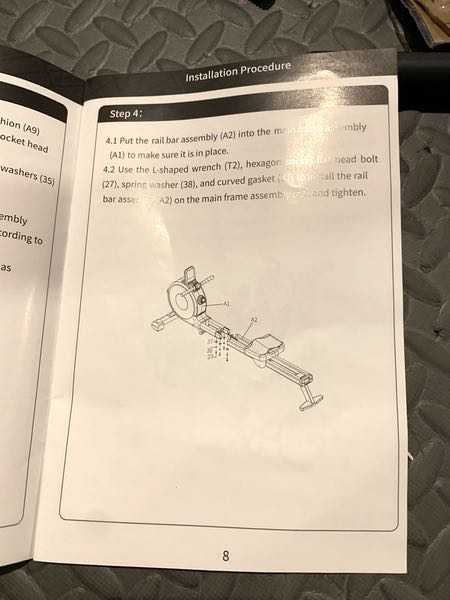 There are also a LOT of washers, screws, and nuts that make that process a little trickier to make sure you're matching the right sizes up to the right instruction. Merach uses one of those pre-printed and sealed cardboard bits to keep everything labeled and separated, which is great… but the labels peel off when you pull apart the plastic.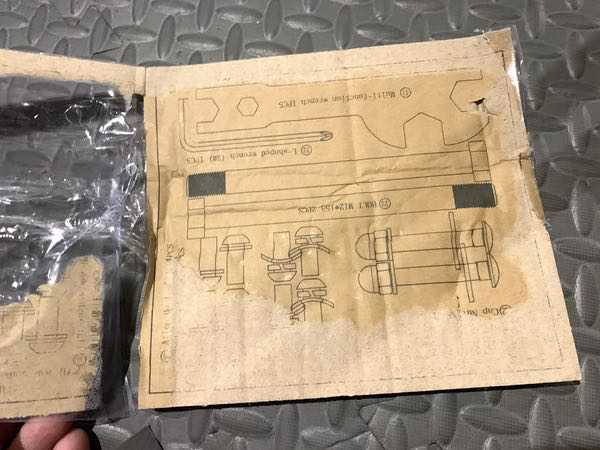 To be fair, it's not that tough to muddle through it. But better instructions (and maybe a better guide for the parts) would have probably saved me some time on the build. Merach claims under 30 minutes from start to finish; I clocked in at about 45 minutes as I was checking and double-checking my work.
The kit also includes the tools you need for the installation, which is great!
Performance
I've already mentioned that the build quality is excellent on the Merach Fitness Q1S Rowing Machine, and it has held up great in my testing so far. It's been getting daily use from various members of the family since we got it. The build is rock-solid with no shivers or creaks to be had.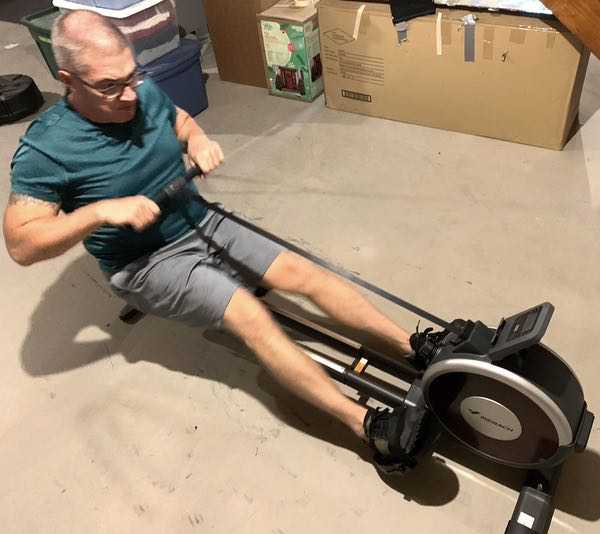 Operation and movement are buttery smooth. The magnetic flywheel delivers consistent resistance throughout the range of your pull and near-silent operation. The seat tracking is smooth, firm, and stable. And the range of resistance is legitimate so that you can dial things up from light cardio to some pretty intense strength training runs. It's really nice to use on a regular basis and provides plenty of options for different workouts.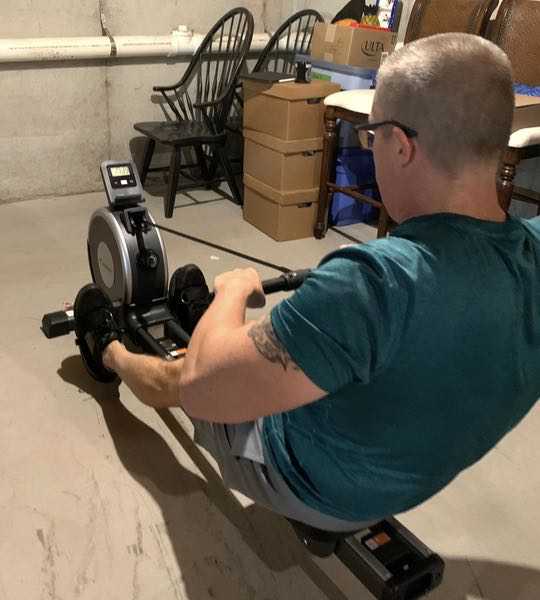 The basic display works just fine for critical data, and the slot in front of the display will work just fine for smartphones and tablets my iPad Pro.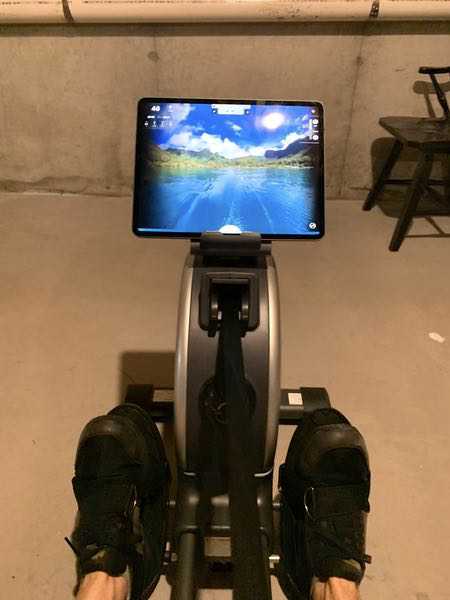 The Bluetooth connectivity is interesting. As near as I can figure based on my tests, the bluetooth also activates when you start using the machine and transmits basic data if the app is installed. I loaded up the Merach app and the connection was pretty easy. You can load up a variety of different workouts and programs that will sync up to your machine and track progress. The example below shows a basic workout freestyle routine that continuously tracks my speed, time, resistance, etc.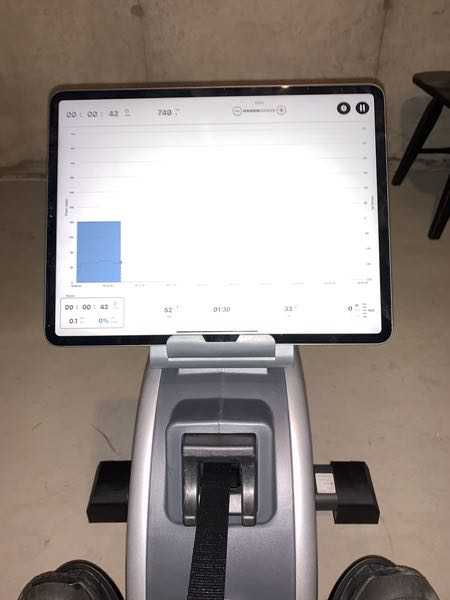 Other programs on Merach (and on the Kinomap app, shown below) do simulations that keep your interest. I particularly liked this one that simulates you rowing around some Caribbean island. This particular simulation adjusts its speed as you go faster or slower.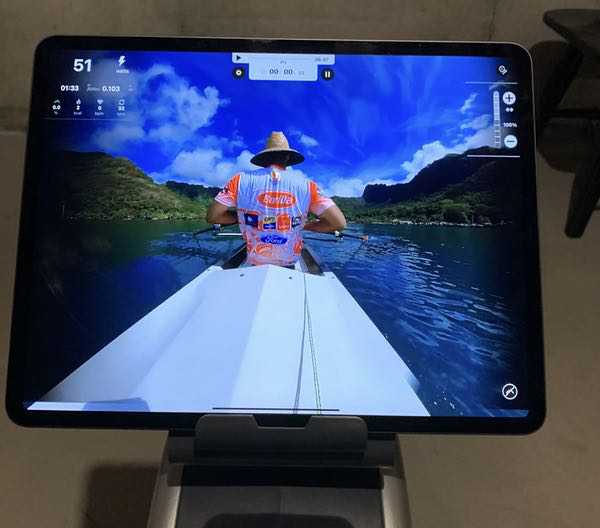 I've found that the Bluetooth connection on this unit can be a little twitchy at times… sometimes the app seems to drop the connection & then catches up or take a minute to connect. At first, I thought the Bluetooth wasn't even installed because I couldn't get it to connect. Maybe it has something to do with the battery-driven operation of the basic LCD unit? I don't know the hardware that was used, but it does feel to me like this could be improved for a better experience.
The ability to move the rower around should not be understated. Despite the 60-pound weight it is easy to tip, transport, and stand up out of the way in a corner. The wheels are not deep so you won't get it over anything much deeper than a carpet, but that mobility is a killer feature for a tight space like an apartment.
What I like
Buttery smooth operation
Durable, stable build
What I'd change
Bluetooth connectivity could be improved
Final thoughts
When I used to go to the gym I was never a fan of the rowing machine. I always found them awkward and uncomfortable to use. Maybe it was the models I was using. I really like the Merach Fitness Q1S Rowing Machine, however! Its smooth and comfortable operation encourages regular use. Just note that the apps, while cool, come with a monthly subscription fee if you use them past the trial period. Also, be sure to check out Julie's Merach Q1 intelligent magnetron rowing machine review.
Price: $369.99
Where to buy: Amazon (at the time of this writing, there's an $80 instant coupon)
Source: The sample of this product was provided by Merach Fitness.