We use affiliate links. If you buy something through the links on this page, we may earn a commission at no cost to you. Learn more.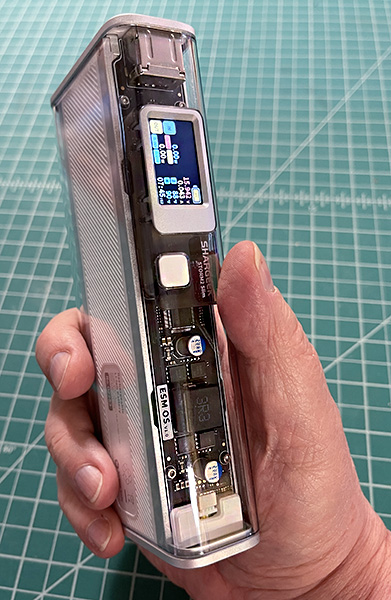 REVIEW – How the new Shargeek Storm2 Slim power bank compare to a wall outlet with USB ports? Let me explain. Recently, I replaced two outlets with ones that had built-in USB ports. My thinking was that I could use these outlets to charge my devices without needing an adapter. While the thinking was correct, I didn't realize how underpowered these wall USB ports can be. It takes seemingly forever to charge anything—especially if I'm in a hurry.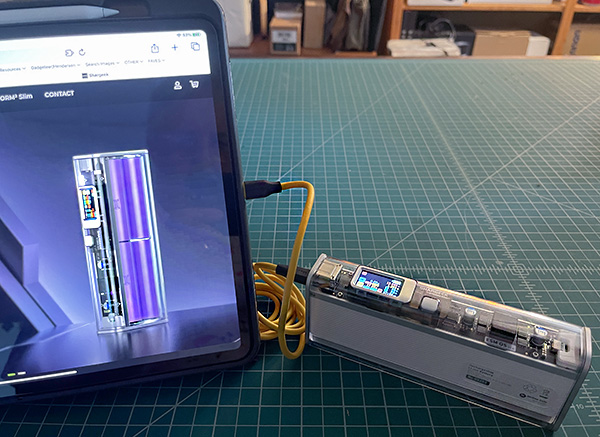 That's where portable charging devices come in handy. I discovered that I can (slowly) charge a portable power bank like this Storm2 Slim and use that for my quick charging. Then I just return it to the outlet for charging while not in use. It seemed like a good plan. Was it?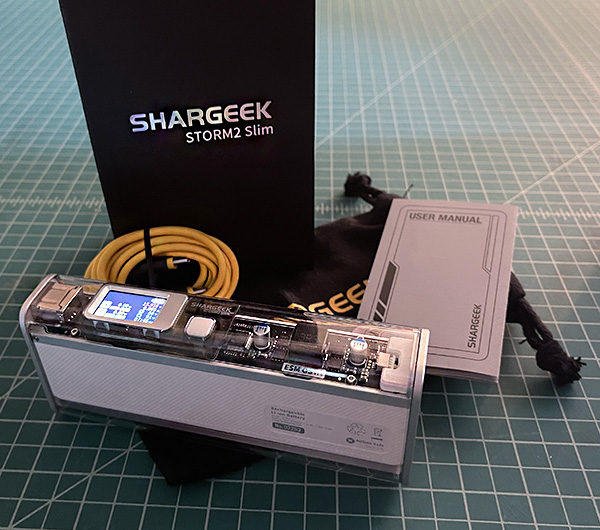 What is it?
The Shargeek Storm2 Slim is a slimmer version of the (slightly) more powerful and slightly more expensive Storm power bank. The Storm2 Slim is thinner and easier to carry around. It has both a single USB A and USB-C ports (vs the Storm's 2 USB-C, USB A, and DC ports). No matter—the lighter Storm2 Slim's form factor makes up for it.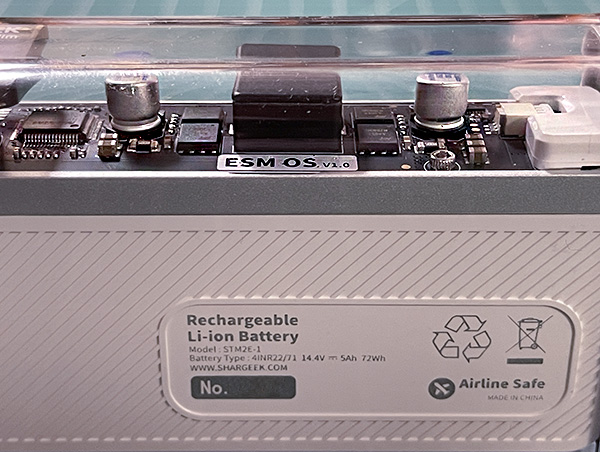 The Shargeek Storm2 Slim power bank comes in a transparent case that shows off all the electronic guts consisting of a long and narrow circuit board attached to four lithium-ion (Li-Ion) batteries. A small IPS informational screen sits along the side, next to a single white multifunction on/off button that navigates the screen while showing all the info you would ever want—even if the type is too tiny for my eyes.
A canvas bag and a yellow USB-C cable are the only accessories offered.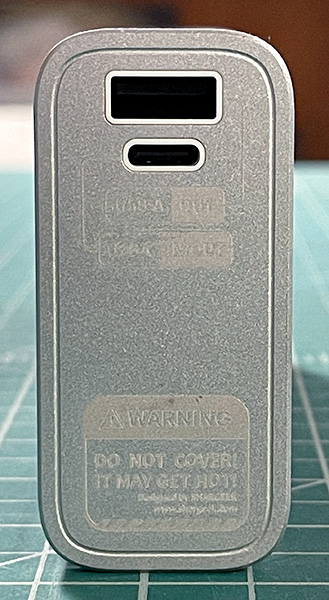 Specs
20000mAh capacity
Input: USB-C (65W Max)
Output: USB-A (30W Max), USB-C (100W Max)
Transparent PC material case
Sandblasted aluminum end caps
Small IPS informational screen
Airline safe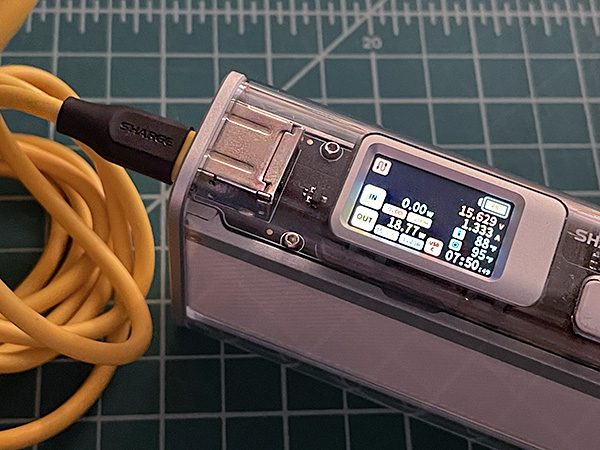 Design and features
First, this is one cool-looking charger. It would be nice even if it came in black, but this transparent case just looks way better. It's the kind of gadget that will grab people's attention.
It's a comfortable size for holding and carrying. The plastic exterior is slick but still grips easily. Previously, I've used all-aluminum power banks that always felt slippery and didn't provide a lot of confidence when holding.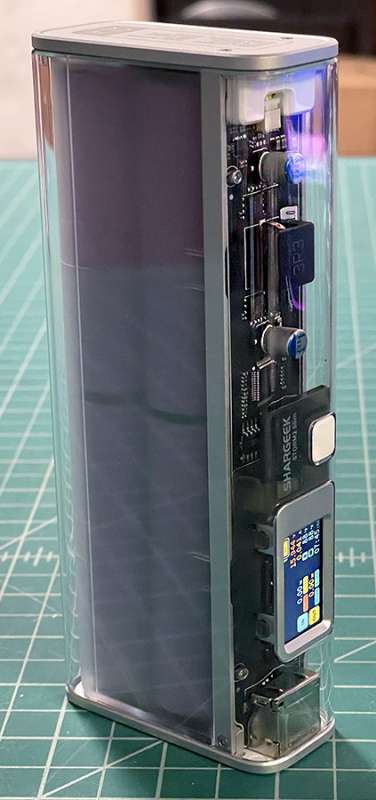 Four lavender-colored Li-Ion batteries sit next to a slim circuit board that houses the two USB ports, IPS screen, and on/off button. It's a simple, yet functional layout—until you try to read the Shargeek Storm2 Slim power bank's built-in screen. 
Maybe I'm old, but the text on the IPS screen is small, as in T I N Y. I usually need to use a magnifying glass to read the text. It's a shame because there's so much useful information packed into the micro-screen. If only I was 20 again …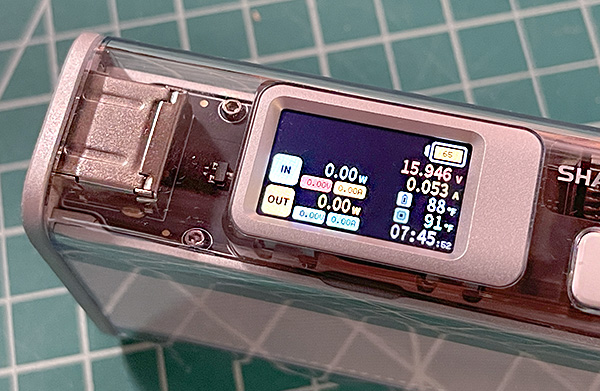 Shargeek calls the displayed info EMOS (Energy Management OS 1.0). The screen shows two "levels" of information accessible by either long or short pressing of the on/off button. The first level has five information groups all showing on one full-color screen: 
Port status – Tells you which port is connected
Input status – Displays input info, such as charging voltage, charging current, and charging port.
Output status – Displays output voltage, current, and the output power of a specific port.
Battery information – Shows current battery life, battery voltage, and current. The icon can be seen in 4 color percentages of life left in the battery.
System status – Battery, circuit board temperature, and system running time are displayed.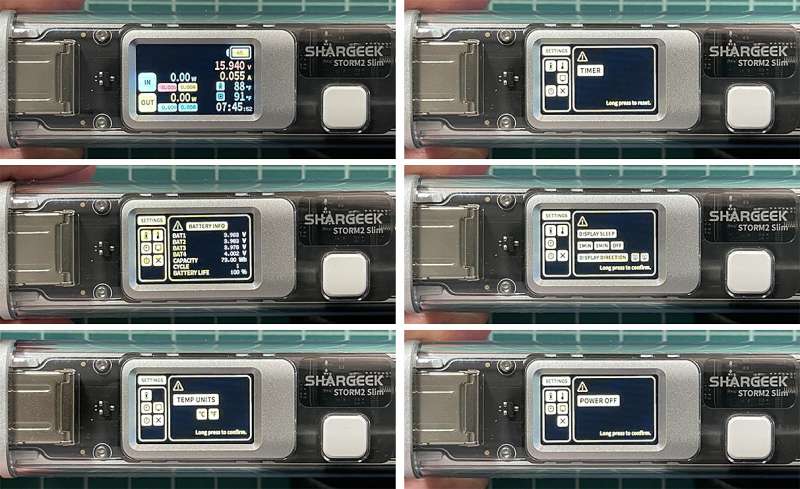 The second level changes to a one-color screen that displays 7 separate items:
Output parameters
Battery Pack info
Configure temp info
Reset system run time
Display settings
Power off
Exit (return to top-level)
Still with me? This is just an overview. It can be a bit confusing, but the info is there for those who want to access it. You can easily spend 30+ minutes perusing all the info shown on the screen.

Connecting the Shargeek Storm2 Slim power bank to any gadget is the same as any other charger. The Slim is small and light enough to throw into a backpack and forget it's there—until you have to charge a device. 
The Storm2 Slim's large 20,000mAh capacity can charge a smartphone up to 4 times, a laptop or tablet up to 1.5 times, and DSLR camera up to 12 times. It takes 90 minutes to be fully recharged. Those aren't life-changing numbers, but it's enough to get you through a full day should you need that extra oomph—and look good, too!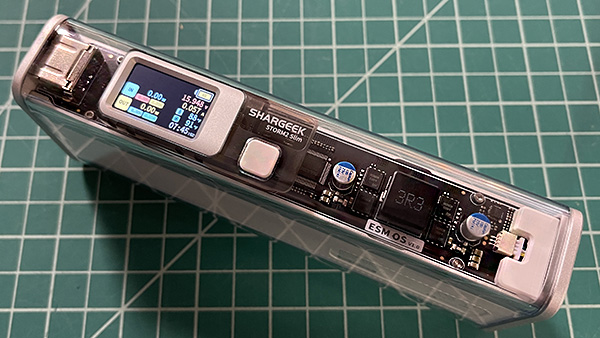 What I like
Transparent case
Lots of info on the built-in screen
Large capacity for its size
Lightweight enough for carrying

 
What I'd change
Text on screen is tiny
Learning curve to navigate levels of info
The transparent case will show scratches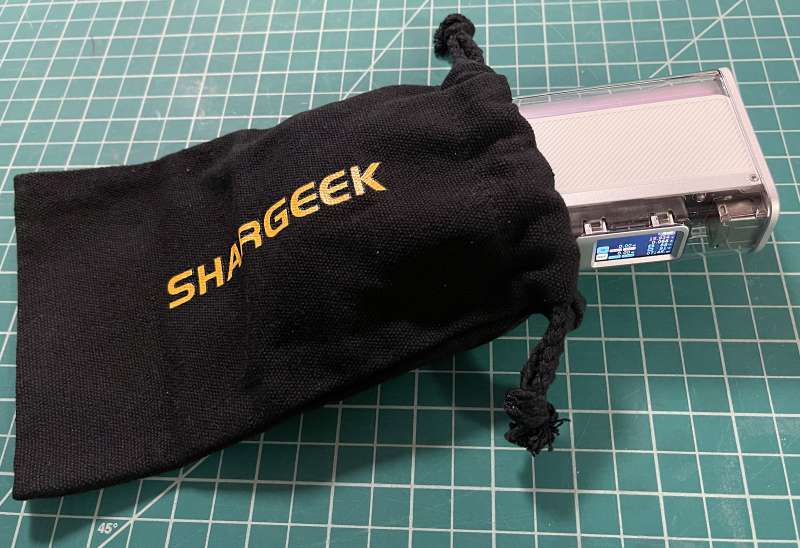 Final Thoughts
The Shargeek Storm2 Slim is a handy and useful power bank. The included canvas pouch offers good protection and its strap makes carrying easy. The USB-C cable length is more-than-adequate for any charging situation. It's one of the more useful power banks I've come across. Solid construction should bring years of dependable use. Now, where's my magnifying glass?    
Price: $199.99
Where to buy: Shargeek and Amazon
Source: The sample of this product was provided by Shargeek.