We use affiliate links. If you buy something through the links on this page, we may earn a commission at no cost to you. Learn more.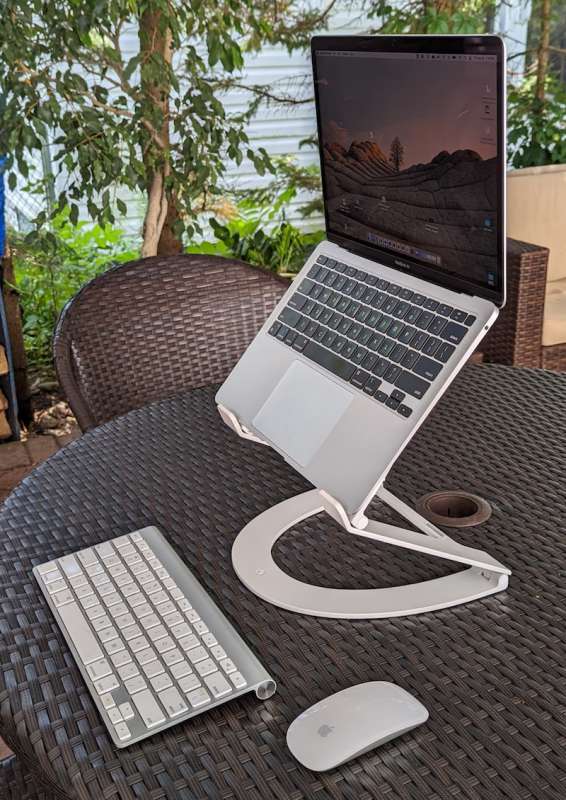 REVIEW – No one likes to look up your nose.  But that's likely what is happening if you use your laptop on your desk for video meetings (unless you're sitting on a milk crate!).  The camera is a foot or two below your eyes, so with the screen tilted back and framing your face, the camera looks right up your nose.  The solution is easy, but rather inelegant; a stack of books that puts the camera at eye level. But what if you are traveling and don't have immediate access to your normal book stack?  Or what if you actually care about how your desk looks? A dedicated laptop stand is the answer.  The Twelve South Curve Flex laptop stand is such a device.  An elegant solution to an inelegant problem.  Even if it looks a bit like a toilet seat when it's folded up.   
What is it?
The Twelve South Curve Flex is a collapsible portable laptop stand that positions your computer so the camera and screen are at eye level, up to 22 inches above the desktop (for a 16 inch Macbook Pro).  It is a follow-on from the original Curve, which did essentially the same thing, without the portability and adjustability.  It's designed for Apple products but will work with most laptops. 
What's in the box?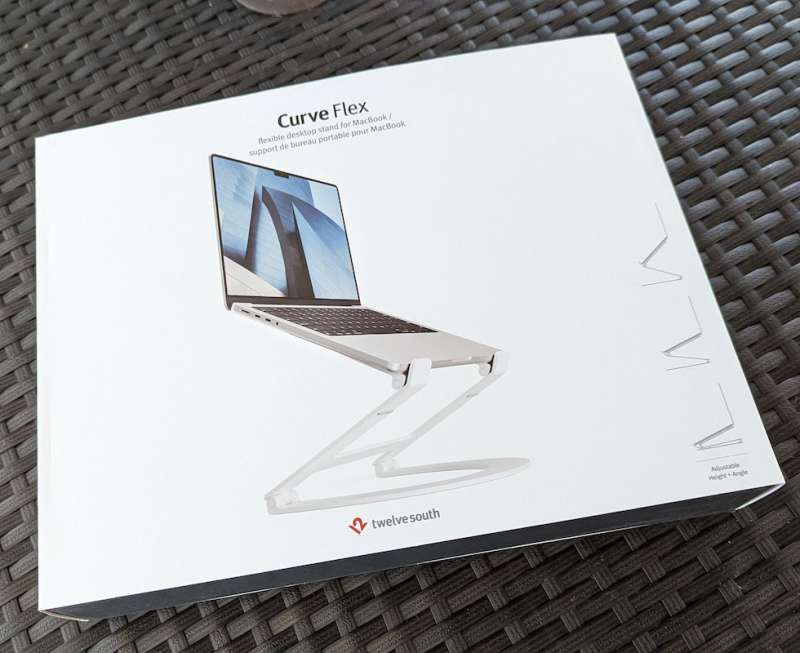 Twelve South Curve Flex laptop stand

Neoprene sleeve

Hex hinge adjustment tool

Instructions
Hardware specs
Width: 10.4-inches (264mm)

Height when folded flat: 1.18-inches (30mm)

Max height when unfolded: 10.78-inches (274mm)

Depth: 8.8-inches (224mm)

Space between base legs: 7.28 (185mm)

Weight: 1.75lb (28oz)

Compatible with all laptops at least 8.66-inch wide and up to 7 pounds
Design and features
When the Twelve South Curve Flex laptop stand is closed up, it looks like a toilet seat.  It's not unattractive, but that's what I see.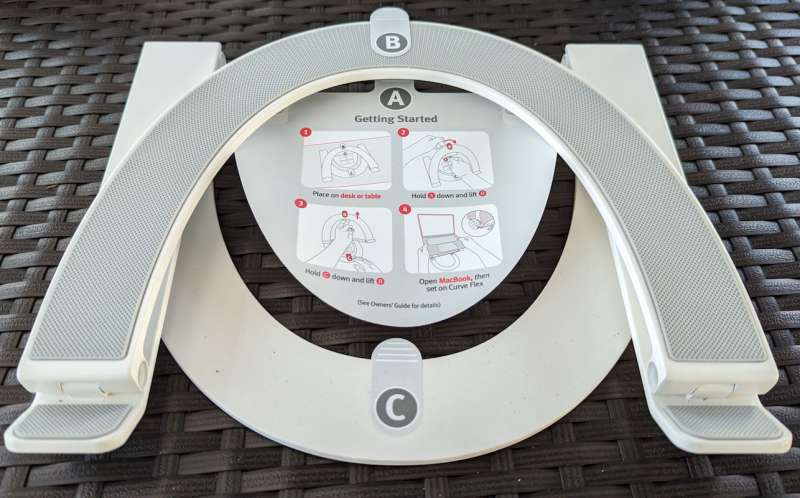 Unfold it, and you can appreciate the design that went into it.  It looks like something that would be sold at Ikea or on display in a design museum.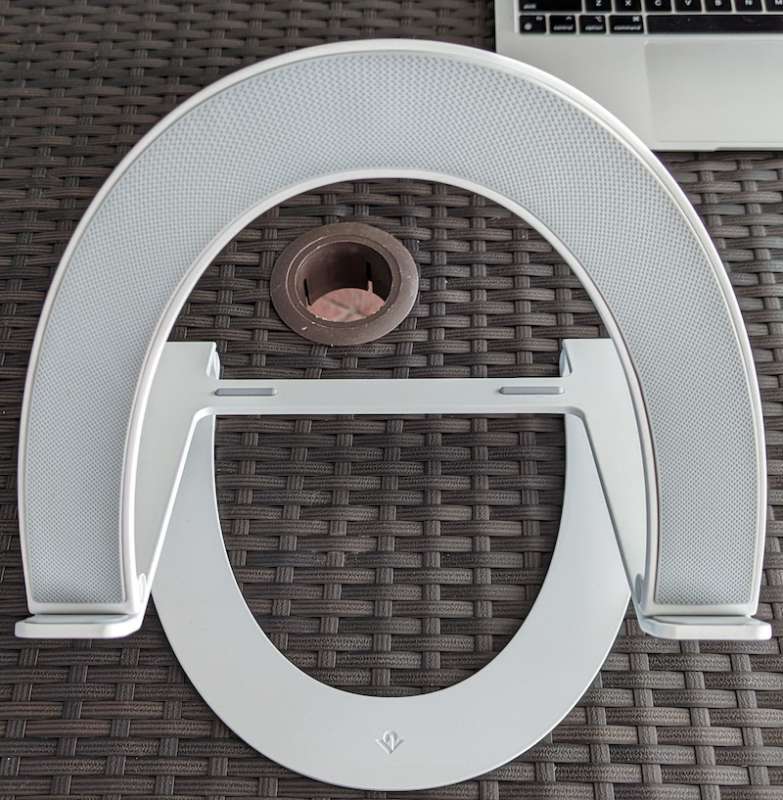 It's essentially three different pieces; a base that sits on your desk, a top part that holds the laptop, and the middle connecting the two other pieces, where much of the height adjustment takes place.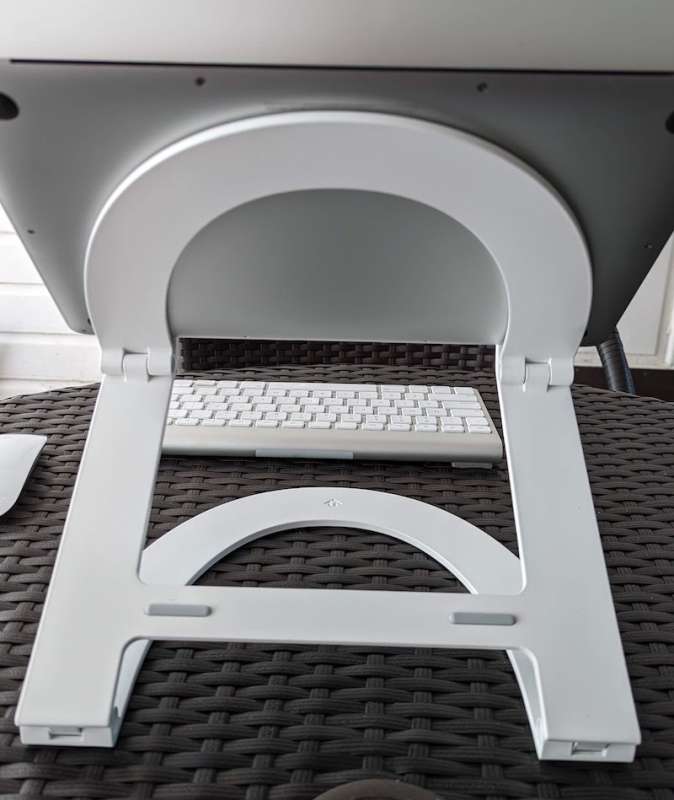 These three sections are separated by adjustable-tension hinges, with the adjustment tool included.  The hinges are small and nicely integrated into the design.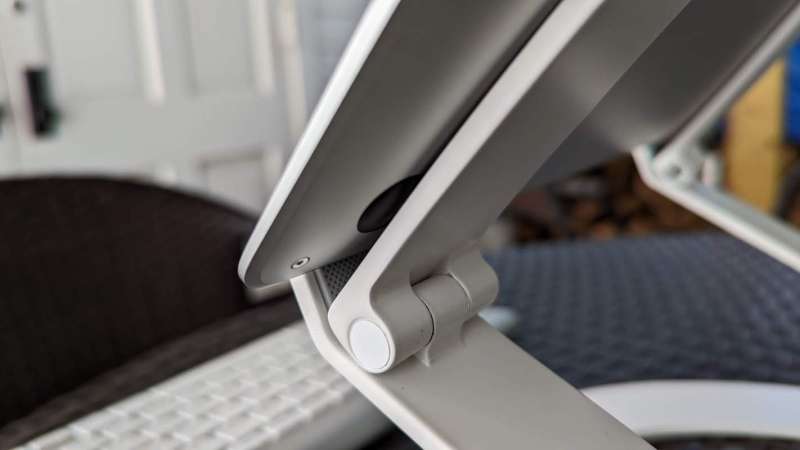 Anywhere the Twelve South Curve Flex laptop stand touches anything else (desk, laptop, itself) there are high-quality silicon pads that are very nicely stuck to the sturdy painted aluminum (comes in white or black). It feels very secure and well built, and includes a neoprene case for traveling. 
Performance
There are three use cases that I tried the Curve Flex in.  First, using it as a stand-alone laptop stand with an external mouse and keyboard. This was great for positioning the screen at eye level preventing neck strain when I was away from my home office setup.  The adjustable height and attractive aesthetic made me look pretty cool at the local coffee shop. It also positioned the camera at the perfect height for video meetings.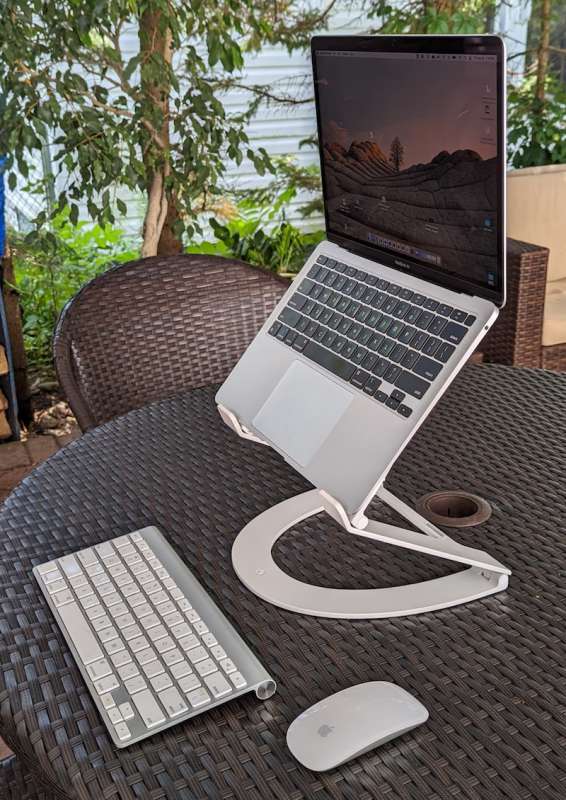 The second was as a stand to position my laptop in my work-from-home setup, setting the laptop screen next to the external monitor.  The adjustability really came into play here.  It looked good and performed very well.  I worked outside on a very warm day, and the upper part that holds the laptop provided lots of ventilation room to keep my laptop running cool.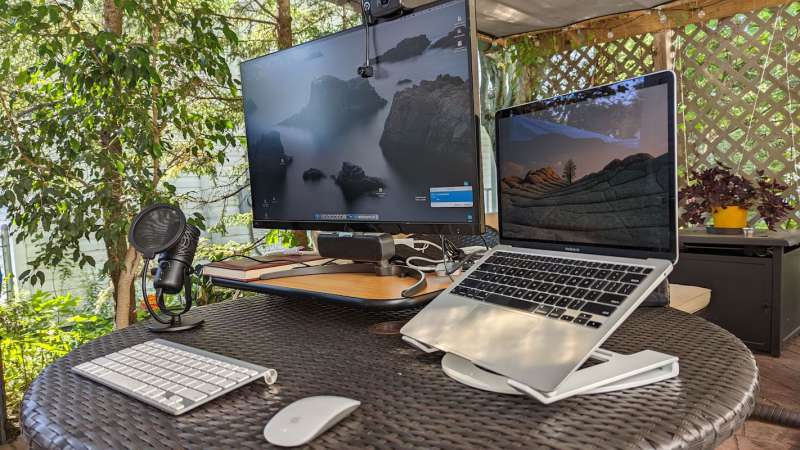 The third use case of the Twelve South Curve Flex laptop stand was as a desktop wedge, with a very low lift in order to prevent strain to my wrists and neck when using only the laptop. The performance here was not as good.  I was testing with a 2021 M1 Macbook Air.  The wedge shape at the front of the laptop didn't give enough real estate to keep the laptop from sliding off of the stand. Newer M2 Airs and the Macbook Pro would be fine since they don't feature that iconic wedge shape, but if that is your laptop and your use case, beware.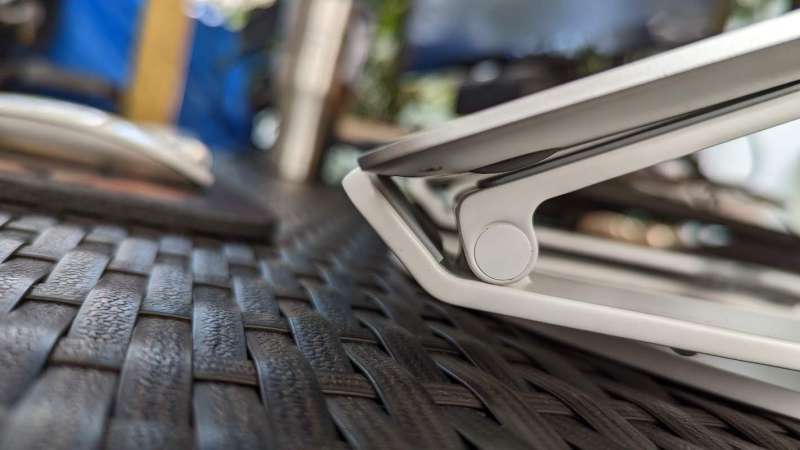 My only real gripe is with the case.  I felt like Twelve South really could have done better here.  The case is cheap and flimsy and doesn't even cover the top of the stand. At $80 for a portable product, a premium case is not too much to expect.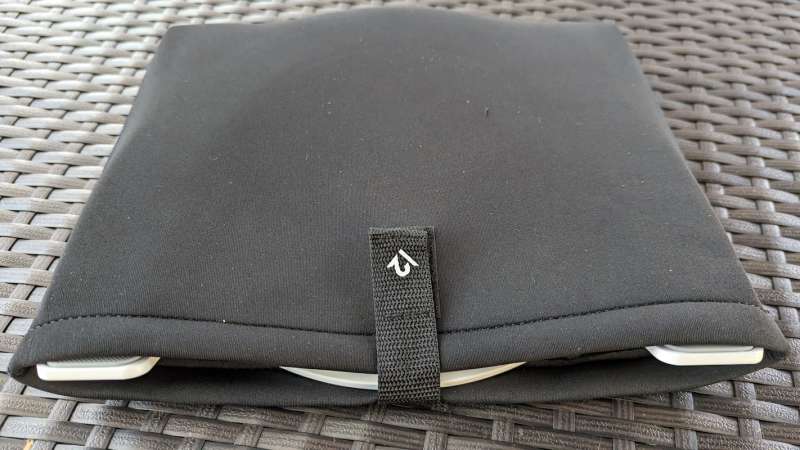 What I like
Attractive, especially once in use (and not looking like a toilet seat)

Elegant and simple design

It just works really well in most cases
What I'd change
Include a much nicer sleeve

MacBook Air (2021 and earlier) doesn't fit well at low angles due to the wedge shape

A pricey alternative to a stack of books
Final Thoughts
A stack of books works.  But you've earned a more elegant solution to elevate your laptop and camera to eye level.  If you want that solution to be portable and very adjustable, the Twelve South Curve Flex laptop stand might be for you.  
Price:  $79.99
Where to buy: Twelve South or Amazon
Source: The sample for this review was provided by Twelve South.