We use affiliate links. If you buy something through the links on this page, we may earn a commission at no cost to you. Learn more.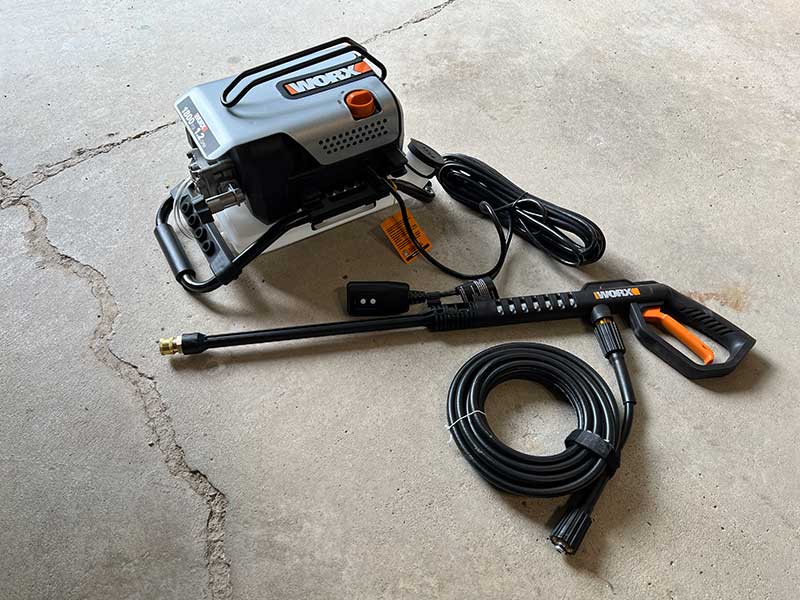 REVIEW – I've been dragging my feet to buy a pressure washer for quite a while because I haven't wanted to deal with tools that are powered by gasoline. Gas is smelly, expensive, and just not convenient for me to buy because I drive a MINI Cooper and refuse to carry a smelly gas can in the back. When the offer to review the WORX WG605 electric pressure washer came up, I didn't hesitate to accept it. Let's take a look.
What is it?
The WORX WG605 is a small electric 1800 PSI pressure washer.
What's in the box?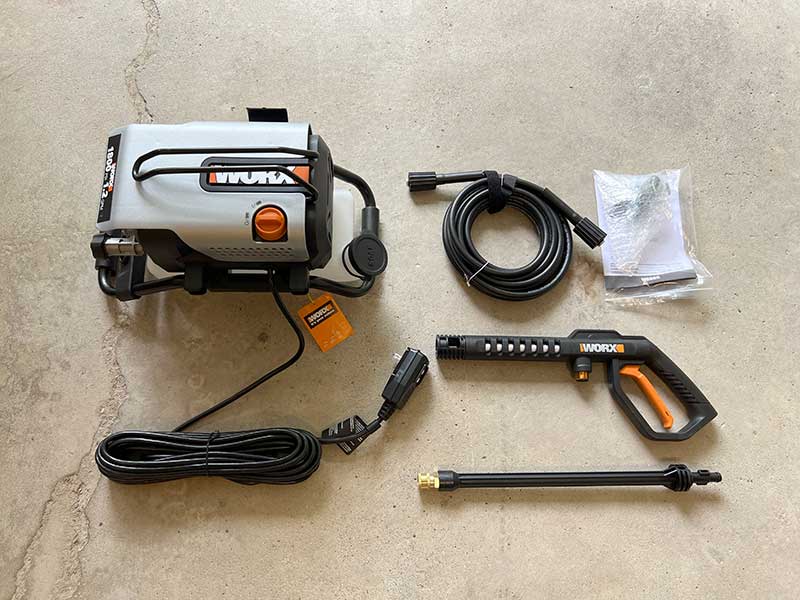 Electric Pressure Washer
Spray wand
20 ft. Hose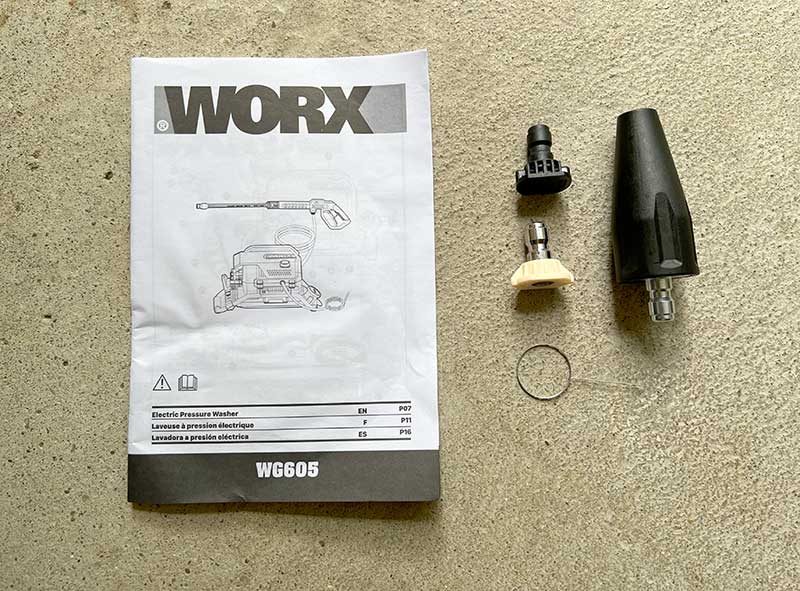 Turbo Nozzle
40° Nozzle
Soap Nozzle
Cleaning tool
Manual
Hardware specs
Power Input – 13A
Rated PSI – 1800 PSI (MAX 1980 PSI)
Rated GPM – 1.2 GPM (MAX 1.4 GPM)
Motor | Pump Type – Universal | Axial Cam
Unit Weight – 13.8 lbs.
Design and features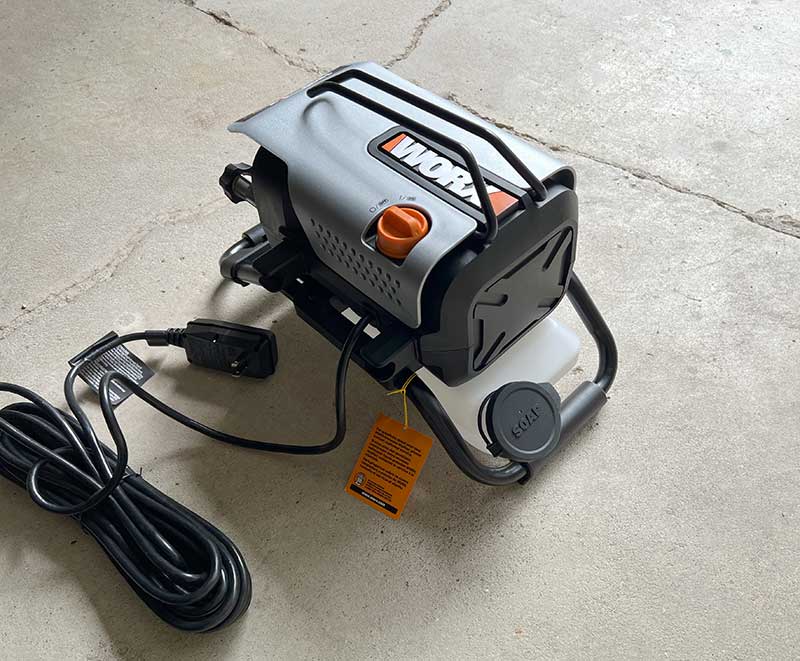 The WORX WG605 electric pressure washer is compact and lightweight, making it easy to carry around from job to job. It features a big handle on top and a large easy-to-see power knob.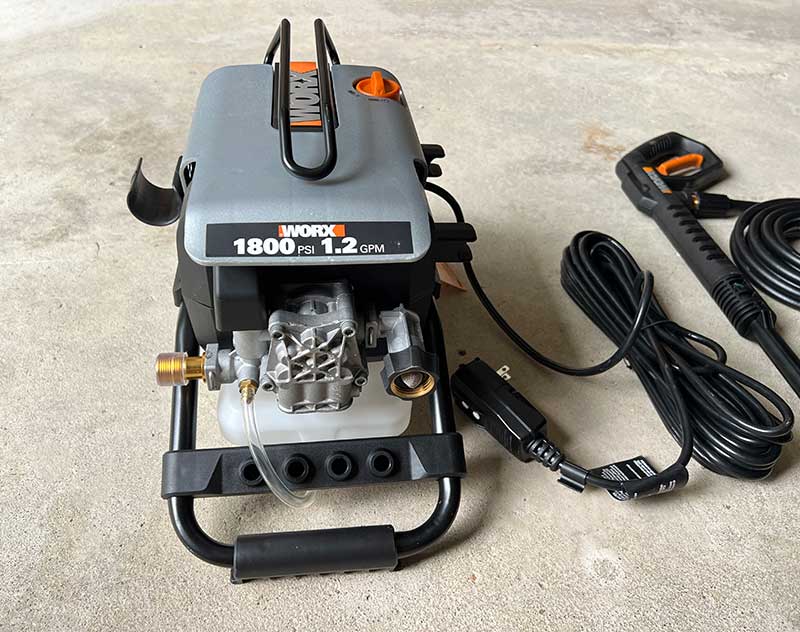 The WORX WG605 electric pressure washer has two connection points. One for your existing garden hose, and the other for the included 20ft spray wand hose.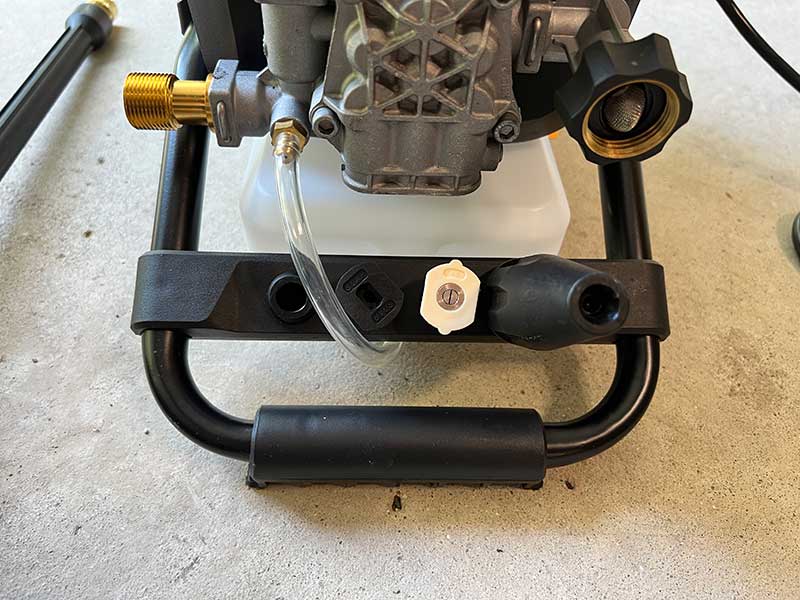 The frame for the pressure washer has a built-in holder for the included nozzles.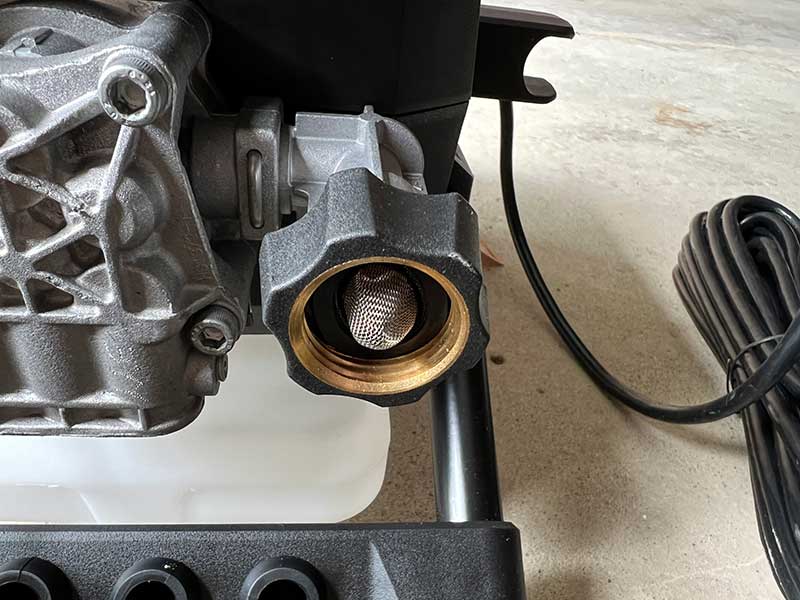 The water inlet connection for your existing hose has a built-in mesh filter to catch any grit/dirt from your garden hose.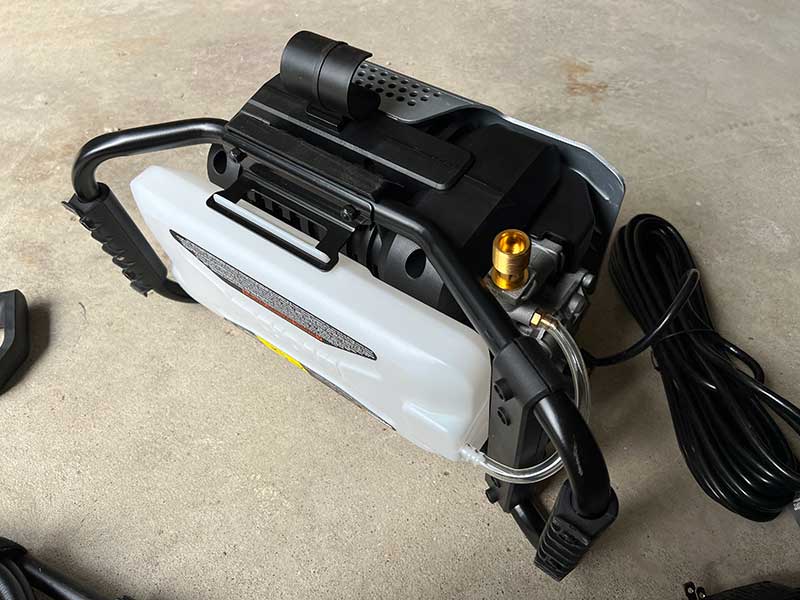 There is a 0.6 gallon/2.3 liter soap tank attached to the bottom of the WORX WG605 electric pressure washer with a large rubber cap on the end that allows you to fill it relatively easily. Note that the take isn't really designed to be removed.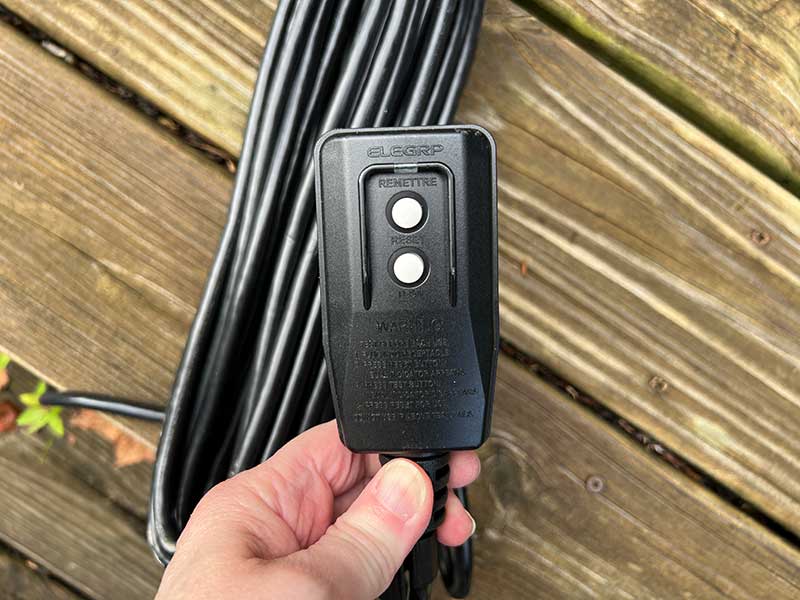 The power cable has a built-in reset switch.
Let's clean!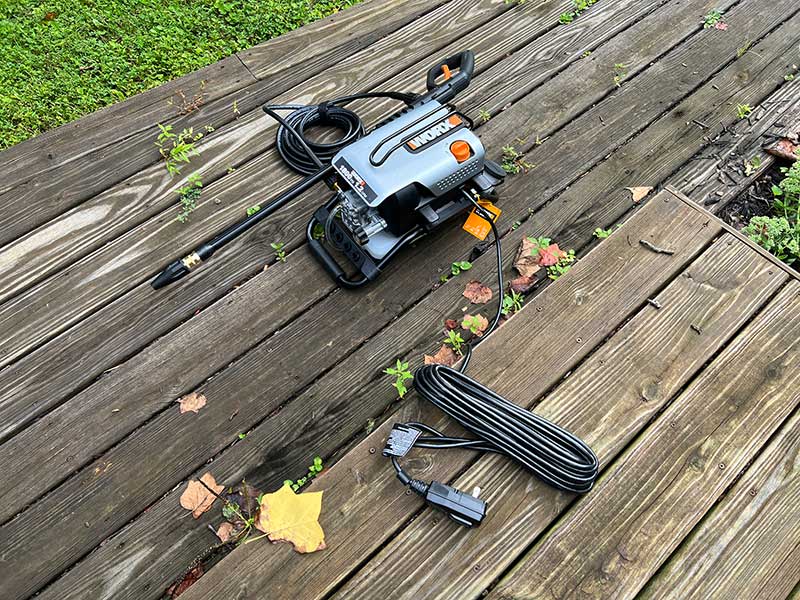 My first test of the WORX WG605 electric pressure washer was to clean the concrete steps outside my garage. It was easy to set up the unit by carrying it out to my deck and the long power cord was easy to run into my garage where I had power outlets.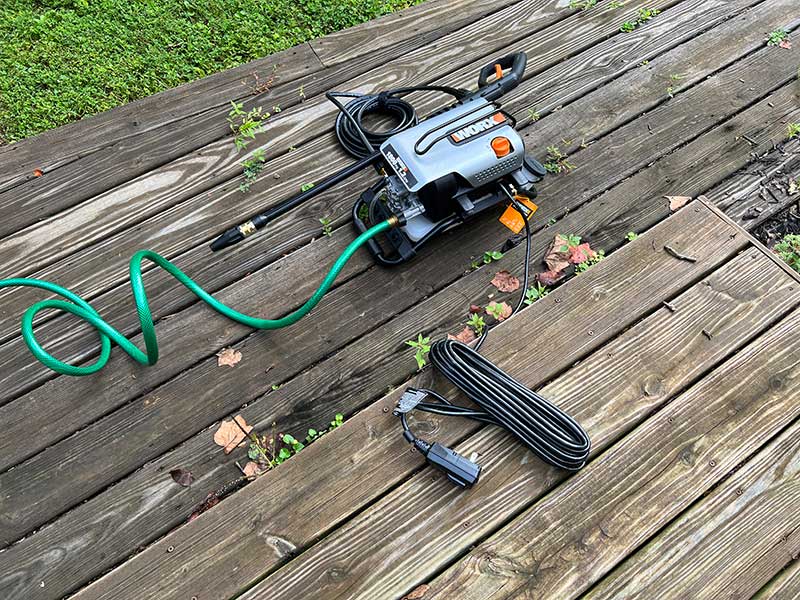 I attached an existing garden hose to an outside water spigot and into the pressure washer. The large knob made it very easy to connect and tighten the hose for a leak free connection.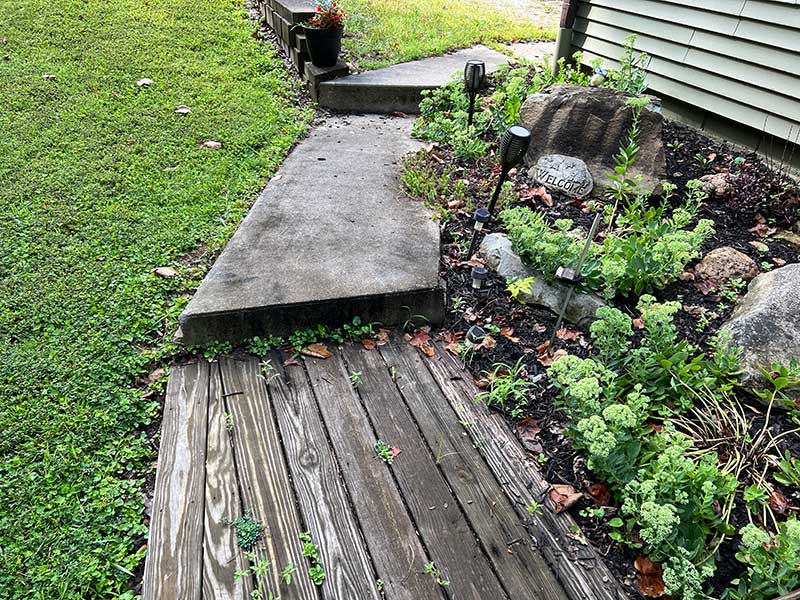 Here's my sidewalk before cleaning. You can see that it has a couple of years of built-up grime, moss, and mold since the last time I paid someone to power wash it.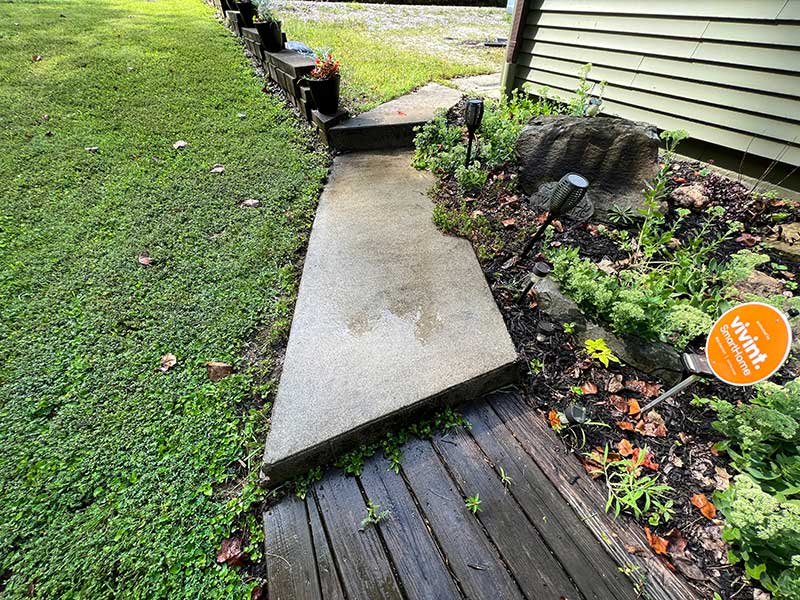 A few minutes later, here is the sidewalk cleaned up. Using the WORX WG605 electric pressure washer to wash the gunk off the sidewalk was actually fun!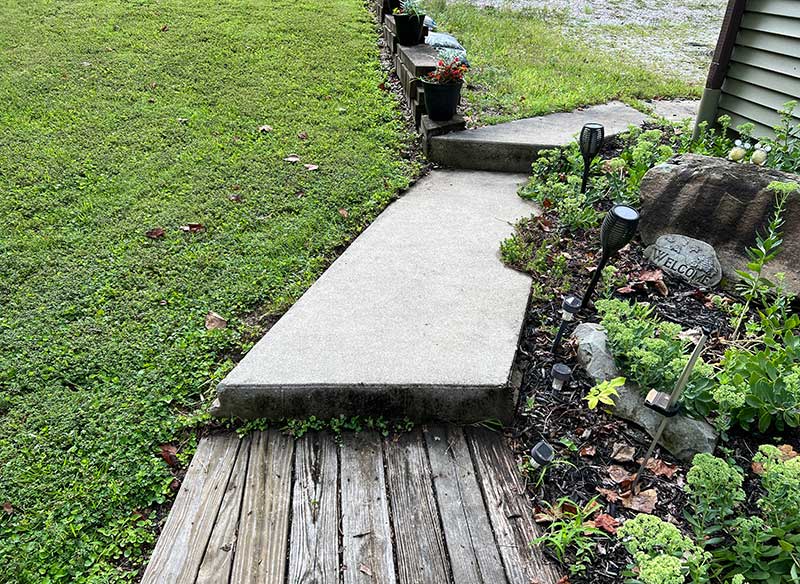 And here is the sidewalk after the water dried. I think it looks great!
My next test was to test the soap tank by washing my MINI Cooper. I had to do a little research before this test because as luck would have it, I didn't have any car wash. liquid because I usually just pay the $7 to get an automated drive-through wash when I fill up my car with gas at Sam's Club once a month or so. I'm glad I didn't just go to Walmart and buy any old bottle of car wash detergent because it's important to use a detergent that is specifically designed to be used with pressure washers. Off to Amazon I went and I bought a bottle Mission Automotive car wash.
With the soap tank filled, I was suddenly confused because there isn't a switch on the power washer to "turn on" the soap feature. A quick look at the WORX site and FAQ let me know that the included soap nozzle needs to be utilized to draw soap from the soap tank. The soap nozzle allows for higher flow, which in turn pulls the soap through the 1800 PSI pressure washer.
My first car wash wasn't 100% successful as I didn't feel like the soap foamed that much. It was probably my fault for not adding enough soap or the soap I picked wasn't that great. I was trying to be frugal with the soap because the info on the detergent bottle made me worry that I might add too much. Next time I'll add more. Even so, the WORX WG605 electric pressure washer did get the grime and dust off my MINI which is pretty much there all the time due to the fact that I live on a gravel road.
Check out the video below that shows me power washing the sidewalk and my MINI.
See it in action
What I like
Lightweight, portable
Quick connect nozzles
Comfortable spray wand handle/trigger
What I'd change
A bigger soap tank would be great
Final thoughts
I like WORX products. They are well made and easy to use. The WORX WG605 electric pressure washer continues that trend and I look forward to using it to tackle all my outdoor washing chores. Next up is power washing the vinyl siding of my home and garage.
Price: $159.99
Where to buy: WORX and Amazon
Source: The sample for this review was provided by WORX.