We use affiliate links. If you buy something through the links on this page, we may earn a commission at no cost to you. Learn more.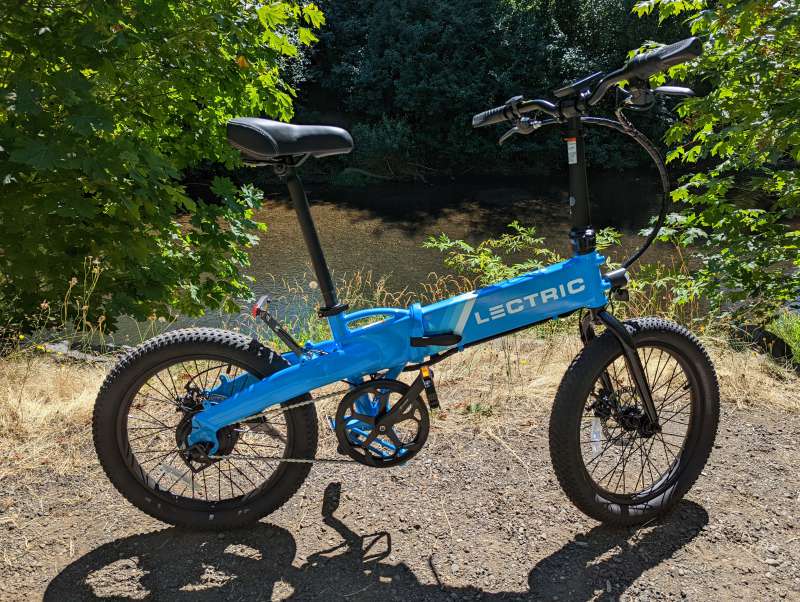 REVIEW – Fads come and go in life, remember JNCO jeans? As a lifelong bicycle rider and former bike mechanic during college, you see fads come and go in the bike industry as well. I saw electric bikes as the new air fryer. Everyone is making one but my microwave, toaster oven, and normal bikes all work great so why do I need one? Let's see if the Lectric XP Lite can change my mind.
What is it?
The Lectric XP Lite is Phoenix, AZ-based Lectric's lightest and least expensive folding electric bike offering 300W of power to propel you up to 20mph with up to 40+ miles of range. It is a single-speed, battery-in-frame design that weighs in at a scant 46 lbs with the battery.
What's in the box?
Lectric XP Lite eBike
Charger
Manual
Two keys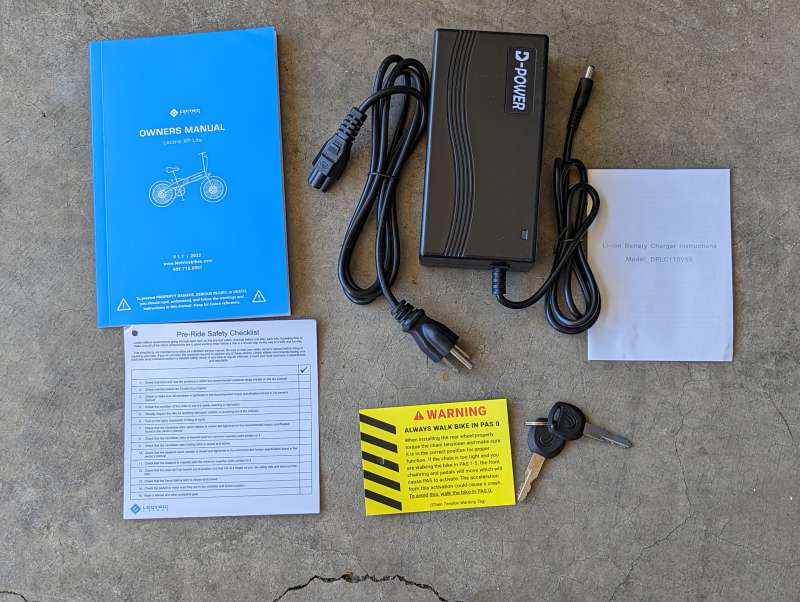 Specifications
Weight: 46lbs total with battery
Battery weight: 7 lbs
Battery: Lithium ion 48v 7.8ah with a 4-6 hour charge time
Frame material: Aluminum
Fork material: Steel
Max speed: 20mph
Range: Up to 40+ miles based based on weight load, terrain, weather, etc
Capacity: 275 lbs payload
Rear rack capacity: 55 lbs
Dimensions unfolded: 63 x 25 x 41.5 in
Dimensions folded: 36 x 16 x 27 in
Brakes: 160mm mechanical disc brakes
Motor: 300W (720W+ peak) rear hub
5 pedal assist levels and throttle only mode
Class 2 Capabilities
Range estimates, throttle only: 15 miles
Range estimates, pedal assist: PAS1-40 miles, PAS2-31 miles, PAS3-22 miles, PAS4-18 miles, PAS5-15 miles
Spare battery cost: $249.00
Drivetrain: Single speed 16 tooth rear BMX cassette, 52 tooth front ring
Tires: Chao Yang 20 x 2.6
Standover height: 22 inches
Ingress Protection: IP-65, dust tight, protected against jets of water, limited ingress permitted
Seat height: Min- 28 in, Max- 40 in
Standover height: 22"
Design and Features
I wanted to try the Lectric XP Lite because I was looking at getting a folding bike for camping and travel and I was honestly curious about electric bikes since it seems they are everywhere now. Lectric's XP 2.0 and XPremium bicycles have longer range and higher payload capacity but they weigh in at 64 and 75 lbs respectively which is a lot of weight to pedal around and they cost more so I decided to try the lighter and cheaper XP Lite.
The Lectric XP Lite folding ebike arrived well packaged and adequately protected with foam and cardboard. A paper manual was included and it was refreshing to hold a physical manual when setting it up and there is no app required which was also nice since everything these days seems to require an app including air fryers. It is recommended to fully charge the bike before your first ride and there is a disclaimer in the manual to have a certified bicycle mechanic inspect the bike before your first ride.
I would also recommend that because I did experience some issues right off the bat. The front and rear wheels were not true. The front so much that I felt a noticeable wobble at 20 mph. The front brake pads were also rubbing quite a bit. Since this is a folding bike that is shipped pretty much fully assembled there is no reason why this couldn't be fixed with a good final tune before being shipped and I saw a bunch of quality control stickers on the bike and on the wheels so maybe the shipping was a little rough or they just missed these two. Same with brake pad adjustment. It's a simple check and easy fix before it gets folded and packed up for shipping. The handlebar alignment was about 2 degrees off from straight so I fixed that as well. Not a huge deal but I noticed just because of my experience. The chain tension was spot on and the brake lever reach was just right so everything else was properly adjusted. All in all just a few minor adjustments but the rims though should not have slipped through. 
I will say that since the battery alone costs $249 you are essentially paying $550 for the bike itself and in that regard this is a great bike. I did not expect much but was pleasantly surprised by the quality of the bike. The paint was nice and smooth and I appreciated the frame being fully painted on the inside in the battery compartment. The welds were all clean and solid and I liked the quality light mounts and although nothing spectacular the drive train and brake components seem well built and should hold up fine.
To turn the Lectric XP Lite folding ebike on you insert a key into the underside of the frame and turn so the key is parallel to the frame. Then just long press the power button on the left handlebar control module and the screen will turn on.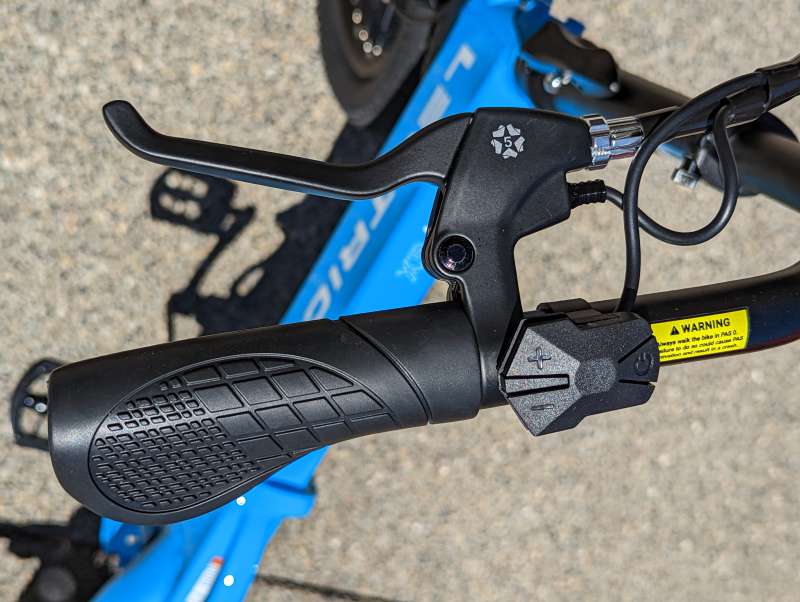 Going through the different pedal assist (PAS) levels from 0-5 was easy with the left hand controls + and – buttons and as long as the PAS level is above 0 you can twist the throttle to get some extra power at any time. The power did kick in smoothly and I didn't feel any jerkiness during the transitions. The power button also lets you cycle through the odometer, Trip A, voltage, current, and trip timer.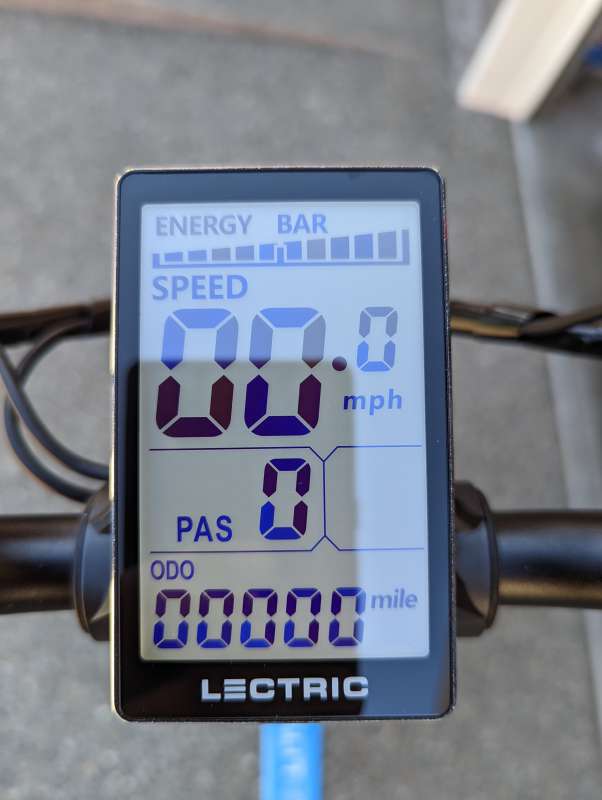 There are 21 total settings you can adjust by pressing the + and – buttons simultaneously. This lets you change the screen brightness, distance units, tire size, etc but Lectric only provides definitions for 10 of those settings in the manual. They recommend not adjusting the 11 that are excluded for safety reasons.
I am 6 feet tall and weigh 195 lbs. I normally ride a 19" frame which is a large size frame for a mountain bike with 29" tires but I did not feel cramped on this bike since the seat post has 12" of adjustment. The handlebar height is also adjustable by 4.5". The motor never felt bogged down even carrying me and a backpack with water, bike lock, and munchies; the bike still felt pretty nimble and maneuverable.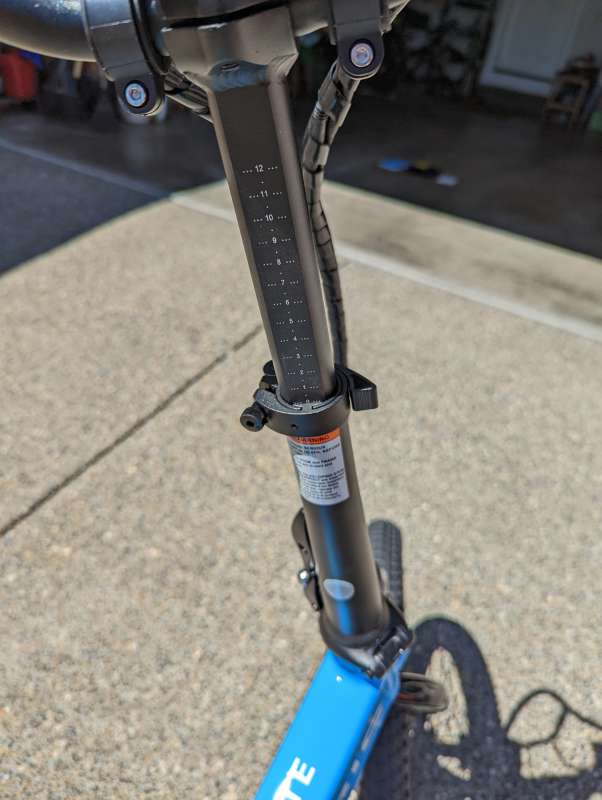 The one speed drivetrain is simple which reduces maintenance and weight compared to a multi gear setup. I found I could cruise at around 16mph on flat terrain with the single speed gearing. If I went up a hill I could just turn on the pedal assist or twist the throttle to get the extra power needed. With that ability extra gears aren't really necessary.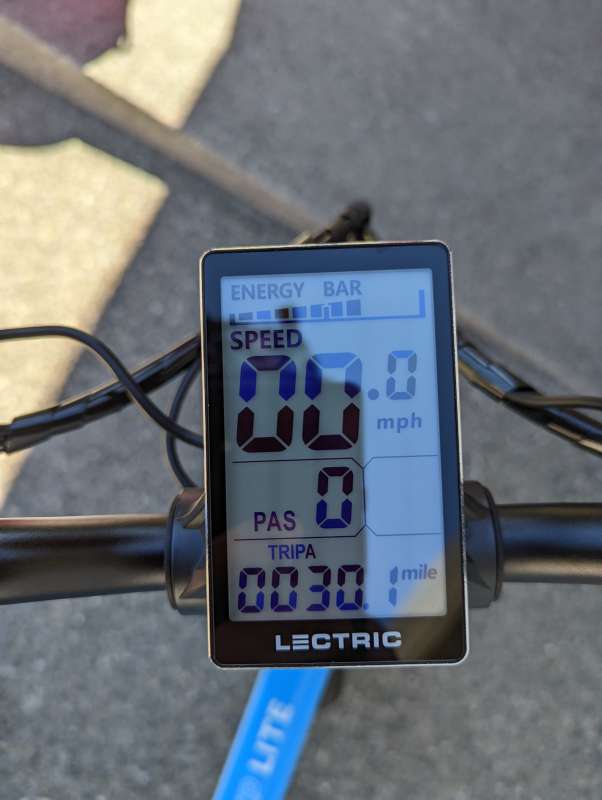 The overall performance of the Lectric XP Lite folding ebike was great and on a 30 mile trip I left it in PAS 1 mainly for the first half but did cycle through the different levels up to PAS 5 to get a feel for them. Doing that I used only 1 bar of battery. On the 15 mile trip back I used a lot of throttle and PAS 4 to see how much battery it would deplete and when I got back I still had 7 bars out of 10 left so not bad at all. I found PAS 4 the most practical assistance level as I could pedal along with it to maintain 20mph very easily. PAS 5 wanted to assist so much that when I tried to pedal there was no resistance so I didn't use it very much. At the higher levels as well when you pedal you need to be ready for the sudden surge of power. I forgot I was in PAS 4 and started pedaling in a turn and the abrupt assistance almost caused me to wipe out. You can adjust how strong the motor comes on in the settings and how many rotations it takes to kick in so you can fine tune to your liking which is nice.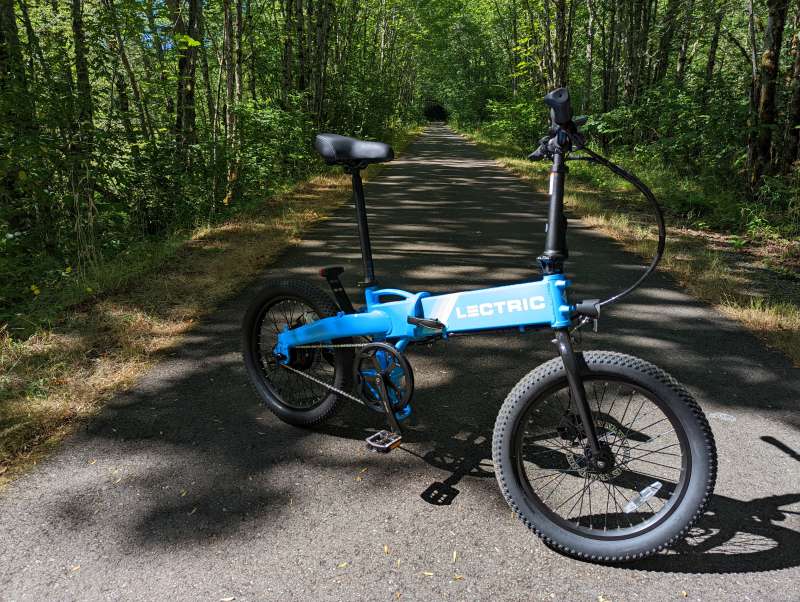 What I like
Easy to use controls
Great range and power options
Feels like a normal bike
What I'd change
Add water bottle braze ons (minor gripe but right on the top of the downtube would have been a perfect spot)
Final thoughts
At $799 the Lectric XP Lite folding ebike is inexpensive and fun. I like the simple single speed setup and although a little heavier than a normal bike it's pretty light for an electric. As a former bicycle mechanic, I am more critical when it comes to reviewing bikes but I think the Lectric XP Lite is a great option for those wanting to dip a toe in the electric bike fad without spending a fortune and if you are looking for a folding bike for downtown living or RVing this is a great option. Kudos to Lectric for producing a solid folding electric bike under $1,000. I may have to get an air fryer now.
Price: $799 with free shipping
Where to buy: Lectric website
Source: The sample for this review was provided by Lectric.