We use affiliate links. If you buy something through the links on this page, we may earn a commission at no cost to you. Learn more.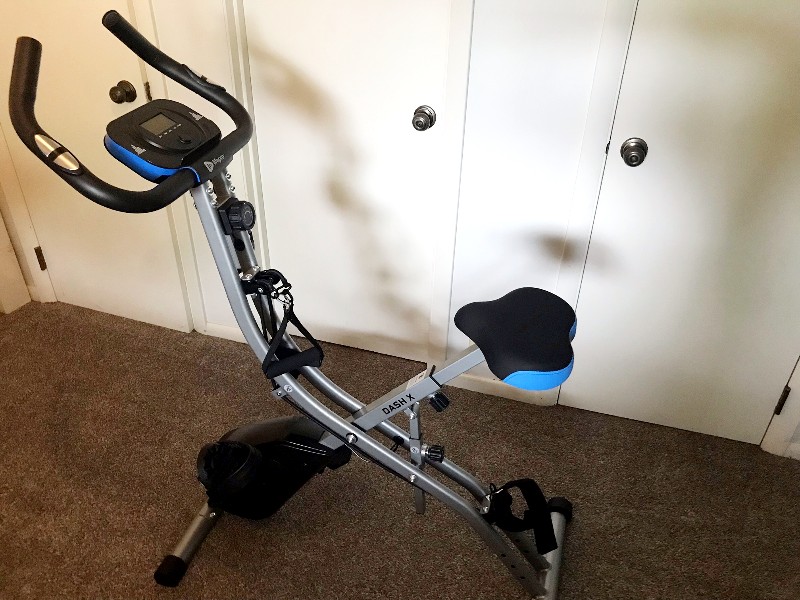 REVIEW – I've been looking to shake up my exercise routine, but didn't want to spend a lot on bulky equipment that takes up a ton of floor space. I'm testing out the Lifepro Dash X stationary exercise bike because it folds up tight enough to fit in a large closet. It also comes with resistance bands, already attached, so I can get a full-body workout in one sitting. Plus, it doesn't break the bank. 
What is it?
The Lifepro Dash X exercise bike is a 33.5-pound, folding exercise bike with an adjustable seat and frame. It has pulse sensors, 8 levels of pedal tension, and is extremely quiet.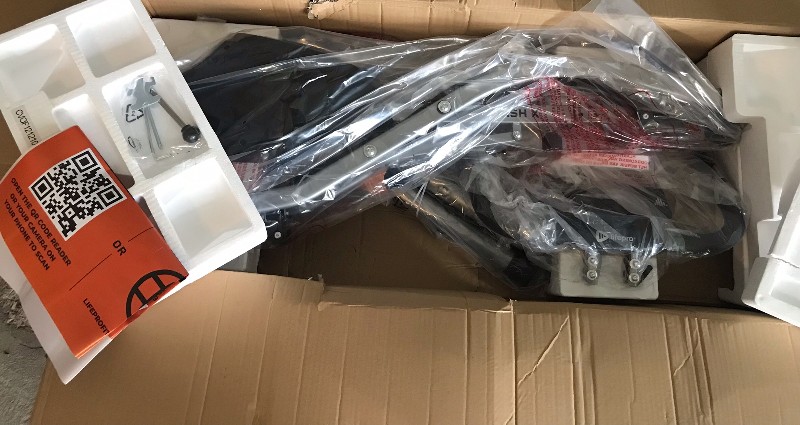 What's in the box?
Lifepro Dash X exercise bike frame

Front and rear stabilizers

Seat

Console and console cables (2)

Handlebars

Pedals, crank arms and pedal straps

Resistance bands (preinstalled on bike frame)

Batteries (2), hardware and tools

User manual
Hardware specs
Brand: Lifepro

Color: Blue

Item dimensions: 37.8 x 20.5 x 51 inches

Folded dimensions: 20.3 x 21.7 x 60.2 inches

Item weight: 39.68 Pounds

Resistance Mechanism: Magnetic

Maximum weight recommendation: 240 pounds

Decibel rating: <40 dB

Pedal tension settings: 0-8

Operation temperature: 32-104 degrees F

Batteries: 2 AAA included (for console)
Setup
According to the manual, it should take 20 minutes to assemble the Lifepro Dash X exercise bike. My husband assembled it in 35 minutes, and he's a handy guy and mechanical engineer. However, he noted he might have been able to do it faster with his own tools; we only used the tools included.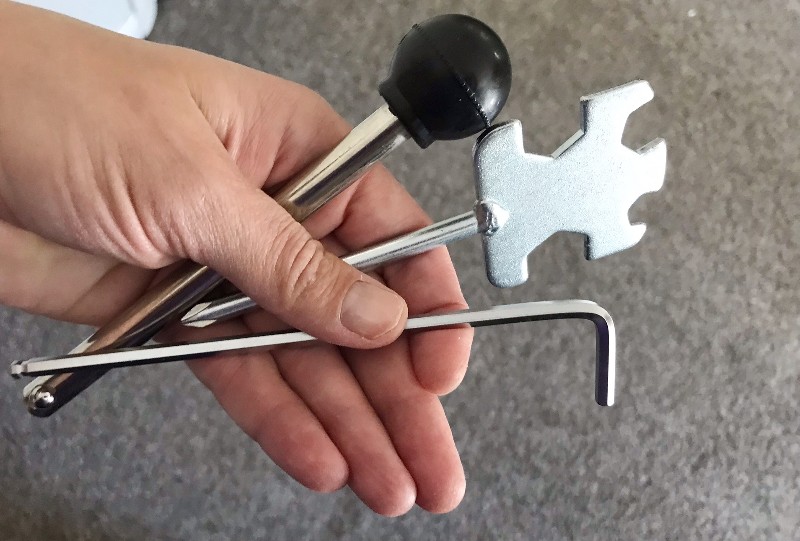 First, you loosen the lock knob and pull out the frame from the folded position until it's all the way reclined. Then you attach the front and rear stabilizer bars using the four cap nuts included
Next, you attach the seat to the seat post with three bolts, slide the seat post into the bike frame, and simply turn and click the knob to lock the seat into your preferred position. 
You put the two included AAA batteries into the console. Then you need to attach the console to the handlebar frame, which means removing eight screws from the handlebar inserts, attaching the cables, and tucking them into the open space. You then slide the console and handlebar frame into the handlebar inserts and put back the four screws (two on each side) to connect the handlebars back to the frame.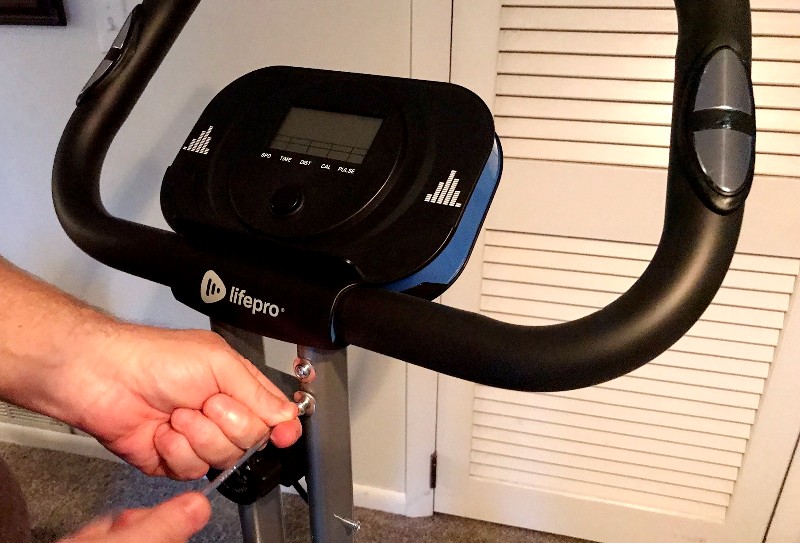 Finally, you attach the handles to the resistance bands, attaching the clips to the metal D-rings.
Performance
At about 30 pounds and with wheels on the stabilizer posts, I can move the Lifepro Dash X exercise bike easily by myself.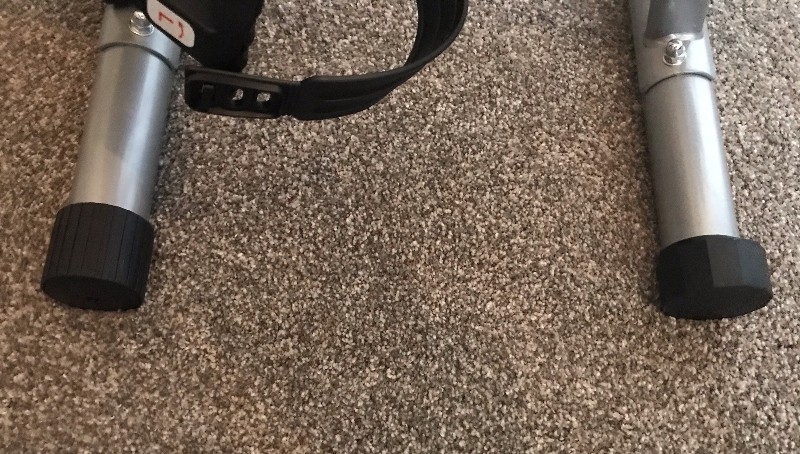 Then it's a matter of turning the knob and adjusting the pins to recline the bike to my desired position, and it's the same process to adjust the seat.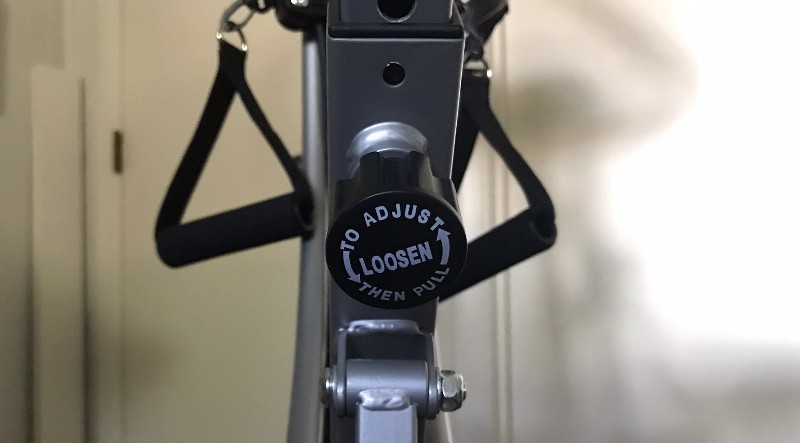 Adjusting the bike pedal tension is easy and low-tech, you just turn the knob from 1 to 8.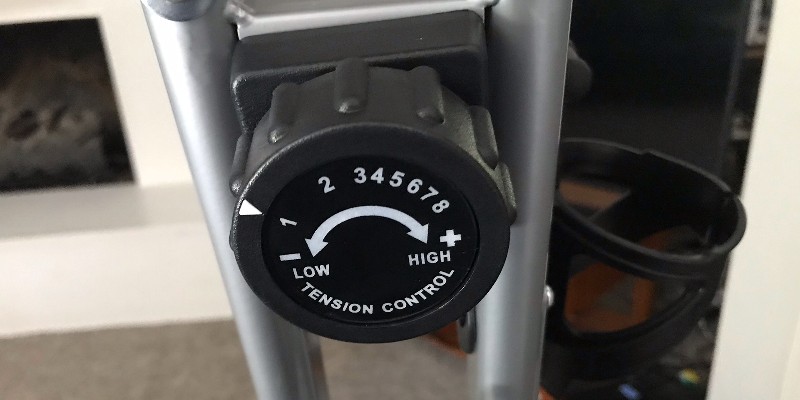 Immediately, I noticed that the Lifepro Dash X exercise bike is extremely quiet. I was worried about it making too much noise while my husband is on work calls, but there was no need. This isn't anything like the exercise bikes of my youth that required you to crank up the TV volume to hear over the bike noise. This bike is super, super quiet. You wouldn't need to adjust your TV volume a single notch.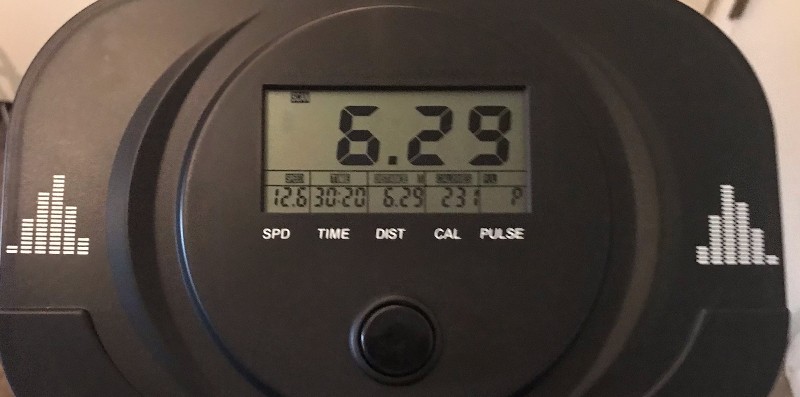 As you pedal, the display turns on and rotates through the various modes. 
SPEED tells you how fast you're going in rotations-per-minute (RPM) and miles-per-hour (MPH). 

TIME shows you how long you've been working out (minutes: seconds). 

DISTANCE shows you your distance in miles.

CALORIES shows you how many calories your current workout has burned.

PULSE displays your current pulse if you hold onto the sensors on the handlebars.
Workouts are saved and will continue where you left off, which is nice if you're taking a quick water or bathroom break. If you want to restart it at zero, just hold the button for three seconds.
The console shuts off automatically after 4 minutes of inactivity.
It's a small thing, but the console has a little ledge, which is perfect for keeping my phone handy.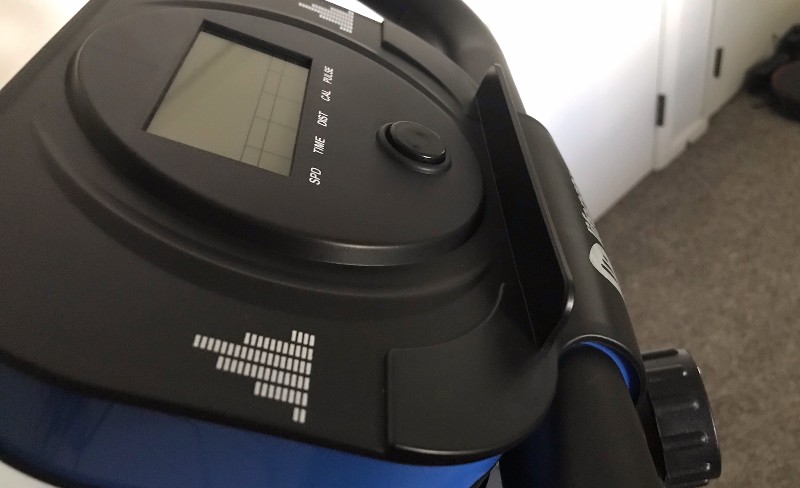 At first, it sounded like a gimmick, but I've found that I really like the resistance bands included on the Lifepro Dash X exercise bike.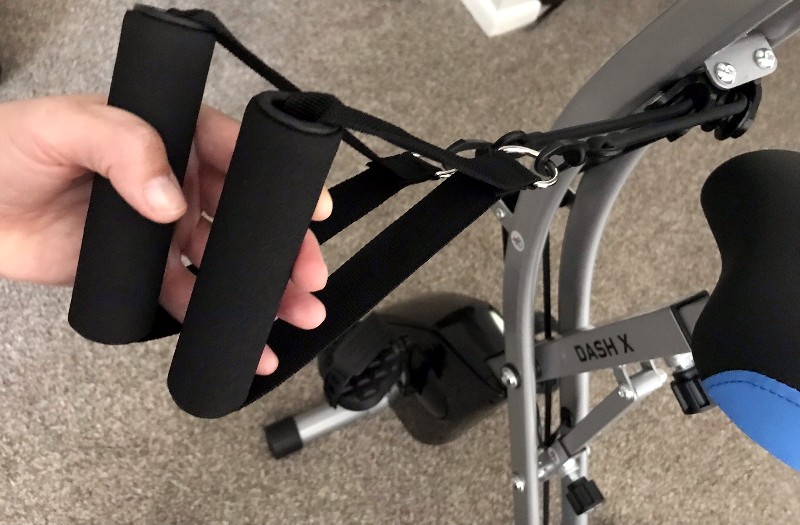 While I've worked out with bands before, having them right there, attached to the bike, makes it simple to get in some arm reps or even follow an arm workout while pedaling. I've even found myself wandering over to the bike while we're watching movies, not to cycle but just to do an easy and silent strength workout with the resistance bands.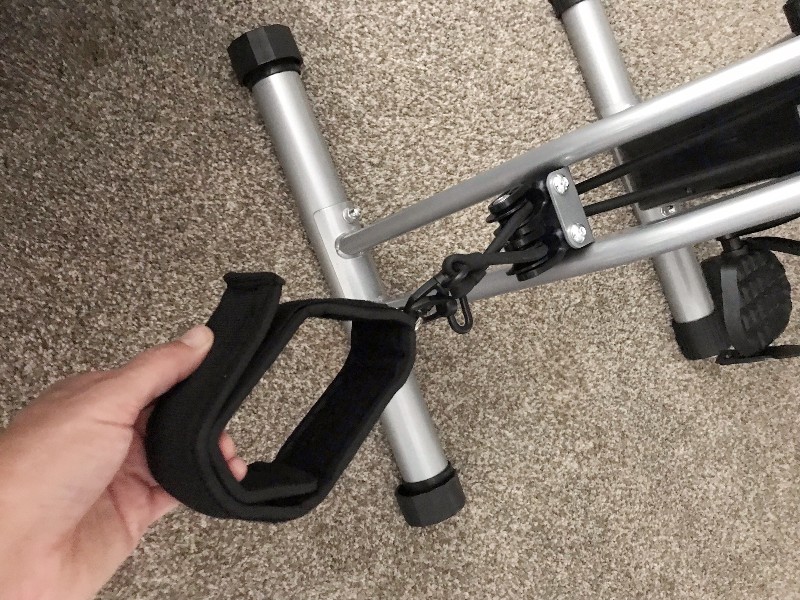 My complaint with the Lifepro Dash X exercise bike is a minor one: the water bottle holder. There is only one spot to put it, because of the pre-drilled holes, and for me, it's an awkward spot. I'd recommend a clip format, so you could slide the water bottle holder along the post where you want it. In this fixed position, my water bottle comes close to hitting the top of the handlebars.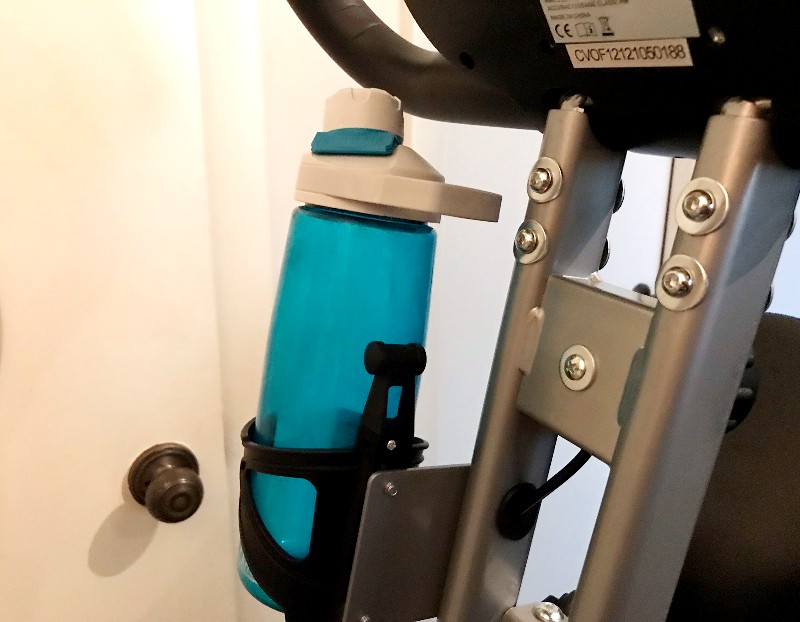 I could use a child's size water bottle, which fits better, but it's then awkward to get out. My solution is to use the water bottle holder for my Tribit Stormbox speaker and set my water bottle on a nearby table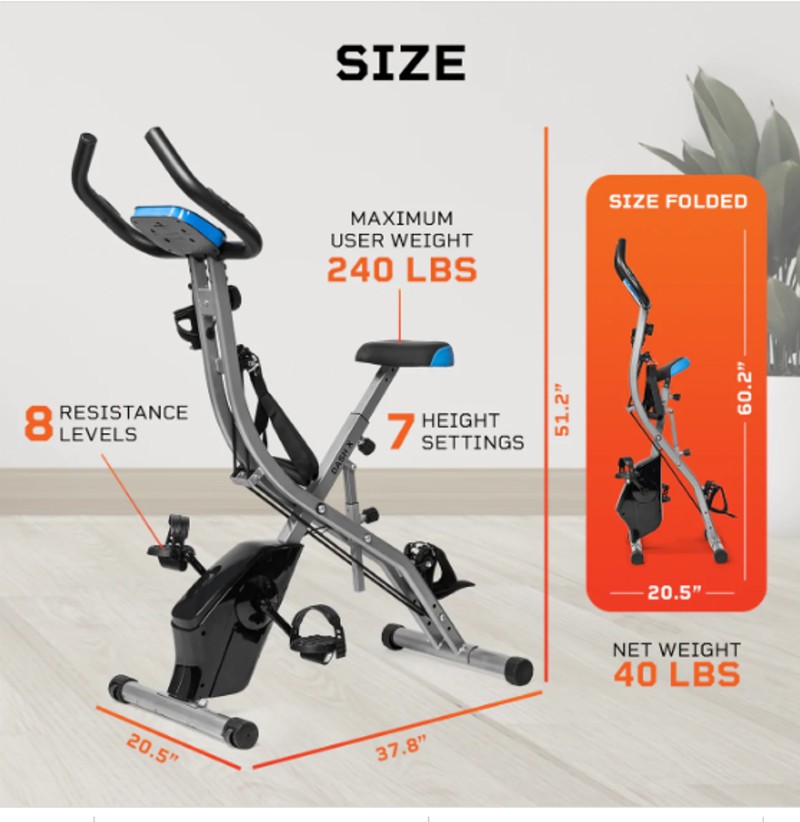 If you have a tight space to stow this bike, it's a good idea to check the folded dimensions.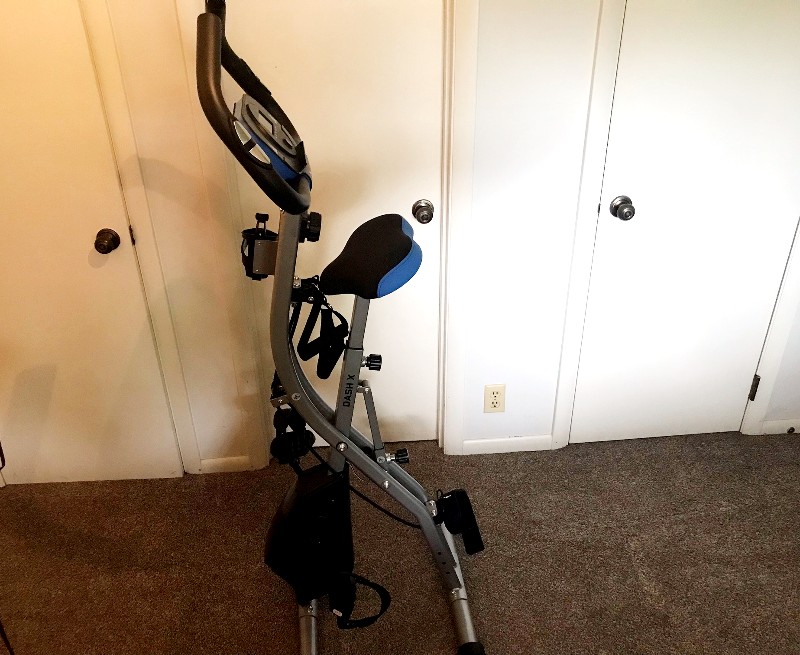 Also, I should note that the maximum weight for the Lifepro Dash X exercise bike is 240 pounds.
This isn't a fancy bike. It doesn't come with preset programs, and you manually adjust your tension. For me, that's OK. I'm happy to zone out to a podcast or get into a good book while I pedal away. Lifepro also offers some workouts on YouTube. Other workout videos (I like Fitness Blender) work just as well, just search for resistance band or cycling workouts.
What I like
Very quiet

Easy to move and adjust 
What I'd change
Final thoughts
This is a solid, inexpensive option for a no-frills, fold-up exercise bike. Resistance bands are a nice touch to make the most of your workout. 
Price: $299.99
Where to buy: Lifepro website or Amazon
Source: The sample for this review was provided by Lifepro.