We use affiliate links. If you buy something through the links on this page, we may earn a commission at no cost to you. Learn more.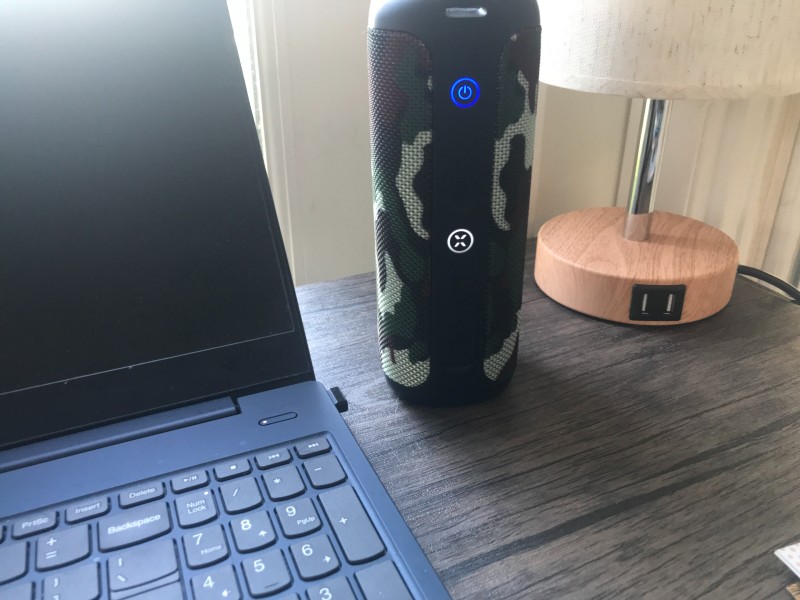 REVIEW – The Tribit StormBox portable speaker is a Bluetooth speaker that features an extra-base mode and easy-to-use controls. Let's take a look.
What is it? 
The Tribit StormBox is a super light (1.3 pounds) Wireless (Bluetooth) speaker that comes in three colors (ours is camo).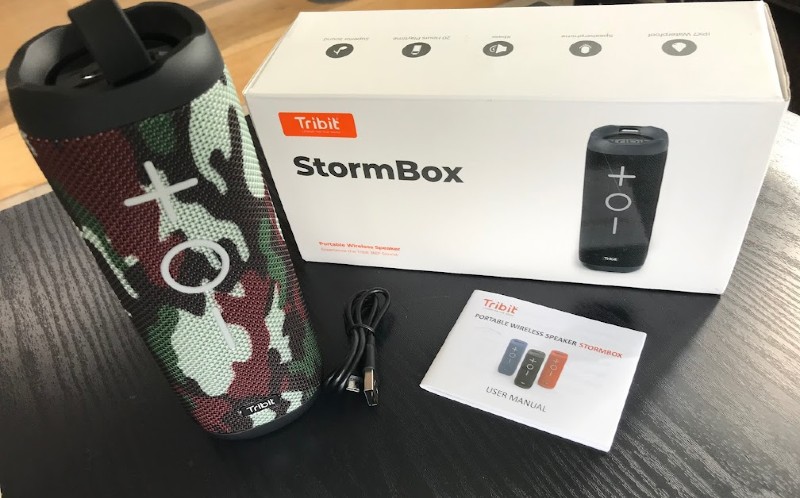 What's in the box?
Tribit StormBox Speaker

Micro USB charging cord

User guide

Silicon lanyard
Hardware specs
Product dimensions: 7 x 2.7 x 2.7 inches

Item weight: 1.3 pounds

Manufacturer: Tribit

ASIN: B08J7J879B

Country of origin: China

Color options: Blue, black or camo

Power: 24 watts

Sound: 360 degrees full surround sound

Bluetooth range: 66 feet

IPX7 Waterproof

Playtime: 20 hours

Charging time: 4 hours

Warranty: 18 months, limited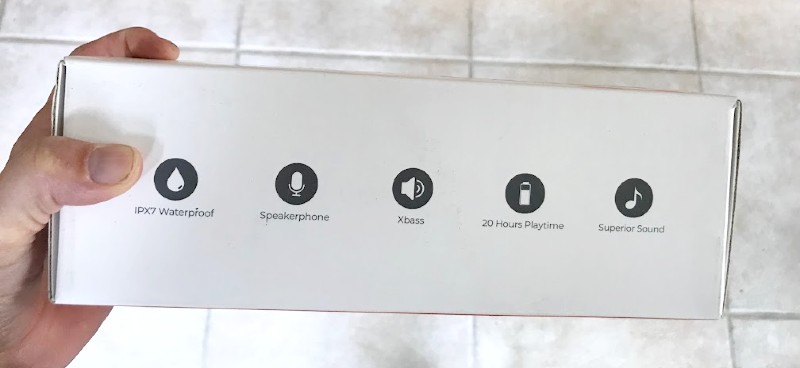 Design and features
Setup
There's not much to set up required with the Tribit StormBox portable speaker. It comes with a silicone strap/lanyard on the top edge if you like that (ours broke while trying to put it on a bicycle handlebar, but we chalk that up to user error and not the manufacturer). It's possible you'll need to charge it (ours was fully charged). In all likelihood, you can jump right to pairing it.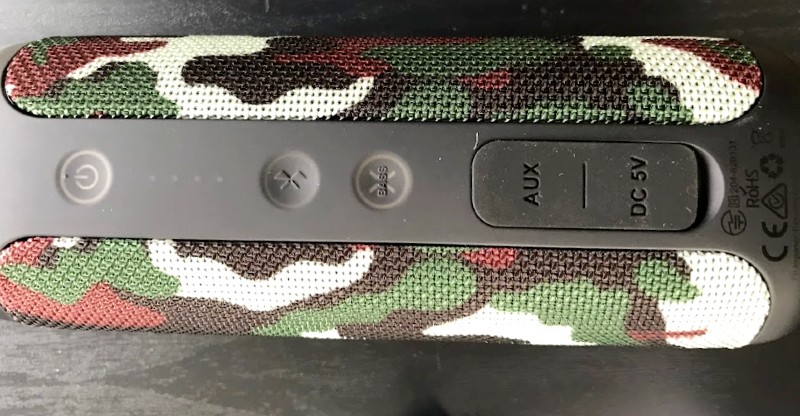 You turn it on with the power button, which flashes slowly when reconnecting, flashes quickly when it's pairing with Bluetooth, and stays on when it's connected. You simply click the Bluetooth pairing button to initiate pairing with your device.
There's also a 3.5mm aux port, right next to the micro USB charging port, just behind a labeled tab.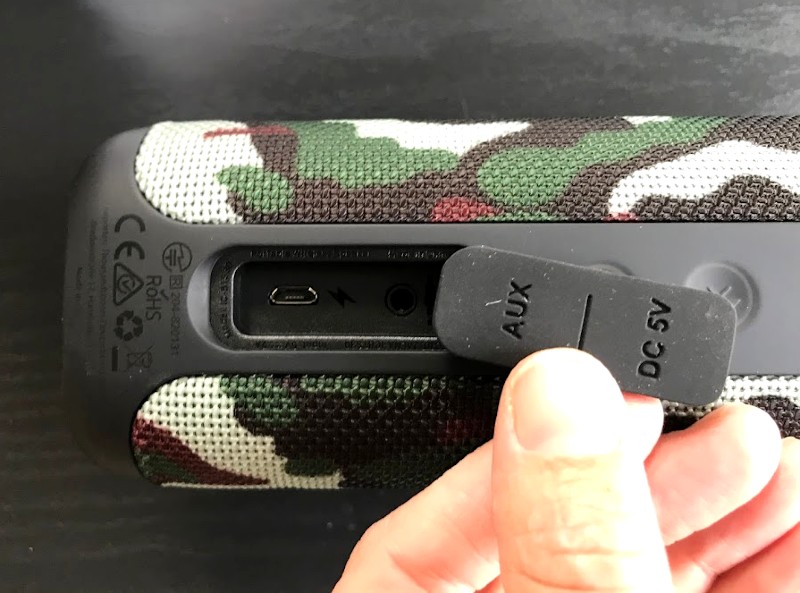 Performance
The Tribit StormBox speaker is listed as having 20 hours of playtime, depending on how you use it. We used it mostly in "XBASS" mode, which seems to wear down the battery faster. We timed it to be sure, and after listening to music, using it as a speakerphone and listening to podcasts, all on XBASS mode, it died after 8 hours and 40 minutes.
You can keep track of battery level by monitoring the strip of four white lights that gradually go down and then switch to red once you're at less than 10 percent battery life.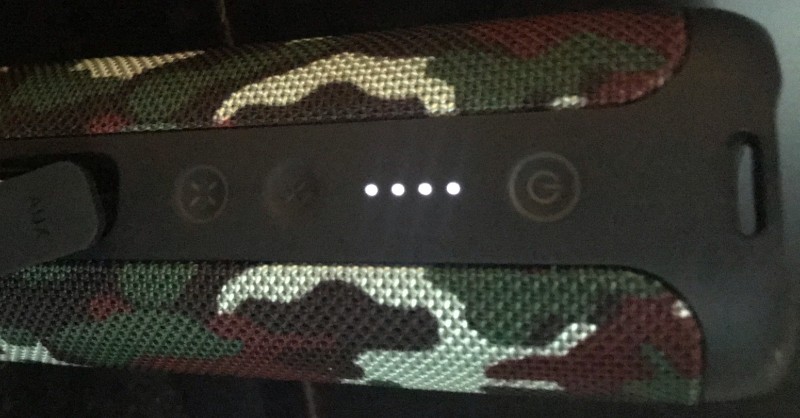 The controls are very simple. There's a volume up (+), volume down (-) and multi-function button (the big circle) in huge font running down the side of the speaker. If you hit the circle twice you can skip to the next track; three times to jump to the previous track.
If you want to bump up the bass, you can switch to "XBASS" mode by clicking the button with the white light (under the Bluetooth button) or click it again to turn it off. 
The Tribit StormBox's sound quality is good, especially for such a small, light, waterproof (IPX7) speaker. The extra-base mode is cool, and definitely makes a difference that you can feel; for example, if your feet are on the coffee table next to the speaker, you will actually feel a difference. Of course, it's not as good as having a subwoofer but for a little speaker like this, it's nice.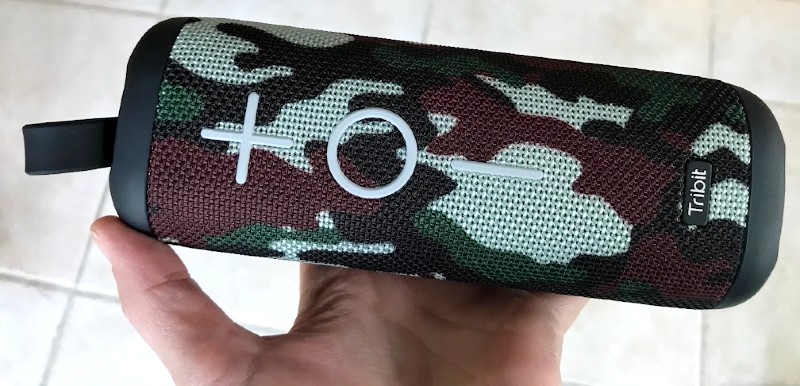 We've paired the Tribit StormBox speaker with two iPhones and a computer via Bluetooth and a TV via the aux port. We didn't have any issues with the devices we tried, though the connection was coming in and out during a storm, and when the battery is wearing down it also seems to be harder to connect. With Bluetooth, you can go maybe one room away from the connected device, but more than that and you'll lose connection. 
If you run into any issues, you can press and hold the volume up and down buttons together for 5 seconds to reset the speaker, and remove previous Bluetooth pairings.
For everyday use, you probably wouldn't encounter any issues, as long as you don't go too far from the paired device and keep it reasonably charged.
The Tribit Stormbox portable speaker currently has a 4.6 out of 5-star rating on Amazon with more than 7,600 reviews.
What I like
Easy to use

Good sound quality
What I'd change
Longer playing time in XBASS mode
Final thoughts
The Tribit StormBox portable waterproof speaker is compact and easy to use. The sound quality was good for a portable speaker, especially at this price point.
Update 11/15/21
We inadvertently put our Tribit Stormbox portable speaker to the test the weekend. The teenagers in my house were using it to listen to music out by the hot tub Saturday night… only they forgot to bring it inside when they were done.
I didn't notice until Sunday afternoon (blame the camo), at which point the speaker had been out in the elements for more than 15 hours.
In that time span, the temperature dropped to 26 degrees. Wind gusts reached 17 mph. And there's been consistent rain and sleet, on and off.
The speaker was soaked. And freezing.
So to put it to the test, I brought it right inside and tried it out. Even while dripping onto my desk, it worked! Not a single problem or issue. Impressive!
Price: $69.99
Where to buy: Tribit website or Amazon
Source: The sample of this product was provided by Tribit.