We use affiliate links. If you buy something through the links on this page, we may earn a commission at no cost to you. Learn more.

NEWS – A year ago, I set a goal to incorporate more weights and toning into my workout routine. And while my friends invested in gym memberships and/or paid online exercise programs, I opted for free workouts from Fitness Blender. Best of all, unlike most of my New Year's resolutions, this one is still going strong a year later.
Fitness Blender is a website and YouTube channel that offers more than 500 free workouts, from a five-minute fast abs session to an 87-minute 1,000-calorie total-body workout.
It's run by Daniel and Kelli Segars, a married couple who are both personal trainers. They just celebrated 10 years of Fitness Blender and crossed 1 billion views.
The workouts are simple, no frills. There's no music, no motivational speeches, no gimmicks. I love putting a Fitness Blender workout on mute and following along while watching TV. Or if I need a quick break from working on my computer, I'll throw on a 9-minute "tank top arms" session or 10-minute standing abs video to help me re-energize.
The website lets you search for workout videos based on time, difficulty, target area, equipment and more.
They also post health-related articles and free recipes, and have an online community board.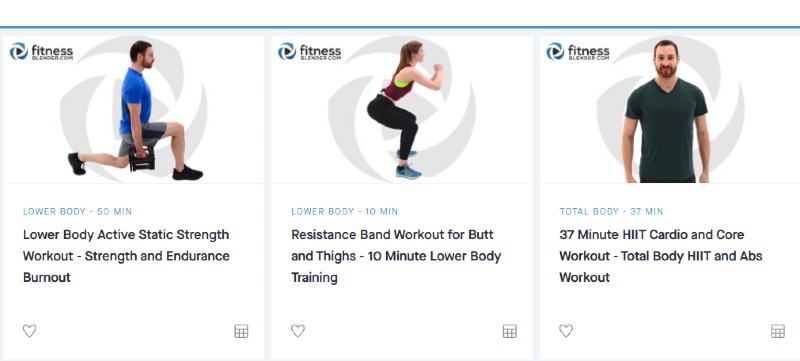 Fitness Blender offers some paid options, too, including workout program series that range from 2 to 8 weeks ($7.99 to $19.99) and a variety of 4-week meal plans for $24.99. They'll also be rolling out additional features later in 2020.