We use affiliate links. If you buy something through the links on this page, we may earn a commission at no cost to you. Learn more.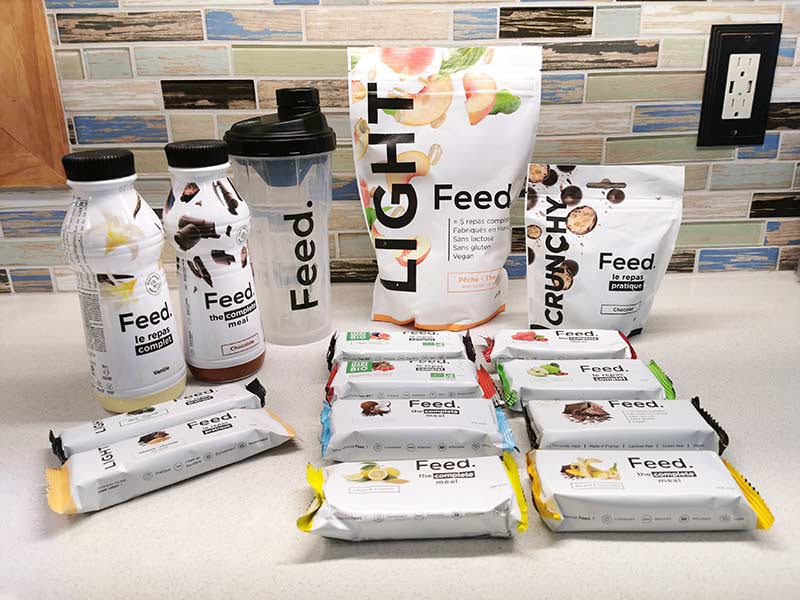 REVIEW – Do you have healthy eating habits or do you just eat whatever "food" that is within arm's reach? I consider myself a mindful eater, but my habits have not always very good. Fast food and sweets are one of my vices, and since I'm a diabetic that controls my blood sugar only with my diet, I have to be careful that I don't go off the rails too often. One way I've been doing that is with meal replacement shakes and bars. Let's take a look and a taste of the variety of products available from Feed.
What is it?
Feed. is a French start-up that creates complete and balanced meals in the convenient format of bars, drinks, shakes, snacks. All of their recipes are made in France from vegan, gluten-free, lactose-free and non-GMO ingredients. 1 Feed. = 1 convenient meal.
Feed. offers over 50 different products and delivers to more than 30 countries… but right now the US is not one of those countries 🙁 They do plan to come to the US at some point in the future though.
Feed. bars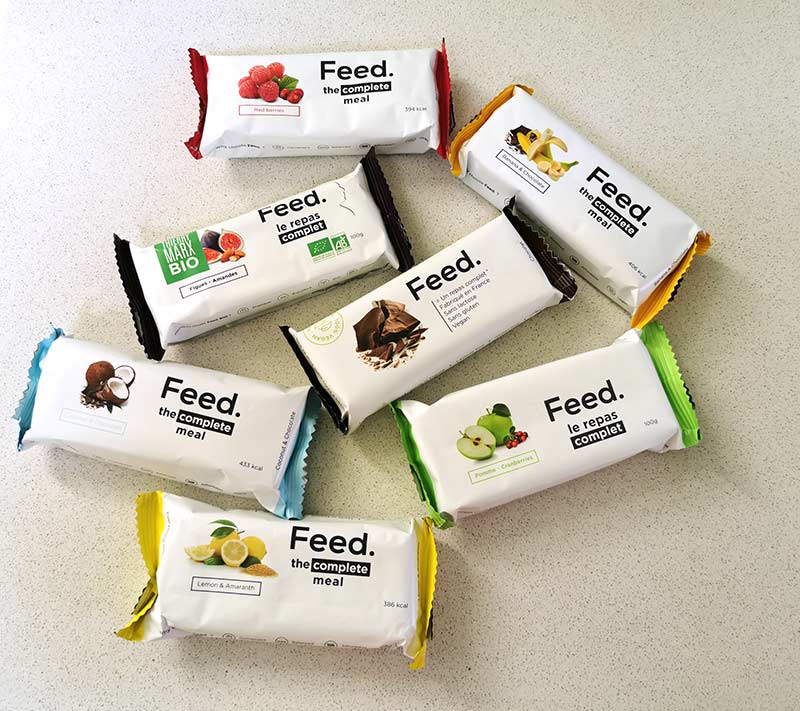 Feed bars are a convenient and easily transportable meal in bar form. Feed. offers a nice variety of flavors including the flavors which you see above. I haven't tried all of them yet, but the ones that I have tried so far have been tasty and filling.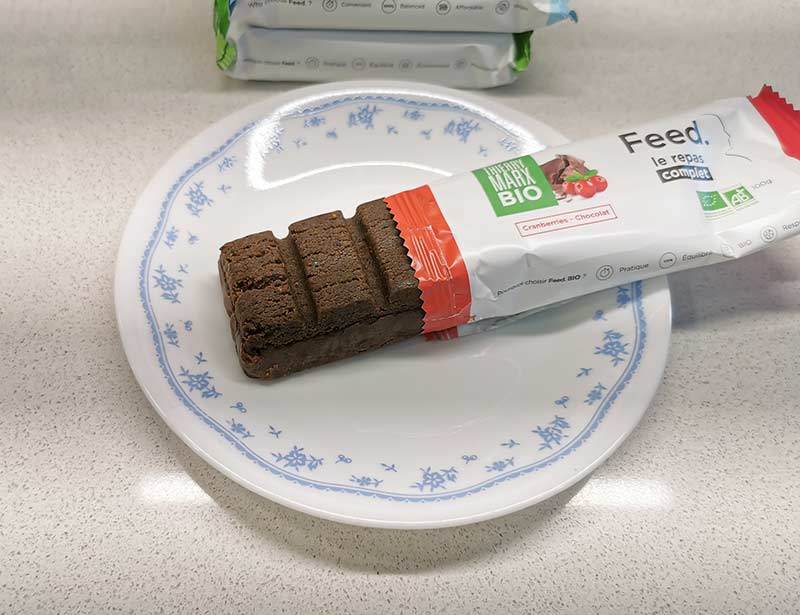 Depending on the flavor, a whole bar is around 376-433 calories with 18-20grams of plant-based protein that can include soy, pea, pumpkin, rice, hemp, etc. The large bars are scored into 5 pieces so you can split them up if you don't want or need a 400+ calorie meal or snack.
The carbs in the regular bars run from 41 – 49 grams depending on the flavor and each bar has from 6 – 8 grams of fiber again depending on the flavor. If you opt for the organic bars (fig or cranberry chocolate) the carbs are quite a bit lower at 36g and the fiber is higher at 19g, so they are better for you. Although that comes at a higher price point.
The price for the regular bars is €3.90 and the organic bars are priced at €4.90 which works out to $4.35 – $5.47 per bar.
Light bars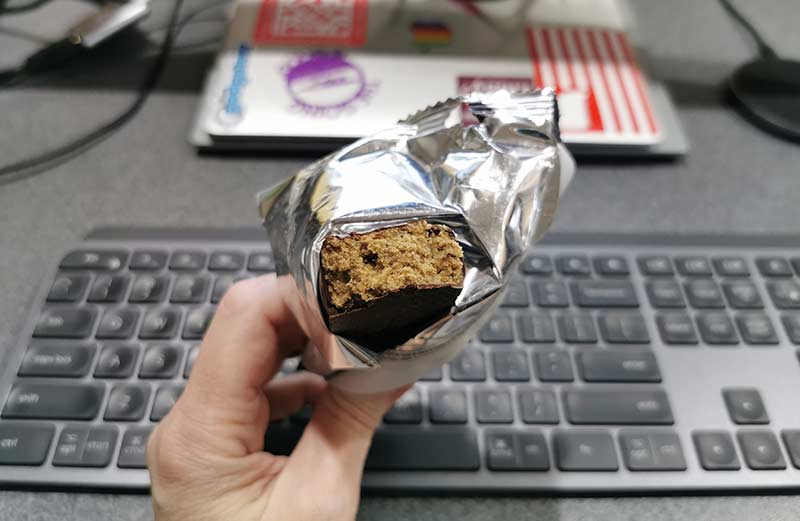 The Feed. Light bars are covered in a thin layer of chocolate with a soft almost fluffy nougat-like center filling that slightly sweet. They come in blackberry chocolate and sesame chocolate. You probably think that sesame chocolate sounds like a weird flavor, but I loved it. It just had a slightly nutty flavor without the actual nuts.
If I was going to choose between the regular bars and the Light bars, I'd pick the Light bars because they are only 241-255 calories with 13 grams of soy/pea protein, 26g of carbs, and 10-11 grams of fiber.
It doesn't appear that you can purchase these bars individually through the Feed. website. They are part of customizable meal packs that start at €55 ($61.37) for a 15 meal pack, so it works out to about $4.09 per bar.
Feed. ready to drink shakes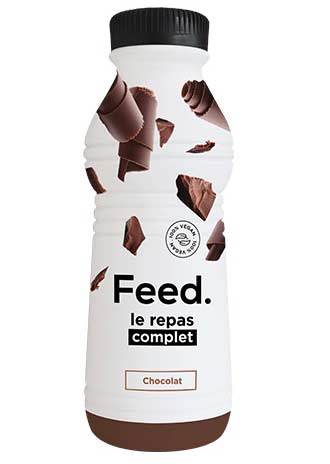 After the Feed. Light bars and regular bars, my next favorite Feed. products are their ready to drink shakes. I was sent a chocolate and a vanilla shake to try and I really enjoyed them. They also offer a red berries flavor. Each 500ml (16.9 oz) shake is 100% vegan, gluten-free, 435 calories, and 15g of protein. However, the protein is soy and the shakes are sweetened with sucralose. That said, the shakes are smooth, tasty, and contain vitamins and minerals.
The price per ready to drink bottled shake is €3.90 which is approximately $4.35 per bottle. Feed. also offers original bottles that have the powdered mix and you add water and shake them. Those shakes are about the same price and come in some additional odd flavors like mushroom (yuck) and spicy tomato.
Feed. Light powdered shake mix
From the Feed. Light range, they sent me their peach and green tea-flavored powdered shake mix. The mixes come in pouches that provide 5 300-321 calorie meals with 21 grams of protein from oatmeal and pea protein.
I'm not a big fan of peach-flavored product – I think this is the first peach-flavored shake that I've had in my life, but I have to say that it was actually good. The peach flavor isn't over the top and neither is the sweetness. There is a little bit of texture to the shake, but I don't mean that in a bad way. Pea protein can be gritty and the Feed. Light shake does have a little bit of that type of texture, but it's not off-putting like I've noticed in some other pea protein shakes that I've had. The only downside to this particular mix is that sucralose is used as the sweetener.
It doesn't appear that you can purchase these pouches individually through the Feed. website. They are part of customizable meal packs that start at €55 ($61.37) for a 15 meal pack, so it works out to about $20.46 per pouch or $4.09 per meal since each pouch is 5 meals.
Feed. Crunchy Balls
Out of all the samples that I was sent, the one I liked the least were these crunchy snacks. I hoped that they were going to be like malted milk balls which I love. But, nope. They are a chocolate-covered crunchy marble-sized ball, but the flavor is just kind of meh. I don't think there's much flavor to the inside of the ball. I think what flavor there is comes from the dark chocolate coating. I don't hate them, but I wouldn't buy them for myself. A whole bag is 388 calories with 14grams of protein, 37.8g of carbs, and 10g of fiber for €4.50 ($5.02) per bag.
What I like
Variety of form and flavors to choose from
Quality ingredients
Great taste
What I'd change
Sell them in the US!
Switch from sucralose to stevia
Final thoughts
I am enjoying trying all these different meal replacement products and was impressed with the selection of products from Feed. If they were for sale here in the US, I'd definitely want to buy some of the regular bars, organic bars, and light bars to keep in pantry (aka my desk drawer at work). If you live in a country that Feed. ships to, definitely check them out and let me know what you think of their products.
Price: depends on the product, see above for each item
Where to buy: Feed
Source: The sample for this review was provided by Feed.