We use affiliate links. If you buy something through the links on this page, we may earn a commission at no cost to you. Learn more.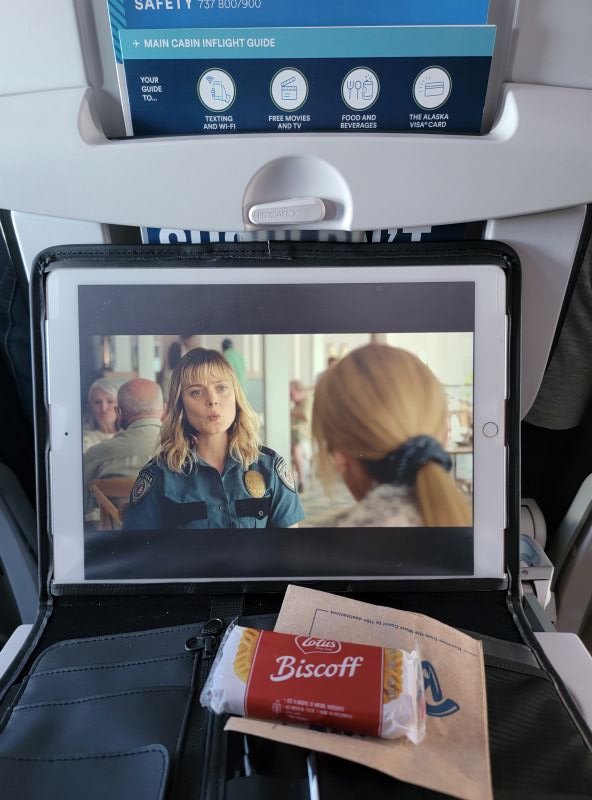 REVIEW – I keep hearing in the media how everyone is starting to bust out of their Covid seclusion and starting to travel, and I guess I'm part of that trend since I've had trips to Hawaii, Washington and Montreal all in June.  The trips have involved a lot of air travel, and like most of the other Gadgeteers, I travel with a carefully curated collection of gear to make the miserable time in the air more comfortable.   I'm always looking for something to solve the problem of the seatback pocket, which I regard as the second scariest part of the aircraft (after the lavatory in economy), and how to handle my ridiculously large iPad Pro, which I like to watch in flight.  The SeatDreamzzz seatback pocket organizer looked like it would solve both of those problems, so I was super excited to get the opportunity to fly with it!
What is it?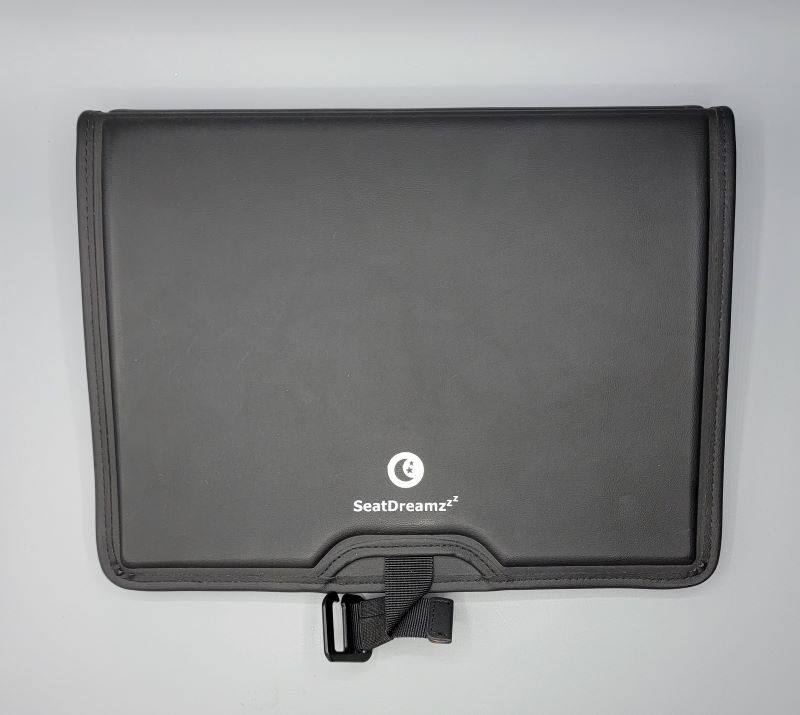 The SeatDreamzzz airline seatback organizer is a folio-style organizer that can hold your tablet as well as your phone, credit cards, pens, pencils, cables, extra batteries or whatever else you feel is essential in flight.
What's in the box?
The folio in the packaging that sort of explains how to use it.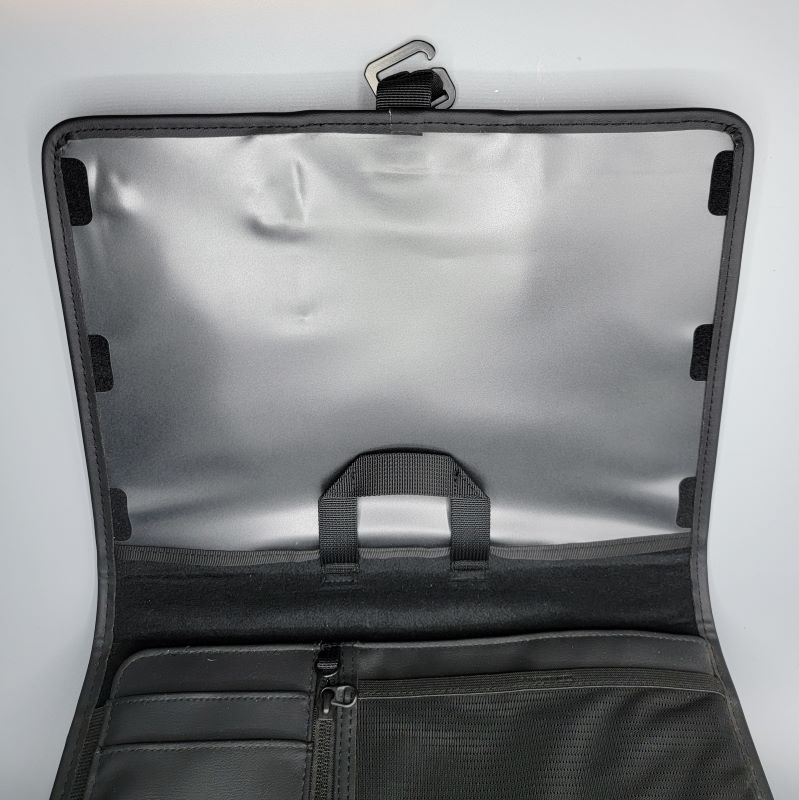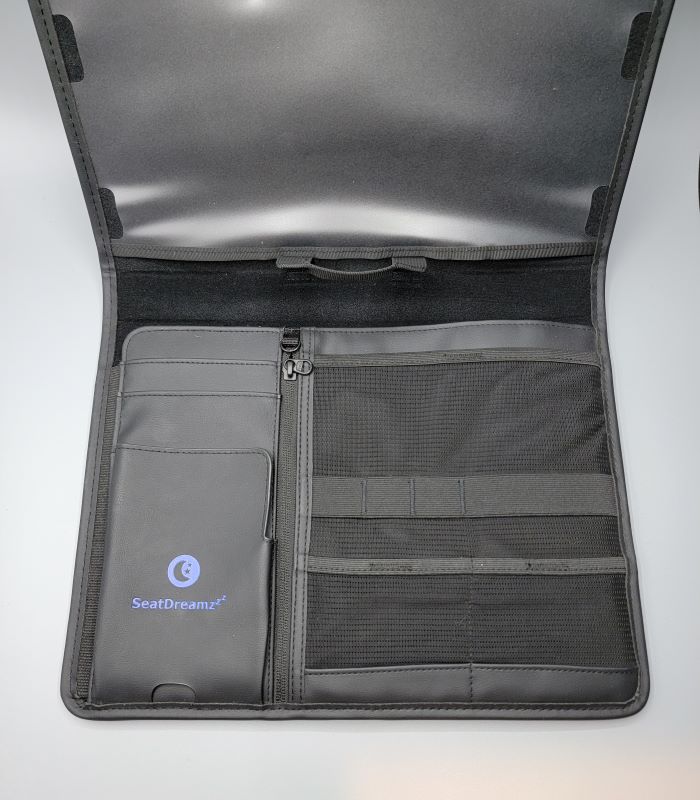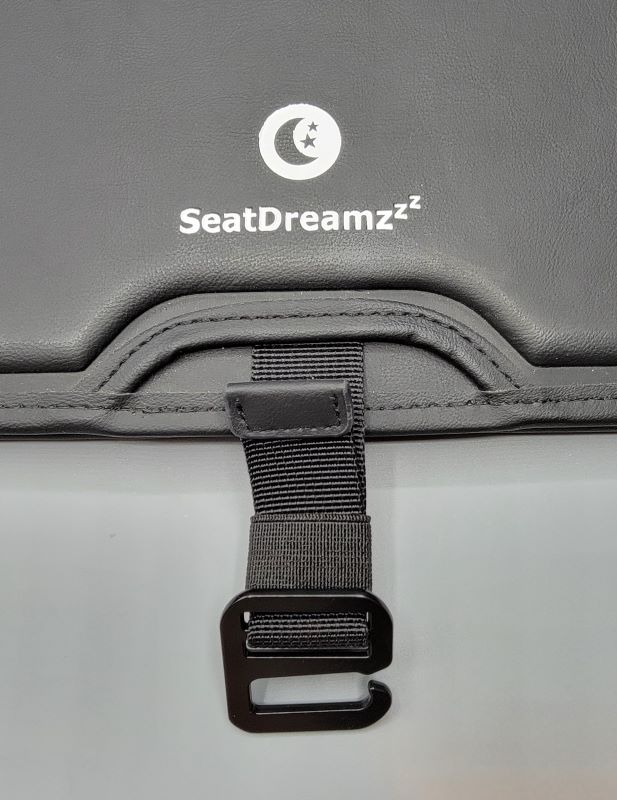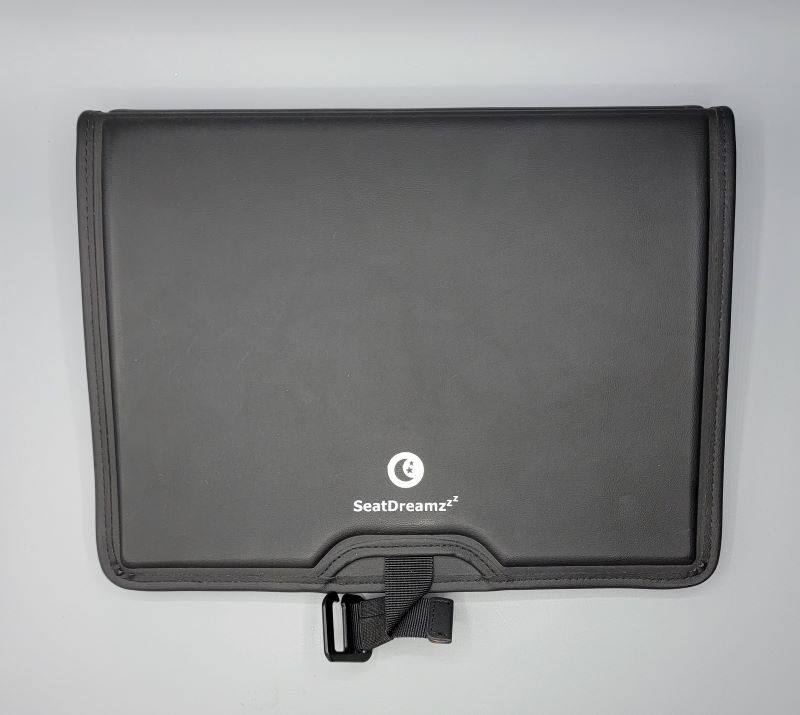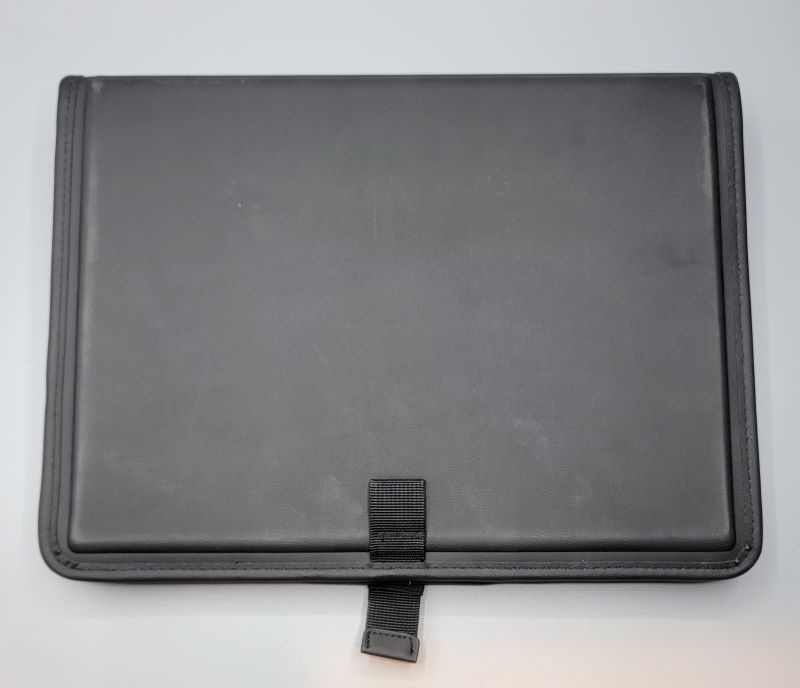 Setup and Features
The SeatDreamzzz airline seatback organizer comes with a few instructions, but I found the pictures on the SeatDreamzzz website to give more examples of how to use it.  In this review, I will show some screenshots from that site and then how that worked for me, because aircraft really vary and that impacts how well this organizer works.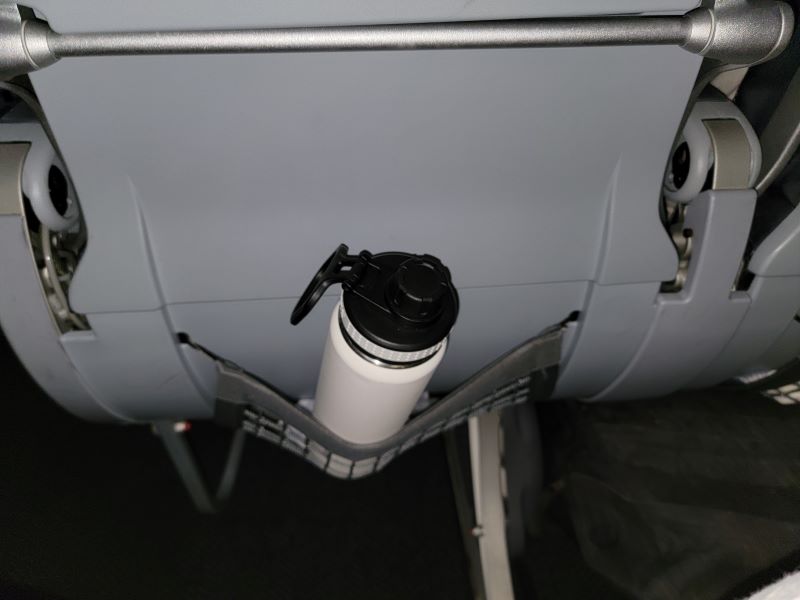 My first flight was to the great state of Washington.  I flew on Alaska Airlines in economy.  It's about a 2 hour flight from Los Angeles, and I was really glad it was short because economy on that flight was tight.  It's been a long time since I'd flown that way, and I don't know how you would use the SeatDreamzzz organizer in the seatback pocket the way it is shown on their website.  There simply wasn't any space to jam the thing in there, which on this aircraft was a stretchy net-style pocket that was fairly low on the seatback. I didn't even try to jam the SeatDreamzzz in there.  I jammed my water bottle in there between my knees and called that victory.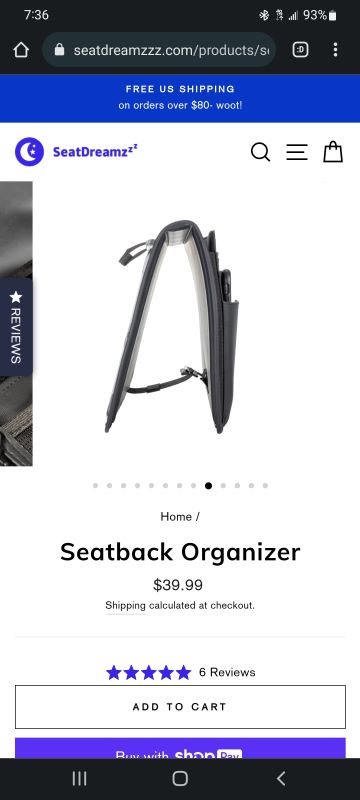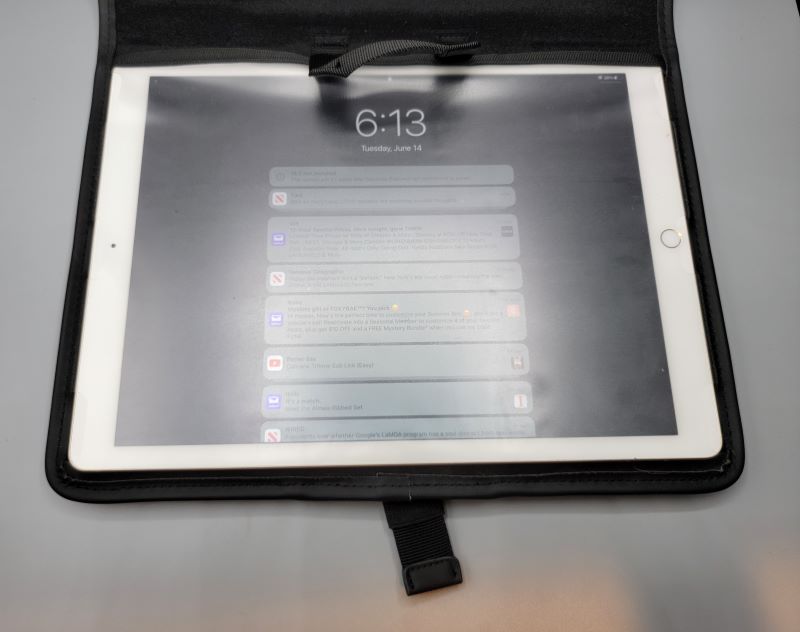 The other way the SeatDreamzzz is shown being used is as a tablet stand, with the cover flipped back and folded into an A-frame.   The webbed hook attaches to the back to hold it together and the tablet slides into a clear plastic sleeve.  I liked this part of the SeatDreamzzz – my iPad Pro fit in there without an issue, and they thoughtfully put notches in the sleeve so that you could reach buttons and charging ports on many different types of tablets.  I did this and I was able to watch my downloaded media in comfort.  It is large, though, and it took up most of my tray table, so this might not be a great solution when you're eating a meal in coach.  On my way back from Hawaii I had an exit row seat and there was so much space.  I could slide my tray table back and forth and I was able to balance the SeatDreamzzz airline seatback organizer in the A-frame formation onto the tray supports and that left my tray table free for snacks.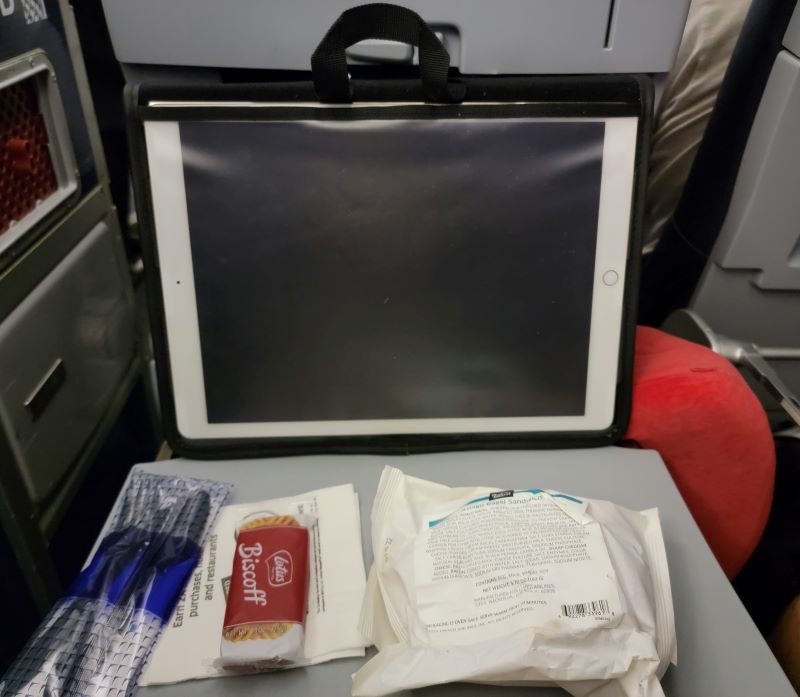 I liked the organizer side of the folio.  I put cables, pens, sticky notes, a power adapter, a battery backup, and some business cards in there and they stayed put no matter how I used the folio. There are cutouts for cables as well, so if you have your phone in one of the stretchy  spots and a battery backup in the pocket, you can charge without taking anything out.  There is a wide variety of pockets, some of them are stretchy, where you can stash your odds and ends.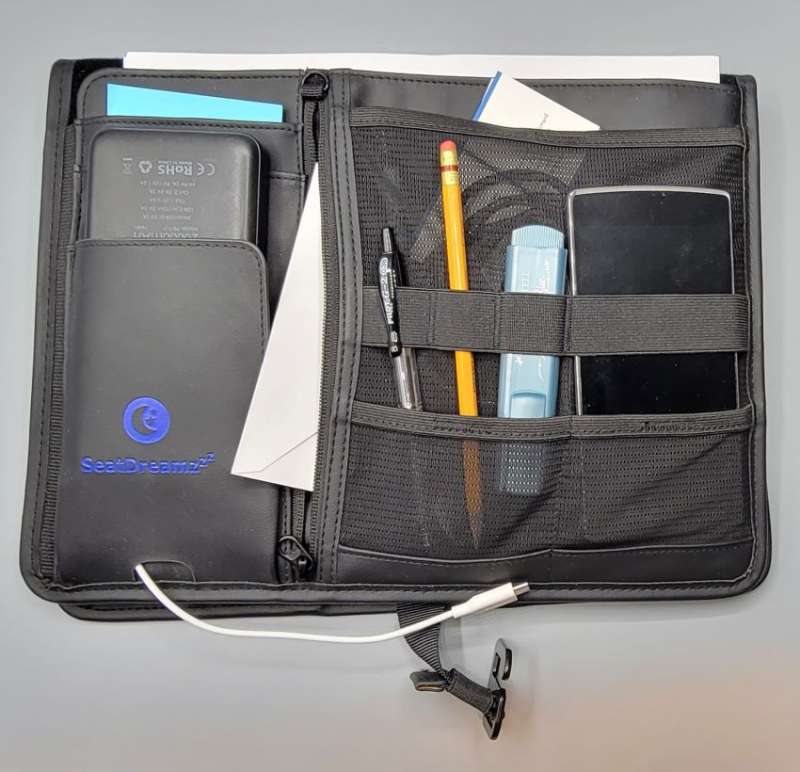 I also think the SeatDreamzzz airline seatback organizer looks nice, and you could definitely use it if you were going to a business meeting.   It has a leather-like texture that feels really nice.  You can see that it picked up a few fingerprints on one side, so you do have to wipe it off once in a while.  For my use, it is a bit large for me.  Although it has to be big to accommodate the Ipad Pro, it took up quite a bit of room in my Sol E Ciel backpack that I used as my "personal item" carry-on.  It sort of popped out of the top and if I were using this folio in the future, I'd probably choose a bigger backpack.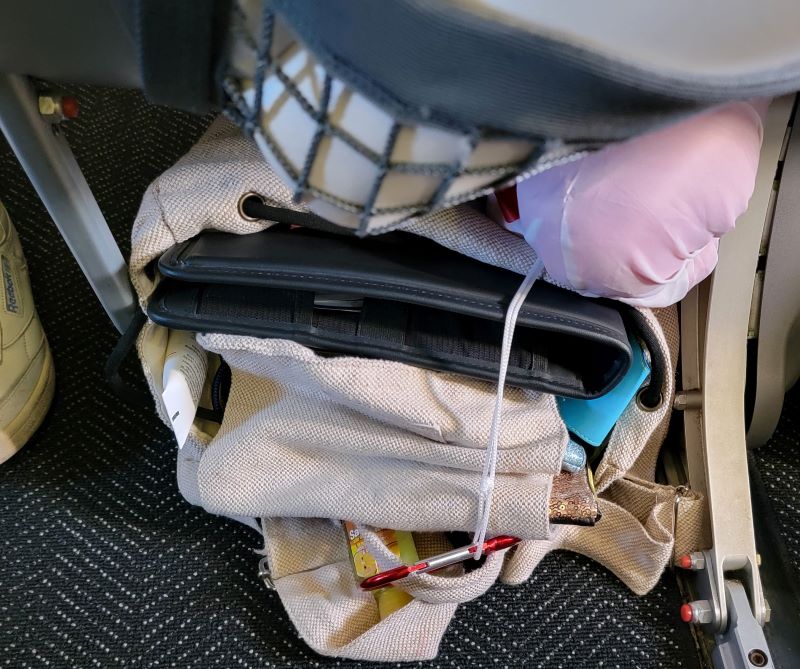 My trip to Hawaii was also on Alaska airlines. That means that I had the same issues as my trip to Washington as far as using the SeatDreamzzz in the seatback pocket. But my return trip was on United, which offered a better chance to try it out.  United has newer airplanes and they also have gone with the stretchy net seatback pockets (which I think is excellent, btw.  When you can't see inside, you know people have stashed unspeakable things in there).  These seatback pockets were super low, however.  They hit well below my knees, and I don't think you'd be tempted to use the folio because it just wouldn't be comfortable to lean over to get your supplies out of it.  But, in the name of testing, I did attempt to jam the iPad side in there to see if it was possible.   I removed my iPad so it was as bendable and thin as possible, and I couldn't get it in there.   The folio was just too wide for the pocket.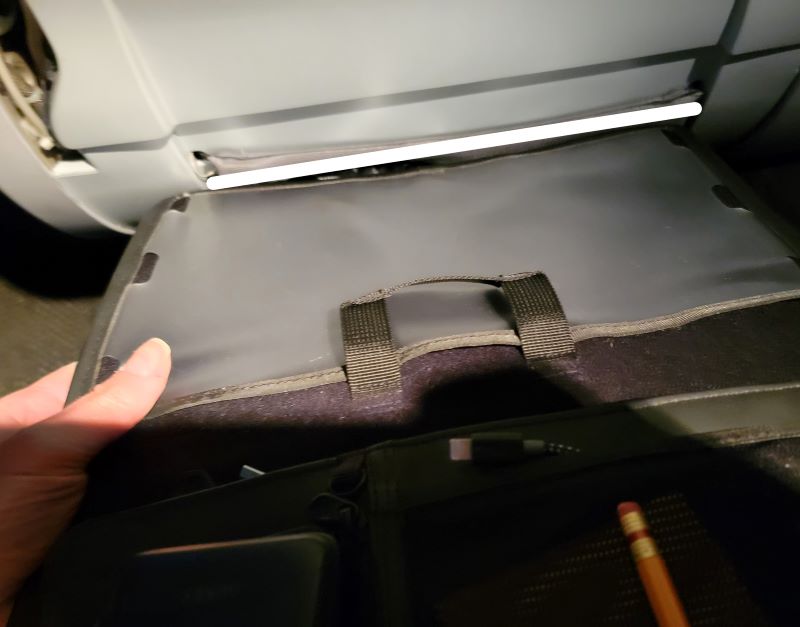 The SeatDreamzzz website also showed the folio hanging from the tray table hook by the loop.  That might work on some aircraft if you could loop it over the pivoting latch, but I couldn't get that to work at all on the United or Alaska airplanes.   It either slid off the top of the latch or slid off the bottom of the latch.  The A-frame formation worked just like it did on the website, but it's pretty much the only way you can dependably use this item.  Seatback pockets vary way too much and the tray table loop is a long shot in my opinion.   That didn't work on any of the planes I flew.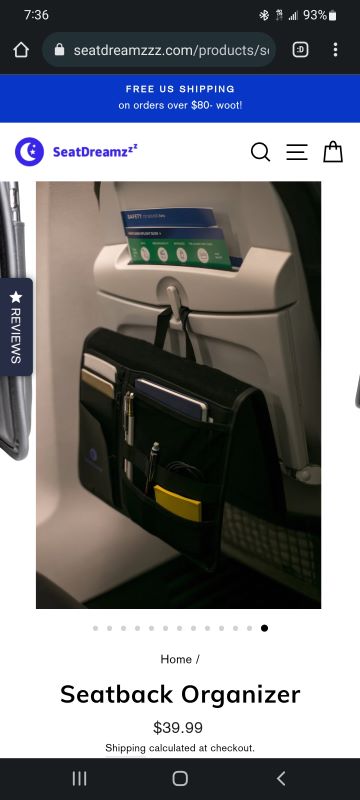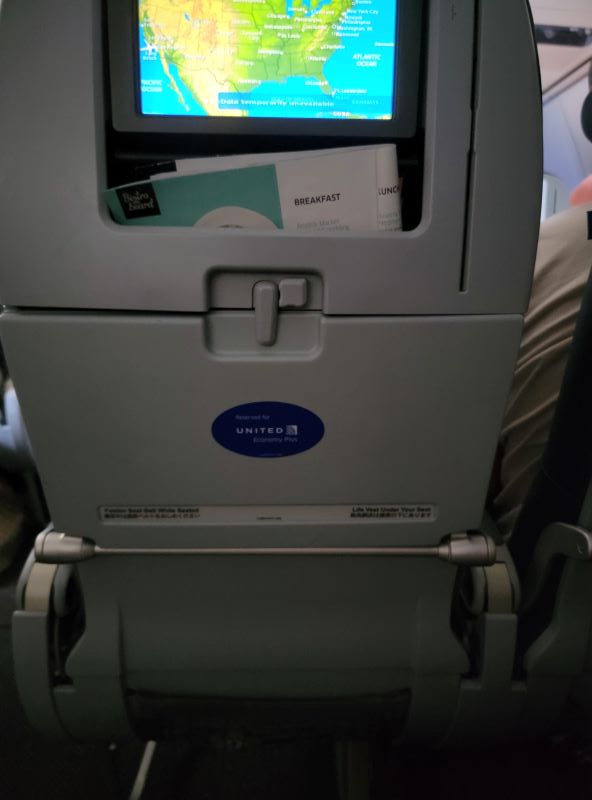 What I liked
It thoughtfully accommodated my iPad Pro
It looks business-y enough to use in a work meeting
What I'd change
I might make a smaller version available for those who don't have big tablets, because I think it would fit more aircraft.
Final thoughts
The idea behind the SeatDreamzzz airline seatback organizer is good, but I think its bulky size makes it somewhat tricky to use on a wide variety of aircraft in a wide variety of ways. However, if you need something to hold your large tablet on a flight and you want to use it at a business meeting at your destination, this might be for you.
Price: $39.99
Where to buy:  SeatDreamzzz
Source: The sample for this review was provided by SeatDreamzzz