We use affiliate links. If you buy something through the links on this page, we may earn a commission at no cost to you. Learn more.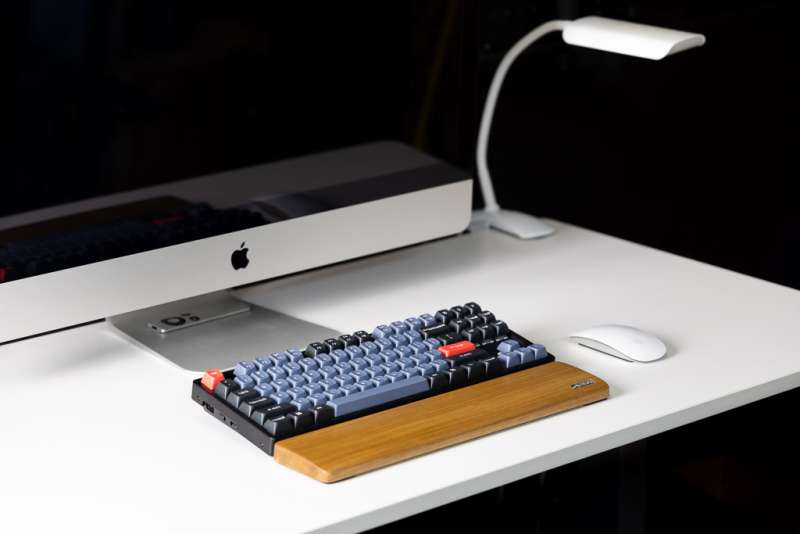 REVIEW – A good mechanical keyboard is hard to find. I've had quite a few, and most of them have not been exactly what I wanted in a keyboard. Can the Keychron K8 Pro mechanical keyboard make the cut? Read on to find out.
What is it?
The Keychron K8 Pro is a wireless and wired Keychron K8 Pro mechanical keyboard that features Gateron G Pro mechanical switches and RGB backlighting.
What's in the box?
Keychron K8 Pro keyboard
Type-C cable
Windows and Mac keycaps
Key puller tool
Switch puller tool
Hex key
Screwdriver
Wooden Wrist rest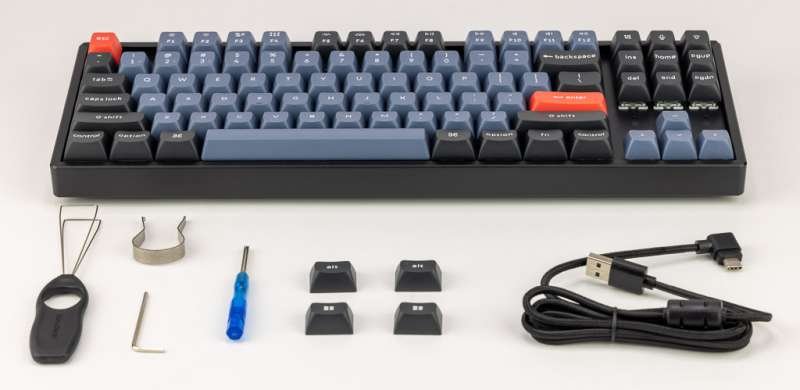 Hardware specs
Wireless or Wired
QMK/VIA support
Connects up to 3 devices wirelessly
Hot-Swappable keys
Double-Shot PBT Keycaps
Design and features
I've always enjoyed a good mechanical keyboard. Writing code daily, I can type faster on a good mechanical keyboard. It's not something you can explain very easily, but there's something about a mechanical keyboard and the feedback you get while typing that enables you to know when a key is pressed far enough without having to bottom out the press.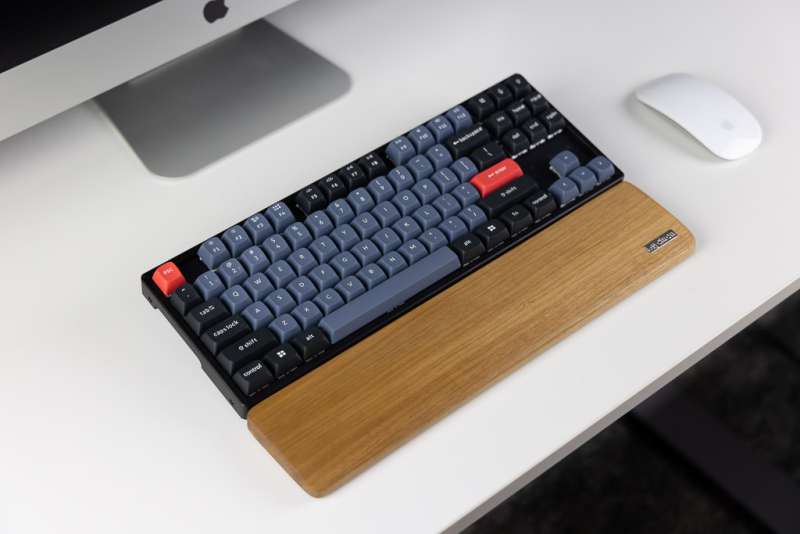 I've used many keyboards over the years; my favorite was an NGK keyboard in the 1990s – but they aren't around anymore, and those keyboards have since worn out.
The Keychron K8 Pro keyboard has several features that enticed me to give it a try. The first is its capability to run wired or wireless. The second is its three device wireless capability. Last but not least, its Gateron G Pro mechanical switches.

At first glance, I was impressed with the sturdy feeling metal frame, physical switches for modes, and easy-to-read keycaps. The detachable Type-C cable was a feature that I now "require" on any keyboard I get because my desk area is so large that I often require a long cable.
I switched out the Mac keycaps for Windows keycaps, plugged it in, and it worked as it should. Next, I tested the Bluetooth connection. I was able to connect to my desktop and my laptop by holding fn + 1 to pair with my desktop and fn + 2 to pair with my laptop (hold for 4 seconds). I was able to switch between them by pressing the fn key and 1 or 2. This quick switching makes it very easy to use the keyboard with multiple computers.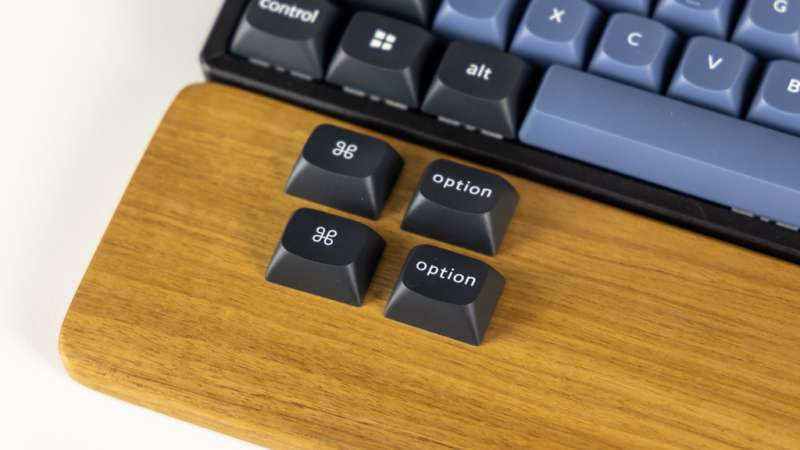 The Keychron K8 Pro mechanical keyboard includes a paper manual, but the print is a little small. I found the names of the function features hard to see on the keyboard diagram. The manual includes instructions on how to change the various lighting effects and connect to Bluetooth devices.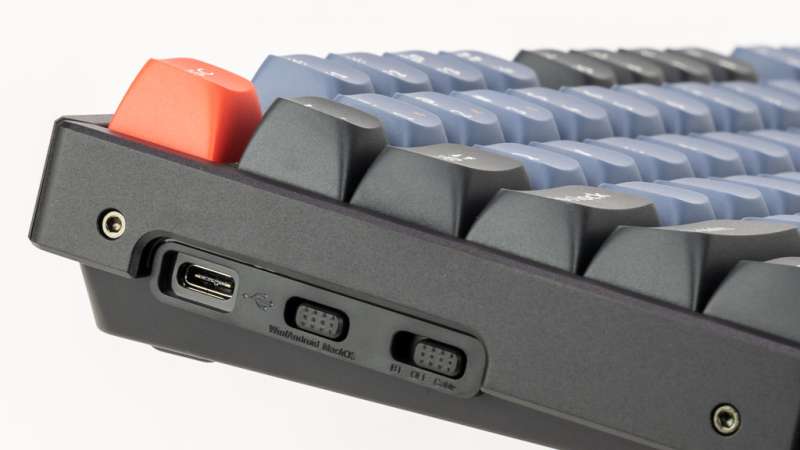 The backlighting of the keyboard is good and has a lot of options for color and effects. However, the keys themselves are not lit, so if that's something you require, you'll need to find another keyboard. In my office, I prefer the keycaps themselves to be lit, as the lighting behind the keys is pretty much just for show and doesn't do much to help find keys.


The typing angle is adjustable at three angles (0º, 6º & 9º) by adjusting the feet on the bottom of the keyboard. This initially threw me off, but I eventually figured out that there are actually two feet on each side, one inside the other. I found that to be quite a nice feature.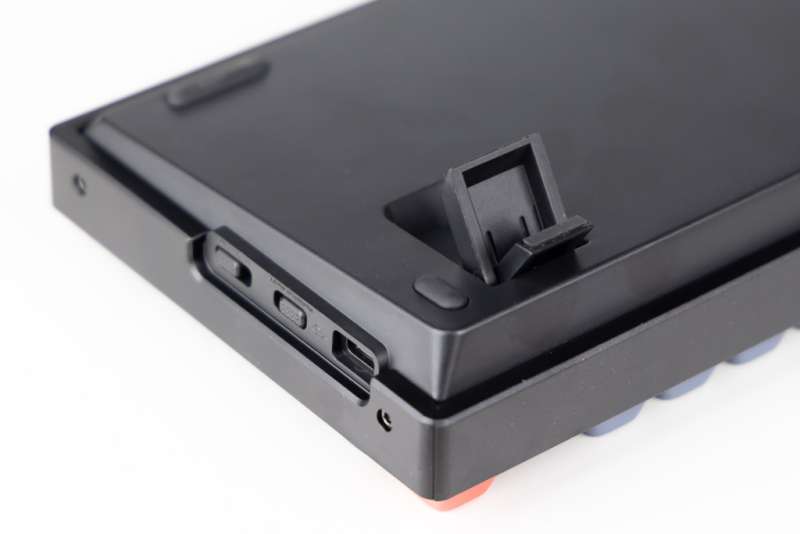 I tried and tried to get the VIA software for customizing the keyboard to work for the longest time. After a bit of messing with it, I found that you have to load the RGB json file in the design tab, then switch to the configure tab. It's a little odd that the software just says "Searching" until you do this.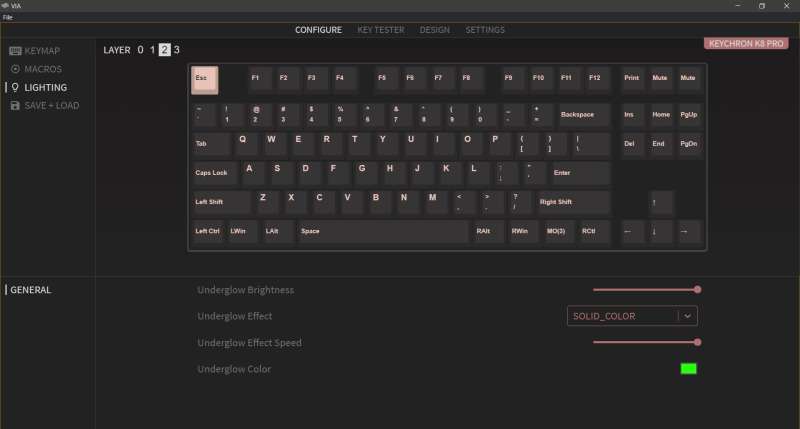 As for typing with the Keychron K8 Pro, the Gateron G Pro mechanical switches are very nice but not quite as clicky as I like. That being said, they are some of the nicest switches in use today. I like the color scheme of the switches also. The red escape and enter keys are a nice touch.
What I like
Heavy duty construction
Compact
Nice mechanical keys
3 Device capability
What I'd change
Customization Software is a little tricky to use
Final thoughts
The Keychron K8 Pro mechanical keyboard is built like a tank. Its compact size fits on any desk, and the keycaps are really great. The sound-absorbing material inside makes the keyboard feel solid.
Price: $109.00
Where to buy: Keychron and Amazon
Source: The sample of this product was provided by Keychron.