We use affiliate links. If you buy something through the links on this page, we may earn a commission at no cost to you. Learn more.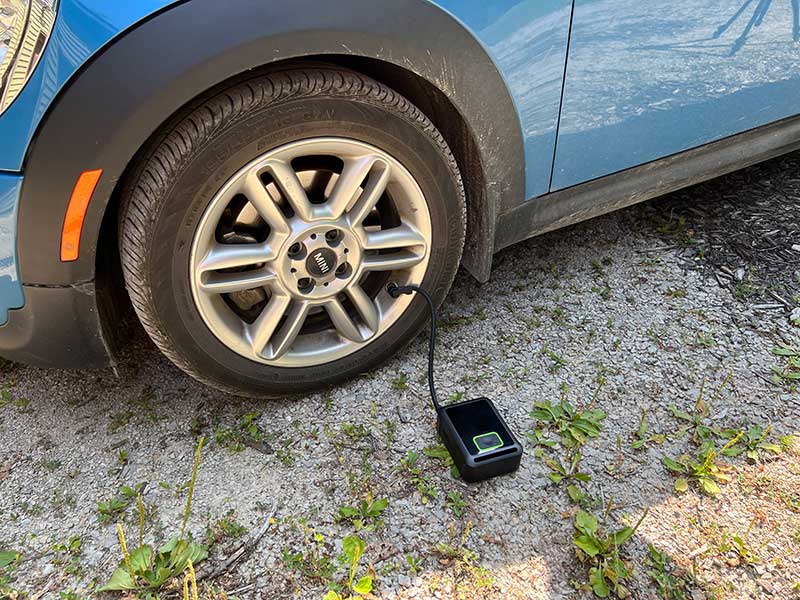 CROWDFUNDING REVIEW – We have an air compressor in our garage that we use to air up the tires of our vehicles and lawn tractor. The compressor works great, but it's big and not convenient to use especially if we need to air up a flat tire on our lawn tractor which is stored in a barn more than 100 feet from the garage. That's where a portable tire inflator like the OAK & IRON ONE Smart Portable Tire Inflator can become your new best friend. Let's take a closer look at this handy tool which is currently seeking funding on Kickstarter.
What is it?
OAK & IRON ONE Smart Portable Tire Inflator is a small battery-powered air pump that can be used to air up the tires on your car, bicycle, or air up basketballs and more.
What's in the box?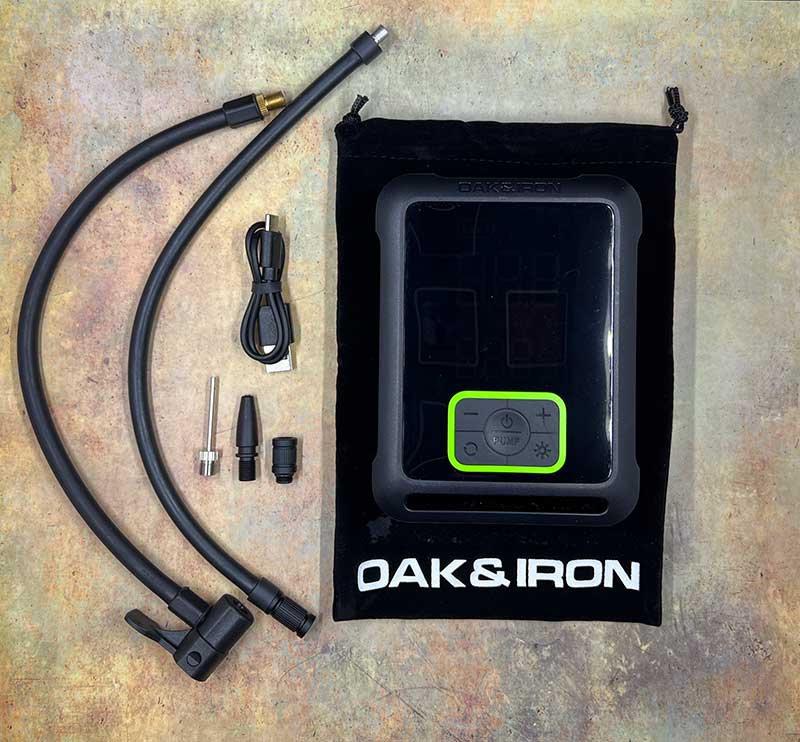 OAK & IRON ONE Smart Portable Tire Inflator
Press-on valve/hose
Twist-on valve/hose
Presta valve
Needle valve
Adapting valve
USB-C charging cable
Storage pouch
Hardware specifications
Inflation Pressure Range: 3-150 psi /0.2-10.3 bar
Inflation Speed: Fully inflate a 190/65 R15 tire from 0% to 100% in 5 minutes
Pre-Set Inflation Modes and their default pressure settings:
Car – 36 PSI
Motorcycle – 35 PSI
Bicycle – 45 PSI
Ball – 8 PSI
Sensor Accuracy: ±1 PSI
Noise level while in operation: 80dB
LED flashlight: 100 Lumen
Battery Capacity: 7,800 mAh
Charging Time: 3.5 hours
Standby Battery Power: 300 Days Without Re-charge
Design and features
The OAK & IRON Portable Tire Inflators are a small device that you can easily keep in a drawer or even in the trunk of your car for those inopportune times when you need to air up your tires. OAK & IRON has two versions of their tire inflators, the ONE, and the ONE PRO. I was sent the ONE. The difference between the two devices is that the ONE PRO has a larger battery size, faster inflation speed, and a built-in carrying handle.
The ONE device shown here has a black plastic case with a display on the front and operating instructions on the back.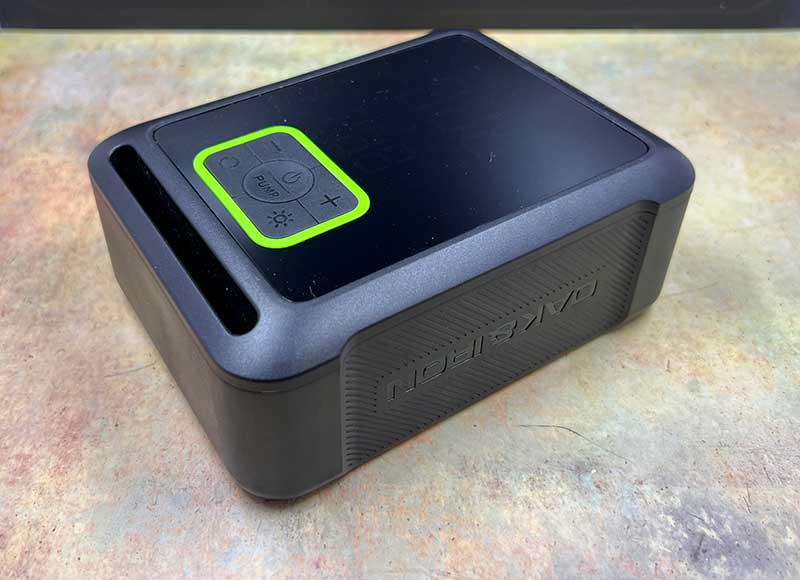 The OAK & IRON ONE Smart Portable Tire Inflator controls are easy to use and understand. There is a power button and pump (inflate) button in the center and surrounding the power/inflate button are -/+ buttons to customize the preset pressure, a mode button to cycle through car, motorcycle, bicycle, and ball. There is also a button that toggles the built-in flashlight on and off.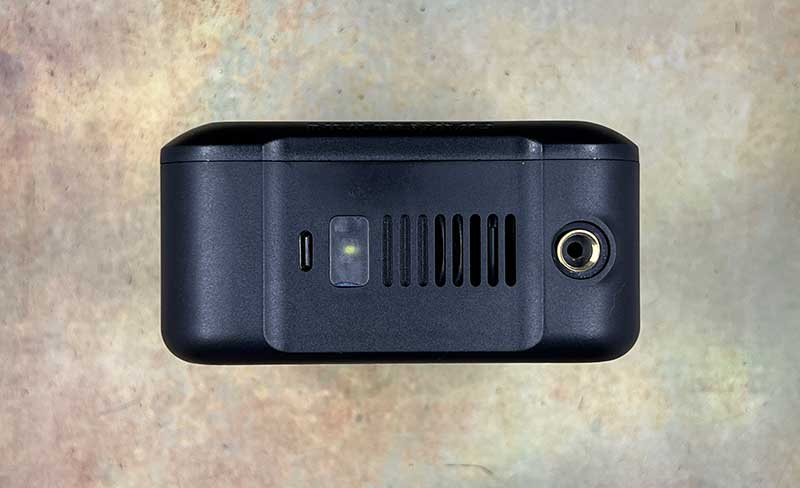 On the top of the device are the USB-C charging port, LED flashlight, and air hose connector.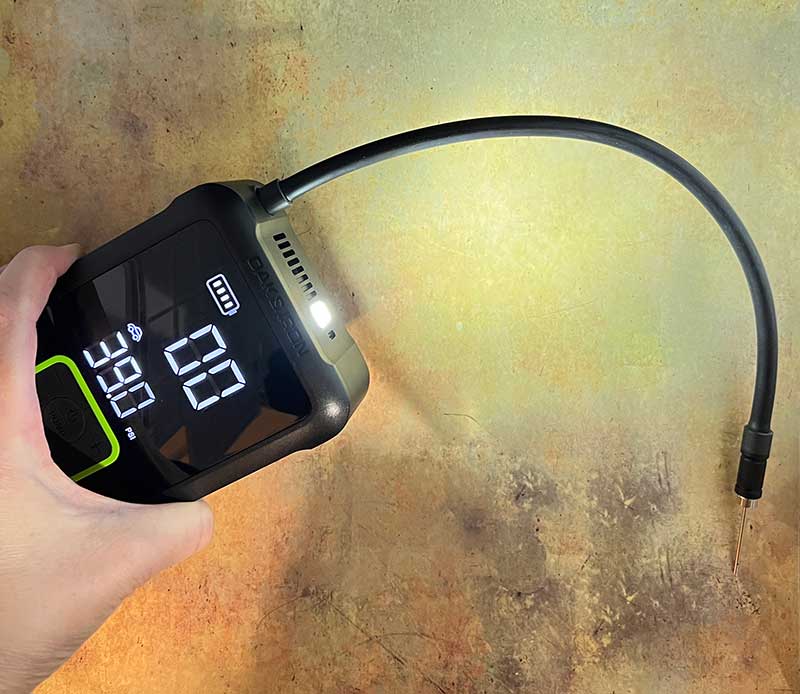 The built-in flashlight is a nice feature to have since you never know what time of day or the lighting conditions you might need when using the OAK & IRON ONE Smart Portable Tire Inflator.
You'll also notice the bright display in the image above. The top number is the pressure of the currently connected tire or ball. The number below it is the preset pressure that the unit will use to inflate whatever it is attached to.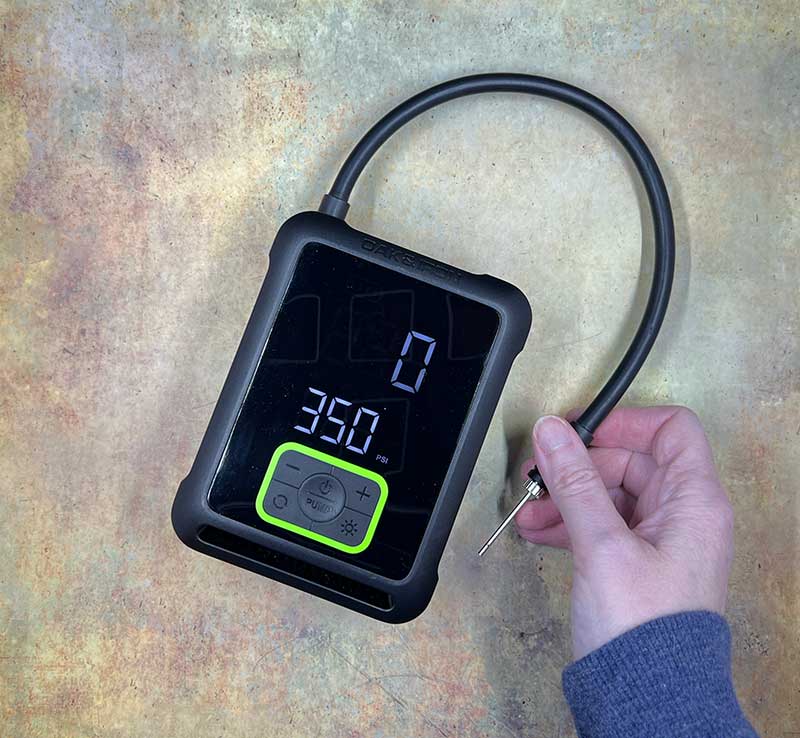 The OAK & IRON ONE Smart Portable Tire Inflator comes with two air hoses that are about 13 inches long. One hose has a press-on valve and the other hose has a twist-on valve which you use with the included adapters (presta valve, needle valve (shown above), and adapting valve.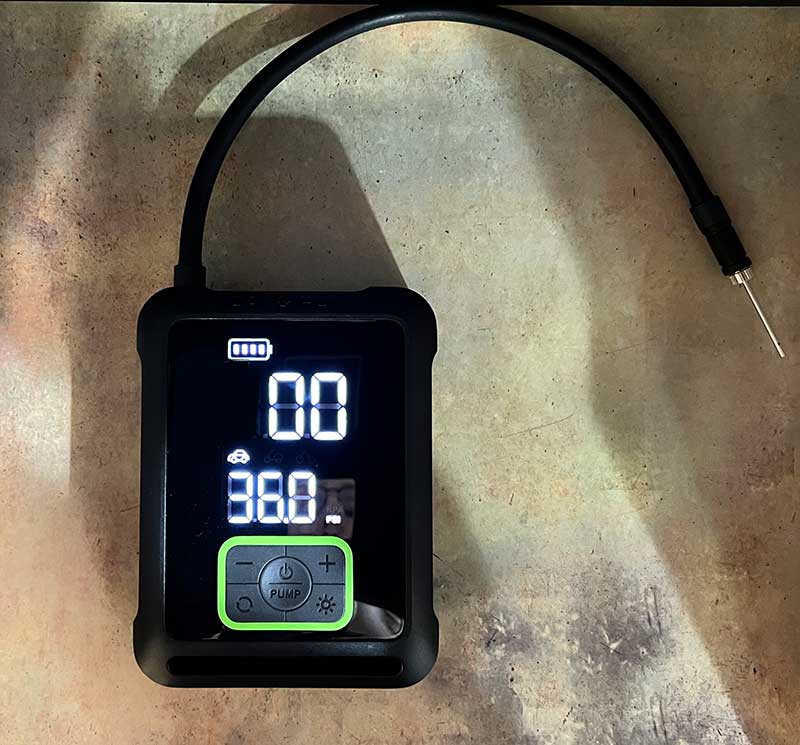 In addition to showing the current pressure, and preset pressure, there is a battery status indicator at the top of the display. You will also use this indicator while charging the device. Note that the OAK & IRON portable tire inflator can not be used while it is charging.
The icon above the preset pressure let you easily see what mode you're in (car, motorcycle, bicycle, or ball).
See (and hear) it in action
Note that the flickering display in the video above is not a true life indication of what the display looks like. The flicker was from the iPhone, which I used to record the video. In real life, the display is bright, easy to read, and doesn't flicker at all. You can see this in the images above.
It's also important to know that the OAK & IRON portable tire inflator will not automatically stop inflating balloons, beach balls, swim rings, and similar items because the air pressure requirements for these items are below the minimum pressure range for this inflator. That means you'll need to manually stop the inflating process before damaging the item.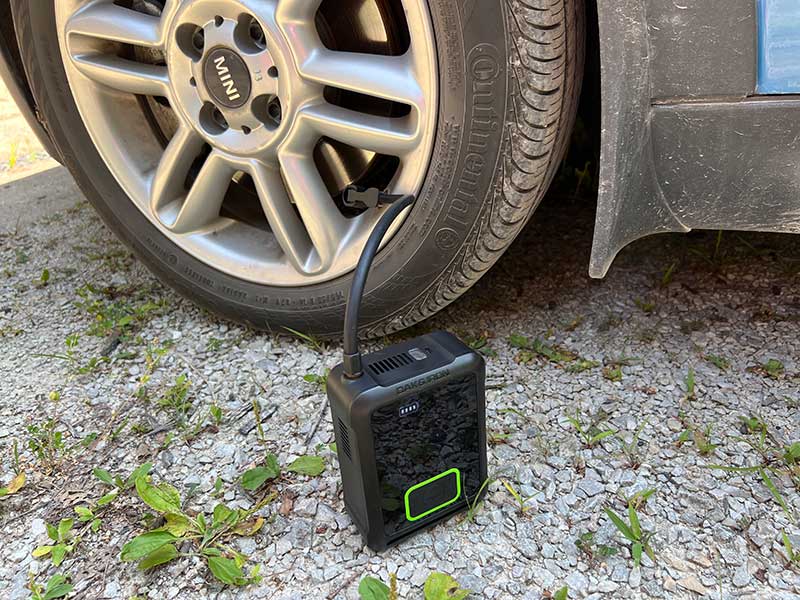 Using the OAK & IRON portable tire inflator super easy and even fun compared to using my big and bulky electric air compressor. The only thing that would make it even nicer would be slightly longer air hoses. I have a little car (MINI Cooper) and the hose wasn't long enough to allow me to rest the tire inflator on the ground while it was working. Luckily they will ship a 28 in / 70 cm hose with the final product.
What I like
Portable
Automatic shut-off for certain items like tires and balls
Includes different valves
What I'd change
Include a 12V car charger adapter
Final thoughts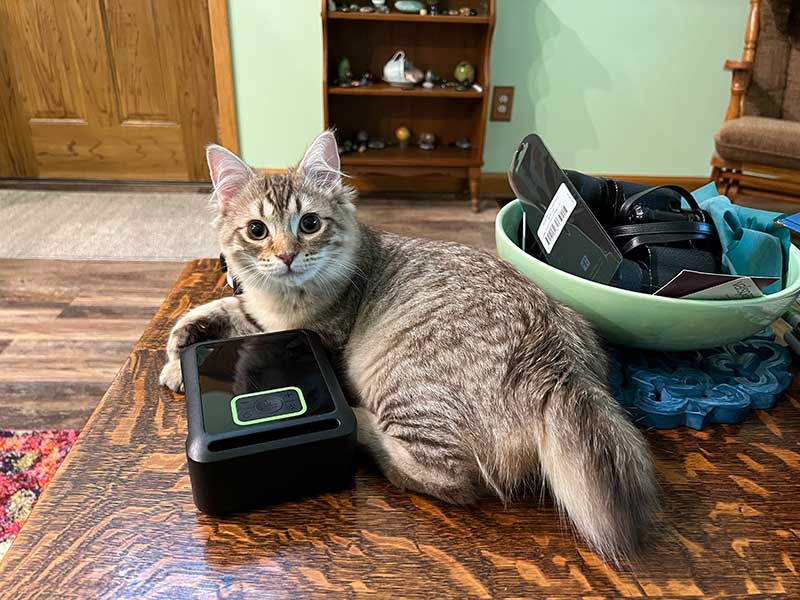 The OAK & IRON ONE Smart Portable Tire Inflator is a great addition to my selection of car gear. It's easy to use, can inflate a flat tire from 0 PSI to 35 PSI in 5 minutes, and is small enough to store in a drawer in the house, or in your car. It gets a thumbs up from me (and my American Bobtail kitten Ozzy).
Price: $99.00
Where to buy: Kickstarter
Source: The sample for this review was provided by OAK & IRON Technology.